For decades most hikers in the Vancouver area have used 103 Hikes in Southwestern British Columbia to plan their trips. Some have even made a sport out of trying to complete every single hike in a particular edition. It's been BC's hiking bible since the first edition was published in 1973. Since then, it's been through five subsequent editions, and this spring, has spawned a new successor book called 105 Hikes in and Around Southwestern British Columbia. I received an advanced copy so I can tell you all about what is new and exciting in this book. (And no, it doesn't just have two more hikes than 103 Hikes – this is a totally new book). But before I do that, I want to tell you a bit about the history of 103 Hikes since it is also a history of hiking in BC.
Hey there: Some of the links in this post are affiliate links, which means I earn a small commission at no extra cost to you if you make a purchase. Thanks for supporting my website! -Taryn
History of 103 Hikes in Southwestern British Columbia
When I got into hiking in my university days, a friend recommended I get a copy of 103 Hikes. The 5th edition was on the shelves at the time, so I bought it and started working my way through the hikes. My boyfriend (who is now my husband) and I would put our initials next to each hike in the index as we completed them. When the 6th edition of 103 Hikes came out I rushed to MEC to buy it, then sat down to pore over it and see what was different.
A few months later I spotted the 2nd edition of 103 Hikes at a used book store. Leafing through it, I was struck by the awesome vintage black and white photos (HUGE external frame packs anyone?) and the descriptions of old routes that have now fallen into obscurity or been obliterated by road building and development. Over the next few years I tracked down the other editions of 103 Hikes. Eventually I had the complete set, editions one through six.
This week when 105 Hikes came in the mail, I sat down to read it cover to cover, just as I did back in 2008 when the 6th edition of 103 Hikes was released. And then I walked over to the bookshelf and grabbed all my editions of 103 Hikes to take a tour through BC hiking history. I've put together some highlights for you in case you don't have a complete 103 Hikes collection of your own. (I'm probably one of the only weirdos who collects things like this.)
1st Edition (1973)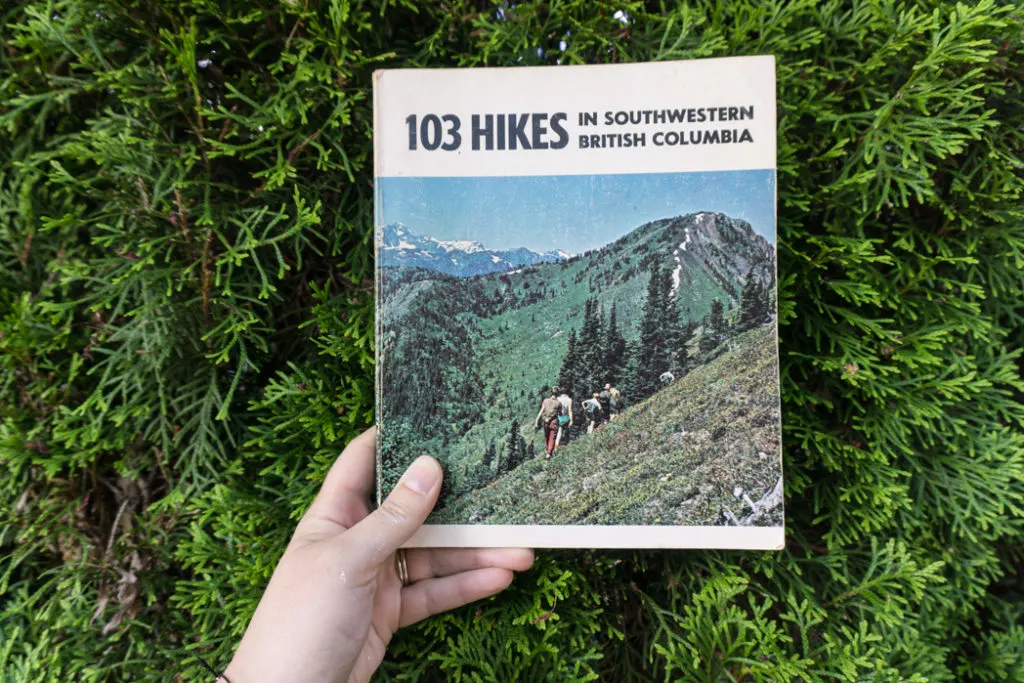 In 1973 The Mountaineers Books and the British Columbia Mountaineering Club (BCMC) published the first edition of 103 Hikes in Southwestern British Columbia. The introduction explains that a committee of BCMC members laboured over the book starting in 1967. But the author credit went to Mary and David Macaree, Scottish immigrants and long-time members of the BCMC. They went on to co-author every other edition of 103 Hikes (as well as it's more sedate little brother, 109 Walks in Southwestern British Columbia).
The 1st edition of the book had hand-drawn maps (done by Mary Macaree), black and white photos and gave distances and elevation in miles and feet. It focused on trails in the Lower Mainland but also included many on Vancouver Island.
It's interesting to read between the lines of the trail descriptions to get an idea of what trails were like at the time: There was no downhill ski resort at Cypress yet, and no road up there either. The current Elfin Lakes hut didn't exist – instead there was a private lodge and you could pay to be driven up in a jeep or snowcat. And there were no hikes listed past Pemberton because highway 99 didn't extend any further.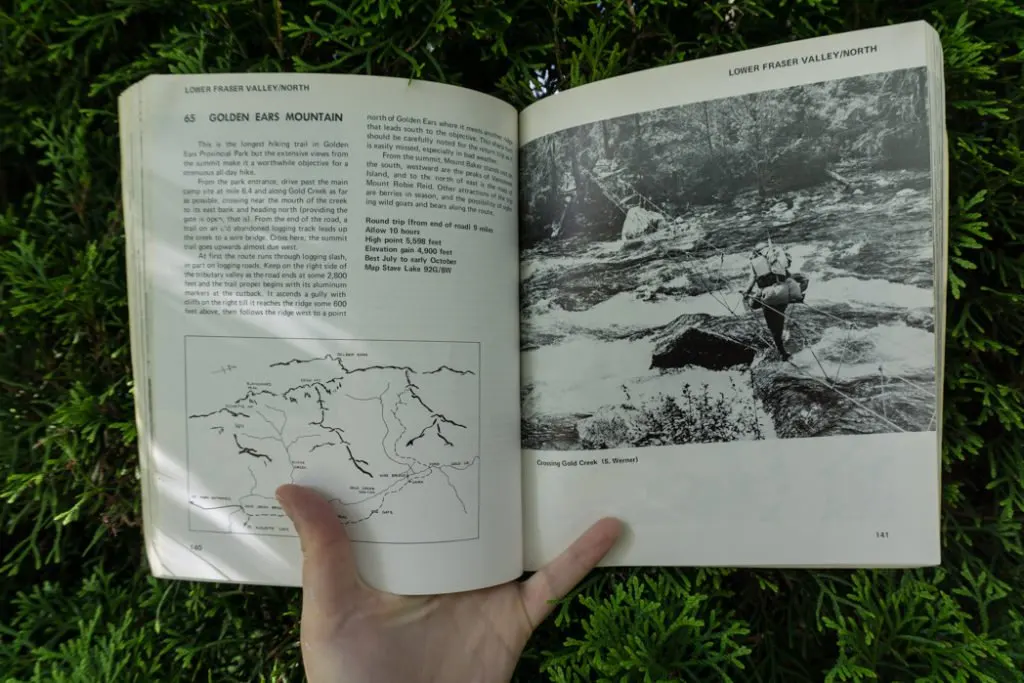 In today's Instagram age I was shocked to read that even in the 70s the authors were worried about trails getting over used:
"A question often asked is why a group of outdoor types should produce a work such as this at all, given the very real danger that exposure of wilderness country to a wider public may well lead to its abuse, or even, in areas of heavy usage, to its complete despoilation…"
It's crazy to find so many parallels to things we read about sharing info on hiking trails today! There are also numerous pleas throughout the book to pick up garbage, use camp stoves to reduce reliance on fires in fragile areas and to camp in designated campsites rather than trampling vegetation. The book never uses the words "Leave No Trace" but it's clear that those ethics were important to its authors from the start.
2nd edition (1980)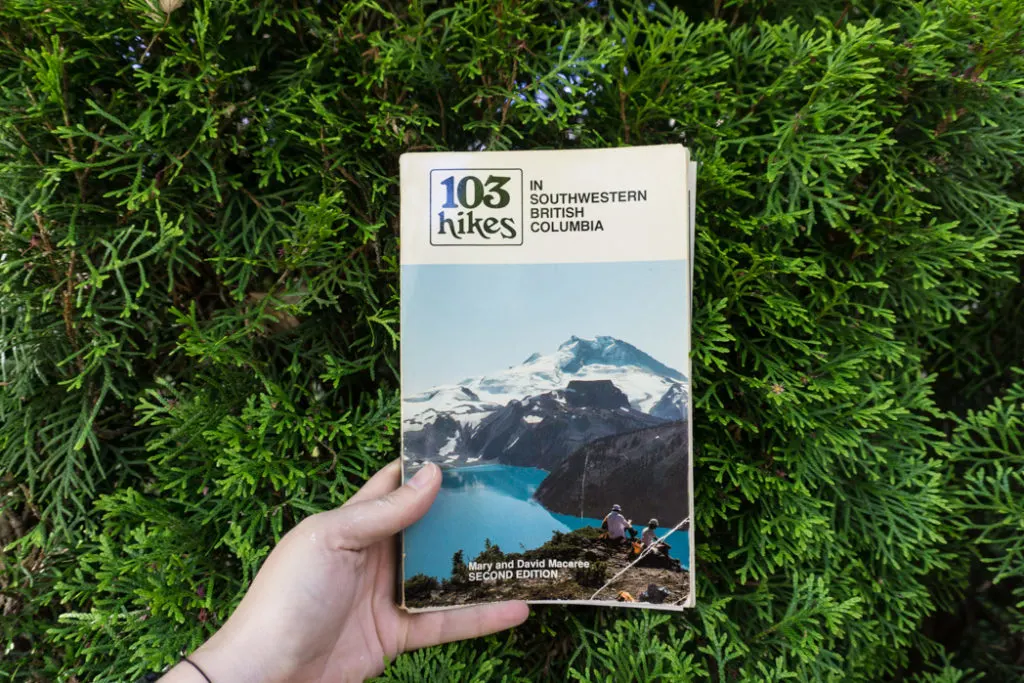 The 2nd edition of 103 Hikes came out in 1980. The content of this book is much the same as the first edition except for the odd hike swapped in. The most noticeable difference is in the physical size of the book. While the first edition was nearly square, the second edition came in the now familiar rectangular format.
The 2nd edition also saw the introduction of the metric system to 103 Hikes. Despite Canada going metric in the 1970s, the first edition didn't embrace it. By 1980 hikers still weren't sure about metric so the 2nd edition uses BOTH feet and inches as well as kilometers and meters.
3rd edition (1987)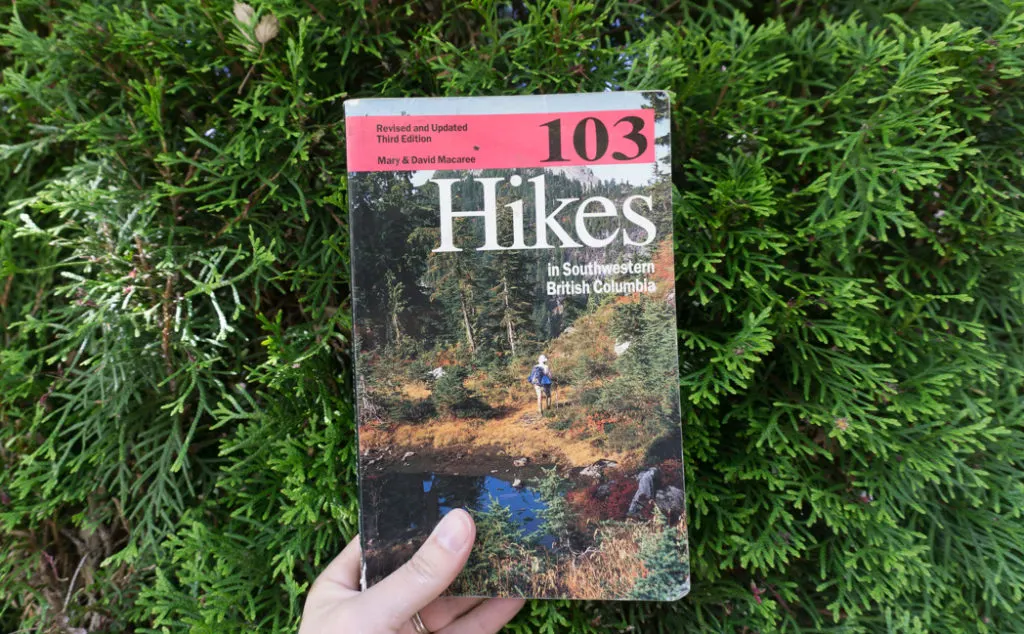 By 1987 the Macarees were able to find 103 hikes on the Mainland, so they removed the Vancouver Island hikes that had been in previous editions. New hiking areas were opening up to BC hikers at this time: The Coquihalla highway had been built and trails were starting to be cut in that area. The formerly closed watershed areas of Lynn Headwaters and Buntzen Lake areas had also opened up and lots of trail building was happening. In particular, long-time BCMC member Halvor Lunden built many trails around Buntzen Lake that appear in the book for the first time. These include the Diez Vistas, Lindsay Lake, Swan Falls, Mount Beautiful, and Dilly Dally trails. And apparently hikers were finally ok with the metric system since the 3rd edition drops miles and feet entirely.
4th edition (1994)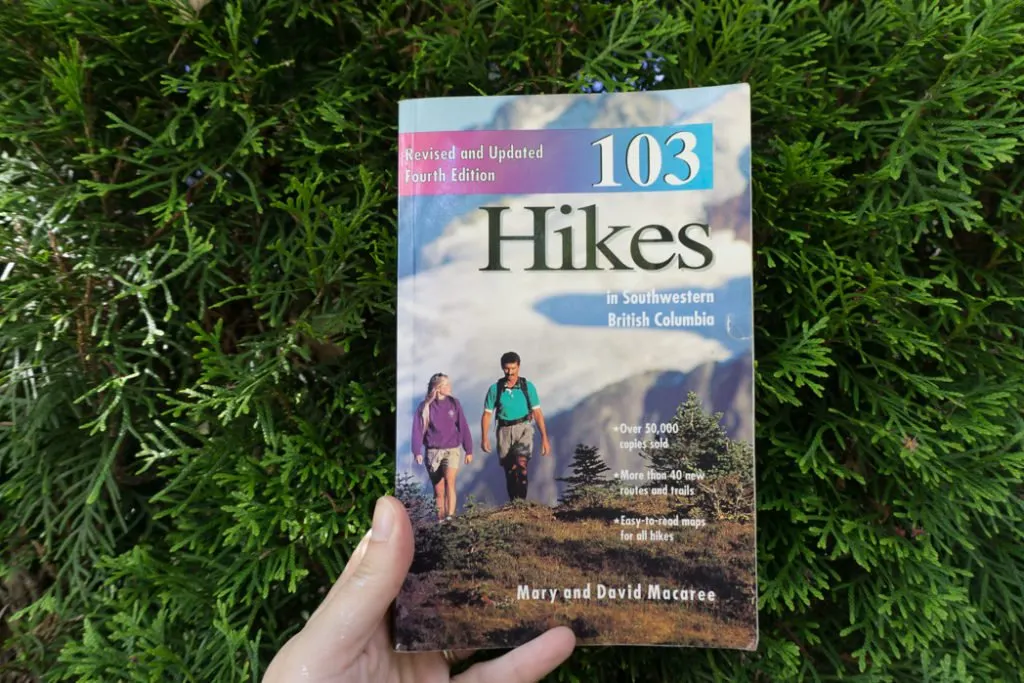 There aren't any glaring changes between the 3rd and 4th editions of 103 Hikes. The bulk of the hikes are the same. The stand out for me is Mount Cheam. The old route to Mount Cheam had been in the previous three editions. It started beside highway 1 outside of Chilliwack and gained over 2000m of elevation over the 30km round trip. It took most groups 2 days. By 1994 the logging roads had pushed far enough up the flanks of Cheam from the Chilliwack Valley side so that the current trail could be built. It gains 655m over 9.5km. If you think Cheam is a steep hike now, you should have tried it back in the 80s!
5th edition (2001)
This was the first copy of 103 Hikes that I owned. For the 5th edition Jack Bryceland joined Mary and David Macaree as a co-author. David Macaree actually passed away in 1998 (and Mary in 2008), so Bryceland mostly updated the non-trail description portions and added descriptions for new hikes. The existing hikes remained the way the Macarees wrote them.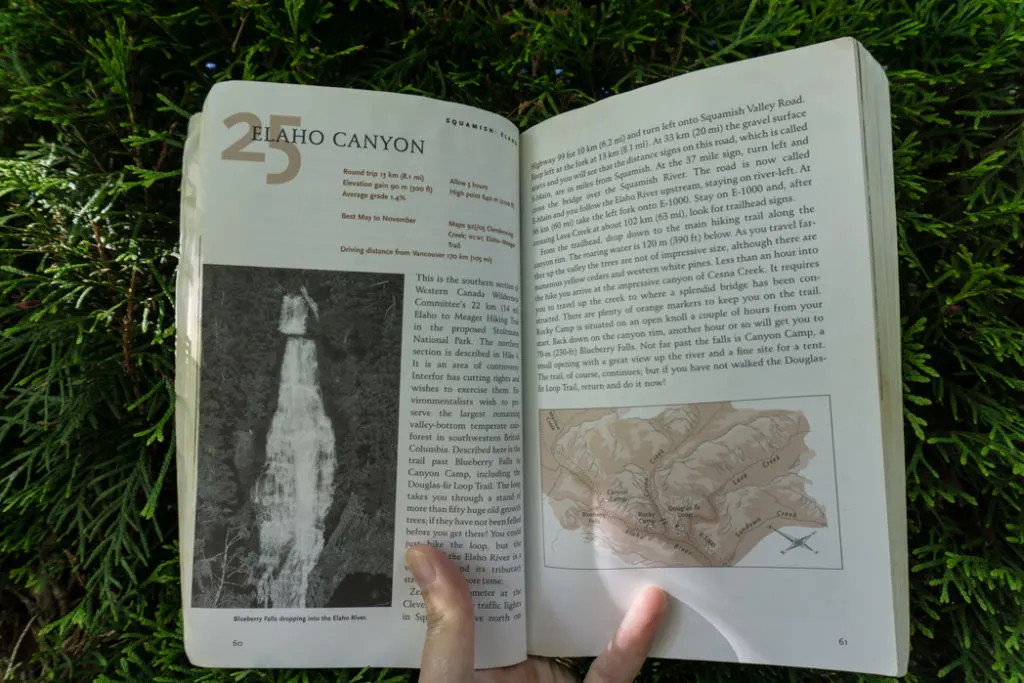 While the Macaree's hike descriptions were very matter of fact, Jack Bryceland's descriptions have a more distinct voice. Bryceland editorializes a bit more and has a clear conservationist agenda. Many of the new hikes he introduced in the 5th edition were Western Canada Wilderness Committee trails that were built to try to prove the recreation potential of areas threatened by logging or development. Many of these trails have long and difficult logging road approaches. Despite being in beautiful areas, most of them were rough trails to begin with and still saw infrequent use after the book was released.
Along with a new author, the 5th edition also got a new map style. Single colour shaded maps with typed labels replaced Mary Macaree's black and white hand-drawn maps of previous editions.
6th edition (2008)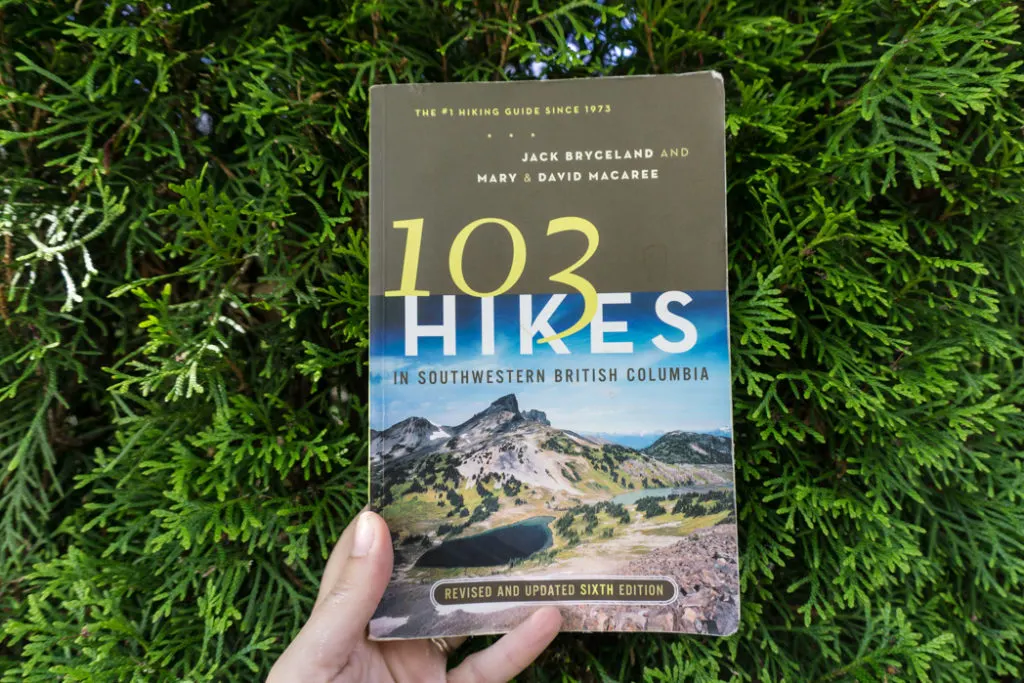 At first glance, the 6th edition of 103 hikes doesn't look that different from the 5th edition and it contains a lot of the same hikes. However, it was written and researched during the pre-Olympic construction on the Sea to Sky Highway, which closed many trailheads. Therefore, the book has few Sea to Sky trails. The 6th edition was also the first for current publisher Greystone Books.
105 Hikes In and Around Southwestern British Columbia, 1st edition (2018)
When I heard that Stephen Hui would be writing the successor book to 103 Hikes, I thought that the publisher couldn't have picked a better author. Stephen wrote a long-running hiking column in the Georgia Straight for years and knows a lot about hiking in this area. (Full disclosure: I know Stephen personally and we've hiked together.)
Now called 105 Hikes in and Around Southwestern British Columbia, the new book makes some excellent improvements over the previous version. To start with, it has beautiful full colour maps that are much easier to read. Plus they have contour lines – so important in BC's steep terrain! The book also has colour photos throughout, which I love.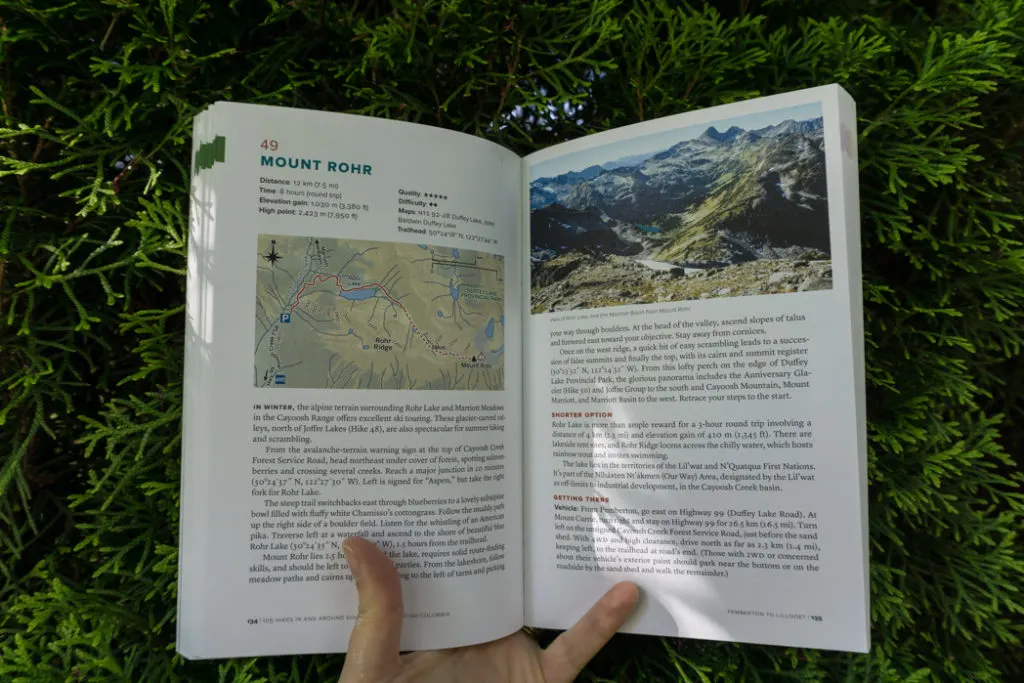 Stephen has also completely cleaned house as far as the table of contents goes: there are tons of new trails! He has also removed some of the hikes that were in previous versions but had difficult access or just weren't that scenic. You might also get a bit of a hint as to another change from the title: 105 Hikes in and Around Southwestern British Columbia. That's right, not just "in" but "around". Hikes 80 to 105 are in Howe Sound, the Sunshine Coast, Victoria and Washington State.
Another important addition is the indigenous context. Stephen has evidently done a lot of research to include information about traditional indigenous place names and territories for each hike. It's so important to remember that the land we hike isn't just desolate wilderness. It is traditional territory for indigenous peoples and they have been here since time immemorial.
If you hike in Southwestern BC, you're going to want to pick up a copy of this book. It's available in stores now and you can order it on Amazon. It has a great mix of hikes with a bunch of hikes that are shorter and a bit less difficult thrown in for those days when you have less time. And if you're a completionist you can join Stephen's 105 Hikes Challenge Facebook group to trade notes with other hikes who are trying to finish all 105 hikes.
READ NEXT: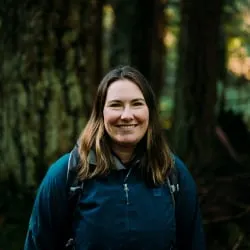 Latest posts by Taryn Eyton
(see all)