Maria Island, Tasmania was one of my favourite places I visited in Australia. This little island on the East Coast of Tasmania is kind of like a mini version of the state, without the people.
It has everything you want to see in Tasmania all in one place: convict heritage sites, amazing wildlife, and great outdoor activities like hiking, biking, and camping.
Really the only thing it's missing is delicious local Tasmanian food. (But you can buy that at the Salamanca Market in Hobart and bring it over for the complete experience 🙂 )
A visit to Maria Island is not at the very top of most people's Tasmania bucket list, so it's never exceptionally busy. Which is awesome since it means you won't have to fight crowds while you walk through convict ruins, snap photos of adorable wombats and wallabies, or hike and bike to beautiful rock formations.
My complete guide to visiting Maria Island, Tasmania includes:
Hey there: Some of the links in this post are affiliate links, which means I earn a small commission at no extra cost to you if you make a purchase. Thanks for supporting my website! -Taryn
This is a sensitive wilderness area. Learn how to Leave No Trace to keep the wilderness wild. Make sure you are prepared by bringing the 10 Essentials. Get ready for adventure with this checklist of things to do before every hike.
Maria Island, Tasmania Basics
Pronunciation: Aussies call it "ma-rye-ah" island, not "ma-ree-ah" island. Now you know.
Highlights: Convict historical sites, the best wildlife watching in Tasmania, excellent hiking and biking
Location: Off the east coast of Tasmania via a 30-minute ferry ride. The ferry dock is 1.5 hours drive from Hobart and 2.5 hours from Launceston. (See the How to Get To Maria Island section below.)
Costs: Ferry ride is $52AUD per adult. You must also have a valid National Parks pass. Prices vary and there are discounts for longer durations.
Best Time to Visit: Year-round, but the weather is best from December to March.
How Long to Spend on Maria Island: At a minimum, plan to spend half a day on Maria Island. In a full day, you can see all of the major sights. I recommend spending at least one night as its the best way to see wildlife and you'll have more time for hiking and biking.
Maria Island, Tasmania Map
To help you orient yourself, I've made a custom map of Maria Island, Tasmania just for you. It shows all the places you can visit on the island, accommodation options, and key landmarks.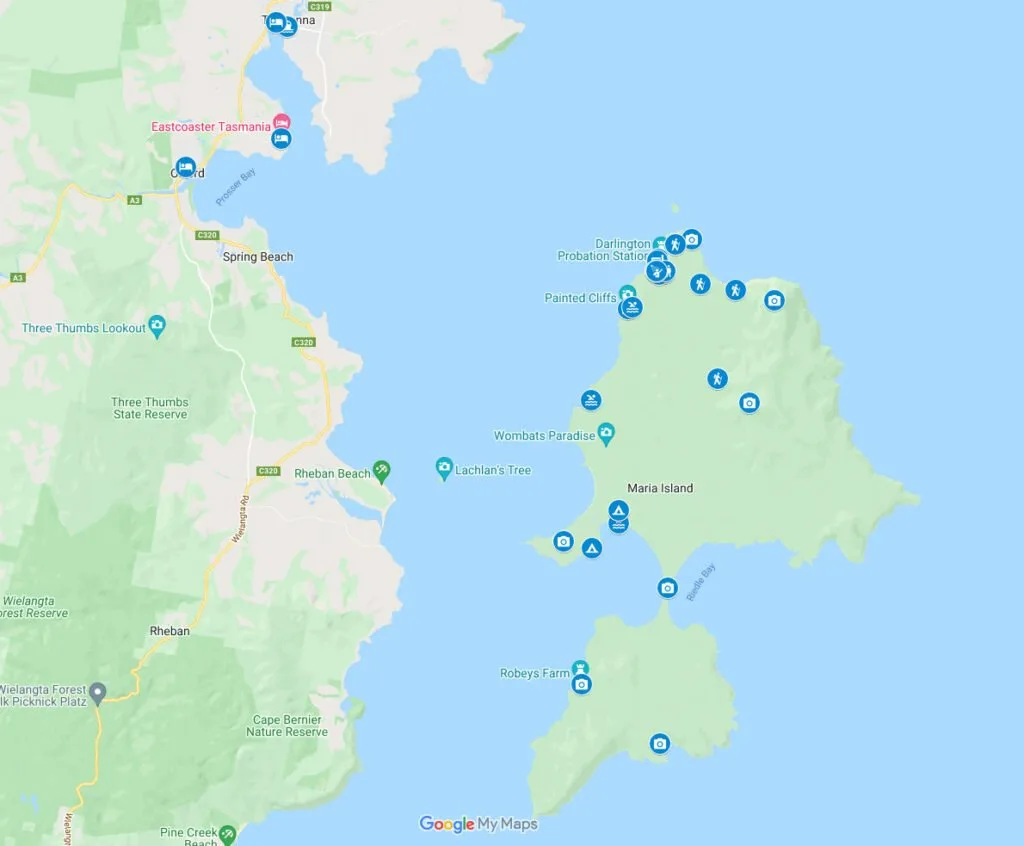 Maria Island, Tasmania History
Before Europeans arrived, the Indigenous Puthikwilayti people lived on Maria Island. In 1642 Abel Tasman first sighted the island. He named it Maria Island after Maria van Diemen, the wife of the Governor General of the Dutch East India Company.
In 1825, a penal colony opened at Darlington on Maria Island. The penitentiary and commissariat store (now the park office) were built around that time. The colony closed in 1832 but then was reopened and expanded as a probation station in 1842. It then closed for good in 1850.
The ruins of 14 convict era buildings on Maria Island are recognized today as one of the most intact convict sites in Australia.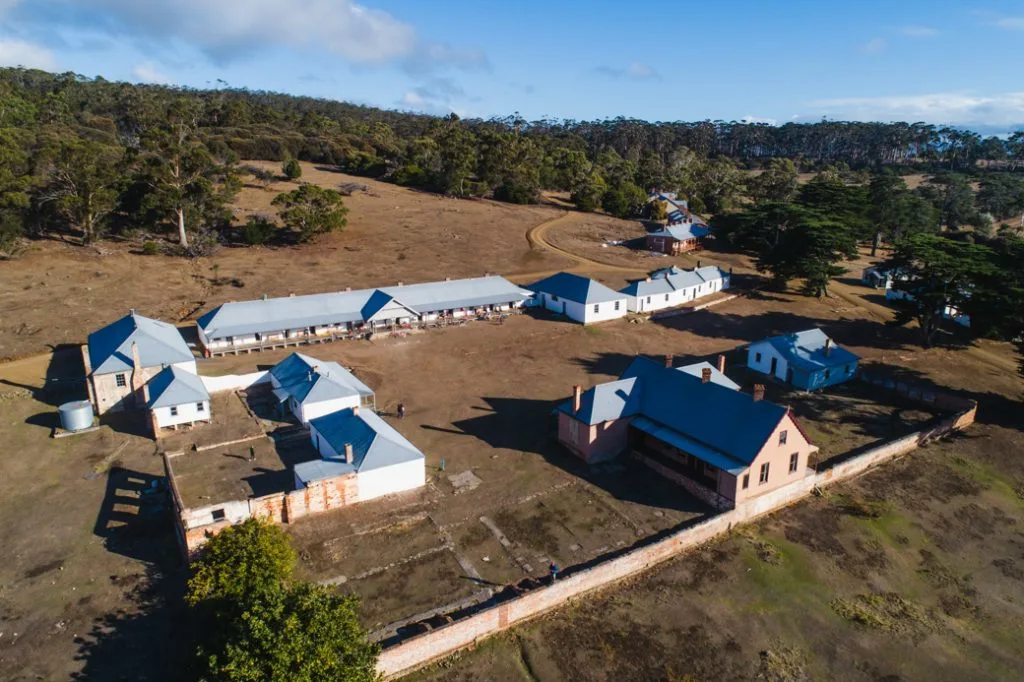 After the end of the convict era, an Italian named Diego Bernacchi leased the island in the 1880s and renamed it San Diego. He had grand plans to grow fruit and make wine and silk. He also started constructing a tourist resort which included a hotel and the Coffee Palace restaurant.
By 1896 Bernacchi's grand plans had not materialized, so he left Maria Island. The Coffee Palace was converted to a boarding house and a small farming community developed on the land that Bernacchi had cleared.
In the 1920s a large cement company operated on the island, complete with its own mini-railroad. It was initially very successful and supported over 500 residents at Darlington. The large silos near the present-day ferry dock date from this time.
After the cement operations closed in the 1930s, most of Darlington's residents left. A few farming and fishing families stayed until the 1960s. In 1971, Maria Island was officially declared a National Park.
Things to Do on Maria Island, Tasmania
Visit the Convict Sites at Darlington
The main convict sites on Maria Island are in the former town of Darlington.
The first site is the Commissariat Store, near the ferry jetty. It's the oldest building on the island and was originally a storehouse. Today it's home to the park visitor centre and has some interesting displays for visitors.
Follow the road from the ferry jetty for 500m to reach the Darlington. You can explore the Penitentiary complex.
Be sure to go inside the Coffee Palace. This former restaurant from the Bernacchi era is now a museum. Two of the rooms have been restored to how they would have looked in the 1890s. There's also a fun audio element where you can sit and pretend to have tea while listening to historical figures talk about life on Maria Island.
There are interpretive signs around the site to help you understand the history.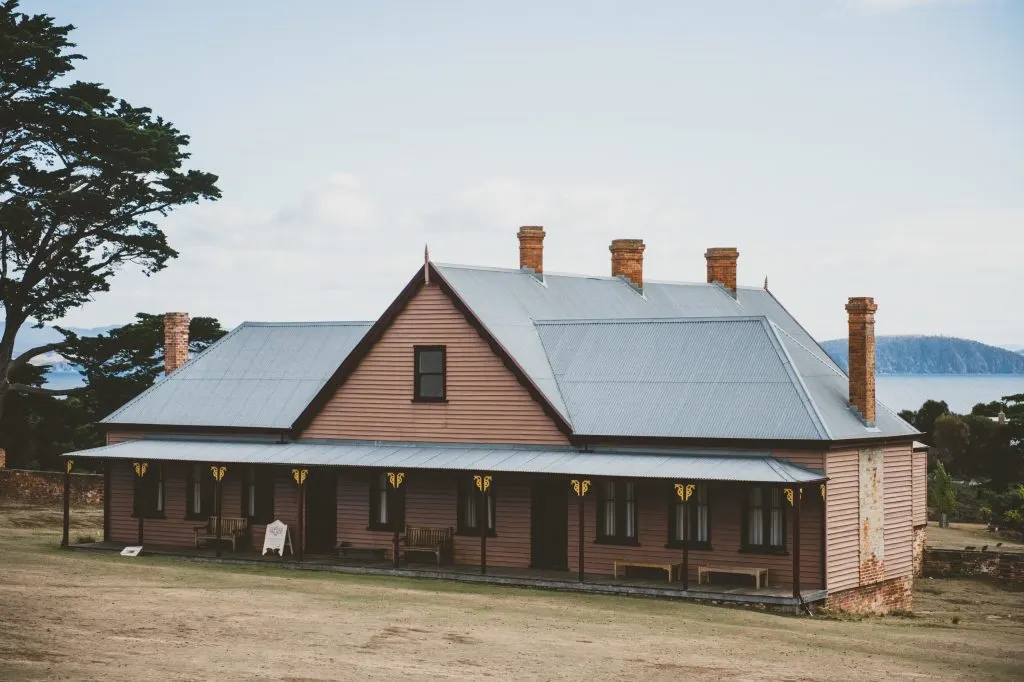 Watch the Wildlife
Maria Island has been called Tasmania's Noah's Ark. Since it's an island National Park with no residents, no cars, and no predators, it's a haven for native Tasmanian animals. They are used to tourists so Maria Island is probably the best place in Tasmania to see wildlife.
The island has healthy populations of wombats, pademelons, and wallabies. Even though the animals are very tolerant of people, please don't touch them, chase them or get too close. There have been lots of problems with tourists behaving very badly in recent years.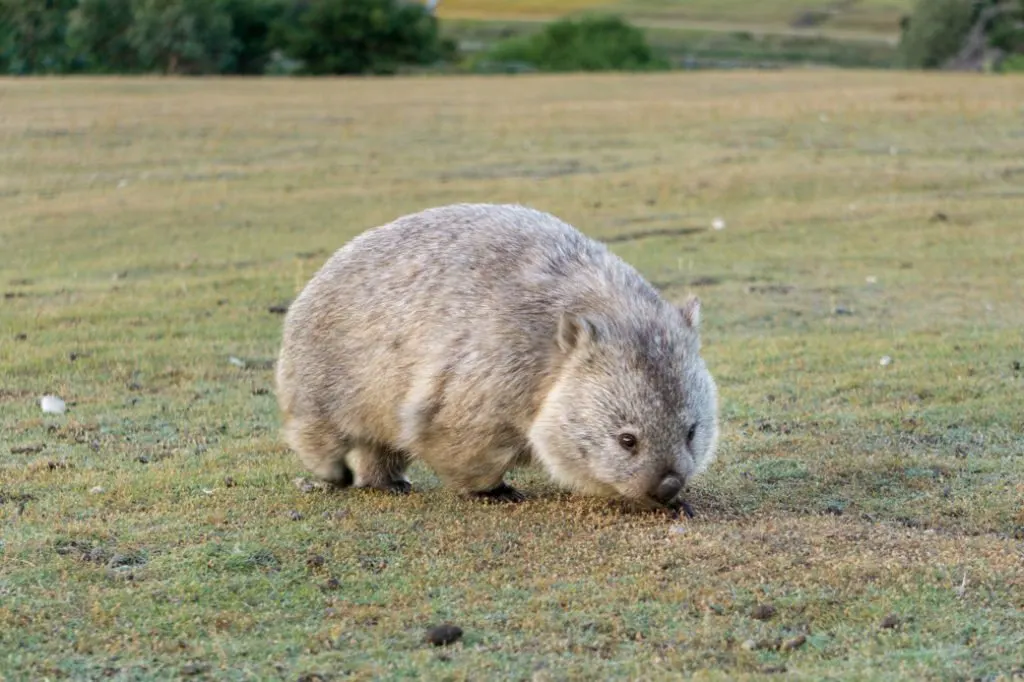 Maria Island is also home to some threatened populations of native animals. In the 1960s, Forester kangaroo populations were declining on the mainland so kangaroos were brought to Maria Island. They are now thriving. The same story is true for Cape Barren geese, a large bird similar to a Canada goose.
The Tasmanian devil population started plummeting in the early 2000s due to facial tumour disease. Maria Island was one of the first places that healthy captive-bred devils were released into the wild.
Today Maria Island hosts several dozen Tasmanian devils in a test program. If a devil can successfully survive on its own on Maria Island, they recapture it after a few years and move it to the mainland. They hope this will reestablish a healthy population there.
The best place on the island to see all of these animals on the open grassy slopes in Darlington and on the nearby airstrip. If you stay overnight you will see even more animals as many of them are nocturnal and only come out at dusk.
READ NEXT: Best Places to See Wildlife in Tasmania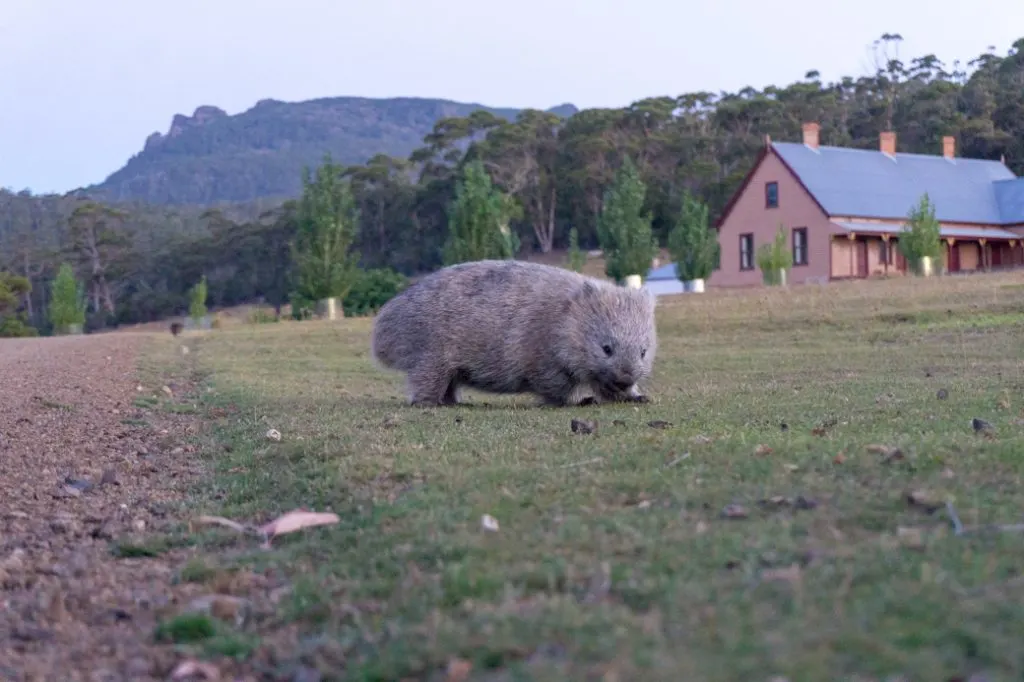 Check Out the Painted Cliffs
The brightly coloured sandstone rocks at Painted Cliffs are probably the most photographed thing on Maria Island. (Or maybe they are tied for first with the adorable wombats?)
The sandstone cliffs have traces of red iron oxide in them, which creates beautiful patterns. Then the ocean waves have carved the rocks into wonderful swirls and curves. It's gorgeous!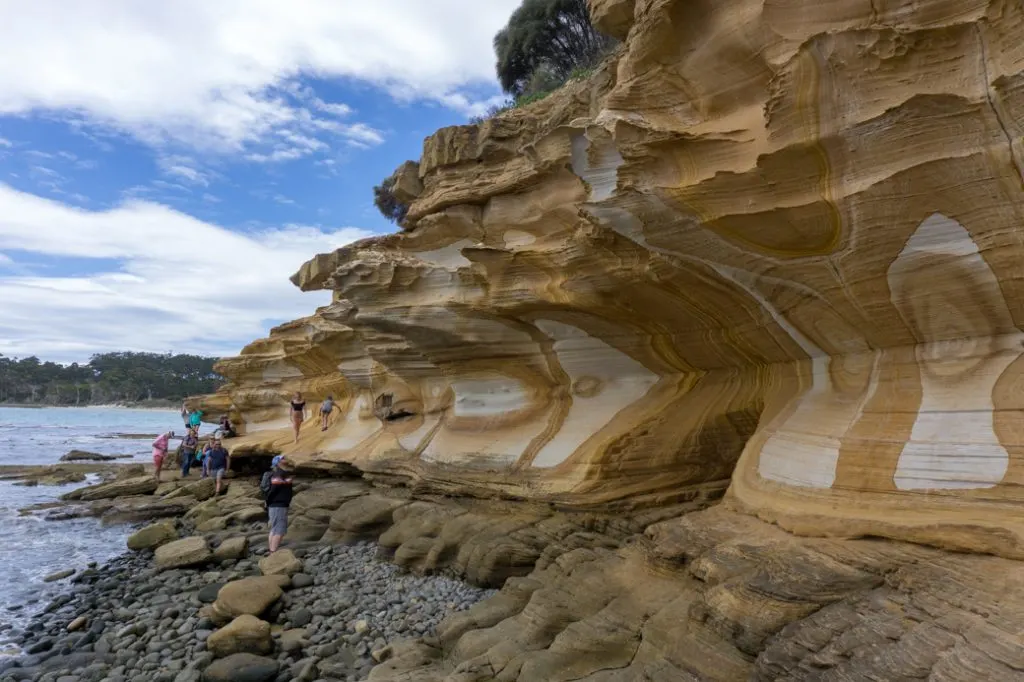 To get to the Painted Cliffs follow the coast road through Darlington. The cliffs are 2.5km away from the ferry jetty. It's a 30-minute walk or a 10-minute bike ride.
The best time to visit is at low tide so you can see the cliffs – otherwise, the waves lap right up to them. Check the tide table online or at the visitor centre before you go.
Explore the Island by Bike
One of the best ways to explore Maria Island is by bike. You can get around faster so you can travel further and see more of the island. On my visit to Maria Island, I was recovering from a sprained ankle and couldn't hike much. We rented bikes to make it easier for me to get around and I'm so glad we did.
You can bring your own bike across on the ferry or hire one on the island at a shed next to the Penitentiary.
Bikes are allowed on all roads on the island but aren't allowed on the walking tracks. You can get to most of the popular spots on the island by bike including the Fossil Cliffs, Reservoir and Painted Cliffs.
It's also a great way to explore further south on the island. We rode as far as the isthmus where we were stopped by very sandy conditions that necessitated pushing our bikes. But if you're willing to slog through the sand, you can explore even further.
The National Park has more info about where you are allowed to bike on Maria Island.
Go Birdwatching
Maria Island is home to all but one of Tasmania's twelve endemic birds. (That means species that are found only in Tasmania.) One of the highlights is the endangered (and very tiny) forty-spotted pardalote.
It's one of the best places in Tasmania to go bird watching since it has a low human population and few predators. Bring binoculars and a bird identification guide, then head out on to some of the island's quieter walking tracks to see what you can spot.
One of the easiest birds to see is the Cape Barren Goose. They like to graze on the grassy slopes around Darlington. Serious bird nerds (sometimes called "twitchers") should bring a copy of the Maria Island bird list to see how many they can tick.
Walk the Fossil Cliffs Loop
This easy 2-hour loop walk provides a great overview of Maria Island's past. You'll pass by historical buildings from the convict era, the Bernacchi era, and the cement plant era. Be sure to visit the cemetery.
The highlight of the walk is the limestone rocks at the Fossil Cliffs. You can spot fossils in the rocks at this former quarry, and get great views of the sea cliffs towards Bishop & Clerk Peak.
The whole loop is about 4.5km long and has a few hills and some sheer cliff edges. Bikes are permitted but you may have to push them up some of the hills. (Going down is really fun though!)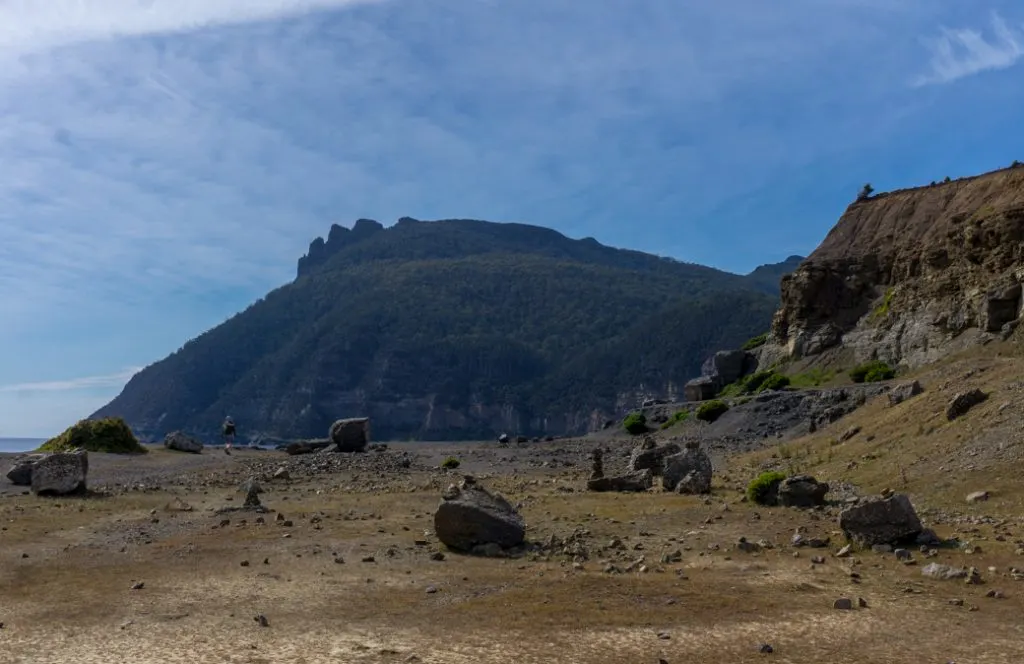 Go Snorkelling
Part of Maria Island National Park actually includes a marine reserve. This area on the west side of the Island is closed to fishing and very rich in sea life. The best way to see it is with a mask and snorkel.
Explore the area around the ferry jetty and see which undersea creatures you can spot. Just be careful to watch for boat traffic. For more info on the Marine Reserve and its wildlife, visit the Maria Island Marine Reserve website.
Go to the Beach
If you just want to cool off in the water on a warm day, Maria Island has lots of sandy beaches. The easiest one to access is in Darlington Bay near the ferry jetty. Follow the path through the dunes behind the toilet building in the campground.
If you want to venture further afield, head to the beach next to the Painted Cliffs. It's only 30 minutes on foot or 10 minutes by bike from Darlington.
For more solitude, walk 1.5 hours or bike 30 minutes to beautiful, blue Four Mile Bay. To experience some of the warmest water on Maria Island, you'll have to head even further to Shoal Bay. It has shallow water that heats up in the sun. It's a 3-hour walk or 1-hour bike ride.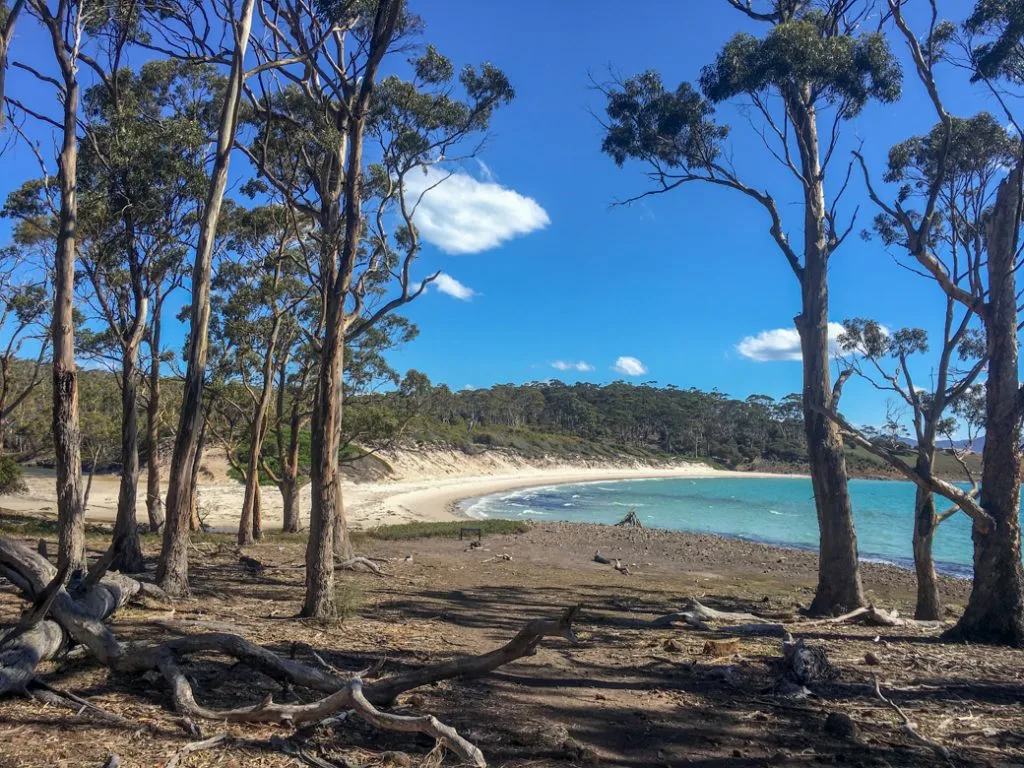 Hike in the Forest on the Reservoir Circuit
The easy Reservoir Circuit walk takes about 1.5 hours to complete and takes you through some of Maria Island's forested interior. You'll see lots of native vegetation. You might even be lucky enough to spot some of the island's birds, including the endangered forty-spotted pardalote.
There are also a few historical ruins along the way. My favourite was the old cement works made of red bricks.
If the full circuit is too long, you can skip the trek out to the reservoir and make a smaller loop that takes only 45 minutes. Most of the reservoir circuit is open to bikes, but if you're on two wheels you'll have to skip the walking track portion and backtrack on the road.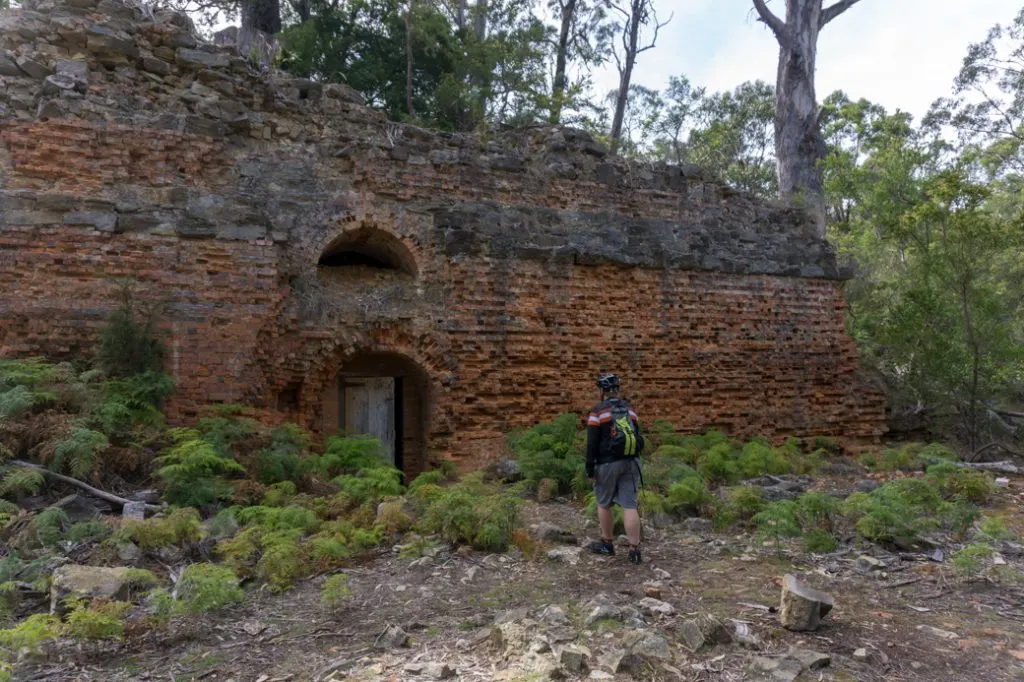 Climb Bishop and Clerk Peaks
If you want a challenging hike, take on the 4-hour walk to the top of Bishop and Clerk Peaks. These two dolerite columns tower over Darlington. Early settlers thought the rocks of one peak resembled a bishop wearing pointed mitre hat. The other peak was a clergyman (clerk) following him.
The track starts out on the gravel roads of Darlington before heading along the tops of sheer sea cliffs. It climbs in the forest before emerging on a rocky scree slope.
Follow the yellow arrows and cairns through the rocks. The route becomes a bouldery scramble that is very challenging. The summit is at 620m and has great views of the rest of the island.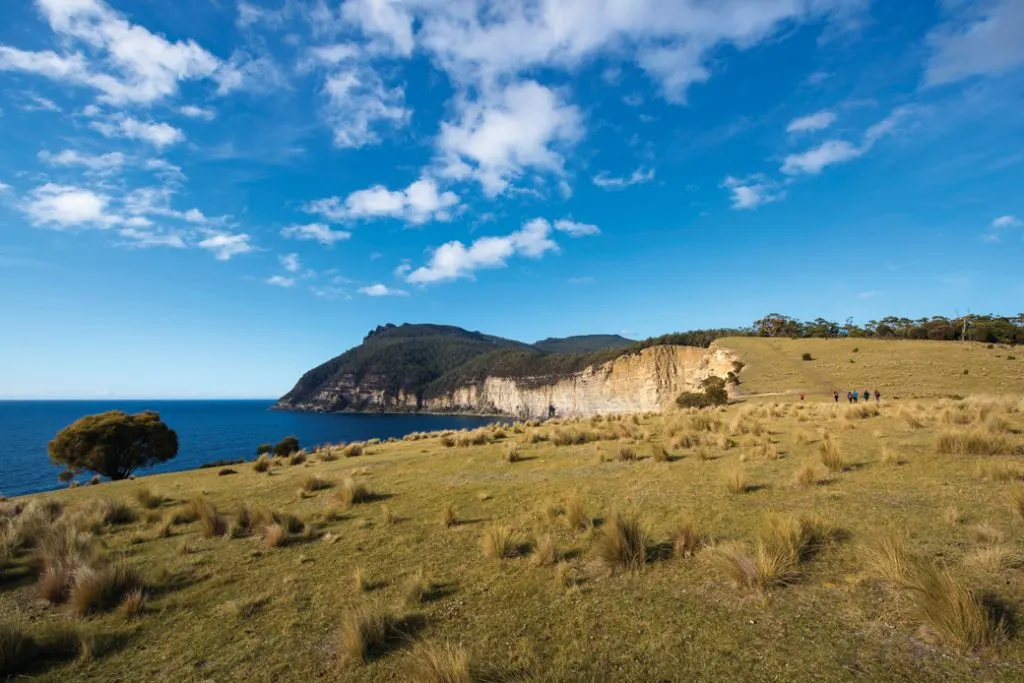 Explore the Isthmus, Point Lesueur and South Maria Island
Head down to the southern part of Maria Island away from the crowds to explore the isthmus, the beach at Shoal Bay and Point Lesueur. Maria Island is actually two main islands joined by a sandy isthmus.
Near the isthmus, you can explore the ruins of a convict era probation station at Point Lesueur. The picturesque remains of nearby French's Farm are also worth visiting. If you really want to get off the beaten path, cross the sandy isthmus and continue on to Robey's Farm or Haunted Bay.
It's a long way to the southern part of Maria Island. If you're walking, French's farm is 3 hours one way, Point Lesueur is about 3.5 hours and the far side of the isthmus is about 4 hours.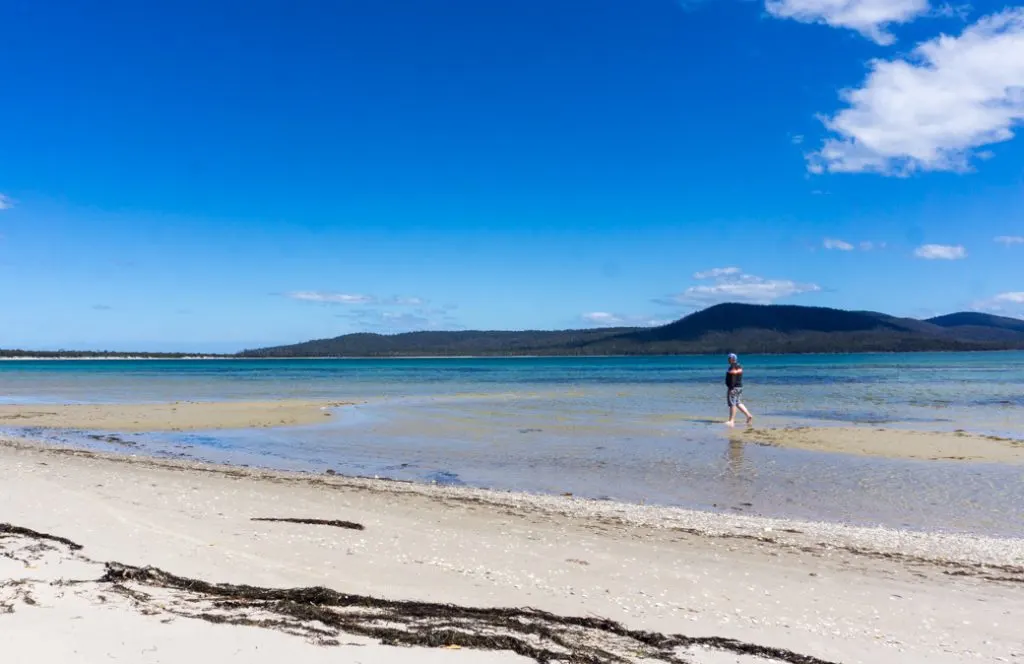 Summit Mount Maria
Mount Maria is the tallest point on Maria Island at 711m. It's more remote than Bishop and Clerk, so it is less commonly climbed. It's a challenging 6 to 7-hour walk that finishes with half an hour of difficult rock scrambling to the summit. On clear days there are panoramic views from the summit.
How to Get to Maria Island, Tasmania
To get to Maria Island, you'll need to take a 30-minute passenger ferry ride. The ferry leaves from the small town of Triabunna on the East Coast, which is about 1.5 hours by road from Hobart or 2.5 hours from Launceston. There is plenty of free parking near the ferry dock.
You can get to Triabunna via the public Tassielink bus from Hobart. Or book a day tour from Hobart that includes ferry reservations.
You can also hire a car in Hobart and drive yourself. I use Discover Cars because it lets you compare prices from lots of different companies to make sure you are getting the best deal.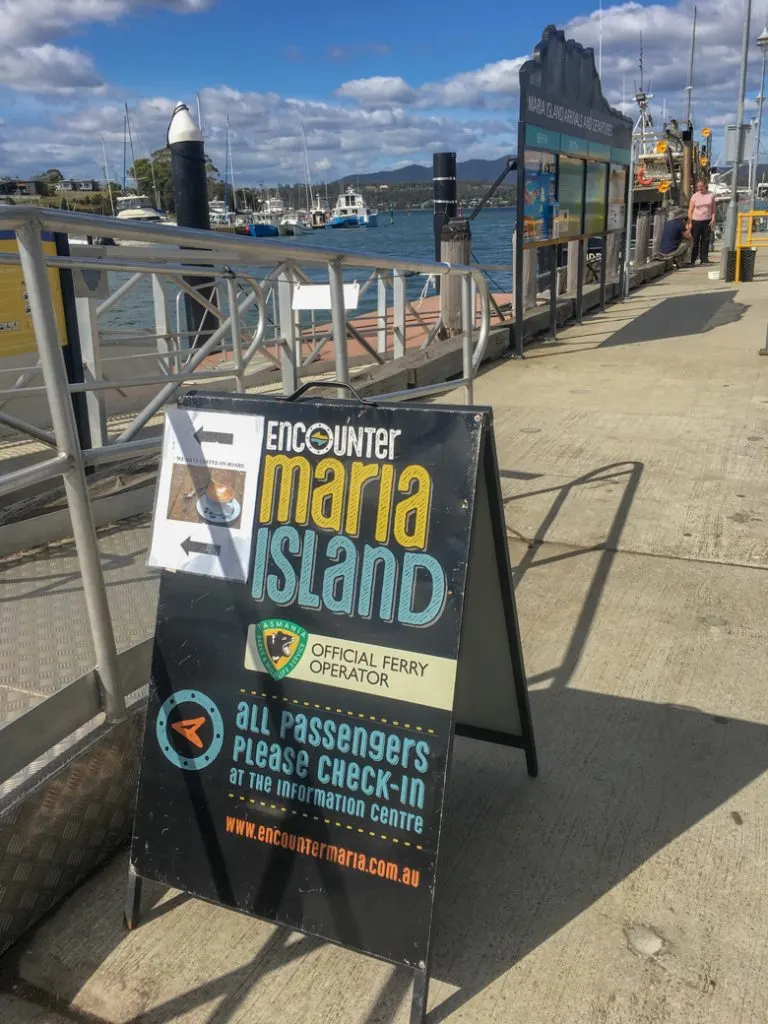 There are multiple sailings per day, with a reduced schedule in the winter. Check the ferry schedule before you go. As of November, 2022, the return journey costs $52AUD per adult. There are discounts for children, students, and seniors. In the summer, make reservations in advance as they do book up.
In order to check-in for the ferry, you will need a valid National Parks pass. If you don't already have one, you can purchase one online at the same time as you make your ferry reservation.
Your ferry ticket includes one carry-on bag. You need to pay for any additional bags at a rate of $10.50 each. You can also bring bikes for $15 each.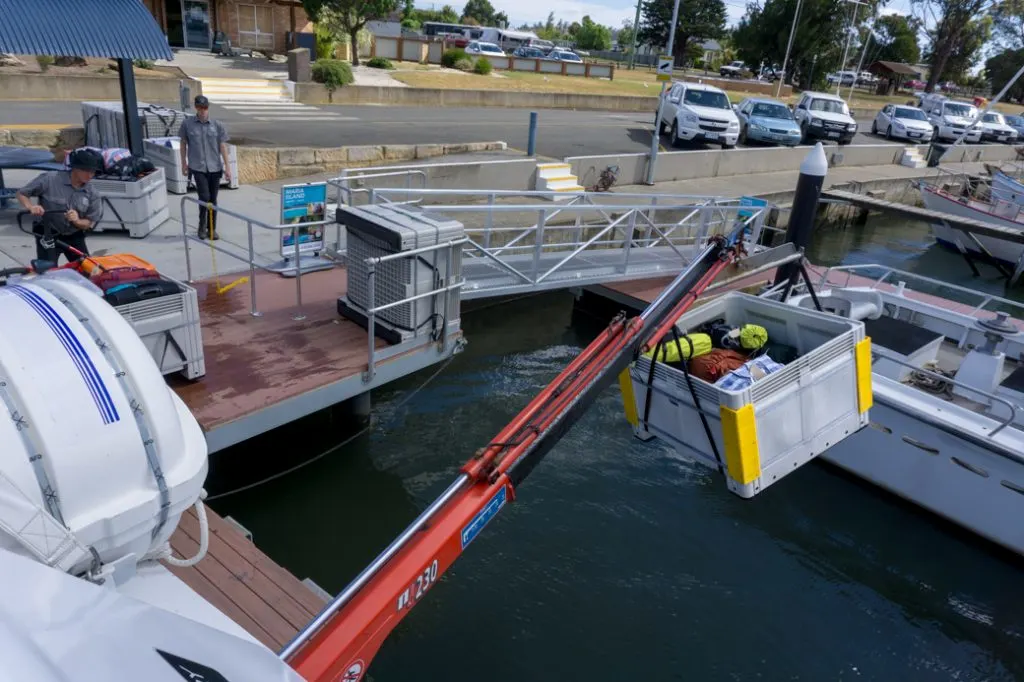 Once you get off the ferry on Maria island you will need to walk 500m from the ferry dock to Darlington town. There are a small number of wheeled carts you can use to carry your luggage.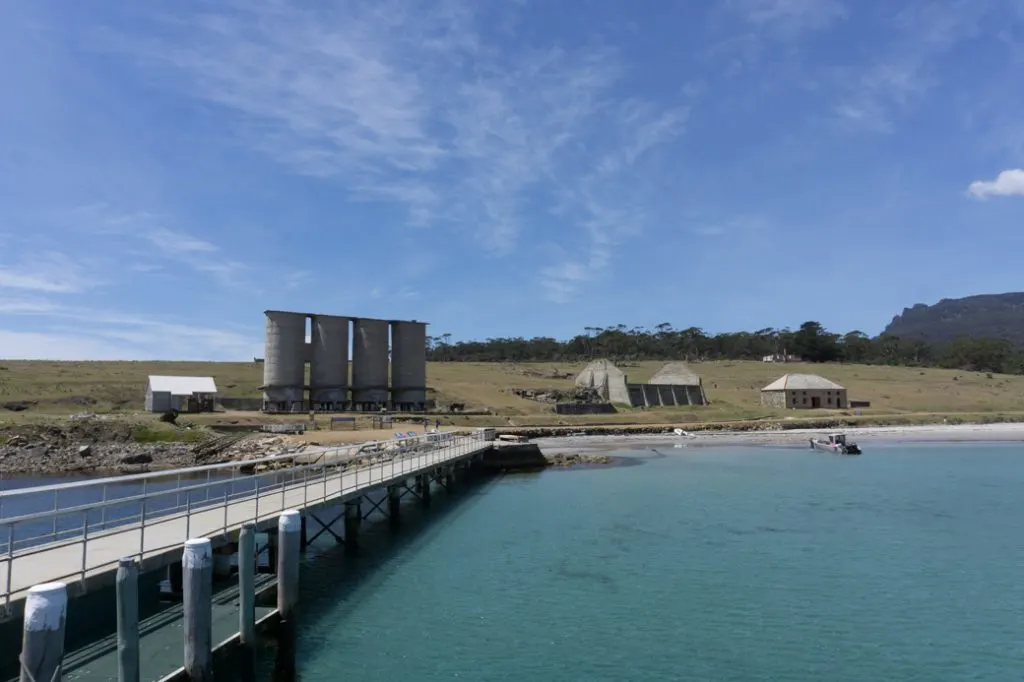 Getting Around on Maria Island, Tasmania
The only vehicles on Maria Island belong to the Parks Service. To get around you will need to either walk or bike. Most of the major sites are within an hour's walk of Darlington and the ferry.
However, if you want to explore further afield, a bike can be handy. Biking is allowed on all roads on the island, but not on the walking tracks. You can bring your own or rent one on the island. You can reserve bikes online ahead of time. Tasmanian law requires you to wear a bike helmet.
Where to Stay on Maria Island, Tasmania
If you want to stay overnight on Maria Island there are only two choices for accommodations: camping or staying in the old penitentiary. However, you can easily do a day trip to the island by booking accommodation near Triabunna.
It's also possible to do a day trip to Maria Island from Hobart. But honestly, I really recommend staying overnight since that's by far the best way to see the wildlife. (Plus it gets a LOT quieter after the last ferry of the day leaves.)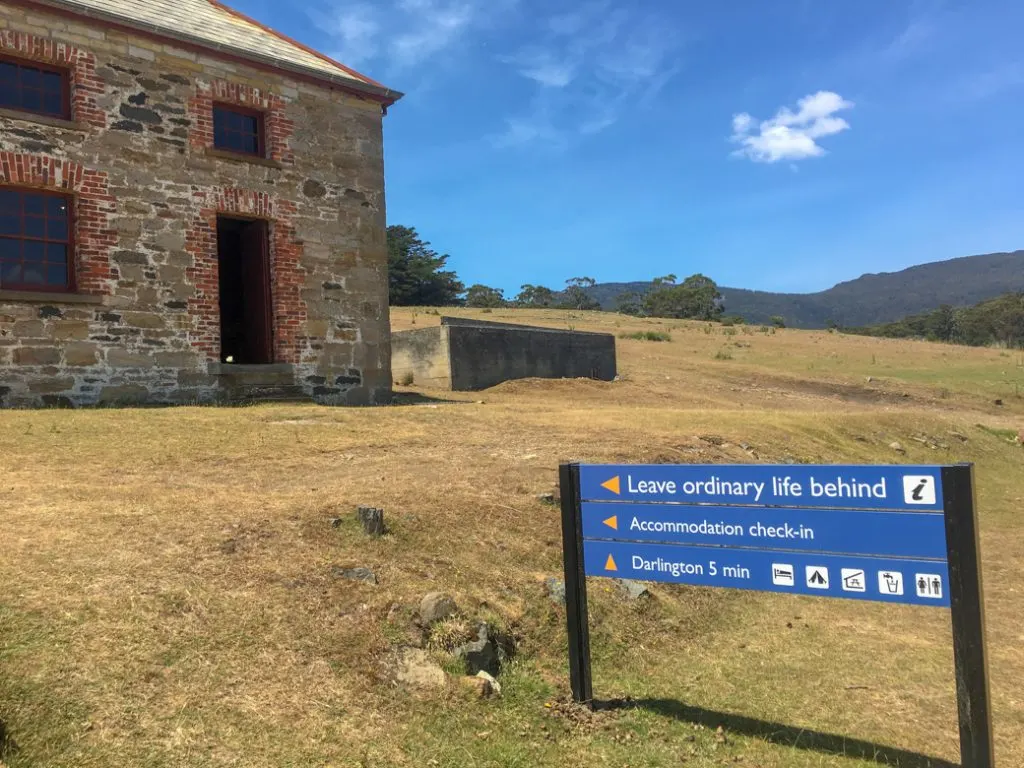 Darlington Penitentiary Accommodations
The old penitentiary in Darlington operates as a bunkhouse. It has ten basic dorm-style rooms that you can book through the National Parks Service. They sell out months in advance for the popular summer season.
Rooms start at $44 per night per room for 2 people. There is an extra charge for more people and special family rates.
The rooms have six bunks with mattresses, a table and chairs, and a wood heater. There is no electricity or bedding. Bring your own linens and a lantern.
Shared toilet facilities are across the courtyard. There is also a shared kitchen with gas cooktops but you need to bring your own pots, pans, utensils, dishes, etc.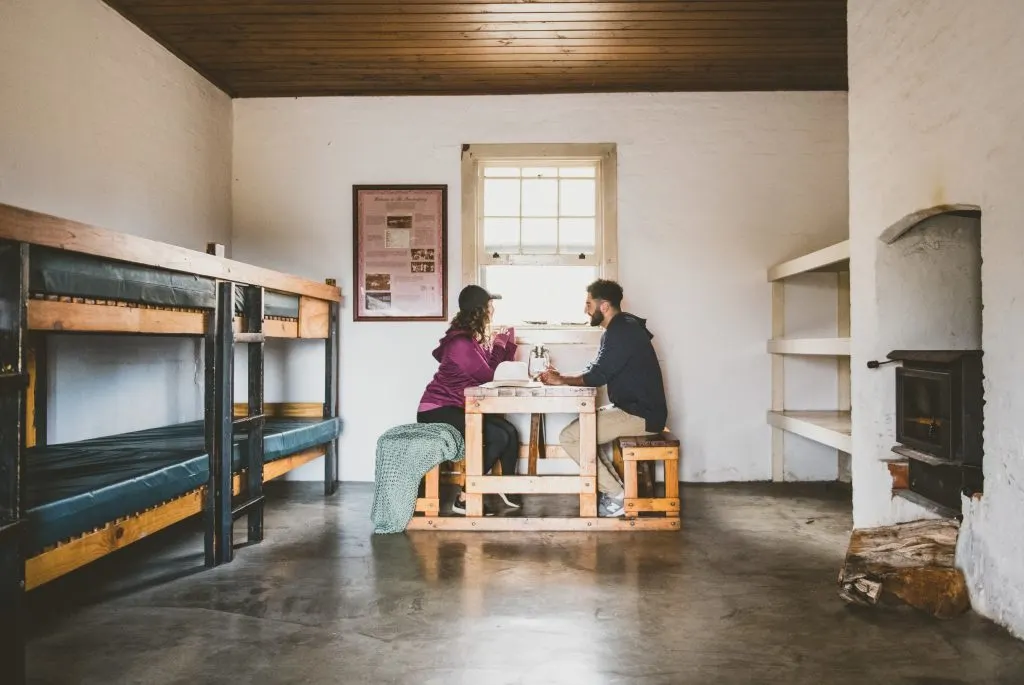 Camping on Maria Island
There are three campgrounds on Maria Island. The main campground at Darlington is centrally located and is a great spot for seeing wildlife. I really enjoyed my time camping there. The other two campgrounds are wilderness camps that can only be reached by hiking or biking.
The campground at Darlington is just down the slope from the penitentiary. It's an open grassy area with a few trees and no designated campsites. No bookings are taken. Register at the Maria Island Gateway before you get on the ferry.
As of November 2022, fees are $13 per site per night for two people, with an extra charge of $5 for each additional adult. There are also special family rates.
There is a covered picnic shelter with barbecues and a fireplace. The toilet building has drinking water taps, but you must treat the water. The wildlife are pretty bold, so the Rangers will give you a metal bin to store your food.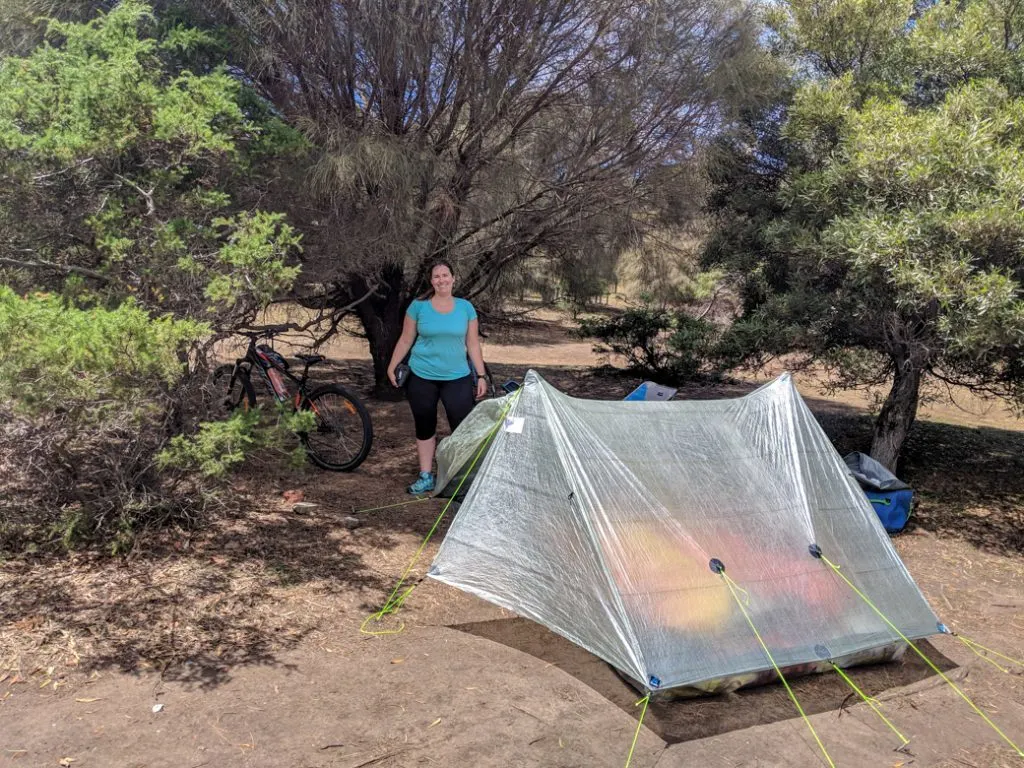 There are also wilderness campgrounds at French's Farm and Encampment Cove. Both of these campgrounds are free. They have untreated rainwater tanks but check with park staff before you go as they can run low in the summer.
French's Farm is 11km from the ferry jetty. Encampment Cove is 13km from the ferry jetty. Both can be reached via the coast road on foot or by bicycle.
Triabunna Area Accommodations
If the Maria Island accommodations are too rustic, consider staying overnight in Triabunna, or nearby Orford. That way you can catch an early ferry to the island and spend the entire day there.
Budget: Triabunna Cabin & Caravan Park
Book a cozy cabin or cottage at the Triabunna Cabin & Caravan Park if you're on a budget. They have free wifi and a garden. Plus they are walking distance to the Maria Island ferry, IGA grocery store, and restaurants.
Resort: Eastcoaster Tasmania
The Eastcoaster Tasmania resort is located right on the beach a 10-minute drive from Triabunna. They have everything you need on site including a pool, sauna, tennis court, fishing jetty, restaurant, and bar.
Vacation Rental: Orford Holiday House
The top-rated Orford Holiday House is located in Orford, 10 minutes away from Triabunna in a cute house. The open plan and large outdoor area is perfect for relaxing. The beach is just a five minute walk away.
What to Bring to Maria Island, Tasmania
There are absolutely no shops or restaurants on Maria Island so you will need to bring everything you think you'll need with you.
Maria Island Day Trip Packing List
Snacks and lunch
Water bottle (there is drinking water at Darlington campsite so you can refill your bottle)
Camera
Hiking boots or shoes
Sun hat and sunscreen
Rain jacket and warm clothing in case the weather turns bad
Bathing suit and towel
Backpack
Rubbish bags – there are no bins on the island and you need to take all rubbish out with you
Bike and helmet (optional)
Darling Penitentiary Packing List
Pack everything on the Maria Island day trip list, then add in:
Bedding (pillow, sleeping bag or sheets and blankets)
Flashlight/torch
Food for all your meals and a cooler/esky
Cooking pots, dishes, utensils, etc.
toiletries
Change of clothes
Maria Island Camping Packing List
Bring the items on the day trip and penitentiary lists, plus:
Tent
Sleeping pad and sleeping bag
Camping stove
Water filter or treatment (if staying at French's Farm or Encampment Cove campgrounds)
Maria Island FAQ
Is it worth going to Maria Island?
Yes! I think it's one of the most underrated destinations in Tasmania. It has some of the best wildlife watching, convict history sites, and beautiful bush walking tracks.
How to get to Maria Island from Tasmania?
Drive or take the bus to Triabunna on Tasmania's East Coast. It's a 1 hour 10 minute drive from Hobart. From there, take the passenger ferry to Maria Island. For more info on the ferry, see the Getting There section above.
How long does the Maria Island ferry take?
30-45 minutes each way.
Can you swim on Maria Island?
Yes. The island has some beautiful sandy beaches. The closest beaches are Darlington Bay near the campground and Painted Cliffs. But there are more gorgeous beaches on the southern part of the island.
Are dogs allowed on Maria Island?
No. Maria Island is a national park with a protected wildlife population so dogs are not allowed.
Is there drinking water on Maria Island?
Yes. You can get drinking water from rainwater tanks in the Darlington campground and at the Darlington Penitentiary Accommodations. There are also rainwater tanks at Frenchman's Farm and Encampment Cove, but check with rangers about their status as they can run dry.
Are there toilets on Maria Island?
Yes. There are toilets at the ferry jetty, Darlington campground, and Darlington Penitentiary Accommodations.
After reading this you will want to add Maria Island to your bucket list. My overnight stay on Maria Island was one of the best things I did on my visit to Tasmania and I'm sure you'll love it too. If you have questions about visiting Maria Island, Tasmania, let me know in the comments.
More Tasmania Posts: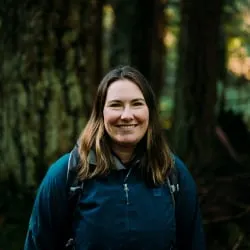 Latest posts by Taryn Eyton
(see all)