If you're planning a trip to Tasmania, chances are the historic convict site at Port Arthur is on your list. But did you know that there are soooo many other things to do on the Tasman Peninsula?
The area is home to some of Tasmania's best walking tracks, interesting sea caves, great food, unique wildlife, sandy beaches, beautiful viewpoints, and tons of other historical sites.
Sure you could head to Port Arthur for a day trip, then head right back to Hobart, but why not stay a few days? There are tons things to do in the Port Arthur area!
I've been to the Tasman Peninsula twice and each time we spent a few days in the area. But there's so much to see so I wish we could have stayed longer.
Here's my big list of 20+ things to do on the Tasman Peninsula near Port Arthur. I've done most of the things on this list, but you better believe the rest are on my list for my next Tasmania visit. (Because there's definitely going to be a next visit!)
This post includes:
Hey there: Some of the links in this post are affiliate links, which means I earn a small commission at no extra cost to you if you make a purchase. Thanks for supporting my website! -Taryn
This is a sensitive wilderness area. Learn how to Leave No Trace to keep the wilderness wild. Make sure you are prepared by bringing the 10 Essentials. Get ready for adventure with this checklist of things to do before every hike.
Tasman Peninsula and Port Arthur Area Map
The Tasman Peninsula is a fairly compact place, with most of the sights clustered around Eaglehawk Neck and Port Arthur. Here's a handy map of every place I mention in this article, plus the driving route from Hobart to Port Arthur.
Things to do on the Tasman Peninsula Near Port Arthur
Pirate's Bay Lookout
As you approach the Tasman Peninsula via the Arthur Highway, be sure to take a short detour on to Pirate's Bay Drive. There's a spectacular lookout over Eaglehawk Neck and Pirate's Bay down below.
Be sure to grab a coffee from the Cubed Espresso caravan parked at the kiosk. Some people say it is the best coffee in Tasmania. (And that means a lot! Coffee in Tassie is reliably amazing.)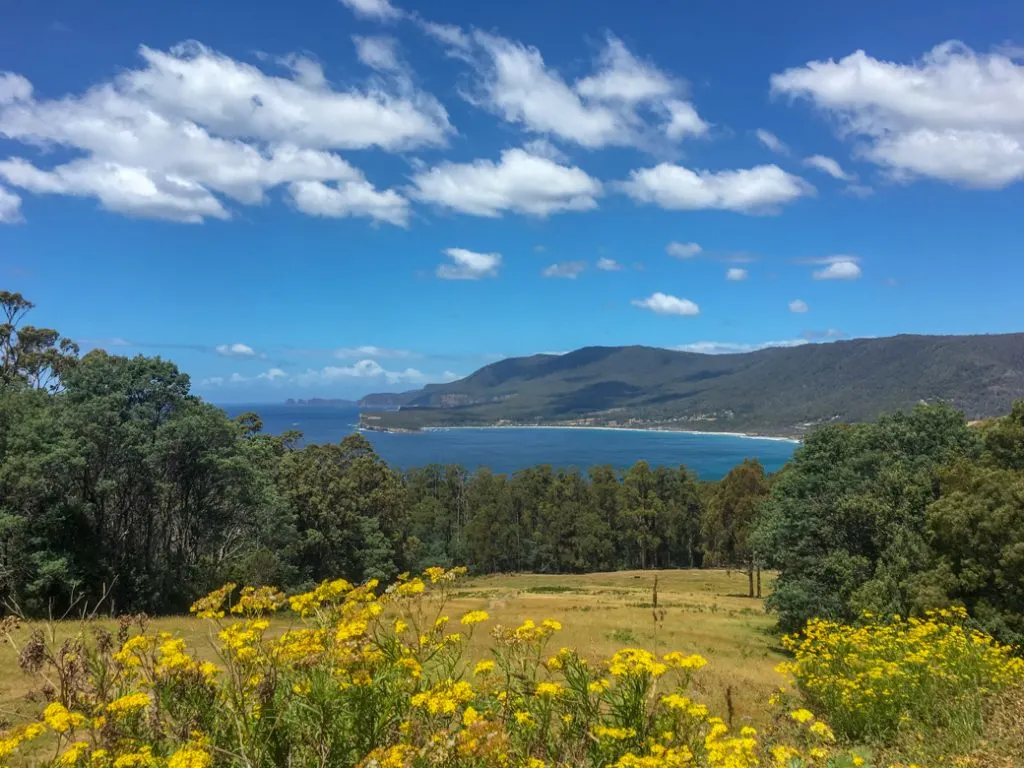 Tessellated Pavement
Continue downhill on Pirate's Bay Drive to the Tessellated Pavement. Walk down the short path to see the unique rock shelf, divided into rectangular formations.
Be sure to read the info board that explains how salt crystals actually form the tessellations. Science is so cool! This spot is a photographer's favourite, especially at sunset.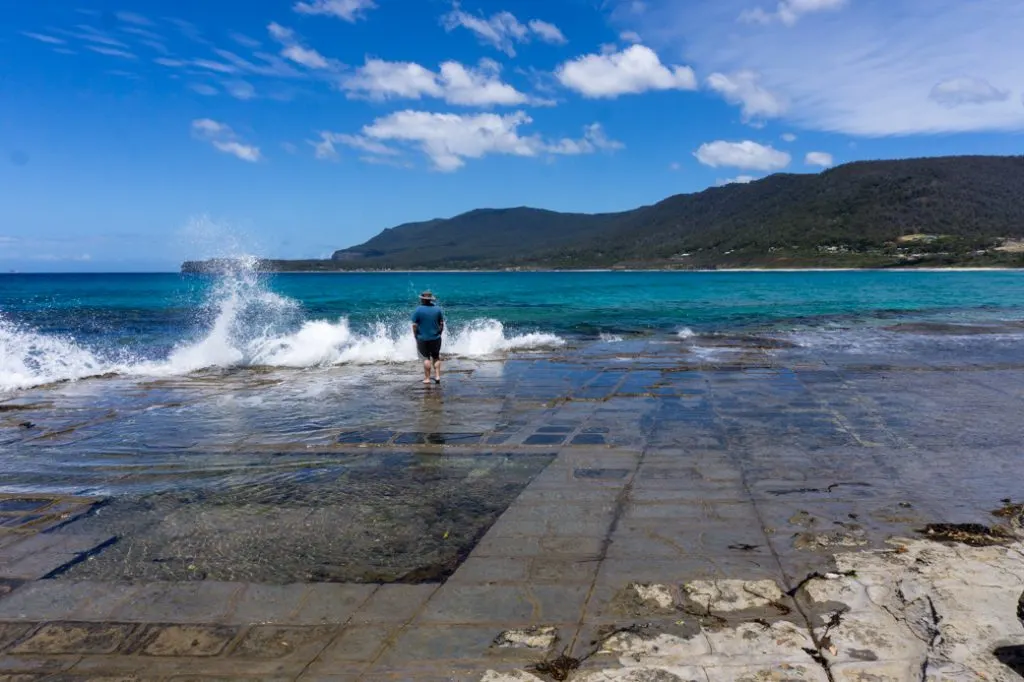 Eaglehawk Neck and the Dog Line
Eaglehawk Neck is a narrow isthmus joining the Tasman Peninsula to the rest of Tasmania. It's so narrow that it's only 30 meters wide!
The penal colony at Port Arthur was so successful because the British only had to fence off Eaglehawk Neck to keep prisoners contained on the peninsula. They even had a line of vicious dogs patrolling the isthmus.
The penal colony days are long over, but there is still some interesting history at Eaglehawk Neck Historic Site. Be sure to stop in at the Officer's Quarters, which is now a museum. You can also take a walk around the site and see a bronze statue that commemorates the famous dog line.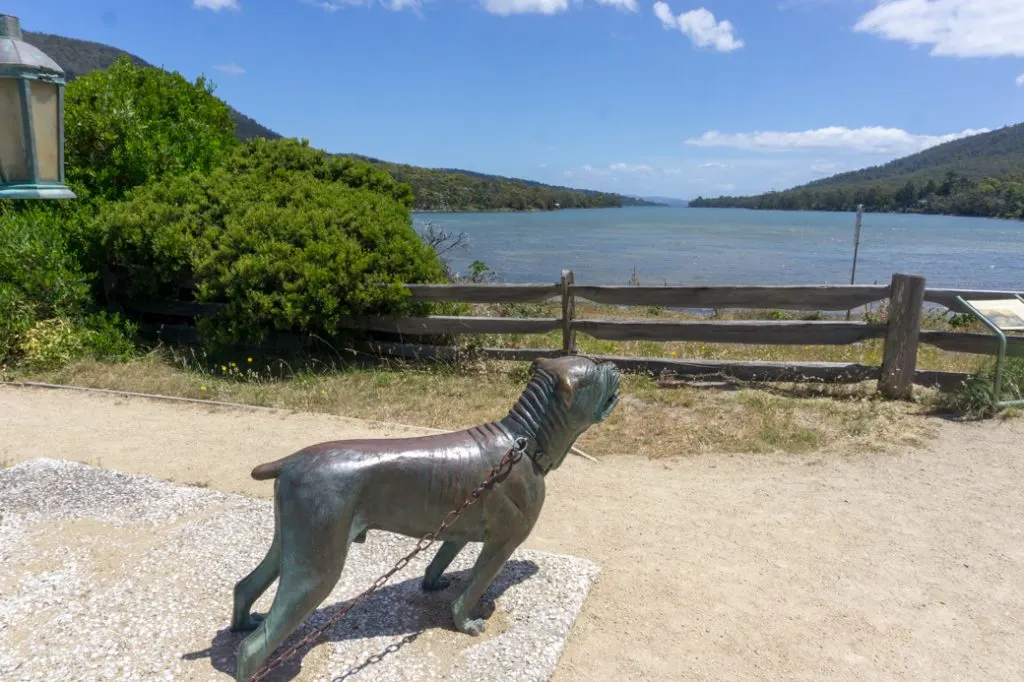 Tasman Island Boat Cruise
By far, my favourite thing to do near Port Arthur is to the Tasman Island boat cruise. It's truly spectacular and was one of the coolest things I did in Tasmania.
The boat trip takes you past towering sea cliffs, into sea caves, and up close to the amazing rock pillars at Cape Pillar and Cape Huay. You also cruise past picturesque Tasman Island.
There's also lots of wildlife to see. On my trip we saw tons of dolphins and seals, plus lots of different species of sea birds including some giant albatrosses. You an also see whales if you go at the right time of the year. Be sure to book your boat cruise in advance as they do fill up.
Pro tip: Book your cruise for the end of your visit to the Tasman Peninsula. That way you will see all the sights from land first, then enjoy them from the ocean. I think it's definitely more spectacular this way.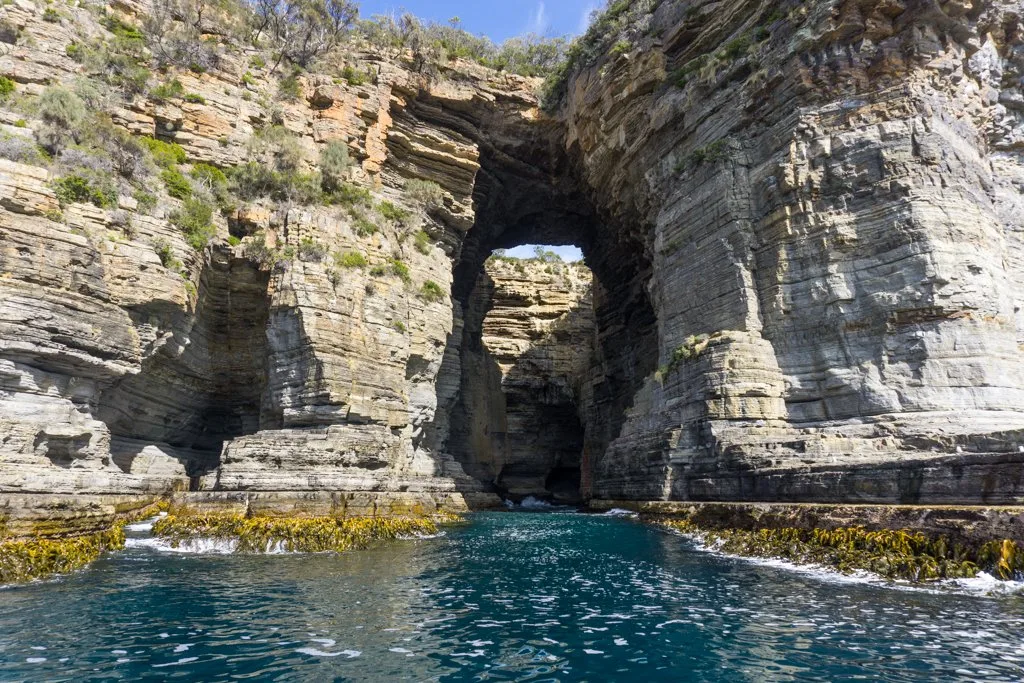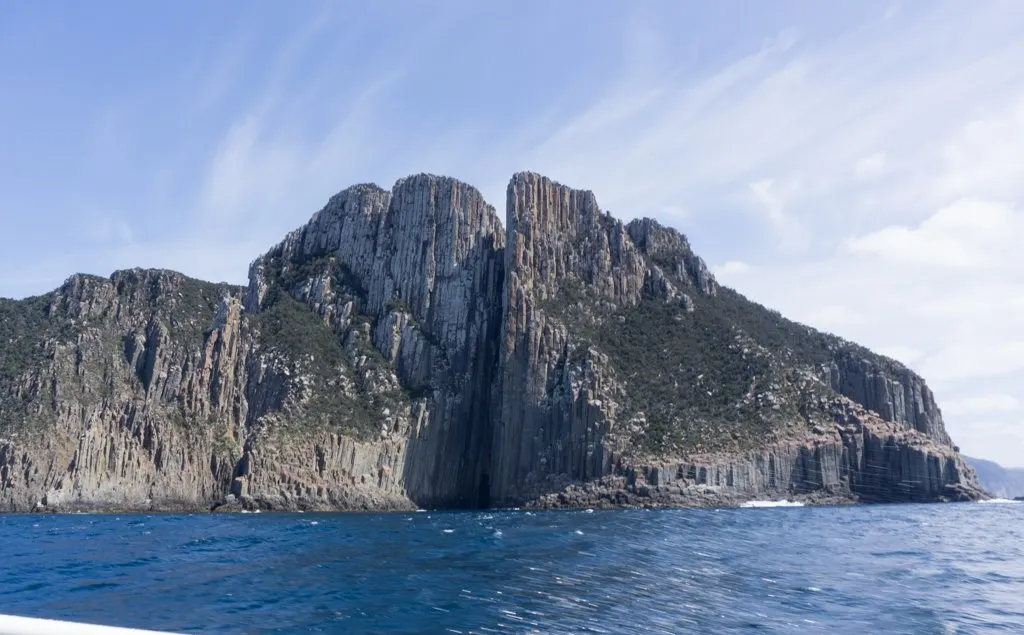 Doo Town
The quirky neighbourhood of Doo Town is a must for pun lovers. It's a collection of summer homes, which the locals call shacks. They all have some form of "doo" on their nameplate. Some of my favourites: "Love Me Doo", "Just Doo It", "Make Doo", "Digeri-Doo" and the risque "Doo-Me".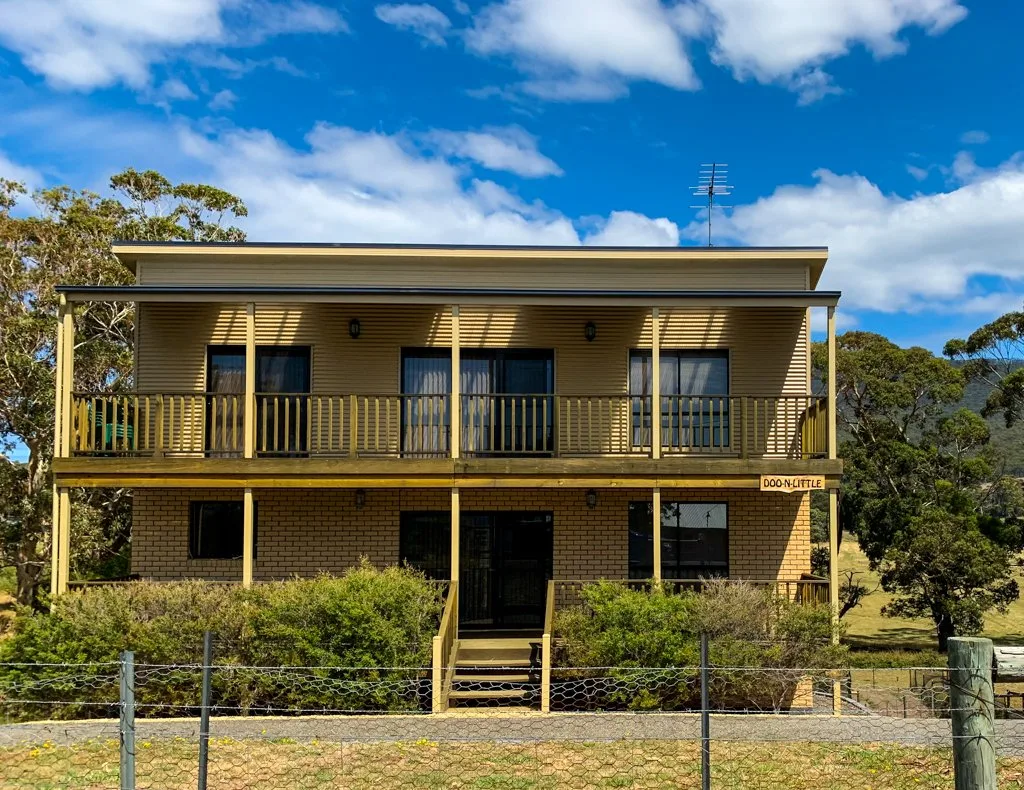 Doo-lishus
Just past Doo Town you'll find incredible food at Doo-lishus, a modest-looking food truck in Blowhole car park. People say they have some of the best fish and chips in Tasmania. They're so good that we drove out of our way to eat here on our second visit to the Port Arthur area.
Their curried scallop pies are amazing too. Definitely the best I've ever had. Honestly, I'd drive out here for the pies alone!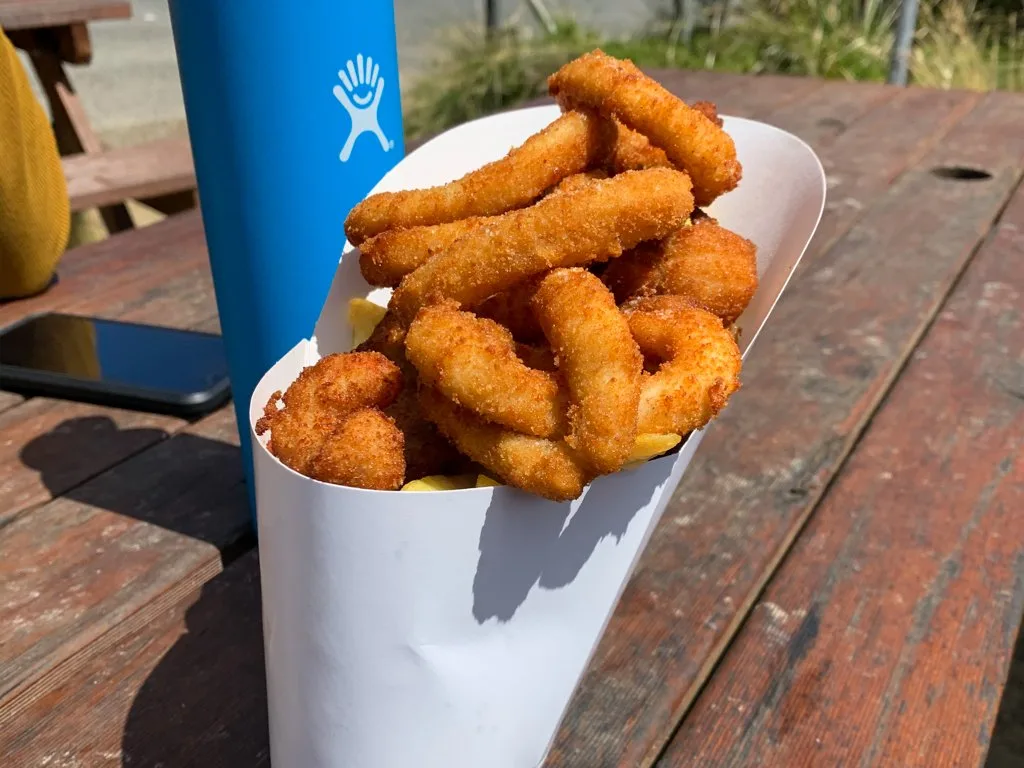 The Blowhole and Fossil Bay Lookout
Stretch your legs on the easy 10 minute walk around the Blowhole. Years of water and waves have carved this unique geological feature. Be sure to walk all the way around to peer through the gap above the waves out to the open ocean. On days with big surf, the waves are pretty spectacular.
On your walk, take the spur trail to the Fossil Bay Lookout for great views of the ocean cliffs. If you take the Tasman Island Boat Cruise you'll also get to see these cliffs from the water.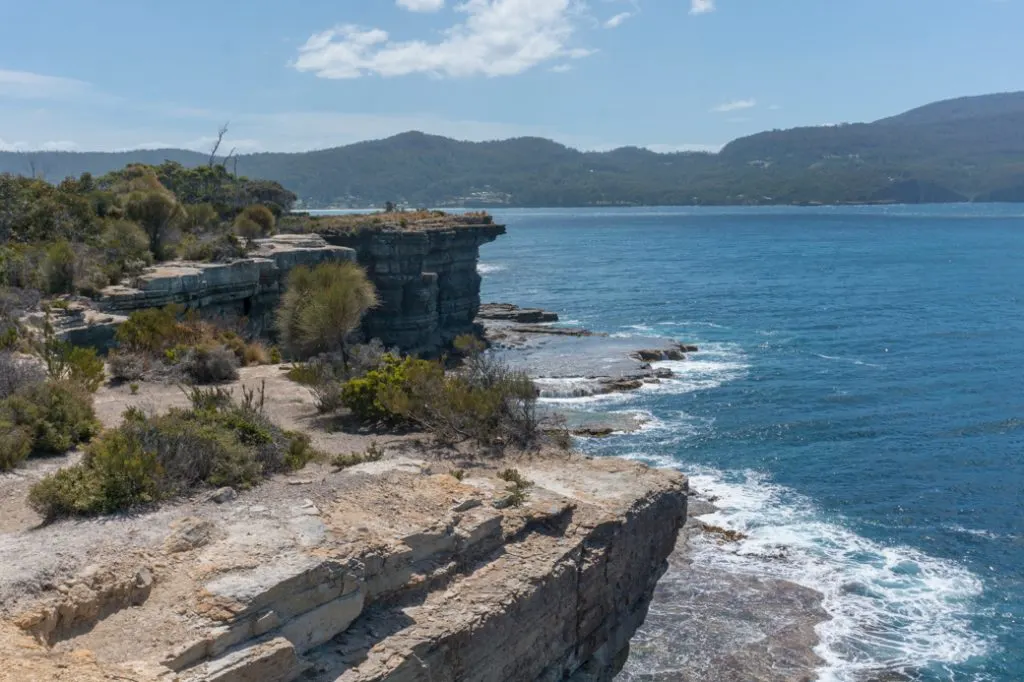 Tasman Arch and Devil's Kitchen
Up the road from Doo Town and the Blowhole, are two more interesting geological attractions: Tasman Arch and Devil's Kitchen.
I think Tasman Arch is one of the most spectacular sights on the Tasman Peninsula. It's a huge sea arch carved out of the cliffs. There's a walkway all the way across the arch, but the best views are from the parking lot side. From there you can see right underneath the arch. Another great way to see the arch is from the Tasman Island boat tour (above).
Nearby Devil's Kitchen is a deep trench cut in the sea cliffs. It's what Tasman Arch will look like when the top of the arch eventually collapses.
You can visit both Tasman Arch and Devil's Kitchen on a short 20 minute walking path. But if a walk isn't your thing, there are car parks next to both of them so you can drive instead.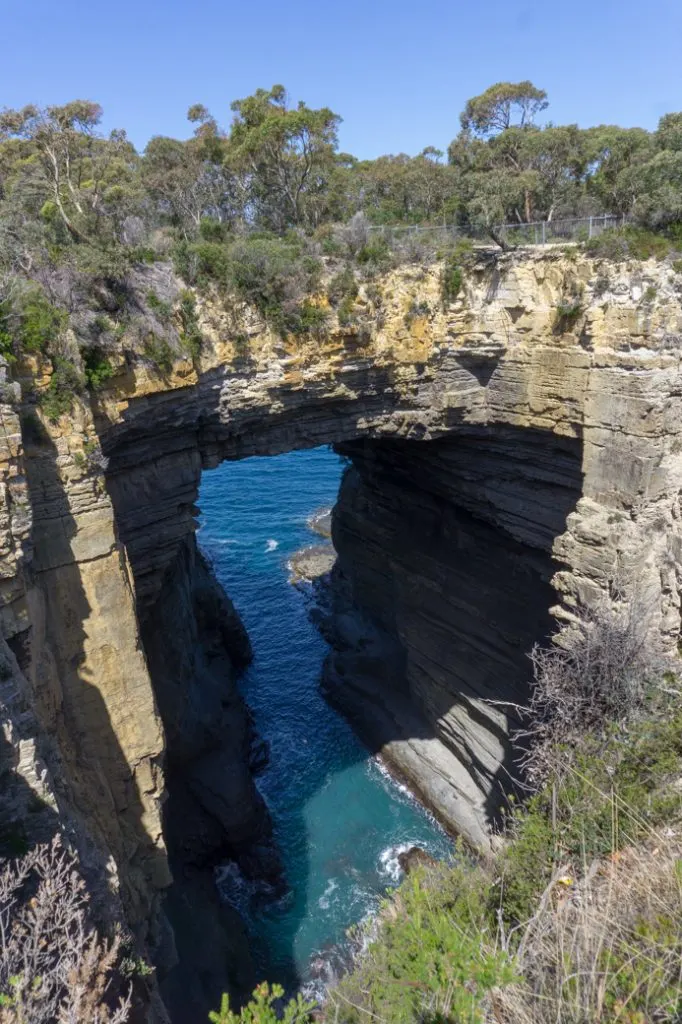 Waterfall Bay
This off-the-beaten-path gem features a waterfall that cascades down the cliffs into the ocean. Unfortunately, on my trips I didn't have time to visit (and since it was in the middle of summer, the waterfall was dried up.) But it's definitely on my list for next time.
There are a few ways to get there. You can drive to the viewpoint via the 7 km long unsealed Waterfall Bay Road.
You can also walk from the Devil's Kitchen car park via the Waterfall Bay Track. The walk takes 30-45 minutes each way and is one of Tasmania's Great Short Walks.
The last option is to visit Waterfall Bay as part of a boat cruise to Tasman Island. The boats sometimes nose in right underneath the falls.
Tasmanian Devil Unzoo
The Tasman Peninsula still has a small population of endangered Tasmanian devils. But since they are pretty elusive, your best chance of seeing them locally is to head to the Tasmanian Devil Unzoo.
This wildlife sanctuary is called an "unzoo" since its aim is not to display animals in traditional cages. Instead they created natural habitats for animals with concealed barriers that allow humans to enter or observe. At the Unzoo, their focus is on education and conservation.
In addition to Tasmanian devils, they also have possums, wallabies, quolls, kangaroos, pademelons, and many species of birds.
I haven't visited the Unzoo, but I don't mind too much since I was lucky enough to spot a Tasmanian devil in the wild on my trip to the Tarkine region of Tasmania.
Interested in seeing Tasmanian animals in the wild? Check out my comprehensive guide to the Best Places to See Wildlife in Tasmania.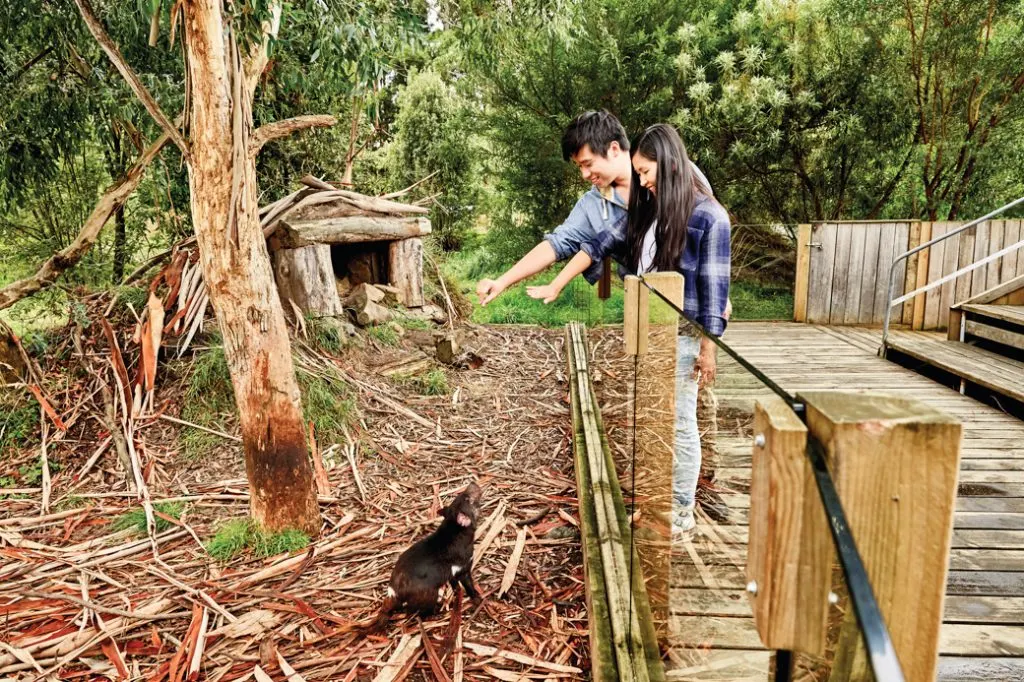 Port Arthur Lavender Farm
Have you seen those breathtaking images of Tasmanian lavender fields online? There's a chance some of them were taken at Port Arthur Lavender Farm. They have over 16,000 lavender plants on seven hectares of land.
Stroll through the lavender, then head inside to the cafe for brunch or lunch. They also have 9 different lavender inspired drinks, lavender ice cream, and lavender fudge! (And unlike some other lavender farms in Tasmania, it's free to visit this one.)
Fortescue Bay
Follow the bumpy and unsealed Fortescue Bay road 12 kilometres from the Arthur Highway to reach sandy Fortescue Bay in Tasman National Park. There is a popular campground here, as well as some world-class walking tracks.
But even if you are a day-tripper, it's worth it to visit this remote beach deep inside the National Park. The sandy beach and protected bay make it a great place for swimming. There are barbecues and picnic tables too.
If you stay until dusk you'll get a close-up view of the resident wallabies hopping around the campground and day use areas.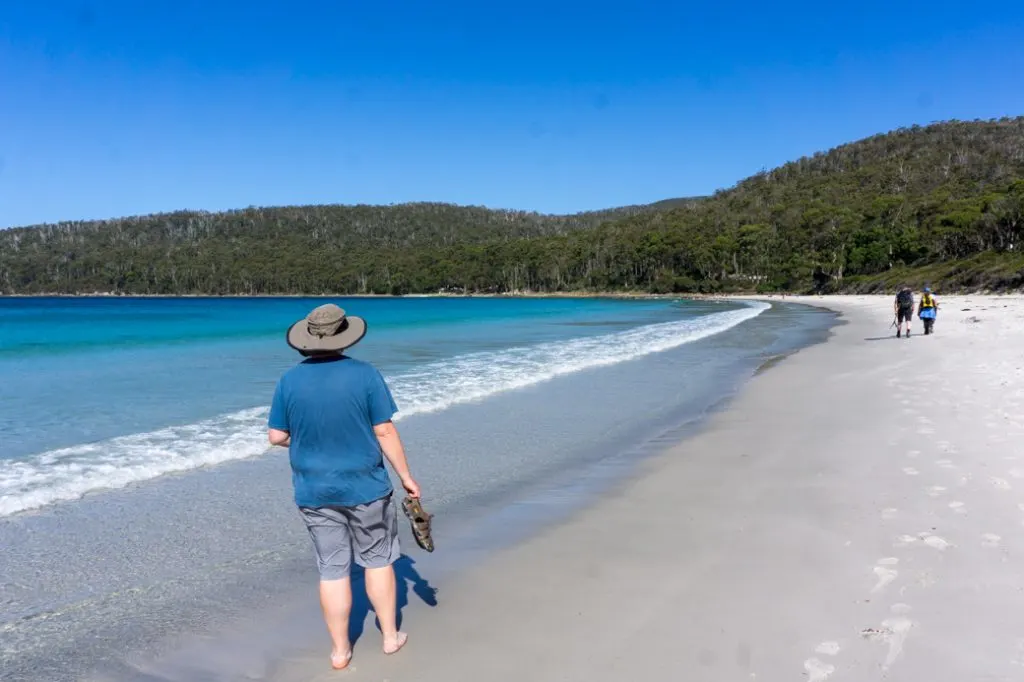 Bivouac Bay Track
The Bivouac Bay Track is a remote coastal walk beginning at Fortescue Bay. You'll walk along uninhabited coastline through Tasman National Park passing by a shipwreck at Canoe Bay. Five kilometers from the start, you will arrive at Bivouac Bay.
There's a small wilderness campsite here. But the highlight is the great view across Fortescue Bay to the towering dolerite columns of Cape Huay. The Bivouac Bay track takes about 3 hours and is one of Tasmania's Great Short Walks.
Cape Huay Track
When you stopped at Pirate's Bay Lookout, you likely saw a spectacular cape far in the distance, split into many pillars. That's Cape Huay.
You can walk all the way to Cape Huay from Fortescue Bay on a moderately challenging track that takes about 2 hours each way. There are a lot of stairs along the way, but plenty of nice viewpoints too.
At the end, look out at the Totem Pole, a solitary pillar standing on its own. Can you believe rock climbers clamber up it?
This hike is also on Tasmania's Great Short Walks list. If you'd rather go with a guide, book a guided hike to Cape Huay. It includes transport and lunch too. (While I haven't had time to hike to Cape Huay yet, I can confirm that the view of it from the Tasman Island boat cruise is really cool!)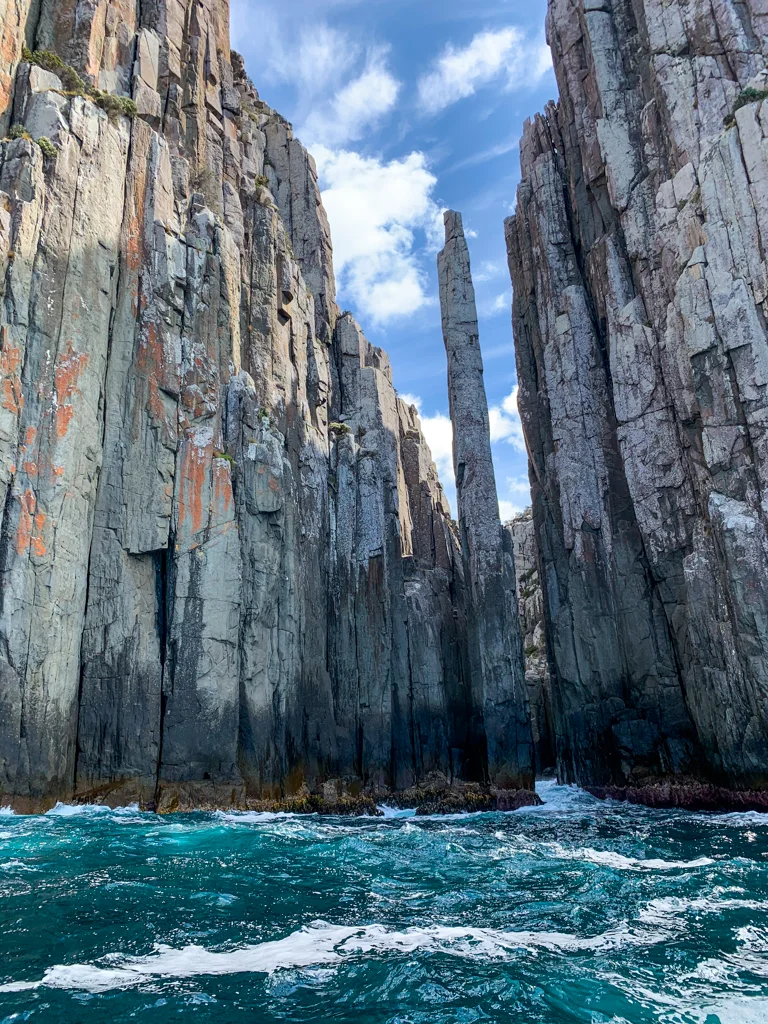 Cape Pillar Track
The spectacular sea cliffs at Cape Pillar are some of the tallest in Australia, towering 300m above the ocean. The trail to the cape is part of the pricey Three Capes Track (see below), but you can also visit on your own for just the price of a parks pass.
It's a 29km return trip walk so it's best to split it up over two days, staying at one of the backcountry campsites. I spent three days hiking in the area and I can confirm that it's spectacular, especially the views of Tasman Island!
Learn more about the hike to Cape Pillar on the Tasmania Parks and Wildlife website.
If the hike sounds too strenuous, you can also see Cape Pillar from the water on the Tasman Island boat tour (above).
Port Arthur Historic Site
The historic convict settlement at Port Arthur is the most popular site on the Tasman Peninsula, and in Tasmania in general. And for good reason.
It's a fabulous open-air museum full of prison buildings in various states of decay. There's also lots of interesting info about the history of the area. It's also a UNESCO World Heritage Site.
Plan on spending at least half a day here, and up to a full day if you want to do any of the additional guided tours. Visiting Port Arthur was one of the highlights of my time in Tasmania.
Next time I go, I'd like to do their nighttime, lantern-lit ghost tour. It sounds spooky (but fun!) Save time and reserve your spot: buy your ticket online.
Want to visit more historical convict sites in Tasmania? Visit the Darlington Probation Station on Maria Island.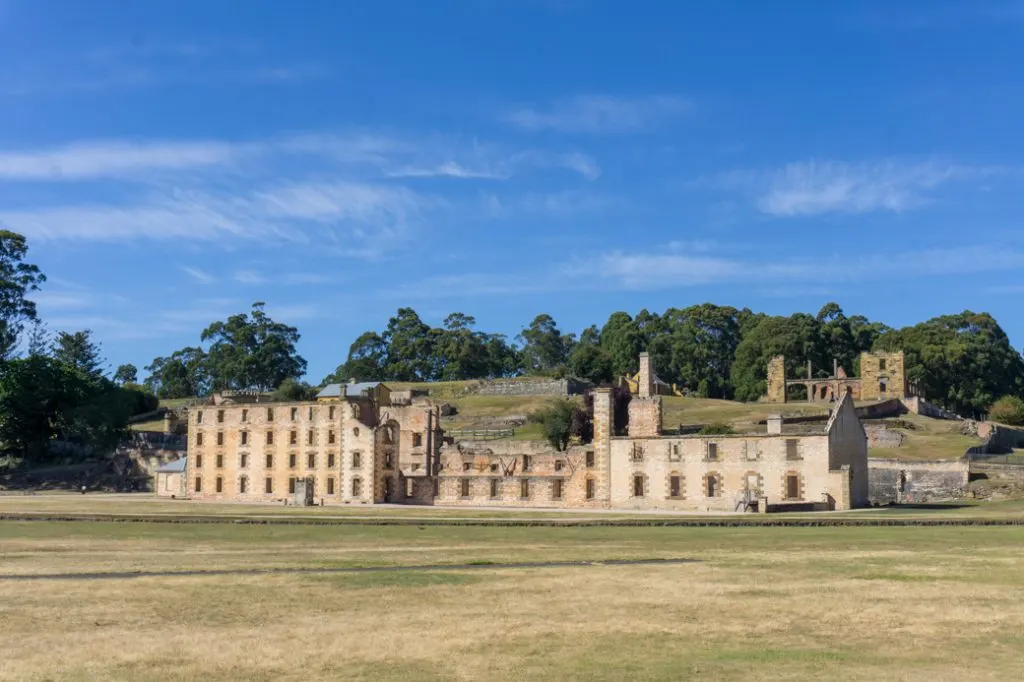 Three Capes Track
The Three Capes Track is the newest of Tasmania's long distance walks. It's also the fanciest. The four-day, 48 km walk starts with a boat cruise across from Port Arthur across the bay.
Each night you'll stay in an eco-friendly cabin. The entire walk is across boardwalks and crushed gravel trails – no muddy boots here!
Along the way, you'll pass by Cape Pillar and Cape Huay and get great views of Cape Raoul across the bay. The track ends at Fortescue Bay where a charter bus whisks you back to Port Arthur.
You need to book well in advance, and be warned: for a hiking trip it's not cheap. Due to the cost, I haven't done this hike yet, but I did hike a big section of it independently when I went to Cape Pillar.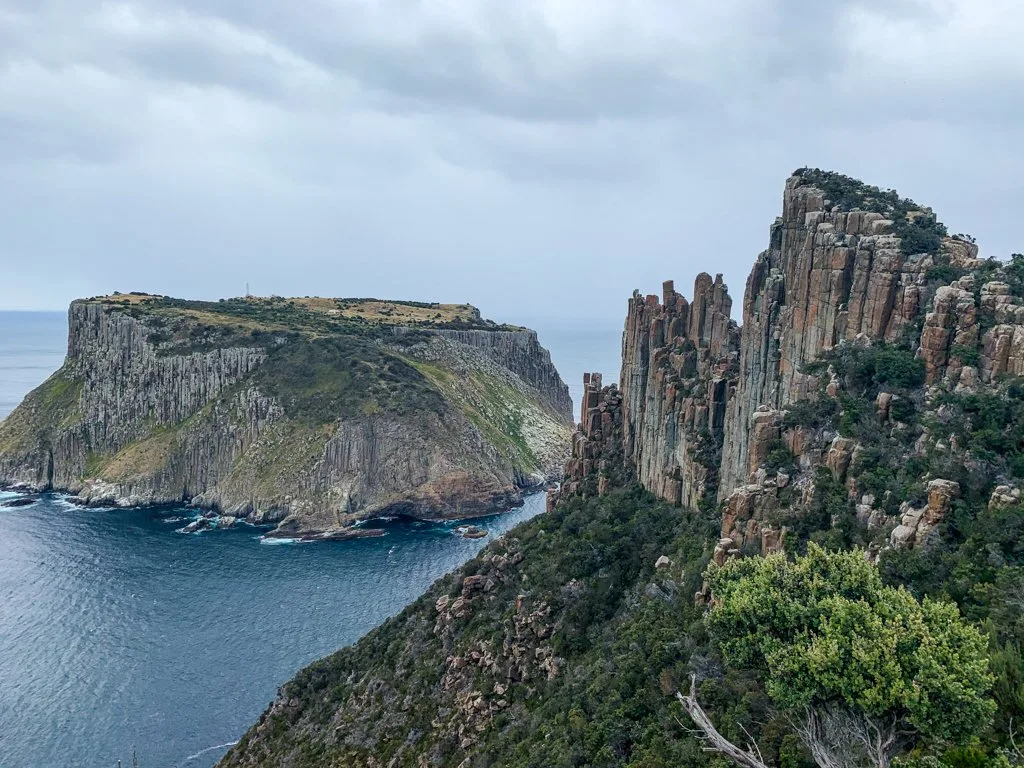 Remarkable Cave and Maingon Bay Lookout
You'll find this geological oddity just down the road from Port Arthur. It's aptly named – it really is remarkable! This sea cave is actually more of a tunnel. In fact, it's really two tunnels through the sea cliffs that join together. Visit at low tide for the best views. Climb down the steep stairs to have a look.
While you're there, take the short path from the car park out to the Maingon Bay Lookout. There are great views of the sea cliffs and you can often spot surfers in the waves far below you.
McHenry Distillery
If you like bespoke spirits, head to McHenry Distillery near Port Arthur. They can proudly claim to be Australia's southern-most whiskey distillery. They also make many varieties of gin, as well as vodka.
If you are really keen, you can even sign up for a workshop to make your own custom gin! I haven't visited in person, but my husband has sampled the whiskey and says it's pretty good.
Cape Raoul Track
Down at the southern-most tip of the Tasman Peninsula you'll find Cape Raoul. It's a 14km round trip hike that should take about 5 hours. Along the way, you'll walk along the top of towering sea cliffs with amazing views towards Hobart, Bruny Island, and Cape Pillar.
Like the other capes in the area, Cape Raoul has loads of spectacular dolerite rock columns. The walk to Cape Raoul is yet another of Tasmania's Great Short Walks.
Coal Mines Historic Site
Port Arthur is not the only historic convict site on the Tasman Peninsula. Escape the crowds and head to Coal Mines Historic Site on the quieter western part of the peninsula. It was Tasmania's first coal mine and is now a UNESCO World Heritage Site.
You can walk amongst ruins of houses, barracks, and prisons from the penal colony. Be sure to head into the solitary confinement cells – they're extra creepy. There's a short walking track around the site and entry is free.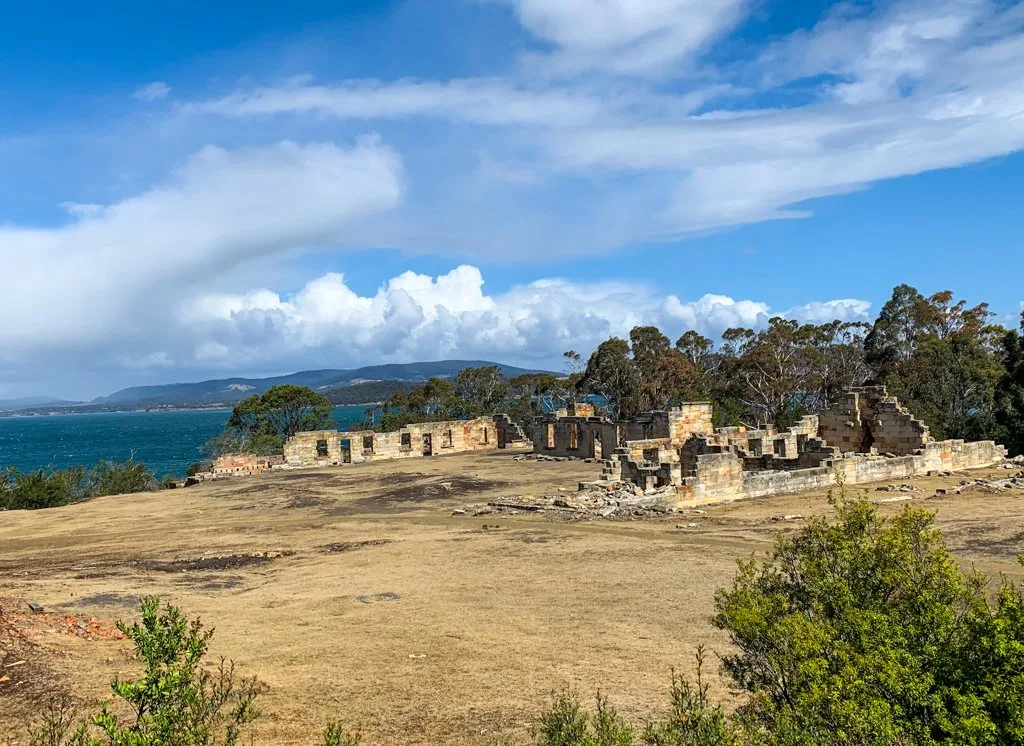 Take a Scenic Flight Over the Tasman Peninsula
If you've seen jaw-dropping photos of the Tasman Peninsula, chances are they were taken from the air. Get your own incredible photos on a scenic helicopter flight.
They fly over most of the peninsula's key sights including Cape Raoul, Remarkable Cave, Port Arthur, Tasman Island, and Cape Pillar. It looks like a real bucket-list item, and I'm keen to book a flight on my next trip to Tasmania.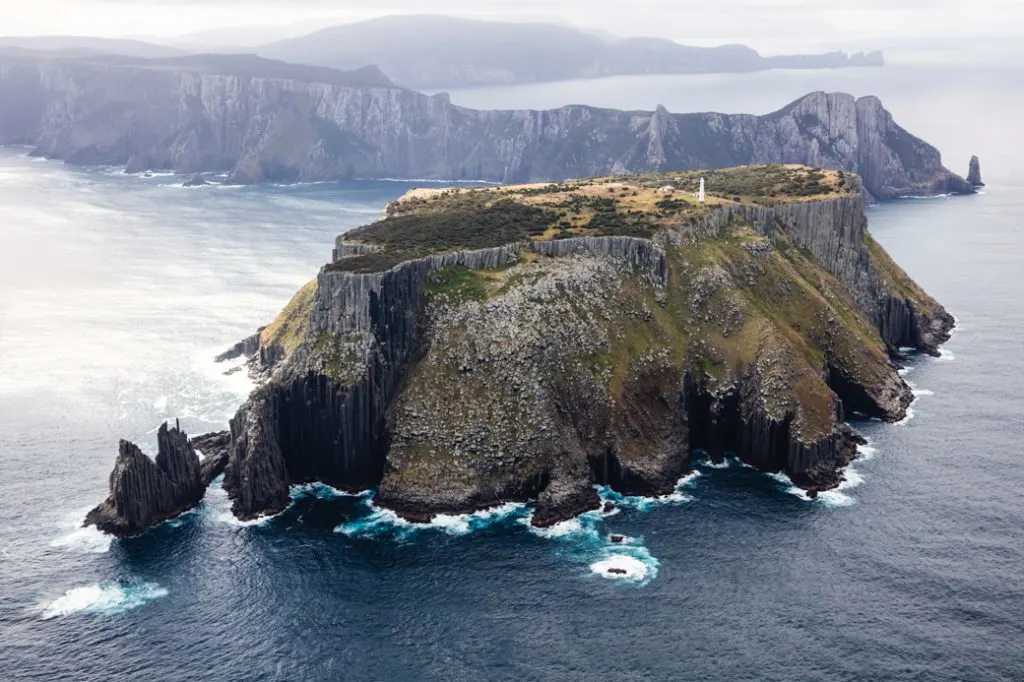 Getting to the Tasman Peninsula and Port Arthur Area
The Tasman Peninsula is an easy 1-hour drive from Hobart along the Tasman Highway (the A3), and the Arthur Highway (the A9). It's best to hire a car and drive yourself. I use Discover Cars because it lets you compare prices from lots of different companies so you can be sure you're getting the best deal.
Once on the peninsula, the roads are well signed and most of them are sealed.
However, if you'd prefer to let someone else do the driving, you can book a full-day Tasman Peninsula highlights tour from Hobart. It includes Port Arthur and a wilderness boat cruise to Tasman Island.
You can also take the public bus from Hobart to the Tasman Peninsula. However, it doesn't run very often. On the Tasman Peninsula it stops at Eaglehawk Neck, Taranna, Port Arthur, and Nubeena. You can see a few things near these places, and but it's pretty inconvenient compared to driving yourself.
How Many Days to Spend on the Tasman Peninsula and Port Arthur Area
Many people visit the Tasman Peninsula as a day trip from Hobart. That's definitely possible, but you'll only have time to see a fraction of the sights and won't have time for any hiking. I think Port Arthur Historic Site alone requires a full day!
I recommend you spend at least two days on the peninsula, but three or four days would be even better. (And if you're going to Hobart, check out my 2-day Hobart itinerary to make sure you hit all the highlights.)
Tasman Peninsula and Port Arthur Accommodations
There are lots of hotel, Airbnb and camping options on the Tasman Peninsula. Most of the Tasman Peninsula accommodations are clustered around the towns of Port Arthur, Nubeena, Taranna and Eaglehawk Neck.
Boutique Hotel
Stewart's Bay Lodge: Private waterfront chalets with beach access and an on-site restaurant. Plus it's right next to Port Arthur Historic Site.
Budget Hotel
Lufa Hotel and Apartments: 4-star hotel in Eaglehawk Neck, across the street from the Tessellated Pavement. Great reviews and good prices. We had dinner at their restaurant one night. It's one of the more affordable places to eat dinner on the Tasman Peninsula and has a great view.
Self-Contained Cottages
Ab's by the Bay: I stayed in one of these affordable cabins on one of my trips. It's a great central location in Taranna and has everything you need to cook your own meals. While none of the cabins have water views, there is private beach access.
Camping
There are a few different campgrounds on the Tasman Peninsula. If you want to stay centrally and have a caravan, book in at the NRMA Holiday Park in Port Arthur or White Beach Tourist Park in Nubeena.
If you want a more wilderness experience, I recommend the National Park campground at Fortescue Bay, but you'll need to book ahead. On one of my trips, I stayed at the walk-in sites which are a bit crowded. But they are just steps from the beach, which is amazing.
For an even more off-the-beaten-path camping experience, head to Lime Bay State Reserve on the western side of the peninsula. No bookings are taken, and it's a bit of a drive to the sights.
Tasman Peninsula and Port Arthur Area Practicalities
The Tasman Peninsula has a low population so there are limited services in the area.
There is a petrol station in Port Arthur, but it may close early.
There are small grocery stores in Port Arthur and Nubeena. If you want to eat out, there are lots of restaurants in the Port Arthur and Nubeena areas. But they may not be open for all meals and may require advance booking. Always check first!
If you plan to visit any of the National Park sites you need a valid National Park pass. (Sites listed here that are in the National Park include the Blowhole, Tasman Arch, Devil's Kitchen, Waterfall Bay, Fortescue Bay, Cape Huay, Cape Pillar, Remarkable Cave, and Cape Raoul).
You can buy one online, at other Tasmanian National Parks or at the ranger station at Fortescue Bay. Day passes are available, but the 8-week holiday pass is the best deal for non-residents since its valid at all Tasmanian National Parks.
So now you know about all the best things to see near Port Arthur and the Tasman Peninsula. If you have questions while planning your trip, let me know in the comments.
More Tasmania Posts: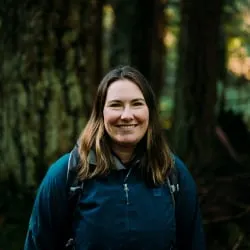 Latest posts by Taryn Eyton
(see all)