There's something special about islands. Therefore, an island off another island should be doubly special, right? I definitely think that's the case when it comes to Bruny Island.
Australia's island state of Tasmania is known for its incredible food, drink, wilderness, and scenery. And Bruny Island on Tasmania's southeast coast has all of those things. I'd argue it has some of the best farm-to-table food in the state.
And the scenery… well just scroll down and look at the photos if you don't believe me about how beautiful it is.
The best thing about Bruny Island is its location. It's just 45 minutes from Tasmania's capital city of Hobart. That makes it the ideal Hobart day trip, either as part of a tour or on your own. But if you really want to experience Bruny, I'd recommend staying for a night (or even longer).
Read on to find out everything you need to know to plan a trip to Bruny Island. This guide includes:
This is a sensitive wilderness area. Learn how to Leave No Trace to keep the wilderness wild. Make sure you are prepared by bringing the 10 Essentials. Get ready for adventure with this checklist of things to do before every hike.
Hey there: Some of the links in this post are affiliate links, which means I earn a small commission at no extra cost to you if you make a purchase. Thanks for supporting my website! -Taryn
Bruny Island Map
I made a custom Google Map of Bruny Island for you. It has every single thing I mention in this post including places to eat, photo stops, camping, hikes and more. Download it in your offline maps before your trip since the mobile phone service is unreliable.
Bruny Island Basics
Highlights: Farm-to-table foodie stops, beaches, hiking, wildlife, and spectacular scenery.
Location: Bruny Island is located off the southeast coast of Tasmania. The ferry terminal is a 45-minute drive from south from Hobart. (See "How to Get to Bruny Island" below for more info.)
The island is actually two small islands, known as North Bruny and South Bruny, separated by a thin sandy isthmus called The Neck. North Bruny is more pastoral with lots of farms. South Bruny has a more forested, wilderness feel.
How Long to Spend on Bruny Island: Most visitors make a day trip to Bruny Island, and you can see the highlights in a single day. However, I recommend spending at least one night so you aren't rushed.
Bruny Island Weather: Bruny is in southern Tasmania, so it can often be windy, rainy, and chilly even in summer. Bring a rain jacket and a fleece just in case.
Mobile phone coverage on Bruny Island: Most of the island has some mobile phone coverage, but it's often 3G (not 4G or LTE) and not very strong. You'll get the best signal if you're with Telstra. The far sound end of the island has no coverage.
Self-Drive Bruny Island vs. Bruny Island Tours
There are two ways to experience Bruny: drive yourself or take a tour. There is no public transport on the island so you need a car to get around. On our visit, we drove ourselves and explored the island over two days.
However, at many of the stops, we ran into tour groups in small mini-buses. It made me realize that if you want to see the highlights in a single day, taking a Bruny Island day tour from Hobart is definitely the way to go.
At each of the foodie stops the tour groups had priority seating, a private area, and a local guide to explain the food for them. They didn't waste time parking, deciding what to order, etc. like we did trying to DIY it.
I did appreciate the flexibility we had since we self-drove, as we were able to drive back to the Neck later in the day to take photos in better light and see it without the crowds. We also had time to do a hike, something that the tours don't really allow for.
I'd say if you want to make a quick day trip to Bruny, definitely take a tour. But if you have a bit more time, it makes sense to drive yourself.
You can hire a car in Hobart easily. I use Discover Cars since it lets you compare prices from lots of different companies. That way you can be sure you are getting the best deal.
Best Bruny Island Day Tours
The most popular (and highest-rated) tour company is Bruny Island Safaris. They run small group tours from Hobart in mini-buses. Their tours hit all the highlights including Cape Bruny Lighthouse, the Neck, Adventure Bay, Get Shucked, and Bruny Island Cheese. They arrange everything for you including ferry and national park fees, lunch, and lots of tastings. Check prices.
Wine and whiskey lovers will love the highly-rated tour offered by Penticott Wilderness Journeys. In addition to stops at the usual viewpoints, it includes whiskey tasting at Tasmanian House of Whiskey, wine tasting at Bruny Island Premium Wines and lunch at the winery too. Check prices.
If you're looking for a budget-priced Bruny Island tour, check out the version that Tassie Tours offers. It includes a cheese tasting but doesn't include lunch or other tastings to help you save money. But it still hits all the highlights that the Bruny Island Safaris tour visits and you can pay for your own tastings if you choose. Check prices.
How to Get to Bruny Island
How to Get to Bruny Island from Hobart
If you are taking a tour, your guide will arrange to pick you up in Hobart.
If you are driving yourself, head south of the city on the A6 Highway, known as the Southern Outlet. In Kingston, take the exit for the B68 (Channel Highway). When you get to the town of Kettering, turn left onto Ferry Road and follow it to the ferry terminal. The entire drive takes about 45 minutes, but allow more time during rush hour.
Bruny Island Ferry
The Bruny Island ferry runs from the town of Kettering to Roberts Point on North Bruny. The crossing takes about 20 minutes.
The ferry runs every 30 minutes between 6:10 am and 7:00 pm. You can see the full Bruny Island ferry timetable here.
The ferry is first-come, first-served; there are no advanced bookings, which means you may have to wait a few sailings at popular times. The ferry costs $46AUD per car for a return fare, with reduced prices for seniors and higher prices for RVs and caravans.
More details on Bruny Island ferry prices are here.
Driving on Bruny Island
Bruny is surprisingly big – it's about 68km by road end to end. It takes over an hour to drive from one end of the island to the other.
On North Bruny, most of the roads are paved (sealed), but it's a different story on South Bruny which has lots of gravel roads. Driving on gravel is slow and dusty. All of the roads are narrow and winding, so take your time.
If you plan to drive your hire car (rental car) on Bruny Island, check first. Some companies don't allow their cars on gravel roads or have special rules for Bruny.
There is only one petrol station on Bruny. It's in Adventure Bay on South Bruny. Fill up before you get on the ferry as it's much cheaper on the mainland.
Things to do on Bruny Island
Admire the Views at the Neck and Truganini Lookout
By far the most photographed place on Bruny is Truganini Lookout at the Neck. The neck is a narrow isthmus of sand that joins North and South Bruny Islands. In the middle of the Neck, a dune rises high above the beach.
You can climb over 200 wooden stairs to the top for incredible views. The platform up here is called Truganini Lookout. It's dedicated to Truganini, a Bruny-born woman who is believed to have been the last full-blooded Tasmanian Indigenous person.
Pro tip: Try to visit the Neck early or late in the day to get photos without tons of people in them, and for much prettier lighting.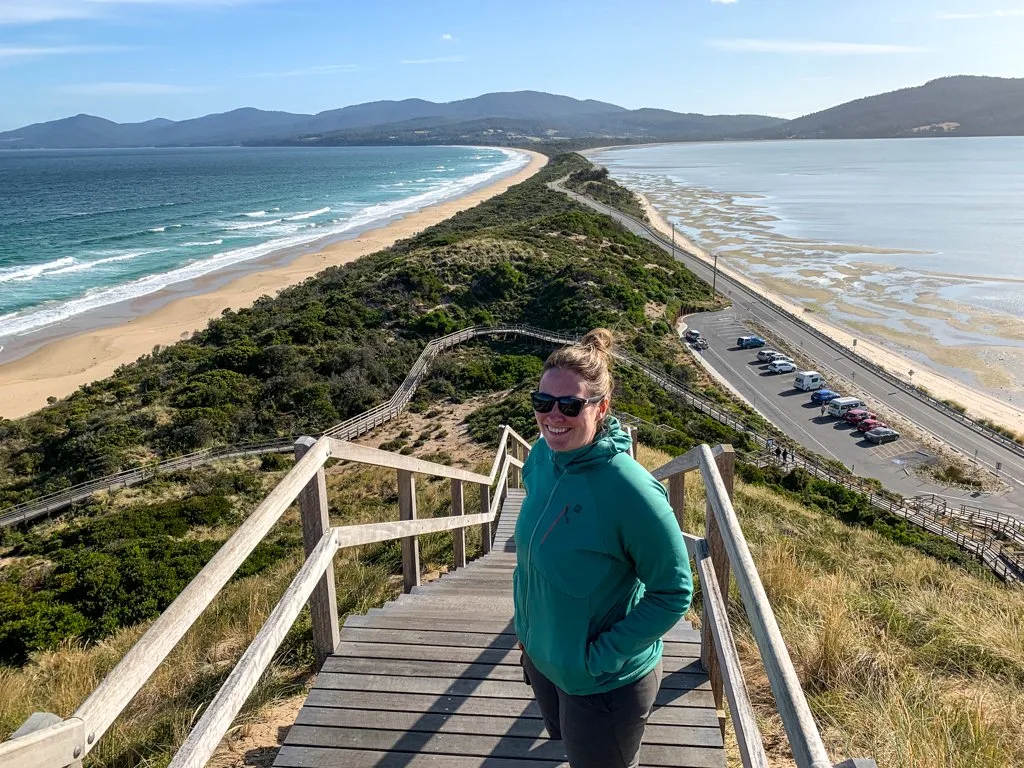 Visit the Cape Bruny Lighthouse
The Cape Bruny Lighthouse is another popular spot. Built in 1838, it was active for 158 years. The original lights ran on sperm whale oil! These days an automated and solar-powered light on a nearby headland does the job that lighthouse keepers did for decades.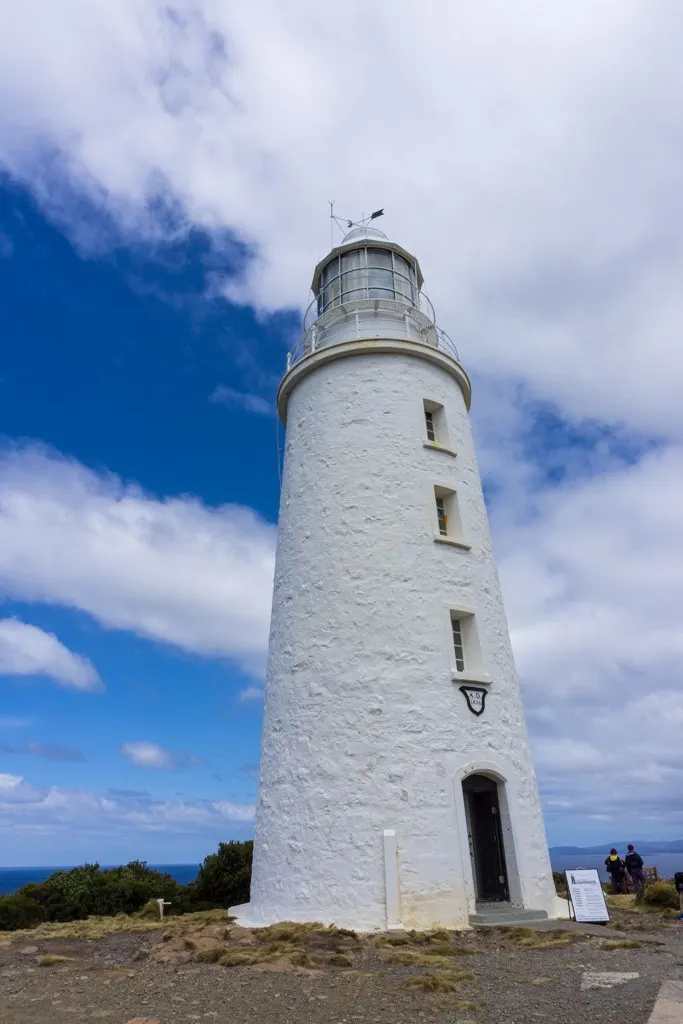 It's a short walk from the car park up the hill to the lighthouse. The views of the surrounding coastline from up there are spectacular.
You can also take an hour-long tour of the lighthouse interior for just $15. The tour includes a visit to the upper deck of the lighthouse, where the views are even better. Unfortunately on the day I visited they were totally booked up for the day, so I missed out.
The lighthouse is located on the southern tip of Bruny Island. It's an hour's drive from the ferry terminal on gravel roads. It's inside South Bruny National Park so you will need a national park pass to visit. If you don't already have a pass, you can buy one from a machine just inside the park entrance.
Pro tip: Book your Bruny Island Lighthouse Tour tickets online in advance. (Don't be dumb like me and miss out!)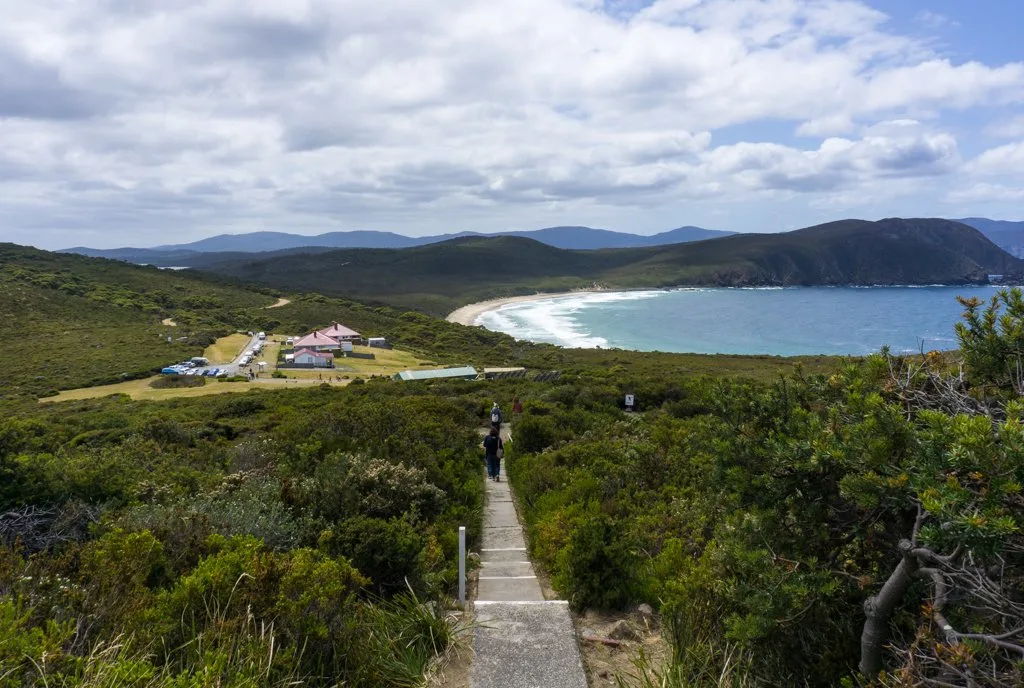 Eat and Drink at the Bruny Island Beer and Cheese Co.
If you're a foodie, be sure to stop at the Bruny Island Beer and Cheese Co. It's about 20 minutes south of the ferry dock.
It started as a simple dairy but has grown into a fabulous destination. They make artisan cheese and brew excellent beer.
The best way to enjoy their cheese is with fresh bread from their wood-fired oven. We bought a loaf that was still warm! As a self-proclaimed cheese snob, I can say that their washed rind and Tomme-style cheese are some of the best I've tasted in Tasmania.
They have a cafe where you can order cheese tasting platters, coffees, and snacks, as well as sample flights of beer. We enjoyed it so much that we bought beer, cheese, and bread to take with us, then had a picnic on the beach later in the day!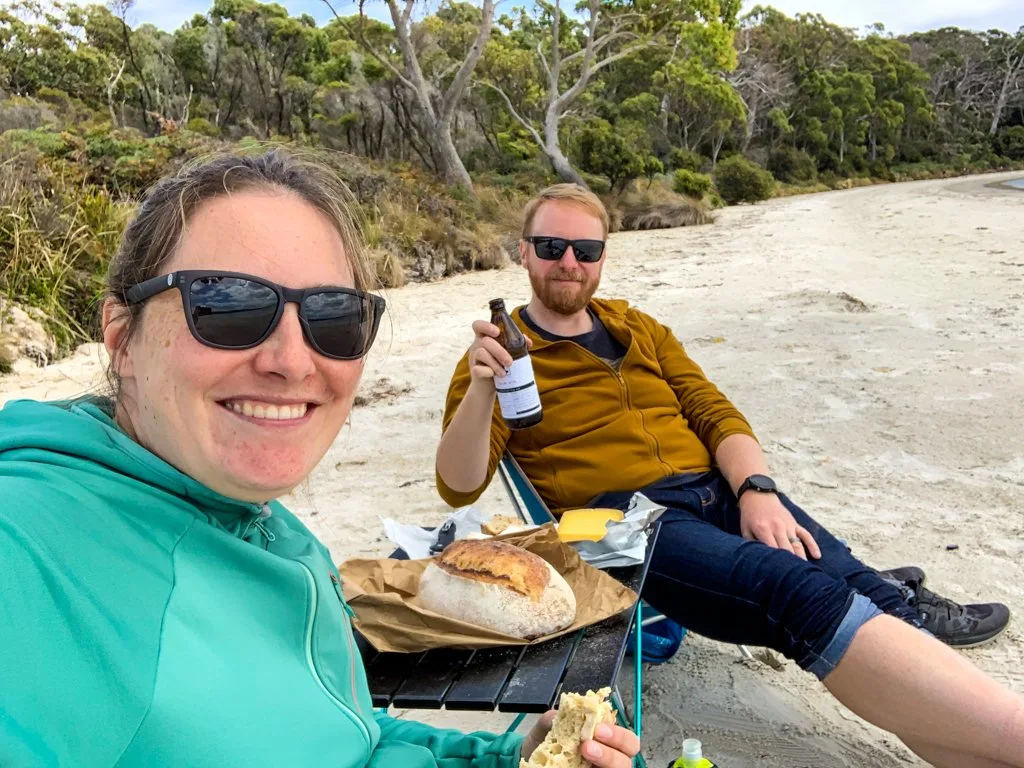 Immerse Yourself in Local History
Bruny has a long and interesting history. There are a few places around the island to dive in and learn more about it.
Check out the Bruny Island Quarantine Station interpretive site on Killora Road on North Bruny, the Bruny Island Historical Society in Alonnah on South Bruny, or the Bligh Museum of Pacific Exploration in Adventure Bay.
And if you're into natural history, check out the Inala Nature Museum and Jurassic Garden on Cloudy Bay Road on South Bruny.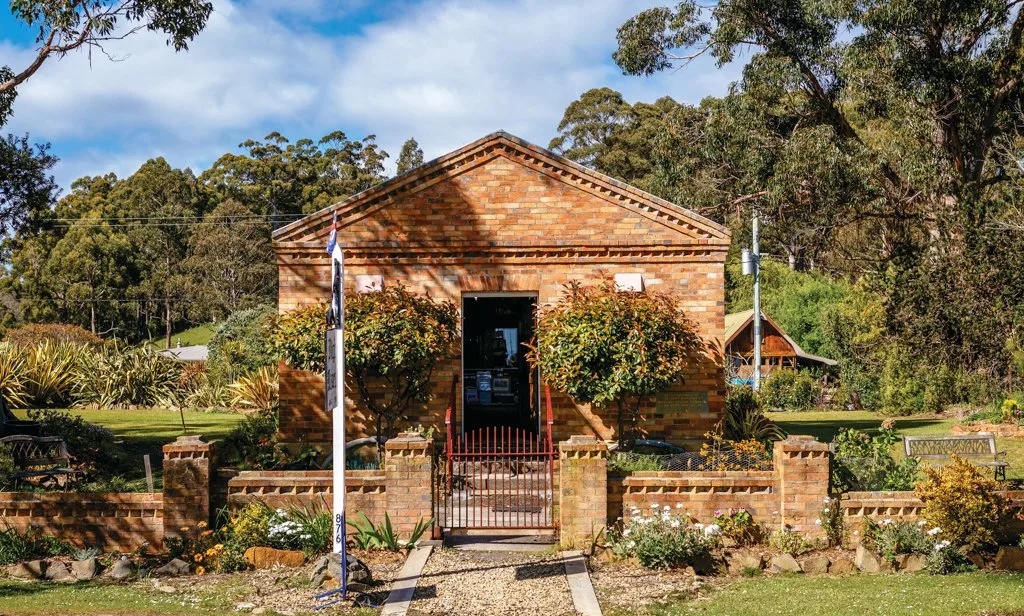 Hike to Fluted Cape
This challenging hike is short but steep. It's ranked as one of Tasmania's 60 Great Short Walks. Tasmania Parks claims it's only 4km, but my GPS watch measured it as 6.5km with 500m of elevation gain.
It's a circuit that starts with a flat walk along the water to the remains of an old whaling station at Grass Point. From there, you climb steeply up alongside dramatic cliff edges to the top of the cape. Be sure to stop on the walk up to get photos. (You'll need to pause to catch your breath anyway!)
At the top, a gentler trail switchbacks down the hill to complete the loop. Allow 2 to 2.5 hours for the walk. It starts at a car park next to Bruny Island Cruises in Adventure Bay.
Pro tip: Make sure you do the circuit walk clockwise as it has the best views of the cape.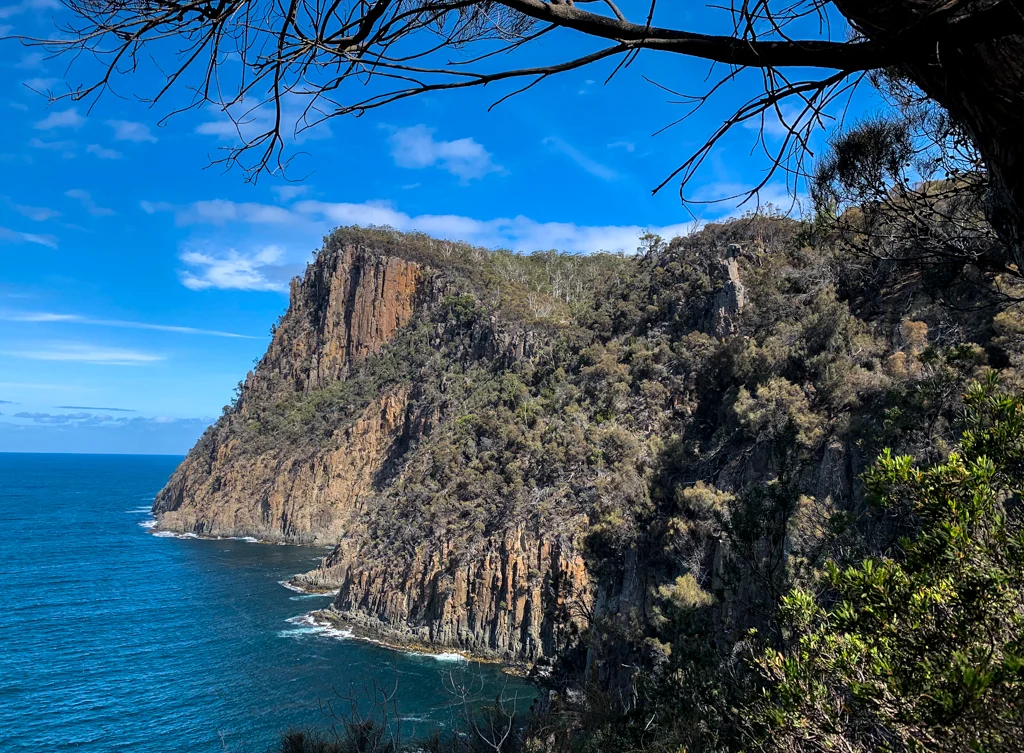 Look for White Wallabies
Bruny Island is home to a small population of white wallabies. Some of these have a genetic mutation that makes them white while others are albino. The lack of predators on the island means that the white wallabies have flourished.
You can find the white wallabies around the Captain Cook caravan park in Adventure Bay or on the track to Grass Point (on the way to Fluted Cape).
Pro tip: The best time to spot them is dawn and dusk. We saw quite a few wallabies in the area, but sadly none of them were white. We didn't have time to hang around until dusk, so that's probably why we didn't see them.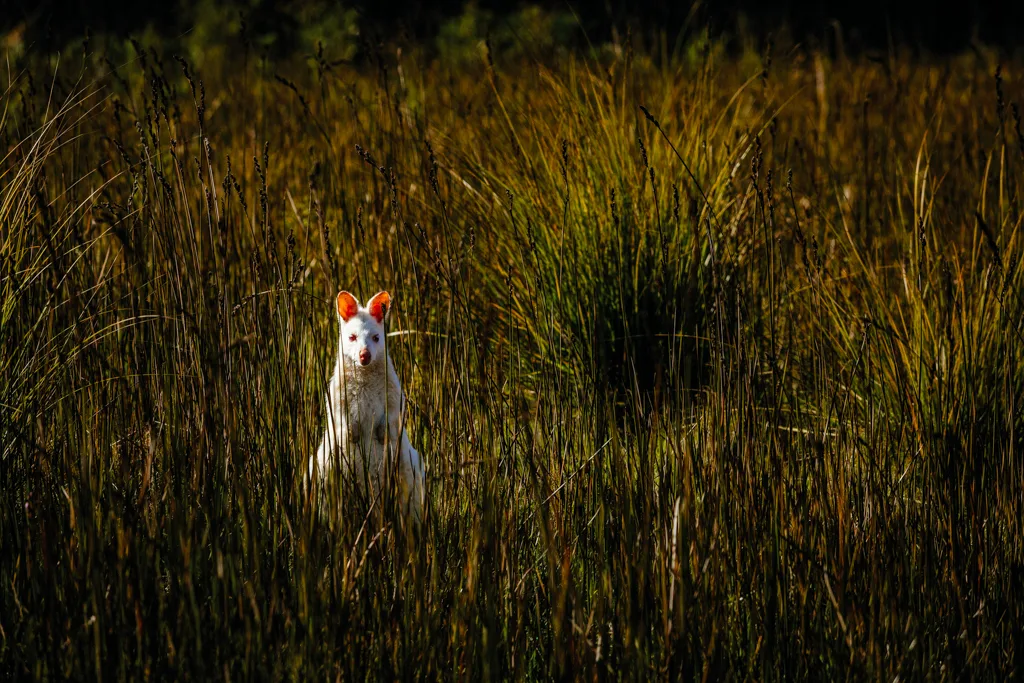 Taste Fresh Oysters at Get Shucked
You might chuckle at the name, but the seafood here is no joke! The oysters at Get Shucked are super-fresh: you can look across the road to the oyster farm in Great Bay from your table. T
hey call it "bay-to-bar" dining. I love them raw, but if you don't, they also offer cooked oysters prepared a few different ways.
Another novel aspect of Get Shucked: they have the only oyster drive-thru I've ever heard of! They're located in Great Bay on North Bruny about 20 minutes south of the ferry dock.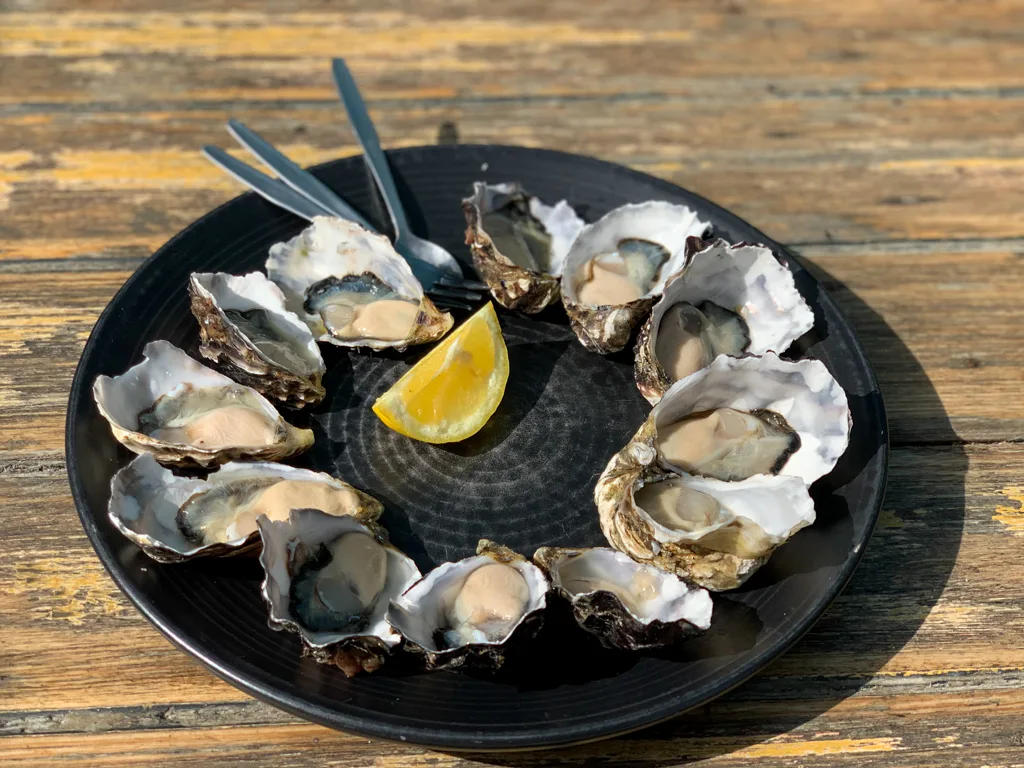 Hit the Beach
Bruny Island has dozens of sandy beaches, perfect for lounging away the afternoon or catching a sunset. Many of them have shallow water which gets warm in the sun.
We loved Jetty Beach in South Bruny National Park. But the beaches at Adventure Bay, Cloudy Bay, Lighthouse Bay, the Neck, and Miles Beach (on the way to Cape Queen Elizabeth) also look beautiful.
Pro tip: To visit Jetty Bay and Lighthouse Bay you'll need a national park pass since they are inside South Bruny National Park.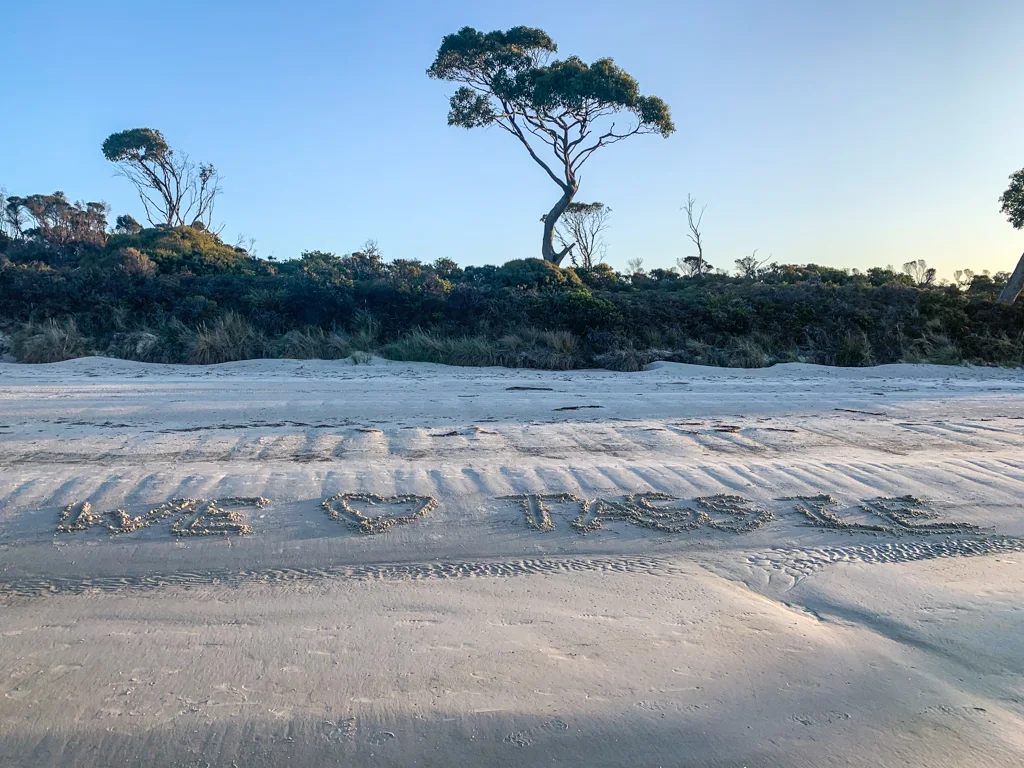 Watch the Penguins
Tiny bluish penguins known as "little penguins" or "fairy penguins" live in Tasmania. And you can visit a penguin colony on Bruny Island.
Head to the Neck at dusk to watch the penguins come out of the ocean and head to their burrows to feed their chicks. There's a park ranger on staff to answer all your penguin related questions.
To protect the penguins, it's important to avoid blinding them with camera flashes or torches (flashlights). If you have a torch with a red light, that's great. Otherwise, you can get a piece of red plastic from the ranger to put over the lens of your torch.
They're really hard to photograph, so be content with just watching them waddle around.
Want to know where else you can spot penguins in Tasmania? Check out my guide to the best places to see wildlife in Tassie.
Try Local Whiskey, Wine, and Cider
Although it's a small island, Bruny has wine, cider, and whiskey!
The Bruny Island House of Whisky is the first place you pass on your drive from the ferry terminal. They have the state's largest collection of Tasmanian whiskeys and offer tasting flights.
If wine is more your style, head to Bruny Island Premium Wines just south of Lunawanna on South Bruny. They are Australia's southernmost vineyard. Taste the wine or eat at the cafe.
And finally, there's cider too. Bruny Island Cider is available only at Hotel Bruny in Alonnah. Sip cider in the sunshine on the patio while you enjoy a seafood lunch from the hotel pub.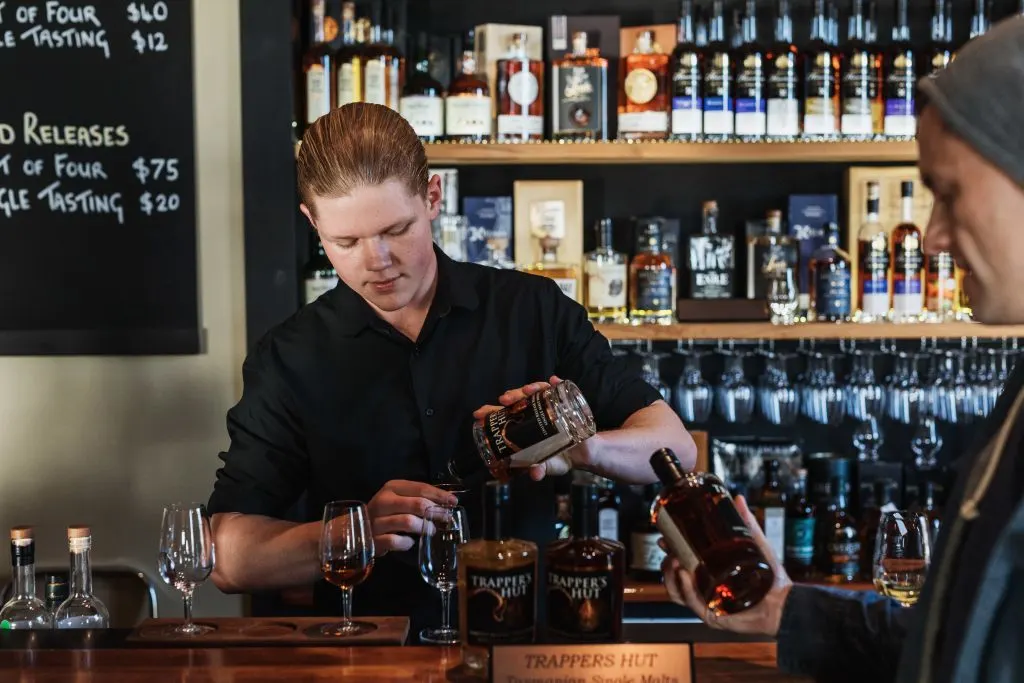 Take a Boat Cruise
We didn't have time to take a boat cruise during our time on Bruny. But when we were hiking Fluted Cape we saw the boats zips along the cliffs far below, and it looked incredible. If I make it back to Bruny Island, I'll make doing a boat tour a priority.
Bruny Island Cruises offers 3-hour tours leaving from Adventure Bay. They nose into coastal caves, seek out wildlife like fur seals, and get close enough to hear the unique "Breathing Rock" inhale and exhale with the waves.
Pro tip: Click here to book your Bruny Island boat cruise in advance. They sell out often in the summer!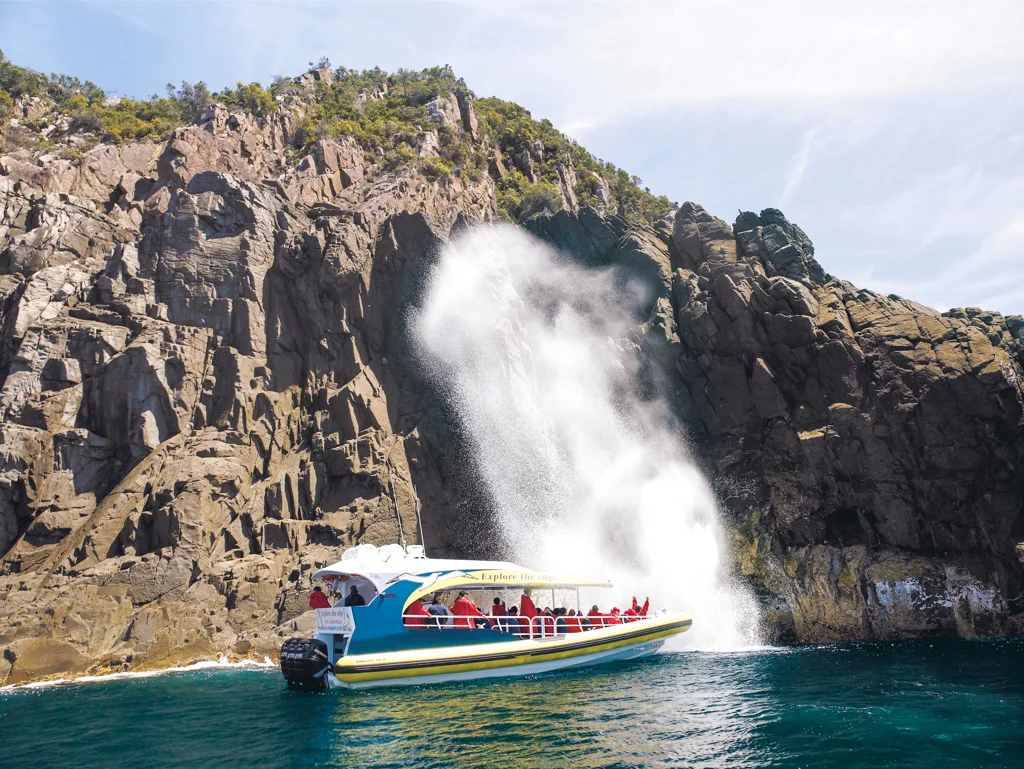 Go Bushwalking
I only had time for one hike on Bruny: Fluted Cape (above). But there are lots of other great bushwalks on Bruny Island. This list of the best hikes on Bruny Island has all the details. Some recommended walks include:
Labillardiere Peninsula: 5-hour circuit in South Bruny National Park. (Park pass required.) Ranked as one of Tasmania's 60 Great Short Walks
Luggaboine Circuit: 1.5-hour circuit that is a shorter version of the Labillardiere Peninsula Walk.
Cape Queen Elizabeth: 3-hour out and back walk near the Neck with a stop at a unique rock arch in the middle. Part of the walk is on the beach.
Mavista Nature Trail: 45-minute nature trail in the rainforest near Adventure Bay
If you'd rather hike with a local guide, Bruny Island Safaris will take you on a guided walk to Cape Queen Elizabeth. They pick you up in Hobart, throw in a packed picnic lunch full of food from local Bruny food producers, and stop at food producers on the way to and from the ferry. Check prices.
Indulge Your Sweet Tooth
If you love sweets, Bruny has you covered. Head to Bruny Island Chocolate on South Bruny on the road to Adventure Bay. Their small shop has a great selection of handmade chocolates and fudge.
Stop in to Bruny Island Honey in Great Bay on North Bruny to buy honey harvested on the island. They drive their beehives around the island to find whatever is flowering including Manuka, Leatherwood, and Prickly Box.
Lastly, make sure you arrive early to get the ferry off the island. You don't want to miss the Black Devil cherries. It's a cherry variety unique to Tasmania. They are sold out of a truck near the ferry line-up.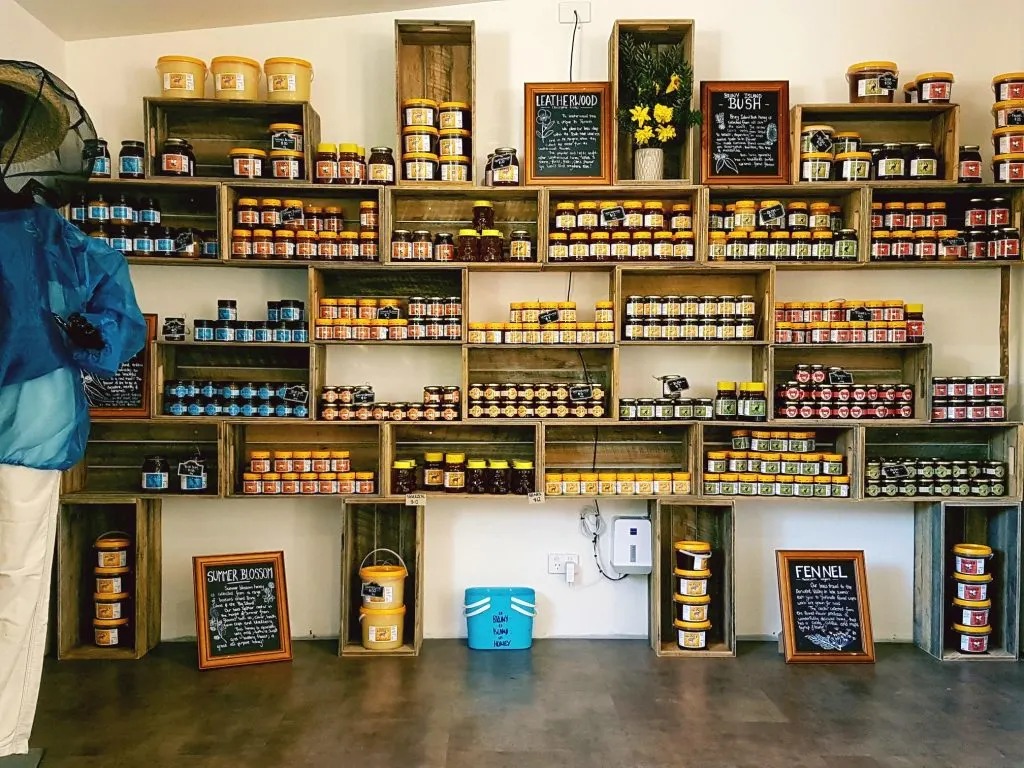 Check out the Art
I didn't have time on my visit, but apparently Bruny Island isn't short on art. Pay a visit the Art Room in Dennes Point on North Bruny or Sprokkelwood Art Garden on Cloudy Bay Road on South Bruny
Where to Stay on Bruny Island
While many visitors do a Bruny Island day trip, it's definitely worth staying overnight. The last ferry of the day leaves around 7 pm, so the island really quiets down in the evening.
Bookings are essential as there aren't that many Bruny Island accommodations. Here are my recommendations for where to stay on Bruny Island.
Hotels
Hotel Bruny/Bruny Island Escapes: There's only one real hotel on Bruny Island: Hotel Bruny in Alonnah on South Bruny. They have traditional hotel rooms as well as self-contained cottages nearby. It's a handy location since the Hotel Bruny pub is one of only a few places on the island to get dinner. Check rates.
Cottages and Self-Contained Units
43 Degrees Bruny Island: Eye-catching and modern cottages with an arched roofline and glass windows looking out on Adventure Bay on South Bruny. The cottages were built with sustainability in mind and have a 6+ star energy rating thanks to solar power, rainwater collection, organic paint and more. Check rates.
The Tree House: A two-bedroom vacation home in Alonnah. Lots of windows give you great views of the ocean. If the weather gets chilly, there's a wood stove to help you warm up. Check rates.
Loma Cottages: Choose from a one-bedroom or two-bedroom cottage in Lunawanna on South Bruny. It's an easy walk to the beach and at night, wallabies bounce past your window! Check rates.
Camping
Captain Cook Holiday Park: Large caravan park with self-contained cabins, as well as camping spots for both caravans and tents. Located across the street from the beach in Adventure Bay. The only caravan park on Bruny Island. Reportedly the best place to see white wallabies on Bruny Island! Check rates.
The Neck Reserve: Centrally located rustic camping in the forest at the south end of The Neck. Pit toilets and untreated tank water are available. Self-register on-site starting at $10/night. More info.
Jetty Beach: Great camping spots next to a white sand beach in South Bruny Island National Park. We loved camping here. Pit toilets and untreated tank water. Self-register on-site starting at $10/night. More info.
The Pines: Small campground on Cloudy Bay Road on South Bruny. It has uneven sites and a pit toilet, but you have to bring your own water. Self-register on-site starting at $10/night. More info.
Cloudy Corner: A 4WD-only access campground with pit toilets. Bring your own water. Self-register on-site starting at $10/night. More info.
Where to Eat on Bruny Island
Obviously, you should stop in at the foodie destinations listed above for snacks. But many of the businesses on Bruny Island have limited hours so planning meals can be a bit tough. In particular, most places aren't open in the evening and don't serve dinner. Here's your guide to restaurants on Bruny Island:
Bruny Island Cheese and Beer Co: Great Bay, North Bruny. Serves breakfast, lunch, coffee, beer, and snacks. Open from 9 am-5 pm.
Get Shucked: Great Bay, North Bruny. Serves lunch, drinks, and snacks. Open from 9:30 am to 4:30 pm.
Hotel Bruny and Bruny Cider: Alonnah, South Bruny. Serves, lunch, dinner, and drinks. Open from noon to late.
Bruny Island Premium Wines: Lunawanna, South Bruny. Serves lunch 7 days a week from 11 am and dinner on Saturdays. Bookings required for dinner.
Penguin and Pardalote Cafe: Adventure Bay, South Bruny. Serves breakfast, lunch, snacks, and coffee. Open 8 am to 4 pm.
Bruny Island Wild Cafe: Dennes Point, North Bruny. Serves breakfast and lunch including wood fired pizzas Friday through Sunday. Open for dinner on Friday nights.
Lunawanna Store: Lunawanna, South Bruny Small cafe with coffee and pies. Open for breakfast and lunch Thursday through Sunday.
Adventure Bay General Store: Adventure Bay, South Bruny. Small general store with groceries, hot pies, coffee, and petrol. Open 7:30 am to 6 pm daily.
Alonnah General Store: Alonnah, South Bruny. Small general store with groceries. They also have a takeaway with typical fare: pies, toasties, burgers, etc. Open 8 or 9 am to 4 pm. Closed Mondays.
Whether you do a Bruny Island day trip, or stay a few days and no matter if you self-drive or do a tour, I'm sure you'll have an amazing time. It's such a beautiful and unique place. If you need help planning your trip, as always, ask me in the comments. I love to help.
Read more Tasmania posts: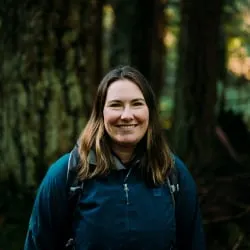 Latest posts by Taryn Eyton
(see all)