While the it is a wilderness experience, you don't have to go completely feral: There are huts and campgrounds along the Overland Track. The huts provide a dry and warm place to sleep, cook and socialize. But they definitely aren't luxury accommodations so you still need to be prepared to rough it and bring your own gear.
I did tons of research about the huts and camping before my Overland Track trip to figure out what to bring and to decide if I wanted to camp or stay in the huts. Now that I've completed my trip, I'm put together a massive guide for you with everything you need to know about huts and camping on the Overland Track.
This post includes:
Want more info about the Overland Track? Check out these Overland Track guides:
Should You Camp or Stay in a Hut?
There are three ways to hike the Overland Track: self-guided where you stay in public huts and campgrounds, guided where you stay in private huts and as part of a group where you stay at group campsites.
Most walkers go self-guided (that's what I did) so I'm going to focus providing info on the public huts and campgrounds.
All public huts and campgrounds on the Overland Track are first-come, first-served and open to all self-guided walkers. That means you can't reserve a camping platform or bunk in a hut ahead of time. You just have to show up and hope there is space.
However, everyone is welcome to cook and socialize in the huts, no matter if they sleeping in tent or in the hut.
At some sites you may also have to share the hut and campgrounds with hikers who aren't doing the Overland Track. (Be prepared to see other hikers at Waterfall Valley, New Pelion, Pine Valley, Narcissus and Echo Point.)
In bad weather, the hut bunks can fill up so the park rangers require you to carry a tent just in case. However, if the weather is truly terrible, you can always find a place on the floor of a hut. On my trip the weather was so awful at Waterfall Valley that everyone crammed in to the huts. No one wanted to camp!
Whether you choose to stay in the huts or camp is a matter of personal preference. The huts are warmer and drier, but they are also noisier (snoring!) and more crowded. You won't have much personal space in a hut and private activities like getting changed can be difficult or impossible.
Personally I prefer to sleep in my tent since I like to wake up to the sounds of nature and see the view out my door from my sleeping bag. On my Overland Track hike I only slept in a hut once at Waterfall Valley.
What Are the Huts Like on the Overland Track?
The public huts on the Overland Track are basic, rustic structures designed to let people sleep, cook and warm up inside. The Overland Track huts definitely aren't the deluxe huts you might find in Europe with meals for sale.
They are more like North American backcountry ski huts since they have no electricity, lighting or running water.
Tasmania's Parks and Wilderness Service is working on upgrading the facilities on the Overland Track. That means that some of the huts are quite new. I have details on each hut below.
Here's what you can find at all of the huts:
Wooden bunks for sleeping. There are no mattresses or bedding so bring your own.
Tables and benches for eating
Metal-topped bench-tops (countertops) for cooking. There are no stoves so you need to bring your own.
A rainwater barrel for (untreated) drinking water with a drain underneath for dumping your dirty dishwater.
Coal or gas heater for use in temperatures less than 10C.
Composting toilets. No toilet paper is provided.
Walkers log book. Sign in at every hut for safety.
Information sign with a trail map and walk information.
Covered porch or drying room (not all huts have this)
Helipad for emergencies (Tip: usually you get a good view by walking out to the helipad.)
There are also four historic huts on the Overland Track: Kitchen Hut, Old Waterfall Valley Hut, Old Pelion Hut and Du Cane Hut. These old huts are more like museums. That means you can't sleep or cook in them unless it is an emergency.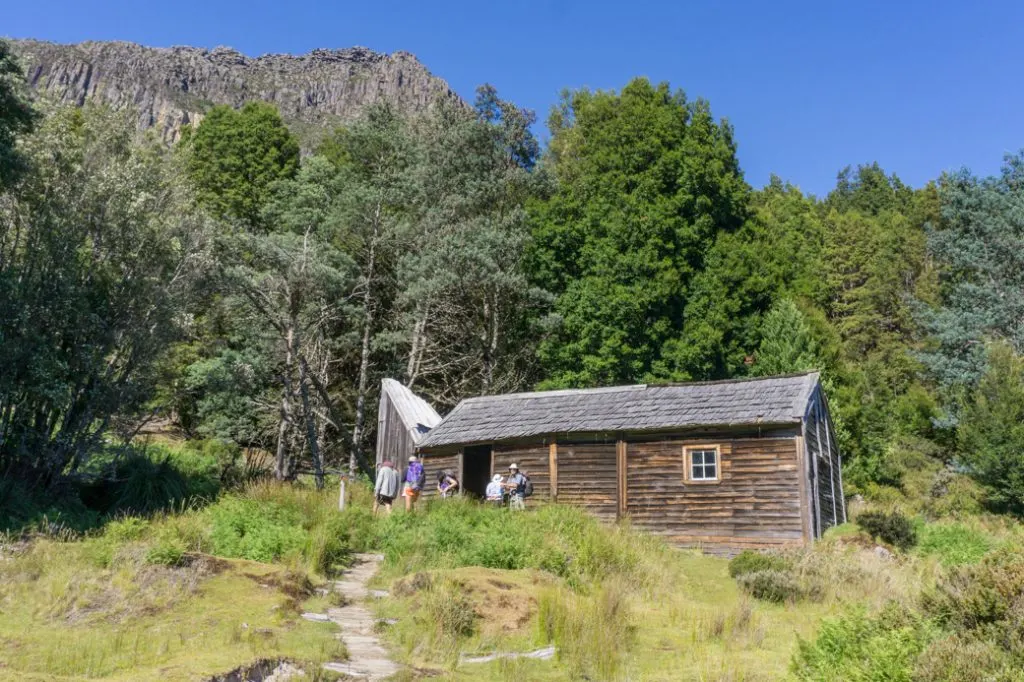 What Are the Campgrounds Like on the Overland Track?
With one exception (Frog Flats) the public campgrounds on the Overland Track are right next to the huts. Tent campers are welcome to cook and socialize inside the huts. Besides Frog Flats, there are no designated camping areas away from the huts.
You are permitted to camp informally anywhere along the Overland Track after Waterfall Valley as long as you follow Leave No Trace practices. However, I didn't see many places that would make good campsites.
Each campground is a little different, but they all have two camping areas: one huge wooden tent platform for groups (booked separately) and then another area (or several areas) for self-guided campers.
Some campgrounds for self-guided campers are just open grassy areas near the huts. Others have wooden tent platforms. And some have a mix of both.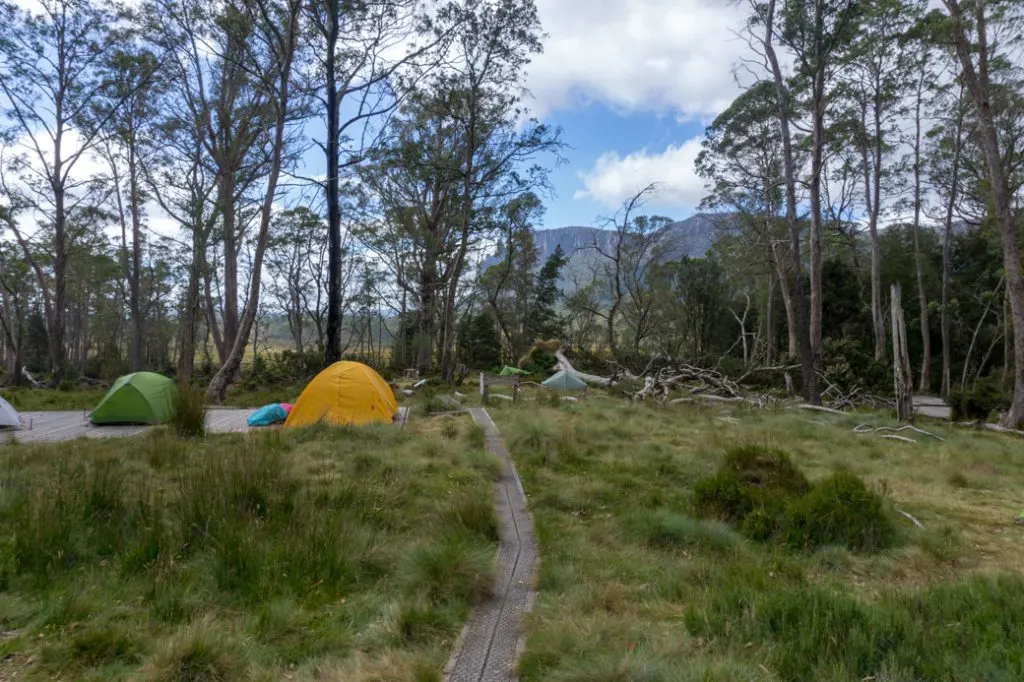 The timber tent platforms have adjustable hooks and cables you can use to secure your tent. They also have flat head nails at the edges. I recommend bringing a bunch of extra string in case the hooks aren't in the right place for your tent. This is especially helpful if you bring a non-freestanding tent like I did.
To be extra sure, you may also want to bring a few metal cup hooks from the hardware store. You can screw them in to the timber platform where you need them, then tie your tent on. The next day, unscrew them and take them with you.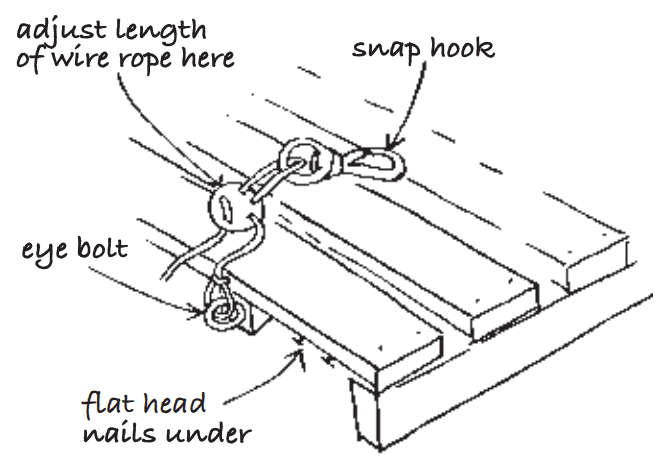 Some of the campgrounds have large platforms that are designed to hold two or three tents. Don't hog the platforms. Be prepared to share with others.
There are metal plates on the corners of some of the timber tent platforms. If you are going to cook outside, put your stove on the metal plates to avoid scorching the wood.
Waterfall Valley Hut and Campground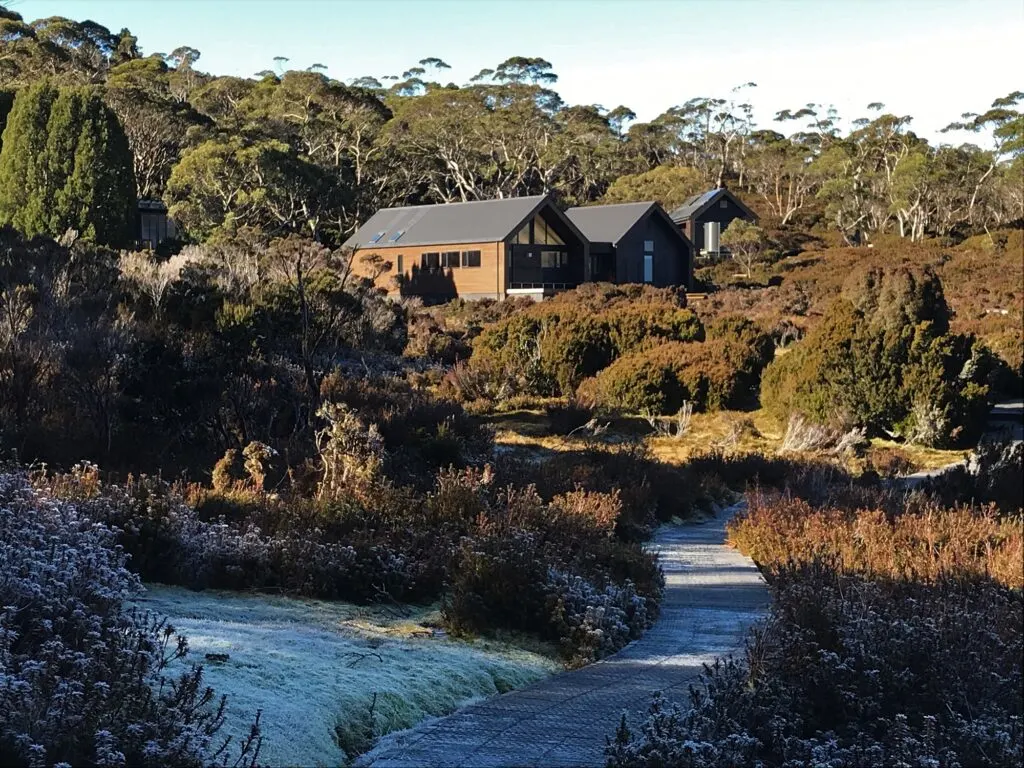 New Waterfall Valley Hut: sleeps 34 in three rooms
Self-guided camping: on the grass near Old Waterfall Valley Hut
I haven't actually visited the the new Waterfall Valley hut yet since it was completed in July 2020. It looks pretty fancy. It has big windows with an amazing view of Barn Bluff. There's also a gas heater on a timer for winter use. It also has solar lighting.
You enter through a mudroom that also functions as a drying room for wet gear. Unlike the older huts, the kitchen area is huge with four large tables and benchtops for cooking on the side. There is also an outdoor kitchen area. The hut has three separate bunk rooms with doors that close for privacy. There are also cubbies, hooks, and benches for organizing gear.
All self-guided camping at Waterfall Valley is on the grass near the Old Waterfall Valley hut. In nice weather there are great views of Barn Bluff and lots of friendly wallabies. However, none of the campsites are very flat and they can collect water in heavy rain.
In addition to the timber tent platform for groups, there's also a platform near the Overland Track reserved for non-Overland Track hikers.
Windermere Hut and Campground
Windermere Hut: sleeps 34
Self-guided camping: Numerous timber platforms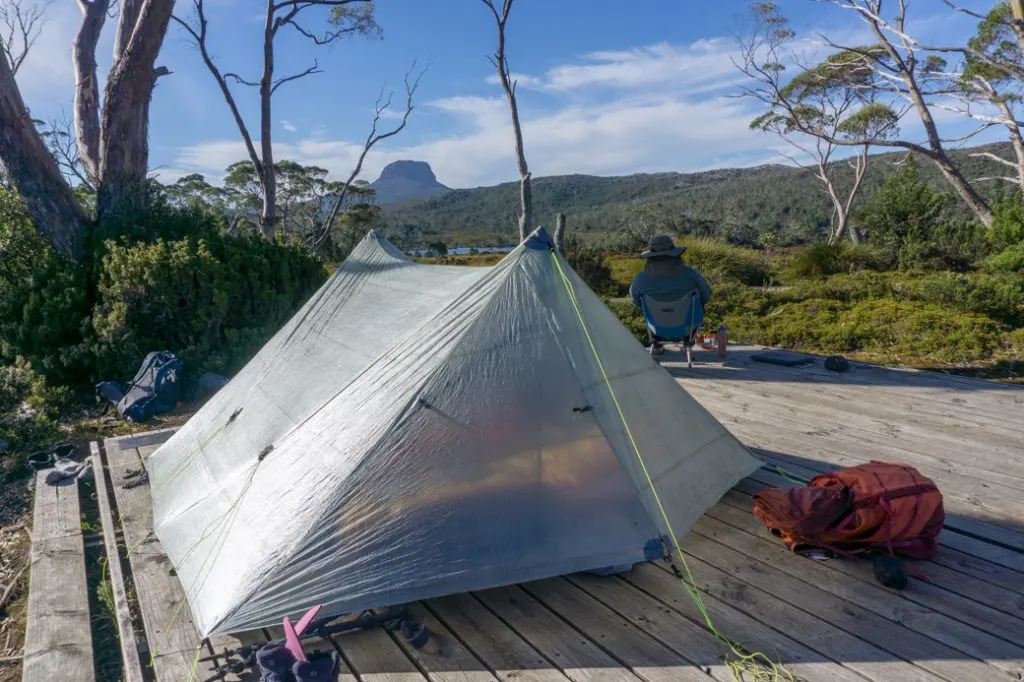 Windermere Hut gets its name from Lake Windermere. But the hut and campground are actually a 10 minute walk above the lake. After you get settled in the hut or set up your tent, its worth walking back down the Overland Track to the lake access. The water is cold, but there's a small island you can swim out to.
A brand new Windermere Hut opened in November 2022, so I haven't visited it yet. It is arranged in two wings with a porch and open deck between them. One wing includes the communal area for cooking. It has three big tables, a long bench-top for cooking and a gas heater. The other wing has three sleeping areas.
There are lots of tent platforms scattered around Windermere hut. The most obvious ones are near the hut. However, continue along the Overland Track for 80 meters to find three separate groups of platforms. Some of them have amazing views of Barn Bluff.
Frog Flats Campground
Camping: several informal grassy sites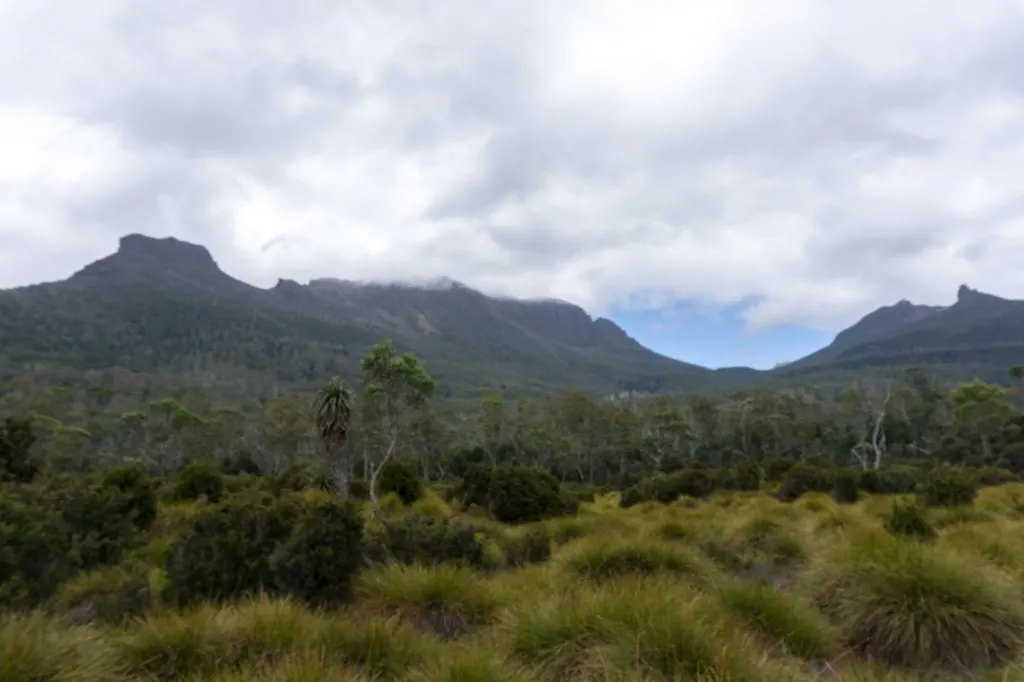 There is no hut or other facilities at Frog Flats. Some walkers find the distance between Windermere and Pelion huts too long, so they choose to break up the hike by stopping at Frog Flats.
There are a few grassy clearings around the trail that make great campsites. Be careful camping too close to the Forth River as it can be very wet. You can get water from the Forth River near the bridge, but be sure to treat it first.
There is no toilet at this campsite so be sure to use Leave No Trace practices by digging a cat hole 70 meters from streams and tracks.
New Pelion Hut and Campground
New Pelion Hut: sleeps 36
Self-guided camping: timber tent platform that fits 3 tents, numerous spots on the grass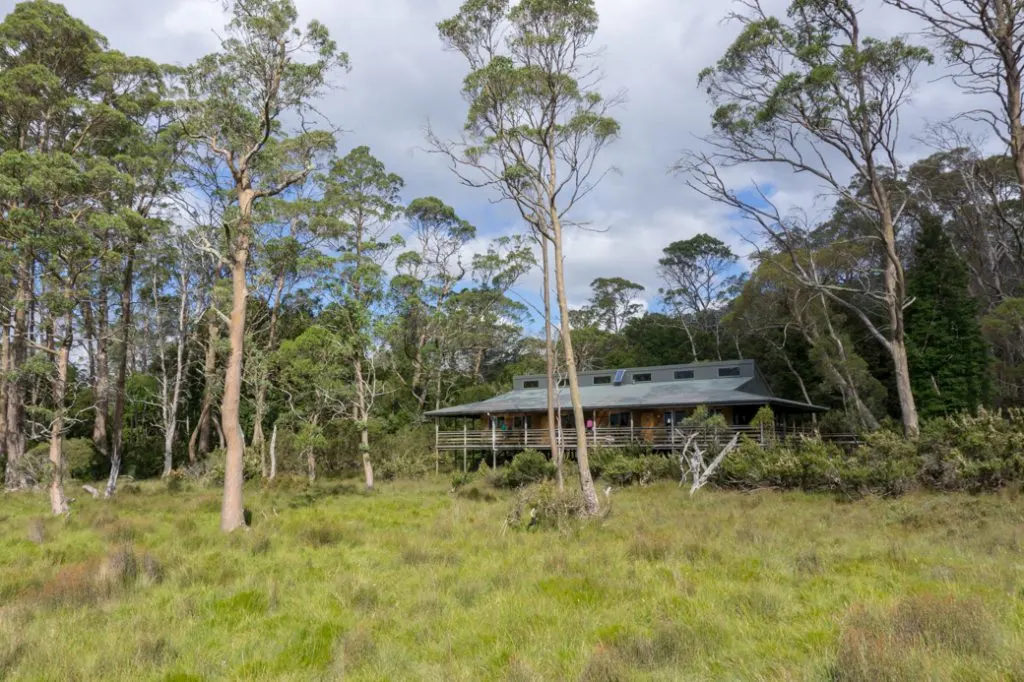 New Pelion Hut is the largest and nicest hut along the Overland Track, built in 2001. It sleeps up to 36 people in 6 separate rooms. There's a large common room with lots of tables, benches and benchtops for cooking.
There is a covered (but not enclosed) porch all the way around the hut that is a good spot for drying gear. The north side has beautiful views of Mount Oakleigh and Pelion Plains. You can spot wombats and pademelons from the porch.
Self-guided campers can pitch their tents in a grassy area alongside the Overland Track near the turn-off to New Pelion Hut. A large timber platform accommodates 3 tents and all other camping is on grass. Most of the sites are quite close to the main track, but you can find some smaller, more private sites in the nearby bush.
Kia Ora Hut and Campground
Kia Ora Hut: sleeps 34
Self-guided camping: Numerous tent platforms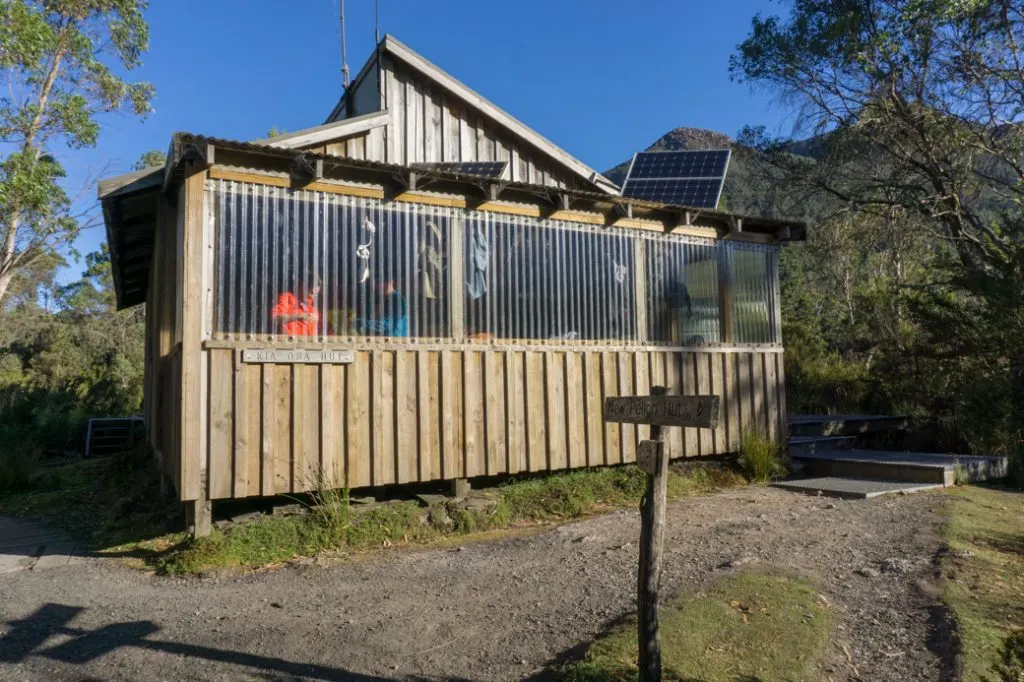 Kia Ora is a Maori greeting. One of the early guides in the park, Paddy Hartnett of New Zealand, named the nearby creek Kia Ora. The hut takes its name from the creek.
A brand Kia Ora Hut opened in November 2022, so I haven't visited it yet. The new hut is two separate structures joined by a covered porch. There is a big deck with seating around the outside.
The larger building has a big communal room for cooking and eating. It has three big tables with bench seating. There is also a long bench-top for cooking. There is a heater in the corner. The back of that building also has a large bunk room. The smaller building has two separate bunk rooms.
There are numerous tent platforms near the old hut. Many of them are very close to each other or to the Overland Track. Some of them are very small, while others are designed for 2 or 3 tents. One of them has a great view of Pelion East. (Can you guess which one I picked?)
If you continue on the Overland Track for about 80m you'll come to a bridge over Kia Ora Creek. There are a few spots in the creek upstream of the bridge to take a dip. However, if you cross a bridge then follow a steep and faint track downstream for a few minutes, you'll arrive at Kia Ora Falls. The pool under the fall is really refreshing.
Bert Nichols Hut and Campground Windy Ridge
Bert Nichols Hut: sleeps 24
Self-guided camping: Tent platforms

The Bert Nichols Hut was built in 2008 and is named after Bert Nichols, one of the early guides for the Overland Track.
It's built into the side of a hill so it has a split level design. On the top level when you enter there is a large drying room to your right. To the left the hallway leads to four separate sleeping rooms with bunks. Downstairs there is a screened in room with tables and benches on the right. On the left there is a large common room with a heater, lots of tables and some metal benchtops for cooking.
Look for tent platforms spread out alongside the Overland Track leading up to the hut. They are mostly quite small and not very private. There are also fewer platforms here than at other huts. Since all the platforms are in the trees, they are sheltered from the wind.
Narcissus
Narcissus Hut: Sleeps 18
Self-guided camping: 2 small platforms, 2 large platforms, cleared campsites on the ground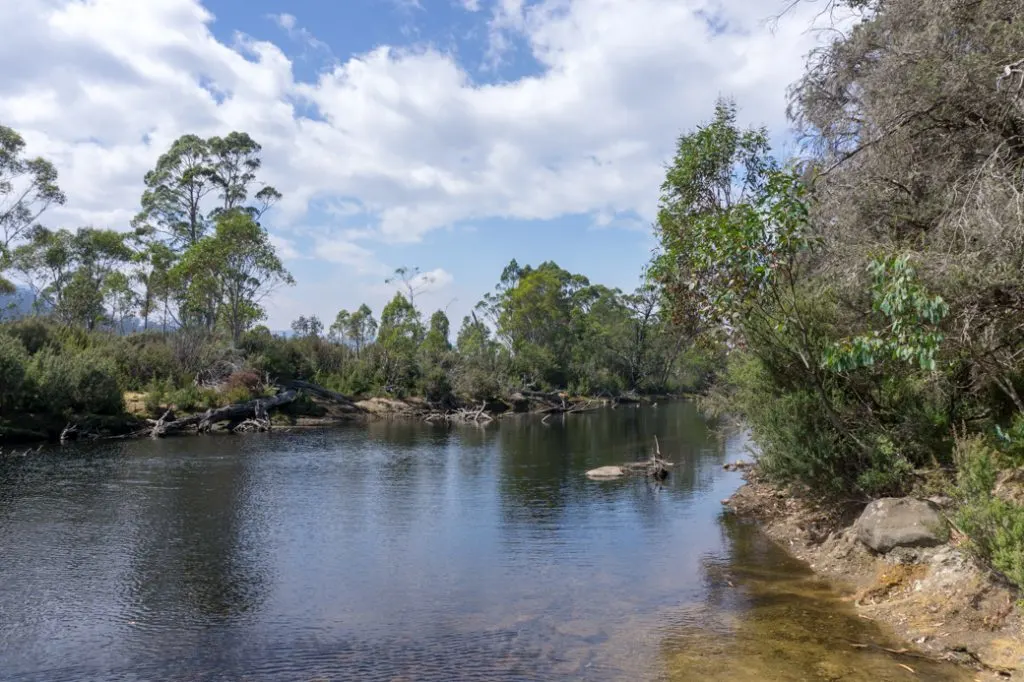 The National Park renovated Narcissus Hut in 2015 and it now sports a coat of shiny white paint inside, giving it a much different look than many of the other huts.
There is a small common room on one side with tables, benches and a metal benchtop. A door separates the common room from the bunk room. There's a radio in the common room you can use to call to confirm ferry bookings. Outside there is a covered front porch with benches and a picnic table.
Near the hut you will find a few timber tent platforms scattered in the trees. There are two small platforms as well as two larger platforms that can hold a few tents. In a pinch you could also camp on bare ground near the hut as there are some flat spots.
The wide Narcissus River is nearby and is rumoured to be home to a platypus. Head down for a look at dawn or dusk for your best chance of spotting him or her.
Echo Point
Echo Point Hut: Sleeps 8
Camping: Informal sites on the beach or in clearings near the hut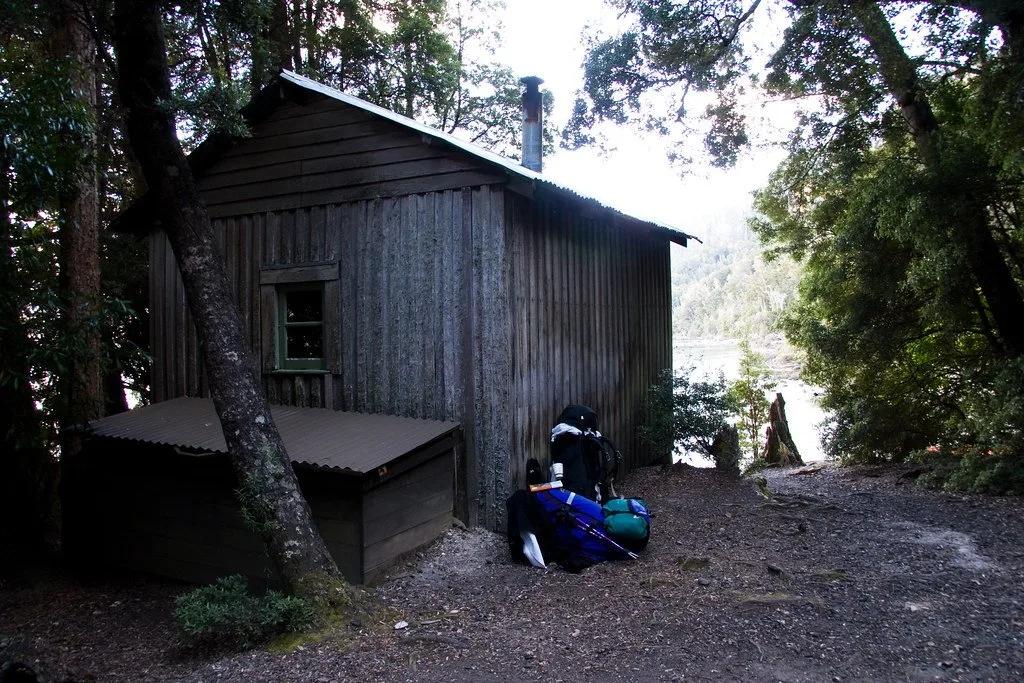 The small Echo Point hut has a similar design to the Old Waterfall Valley hut with two sets of double bunks and a small benchtop for cooking.
While the hut is in better shape than Old Waterfall Valley hut, hikers report that is not animal proof. Hang your food up at night to keep it safe. I recommend using a dry bag that is difficult for animals to chew through.
There is no rainwater barrel at this hut so you will need to collect water from the lake and treat it.
There are also no formal campsites or timber platforms at the hut. Most people opt to camp on the beach but there is enough space for a few tents near the hut.
Down at the lake there is a jetty for the ferry. You can arrange ferry pick up or drop off here ahead of time. There's also a sign you can raise to request the ferry driver to stop. The jetty is also a popular place to swim.
Pine Valley
Pine Valley Hut: sleeps 24
Camping: 2 small platforms, 2 large platforms, clearings on the ground.
The Pine Valley Hut isn't actually on the Overland Track. It's a popular side trip for walkers who want to explore the Labyrinth or climb the Acropolis.
The Pine Valley Hut has a similar layout to the Old Waterfall Valley and Kia Ora huts with shelf-style sleeping platforms in the same room as the cooking tables and benches. Outside there is a covered area that you can use to dry your gear.
There are a few tent platforms around the hut tucked into tight trees. You can camp on the ground in some clearings, but the area can be very wet when it rains.
Fergy's Paddock
Camping: grassy sites
If you need a place to stay at the end of the Overland Track and you don't want to pay for a hotel, you can stay at the Fergy's Paddock campground for free as an Overland Track hiker. It's a grassy clearing just up the bank from Lake St Clair and 700m from the end of the Overland Track.
There's no rainwater tank so you will need to retrieve water from the lake. There is no toilet at the site, but you can walk the 700m to the public toilet at the Lake St Clair Lodge.
I hope I answered all the questions you might have about huts and camping on the Overland Track. If there's anything I missed, let me know in the comments.
MORE OVERLAND TRACK POSTS: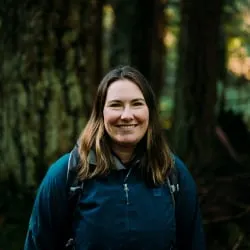 Latest posts by Taryn Eyton
(see all)