Tassie is my home away from home. I've done a few month-long house-sitting stints for a friend near Devonport, Tasmania. Each time we visit, we spend a weekend in Hobart, the state capital city.
It's a small city with a population of just over 200,000, but it's still the largest city in Tasmania. Despite its small size, there is so much to do. Hobart has tons of beautiful historic architecture, amazing local food, a thriving cafe scene and possibly the world's best (or at least most unique) museum.
A visit to Hobart should be on everyone's Australia bucket list. A weekend isn't really enough to see all of it, so in this Hobart weekend itinerary, I'll just concentrate on the highlights.
With two trips under our belts, lots of research and some great recommendations from locals, we can squeeze a ton into just 2.5 days.
So I've put together a guide for spending a weekend in Hobart. It's not exactly what we did on our trips, but it is what I'd recommend you do if you go. Here you go: my ideal 2-day Hobart weekend itinerary. It includes:
Hey there: Some of the links in this post are affiliate links, which means I earn a small commission at no extra cost to you if you make a purchase. Thanks for supporting my website! -Taryn
Map of Things To Do in Hobart
To help you find your way around, I made you a custom map of things to do in Hobart. It includes everything I mention in this post. Click through to zoom in.
Weekend in Hobart Day 0: Friday Night
Street Eats @ Franko for Dinner and Drinks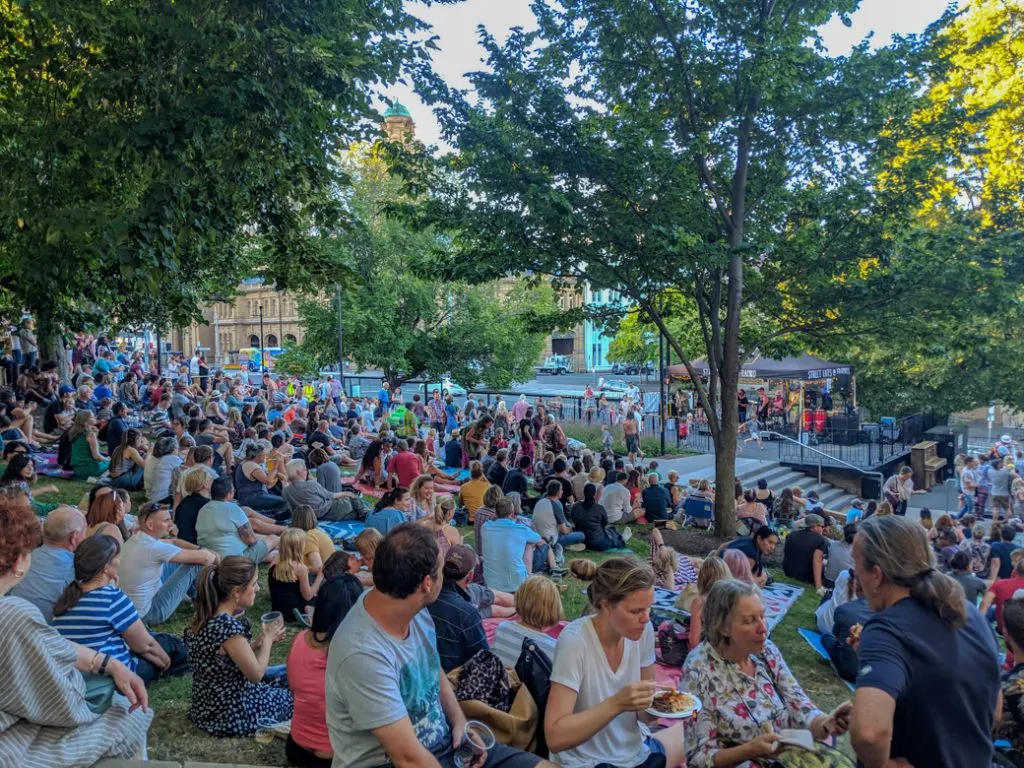 If you arrive on a Friday night, be sure to head to Street Eats @ Franko for live music and food. It's a great way to kick off your weekend in Hobart.
Each Friday, grassy Franklin Square in Hobart's CBD (the locals just call it "Franko") is transformed into a mini-festival. Bring a picnic blanket and order dinner from one of the food stalls. Follow it up with Tasmanian beer, wine or cider while you listen to local bands.
The scene is really eclectic with a mix of families, hipsters, tourists and regular locals. Our AirBnb hosts recommended we check out Street Eats @ Franko and we were so glad we did. It definitely was a great way to get a feel for the city and do something that locals love to do.
Where: Franklin Square, 70 Macquarie Street
When: Every Friday night 4:30-9pm between November and April
Weekend in Hobart Day 1: Saturday
Salamanca Market for Breakfast and Shopping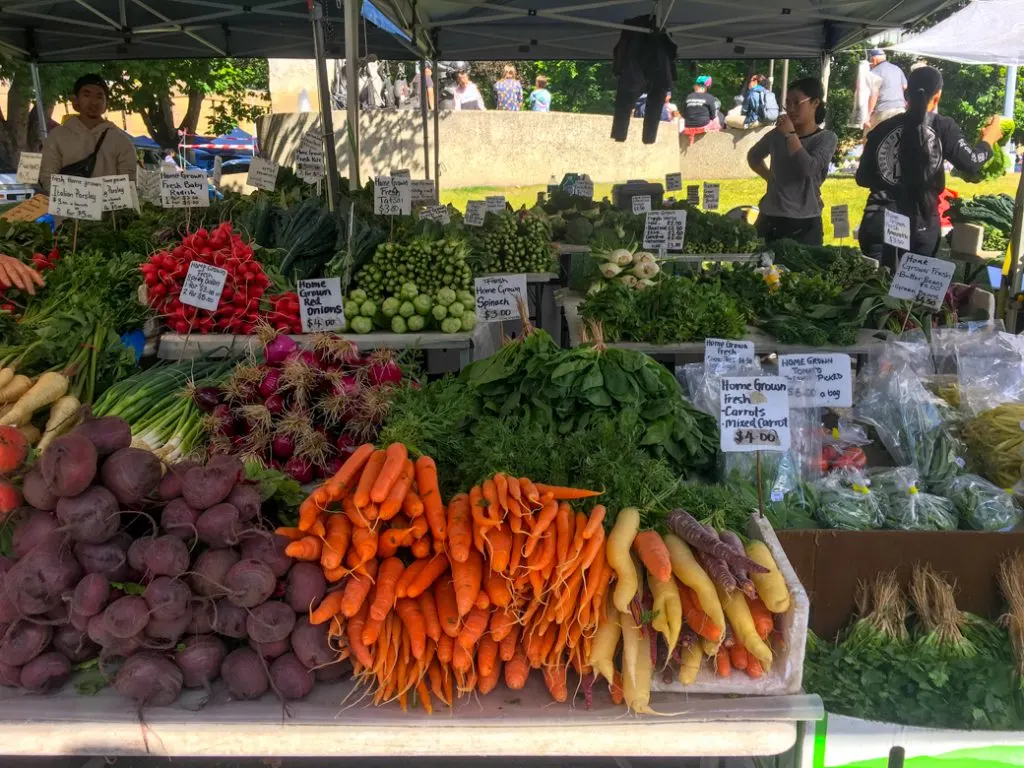 You can't spend a weekend in Hobart without shopping at the Salamanca Market. The huge farmer's market takes over several blocks in the CBD every Saturday morning.
Browse through the stalls to discover tons of local produce, clothing, gifts and souvenirs. Grab coffee and a pastry from one of the stalls, then eat your breakfast as you shop.
Tip: Go early to beat the crowds. It can get VERY busy by mid-day in the summer. We went to the market soon after they opened at 9am and by the time we left around 10:30 the crowds were crushingly thick.
Many of the stalls offer free tastings so you can try before you buy. We bought some amazing bread and delicious washed-rind cheese. Since it was mid-summer lots of fruit was in season. We picked up a carton of cherries to snack on as we shopped.
Where: Salamanca Place at Morrison Street
When: Every Saturday 8:30am-3pm
Hobart Waterfront for Lunch and Sightseeing
After Salamanca market head over to the waterfront a few blocks a way. Stroll around the docks, have a look at the fishing boats and keep a keen eye out for seals.
The row of historic buildings on Hunter Street includes the old Henry Jones IXL jam factory. At one time, this factory produced Tasmanian jam for export all over the world.
When you get hungry, order fish and chips from one of the floating take-away barges. Mako Seafood gets the best reviews, but Fish Frenzy is good too.
If you're into whiskey, stop in at Lark Distillery next to the Hobart visitor centre. They've been making single malt whiskey and gin for over 20 years. While I'm not a whiskey drinker, my husband enjoyed the tasting paddle. I devoured the delicious cheese board!
Where: Docks: Franklin Wharf at Hunter Street. Lark Distillery: 14 Davey Street
Ferry to MONA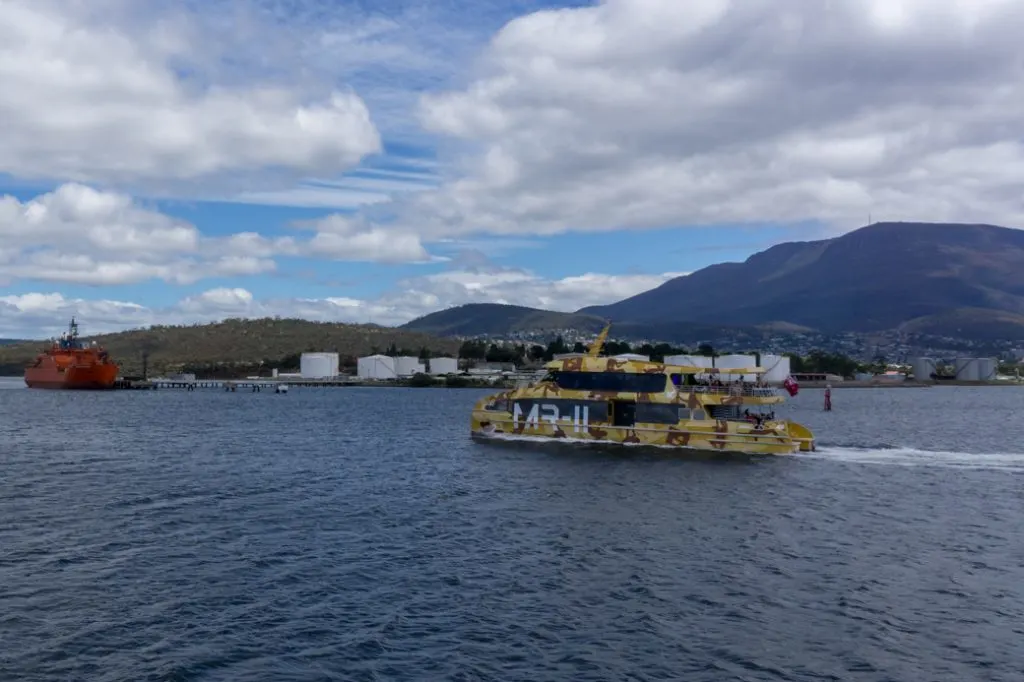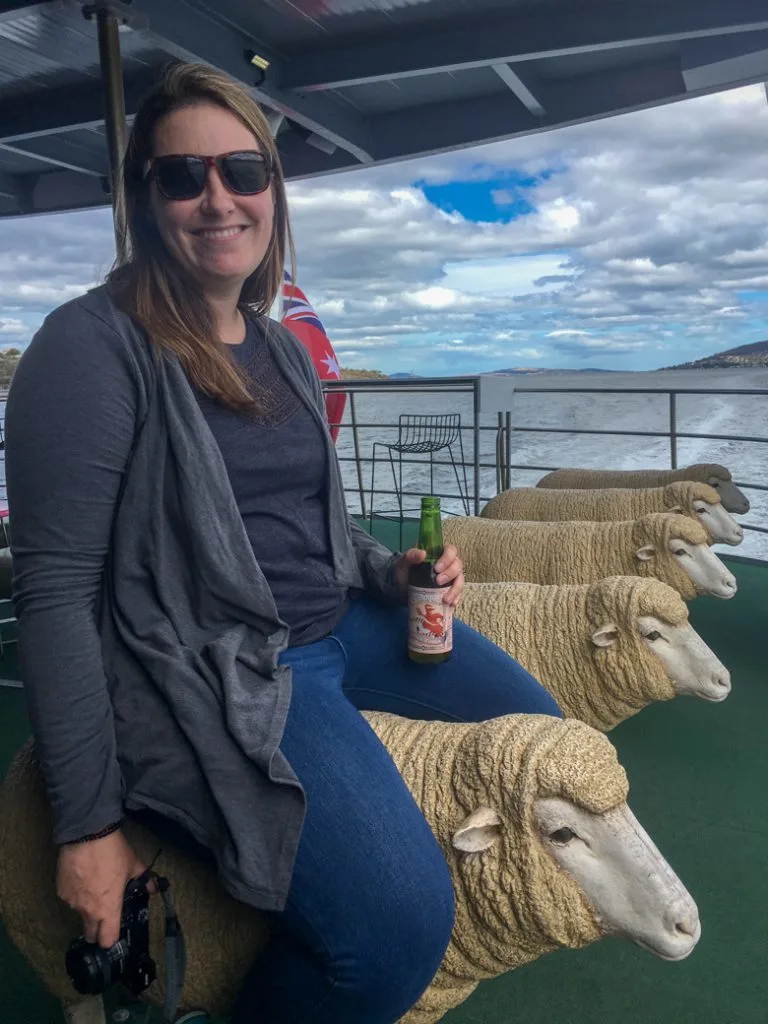 Catch the ferry to the Museum of Old and New Art, better known as MONA. The 25-minute boat ride is a great way to see Hobart's harbour. It's also the best way to see the exterior of MONA since the building is set into a hill. The only way to really view it is from a boat!
Your MONA experience starts on the ferry. Grab a drink at the bar then explore the ship. You can sit inside in a cushy booth, but if you head outside, you can sit on a sheep!
There's also a VIP experience called the "Posh Pit" with a private seating area and complimentary food and drink. We skipped the Posh Pit and just got standard tickets, but I still thought it was great.
Where: Brooke Street Pier
When: Check timetables on the website
How much: Standard $25AUD | Posh Pit: $60AUD
MONA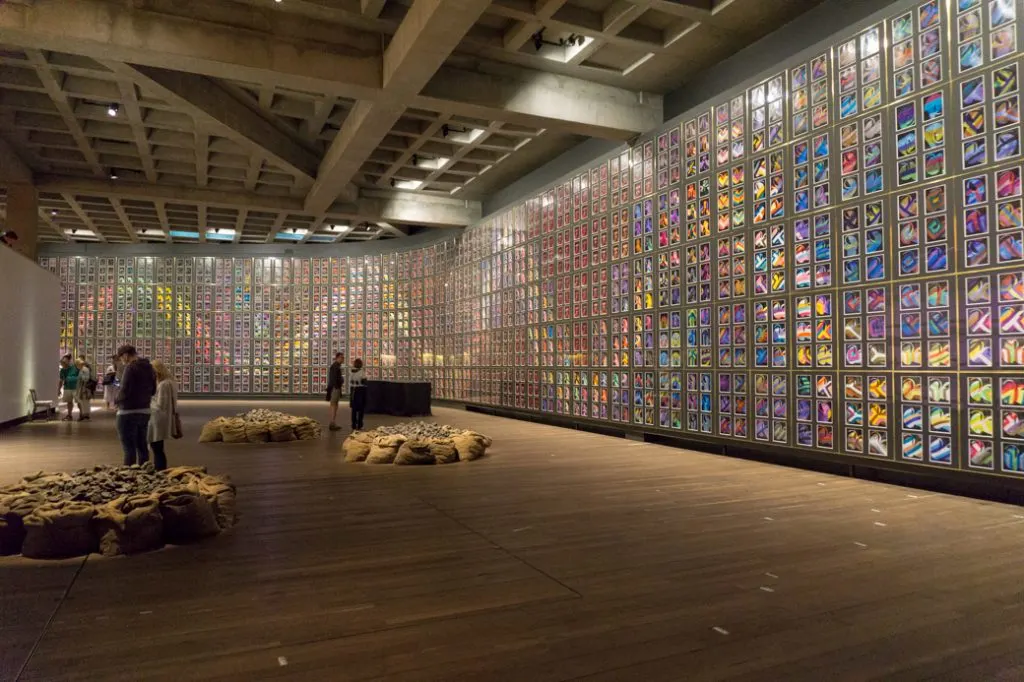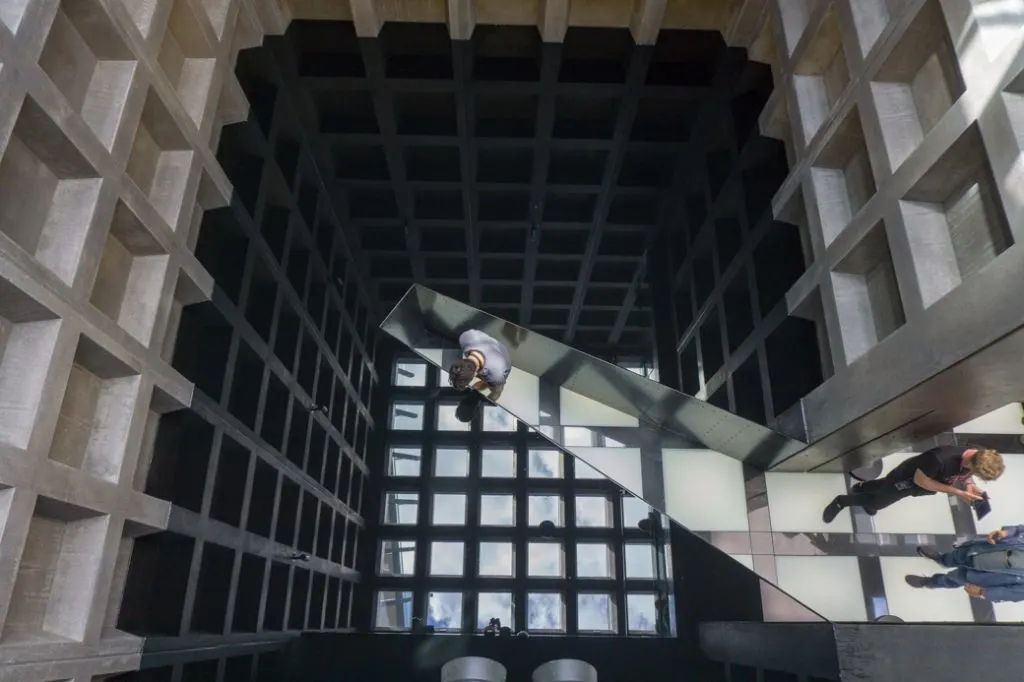 If you go to Hobart, you can't miss MONA. It's an art museum, but it's not your average art museum. It's full of controversial, confronting and sometimes just plain weird art.
Self-made millionaire David Walsh opened the museum in 2011 to house his personal art collection. He describes it as a "subversive adult Disneyland".
I think it's an art museum for people who don't like art or museums. I liked MONA so much that I've returned on each of my visits to Hobart. I think I really enjoyed my visits so much since a lot of the art is designed to be fun and interactive rather than pretentious.
The museum houses ancient Egyptian art and modern art side by side in a labyrinth of galleries. Some of the most famous pieces include a live man displaying his back tattoos, a wall of vagina sculptures, an obese Porsche, an Egyptian mummy, and a waterfall that spells out words from real-time Google searches.
There are three levels of exhibits, some of which are interactive. There are also art pieces scattered around the grounds. Plan to spend around 3-4 hours to see it all.
As of 2022 you need to book your ticket in advance.
Where: 655 Main Rd, Berriedale
When: 10am-6pm. Closed Tuesdays
How much: $35. Tasmanians and kids under 18 are free.
Dinner at MONA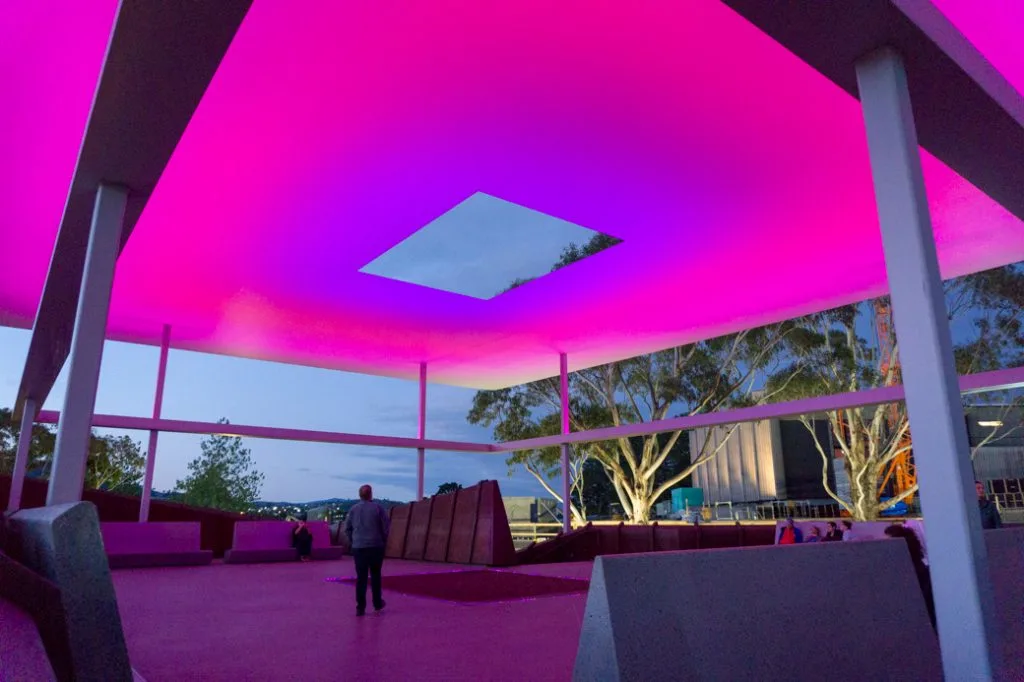 Splurge on one of the fancy restaurants at MONA for dinner. On Saturday nights they often have special dining events including chef's tables combined with sunset art installation talks. Both Faro and The Source are sit-down fine-dining places and require advance booking.
There is also a wine bar and outdoor grill, both of which are less formal and don't require booking.
MONA also offers one-off dinner experiences. We booked the Golden Hour experience which includes a long-table style multi-course dinner. Afterwards, a museum guide led us over to James Turnell's rooftop art installation, Amarna.
It's designed to be viewed at sunset so you can witness the night sky change colours as the lights installation in the roof of the pavilion changes colours. Plus it has heated benches so you can watch in comfort.
Where: 655 Main Rd, Berriedale
When: Check website for opening hours as they vary by season and day of the week.
Bookings: MONA website
Weekend in Hobart Day 2: Sunday
Jackman & McRoss for Brunch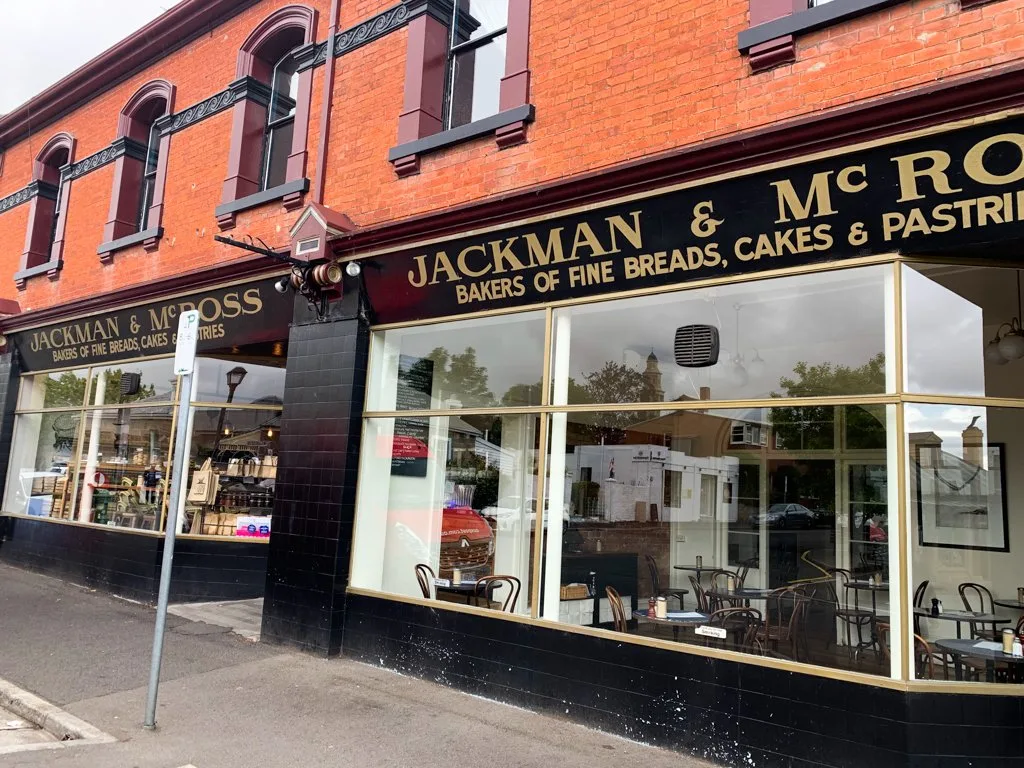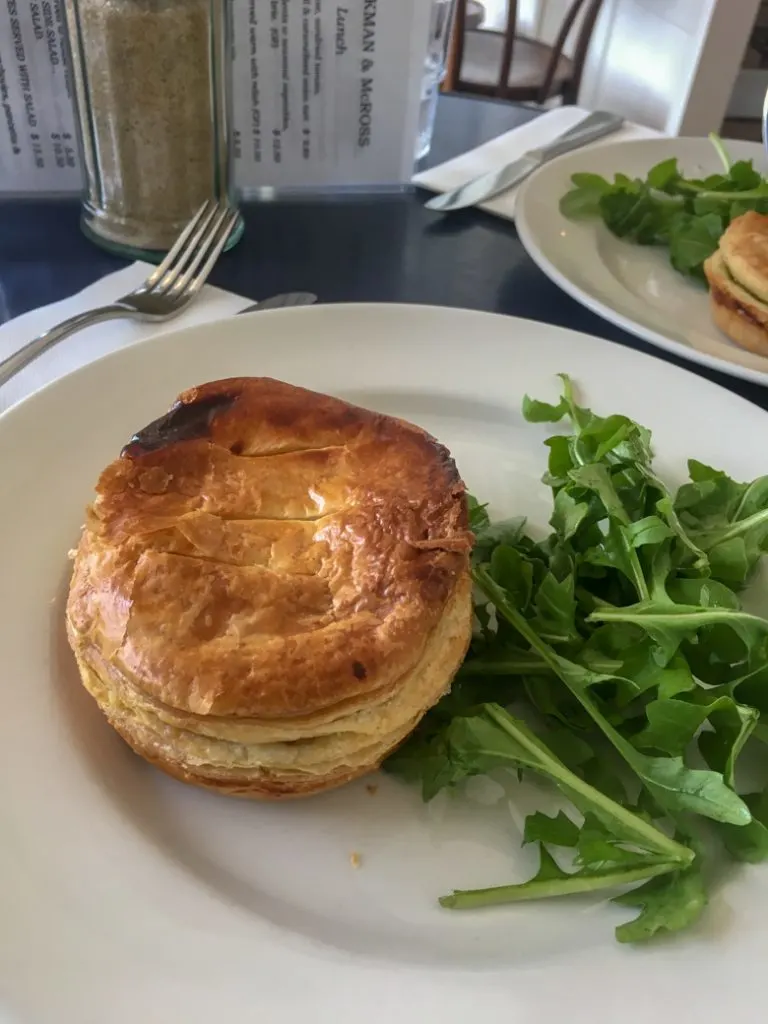 Sleep in, then head to Jackman & McRoss for brunch. This Battery Point bakery/cafe is a Hobart institution. They have incredible pastries, plus a full brunch and lunch menu. Their meat pies are delicious and they even do a special breakfast pie with eggs and bacon.
Be sure to check the daily specials board for innovative local dishes. Get some baked goods to go. You'll want them to snack on at the top of Mount Wellington in the afternoon.
This place was so delicious (and near our AirBnb) that we actually ate here twice! Curried scallop pies are a tradition in Hobart. Most people eat pies as a basic lunch on the go, but at Jackman & McRoss they have a fancy version that some say is the best curried scallop pie in Tasmania.
Of course I had to try it. I thought it was good, but I liked some of their other pies better. The pastry is soooo good.
Where: 59 Hampden Road
When: 7am-5pm
Battery Point Walking Tour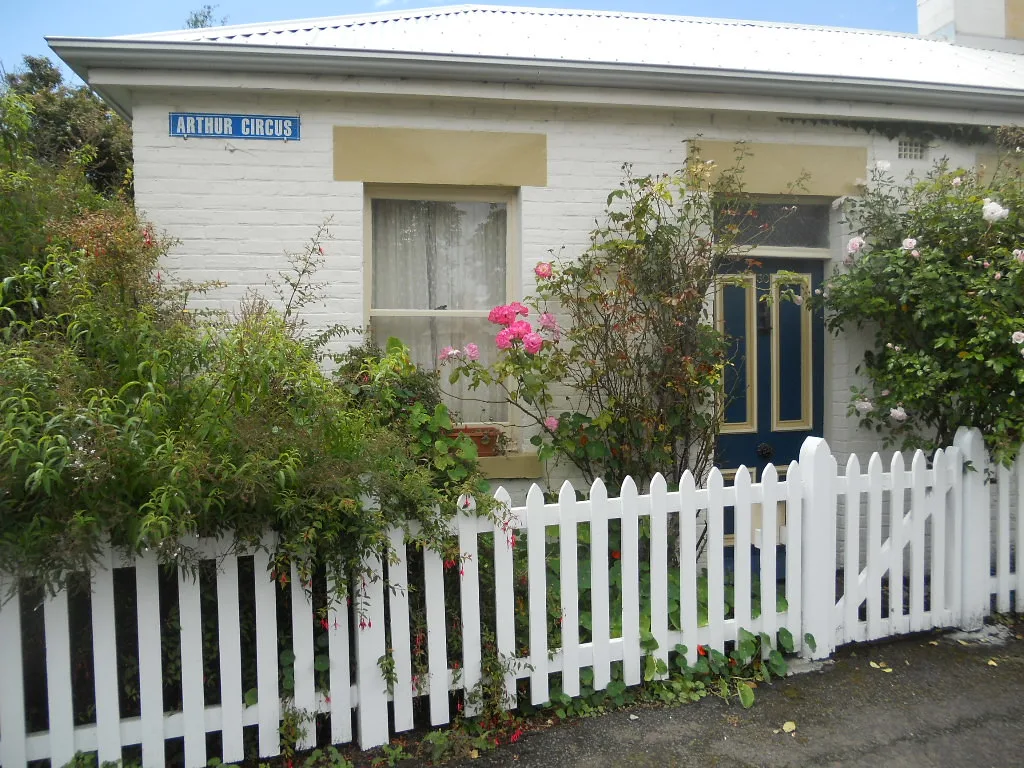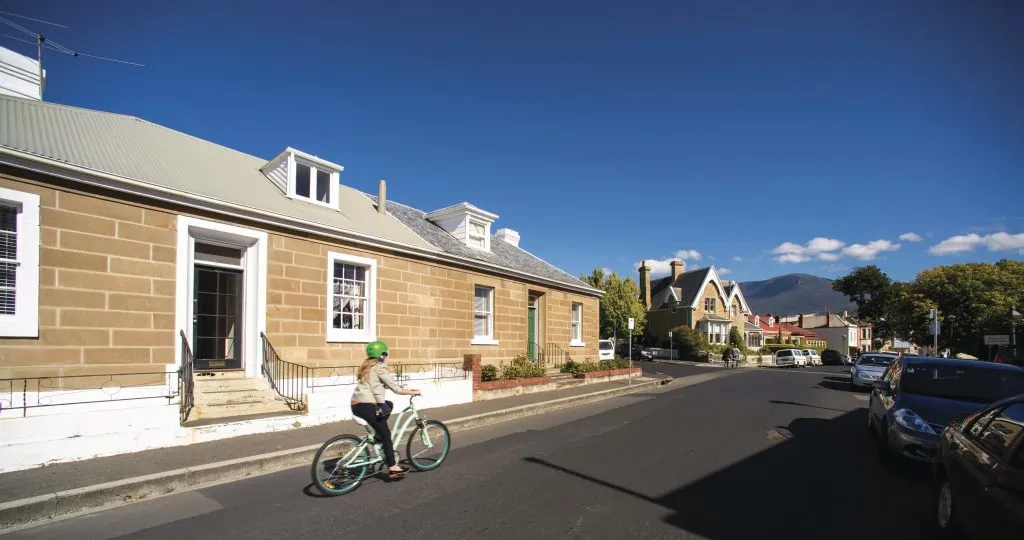 After brunch, take a walk around historic Battery Point. The area is Hobart's oldest suburb. It was originally home to the working class, but now it's one of Hobart's most desirable neighbourhoods. It's full of quaint historic cottages, cobbled lanes and pretty parks. It was originally the site of the city's military defences.
You can just wander the streets on your own, but a better option is to take a walking tour. A local community association has put together a great self-guided walk called "In Bobby's Footsteps". There are plaques with scannable QR codes along the way to give you more info about historic buildings and sites.
We didn't get ourselves organized enough to follow the tour properly, but we did wander around randomly on the way to other things so we ended up seeing many of the historic sites anyway.
Where: Starts the corner of Salamanca Place and Montpellier's Retreat
kunanyi/ Mount Wellington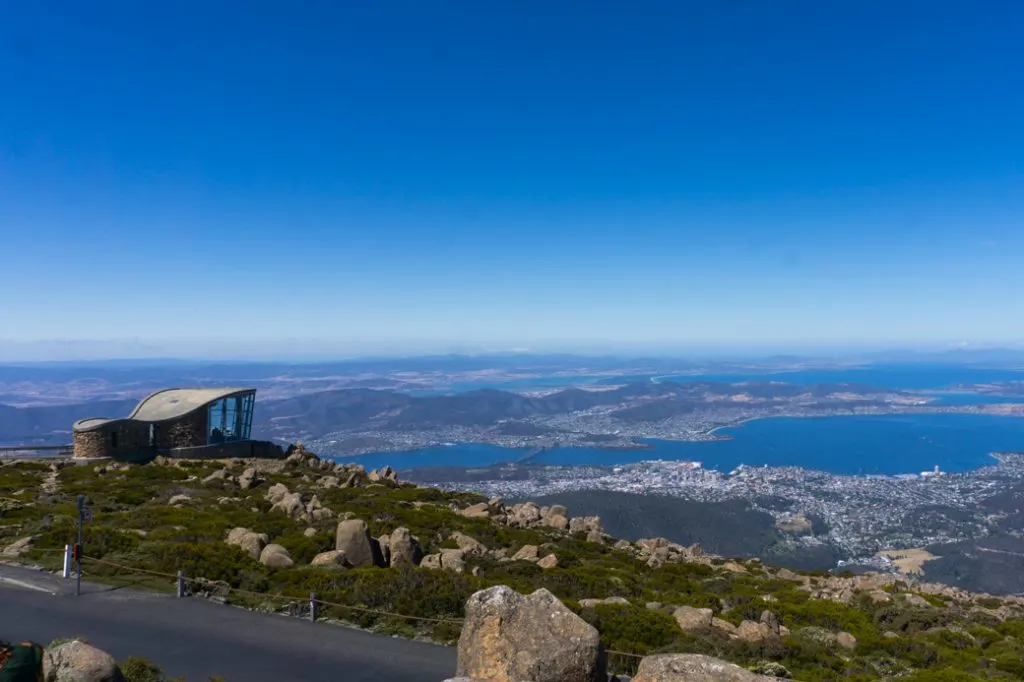 After lunch head up to kunanyi, also known by its settler name, Mount Wellington. At 1,271m tall, it towers over Hobart. Since it's so high, it is often covered in snow. There is a spectacular lookout at the top, plus lots of walking trails. Even if you aren't a hiker, it's worth spending a bit of time at the top to take in the view.
If you want to hike, the 3 hour Organ Pipes walk at Mount Wellington is a classic. I didn't have time, but apparently it is one of Tasmania's best hikes. The walk goes along the base of the dolerite rock towers you can see from Hobart's CBD.
If you want a shorter hike, follow the trail south from the main viewpoint as far as you like to escape the crowds and get some alternate views of the city. We spent a pleasant half hour rambling along the top of the bluff.
A narrow, winding road leads all the way to the top. However, the road is closed in snowy and icy conditions. If you have a car, you can drive yourself up.
Otherwise you can book a ticket on the private hop-on, hop-off Mount Wellington bus that heads up and down the mountain several times a day. Since you aren't tied to a tour schedule, it gives you time to explore on your own up top.
You can also take public buses to the base of the mountain in the Fern Tree neighbourhood and then follow walking tracks up the mountain.
Where: kunanyi / Mount Wellington, Pinnacle Road
Preacher's for Dinner and Drinks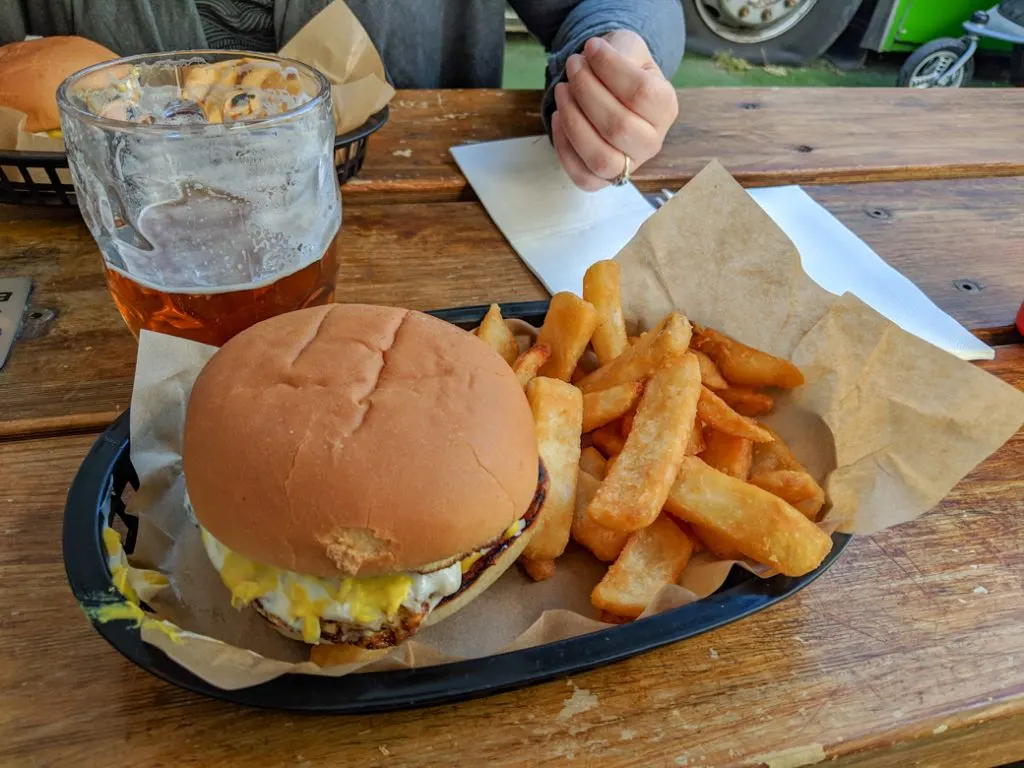 For dinner and drinks, head to Preacher's in the Battery Point neighbourhood. This fun pub is located in a historic old house. The big back garden has lots of picnic tables and umbrellas, but the real standout is the bus. Yes, at this pub you can drink your beer inside an old Hobart city bus!
The beer list features lots of local craft beers and the menu has typical (but tasty) pub fare like burgers and chips.
Where: 5 Knopwood Street
When: noon-11:30pm
Getting Around Hobart
If you are just spending a weekend in Hobart, you don't need a car. The CBD is really walkable and it's easy to get to MONA by boat or to kunanyi/ Mount Wellington on a tour. If you fly in, the airport is a 20 minute drive away by taxi or airport shuttle bus.
Where to Stay in Hobart
Since Hobart is so walkable, it makes sense to stay in or near the CBD. Each time we've visited, we stayed in the Battery Point neighbourhood. It's close to the CBD but quieter. It's a 10 minute walk to Salamanca Market and the waterfront, and you pass gorgeous historical homes along the way.
Boutique Hotel
If you want a unique place to stay, book the Henry Jones Art Hotel. It's located in a series of historic buildings on the waterfront that used to house the Henry Jones IXL jam factory! It has lots of art and is in a great location on the harbour.
Affordable
On a recent last minute trip to Hobart our beloved loft Airbnb was booked up, so we made a reservation at the nearby Battery Point Manor. It's a small historic hotel with amazing water views from most of the rooms as well as the upstairs balcony. We loved the location in Battery Point, and the price was lower than comparable hotels in the CBD.
Budget
The Montacute Boutique Bunkhouse is what would happen if an AirBnb had a baby with a funky hostel. They have dorm bunks, private rooms, a shared kitchen and a garden with a barbecue. The whole thing is set in a 19th century mansion in Battery Point.
Apartment
Staying at St Ives Apartments is a great option if you want a kitchen. Since it is an apartment hotel, you get the convenience of a hotel front desk with the apartment-style experience of an Airbnb.
Day Trips from Hobart
If you're staying in Hobart for a few more days, be sure to plan a few trips outside the city. Here are a few of my favourites:
Bruny Island: A foodie and nature destination on a long, sandy island.
Tasman Peninsula: Visit the historic convict sites at Port Arthur, then experience nature.
Maria Island: A small island teeming with wildlife and history.
So that's how I recommend you spend a weekend in Hobart. This 2-day itinerary will ensure you see the highlights of this pretty little city. Have questions about Hobart? Leave them in the comments.
MORE TASMANIA POSTS: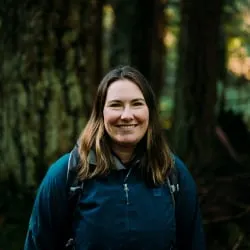 Latest posts by Taryn Eyton
(see all)