Devonport is a small city in Tasmania's north west. Many people know it as the place where the Spirit of Tasmania ferry docks, bringing passengers and their vehicles over from Melbourne. There are so many things to do in Devonport!
It's my adopted Tasmanian home town since I spent a combined 2.5 months housesitting near Devonport in 2019 and then again in 2020. It's a gorgeous area with museums, wildlife, beaches, hiking and sooo many delicious locally-grown products.
You could easily spend a few days in the area (or in my case a few months). And even if you're just passing through, make time to stop at some of the local attractions or pick up some tasty snacks. I fell in love with the Tasmania's North West and I bet you'll enjoy it too.
Here's my big list of over 40 things to do in Devonport and the surrounding area in Tasmania's North West. It includes:
Map of Things To Do In and Around Devonport
To give you a better idea of where all these fun things are located, I've made a custom google map for you. It includes the location of all the things to do in Devonport and the surrounding area. Click the map to zoom in.
Things to Do in Devonport
Devonport Regional Gallery
This local art gallery reopened in fall of 2018 in a new arts centre in Devonport's CBD. Their focus is on Tasmanian artists, including emerging local artists. Admission is by donation.
Southern Wild Distillery
Pop into the tasting lounge at this distillery in the CBD to try some locally made gin. They have three different styles of gin to taste on its own or in cocktails. And of course, bottles are also available for purchase.
Bass Strait Martime Centre
This maritime museum has tons of exhibits on the maritime history of the Bass Strait. Kids (and adults) will love the interactive simulation that lets you attempt to steer a ship.
Devonport Farmers' Market
Every other Saturday morning, the Devonport showground hosts a farmer's market. Browse the stalls to find local fruit, veg, baked goods, preserves, and more. There's usually live music too.
Mersey Bluff Lighthouse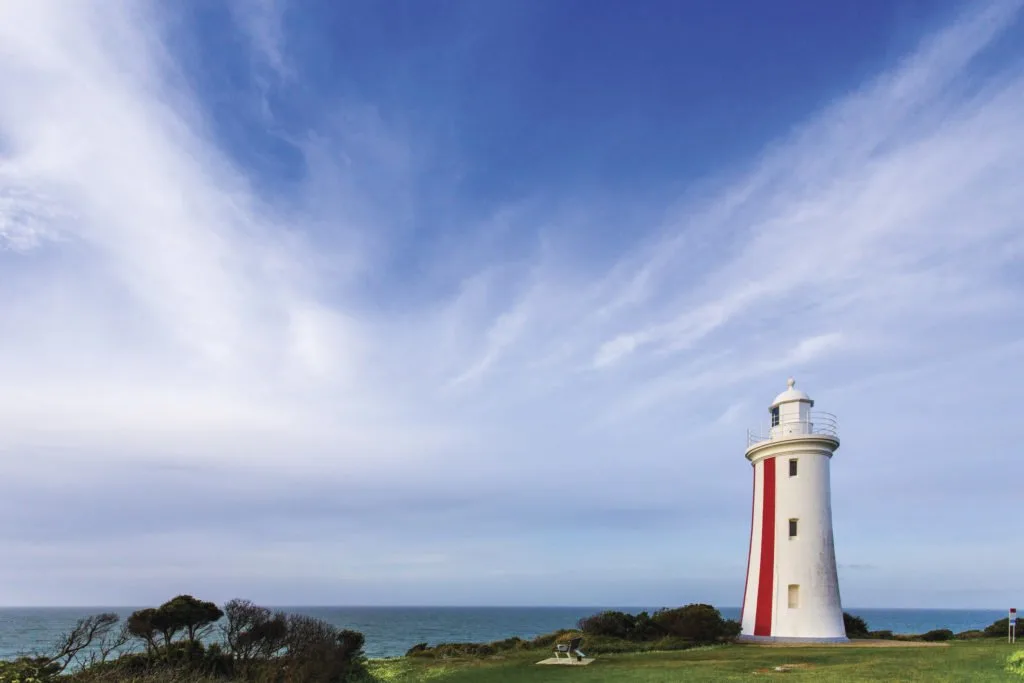 Head up to the lighthouse at the north end of town for great views of the mouth of the Mersey River and the Bass Strait. The lighthouse really stands out with its vertical red and white stripes. Be sure to follow the path down to the viewing platforms at the water's edge.
Bluff Beach
This popular sandy beach is located near Mersey Bluff at the mouth of the Mersey River. There's a great restaurant at the Surf Life Saving Club, public toilets, and a kids playground. The beach is patrolled on the weekends in summer.
Devonport Cycling and Walking Tracks
The city of Devonport has developed a network of dedicated cycling and walking tracks. Walk along the banks of the Mersey River out to Mersey Bluff, or Coles Beach. Take the ferry over to East Devonport to the East Foreshore Track, or walk along the quiet Don River in West Devonport. Use this handy map to plan your route.
Home Hill Museum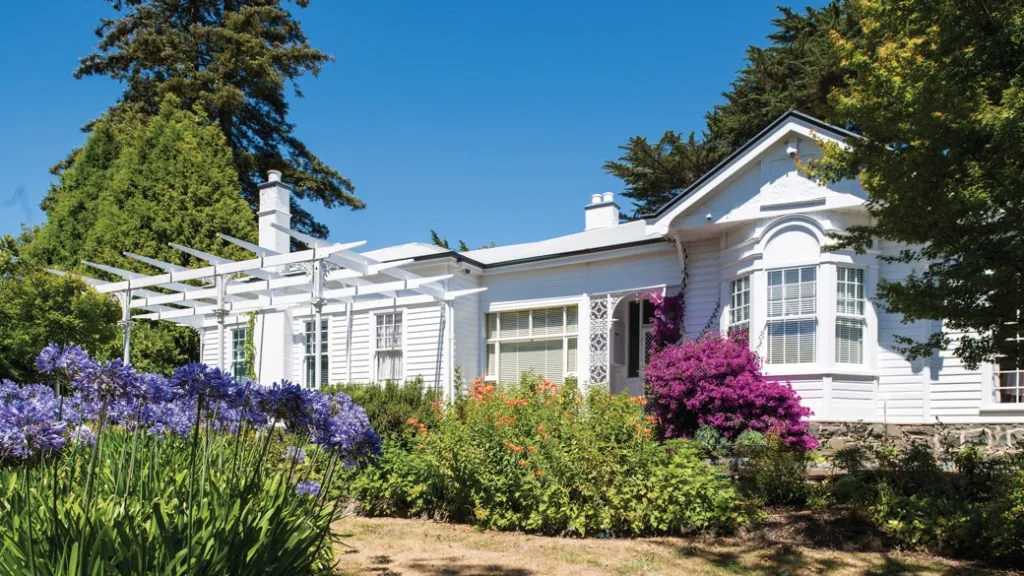 Visit Home Hill, the 1916 home of Australia's first Prime Minister from Tasmania, Joseph Lyons. (His wife, Dame Enid Lyons was the first women elected to Australia's parliament so they were definitely a family of over-achievers.) Learn more about their family and see their original furnishings and memorabilia on a guided tour.
Coles Beach
Located just west of Mersey Bluff, this long sandy beach has some interesting rock pools at low tide. It can be popular with surfers when the swells come in. It has public toilets and is patrolled on the weekends during the summer.
Don River Railway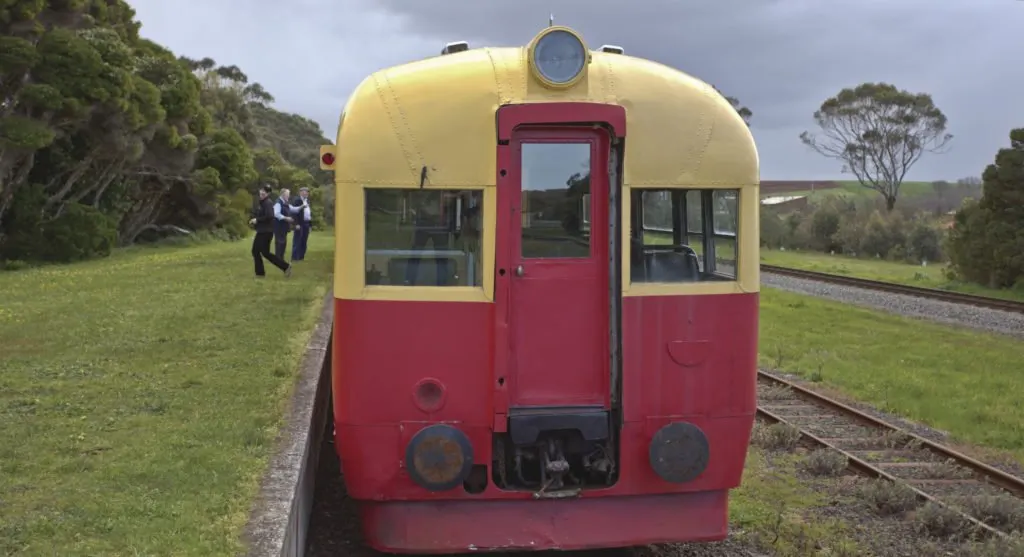 Train buffs will geek out on the restored train cars, while everyone else will just enjoy the scenic train ride. The Don River Railway is located in the Don Valley in western Devonport.
If you're really keen, go on Sundays when the steam locomotive runs. It's a 30 minute round trip train journey with a museum and workshop to explore afterwards.
Things to do East of Devonport
Tasmanian Arboretum, Eugenanna
This botanical garden just south of Devonport has a collect of trees from around the world. In the spring visit to see the flowers bloom. And don't miss an autumn visit to watch the leaves change. The lake is also a great place to see platypus.
House of Anvers Chocolate, Latrobe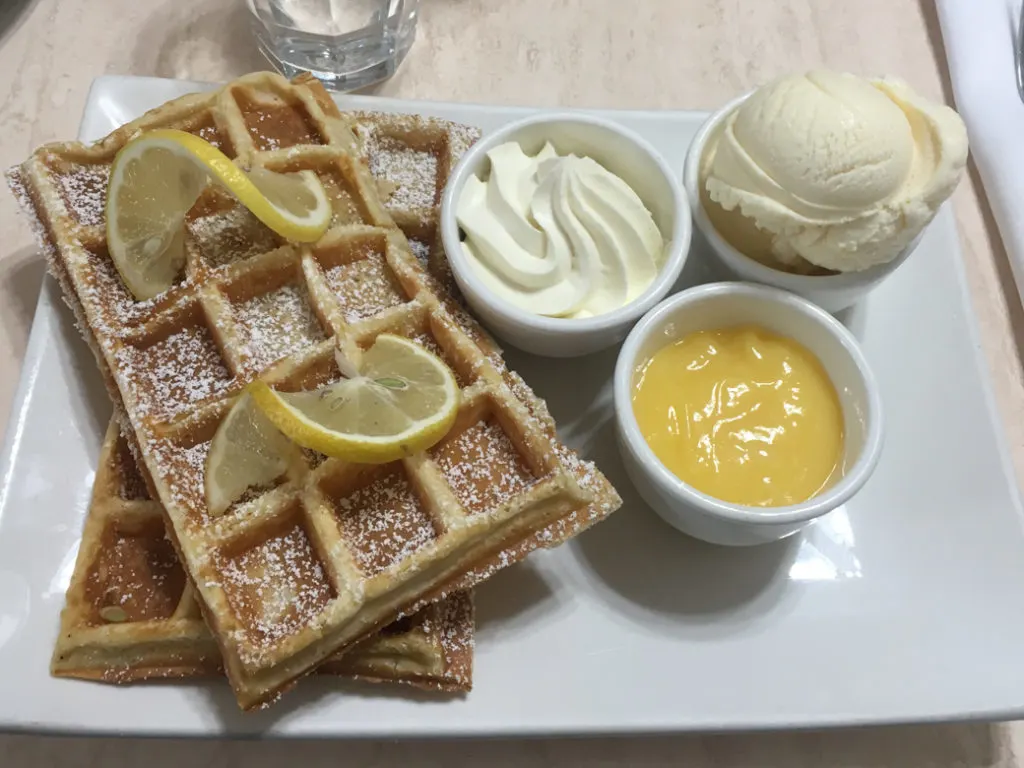 Just 8 minutes outside Devonport you'll find House of Anvers Chocolate. There's actually quite a lot going on here. They have a yummy cafe (get the waffles!) inside a heritage house and of course a chocolate shop.
Be sure to check out the chocolate museum and two different viewing windows where you can watch them making chocolate.
Bell's Parade and the Australian Axemen's Hall of Fame, Latrobe
This historic riverfront park has pleasant walking trails, a picnic ground and a children's playground. There's also a heritage house you can tour, built in 1850 and believed to be the oldest house in Latrobe.
A newer building houses the Australian Axeman's Hall of Fame, a museum celebrating the history of wood chopping and logging in Tasmania. Outside the Hall of Fame is a giant wooden statue of a platypus.
Which is fitting, because the waters around Bell's Parade are one of the best places to spot a platypus in the wild. Go at dawn or dusk for the best luck. It's a 15 minute drive south of Devonport via the B19.
READ NEXT: Best Places to See Wildlife in Tasmania
Ghost Rock Wines, Port Sorell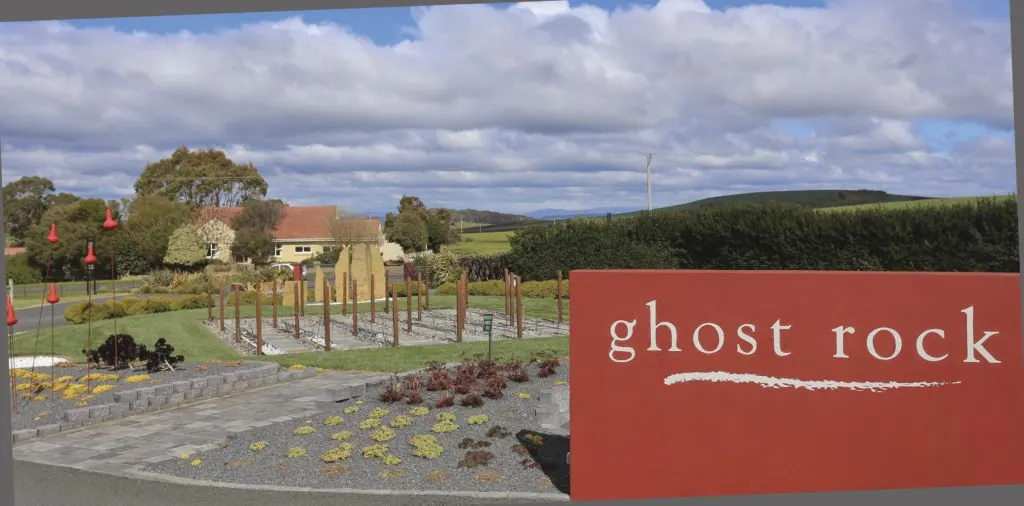 Wine-lovers should head 15 minutes east of Devonport to Ghost Rock Wines. Stay for lunch at their cafe, let the kids run around on the lawn and don't forget to take advantage of the free wine tastings.
Narawntapu National Park, Port Sorell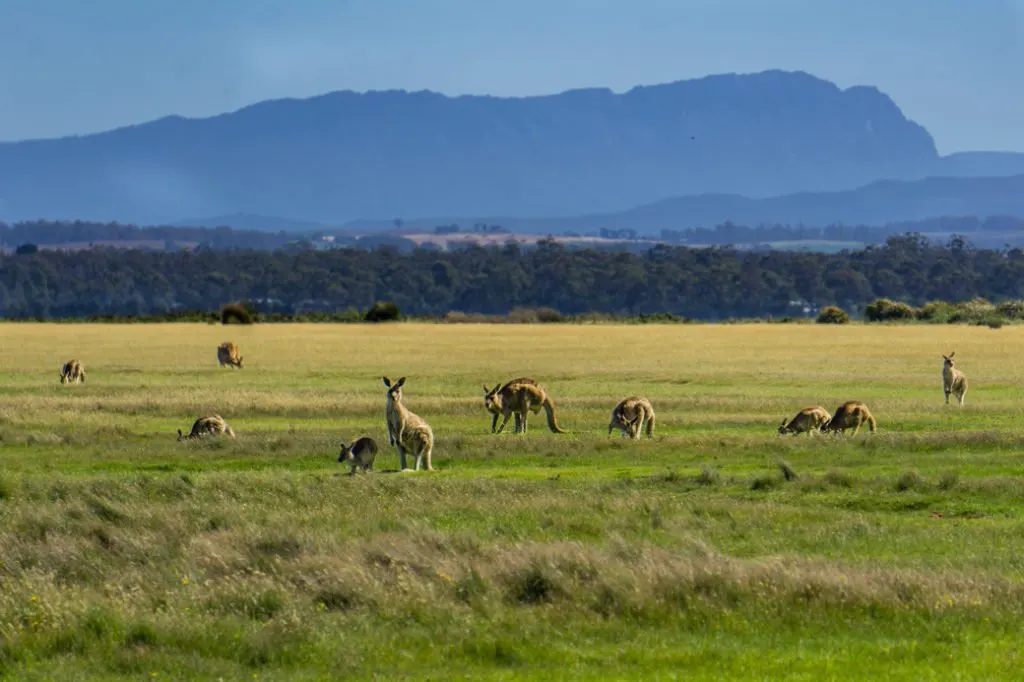 You don't have to drive far from Devonport to experience nature. Head 35 minutes east along the coast to Narawntapu National Park. I had heard it described as the Serengeti of Tasmania and it didn't disappoint.
The grasslands around the visitor centre are a great place to spot kangaroos, wallabies and wombats. If you explore the park trails towards the lagoon you might spot pademelons or snakes, plus tons of water birds. Baker's Beach stretches out for several sandy kilometres and is a great place to cool off.
Ashgrove Cheese, Elizabeth Town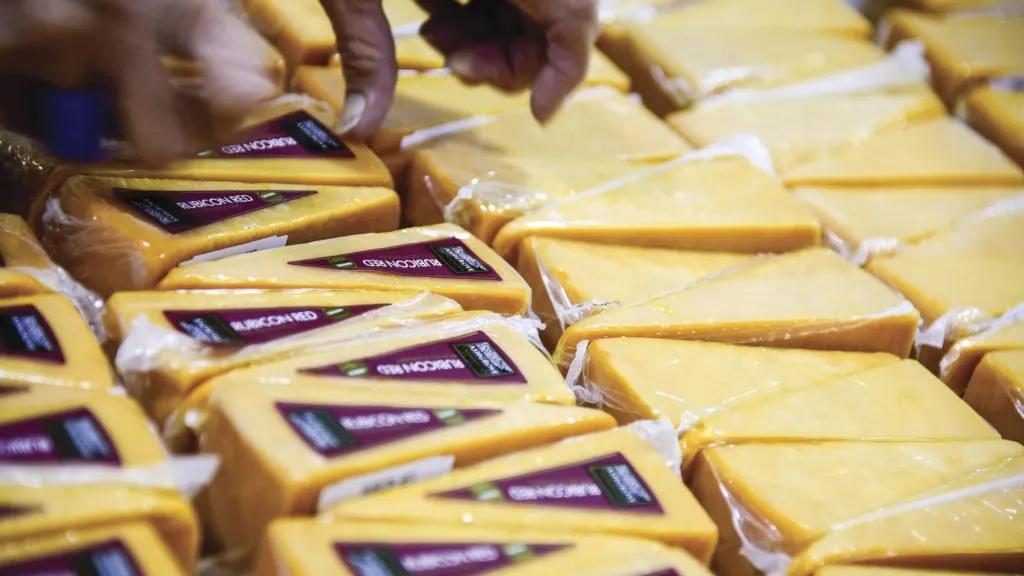 Stop in to Ashgrove Cheese, 25 minutes southeast of Devonport to sample their award-winning dairy products. They have cheese flavours you've probably never seen before like Tasmanian pickled onion cheese!
My favourite is actually their Amazeballs. They're crunchy and delicious bits of freeze dried cheese – a perfect hiking snack.
Van Diemens Land Creamery, Elizabeth Town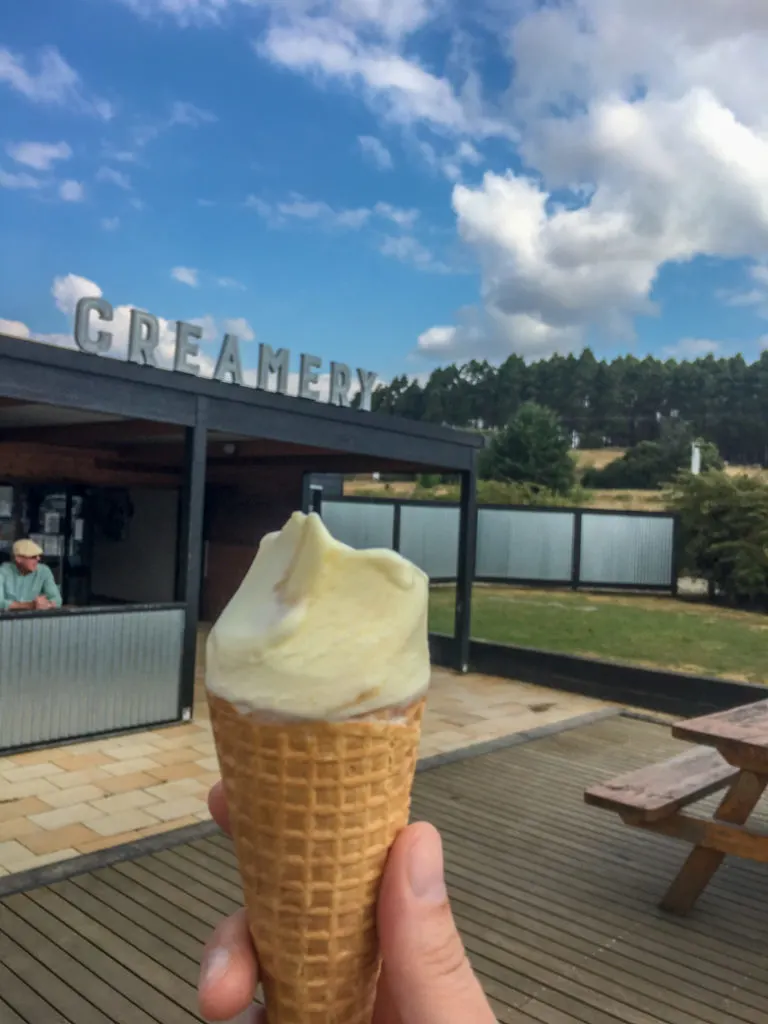 On a hot day, the handmade ice cream at Van Dieman's Land Creamery is just the thing. It's 30 minutes southeast of Devonport on the Bass highway. They make over 50 flavours including some uniquely Tasmanian flavours like Peach and Lemon Myrtle. You can also buy tubs of ice cream to take with you.
Christmas Hills Raspberry Farm
Experience everything raspberry at the Christmas Hills Raspberry Farm, just half an hour from Devonport. Their cafe serves up every raspberry dessert, cocktail and smoothie you could imagine, plus sandwiches, burgers and salads. There's also a small shop selling all manner of raspberry products.
Spot a Platypus in Deloraine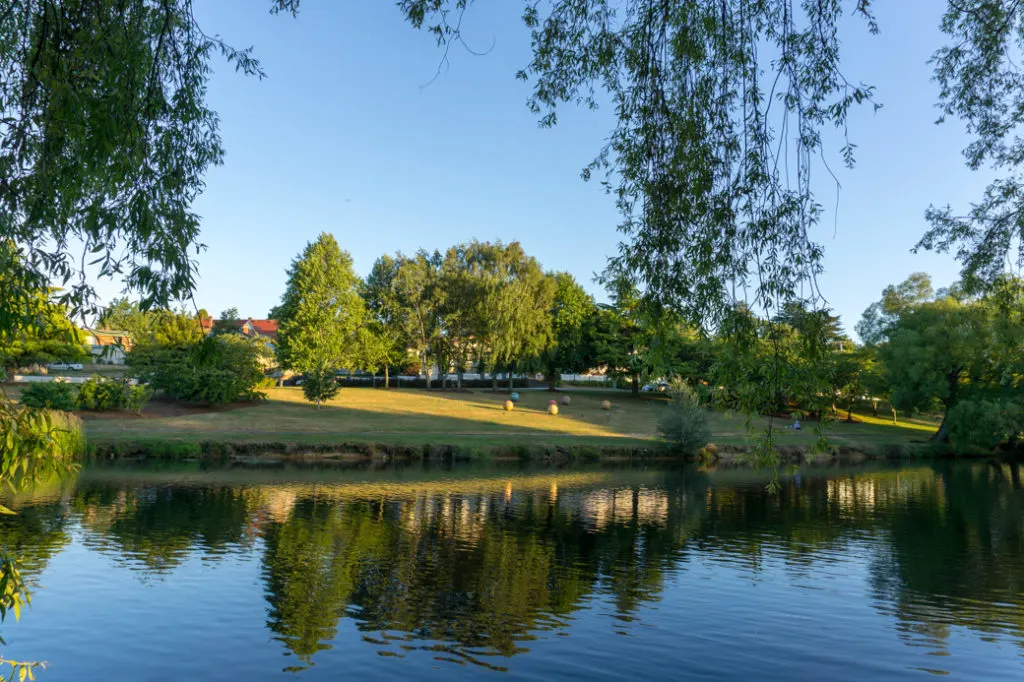 The cute country town of Deloraine is set along the banks of the Meander River 40 minutes from Devonport. And in the river live several not-so-shy platypus, making Deloraine one of the best places to spot the duck-billed creatures.
For the best chances of seeing a platypus, go with a local guide. Mark, the owner of the Empire Hotel leads nightly walks along the river and knows the best places to spot platypus. Be sure to have dinner at the restaurant in the hotel first – they have great food.
Liffey Falls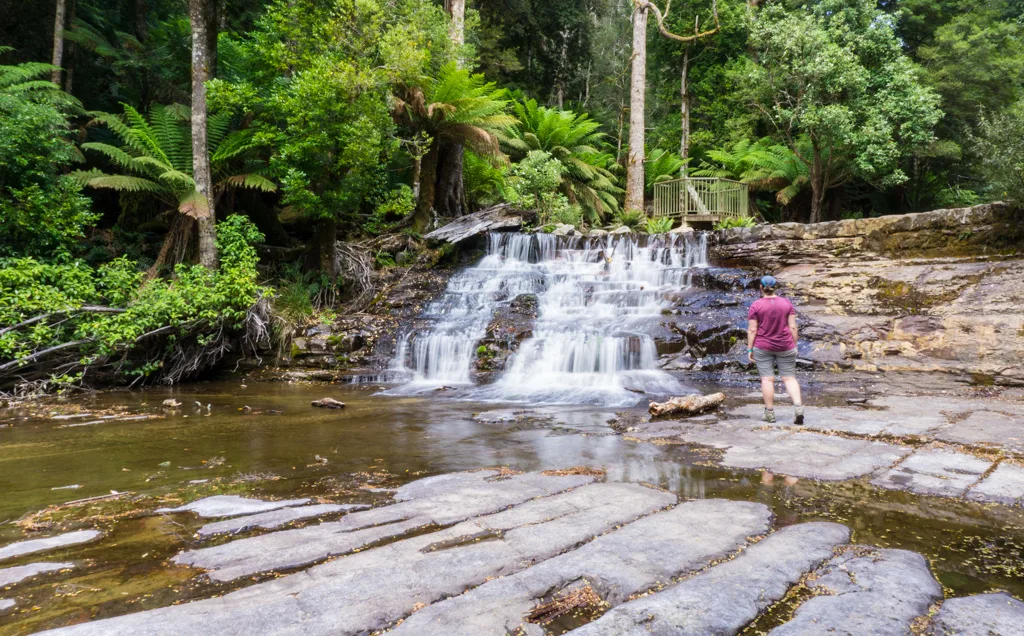 You can find beautiful Liffey Falls 70 minutes southeast of Devonport. There are actually three separate cascades to admire. It's an easy 20 minute walk to the falls on a well formed track from the upper car park. Or if you want a longer walk, I liked the 1.5 hour trek from the lower car park.
Things to do South of Devonport
Spreyton Cider, Spreyton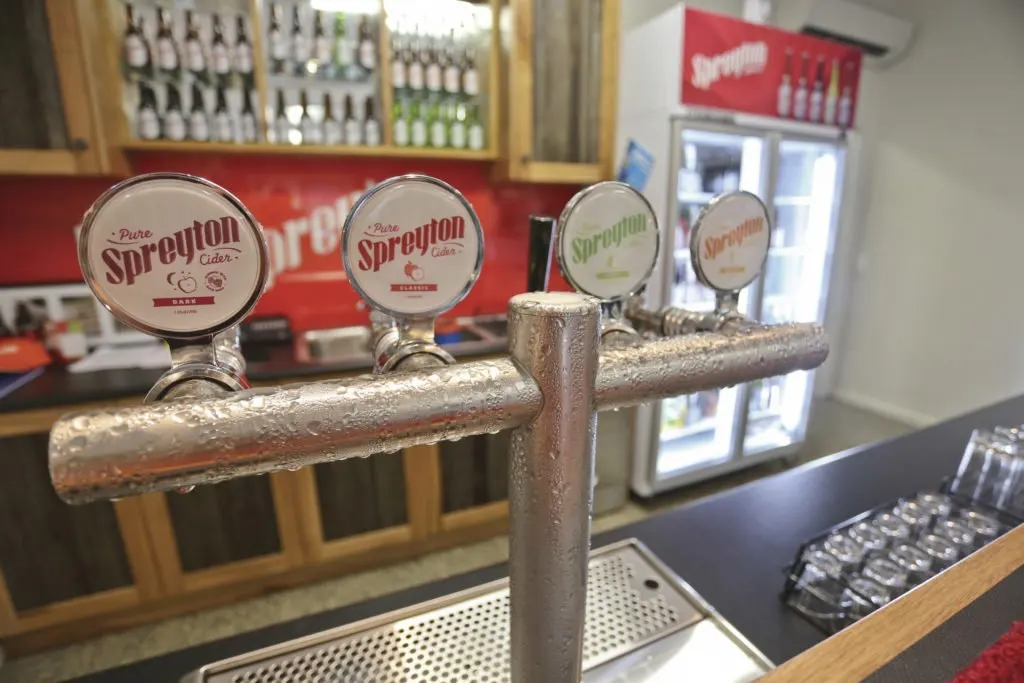 This craft cidery is 10 minutes south of Devonport in the rural area of Spreyton. They make delicious hard ciders from local apples and pears. (They're so good that they've won awards!)
You can try them all in their tasting room. And if you want something non-alcoholic, their ginger beer is pretty tasty too.
Seven Sheds Brewery, Railton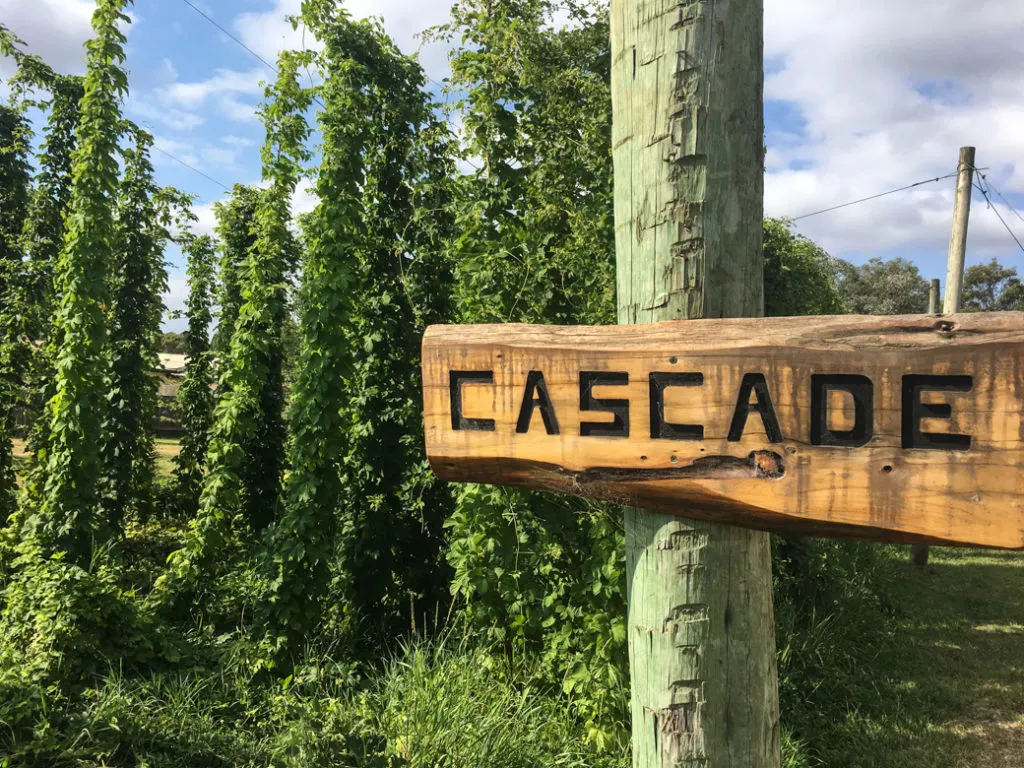 At the forefront of the craft brewing scene in Tasmania is Seven Sheds Brewing. Located south of Devonport in tiny Railtown, they literally brew in an old shed. You can buy beer to go or enjoy it at picnic tables next to their hops garden.
We tried the 5 different beers on tasting paddle to decide which ones to buy. After our trip to Latrobe to see platypuses the week before, it was no surprise that we liked their Platypus 400 beer best. It will take 25 minutes to drive here.
Sheffield Murals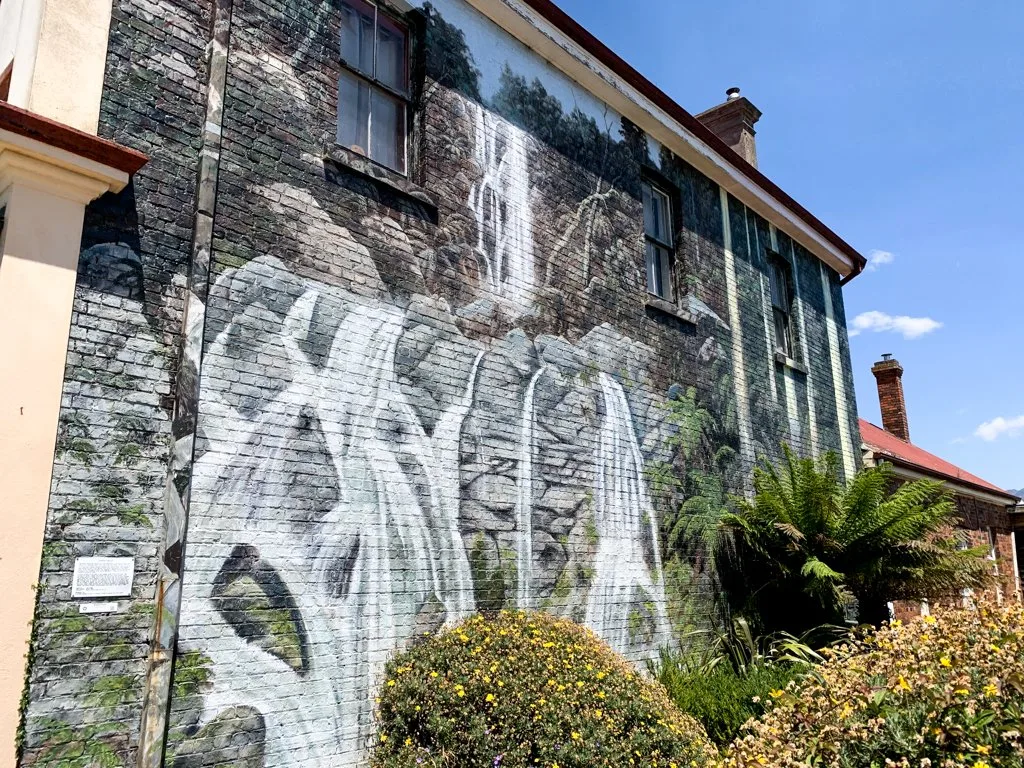 The little rural town of Sheffield is a 30 minute drive from Devonport. It has a cute main street with a cafes and art galleries, but the real attraction is the outdoor art: Sheffield calls itself the "Town of Murals".
Many of the buildings have colourful murals painted on the sides that date from the 1980s that depict local history and culture. They also host an annual mural festival. To see the recent art, be sure to check out the dedicated mural display area in the park near the visitor centre.
Trowunna Wildlife Sanctuary, Mole Creek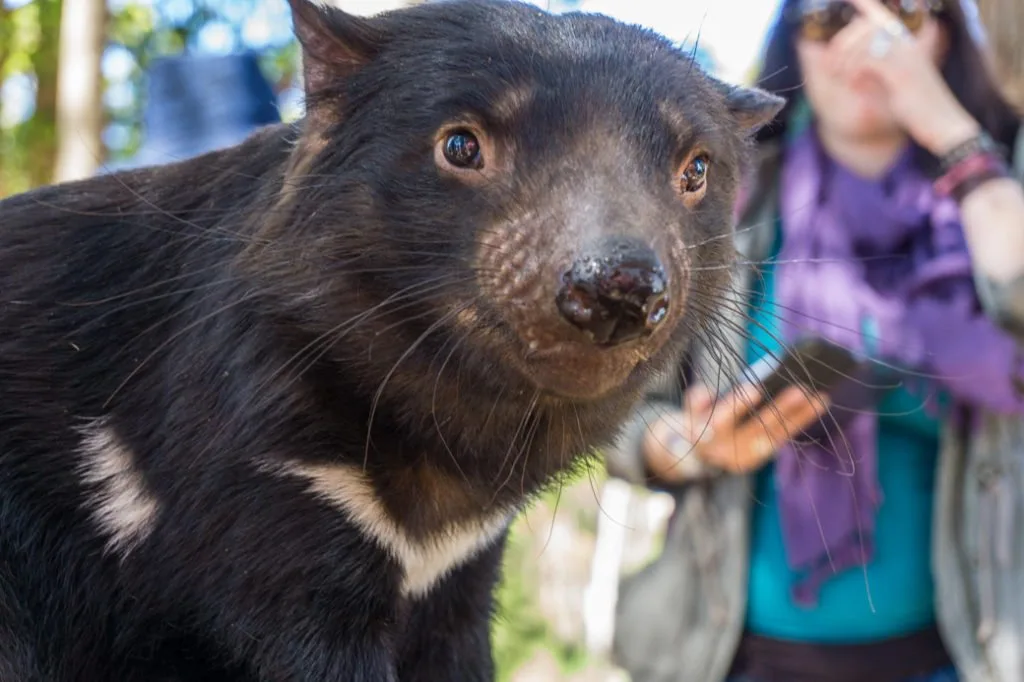 You can spot quolls, raptors, wombats and kangaroos at Trowunna Wildlife Sanctuary, but the real stars are the Tasmanian devils.
The sanctuary runs one of the most important captive breeding programs for the endangered marsupials. Some of the devils born at Trowunna are released into the wild to try to reestablish Tasmanian devil populations.
Be sure to take the guided tour where you'll get to meet a Tasmanian devil up close and watch them feed. The sanctuary is 50 minutes south east of Devonport – look for the giant Tasmanian devil next to the road.
Read more about my visit to Trowunna and my opinions on animal sanctuaries in my guide to the best places to see wildlife in Tasmania.
Alum Cliffs, Mole Creek
The easy walk to the Alum Cliffs is one of Tasmania's Great Short walks. It's about 1km each way and takes about 40 minutes to hike. The trail takes you to a spectacular viewing platform on the cliffs over the Mersey River.
Mole Creek Caves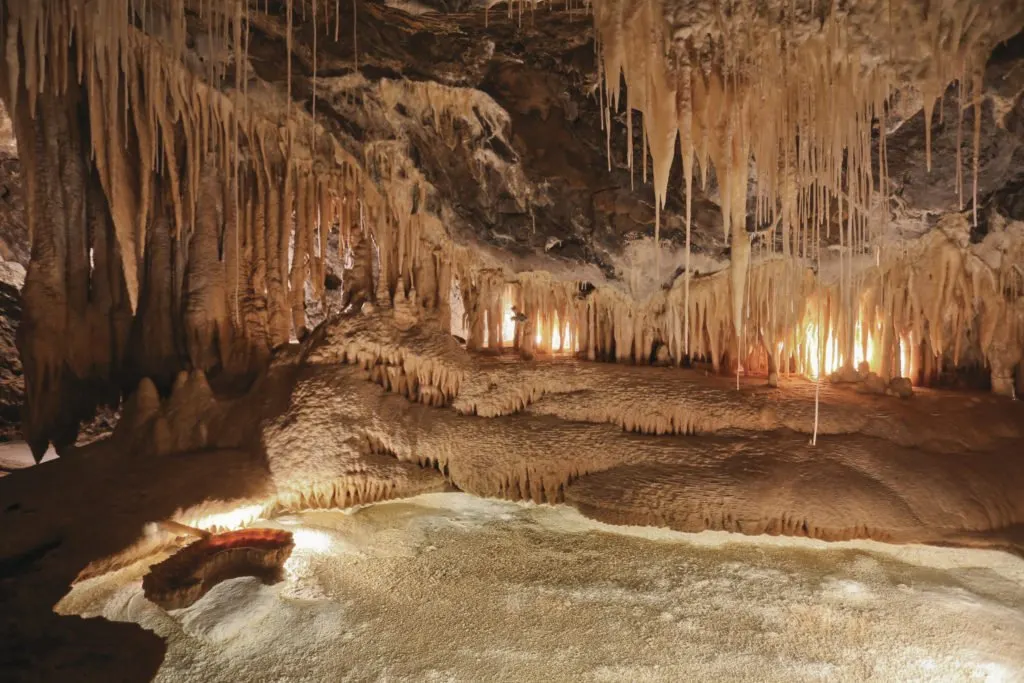 One of the highlights of my trip was a visit to the Mole Creek caves. Located an hour south east of Devonport, these limestone caves are full of spectacular formations. You must join a guided tour to visit and there are several different tour options to choose from.
I did the Cathedral tour in Markoopa cave. We got to experience the incredible acoustics in the cave when one of the tour participants gave an impromptu performance of "Amazing Grace".
Tasmazia and the Village of Lower Crackpot, Sheffield
This wacky attraction is great for kids, but adults will enjoy it too. The star attraction is a hedge giant maze, but they also have 7 more mazes, a miniature village, a lavender farm, a garden and a cafe.
Tasmazia is 35 minutes from Devonport on the way to Cradle Mountain, so it makes a great stopover. On the drive there you'll pass through an area called Nowhere Else and one called Promised Land. Fun!
Walls of Jerusalem National Park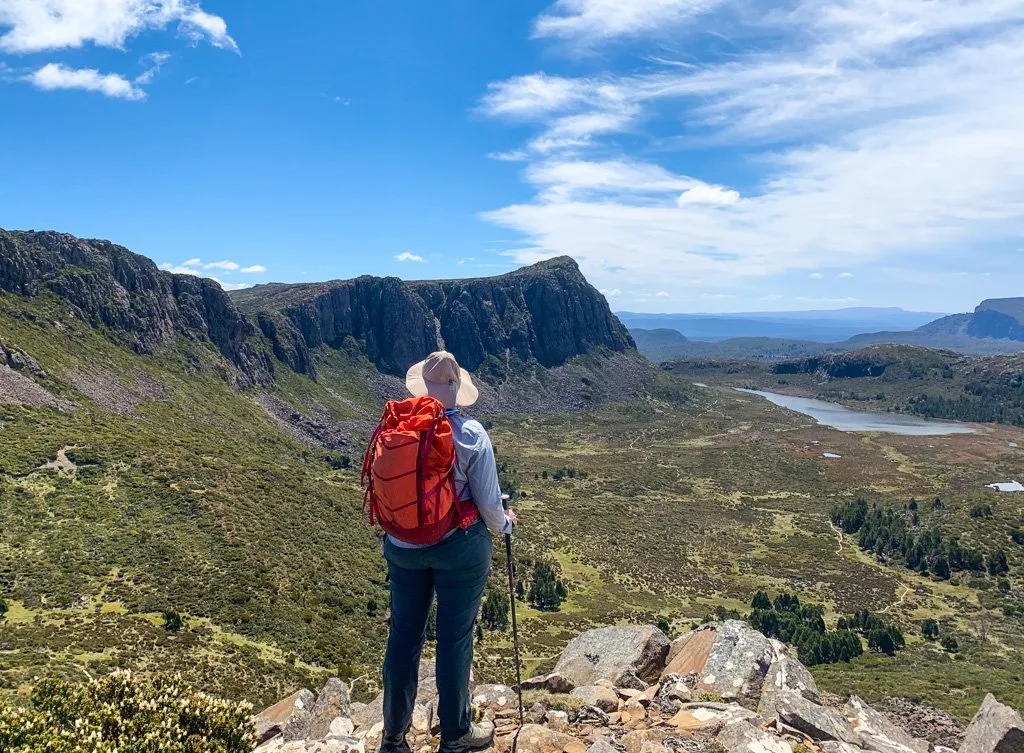 Cradle Mountain gets all the press, so next-door-neighbour Walls of Jerusalem National Park doesn't get the crowds. It's also located in Tasmania's highlands and has jaw-dropping scenery.
The park is a 2 hour drive from Devonport, then a steep 3+ hour hike into the wilderness. Bushwalkers love to camp in the park to climb one of the Biblically-named peaks.
READ NEXT: How to Hike in Walls of Jerusalem National Park, Tasmania
Cradle Mountain National Park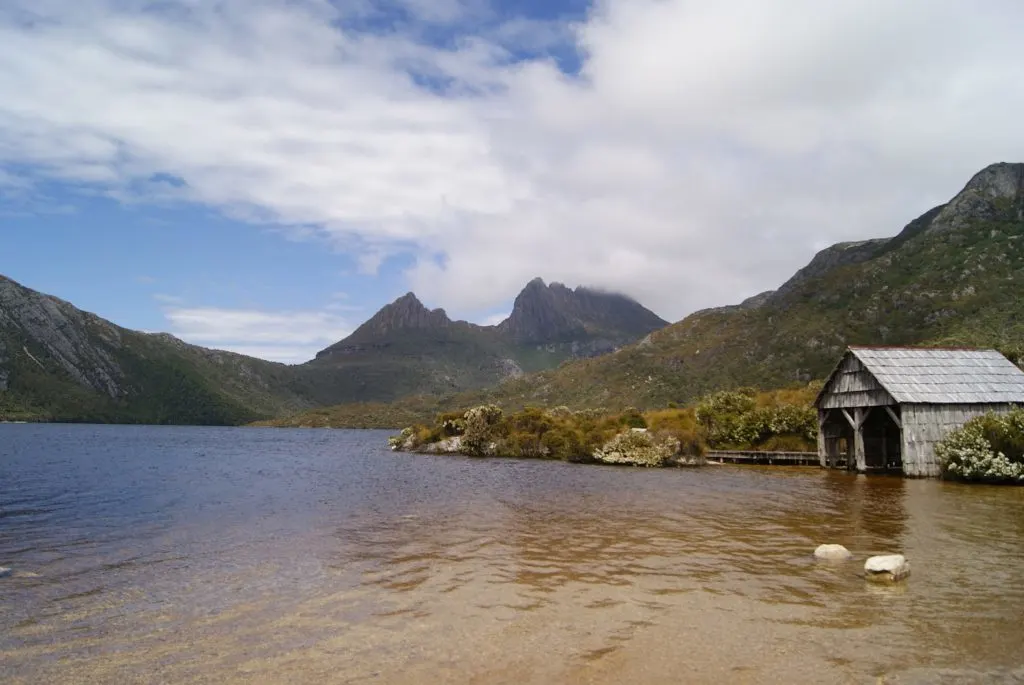 If you're thinking of going to Tasmania, chances are this place is on your must see list. Cradle Mountain National Park is home to Tasmania's highest mountains, best hiking trails and some of its most gorgeous scenery. The park is big enough to spend days exploring, but most visitors start with the easy walks near Dove Lake.
If you are up for an adventure, tackle the 65km-long Overland Track. The drive on windy roads into the park takes about 75 minutes from Devonport.
READ NEXT: Hiking the Overland Track in Tasmania
Things to do West of Devonport
Lillico Beach Penguin Viewing, Lillico
If you want to see penguins in the wild, head to Lillico Beach 5 minutes down the Bass Highway. The penguins raise their young in burrows in the summer months. Each night at dusk they come ashore to feed their babies.
There's a viewing platform staffed with volunteers to answer your questions. I loved seeing the penguins so much that I went several times! Penguin viewing is free, but donations are welcome.
READ NEXT: Best Places to See Wildlife in Tasmania
Turners Beach Berry Patch, Turners Beach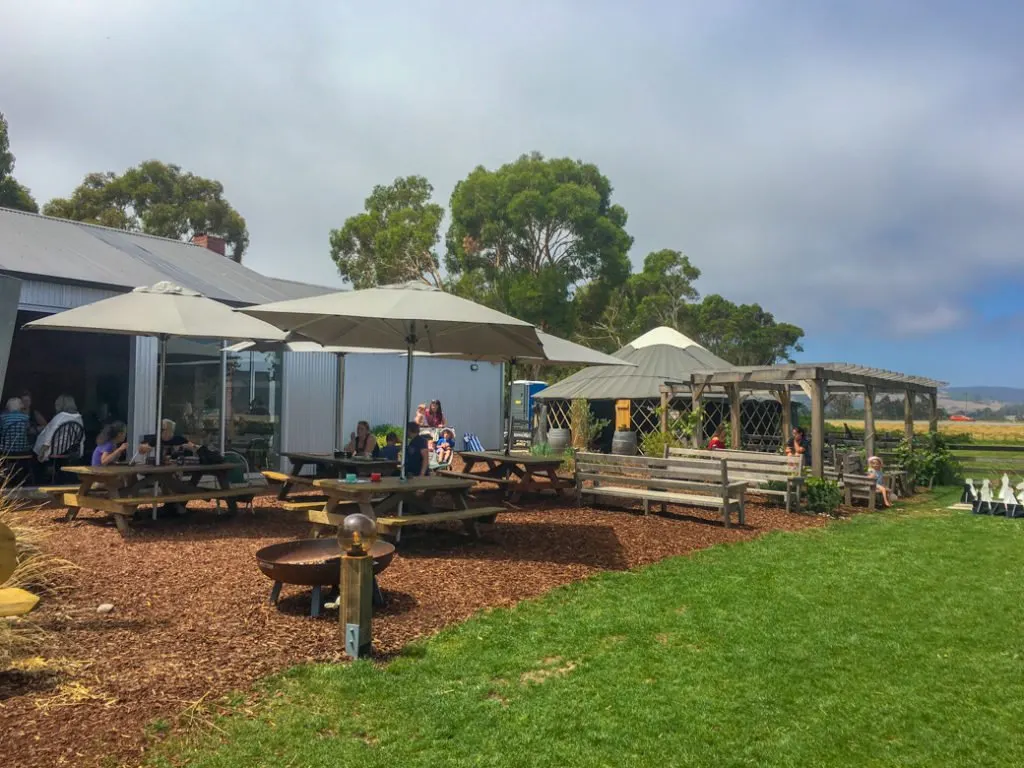 Just 10 minutes west of Devonport is this excellent berry farm and cafe. You can pick your own berries in the fields, buy them already picked in the shop, or sit down at the cafe with one of their berry ice cream cones.
If you want something more substantial, I love their amazing wood-fired pizzas. Afterwards, head down the road to Turners Beach proper for a swim or a stroll on the sand.
Cradle Coast Farmer's Market, Ulverstone
On Sunday mornings, make the 15 minute drive to Ulverstone for the weekly farmer's market on the wharf. Pick up some seasonal produce, local honey, and baked goods or just stroll around with a coffee.
Pedro's The Restaurant, Ulverstone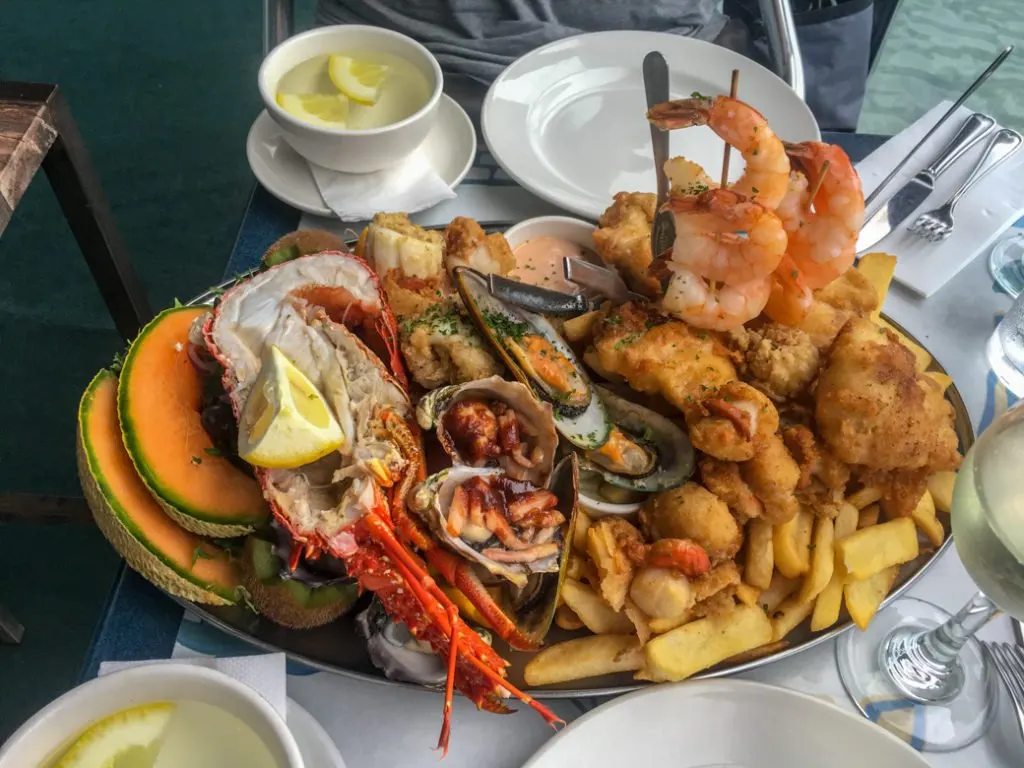 If you're craving fresh seafood, visit Pedro's in Ulverstone. It's right on the waterfront and specializes in local seafood including oysters and crayfish from Tasmania's northwest.
If you want to splurge, get the Paradise Platter, piled high with assorted seafood for two people. My husband and I really enjoyed the crayfish.
Leven Canyon Lookout, Nietta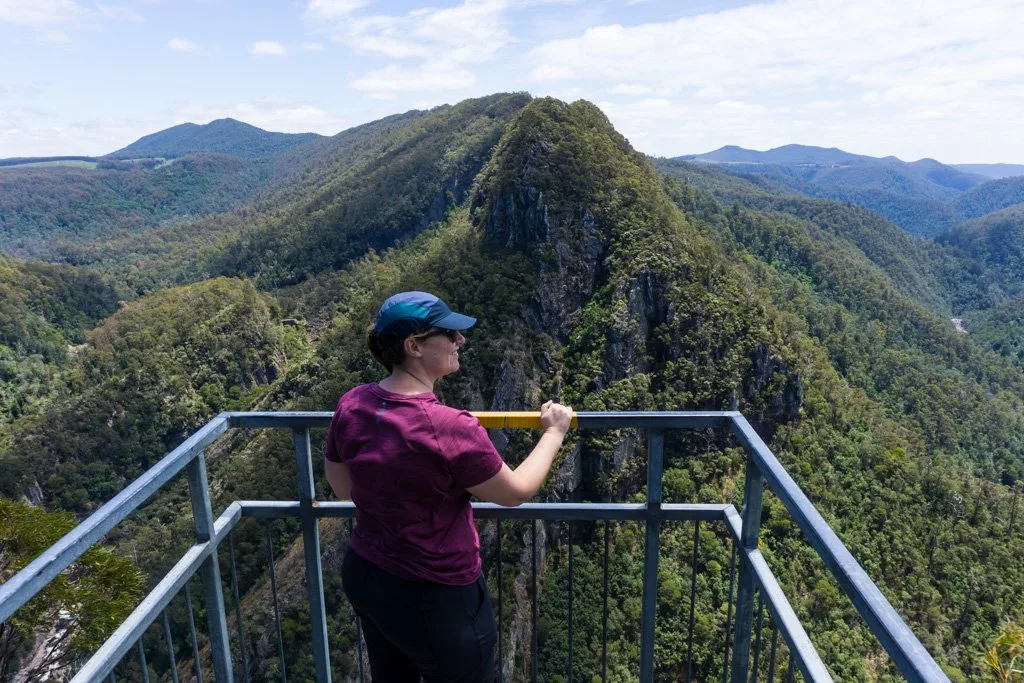 The short hike to the Leven Canyon viewpoint is one of 60 Great Short Walks in Tasmania. The trail makes a short loop with a spur out to a viewing platform at the apex. From the platform, you'll be able to gaze down on the Leven River, a staggering 275 meters below you.
The trail has lots of stairs so while it is short, it is not easy. Allow 45 minutes for the walk and 50 minutes to drive from Devonport.
Gunns Plains Caves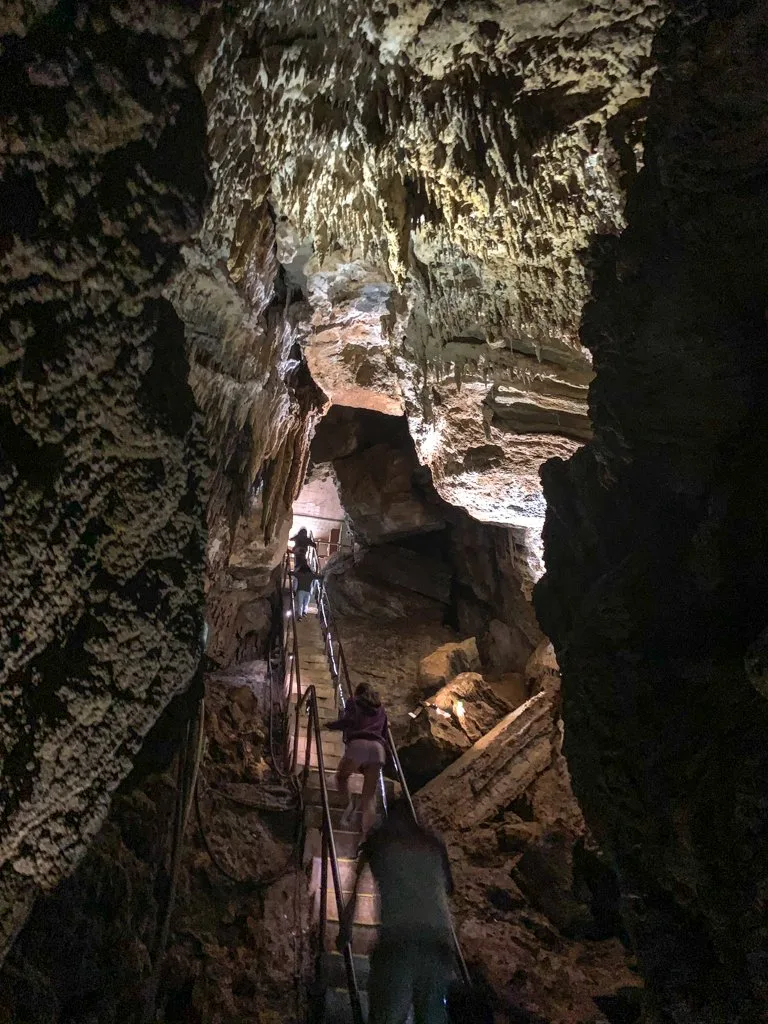 The beautiful limestone Gunns Plains Caves are just 40 minutes from Devonport. Local guides Geoff and Trish offer hour-long tours several times a day. My favourite part of the tour was the gorgeous shawl formations, nick-named cave bacon!
The Town of Penguin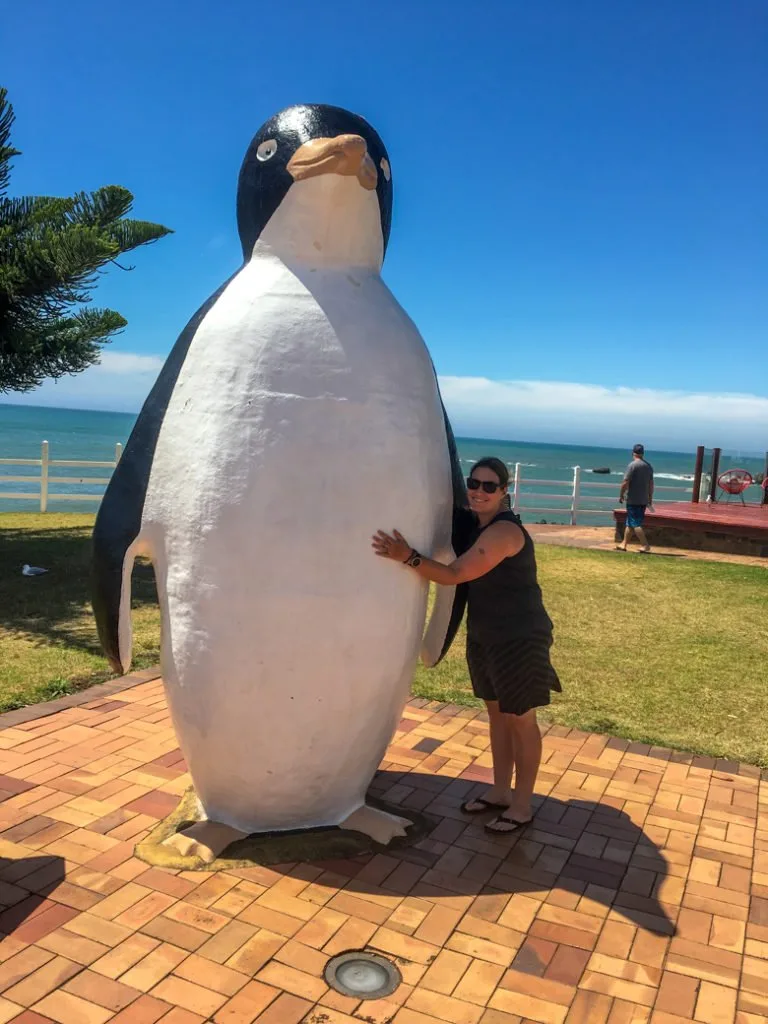 Yes, in Tasmania there's a town called penguin, and they have a giant 10-foot penguin statue on the waterfront to celebrate. (See if you can spot all the other penguin decorations in town like the penguin shaped bollards and rubbish bins.)
It's a cute seaside town where you can stroll the esplanade, grab lunch at a cafe or hit the covered market on Sundays for some local goodies. It's a 20 minute drive west of Devonport along the Bass Highway.
Fern Glade, Burnie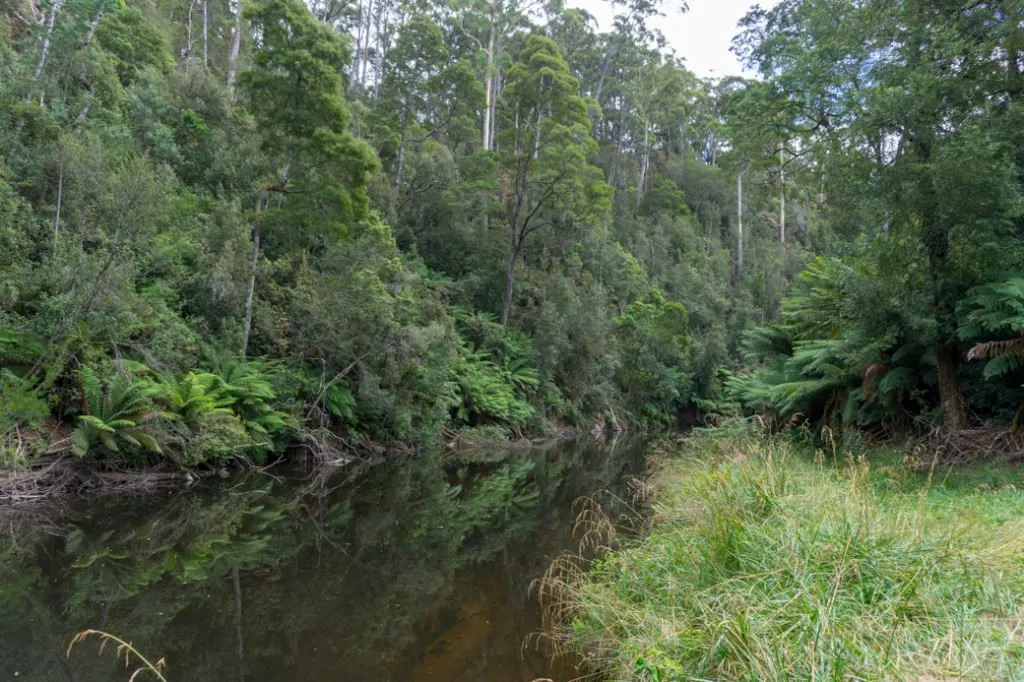 The easy Fern Glade walk just outside Burnie is one of Tasmania's 60 Great Short Walks. The short trail follows the banks of the Emu River as it weaves through towering tree ferns. If you visit at dawn or dusk, you may see the resident platypus! The walk only takes about 20 minutes, but there's a picnic area if you want to stay longer.
Fern Glade is one of my picks for the best places to see wildlife in Tasmania.
Hellyer's Road Distillery, Burnie
If you're into whiskey, you won't want to miss this distillery. They produce some of Tasmania's best single-malt whiskeys. They have tours (with tastings!) a cafe, and of course a shop. My whiskey snob husband liked it enough to buy 4 different bottles! You can find it 30 minutes west of Devonport near Burnie.
Wonders of Wynyard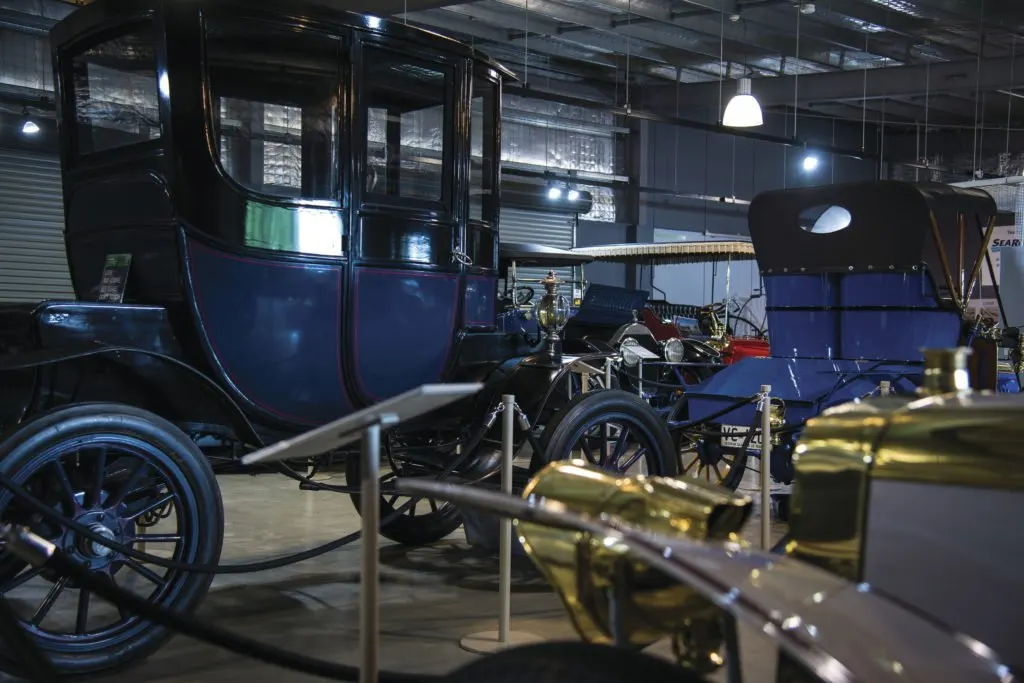 Car fanatics will love the Wonders of Wynyard 50 minutes from Devonport. This gallery and museum houses a vintage car collection that includes the world's oldest Ford and several other 100+ year old automobiles.
There's also an art gallery and a gift shop with local products. It's $8.50/adult to see the cars but the rest is free.
Table Cape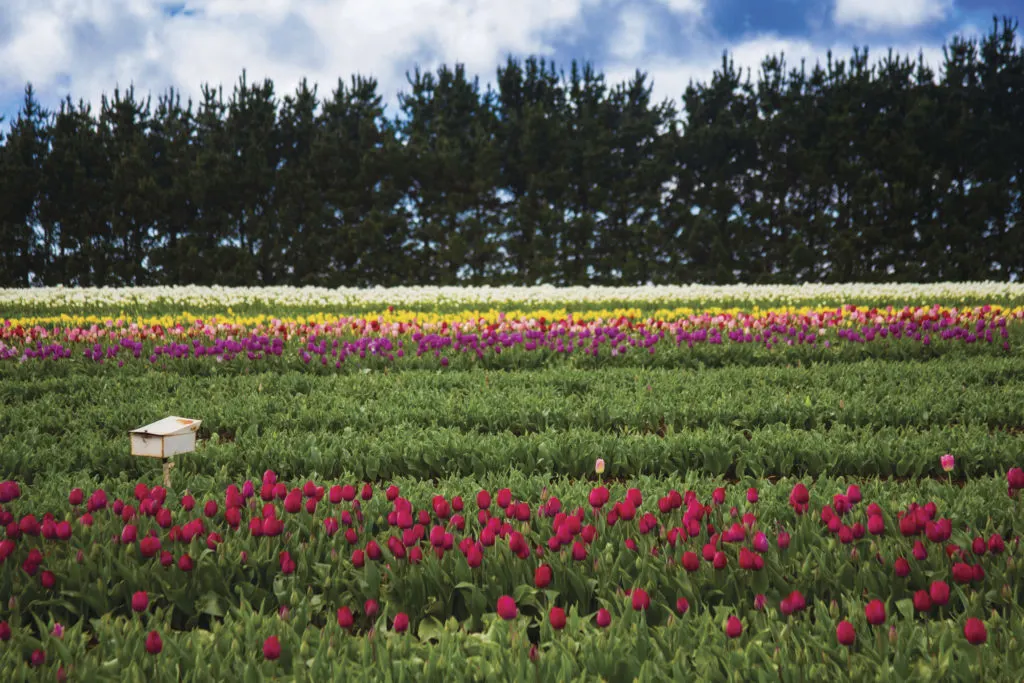 At 180m above sea level, flat-topped Table Cape has a great view of Bass Strait. There's a great viewpoint as well as a historic lighthouse. If you visit in the spring, be sure to check out the tulip fields. The whole drive out here takes about an hour.
Boat Harbour Beach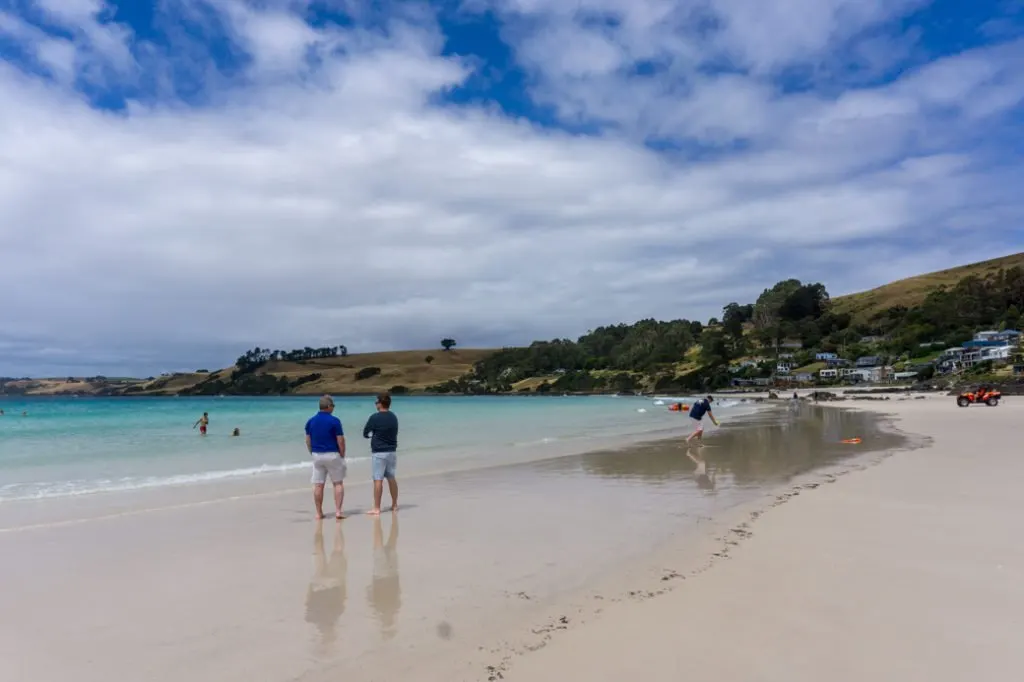 With its white sand and turquoise waters, Boat Harbour Beach looks almost tropical (even though the water is still not that warm). Many people rate it as the most beautiful beach in Tasmania, so it's worth the 1 hour drive from Devonport.
It's nestled in a sheltered cove behind a rocky point, ensuring that the waters stay calm. The beach is patrolled on weekends in summer. There are public toilets, change rooms and a cafe at the surf life saving club.
Town of Stanley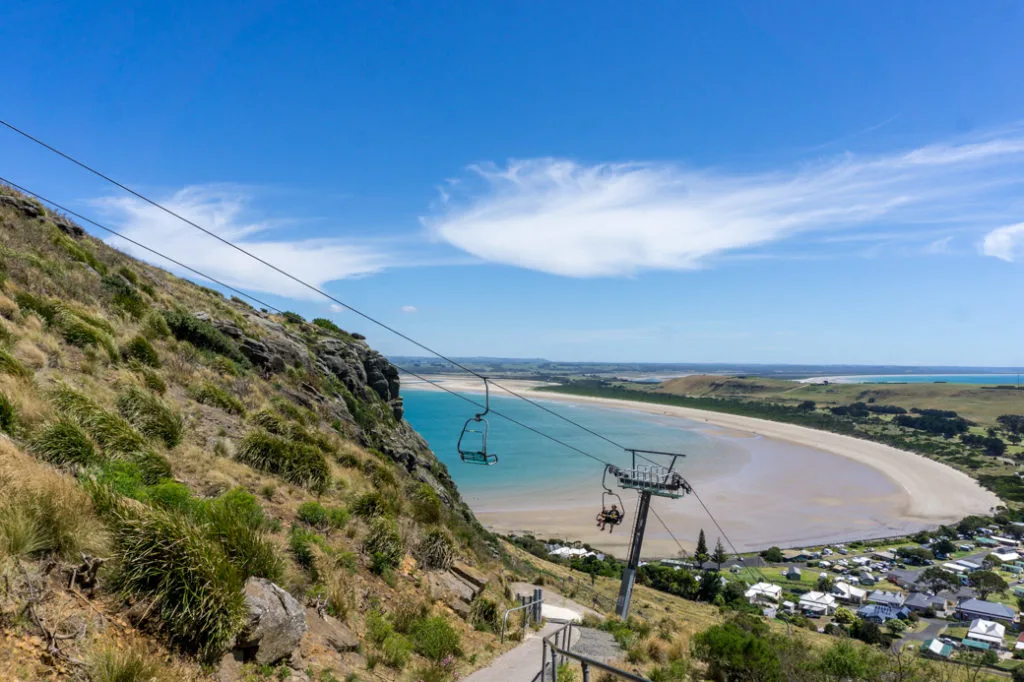 The seaside town of Stanley has a cute and historic little town centre and sandy beaches. It's also home to flat-topped bluff (actually an old volcanic plug) called the Nut.
You can take a chairlift to the top or walk up a steep track. (I walked up and while it was 10 minutes of hard work, it wasn't bad.) At the top, a path circles the perimeter with viewpoints in each direction. Stanley is 90 minutes from Devonport.
Tarkine Drive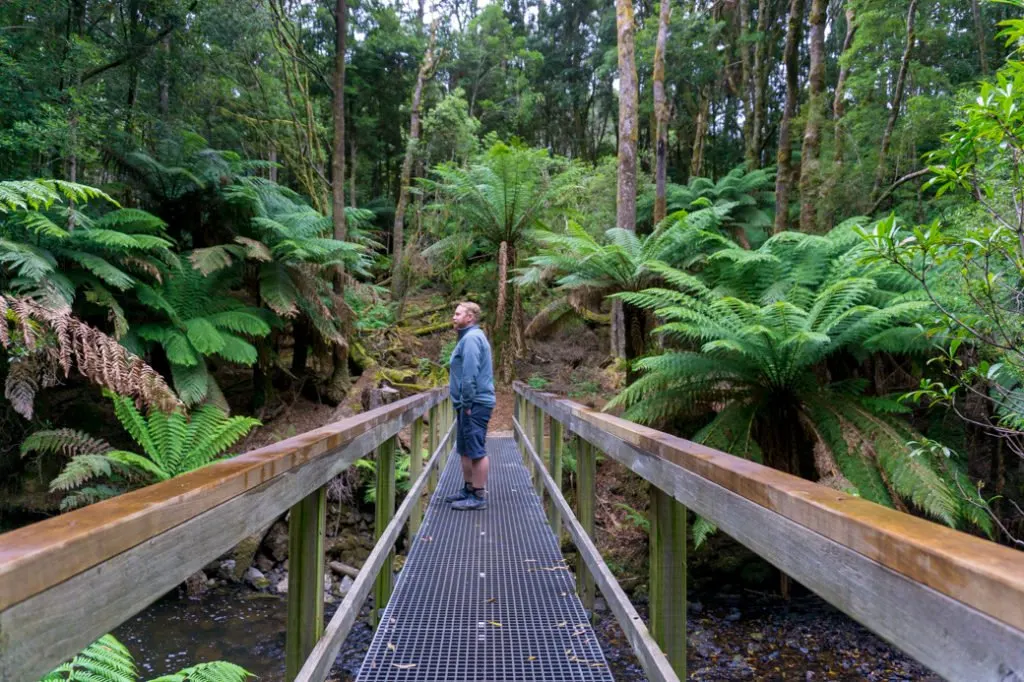 Explore Tasmania's wild West Coast and old growth rainforest interior in the Tarkine region. This 200km loop drive visits rugged beaches, aboriginal cultural sites, walking tracks and remote villages. You can drive it in a day, but I recommend at least 2 days to really get a feel for the place.
I can't say enough amazing things about this off-the-beaten path area. I've got a complete guide to the Tarkine Drive, with driving directions and an itinerary. The start of the drive in the town of Smithton is 90 minutes west of Devonport on the Bass Highway.
READ NEXT: The Ultimate Guide to the Tarkine Drive in Tasmania, Australia
Devonport FAQ
What is Devonport, Tasmania known for?
Devonport is most famous as the place that the ferry from Victoria arrives. But it's a great city for food, has a rich local history, and has lots of great bushwalking nearby.
What is the population of Devonport?
Devonport has a population of about 26,000, making it the third largest city in Tasmania after Hobart (204,000) and Launceston (87,000).
What is there to see between Devonport and Cradle Mountain?
On the route between Devonport and Cradle Mountain you will pass Spreyton Cider, the mural town of Sheffield, and Tazmazia. If you want to take an alternate route via Highway 1 and Deloraine, you can also visit House of Anvers Chocolate, Ashgrove Cheese, Van Diemens Land Creamery, Trowunna Wildlife Sanctuary, Alum Cliffs, and the Mole Creek Caves.
What is the weather like in Devonport?
The warmest months are December, January, and February, with average temperatures between 11 and 21°C. The spring and fall months are typically mild at 6-20°C. Winter is a little chillier at 4-13°C. The driest months are January and February. June, July, and August are the wettest.
So that's my big list of things to do in Devonport and Tasmania's North West. Which ones are you looking forward to most? Tell me in the comments.
MORE TASMANIA POSTS: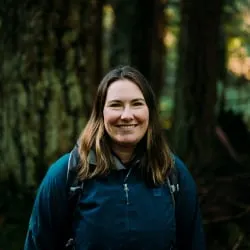 Latest posts by Taryn Eyton
(see all)