Many people think backpacking season ends on Labor Day weekend. Well, they're wrong! September and October can be great times to go backpacking, as long as you are prepared. Here are my top fall backpacking tips to make sure you have fun and stay warm.
This is a sensitive wilderness area. Learn how to Leave No Trace to keep the wilderness wild. Make sure you are prepared by bringing the 10 Essentials. Get ready for adventure with this checklist of things to do before every hike.
Hey there: Some of the links in this post are affiliate links, which means I earn a small commission at no cost to you. Thanks for your support. -Taryn
Research a Destination… and a Backup Plan (or Two)
The first step of planning a fall backpacking trip, like planning any backpacking trip, is picking a destination. In the fall you need to be extra careful with this step though, as you want to ensure you'll get the best possible weather.
Fall days can be summery warm, but fall nights can be bitterly cold. And of course, the weather can change at any moment, especially in the mountains.
I like to thoroughly research a few possible destinations, preferably in different geographic areas. That way if the weather is bad in one area, you can always head somewhere else where the sun is shining.
When I'm researching destinations I find it helpful to look at trip reports from the fall in previous years to see if the snow had started to fly in that area yet, to get an idea of how cold it was at night, and to figure out the best time to see the leaves change.
Check the Weather Forecast, Then Check it Again (and Again)
I also like to keep a close eye on the weather forecast for my destination and backup destinations in the week leading up to my trip.
Finding a weather forecast that applies to the remote areas where I will be going on a fall backpacking trip can be a challenge since forecasts for nearby cities will be for much lower elevations than my destination.
I use Spotwx and Mountain Forecast to get a better idea of the forecast at the exact location I will be backpacking. Read more about these sites in my guide to the best weather apps for hiking.
Knowing the freezing level (the elevation above which temperatures are expected to be below freezing) is also important. Mountain Forecast includes the predicted freezing level in their forecast, which can help me decide to camp at a lower campsite (that won't be freezing at night) and then day hike into the high mountains from there.
READ NEXT: The Best Weather Apps for Hiking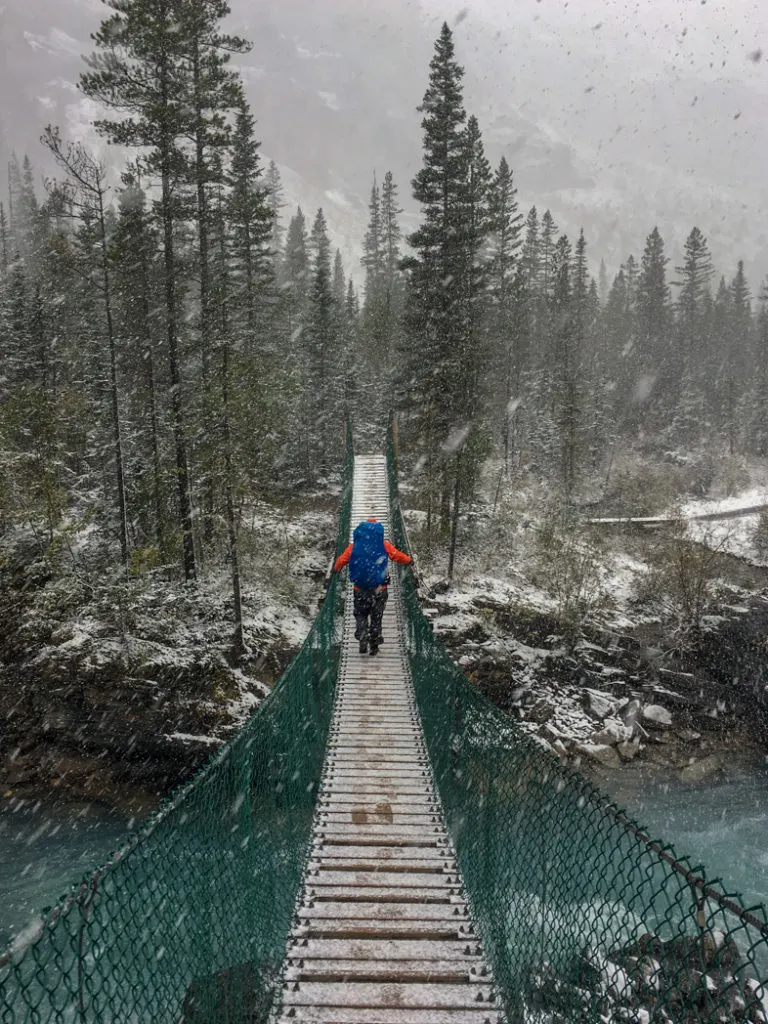 Bring the Right Clothes
On fall trips I've gone from sweating while wearing a t-shirt and shorts to shivering in a down jacket in a matter of hours. So of course, layers are your friend on fall trips.
I usually bring lighter clothing to wear during the day, but make sure I have lots of warm clothes to layer up at night. I bring gloves, a warm hat, a buff, long underwear, warm wool socks, and a compressible down or synthetic jacket on every fall backpacking trip.
Even with a careful eye on the weather forecast, it can always rain or even snow in the mountains, and it is even more likely in the fall. You'll want to pack a waterproof breathable jacket and pants and some waterproof hiking boots. Even if it doesn't rain, they will help insulate you from the wind.
READ NEXT: What to Wear Winter Hiking and Snowshoeing
Pack a Warm Sleeping Bag
The easiest way to ruin a fall backpacking trip is to be freezing cold at night. Make sure you bring a warm sleeping bag.
But just because a sleeping bag is rated -10 doesn't mean that it will keep you warm at that temperature. Sleeping bag temperature ratings are tested in very specific laboratory conditions that may not match up with your body and how you sleep.
As well, there are two different ratings: comfort and lower limit. Most brands use the lower limit rating in the sleeping bag name, but if you dig around on their website, you can also find the comfort rating.
One of my top fall backpacking tips is to always use a sleeping bag rated at 5-10 degrees colder than the coldest temperature you expect to encounter. If you know you are a cold sleeper, go for an even warmer bag.
I'm a very cold sleeper so in the fall and winter, I use an older version of the Therm-a-Rest Parsec 0F/-18C sleeping bag. It weighs just under 1 kg, which is insanely light for the amount of warmth it provides. It also has an extra pocket of down at the toe just to keep your feet warm!
How to Stay Warm in a Tent: Over 40 Tips
AND Pack an Insulated Sleeping Pad
Even if you have the warmest sleeping bag in the world, you will still be freezing without an insulated sleeping pad. The ground is cold, so without some insulation underneath you, it will chill you quickly. This is fall backpacking tip is one that a lot of people miss!
For fall backpacking, bring a sleeping pad with an R-value of at least 4. R-value is a measure of warmth – the higher the number, the warmer you will be. Most summer-rated sleeping pads have an R-value of 2.5, so they aren't warm enough for fall.
I use a Therm-a-rest NeoAir XTherm on fall trips. It has an R-value of 6.9 which helps keep me toasty warm. It is also 2.5″ thick, for lots of padding.
Add Some Extras to Keep You Warm at Night
It also helps to have a strategy to add some extra warmth for colder than expected temperatures. I always wear a warm merino wool hat to sleep in, along with thick, winter-weight merino wool or polyester long underwear.
If it's extra chilly, I might choose to wear a fleece jacket and or a down jacket to bed. I layer the hood from the jacket over my hat for even more warmth.
I also love down booties for use around camp (as long as the ground isn't too wet) and to wear inside my sleeping bag.
It can take a while for your body heat to warm up a sleeping bag, so sometimes I take a bottle filled with boiling water to bed with me to use as a hot water bottle. It ensures that the bag heats up fast.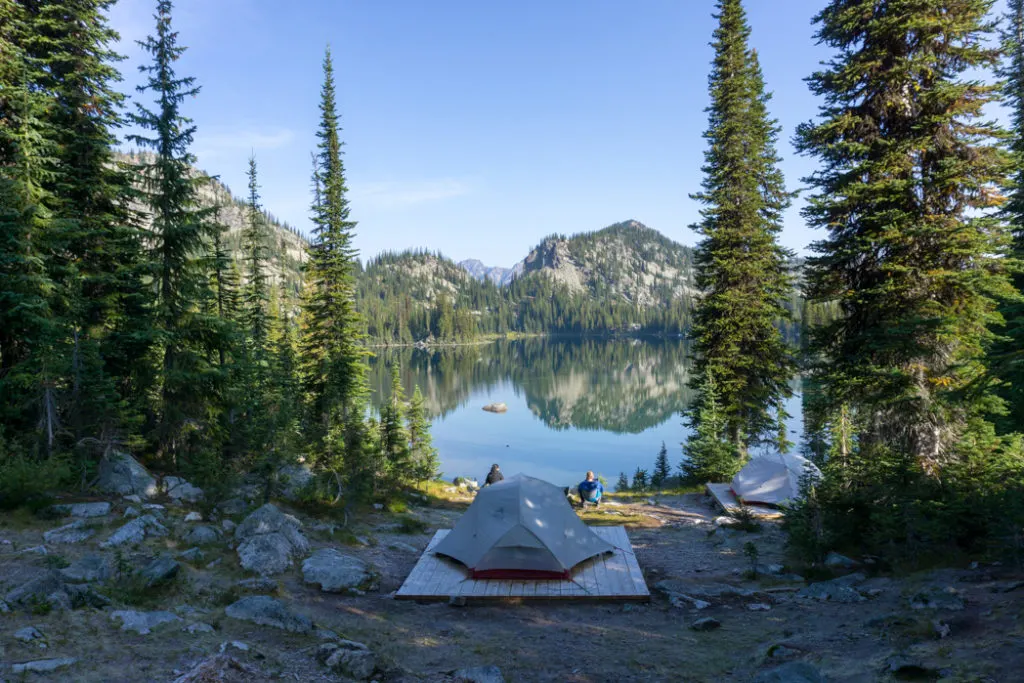 Prepare for Rain and Wind
Fall weather is unpredictable. Make sure you stake out your tent well to protect it from rain and wind during the night.
On group trips, I like to bring a lightweight sil tarp to make a kitchen and hangout shelter. I can rig the tarp overhead to protect from rain, or on one side to block chilly winds.
Make Warm Foods and Drinks
Eating warm, high-calorie foods will warm you up from the inside. On fall trips I like to bring lots of hot drinks like tea and hot chocolate. And don't make your meals too complicated so don't have to wait around in the cold while your food cooks. Keep in mind that colder temperatures and more hot meals may mean that you need more fuel than usual.
Check out my guide to making cheap backpacking meal from grocery store ingredients for some food ideas.
Pack a Lantern and Camp Activities
It gets dark early in the fall. Many backpacking destinations don't allow fires due to environmental concerns, so I pack a small lantern. That way I can light up the campsite to cook dinner or hang out.
After dinner, it's fun to hang out around the lantern and play card games. I like Exploding Kittens. I also bring my Kindle eReader to use in the tent.
Keep Your Water Filter From Freezing
Backpacking water filters will develop cracks in the filter element if they freeze. This means that after a filter has been frozen, you can't trust that it will properly filter out bacteria anymore. If you expect temperatures below freezing at night, tuck your filter inside your sleeping bag with you. If it's freezing during the day, put it inside your jacket pocket.
On fall backpacking trips, it's a good idea to carry water purification drops or tablets as a backup in case your water filter freezes. You can also carry extra fuel and boil your water to purify it.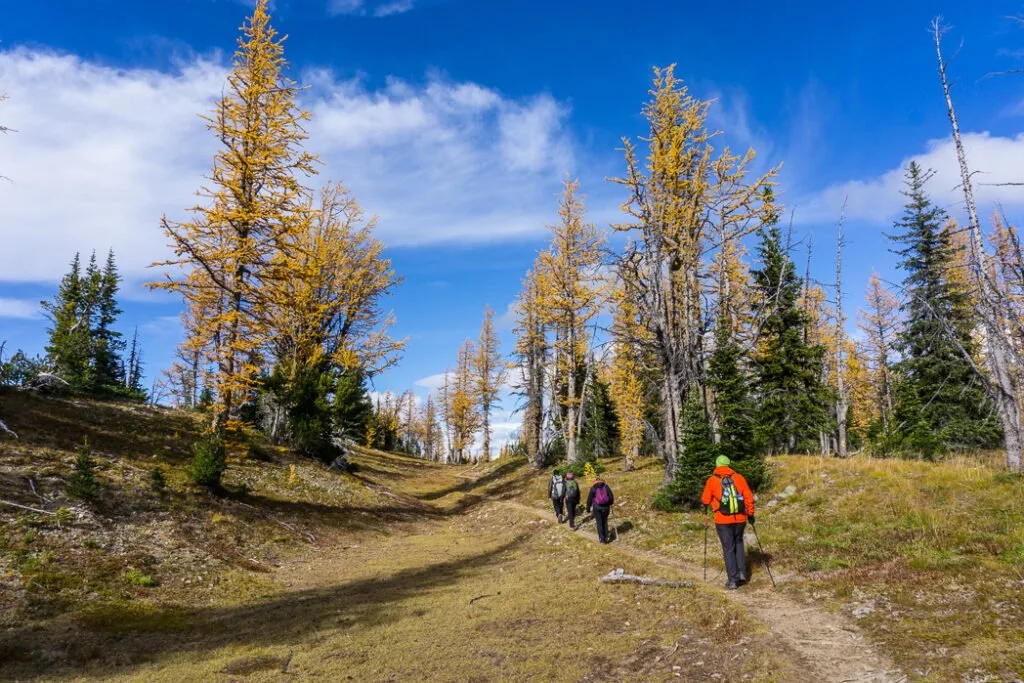 Be Bear Aware
Fall is prime time for bears and other critters to spend extra time foraging for food to get ready for winter so animal encounters can be more likely at this time of year.
Talk or sing while hiking and carry bear spray. Cook and eat at least 50 yards away from your tent. Be sure to store your food properly in a food locker (where available) or properly hung in a tree. When I camp in the alpine, I like to use a bear canister.
READ NEXT: Bear Safety for Hikers, Campers, and Backpackers
How to Choose Fall Backpacking Destinations
If you are prepared for colder temperatures, most summer backpacking destinations in the mountains make great fall backpacking trips too. But if you don't want to get too cold, look for lower elevation trips to rivers, lakes, and on the coast instead.
If you're worried about getting cold, look into hut trips. Many areas have backcountry huts you can book. Most are quite rustic, but some are a bit more luxe.
If you are in BC, check out my list of the best spring backpacking trips – many of them make great fall destinations too.
Do you backpack in the fall? If you have any fall backpacking tips, please share them in the comments below.
READ NEXT: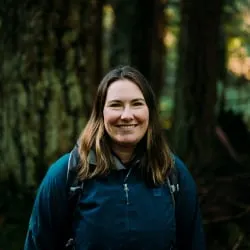 Latest posts by Taryn Eyton
(see all)