Many people think backpacking season ends on the Labour Day weekend. Well they're wrong! September and October can be a great time to go backpacking, as long as you are prepared. Here are my top 5 tips to make your fall backpacking trip more enjoyable.
Research a Destination and a Backup Plan (or Two)
The first step of planning a fall backpacking trip, like planning any backpacking trip, is picking a destination. In the fall you need to be extra careful with this step though, as you want to ensure you'll get the best possible weather. Fall days can be summery warm, but fall nights can be bitterly cold and of course the weather can change at any moment, especially in the mountains.
I like to thoroughly research a few possible destinations, preferably in different geographic areas. That way you if the weather is bad in one area, you can always head somewhere else where the sun is shining.
When I'm researching destinations I find it helpful to look at trip reports from the fall in previous years to see if the snow had started to fly in that area yet, to get an idea of how cold it was at night, and to figure out the best time to see the leaves change. Check out my complete list of links for checking trail conditions near Vancouver.
Check the Weather Forecast, Then Check it Again (and Again)
I also like to keep a close eye on the weather forecast for my destination and backup destinations in the week leading up to my trip. Finding a weather forecast that applies to the remote areas where I will be going on a fall backpacking trip can be a challenge since forecasts for nearby cities will be for much lower elevations than my destination. I like to compare a few forecasts from places near my destination, including one from a similar elevation.
Knowing the freezing level (the elevation above which temperatures are expected to be below freezing) is also important so I like to use a website like snow-forecast.com which has maps showing the freezing levels across North America. Snow-forecast.com or other ski weather websites can also be very helpful if the area you are planning to go has a ski resort nearby as their forecasts are often elevation specific.
Bring the Right Clothes
On fall trips I've gone from sweating while wearing a t-shirt and shorts to shivering in a down jacket in a matter of hours. So of course, layers are your friend on fall trips.
It goes without saying that if it's going to be cold outside, you'll want warm clothes. For me that means always bringing gloves, a toque (that's Canadian for beanie), long johns, warm wool socks and a compressible down or synthetic jacket on any fall trip.
Even with a careful eye on the weather forecast, it can always rain or even snow in the mountains. You'll want to pack a waterproof breathable jacket and pants and some waterproof hiking boots. Even if it doesn't rain, they will help insulate you from the wind.
Pack a Warm Sleep System
The easiest way to ruin a fall backpacking trip is to be freezing cold at night. Make sure you bring a warm sleeping bag and sleeping pad. For me this means a sleeping pad with an R-value of at least four (my favourite is the Thermarest NeoAir X-Therm) and a sleeping bag with a hood that is rated at least 5 degrees colder than the coldest temperature you expect to encounter. I always wear my toque to sleep in and if I'm really cold, a tightly sealed Nalgene bottle full of boiling water at my feet helps a lot.
Your choice of tent can also make a difference. In the summer time I love my mesh canopied MSR Hubba Hubba. But for fall I know that I will sleep warmer in a tent with a fabric canopy rather than a mesh one as it traps more warm air. Be careful though: That warm air is full of water vapour so you'll want to ensure you open the vents in your tent fly a little bit to avoid condensation build up.
Be Bear Aware
Fall is prime time for bears and other critters to spend extra time foraging for food to get ready for winter so animal encounters can be more likely at this time of year. Talk or sing while hiking and carry bear spray. Cook and eat at least 50 yards away from your tent, and be sure to store your food properly in a food locker where available or properly hung in a tree. For alpine camps I like to use a bear canister. For more information on co-existing with bears, check out my post on bear safety.
Fall Backpacking Destinations
Looking for some places near Vancouver to go backpacking in the fall? Anywhere that's great in the summer will also be great in the fall. But here are a few of my favourites:
Semaphore Lakes north of Pemberton.
Forbidden Plateau in Strathcona Provincial Park on central Vancouver Island.
Elfin Lakes in Garibaldi Provincial Park near Squamish.
The Sunshine Coast Trail on (you guessed it) the Sunshine Coast. Bonus – it has huts!
Do you backpack in the fall? If you have any tips for fall backpacking trips, please share them in the comments below.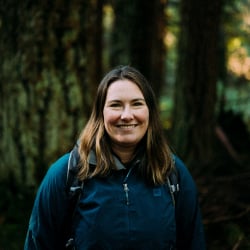 Latest posts by Taryn Eyton
(see all)