Just because it's cold outside doesn't mean you need to stop hiking. But it's cold, dark and slippery out there, so you need to be prepare. In this post I've got my top top winter hiking tips.
Hiking is a year-round activity for me and I've been winter hiking for over a decade. (If there's enough snow I'll wear snowshoes, but really snowshoeing is mostly just hiking with weird things on your feet.)
Ensure your cold weather hikes are just as fun as your summer adventures with these tips for winter hiking:
Hey there: Some of the links in this post are affiliate links, which means I earn a small commission at no cost to you. Thanks for your support. -Taryn
Check the Forecast and Trail Conditions
Before I leave, I pick a destination based on the weather forecast and conditions. Checking the weather is something I do all year long.
READ NEXT: The Best Weather Apps for Hiking
But in the winter, I also check trail conditions since harsh weather can do a number on the trails. I want to know if there is ice, how much snow there is, and if there are any washouts or other issues with the trail.
For trail conditions I like to check a local Facebook groups and Reddit threads, Instagram, All Trails and the website of the park I plan to visit.
For snow conditions I use the closest ski resort forecast to my destination from snow-forecast.com since it will provide conditions and forecasts for various elevations. But watch out for artificially inflated snowpack numbers from man-made snow!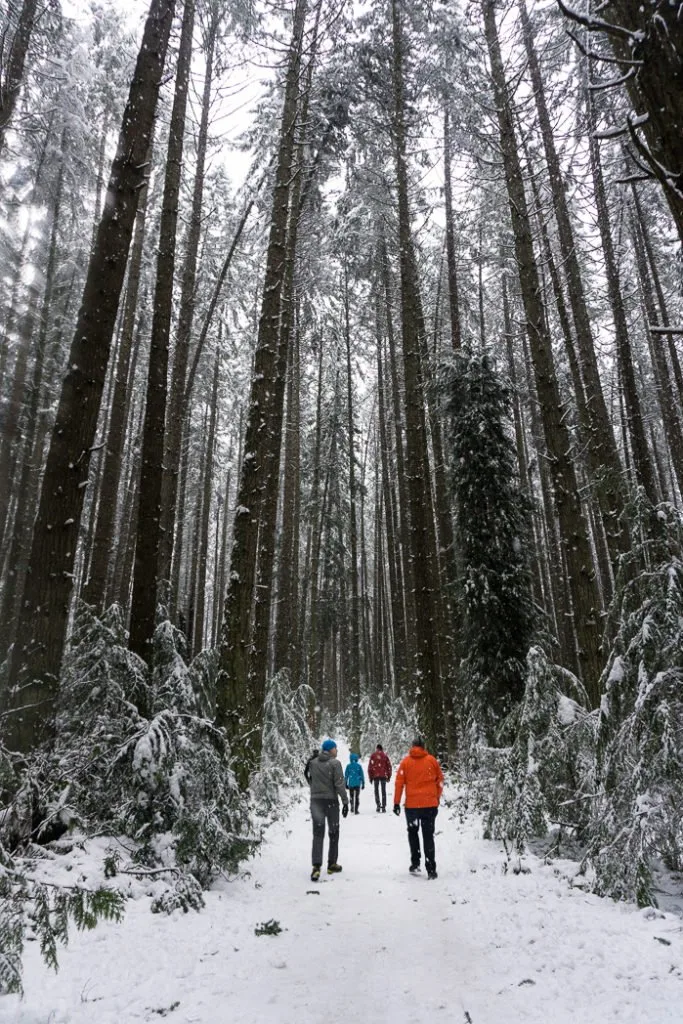 Be Prepared
I always carry The Ten Essentials when hiking and it's even more important to do so in the winter.
I supplement my regular first aid kit and emergency supplies with some chemical hand warmers and a bright headlamp with fresh batteries (in addition to the small emergency light I always carry).
I also add in sunscreen and SPF lipbalm because the snow reflects light and no one likes sunburns and chapped lips.
I use a Petzl Actik Core headlamp. It's super bright and easy to use without being too expensive. Plus the batteries last a long time on low power.
I also carry the super tiny Petzl E+Lite headlamp in my first aid kit as a backup emergency light. It's tiny and has a battery that lasts up to 10 years. A couple years ago I met a family of tourists at dusk who had no lights. I was glad to have my E+Lite to lend to them for the walk down.
READ NEXT: The 10 Essentials: Things You Should Bring on Every Hike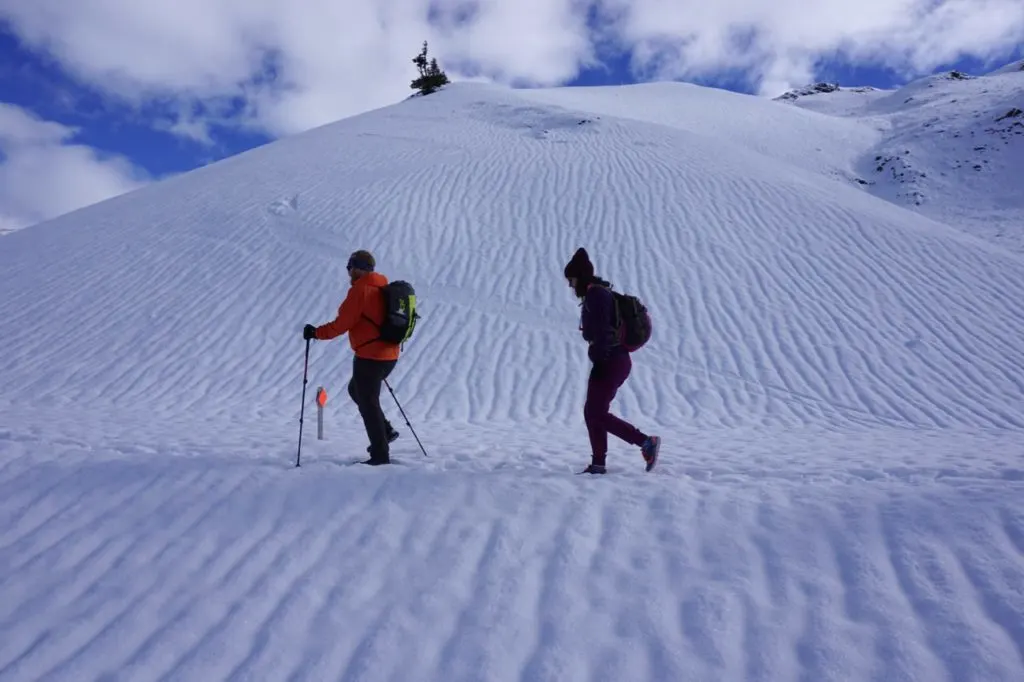 Be Avalanche Safe
Avalanches are no joke. Read avalanche warnings and information about the area where you will be hiking: avalanche.ca (Canada) or avalanche.org (America).
If you plan to regularly travel on snow into avalanche terrain take an avalanche course. You can also check out this great article on recognizing avalanche terrain from MSR's blog, The Summit Register.
I learned SO much when I took avalanche training and it changed the way I look at mountains.
Bring the Right Gear for the Conditions (And Know How to Use It)
If there is lots of deep snow I wear my snowshoes. But sometimes there isn't that much snow or it's so packed down that snowshoes aren't necessary. That's why I always pack my lightweight mini-crampons, also known as microspikes. They are great for packed snow, icy trails or steeper slopes.
Most winter accidents involving hikers occur when someone slips and falls on a steep icy or snowy slope. Snowshoes are great for providing flotation in deep snow, but they aren't great at gripping steep slopes. Microspikes can be much safer!
READ NEXT: Snowshoeing Safety: 14 Ways to Get into Trouble and How to Prevent Them
I wear MSR Lightning Ascent Snowshoes since they provide good grip on icy slopes. If you're looking for something a little less expensive, any I recommend any MSR snowshoes. I used the budget-priced MSR Evos for years. They're not as light, but they grip just as well.
READ NEXT: How to Choose Snowshoes: A Complete Guide
For mini-crampons I like the Kahtoola Microspikes. They are pointy enough to grip most moderate ice and the rubber straps stretch to fit both my trail runners and my bigger backpacking boots.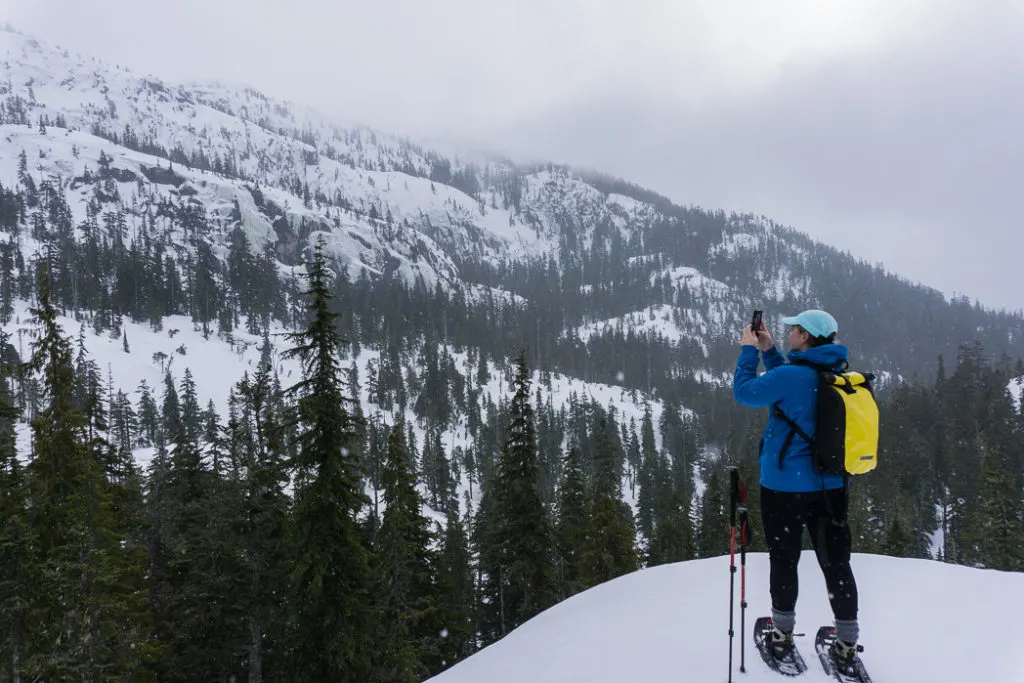 Dress in Layers, BUT "Be Bold, Start Cold"
A common winter hiking tip is to dress in layers. The trick is to avoid sweating since once you stop you'll be wet and cold.
A few years ago my avalanche course instructor taught me her winter mantra: "Be bold, start cold" and I've lived by it ever since. I wear as few layers as possible while hiking and save the warm layers for breaks.
The type of clothing I bring depends on the weather and how long I'm out for, but in general I consider the following items as must-haves in addition to regular three-season hiking clothing:
long underwear,
a puffy jacket that is compressible,
two pairs of gloves (one warmer than the other),
a warm hat,
a buff or neck warmer,
gaiters,
warm socks
It's also worth keeping in mind that if you take off any article of clothing that is wet from sweat, it will soon freeze and be virtually unwearable. That's why I always bring extra gloves and often bring extra hats and hiking shirts.
READ NEXT: What to Wear Winter Hiking and Snowshoeing
Stay Hydrated
When its cold out I find that I just don't feel as thirsty and tend to drink less water. The downside of this is that I'm often horribly dehydrated after winter hikes. It's important to keep drinking, but in temperatures below freezing, but it can be hard.
If the temperature is around freezing you can get away with using a hydration bladder. Follow these tips to keep the hose and mouthpiece from icing up:
Fill it with warm water at home.
Keep as much of the hose inside your pack as possible.
Take small sips of water often to keep water moving through the hose and mouthpiece.
After each sip, blow air back into the hose to force the water back down into the reservoir.
You can buy an insulated tube cover and put a chemical hand warmer pack next to your mouthpiece as well, but that strategy will only work for milder temperatures, not extreme cold.
For weather that is well below freezing you'll need an insulated water bottle or a thermos. You can also buy insulated water bottle covers or cozies (or just wrap your bottle inside an extra fleece in your pack).
Fill your bottles at home with hot water, tea or hot chocolate. You can also turn your water bottle upside down in your pack to ensure that the top doesn't get frozen shut as the side facing up will freeze first.
For insulated bottles, I love my Hydro Flask. It keeps drinks warm for a reasonable amount of time and comes in lots of colours.
You can also wrap your water bottle in a cozy to keep it from freezing. There are also lots of water bottle cozies on Amazon.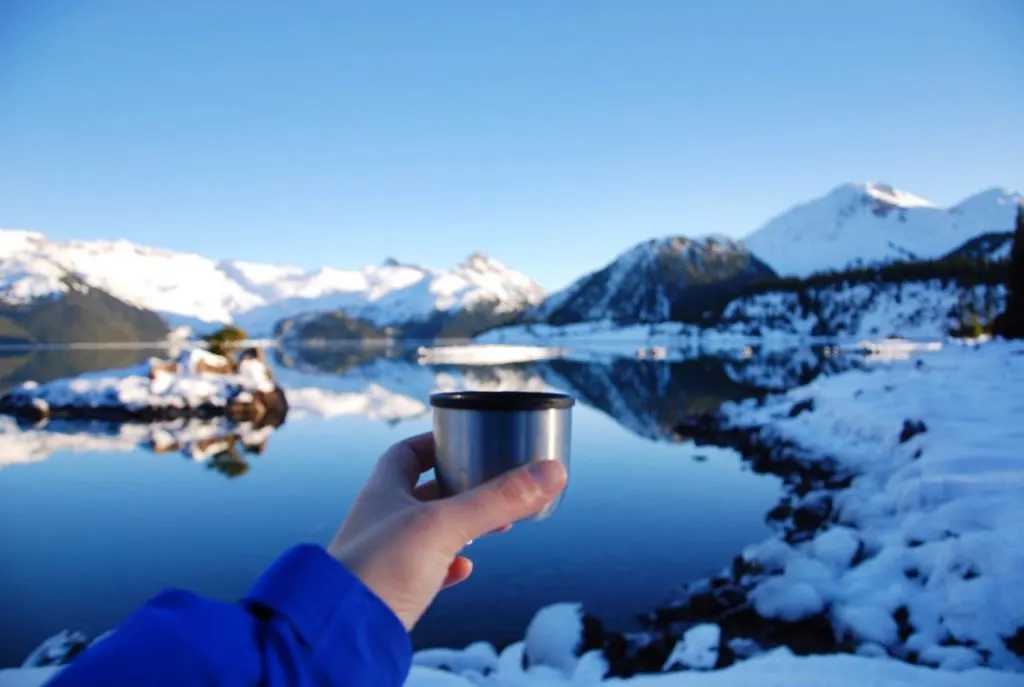 Eat Lots
As well not being thirsty, I'm usually not that hungry when it's really cold and sometimes it's not that pleasant to stop for long breaks.
I like to bring along high calorie snacks like gummy candies, energy chews, nuts, jerky and chocolate that I can keep in my jacket pocket and eat as I hike.
Traditional hiking food like sandwiches tends to freeze into solid lumps in the winter – not appetizing! (Pro tip: keep your food in your pockets to keep it from freezing.)
Another great option is an insulated container full of warm soup. I bringing a warm meal in my Hydro Flask Food Jar.
If you have the time and can find a good place to stop out of the wind, bring along a backpacking stove and an easy to prepare warm meal (think just add boiling water).
Keep Your Electronics Warm
Cold weather kills batteries. There is nothing more frustrating than arriving at a beautiful viewpoint only to find that your camera is too cold to function.
If you are using a GPS for navigation or are carrying a mobile phone that could be used to call for help in an emergency, you'll want to keep them operational as well. Carry electronics in a jacket pocket to benefit from your body heat and bring spare batteries just in case.
Bring a Big Backpack
With all the extra stuff you'll need to carry for winter hiking, you'll need a bigger backpack. In the summer I typically carry a smaller 20L daypack, but for winter trips I upgrade to a bigger pack – usually about 30L.
When considering a pack for winter hiking you'll want one that has lash points or compression straps that allow you to carry your snowshoes and trekking poles in case you don't need them. I also like packs that don't have a lot of mesh pockets on the outside since these can collect snow.
Right now I'm using a Deuter Freerider Backpack that has straps for my snowshoes and lots of interior pockets for organization.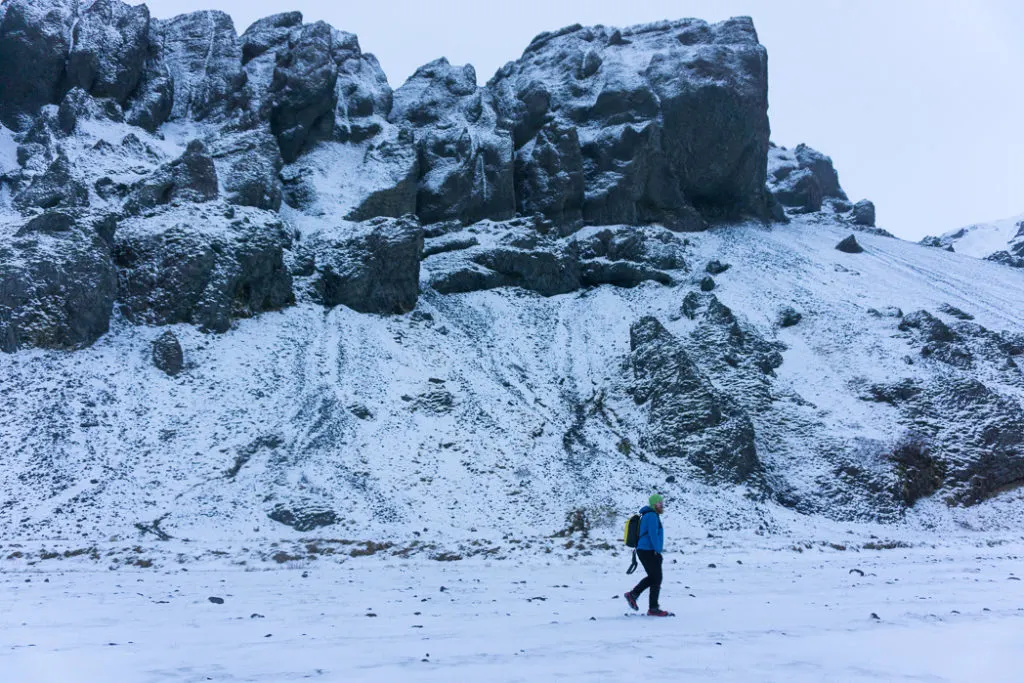 So there you have it: my top winter hiking tips. I'm sure they'll keep you warm, dry, safe and most importantly, happy as you hike and snowshoe this winter.
Do you keep hiking even when the cold weather comes? What are your favourite winter hiking tips? Leave them in the comments.
More winter hiking tips:
More snowshoeing tips: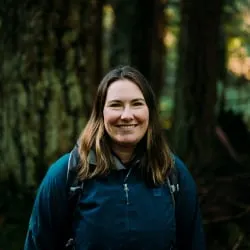 Latest posts by Taryn Eyton
(see all)