If you think of fall hiking, you are probably picturing strolling through a beautiful maple forest with red and gold leaves everywhere. That kind of scene is quintessentially autumn, but it's kind of an East Coast cliche. We don't have much of that near Vancouver. What we do have, however, is a pretty unique fall sight: the Frosty Mountain larches in Manning Park. These rare coniferous trees look like a regular pine tree until fall. And then… BOOM! They turn a gorgeous gold colour. Want to find out how you can hike to them? Read on, my friend.
This is a sensitive wilderness area. Learn how to Leave No Trace to keep the wilderness wild. Make sure you are prepared by bringing the 10 Essentials. Get ready for adventure with this checklist of things to do before every hike.
Hey there: Some of the links in this post are affiliate links, which means I earn a small commission at no cost to you. Thanks for your support. -Taryn
What are larch trees? Why are they special?
The golden larches that grow near Frosty Mountain in Manning Provincial Park are more formally known as alpine larches. (Or larix lyallii if you're into fancy latin names.) They are a VERY unique tree. Alpine larches are coniferous trees, just like a pine tree or a Christmas tree. But, wait! They are NOT evergreen: they actually change colour and shed their needles each fall the way a maple tree does. (Well a maple tree does it with leaves, not needles. But you get the picture.) Crazy right?
Alpine larches are also pretty bad ass. They live at high elevations with rocky soil and cold temperatures. The ones on Frosty Mountain live at about 2000m above sea level. The larches can live incredibly long – over 1000 years – which is surprising since they aren't particularly large trees. Alpine larches grow mostly in the Rocky Mountains and in Eastern BC since they need a drier, and colder climate than we get in Vancouver. But Manning Park has a teeny tiny pocket of prime larch habitat. It's high enough, dry enough, cold enough and rocky enough to support larch trees. And it's waaaay up on the side of Frosty Mountain, so you have to hike up there to see them.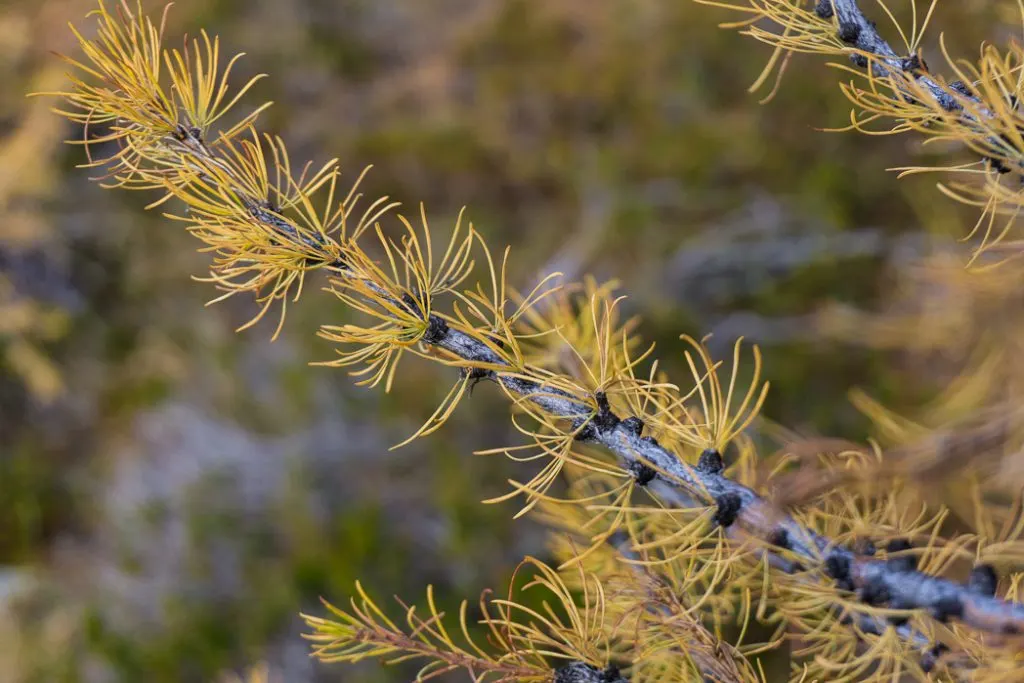 What time of year can you visit the Frosty Mountain larches?
The hike to Mount Frosty and the larch plateau is snow free from about mid June until early October. However, the best time to go is late September or early October when the larches change colour. (If you go too late, the larches will already have dropped their needles and they'll be all naked and sad.) The trail is busy on weekends in prime larch season. Try to plan your trip for a weekday if possible.
If you visit in fall, be prepared with cold weather gear. (Read my tips about what to wear for hiking in the winter). It can be close to freezing at the larch plateau and on the summit of Frosty Mountain, even if it is sunny and warm in the parking lot. You can't see it in any of my pictures, but it did snow slightly the day I took these, and the wind was bitterly cold. I was glad for my warm jacket, hat and gloves. It's pretty common for it to snow a little bit when the larches are changing (although it didn't the day I took these photos). The trail can be slippery and icy so it's a good idea to bring some mini-crampons.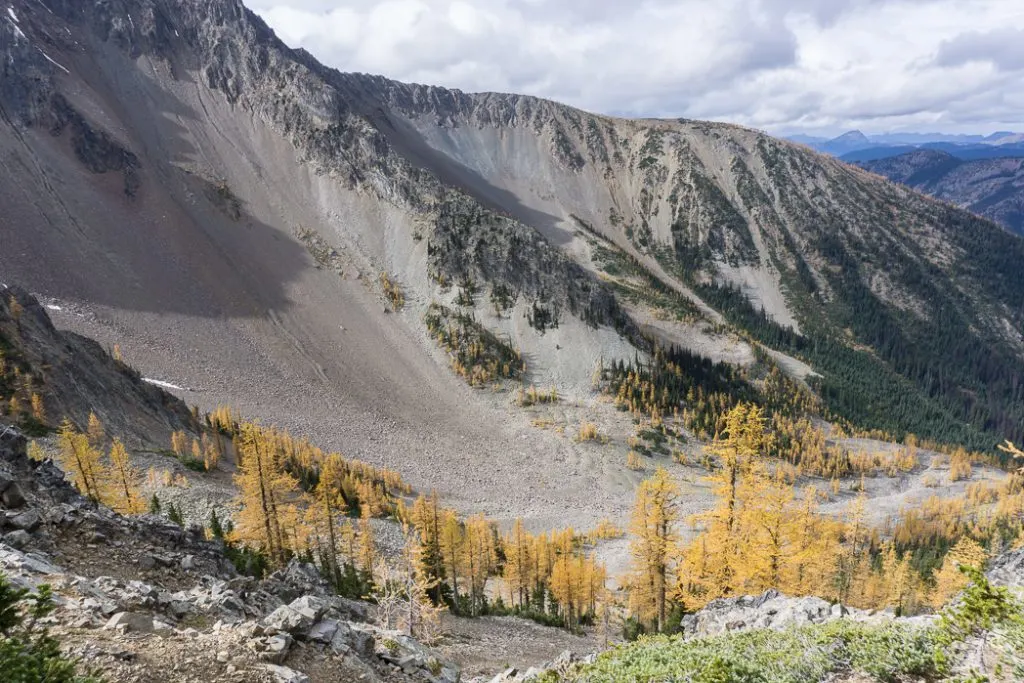 I recommend: For mini-crampons I like the Kahtoola Micro-spikes. They are pointy enough to grip most moderate ice and the rubber straps stretch to fit both my trail runners and my bigger backpacking boots. Buy: MEC | REI | Backcountry.com.

Frosty Mountain Larches Hike Overview
Distance: 18km round trip to the larch plateau, 22km round trip if you go all the way to the peak of Mount Frosty)
Elevation gain: 800m to the larch plateau, 1150m to the peak of Mount Frosty
Time Needed: 7 hours round trip to the larch plateau, 9 hours round trip to the peak of Mount Frosty (You can also make it into an overnight trip by camping at the Frosty Creek campsite. See the description below for more info.)
Dogs: Permitted but dogs must be on a leash. The last time I hiked this trail on a busy fall day we ran into 2 different people who had lost their dog!
Note: This trip is also possible as a loop that will add a bit more time and distance to your trip. The trip described here is an out and back to the summit of Frosty Mountain via the larch meadow. For more info on the loop option, see page 24 of the Manning Provincial Park hiking guide.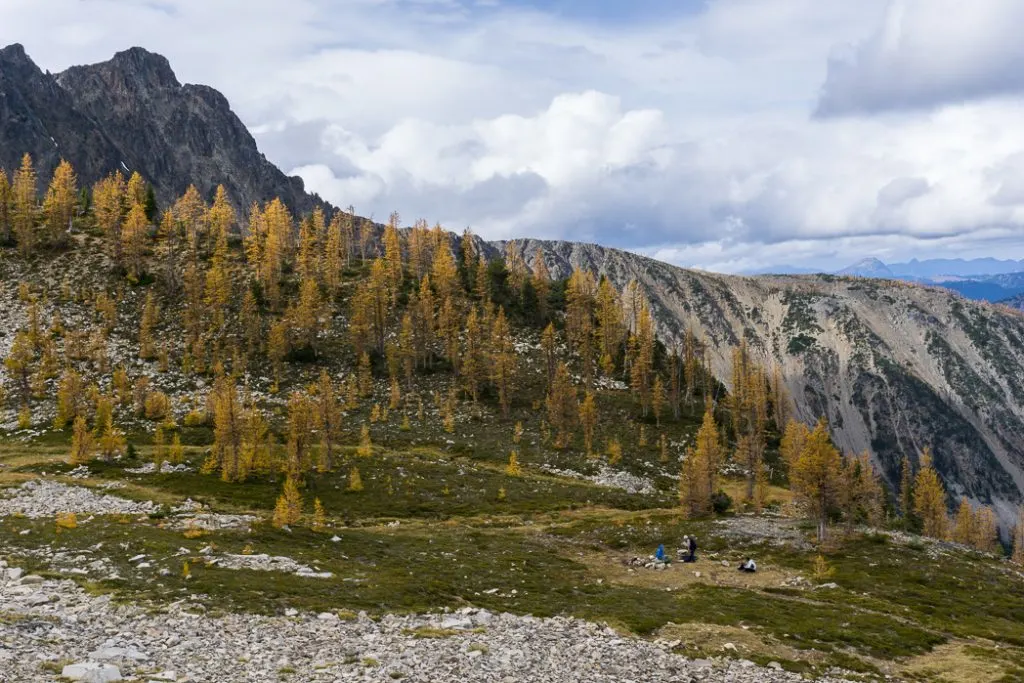 Frosty Mountain Larches Driving Directions
From Vancouver take highway 1 and highway 3 to the Manning Park Lodge. Turn right off the highway onto Gibson Pass Road. Follow Gibson Pass Road for about 3km to a fork. Take the left (lower) fork. Arrive at the Lightning Lake day use parking lot a few hundred meters after the fork.
Frosty Mountain Larches Hiking Directions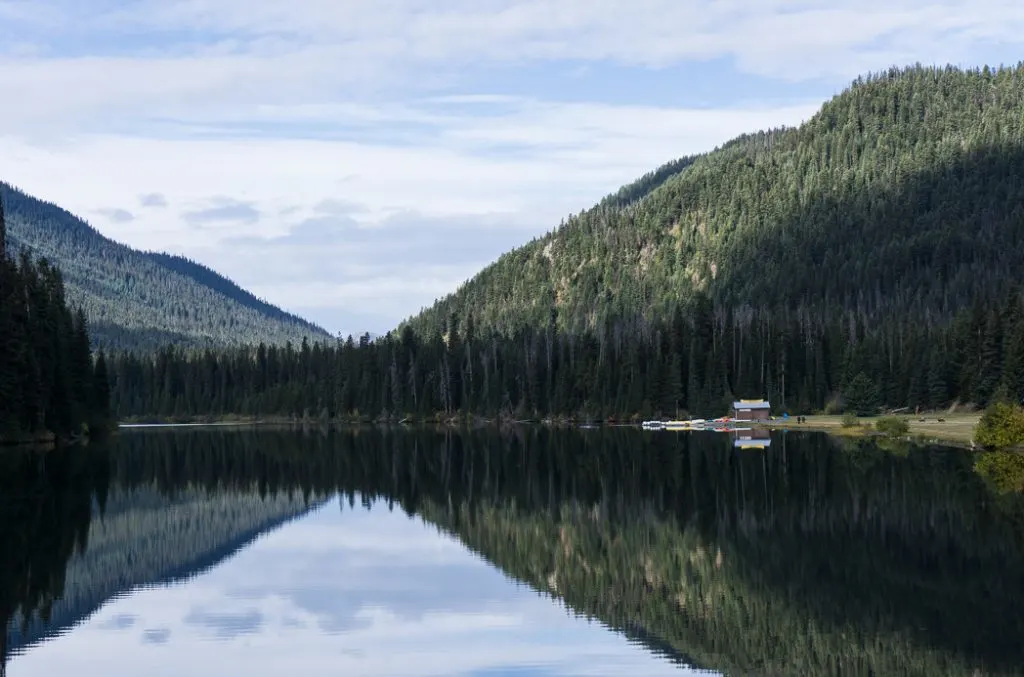 From the Lighting Lakes Parking lot head to the left/east side of the lake. Walk across a bridge and across an earthen dam.
At the other side of the lake, take the trail going uphill, marked Frosty Mountain. The trail ascends the slope in a long series of switchbacks for about 5km. The climb is steady but never exceptionally steep. After the first few kilometers you'll start to get some small peek-a-boo views through the trees of Lightning Lake and the surrounding mountains.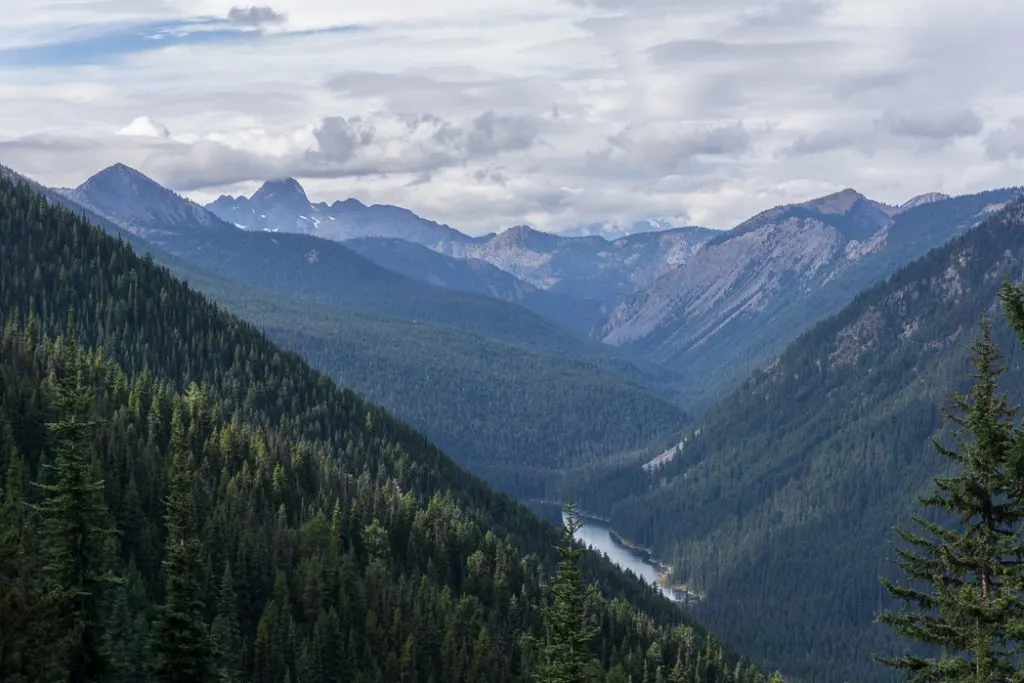 After the switchback section the trail levels off for a few kilometers and rambles through the forest. At about the 7km mark you will reach the Frosty Creek campsite. This campsite has an outhouse, tent sites and a bear cache to store your food. It also has a rough dirt-floored emergency shelter. There is a small creek at the campground, but it may be totally dried up in the fall.
After passing the campsite, the trail climbs steeply for another kilometer or so. It is around this point that you will begin to see the first larch trees. You'll know you've arrived at the plateau when you spot an interpretive plaque about the larch trees. (There will also be big larch trees everywhere!). The trail rambles through the larches along the flattish plateau for about a kilometer before starting to climb again. If you don't plan to climb Frosty Mountain, turn around here.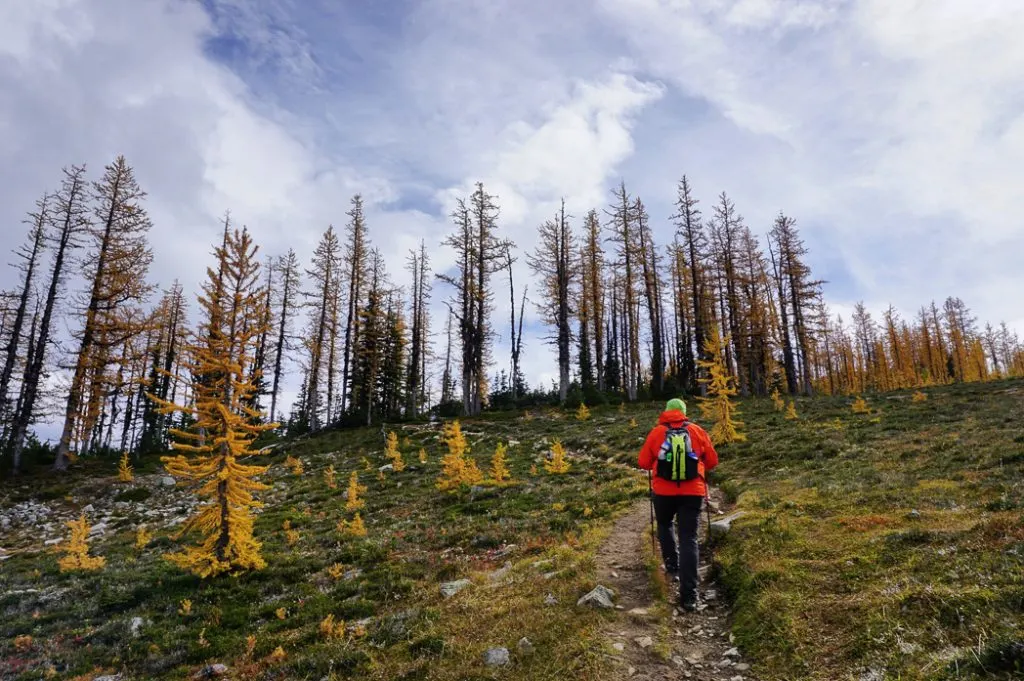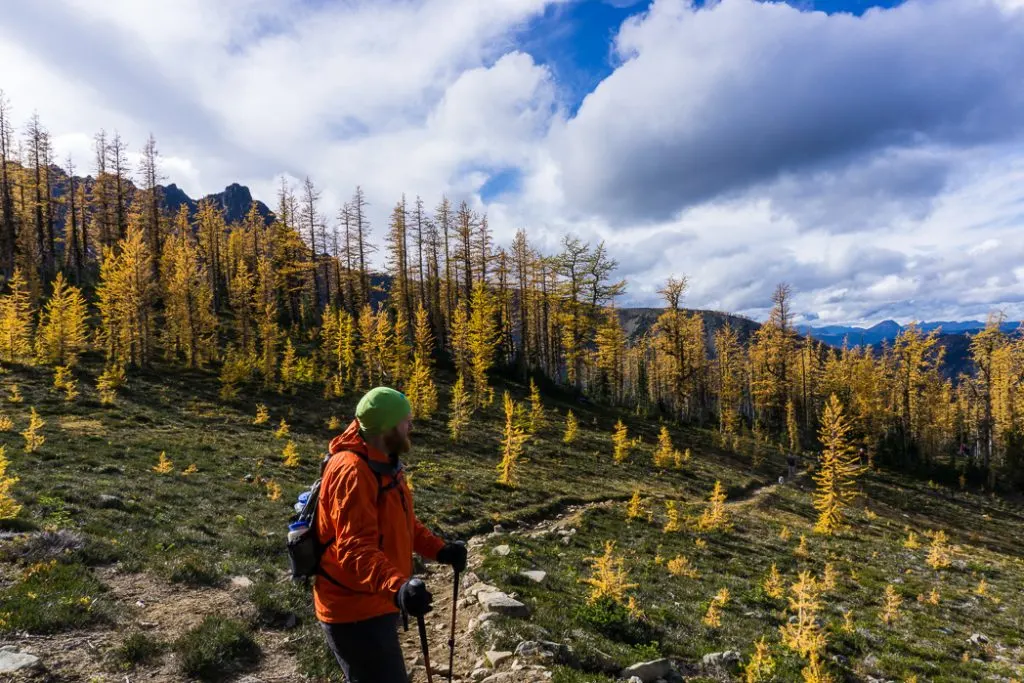 The trail gets rockier and starts to climb above the treeline at about the 9.5km mark. You'll have to follow a worn path up a screen slope to attain a ridge. The rocks here can be a bit loose and slippery so if you are afraid of heights, you may want to skip a trip to the summit.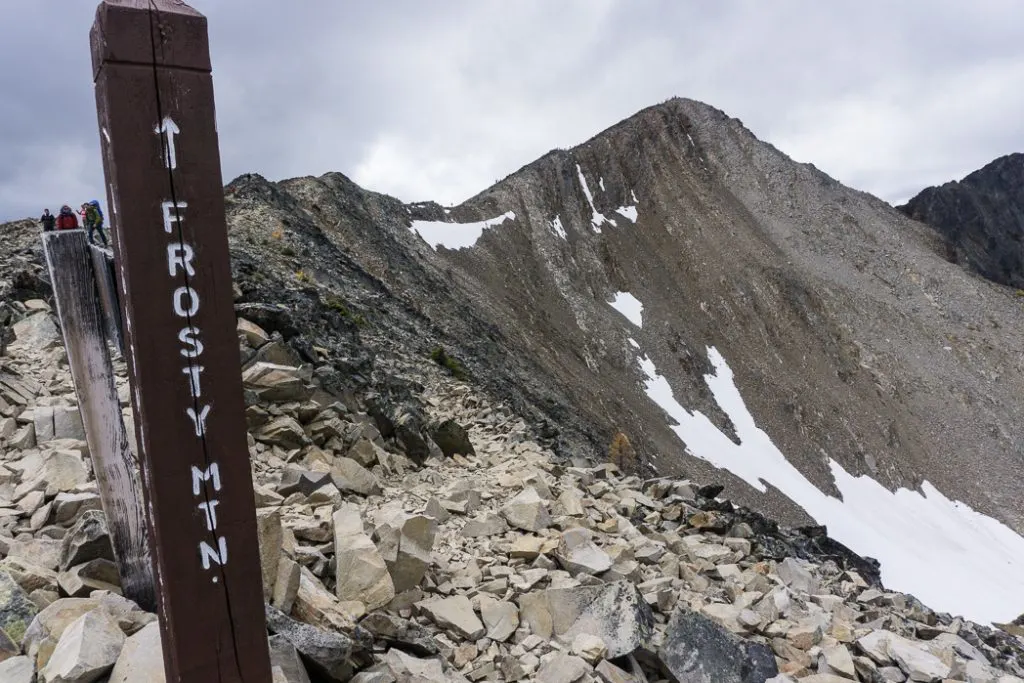 Once you get to the top of the ridge, you'll see the sign that marks the junction with a trail that descends to the east to the Pacific Crest Trail. Stay on the ridge and follow it south towards the summit of Frosty Mountain. You have only half a kilometer to walk but it is slow going: the ridge is narrow and the trail is rocky.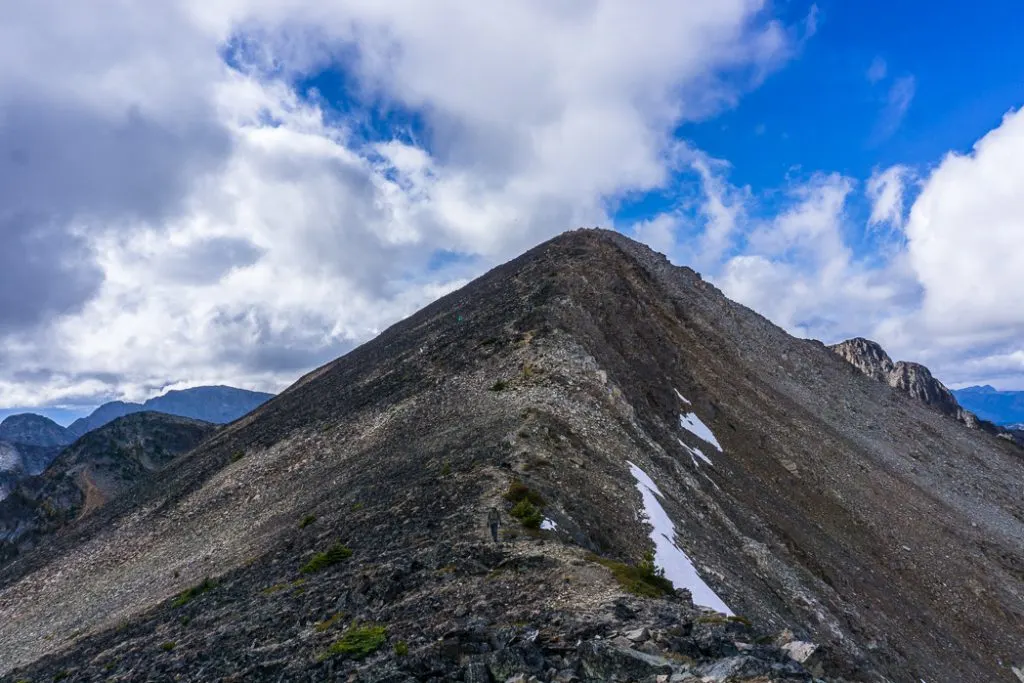 Once you reach the summit you will be at an elevation of 2408m! You are on the east summit of Frosty Mountain. The true summit of Frosty Mountain is just to the west of you and about 20m higher. Either way, you are on the highest peak in Manning Provincial Park. The mountains to the south of you are in the USA, just 1 kilometer away. Make sure you take a look back down to the larch plateau.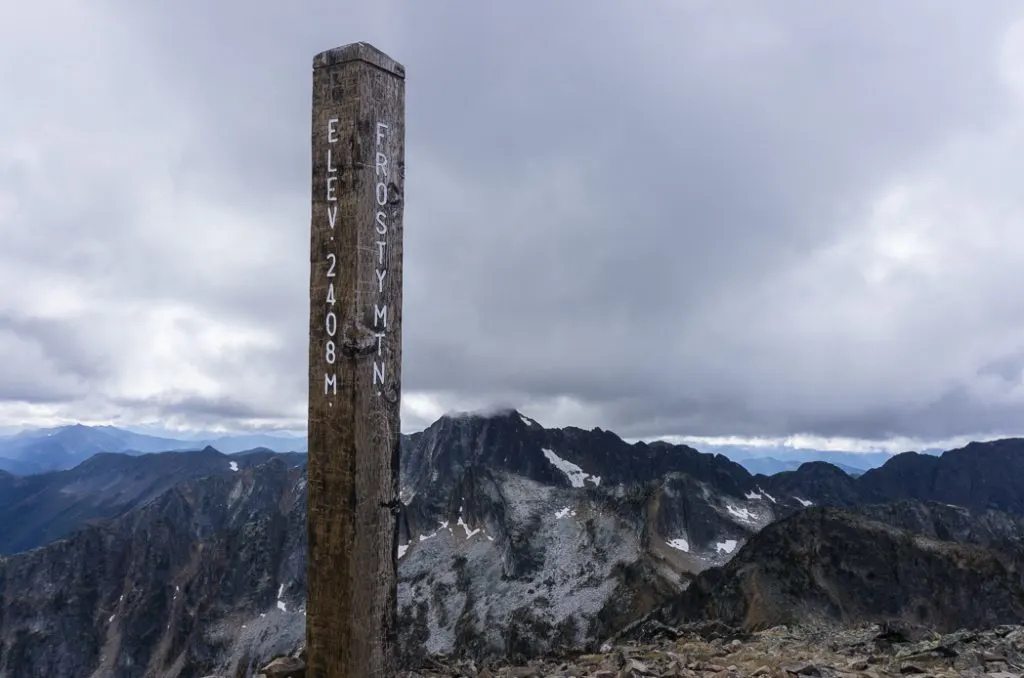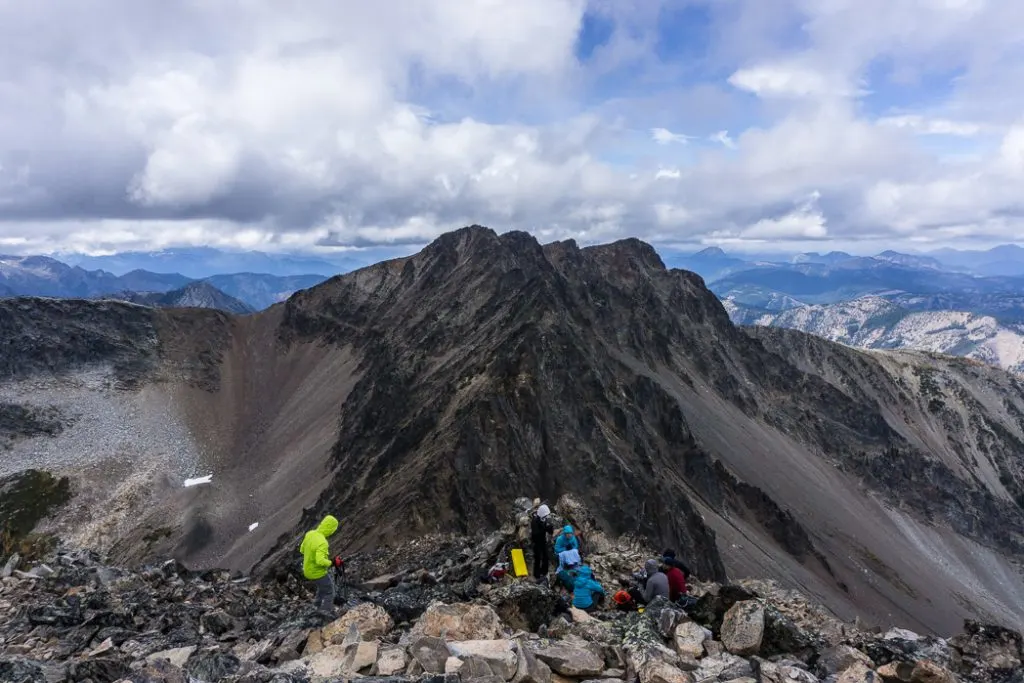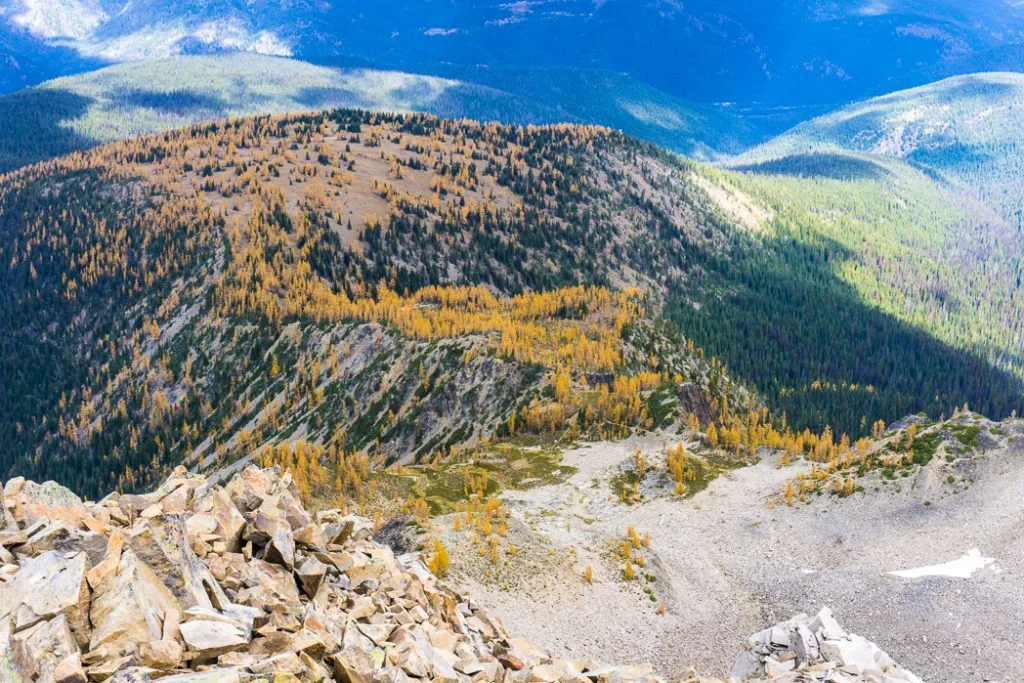 After you've enjoyed the views on Frosty's rocky summit, retrace your steps to your car. Make sure to leave time for more photos at the larch plateau on the way down.
I first heard about Frosty Mountain larches years ago, but I didn't really know what to expect until I visited them myself. I couldn't believe these hardy little trees could grow in such an inhospitable environment. And that they could grow so old! The golden colours of the larch needles against the blue sky are so stunning. It's simply something you have to experience for yourself. Have you hiked to the Frosty Mountain larches or to golden larches in other areas? Tell me about it in the comments.
READ NEXT: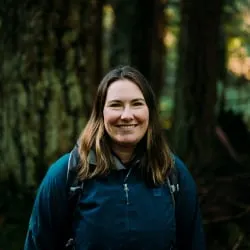 Latest posts by Taryn Eyton
(see all)