As a hiker, my winter sport of choice is snowshoeing since it's so easy to do. Snowshoeing has really grown in popularity in the last few years and I'm sure there are people on your holiday shopping list who love to snowshoe (or would love to try it). Give the gift of outdoor adventure this year and get them some snowshoeing gear.
I've been snowshoeing for two decades so I know a thing or two about what kinds of things snowshoers like. Here is my list of the best gifts for snowshoers. There's something for every snowshoer on this list, from beginner to expert, and snowshoeing gifts for every budget.
Hey there: Some of the links in this post are affiliate links, which means I earn a small commission at no extra cost to you if you make a purchase. Thanks for supporting my website! -Taryn
Gifts for Snowshoers Under $25
Handwarmers
Snowshoeing can get chilly so give the gift of warmth. A couple packs of these chemical handwarmers make a great stocking stuffer. (I've got lots of other outdoorsy stocking stuffer ideas if you need them!) Or splurge on a rechargeable electric handwarmer that they can use again and again.
Wool Socks
Keep their feet warm and comfortable on snowshoe trips. I always wear Smartwool merino wool blend socks since they wick sweat, don't chafe, and keep me warm. My favourites are the Smartwool Performance Hike Light Cushion. (Psst: good socks are sooo important. Read my tips for preventing blisters.)
Foam Seat Pad
Sitting in the snow to take breaks can be cold and wet. I always pack this super light Therm-a-rest foam seat pad. It folds down accordion-style so it doesn't take up much room in my pack and I can pull it out in seconds. It's also great to have to kneel on while I put on snowshoes at the trailhead.
Budget tip: This no-name foam seat on Amazon is MUCH cheaper and comes in tons of colours. It is a bit smaller though.
Eat-on-the-Go Snacks
The best snacks for snowshoeing are ones you can eat on the go and ones that don't freeze. Nuts, dried fruit, and jerky all hold up well in cold weather. Or hit the bulk section at the grocery store and put together a custom trail mix with all their favourite things. So far I haven't met anyone who doesn't like dried mango!
Beanie Hat in Fun Colours or Designs
Known as a toque in Canada, a beanie hat is an essential piece of snowshoeing kit. You lose a lot of heat through your head! Get them a fun one that they will be excited to wear.
Some ideas: their favourite sports team or an fun pattern (this sasquatch one is super cute). I have this reversible Smartwool hat that lets me have two different looks.
Snowshoe Christmas Ornament
Help them decorate the tree with the winter sport they love. There are so many super cute snowshoe Christmas ornaments out there.
I've been eyeing some of the adorable handmade ones on Etsy like these laser-cut wood ornaments, or this tiny traditional style snowshoe ornament with miniature lacing. Amazon also has tons of snowshoe ornaments. This one is so precious.
Snowshoeing Guidebook
Need more ideas about where to go snowshoeing? Pick up a guide book for their area. I use this one for Vancouver, but there are great ones for pretty much anywhere that gets winter weather. Check out these snowshoeing guidebooks for Washington, Colorado, and more.
Gifts for Snowshoers Under $50
Insulated Water Bottle
Staying hydrated is important while you are snowshoeing, but it can be tough if your water keeps freezing. I used to try to use hydration bladders or plastic water bottles, but they kept icing up. A few years I switched to a double-walled Hydro flask bottle. So far my water hasn't frozen! I also use it daily since it keeps my water cold. It goes everywhere with me and I jokingly refer to it as my emotional support water bottle.
Merino Wool Buff/Neck Tube
I bring a merino wool buff, also known as a neck tube or neck gaiter on pretty much every hiking, camping, or snowshoeing trip. You can wear them around your neck, but there are also tons of other ways to wear them. I like to fold them over into a headband to keep my ears warm. They are super soft and warm without being too heavy. I have this Smartwool one since I LOVE the pattern, but you can get Buff merino wool neck tubes in lots of different colour and pattern options.
Thermos or Insulated Food Jar
Warm-up on the trail with a mug of hot chocolate, coffee, or even some soup. I have this basic no-name Thermos for liquids. It keeps my tea warm for hours. (And if you're going to give the gift of a thermos… make sure you throw in a couple packets of hot chocolate to go with it!)
For eating hot lunches (think pasta, soup, or chili), I use go a wide mouth Hydroflask insulated food jar.
Snowshoe Carry Bag
Snowshoes have sharp points that can snag on gear or the interior of your car. I pack mine inside an old, discontinued snowshoe carry bag to minimize damage. Mine is pretty minimalist, but I've seen nicer MSR snowshoe bags that have a mesh panel so your snowshoes can dry off.
Budget tip: There are a few cheaper versions on Amazon.)
Windproof Fleece Gloves
I usually carry two pairs of gloves when I snowshoe: a pair of super warm ski gloves and a lightweight pair of windproof fleece gloves.
I find I wear the fleece ones way more often since it's easy to overheat in the ski gloves. The fleece is good for a bit of warmth, but the real benefit here is the lightweight windproof fabric. Mine are these MEC ones, but the Outdoor Research Stormtracker Sensor Gloves are similar, and actually a bit nicer.
Gifts for Snowshoers Under $100
Headlamp
It gets dark early in the winter, but if you bring a headlamp, you can extend your snowshoe trip. One of my favourite things to do is watch the sunset, then snowshoe back to the trailhead in the dark. I also always pack a headlamp when I go snowshoeing, just in case the hike takes long than I planned. I use this Petzl headlamp. It's really bright, water-resistant, and super-dependable.
Polarized Sunglasses
When it's sunny, the rays bouncing off the snow can be blinding… literally. (Read up on snowblindness if you haven't heard of it.) I always bring sunglasses to protect my eyes. I like polarized sunglasses since they cut the glare and offer better clarity than traditional lenses.
Polarized sunglasses are often stupidly expensive, which is why I was happy to discover these ones from Goodr. They have a classic look that I like, they last a long time, and they don't cost a lot.
Budget tip: Amazon has tons of inexpensive polarized sunglasses.
Gaiters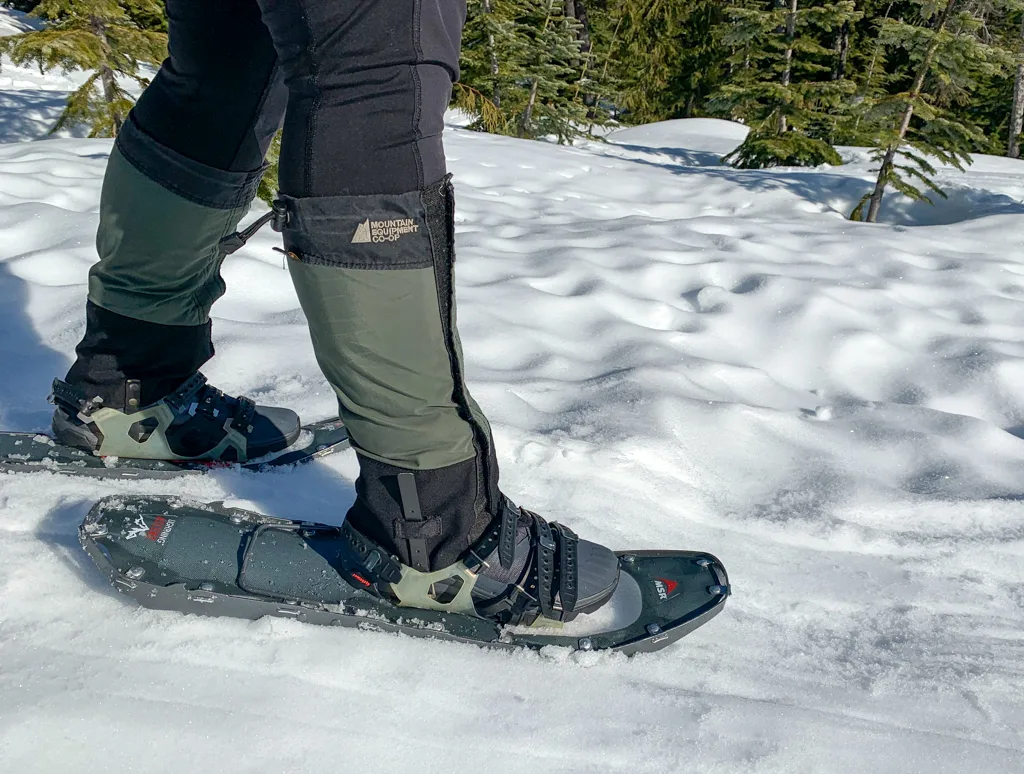 Nothing is worse than snow trickling down into your boot. I always wear gaiters when I snowshoe to close the gap between the top of my boot and the bottom of my pants. You can also use them in the summer to keep mud, sand, and gravel out of your boots while hiking.
I like these MEC waterproof breathable gaiters since they aren't too hot. Plus they have a velcro closure which is easy to use with gloves on. For snowshoeing, any tall waterproof or water-resistant gaiters will work, but the Outdoor Research Crocodile Gore-Tex Gaiters are the gold standard.
Park or Trail Pass
Depending on where you want to go snowshoeing, you may need a National Park pass or a trail pass for your local area. Some ski hills also have snowshoe trail networks. An annual pass makes a great gift since you know it's something they'll use over and over. You can buy passes for national parks, state recreation areas, and national forests at local parks offices or at REI.
Microspikes (Mini-Crampons)
I spend most of my time snowshoeing in BC's Coastal Mountains. We often get hard-packed and icy snow which means that I don't always need my snowshoes for flotation. But I do need traction underfoot. That's why I usually bring both my snowshoes and my microspikes since I never know what the conditions are going to be like.
The microspikes are a big game-changer for me: They are mini-crampons that grip really well on icy and packed snow, so they add a lot of safety on steep slopes. (In general, snowshoeing is pretty safe, but it's easier than you think to get into trouble. Read my tips for snowshoeing safety.)
Budget option: These knock-offs on Amazon get great reviews, although they aren't as rugged. But they sure are cheaper!
Jetboil Stove
One of the easiest and most satisfying ways to warm up while snowshoeing is to whip up a hot meal or a fresh cup of coffee. The tiny Jetboil stove systems integrate the stove and pot into one sleek unit so they disappear inside a backpack.
Insulated Skirt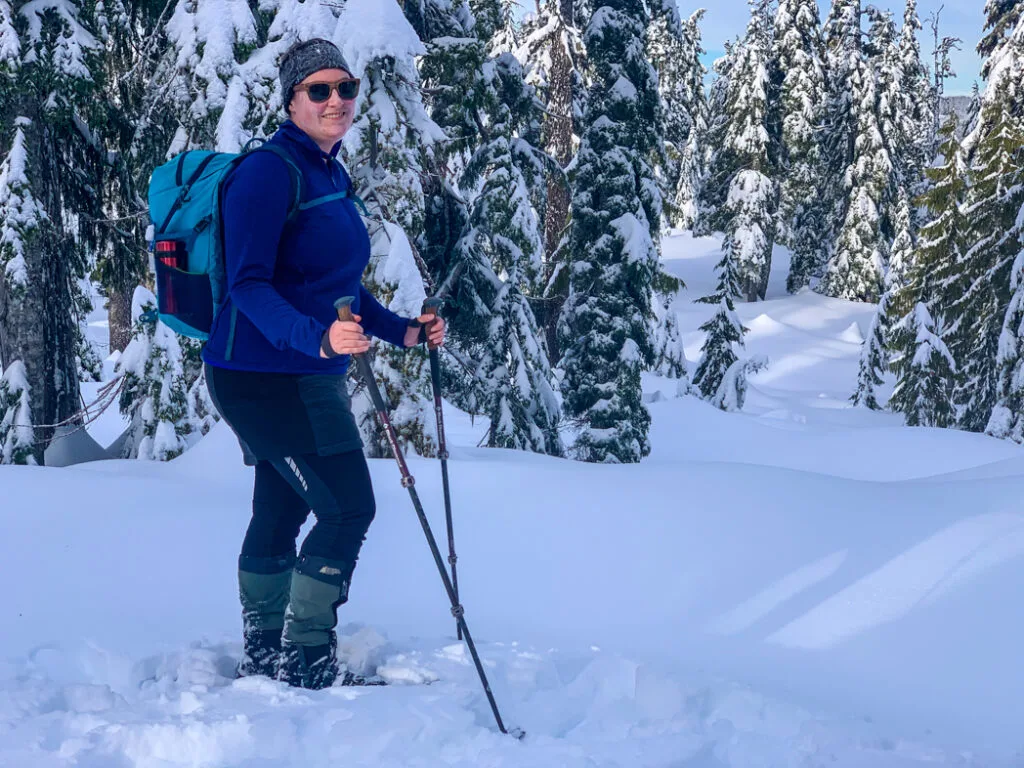 I know these sound a bit crazy, but hear me out! Women feel the cold more than men, especially in our core and upper legs. It's easy to put on a warm jacket to warm up our core, but what about our legs?
Enter the insulated skirt. A friend recommended them and I tried one for the first time a few years ago. Such a great idea! They pack down small so you can pull them out of your backpack to warm up when you take breaks. Mine is this Smartwool one.
READ NEXT: Best Insulated Skirts to Keep Your Butt Warm on the Trails
Base Layers
Staying warm and dry while snowshoeing starts with base layers. I wear these super soft merino wool ones from Smartwool. They wick sweat and keep me warm without adding too much bulk. (Also I love the cute patterns.) Not sure what to wear snowshoeing? Read my guide to snowshoeing clothing.
Best Gifts for Snowshoers Under $200
Budget Snowshoes
The best gift for snowshoers is… snowshoes. Hahaha yup. My husband actually bought me my first pair of snowshoes the first Christmas we were dating. (Before that, I had always rented.)
If you're buying someone their very first pair, I recommend these all-purpose budget snowshoes from MSR. (Not sure how to shop for snowshoes? Read my how to choose snowshoes guide.)
Winter Backpack
You can use any old hiking backpack to go snowshoeing, but I love using the winter-specific Deuter Freerider. Sometimes you have to walk a few minutes (or hours) up the mountain to get to the snowline and being able to lash my snowshoes to my backpack easily is a huge plus.
Look for packs with snowboard straps – they work best for carrying snowshoes. Another great winter feature: no mesh that can collect snow.
Trekking Poles
Snowshoeing is waaaay better with poles. They help you keep your balance and reduce the impact on your knees. I use adjustable height trekking poles for backpacking in the summer, then in the winter, I put snow baskets on them to use for snowshoeing.
Make sure you get ones that have snow baskets or buy the snow basket accessory – otherwise they will just sink into the snow! I have these Black Diamond ones and I love that they have foam grips below the handles so I have lots of hand position options.
Insulated Hiking Boots
If you snowshoe in really cold weather or get cold feet, you'll want to snowshoe in insulated boots. Regular winter boots don't have the ankle support you need for snowshoeing so grab them some insulated hiking boots instead.
They have the same support and grip as regular hiking boots, but with a thin layer of insulation inside. I wear these insulated Salomon boots. Need more recommendations? I wrote a whole guide to the best boots for snowshoeing.
Best Splurge Gifts for Snowshoers (Over $200)
Heated Socks
If the snowshoer on your Christmas list gets cold feet, treat them to some heated socks. They can even control the temperature from an app on their phone! They provide better heat than disposable toe warmers and are much more low profile inside boots.
Budget Option: There are lots of heated socks on Amazon. They aren't as good as the high end ones since they aren't as reliable, the batteries don't last as long, and they don't have a phone app to control them. But they are much more affordable.
Lightweight Snowshoes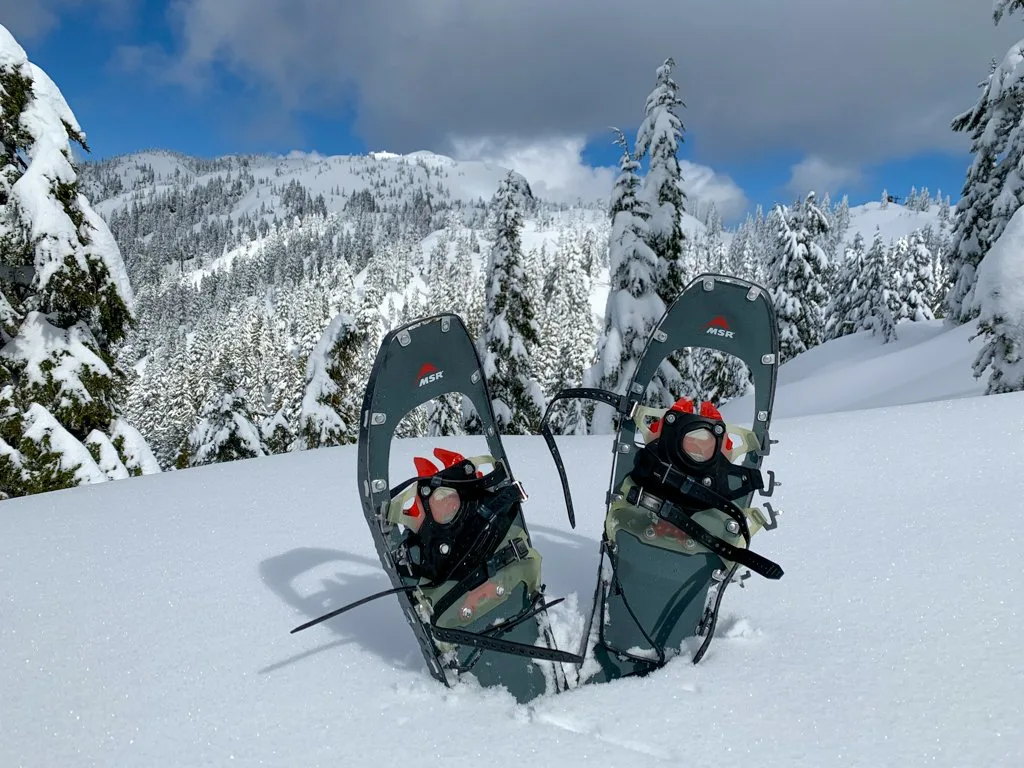 If money is no object, get them the best snowshoes on the market. I got a pair of these super-lightweight MSR snowshoes a few years ago and can't believe I didn't get them earlier.
So much more comfortable to wear and LOTS of traction for steep slopes. These are a definite must for serious snowshoers, especially if they are heading to the mountains.
Breathable Insulated Jacket
Snowshoeing can get your heart rate up, which can make you warm and sweaty. But it's also cold outside, so you want to stay warm. The secret is a breathable insulated jacket. It keeps you from getting too sweaty by using a breathable fabric and synthetic insulation. But it also traps warm air so you don't get chilled. I love my Mountain Hardwear Kor Stasis jacket for snowshoeing and winter hiking.
Satellite Messenger
Being able to call for help in the wilderness is important. I've had the Garmin inReach Mini satellite messenger for a few years. It lets you send text messengers via satellite to let loved ones at home know you are OK, or that you will be late.
And it also has an SOS button so you can summon search and rescue in an emergency. It's not cheap, and you need to pair it with a monthly service plan, but it's a great piece of safety kit.
Avalanche Safety Gear
If they're snowshoeing in the mountains, they're snowshoeing in avalanche terrain. Help keep them safe by making sure they have essential avalanche safety gear: a probe and transceiver to help locate them or their companions if they get buried, and a collapsible shovel to dig them out. This avalanche safety gear bundle from Backcountry Access includes all three.
Avalanche Safety Course
Buying avalanche safety course is not that helpful without knowing how to use it. Buy them a gift certificate for a basic avalanche safety course.
They'll learn how to recognize and avoid avalanche terrain and how to search for and recover avalanche victims. When I took my course a few years ago I was shocked to learn how many unsafe places I had unknowingly snowshoed! In the USA find course providers through avalanche.org. In Canada, check avalanche.ca.
So that's all of my recommendations for the best gifts for snowshoers. Do you have any other suggestions for snowshoeing gifts? Leave them in the comments.
MORE GIFT GUIDES:
MORE SNOWSHOEING POSTS: