So you want to go winter camping… but you're not sure how to stay warm, what gear you'll need or how to pitch camp in the snow. No worries: I've got you covered in this guide to winter camping for beginners. Winter camping can be pretty daunting but it can be lots of fun. If you'll be hiking or snowshoeing in to your winter campsite, you'll want to start out by reading my posts on What to Wear for Winter Hiking and general tips on Hiking Through the Cold Season.
Hey there: Some of the links in this post are affiliate links, which means I earn a small commission at no extra cost to you if you make a purchase. Thanks for supporting my website! -Taryn
Know the Conditions
The first step to having a good winter camping experience to be prepared and know what to expect. That means checking the weather and avalanche conditions for the area you are heading. Taking an Avalanche course is always a good idea! (If you're in the Vancouver area, I've got a great list of websites to use to check conditions.) If the weather and/or snowpack aren't good you'll need to reschedule.
Tenting in the Snow
There are a few options for sleeping accommodations in the snow: a tent, a snowcave, an igloo or a quinzee. I've never built a snow shelter so I won't go into tips for those here, but I've heard they can be surprisingly warm and comfortable to sleep in. They do require a bit of time and expertise to build so for your first time snow camping I'd recommend a tent (you can try building a snow shelter but until you've perfected it, bringing a tent along is a good backup plan).
You'll want to choose a campsite that is sheltered from the wind, out of any avalanche paths and hopefully one that gets the morning sun as that will make it way easier to get up in the morning. You don't need a spot that is totally flat as your first step will be stomp out a platform for your tent using your snowshoes or skis – this will consolidate the snow. You should also be carrying a shovel as part of your avalanche gear so you can also use that to make your tent platform.
Ideally you will have a four season tent. But what's that? A four season tent is designed for winter use – so all four seasons unlike a three season tent which is designed for every season except winter . That means a four season tent has a fabric inner for warmth (instead of mesh). It is also designed to stand up to higher winds and heavy snow loading so it will typically have more poles with more pole intersections and steeper walls that snow will fall off of, rather than build up. Four season tents often have larger vestibules for storing bulky winter gear or even cooking. Unfortunately all of this makes four season tents considerably heavier than their three season cousins.
You will definitely be more comfortable winter camping in a four season tent so if you can buy, borrow or rent one, consider it. If you don't have a four season tent you can still snow camp with your three season tent but you'll need to be careful to pitch it out of the wind (or with the short side into the wind) and if it snows you'll need to wake up regularly to knock snow off the sides. You'll also likely be colder.
I recommend: If you don't have a winter tent you can rent one from gear stores like MEC and REI. I've successfully winter camped in my MSR Hubba Hubba NX tent below treeline. For a 3-season tent, it's totally fine if I pitch it in a clump trees to stay out of the wind. I wouldn't use it on a ridgeline in bad weather, but if the forecast doesn't call for high winds or lots of precipitation and I plan to camp below treeline, it works. Buy: MEC | REI.
Once you have your tent set up you'll need to make sure the fly is well staked out to encourage ventilation. To stake out your tent you can buy snow stakes from a gear shop. Buy: MEC | REI. You can also make deadman anchors by tying guy lines to a stuff sack, stick, etc. and then burying it in the snow. You can also use your poles, skis or snowshoes instead of tent pegs.
If your tent isn't well ventilated you'll end up with lots of condensation which can make all your gear wet if the temperature is near freezing, or if it's really cold, you'll basically get ice crystals forming on the ceiling that will snow down on you whenever you move. Either way condensation = no bueno. To prevent condensation you'll probably want to keep your vestibule and tent door open a few inches to encourage air flow – this will make your tent colder but it's worth it. Some people also recommend hanging a small candle lantern from the roof of the tent – the small amount of heat it gives off is supposed to help prevent condensation. I've never tried it but apparently it works (but of course be super careful with flames inside your tent!)
Sleep Warm
You lose most of your heat to the ground so the best way to stay warm when camping in the snow is to bring the warmest sleep system you can and that starts with your sleeping pad. Insulating values in sleeping pads are measured in R-values with high numbers giving you more insulation. I wouldn't go winter camping without a pad that has an R-value of at least 4, or preferably higher.
I recommend: I sleep cold so I use a Therm-a-rest Neoair XTherm that has an R value of 5.7. Most of us are probably sleeping on pads that use some air in them and unfortunately in the winter that air gets cold so most winter campers also use a second mat made of closed cell foam under their air mat. Buy: MEC | REI.
Even with the warmest sleeping pads you won't stay warm without a warm sleeping bag. Try to bring a sleeping bag that is rated for temperatures at least 10 degrees colder than you expect to encounter. You can also extend the temperature rating of your sleeping bag by using an overbag or a fleece liner. Down bags are warmer and more compressible for their weight than synthetic bags but you have to take care to keep them dry so if you bring a down bag a water resistant overbag or a bivy sack is a good idea, especially if you are sleeping in a snow shelter.
When it's time for bed make sure you wear warm and dry base layers to bed and maybe even add in your mid-layers if you are extra cold. Be sure to really cover your head (I wear both a warm hat and a hood), feet and hands as that's where you'll really feel the cold. You can also make yourself a hot water bottle to take to bed by filling a Nalgene with boiling water then wrapping it in a spare layer.
You will likely have to go to the bathroom in the middle of the night and it can be an unpleasant task to get dressed and go outside, but it's worth it – it takes energy for your body to warm up all that urine you're holding in and it will just make you cold and prevent you from sleeping. So just go outside and go pee, it will only take a few minutes but will save you hours of tossing and turning, being cold and trying not to think about how much you have to pee!
What to Wear
The things you wear winter camping are the same things you wear winter hiking, but you just bring more warm stuff and make sure you have extra base layers to change into since wet and sweaty = cold cold cold! You can read more about what to What to Wear Winter Hiking on my blog post.
Besides extra warm layers, a couple other essentials that you'll want to bring along include a pair of knee high synthetic fill booties or even some insulated winter boots if you're not hiking too far in them (they suck for hiking as they are too soft and have little ankle support). You'll also want some really warm and waterproof gloves or mitts and maybe some waterproof over mitts.
Eating and Drinking
Thankfully in the winter you can customize your kitchen set up by digging a table and benches out of snow!
Canister stoves are light and compact but have poor performance when it's cold and often aren't up to the task of melting large volumes of snow so you'll need a liquid fuel (white gas stove). Bringing a wind screen and a heat reflector to optimize your fuel usage.
I recommend: I use the MSR Whisperlite when I take a liquid fuel stove. It's a tried and true classic. Buy: MEC | Backcountry.com.
For food bring things that are high in fat as it will keep you warmer. Avoid foods that require a lot of prep or clean up as doing dishes can be tricky. It's also a myth that alcohol will warm you up – in fact it slows down your metabolism and cools you down. When you're hiking bring food that is easy to nibble on and store it in your pockets where it can't freeze – nothing is worse then stopping for lunch and realizing it has frozen solid!
I recommend: I love Honey Stinger Energy Chews. They taste like gummy candy but have added electrolytes. Plus, they don't really freeze unless it's really, really cold. Buy: MEC | Backcountry.com.
Staying Happy
Once you get cold, it can be easy to focus on how cold you are not on all the other things going on that could be fun. Bring some chemical hand warmers for a quick shot of warmth. Have an impromptu dance party to get your blood flowing. And after dinner is done and it's dark too cold to stay out, retreat to your tents and warm sleeping bags and tell stories or play word games – just because you can't see each other in adjacent tents doesn't mean you can't hear each other.
Do you have other winter camping tips for beginners? Leave them in the comments.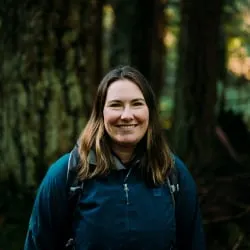 Latest posts by Taryn Eyton
(see all)