A few winters ago I got an insulated skirt and it was a game-changer. (I'm not exaggerating!) My puffy skirt meant I could keep my butt warm on the trails – I simply put it on over my pants when I was cold and took it off when I wasn't.
In this guide, I'll break down how to choose the best insulated skirts for snowshoeing, downhill skiing, cross-country skiing, hiking, and running.
I've got everything you need to know about insulated skirts including:
Hey there: Some of the links in this post are affiliate links, which means I earn a small commission at no cost to you. Thanks for your support. -Taryn
My Picks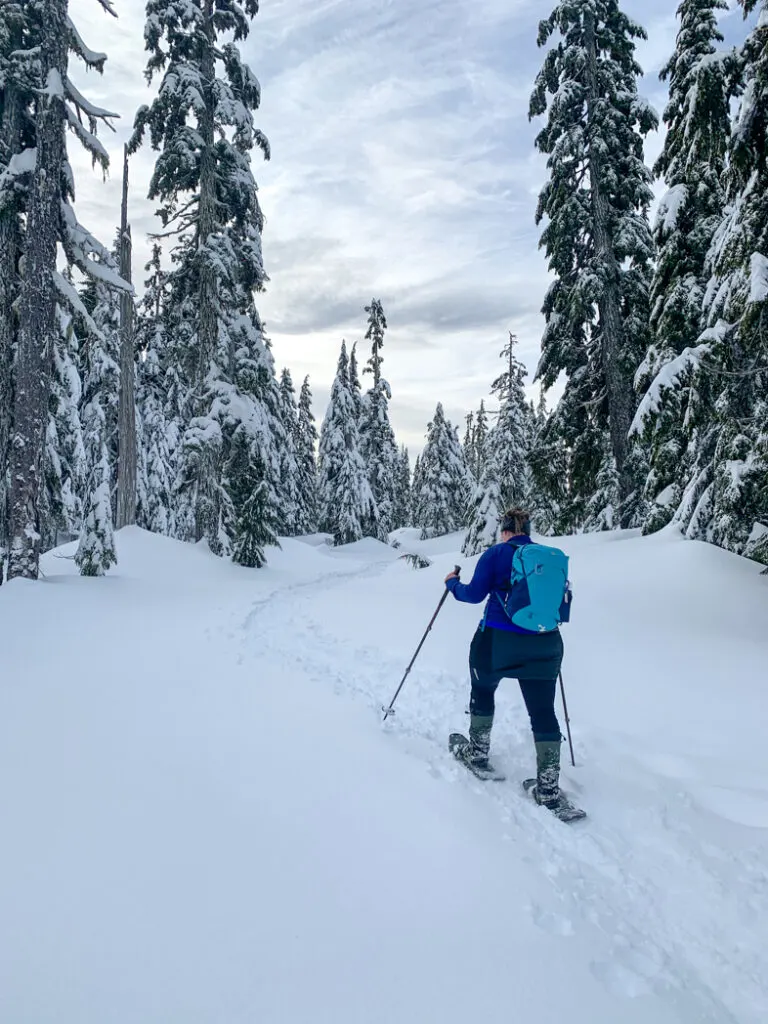 Why Should You Wear an Insulated Skirt?
The first time I saw an insulated skirt I laughed. They seemed like a frivolous item you'd wear for fashion reasons.
But then a few outdoor women in my life started raving about them. They said no matter what they wore, they often found that their butt and thighs got cold when they were skiing, snowshoeing, or winter running. And an insulated skirt solved that problem.
I was skeptical, but also hate having cold thighs so I got a puffy skirt. Having owned one for three winters now, I can honestly say I can't imagine going without one. I love being able to slip on extra warmth when I'm cold, then take it off when I warm up.
You can layer an insulated skirt over ski pants, hiking pants, leggings, or even your base layer, so they work in lots of situations. Every time I wear my quilted puffer skirt, other women ask me about it, so I figured it was time to take the answers to all those questions and combine them into one article.
How I Picked
I've been hiking for over two decades. I also worked in an outdoor store for three years and wrote marketing materials for a large outdoor retailer for six yars. I spent a ton of time learning from their design team so I got really familiar with the properties of outdoor fabrics and garment construction.
For this guide, I drew on my outdoor industry experience as well as my personal experience with trying out insulated skirts. But since I haven't tried all of the skirts in this guide, I also talked to friends, asked the members of several large women's outdoor Facebook groups, and read dozens of online reviews.
There are lots of puffer skirts out there, so it can be difficult to choose. Lots of insulated skirts are designed for fashion or city use. But in this article I'm going to focus on puffy skirts designed for winter sports, specifically downhill skiing, cross-country skiing, snowshoeing, running, and hiking.
The skirts I chose are all made with outdoor-ready materials that are water-resistant, wind-resistant, and warm. They are also designed for movement with waistbands that stay in place and stretchy panels to allow for long strides. All of these insulated skirts are also easy to take on and off when the temperature changes.
Most Comfortable Insulated Skirt: Smartwool Smartloft Pull-On Skirt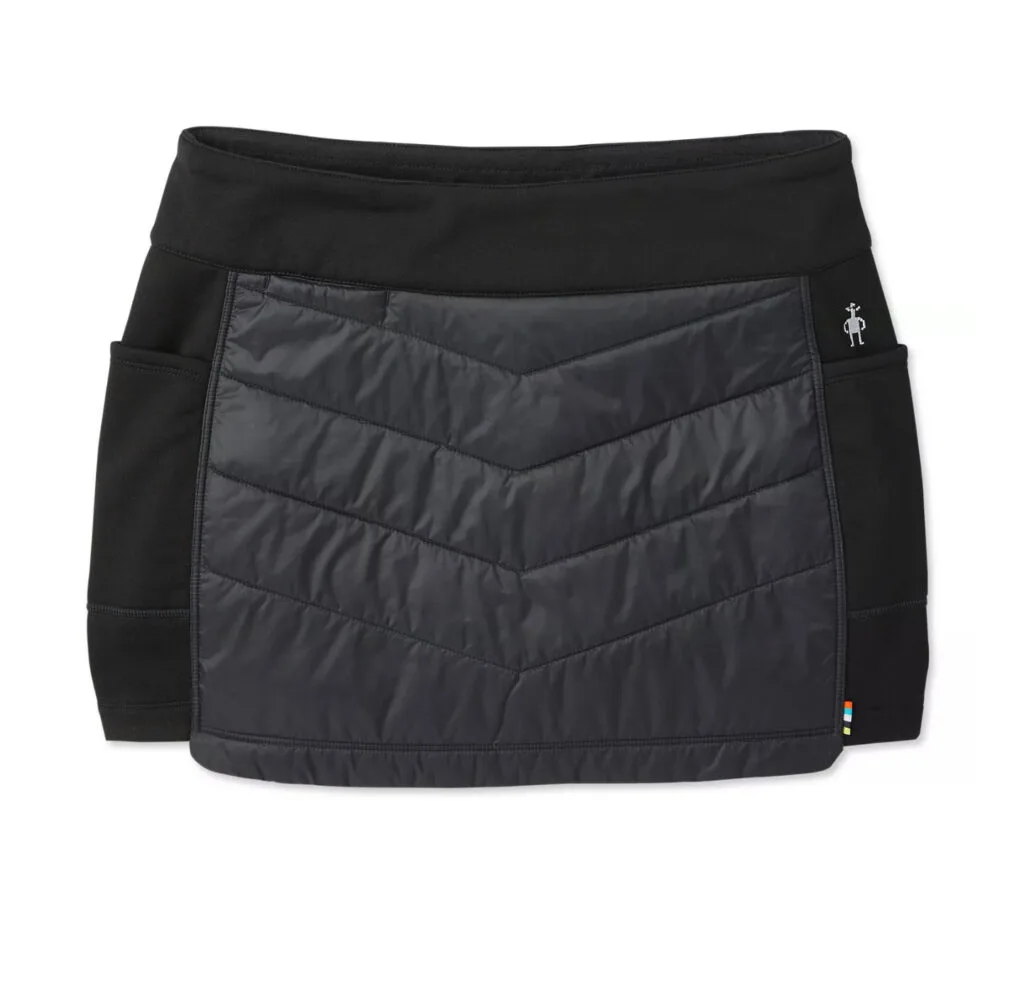 Warmth: Moderate
Features: Insulated wool front and back panels. Stretchy fleece side panels and waistband. Merino wool lining. Side pockets.
This pull-on style insulated skirt from Smartwool is my go-to warm layer. My favorite part is the stretchy fleece side panels. They move with me so well that I forget I'm wearing it!
The cozy merino wool lining is super soft and adds a bit of warmth too. It's such a nice contrast from the slippery nylon fabric that most skirts use.
The quilted front and back panels use unique recycled wool insulation that holds its warmth even when wet. Compared to other skirts on this list, it has a moderate amount of insulation. However, the wool insulation isn't the lightest or most compressible compared to down or even synthetic.
This skirt also has two deep side pockets that are big enough to hold my phone. The wide waistband is comfortable and has a drawstring adjustment.
Note: The older version of this skirt is called the Smartwool Smartloft 60 Skirt. The only thing that has changed is the name.
Check prices:
More Options: Smartwool also makes another skirt called the Smartloft Zip skirt. It uses warmer insulation, which is great if you get cold easily. It also has a zipper for easier on/off.
Best Synthetic-Insulated Skirt: Mountain Hardwear Trekkin Insulated Mini Skirt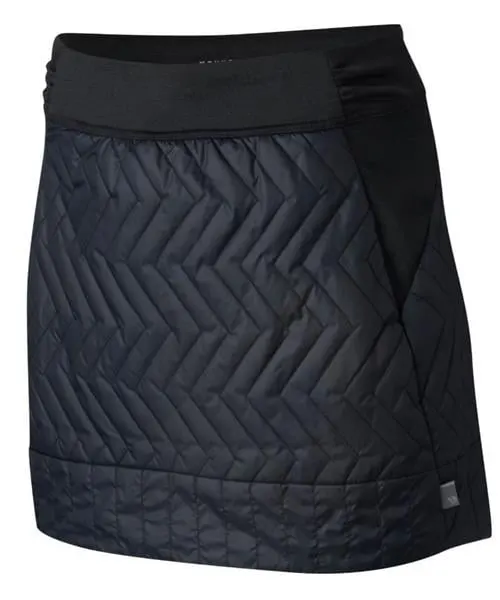 Warmth: Light
Features: Synthetic insulation is quilted in place. Elastic waist, stretch side panels and rear slit give you freedom to move.
The synthetic insulation in the Mountain Hardwear Trekkin Insulated skirt will keep you warm even if it gets wet from sweat or snow melt. It doesn't have a ton of insulation, so it's best for adding warmth while you are moving. The nylon face fabric is wind-resistant too.
This skirt has two pockets: a small one inside the waist band and and a larger zippered one on the back.
Most of the skirts on this list are pencil skirts, but the Trekkin skirt has an A-line shape instead. It also has a slit in the back that adds both style and increased range of motion.
The Trekkin is a pull-on skirt, but the elastic waist and elastic side panels give it a comfortable fit.
Check prices:
The Original Down-Insulated Skirt: Skhoop Short Down Skirt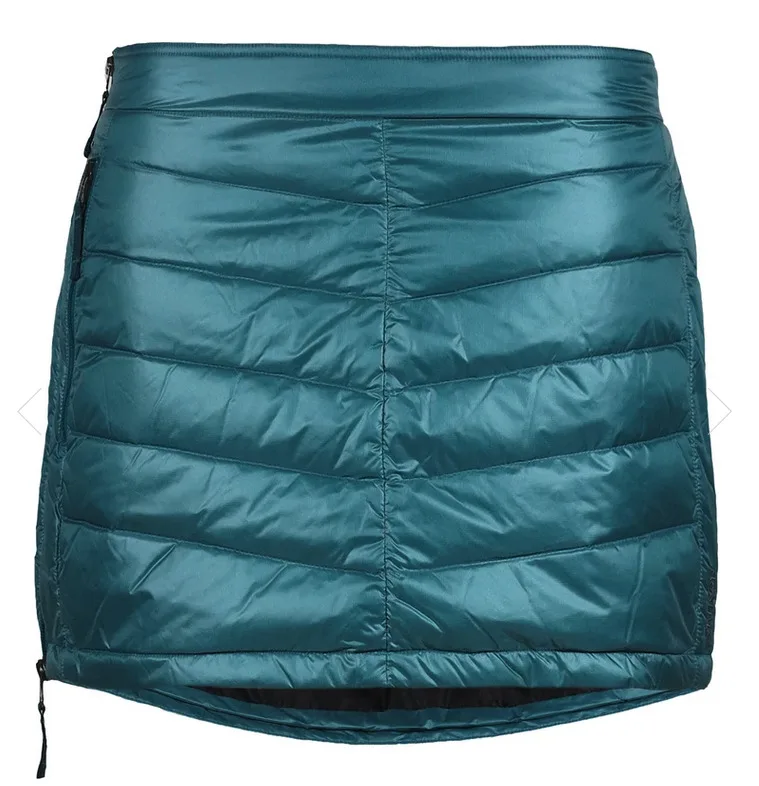 Warmth: High
Features: Insulated with 600-fill power down. Water-resistant fabric. Full-length side zipper.
Sweden's Skhoop invented the insulated skirt back in 1999 and today they make over a dozen different styles. The Short Down Skirt is a great option for cold weather activities. It's stuffed full of 600 fill-power down that meets the Responsible Down Certification for animal welfare.
It has an elastic waist with an internal anti-slip strip so it stays in place. The full-length side zip makes it easy to take on and off on the go and you can also open it up for venting or more range of motion.
A zippered pocket on the right side is large enough for a phone.
Check prices:
Best Ultralight Insulated Skirt: Rab Cirrus Skirt
Warmth: High
Features: Filled premium PrimaLoft synthetic insulation. Ultralight Pertex Quantum wind-resistant fabric. 2-way front zipper. Zippered hand pockets
This ultralight down skirt is made with the same DNA as Rabs's popular Cirrus Insulated Jackets. The premium materials are light while still delivering tons of warmth.
The Cirrus puffy skirt uses Primaoft synthetic insulation that is very light for its warmth. It will also keep you warm even if it gets wet.
This insulated skirt is also the only one on my list with a center-front zipper. This makes taking it on and off even easier than with a side zip. It also means that the skirt is harness compatible, which is great for climbers and mountaineers.
There are also elastic side panels and a partially elasticated waist to ensure you can move freely.
Two big zippered pockets on the sides warm your hands and double as a stuff sack. When you pack the skirt into its pocket, it shrinks down to the size of a paperback book.
Check prices:
More Options: My previous pick in this category was the Mountain Hardwear Ghost Whisperer Skirt. It's even lighter since it uses 800 fill-power down. I changed my pick this year since Mountain Hardwear seems to have discontinued it as of winter 2023/24. But you can still find it online in a few places.
Best Insulated Skirt for Runners and Cross Country Skiers: Craft Core Nordic Insulated Skirt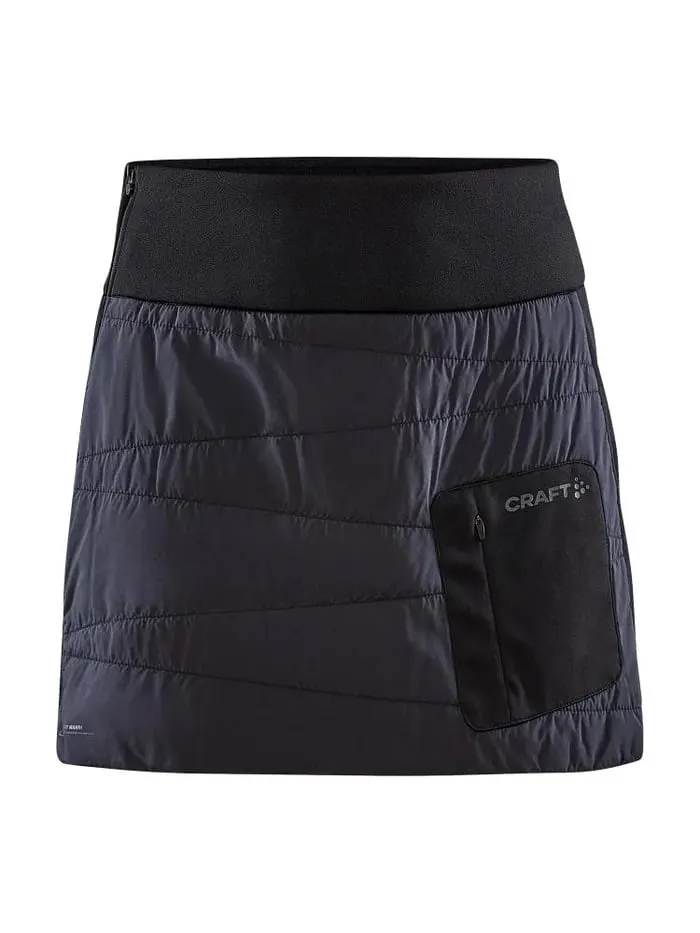 Warmth: Moderate
Features: Synthetic insulation. Stretchy side panels. Full-length 2-way side zip.
Craft is a Swedish cross country ski brand, so they understand how to make clothes that work when you're working hard. The Craft Core Nordic Insulated Skirt moves with you, even if you're taking long strides.
It has stretchy jersey side panels for lots of range of motion. You can also open up the 2-way full-length zip on the right to give you more room to move. The elastic waist helps it stay in place and the inside of the waistband is a soft, brushed material.
The skirt uses synthetic insulation that stays warm when wet, which is great for sweaty sports like nordic skiing and winter running. It uses a moderate amount of insulation since this skirt is designed to be worn during aerobic activities.
There is also a zippered front pocket to hold small essentials.
Check Prices:
Best Insulated Skirt for Downhill Skiing: La Sportiva Warm Up Primaloft Skirt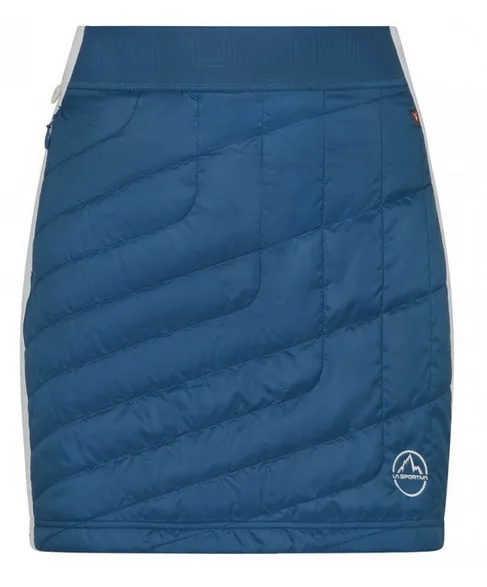 Warmth: High
Features: Filled with Primaloft Silver synthetic insulation. Two full-length side zippers. Stretchy side panels.
This puffy skirt from La Sportiva is sized for layering over your ski pants. Wear it to keep your butt warm in the lift line or on extra cold days on the slopes. It's also cute enough to wear with tights for apres ski.
The Warm Up skirt is made with water-resistant outer fabric and premium Primaloft synthetic insulation that retains warmth even when wet. Stretchy panels on the sides and at the waistband ensure it moves with you as you ski.
It has two full-length side zippers so it's easy to get off from either side. You can also open up the zippers for more venting and range of motion. They've also made the zippers different colors so you can put the skirt back on again easily.
Check prices:
Best Budget Insulated Skirt: Little Donkey Andy Women's Lightweight Puffer Quilted Skirt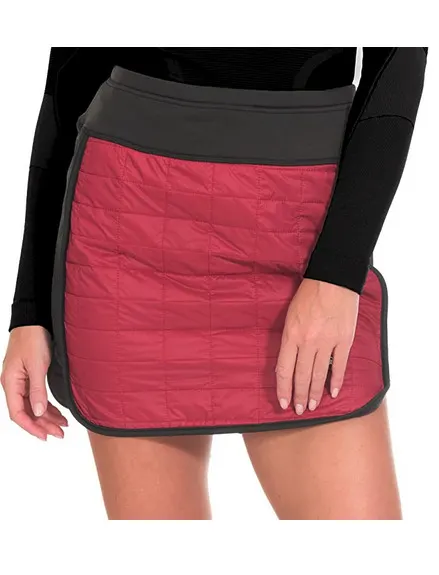 Warmth: Light
Features: Lightweight synthetic insulation. Stretchy side panels. Available in both pull-on and full-zip styles.
If you're not sure if an insulated skirt is right for you, this budget-priced option available on Amazon is a good way to try it out. It uses synthetic insulation that is quilted in place, but it doesn't have that much of it so this skirt isn't as warm as others on this list.
There are actually two versions of this skirt sold under the same name. The pull-on version uses a grid quilt pattern and has wide side panels and a wide waistband made of stretchy material. This skirt also comes in a side zippered version that has one stretchy side panel and an elastic band inside the waist.
Reviewers say that the side zippered version has a more insulation so it's a little warmer.
Check prices:
More Options: The BALEAF Puffer Quilted Skirt also gets great reivews. It uses synthetic insulation and has stretchy side panels. Tehre are also two big side pockets that fit a phone.
Best Plus-Size Insulated Skirt: Columbia Powder Lite II Skirt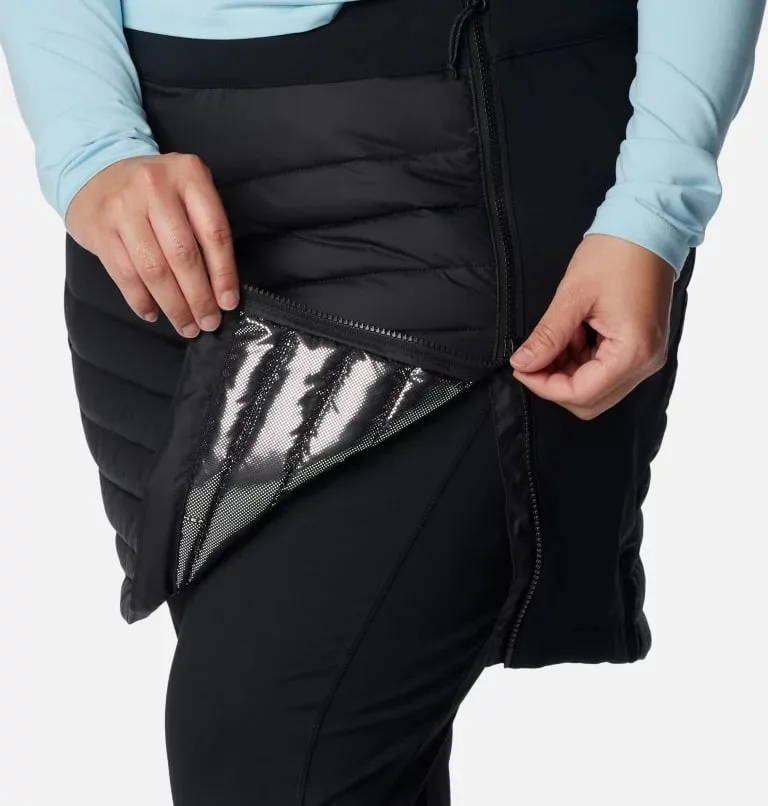 Warmth: Moderate
Features: Insulated with synthetic insulation and Columbia's proprietary Omni-Heat thermal reflective film. Stretch side panels.
The Columbia Powder Lite II Skirt is my pick for the best plus size insulated skirt. But I have to be honest with you – it almost won by default. There are almost no plus size puffer skirts on the market! In previous editions of this guide, I couldn't find a single plus sized insulated skirt, so the fact that there is one is a small improvement.
This skirt is available up to size 24, which is pretty inclusive! Columbia has also priced this skirt ethically – the plus sizes are the same price as the straight sizes!
In general, it's a great synthetic insulated skirt at a reasonable price. It uses Columbias Thermator synthetic insulation and then adds in their Omni-Heat reflective film for even more heat retention.
Stretch side panels and a wide elastic waist band ensure a great fit. There's also a side zip for venting or easy on/off. A small zippered pocket holds keys.
Check prices:
How to Choose an Insulated Skirt
Not all insulated skirts are created equal. Here's a quick run-down on what to look for when you're shopping for a puffer skirt.
Understand the Insulation
Synthetic insulation is made with polyester fibres that retain warmth when wet. It is less expensive than down, but it is also heavier and bulkier to achieve the same warmth as down. Some higher-end synthetic insulations like ThermoBall and Primaloft can mimic the properties of down, but they cost more.
Down insulation is made from the fluffy fibres found underneath the feathers of geese and ducks. Down is lighter and more compressible than synthetic insulation, which means you can use less of it to achieve the same warmth. But down is much more expensive.
If you are purchasing a down garment, choose ones that are Responsible Down Certified for animal welfare.
Regular down is useless once it gets wet. Look for down skirts with water-resistant fabrics or hydrophobic treatments that protect the down from moisture.
Down is also available in different qualities, known as fill-power. The higher the number, the fluffier it is, and therefore, the warmer it is. The most premium skirts use 800 or 900 fill-power down.
Wool insulation is another option. It is made of loose wool fibres that retain warmth. It is heavier than down or synthetic, but it provides warmth when wet.
Estimate Warmth
It can be tough to tell how warm an insulated skirt will be. But some brands publish specs for their insulation, which can help.
For synthetic insulated skirts, 60g insulation provides moderate warmth, while 100g insulation provides lots of warmth.
For down skirts, it's a bit more tricky. In general, skirts with higher fill-power down will be warmer. BUT you can also achieve a warm skirt by using lots of lower fill-power down.
Have a look at the product description and reviews. Some puffer skirts are designed to be worn while doing aerobic activities like cross-country skiing, so they don't need to be super warm. Others are ideal for staying warm while walking or standing still.
Get a Good Fit
Skirts can be tough to fit since they have to fit both your waist and your thighs and stay in place while walking, running, or skiing. Look for puffer skirts with stretch panels and comfortable waistbands. Zippers you can open to create a slit and get more range of motion are also great.
Easy On-Off
The beauty of an insulated skirt is that it functions as part of your layering system. You want it to be easy to put on when you get cold and take off when you warm up.
For really easy on/off, consider a skirt with a zipper closure. That way you don't have to take off your skis or snowshoes to get it on.
The only disadvantages to zippered skirts is that some people find that the top of the zipper is uncomfortable at the waist or the zipper opens up while they are moving.
I wear a pull-on Smartwool skirt that has stretchy side panels – I find it easy enough to step into with my boots on (although I do have to take my snowshoes off).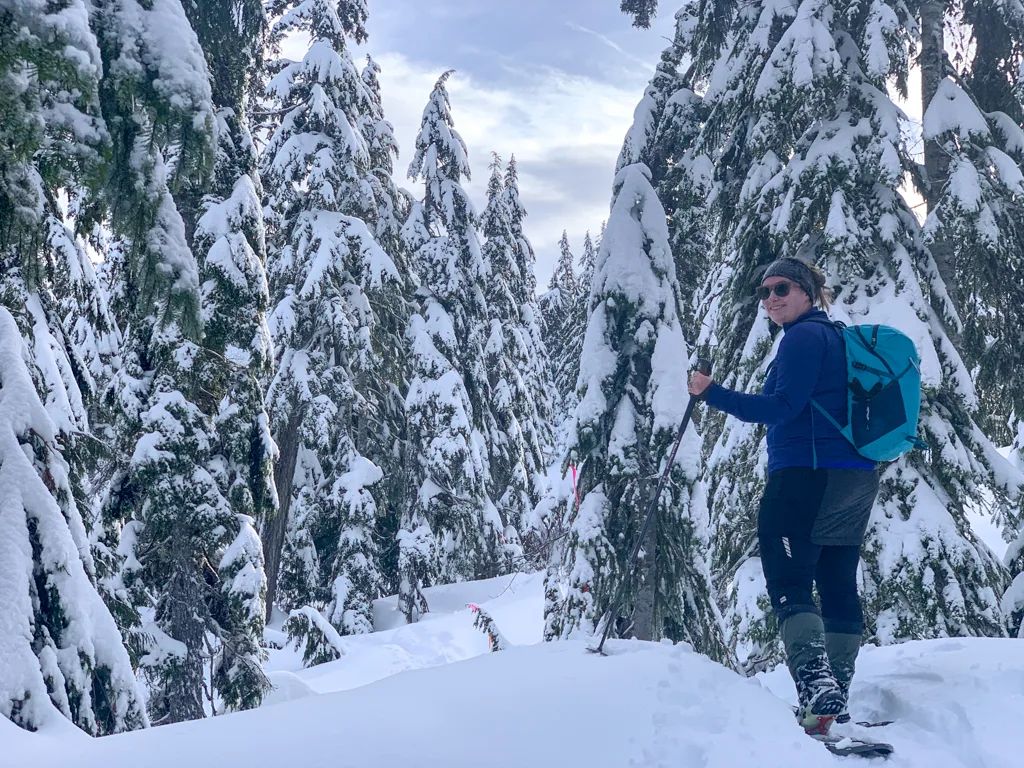 So that's everything you need to know to find the best insulated skirts for snowshoeing, downhill skiing, cross-country skiing, running, and hiking. If you have any questions or alternative recommendations, leave them in the comments.
READ NEXT: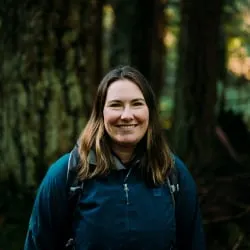 Latest posts by Taryn Eyton
(see all)