As you might have guessed, I love being outside. (The website is called "Happiest Outdoors" after all!) My favourite adventures are accomplished on my own two feet: hiking and backpacking. But I do dabble in biking as well. Mostly that's because my amazing husband Greg loves to bike. He rides to work every day and finds time to put in longer rides most weeks. He also goes bike touring a few times a year. Last spring Greg set off on an epic self-supported cycle tour in the southern United States. Oh, and did I mention he went solo too? I'm so excited to announce Greg's first ever guest post! It's an amazing in-depth guide to how to cycle tour the Natchez Trace Parkway. He even included a 7-day itinerary. Thanks so much Greg! – Taryn
Hey there: Some of the links in this post are affiliate links, which means I earn a small commission at no extra cost to you if you make a purchase. Thanks for supporting my website! -Taryn
---
Ever want to zoom along a quiet country road, as if you were on the world's biggest cycle path? Do you want to explore the history and culture of the deep south? A lone car passing only once every 5 minutes? The Natchez Trace Parkway is a hidden gem that will tick those boxes! It is a 444-mile (715 km) road run by the US National Park Service that runs diagonally across Mississippi, Alabama and Tennessee. It is restricted from commercial vehicles and only has a limited number of entry and exit points. Although designed originally for tourists in their automobiles, its lack of traffic and stop signs have made it a great easy cycle touring destination. In the spring of 2018 I had an amazing adventure on a self supported biking tour south on the Natchez Trace from Nashville.
If you're in the mood for a surprisingly remote and natural experience in the heart of the American South, this is the trip for you.
Cycle Touring the Natchez Trace Basics
Description: A quiet well maintained road takes you along the wild yet historical Natchez Trace. It begins relatively flat in the south, and gets hillier in Tennessee. It's a national scenic parkway maintained by the American National Parks Service that follows a historic route used by Native Americans and later by explorers and traders to get inland to Nashville from the Mississippi River.
Distance: 444 miles (715 km)
Elevation: about 10,000 feet up and 10,500 feet down (3000m up, 3200m down)
Time: 7-10 days
Best time to go: Spring or Fall
Difficulty: Easy to Moderate.
Location: Natchez, Mississippi to Pasquo, Tennessee (near Nashville)
Road: As a scenic parkway it has very light traffic and big trucks are not allowed. There are no designated bike lanes or shoulders. There is lots of signage alerting drivers to the presence of cyclists and they give bikes lots of room when passing.
Cycle Touring the Natchez Trace Difficulty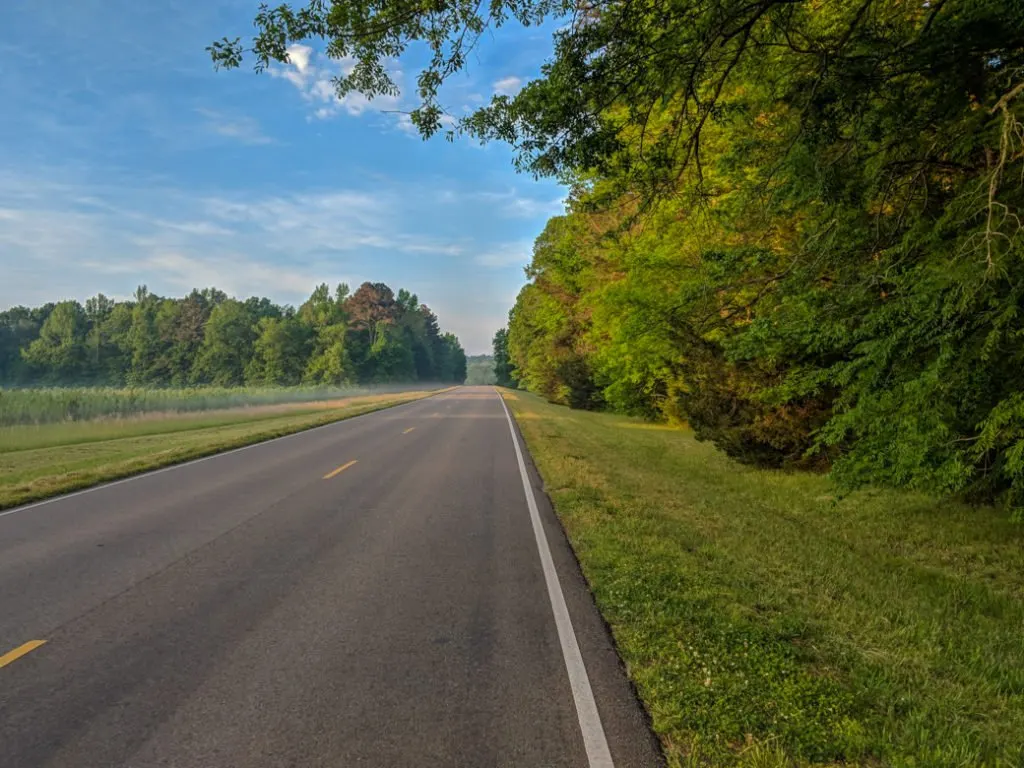 With the right amount of planning, this is a relatively easy bike tour, especially physically. The hills are generally short and not incredibly steep, at least not in comparison to what I'm used to at home in the Pacific Northwest!
The main difficulty is in planning — unlike many trips, there are not many amenities on the route itself. You'll have to go off the Trace for B&Bs and groceries, so some preparation is really important. This is definitely not a candidate for a credit card tour where you can roll into town every night and grab a hotel room. Bringing along some camping gear will definitely give you a lot of flexibility, but I'll talk a bunch more about that in "Where to Stay".
Getting to the Natchez Trace
The official mile zero of the Natchez Trace is near Natchez, MS at the southern terminus, with mile 444 and the northern terminus at Pasquo, TN, just south of Nashville.
Major airports: Nashville, TN and New Orleans, LA
Minor airports: Jackson, MS and Baton Rouge, LA
At only 20 miles away, Nashville is the closest major airport to the Trace and where I started. Due to a mechanical issue, I took a cab from the airport to my host in Nashville. Sadly, from the car the roads did not look exceptionally bike friendly near the airport. My ride the next day from East Nashville to Pasquo, however, was quite pleasant.
If you're shipping your bike, Nashville also offers a host of bike shops, including Trace Bikes which is just a couple miles from the terminus. Eastside Cycles in East Nashville helped me get my ride in tip top shape after some damage from the flight.
Which Direction Should You Cycle Tour the Natchez Trace?
There's a number of factors to consider when deciding on a direction for riding the Trace: wind, weather and hills. You can rule out overall elevation change: the difference in elevation between Natchez and Nashville is only a few hundred feet, so sadly it's not all downhill from Nashville! I chose to start in the North at Nashville and go south to Natchez then beyond to New Orleans.
The Gulf of Mexico tends to generate prevailing southerly winds (especially in the afternoon), so you run the risk of a headwinds if going from North to South. That being said, on my trip in that direction I didn't experience anything I would consider headwinds.
At any given time it will generally be warmer at the South, so if it's early in the spring you may want to start in Natchez. Conversely, if it's late in the fall starting in Nashville may be better for getting the most warm days.
Terrain is important to consider too, Tennessee is hilly and things flatten out a lot at the Southern end. So you could get the hills over with first, or you could warm up for those hills with a few days of flat.
And, of course, there's always just plain old personal preference. Coming from Canada, I have a lot more experience with cold weather and I wanted to gradually expose myself to the heat. As well, I was planning on extending my journey to New Orleans. No one wants to start a bike tour after a night on Bourbon Street!
Best Time to Cycle Tour the Natchez Trace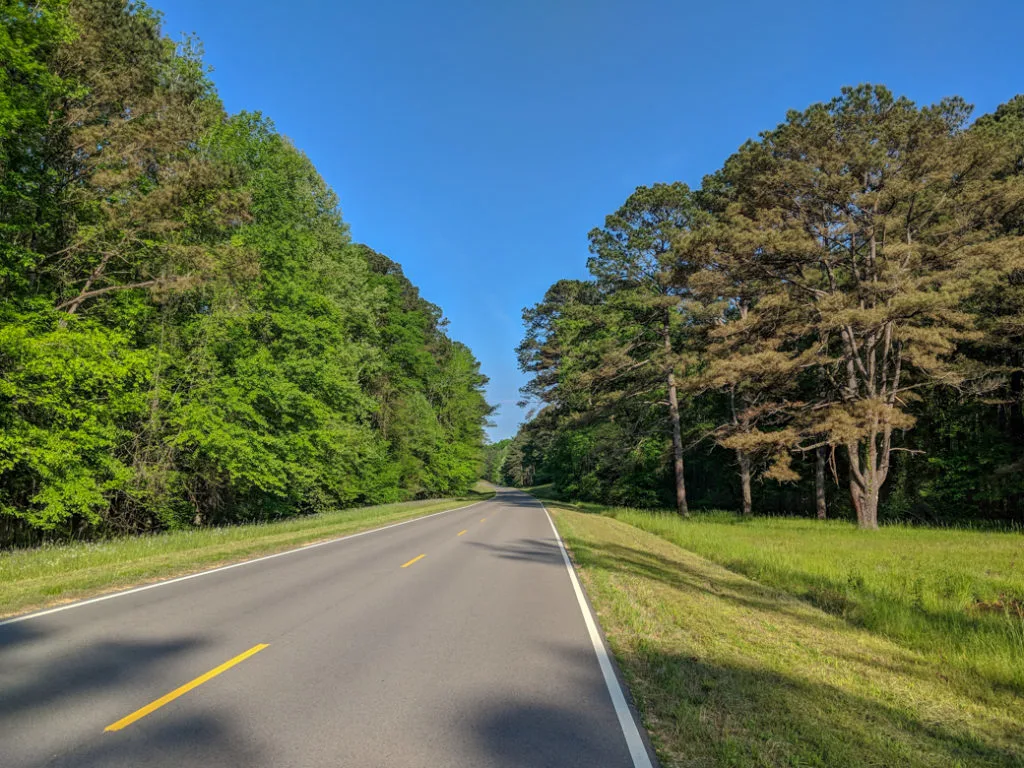 The Natchez Trace is a great shoulder season bike tour– for many it's too hot in the summer and, despite being in the South, too cold in the winter. With highs from 60-70F (15-20C) and lows of 50-60F (10-15C), April, May, September and October would be premium months to give it a go. I did my trip in early May and found the temperatures perfect. September and October are usually the driest months along the Trace, although only by a little and those who go in mid to late October would be treated with lovely fall colours. The park keeps an updated fall colour report.
How Many Days Does it Take to Cycle Tour the Natchez Trace
Everyone's touring pace is different, and that can really determine how long your trip can be. That being said, many tourers seem to get about 50-60 miles in a day. At that pace, it would take about 8 days to travel the length of the trace. I started in Nashville, which added a few miles, and wanted to visit things along the way so I ended up taking about 9 days.
When calculating the total distance you'll be travelling, make sure you account for side trips for lodging or resupply. Aside from campgrounds and restrooms, there are very few services on the Trace itself, so you may have to tack on a couple extra miles each day.
Must-See Stops on the Natchez Trace
Here's some of the things I think are worthwhile and not to miss on the Natchez Trace. I've listed them in the order you'd encounter them when biking from north to south, along with the milepost marker (MP).
Loveless Cafe (just east of the northern terminus): It's technically not on the Natchez Trace, but you can't miss it. This historic cafe serves amazing Southern home cooking with breakfast all day. The biscuits are amazeballs.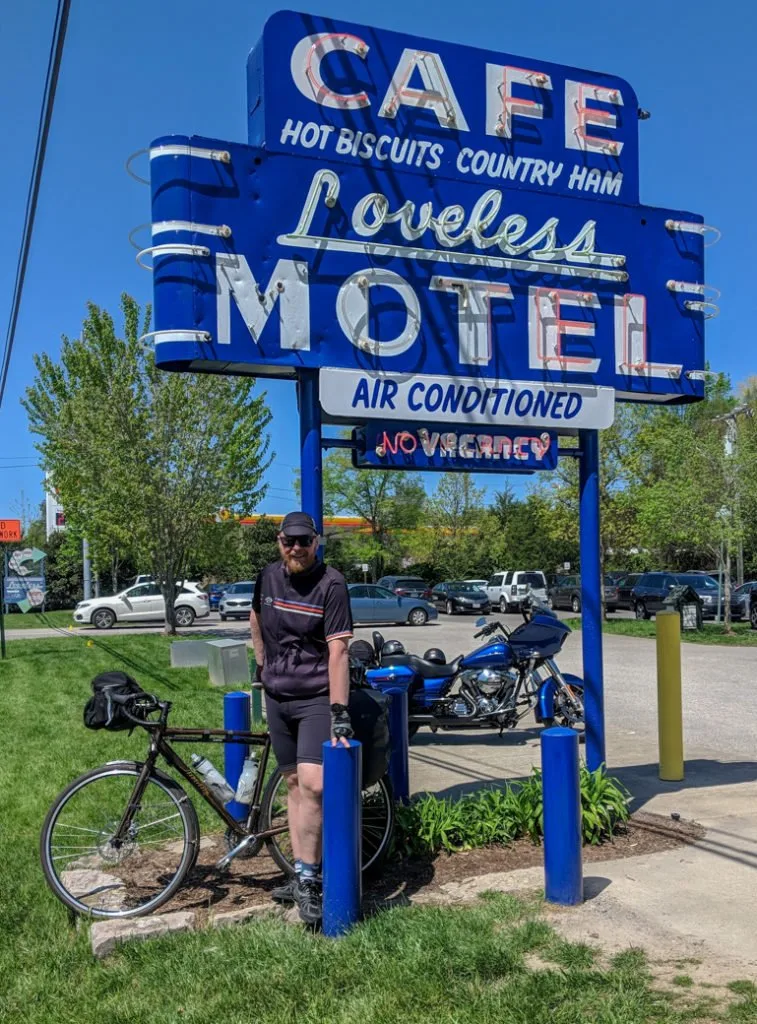 Natchez Trace Parkway Bridge (MP 438): This is a beautiful piece of engineering, and it's a joy to soar over the valley below! Best viewed from below on Highway 96.
Leipers Fork, TN (MP 428): A hip little tourist town that oozes country. Worth a stop at Puckett's for some amazing BBQ and music. It's not been unknown for a big star to drop in and play.
Jackson Falls (MP 404.7): A short walk to some beautiful falls.
Fall Hollow Falls (MP 391.9): A fun little walk to some scenic waterfalls. Make sure to go all the way to the bottom!
Meriwether Lewis Monument (MP 385.9): Don't miss the spot where the intrepid explorer mysteriously died and was buried.
Wichahpi Commemorative Stone Wall (MP 338): A touching memorial to a Native American woman who spent 5 years walking back to Alabama after being exiled on the Trail of Tears. This is a hidden gem that isn't on any of the maps. To find it, turn east on County Road 8, about 4 miles south of the Alabama state line. The entrance to the wall is a few hundred feet down the road.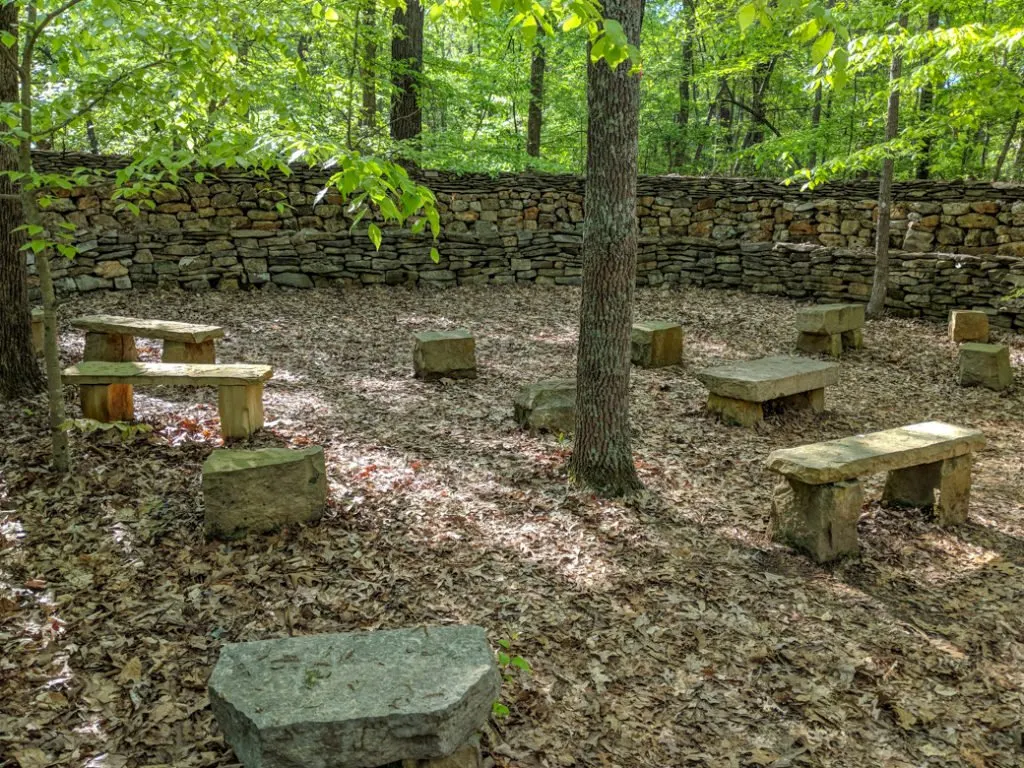 Rock Spring (MP 330.2): Definitely do not miss this pleasant forest walk! There's some cool rock steps across a stream, a very large beaver dam, and tons of wildlife.
Cave Spring (MP 308.4): Caves? Springs? What's not to love. A short little stretch of the legs.
Jamie Whitten Lock and Dam (MP 293.2): Riding the Trace you forget just how much the Army Corps of Engineers have shaped the waterways of America. They connected the Tennessee to the Tombigbee River, and ultimately the gulf of Mexico in Mobile, Alabama
Tupelo, MS (MP 266): The birthplace of Elvis! It's no Graceland, but you can check out his 2-room childhood home. There is also a fantastic auto museum in town, definitely worth a visit. I grabbed a great burger and beer at the Blue Canoe, which was conveniently on the way back to the Parkway Visitor Center where I camped.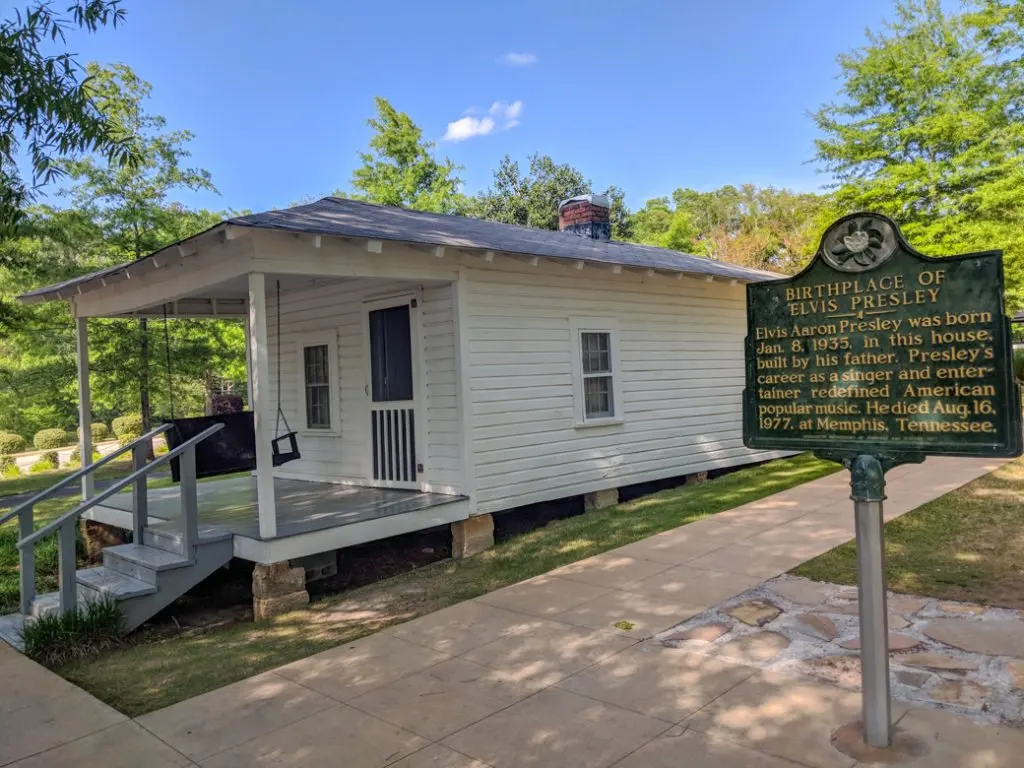 French Camp Historic Village (MP 180.7): Grab a sandwich at the Council House cafe and take a walk through the historic village. Directly on the Trace so there's no excuse! You can also stay in the historic buildings at their B&B. I really enjoyed it.
Cypress Swamp (MP 122): It has always been my dream to walk through a cypress swamp. A beautiful stroll on a boardwalk over the swamp.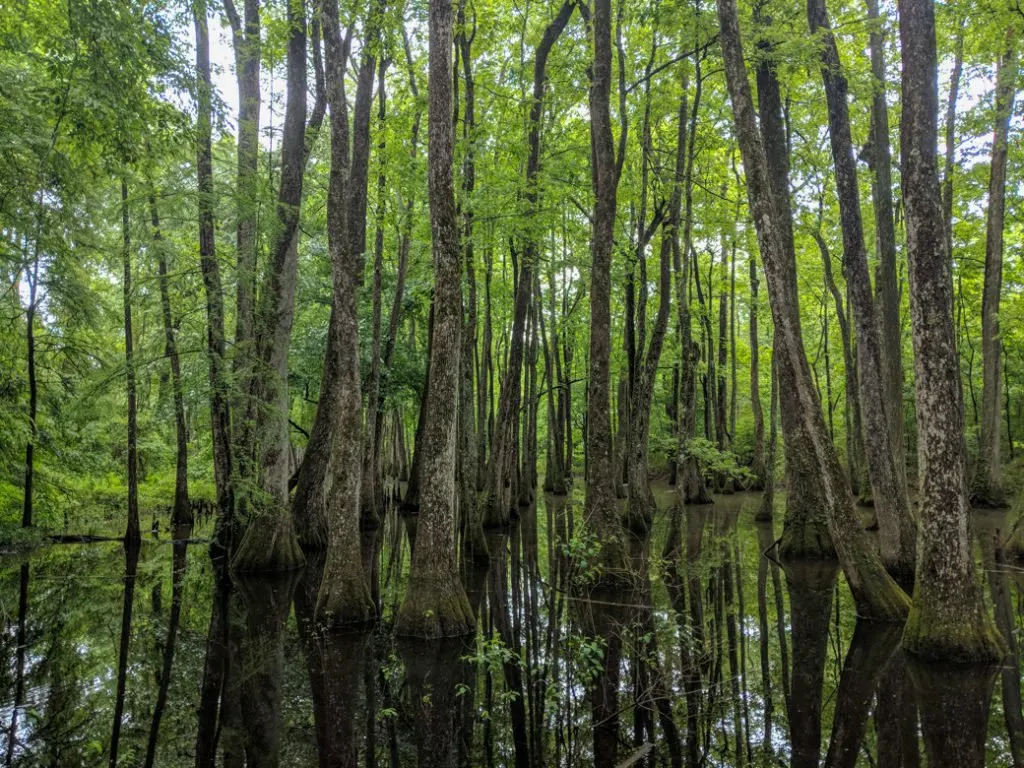 Reservoir Overlook (MP 105.6): The biggest body of water you'll see along the route. Take a break and enjoy! It's also the start and end of the separated bike path through Ridgeland (be sure to use it!).
Sunken Trace (MP 41.5): A section of the historic Natchez Trace footpath that was been eroded into a ditch by years of travel.
Mount Locust (MP 15.5): An historic inn and plantation from 1780 that is now a historic site run by the National Park Service. Open Thursday through Sunday.
Where to Stay on the Natchez Trace
Camping on the Natchez Trace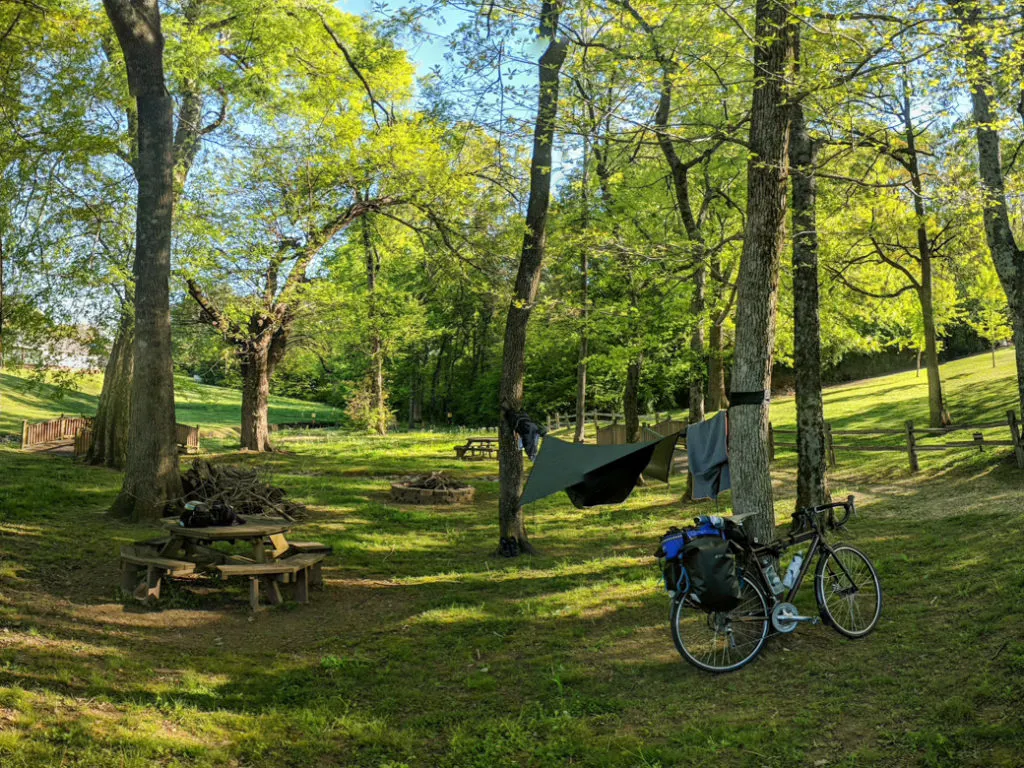 Although it is definitely possible to spend every night in a hotel or B&B, having the option to camp really increases the flexibility of your tour. Aside from a few exceptions, there are no roofed accommodations directly on the Trace, however there are plenty of camping options. Even better, there are several cyclist specific sites. Even better than that, most of the on-trace camping options are free! (Although it goes without saying, you get what you pay for– the free options have toilets and water, but lack some amenities like showers!)
The 3 main Parkway campsites are Rocky Springs (mile 54), Jeff Busby (mile 193) and Meriwether Lewis (mile 385). These are free first come, first serve campgrounds with toilets and water but you'll have to share with vehicles.
In addition to those, there are 5 free bicycle only campgrounds: Kosciusko Welcome Center (mile 160), Witch Dance (mile 234), the Natchez Trace Parkway Visitor Center in Tupelo (mile 266), Colbert Ferry (mile 327), and Gordon House/Tennessee Highway 50 (milepost 408). These are also free, have water and restrooms.
At the Collinwood visitor center, they will let you camp across the street in the town park. They offer free showers from 9-5, and there was a volunteer fire department next door with restrooms.
Off the trace you can find paid campgrounds at both State park and private facilities. I had a lovely evening at Tishomingo State Park.
Hotels and B&Bs on the Natchez Trace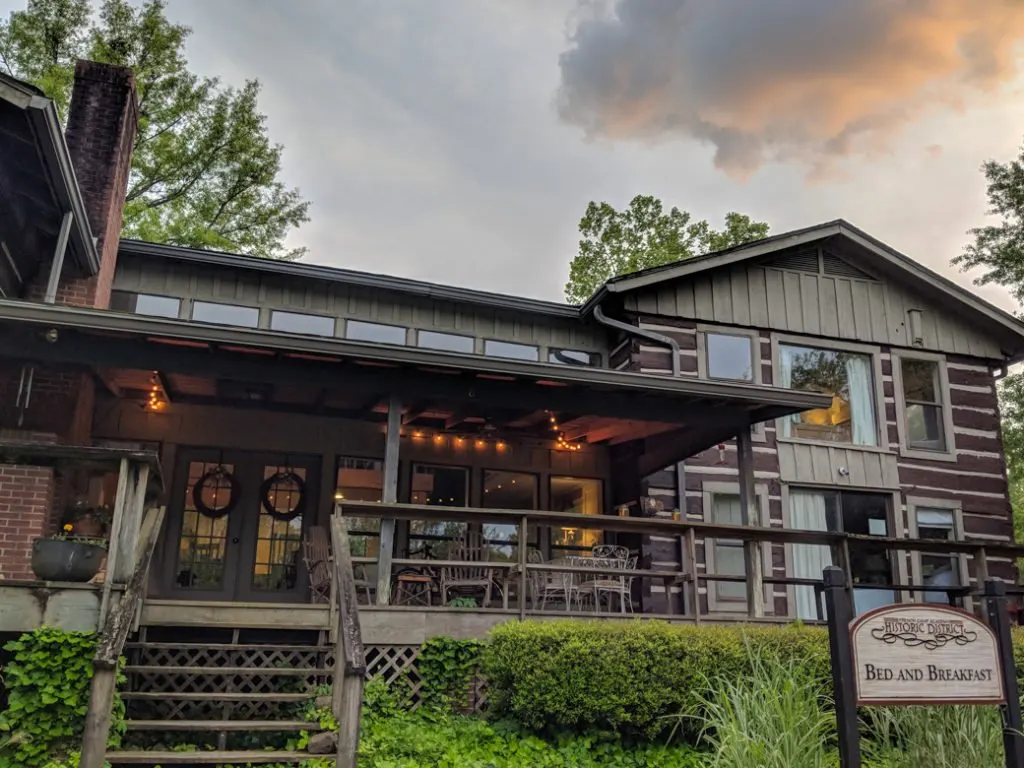 For the most part, towns near the Trace are quite small, and the choices for hotels and B&Bs are limited. It is unlikely you'll be able to roll up to a town and find a room. This is especially frustrating if you've just had to ride 5 miles off route!
That said, if you plan ahead there is lots of extremely cycling friendly establishments that are prepared to take in smelly, wet, and exhausted riders. Many will, for a fee, also pick you up and drop you off directly on the Trace. Here's a good guide to bed and breakfasts along the Natchez Trace.
Many of these B&Bs are in beautiful historic homes and come with amazing southern breakfasts. I highly recommend staying at least one night, if you can. I stayed a night at the historic French Camp in a wonderfully preserved house, where I also met some fellow cyclists (one who opened his home to me when I got to Baton Rouge!). And, of course, it's definitely worth it to treat yourself to a stay in a fancy house when you make it to Natchez, which has one of the highest concentration of antebellum homes in the country. I stayed at this historical Linden B&B in Natchez.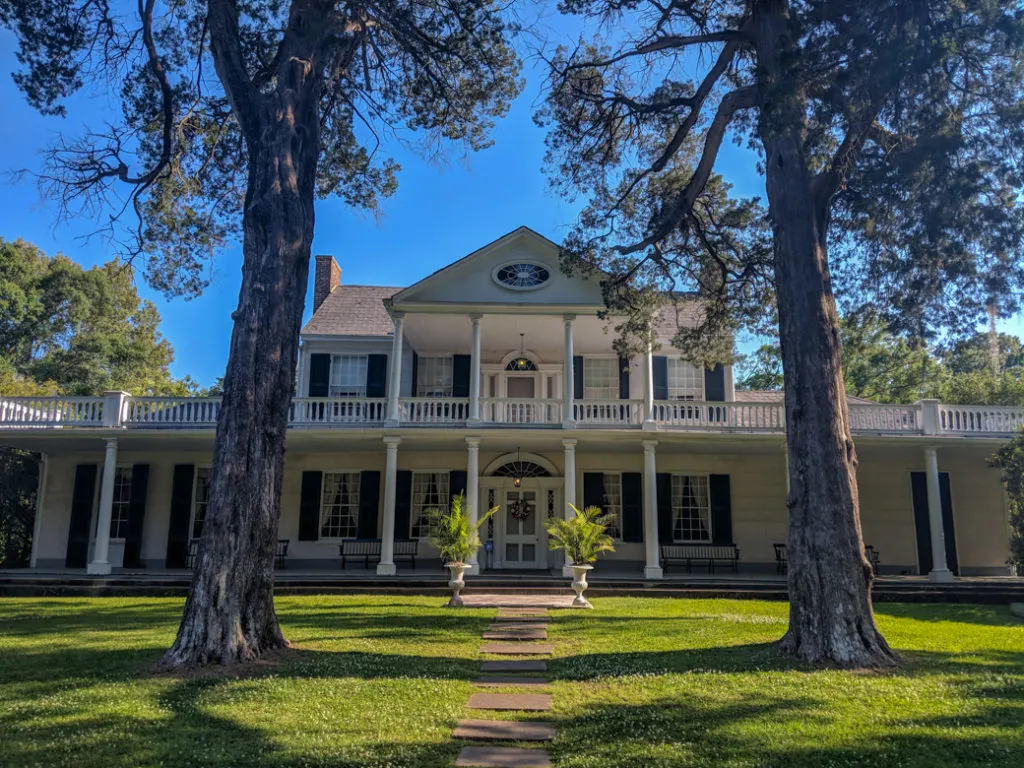 Of course, bigger cities like Tupelo, Jackson and Natchez have a much bigger selection of lodgings including chain hotels.
On my adventure when I wasn't camping, I stayed at:
Where to Eat and Buy Food on the Natchez Trace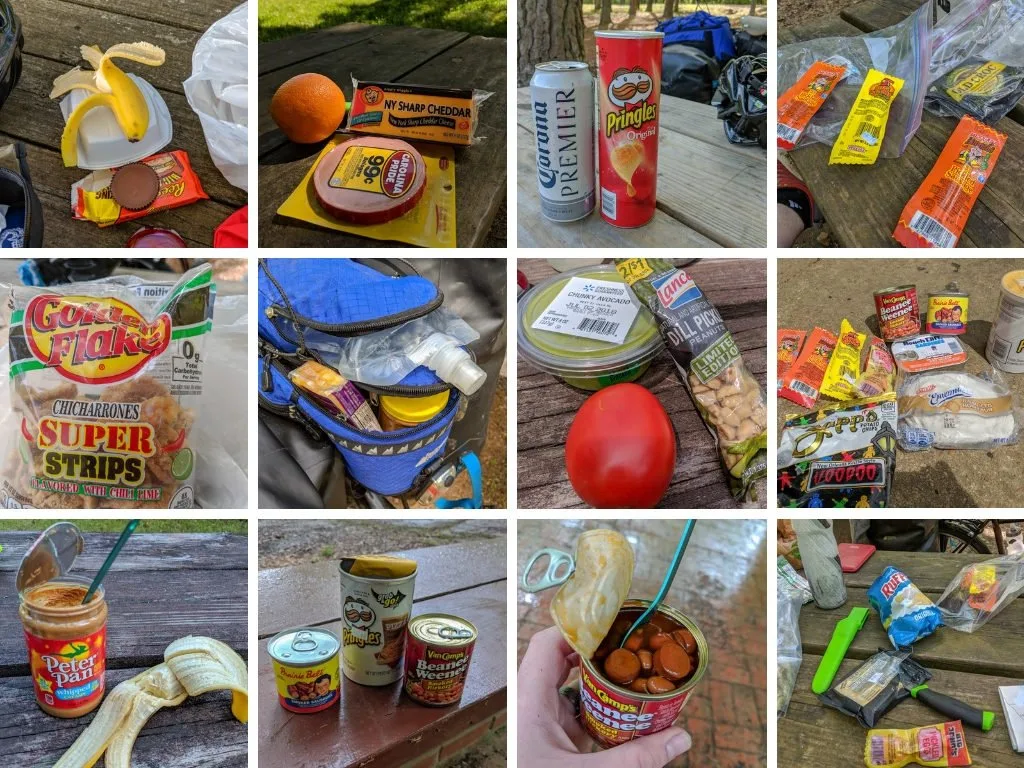 The most difficult aspect of a bike tour on the Natchez Trace is keeping track of where to get food and water. Thanks to the limited number of access roads, and the laws prohibiting signage, you'll need to plan ahead a little to ensure you know where to get off the Trace. This is also not helped by intermittent mobile phone reception. The National Parks Service maintains a list of all the places to eat and buy groceries on the Natchez Trace. It's the most important document you'll need on your trip.
Many of the gas stations with convenience stores will have a very limited selection, and most of that selection will be potato chips! Early on I had purchased a jar of peanut butter, and I must admit that it became a staple part of a number of meals. (I did not bring a stove). Do not expect to find a place to grab a sandwich at lunch or find a bakery somewhere along the way after you've gotten started in the morning. If I found myself at a store with real food, I definitely stocked up some extra for the next day.
Water management is also something to consider carefully. Restrooms on the Natchez Trace will have water, so make sure to stock up whenever you pass one. I brought two 25oz cycling bottles and a 64oz plastic reservoir, as well as a water filter in case I had to grab some water from a stream in an emergency. I was very glad for the reservoir on more than one occasion, but I never had to use the water filter.
I stored my snacks and extra water in my rack trunk, so they were always easy to grab. (Mine is discontinued, but this guide has some great suggestions for bike trunk bags.)
7 Day Itinerary for Cycle Touring the Natchez Trace
This is a North to South itinerary for a self supported trip that is not quite exactly what I rode, but having ridden the trace is what I wish I had ridden. My trip included a start in Nashville (adding 20 miles on Day 1) and I ended up staying at a number of the cycling only camping spots (Gordon House, Collinwood visitor center, Witch Dance). Not that I wouldn't recommend these places, but the campsites I have recommended here are both bigger and more scenic.
Make sure you take time to stop and check out the sights along the way. It is easy to get into the groove, but there is a lot of fun walks and historical sites along the way. You might even want to consider taking a rest day. I didn't take one but Tupelo had enough stuff nearby to make it a good place to take a day off from riding.
My ideal 7-day itinerary is below. I've only listed the places where I actually stopped for supplies. The National Park Service has an up to date list. Remember that outside of major towns the selection may be limited to jerky, chips, and other convenience store items.
Day 1: Pasquo, TN to Meriwether Lewis Campground, TN (60 miles)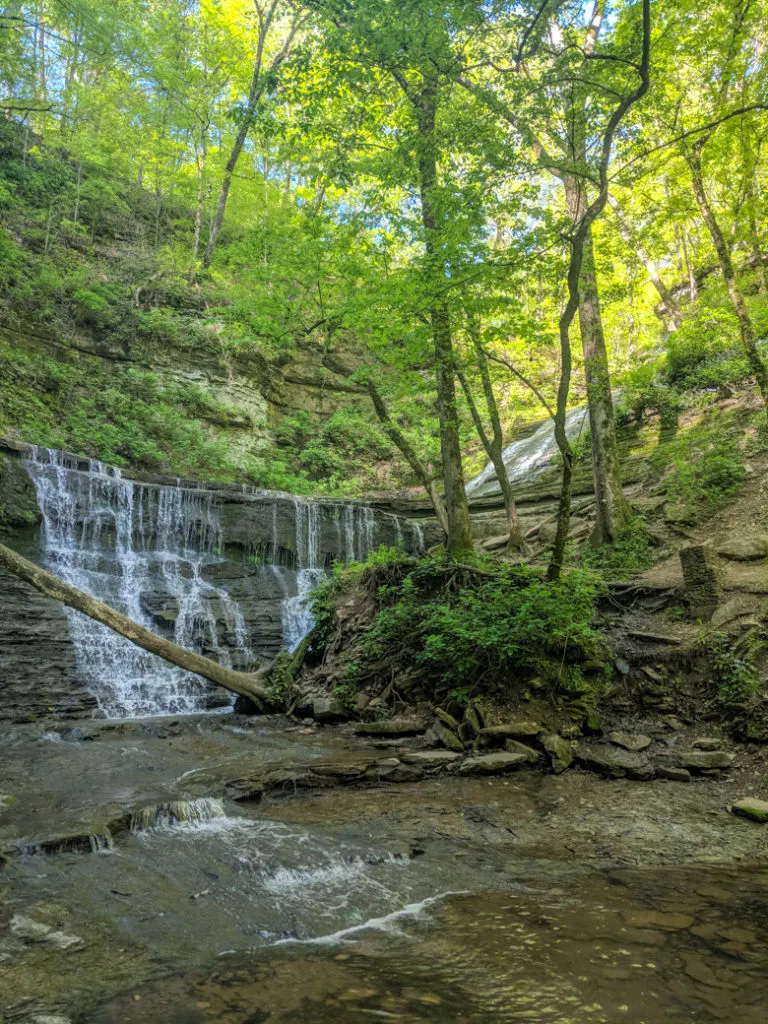 Must See: Loveless Cafe, Leipers Fork, TN-96 bridge, Gordon House, Jackson Falls, Tobacco Farm, Fall Hollow Falls
Supplies: Leipers Fork, Centerville.
Sleep: free NPS campground at Meriwether Lewis
Day 2: Meriwether Lewis Campground to Colbert Ferry, AL (60 miles)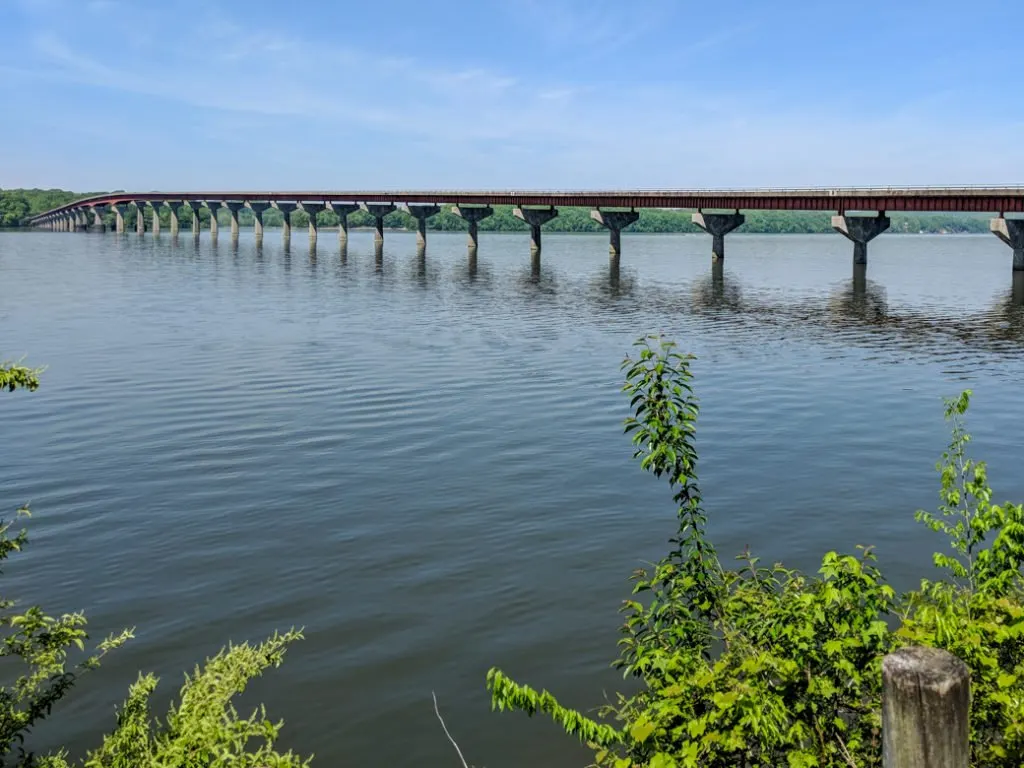 Must See: Wichahpi Commemorative Stone Wall, Rock Spring, Tennessee River bridge
Supplies: Collinwood
Sleep: free NPS campground at Colbert Ferry
Day 3: Colbert Ferry to Natchez Trace Parkway Visitor Centre, Tupelo, MS (62 miles)
Must See : Cave Spring, Jamie L Whitten Dam and Lock, Pharr Mounds, Old Trace and Confederate Gravesites, Elvis' birthplace in Tupelo, Tupelo auto museum
Supplies: Tupelo
Sleep: free NPS campground at the Parkway Visitor Center, or plenty of hotels in town
Day 4: Tupelo to French Camp, MS (85 miles)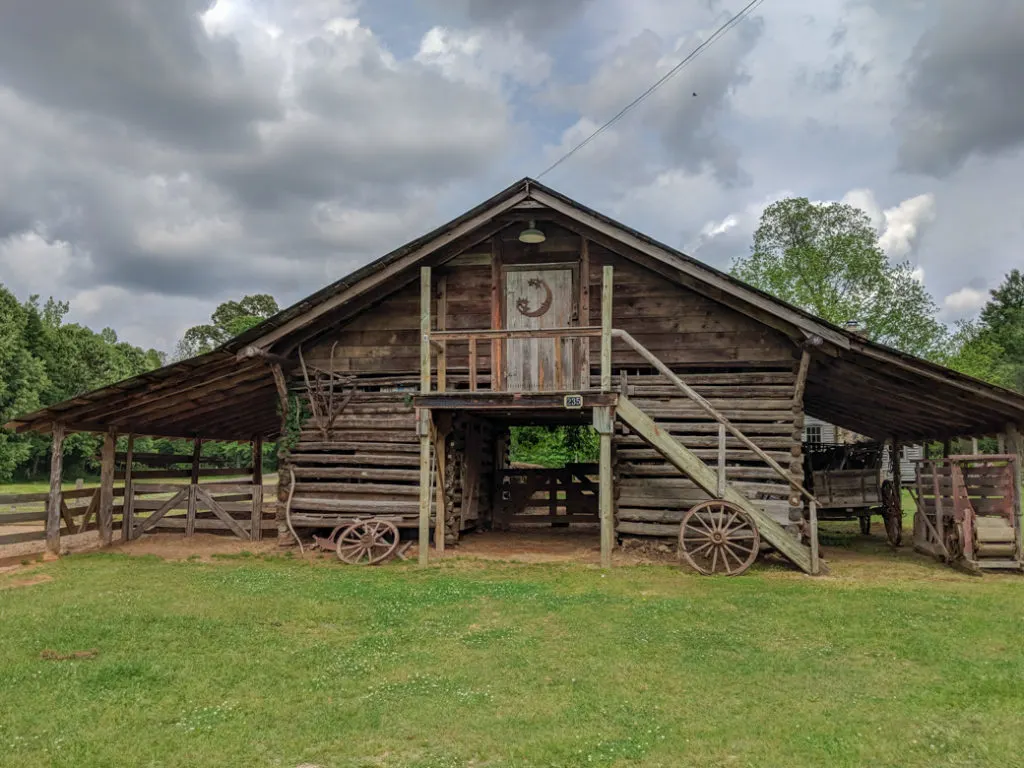 Cycle Touring Tips: This is a big day so start early to make sure you have enough time and to miss rush hour getting out of Tupelo.
Must See: View from the top of the hill in Jeff Busby, French Camp
Supplies: By Wy Country Store (Hwy 9), Leonard's 3-way (French Camp)
Sleep: French Camp B&B
Day 5: French Camp to Ridgeland, MS (60 miles)
Must See: Cypress Swamp, Reservoir Overlook
Supplies: Kosciusko, Ridgeland (part of the greater Jackson, MS area)
Sleep: Plenty of hotels in Ridgeland/Jackson/Clinton area
Day 6: Ridgeland to Rocky Springs Campground, MS (48 miles)
Cycle Touring Tips: Avoid rush hour leaving Ridgeland since you'll be going through Jackson, MS!
Must See: Rocky Springs
Supplies: nothing near enough to the Trace that I stopped at, but Raymond is 3 miles from the Trace.
Sleep: free NPS campground at Rocky Springs
Day 7: Rocky Springs Campground to Natchez, MS (55 miles)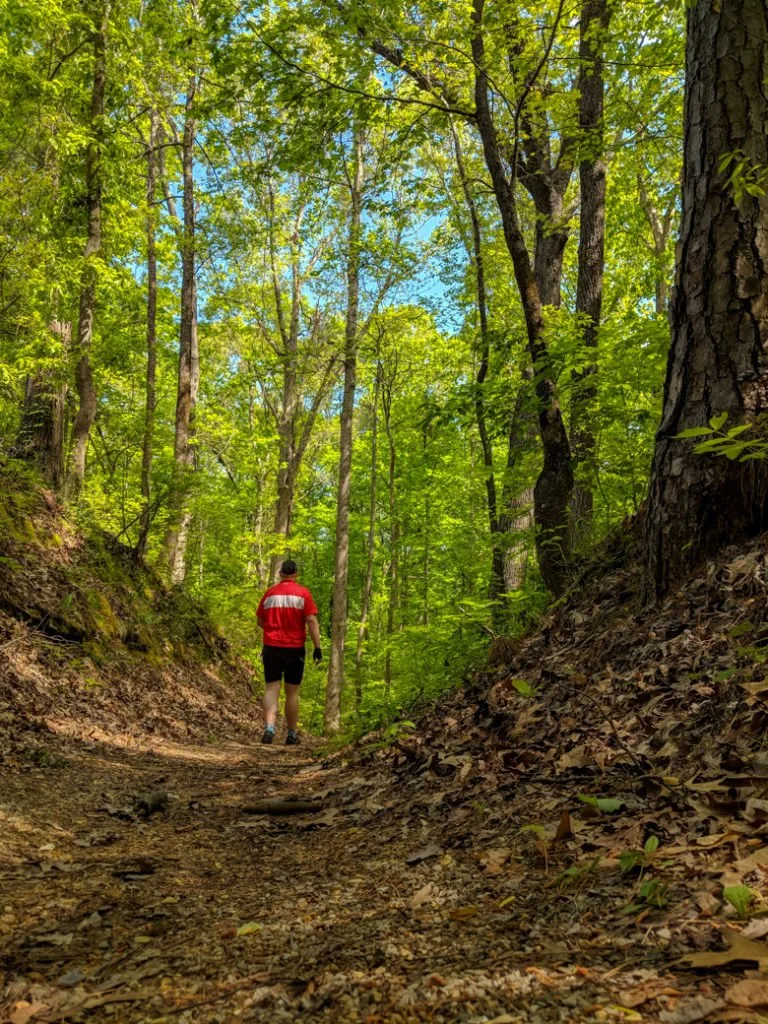 Must See: Sunken Trace, Mount Locust, Natchez
Supplies: nothing near enough to the Trace that I stopped at, but Port Gibson is 2 miles from the Trace
Sleep: you made it! Treat yourself at one of the many historic B&Bs in antebellum mansions. I loved my stay at the Linden B&B.
Alternative Itineraries for Cycle Touring the Natchez Trace
8 Day Itinerary for Cycle Touring the Natchez Trace
The 7 day itinerary has rather long days on Day 4 and 5. If you'd like a slightly more relaxed version, it is easy to convert the above 7 day itinerary into an 8 day itinerary. Spread out the mileage from days 4 and 5 above into three days by following this itinerary:
Day 4: Tupelo -> Jeff Busby (73 miles)
Sleep: free NPS campground at Jeff Busby
Day 5: Jeff Busby -> Kosciusko (34 miles)
Sleep: free camping at the Kosciusko visitor center, many hotel options as well
Day 6: Kosciusko -> Ridgeland (60 miles)
Resume 7 day itinerary schedule
Extending Your Cycle Tour to New Orleans
Like I did, you can also continue onwards to the Big Easy. It took me 4 days to travel from Natchez to New Orleans. Unfortunately it is not as straightforward and a bit more route planning is needed. With the help of some local cyclists, some internet research and the American Cycling Association's "Great Rivers South" maps, I cobbled together a reasonably stress-free journey. If you're planning a similar trip, check out my trip journal to see what route I took. And of course, leave me comment if you need advice!
Resources and Further Reading for Cycle Touring the Natchez Trace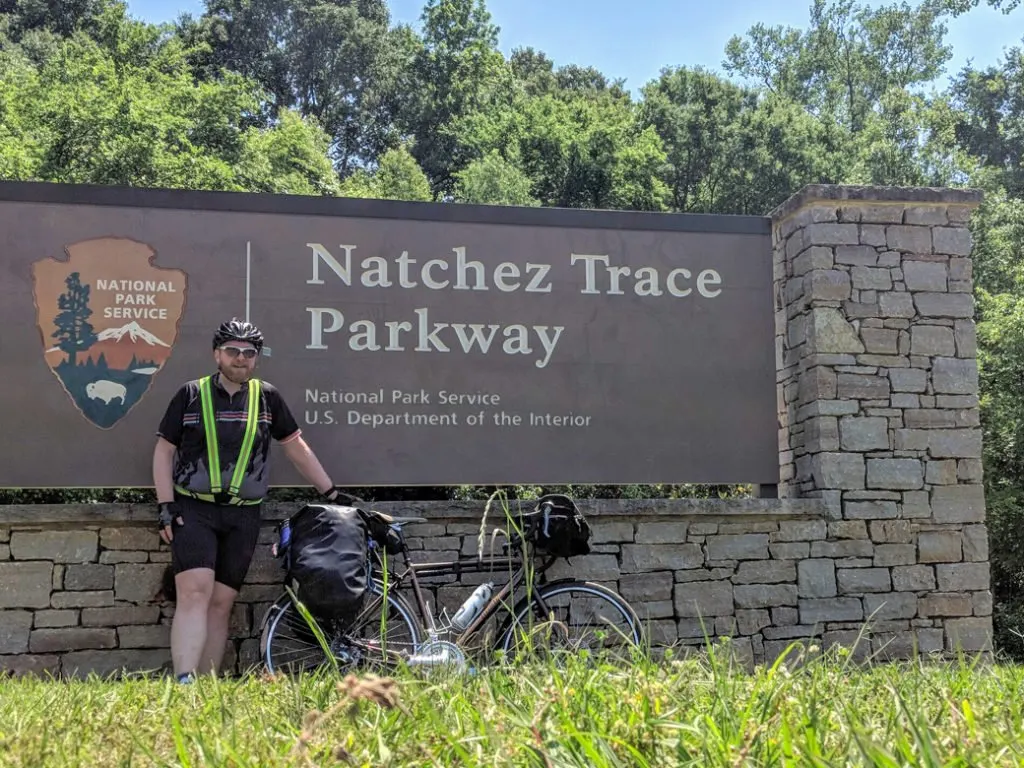 I really enjoyed my cycle tour of the Natchez Trace and I hope this post inspires you to plan cycle tour of your own. See you out on the road! – Greg
READ NEXT:
Latest posts by Greg Smolyn
(see all)