Let me just start out by saying that any hike that gets you outside into nature is a good hike. But the reality is that most of us don't have infinite time to spend hiking. So when we go outside, we want to hike a trail that doesn't suck. I've hiked a LOT of trails near Vancouver, and unfortunately some of them are just not as nice as others. Some of them have sub-par views. A few have an effort to reward ratio that is waaaay too high on effort and waaay too low on reward. And a handful have some other factor that just makes them a pain in the ass compared to my picks for best hikes in Vancouver. These trails might be worth hiking if they are down the street from your house or if you've hiked all the other trails and are looking for something new. But for me (and probably for most of you), the 7 trails on this list are the worst hikes in Vancouver.
I've hiked all of these trails (masochistically some of them many times), plus tons of other trails that didn't make the list. You've probably seen some of these hikes on other people's best hikes lists! But I'd argue there are so many alternative trails that are a better use of your time. In fact, I'll even give you suggestions for which trails you should hike instead of each of the hikes on my Worst Hikes in Vancouver list. And believe me, I know not everyone will agree with my picks… but that's ok since Vancouver has so many trails to choose from. So here's my list of the worst hikes in Vancouver (in my opinion only of course!)
This is a sensitive wilderness area. Learn how to Leave No Trace to keep the wilderness wild. Make sure you are prepared by bringing the 10 Essentials. Get ready for adventure with this checklist of things to do before every hike.
Grouse Grind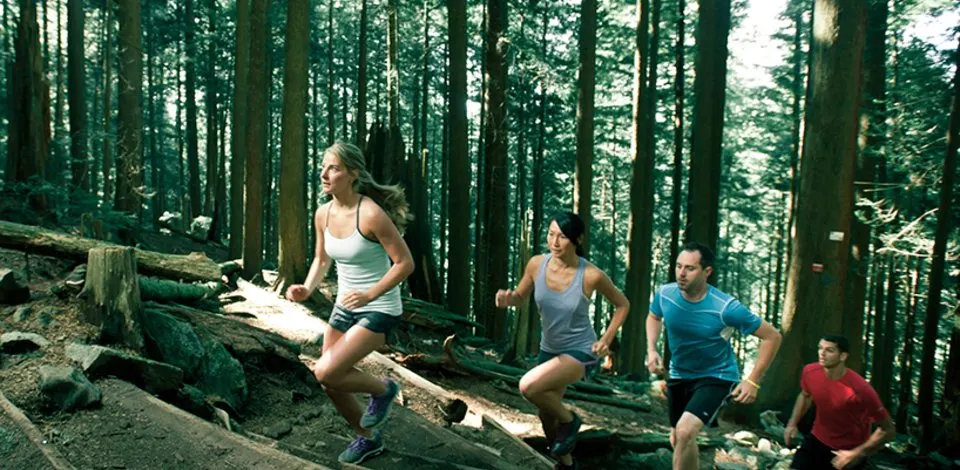 Somehow, the Grouse Grind seems to be synonymous with hiking in Vancouver. Lots of casual hikers (or non-hikers!) tackle the Grind on sunny summer days. And on weekday mornings you'll see North Shore fitness buffs elbowing each other out of the way as they try to get a new PR before work. Despite its popularity, the Grouse Grind is probably the worst hike in Vancouver. It has no views. It travels through ugly second growth forest. It's brutally steep. It's waaaay too manicured – all the trail work to add stairs has completely obliterated any wilderness feel. And its insanely crowded. Most days you'll have one sweaty person a few inches in front of you and another behind you… aaaaaall the way up to the top. It's so crowded that it's kind of like being at the mall on Boxing Day.
Where to Hike Instead: If you're just looking to get a workout, there are plenty of other hikes near Vancouver that make great alternatives to the Grouse Grind. The easiest pick is BCMC trail, right next to the Grouse Grind. It has a fraction of the crowds and is a much more technical trail with a true wilderness feel.
READ NEXT: Alternatives to the Grouse Grind: Steep Workout Hikes Near Vancouver
Mount Seymour in June and July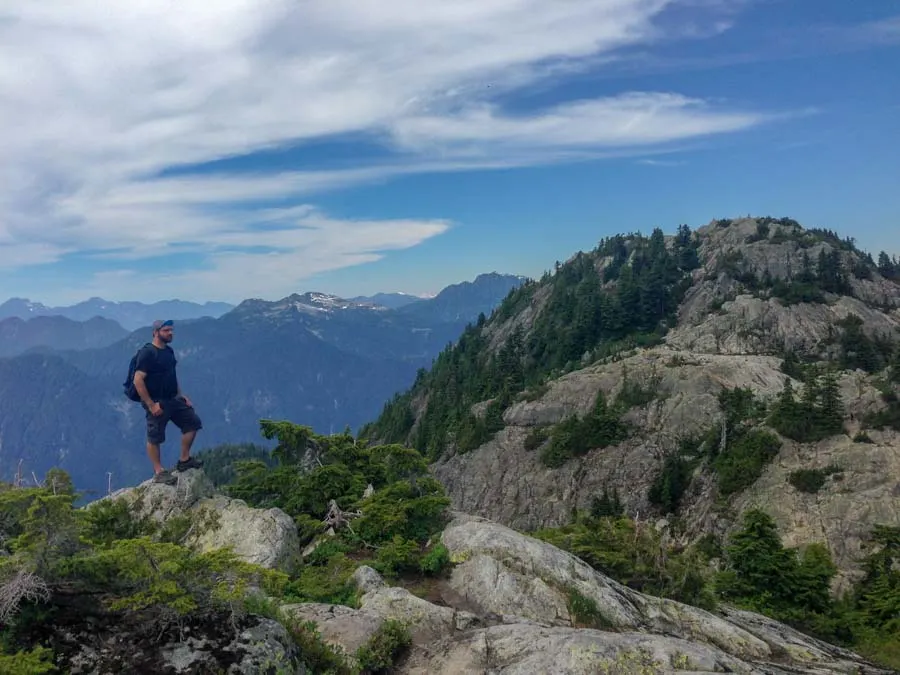 The hike to Mount Seymour is one of my picks for the best hikes in Vancouver. It's my personal favourite hike on the North Shore. But unless you enjoy slathering on enough DEET to melt your synthetic clothing (yes, that can happen), avoid Mount Seymour in June and July. The bugs up there are apocalyptic. I'm talking flying into your eyes and ears, up your shorts, etc. Seymour seems to be worse than some of the other North Shore peaks since it has lots of little ponds and lakes that make perfect mosquito nurseries. The bugs are at their thickest with the snow melt, then slowly lessen as the summer goes on. Typically, that means you'll need to avoid Mount Seymour in June and for some of July.
Where to Hike Instead: Head to Mount Seymour in September for a gorgeous fall hike after the bugs start to die off. If you want a summer hike to a granite peak, try the Stawamus Chief in Squamish. There's often a breeze to chase the bugs away.
Lynn Peak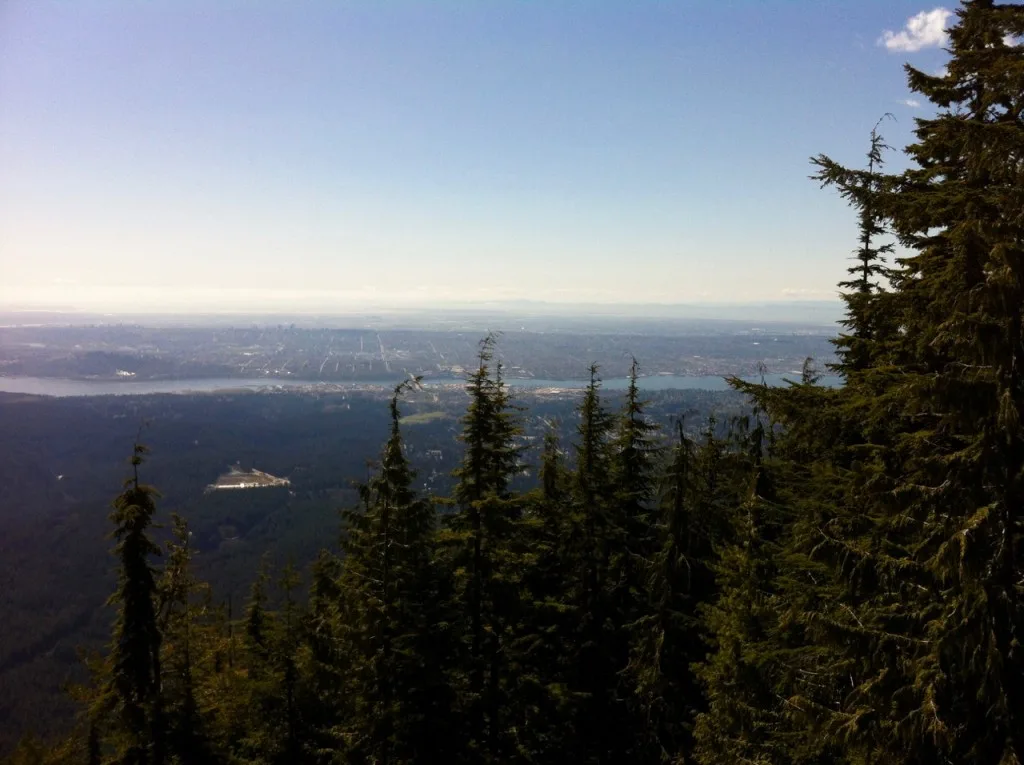 The hike to Lynn Peak doesn't have much going for it: It's steep. There are no views on the way up. It passes through tight (and ugly) sections of second growth forest. Part of the ascent is on loose cobbled rocks the size of baby's heads. Oh and they're slippery too! To top it off, once you get to the peak, there is only a partial view. The only positives to this hike are that it's transit accessible and close to Vancouver.
Where to Hike Instead: You could hike pretty much any other North Shore mountain and have a better hike. I'd recommend Eagle Bluffs. (It's one of my picks for the best hikes near Vancouver!)
READ NEXT: The 10 Best Hikes in Vancouver – A Local's Guide
Deeks Lake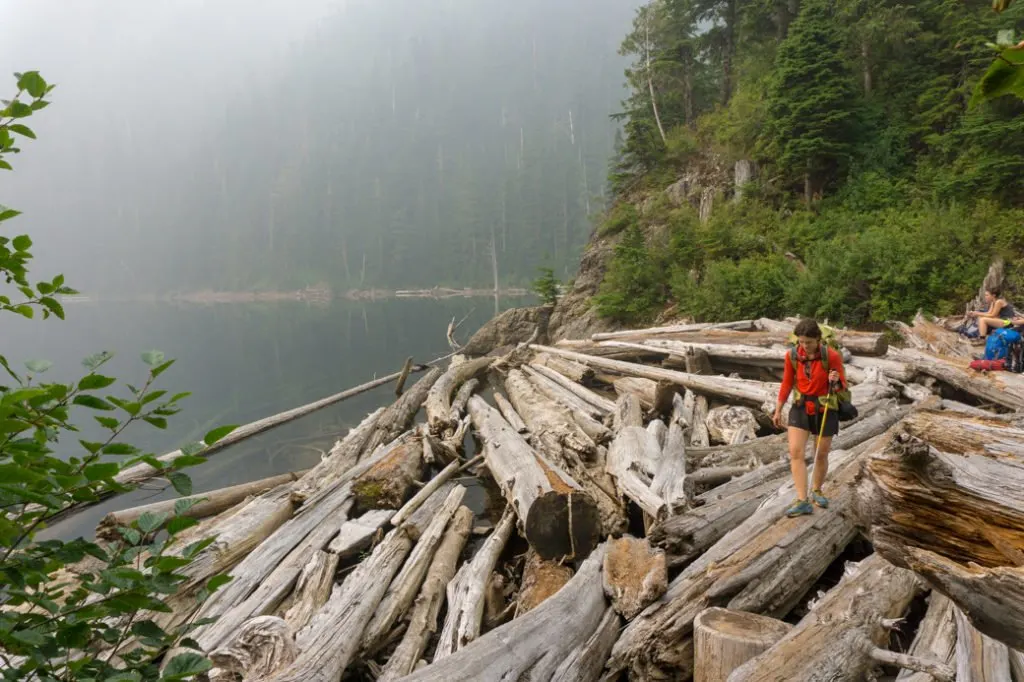 The trail to Deeks Lake features lots of road walking and an insanely steep trail. You'll gain nearly 1000m! It finishes with a visit to a small lake hemmed in by trees. It's hard to even get to the lakeshore. And once you're there, you're surrounded by mountains… but you can't see any of them! Then, to top it off, you have to go down, down, DOWN that steep trail back to the car. My knees hurt just thinking about it.
Where to Hike Instead: If you want to do a steep hike to a beautiful mountain lake, head to Wedgemount Lake instead. (It's one of the best hikes in Whistler.) The hike is just as steep in places, but the lake and views at the top are far superior. (Your knees will still hurt on the way down though!)
Joffre Lakes on the Weekend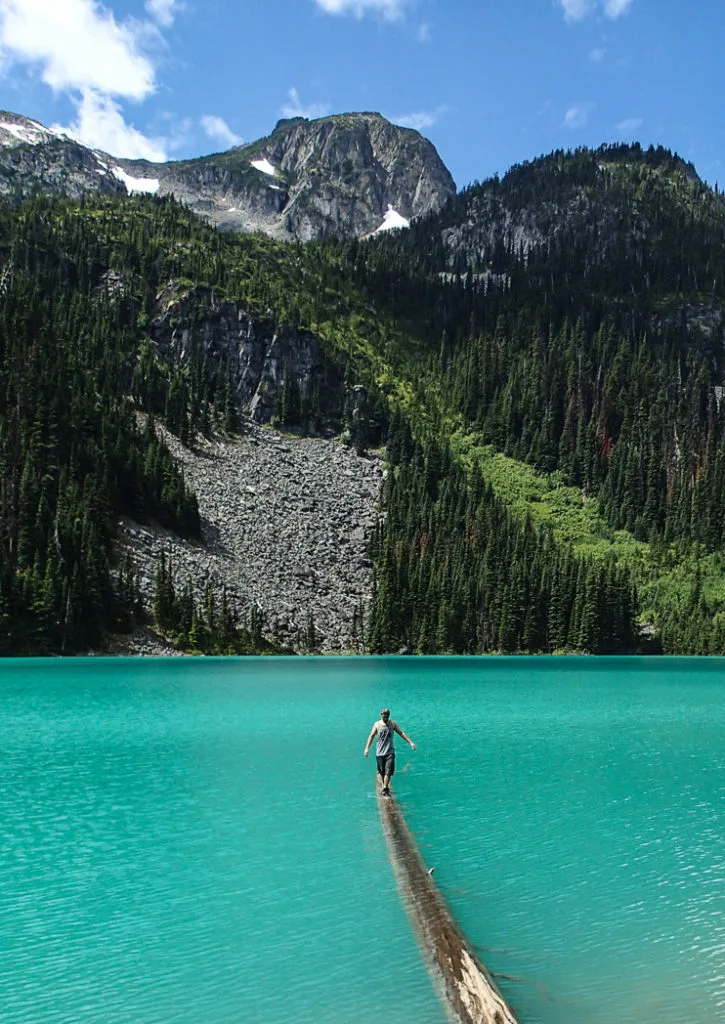 Heads up: Day passes are required at Joffre Lakes in summer 2023. Learn more in my guide to BC Parks day passes.
Joffre Lakes is a beautiful hike to three gorgeous glacier lakes. But you know what's not beautiful? Having to park several kilometers away then risk your life walking down the highway because the parking lot is full. Once you hit the trail you'll be trudging uphill nose to tail with thousands of other hikers and tourists. Then waiting in line (yes, there literally is a line) to take photos at the key spots everyone has seen on Instagram. Honestly in my opinion, the insane levels of crowds at Joffre Lakes have turned it one of the worst hikes in Vancouver.
Where to Hike Instead: If you still want to hike Joffre Lakes, go on a weekday. It will still be crowded, but not insane. If you want to hike to a gorgeous blue glacial lake surrounded by peaks, head to Watersprite Lake. The hike will require more effort than Joffre, but the views are just as nice and the crowds are much smaller.
READ NEXT: Most Instagrammed Hikes in Vancouver
Woodland Walk to Sawblade Falls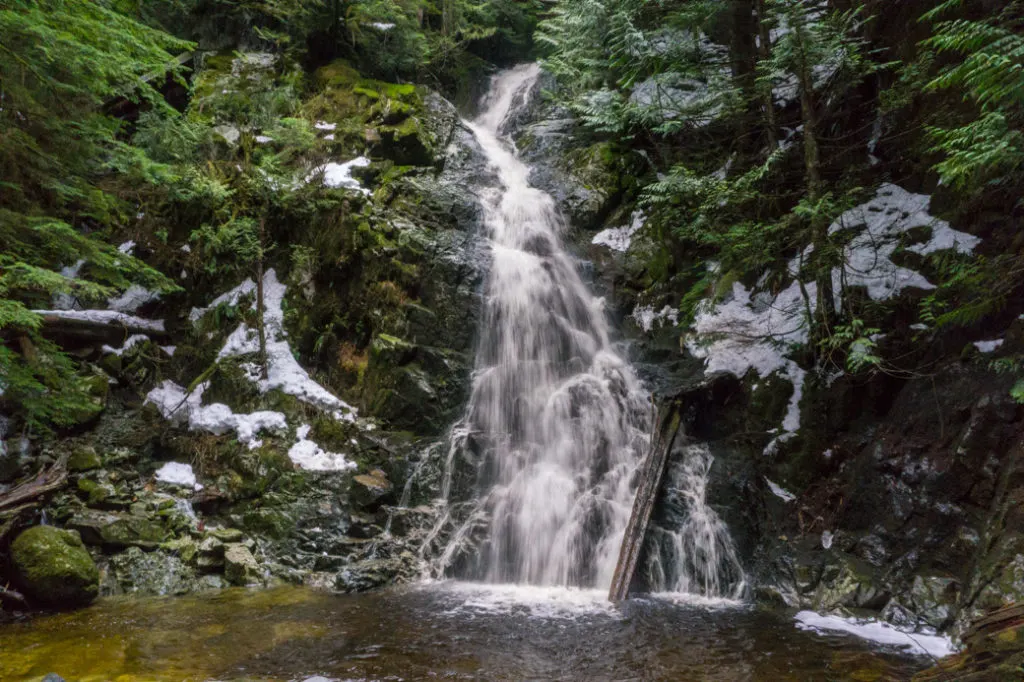 For me, a hike should be a peaceful experience, a time to appreciate nature. And I certainly can't get that on the Woodland Walk trail. You see, there's a gun club and firing range just downslope. You can hear the sound of gunfire almost the entire hike. At times it seems frighteningly close! If that doesn't deter you from hiking this trail, maybe the endless road walking through ragged second growth forest will? Sawblade Falls is pretty enough, but it's nothing special. It's definitely not worth the effort it takes to get there in my opinion.
Where to Hike Instead: If you're looking for a nice walk in the woods that leads to a waterfall, check out Crooked Falls in Squamish or Kennedy Falls on the North Shore.
READ NEXT: Hike to Crooked Falls in Squamish
Quarry Rock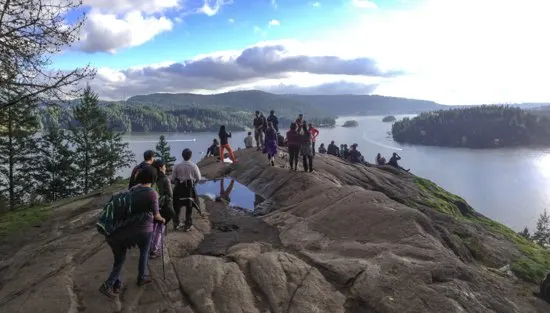 The trail to Quarry Rock is a pleasant walk through the forest to a rock outcropping with a view of Deep Cove. It's an easy hike with a transit accessible trailhead, and proximity to famous Honey's Doughnuts. And it's crazy busy. In fact it's so busy that the District of North Vancouver recently deployed rangers to make sure the crowds at the viewpoint weren't large enough to put people in danger of falling! Quarry Rock is a nice hike, but I don't think it lives up to the hype. There are lots of other easy trails with better views. (But no doughnuts though – you'll have to bring your own.)
Where to Hike Instead: Lighthouse Park in West Vancouver has lots of easy trails that head through the forest to viewpoints on rock outcroppings. (It's actually one of my favourite easy hikes in Vancouver.) And none of the viewpoints are ever exceptionally crowded. You can get views of Howe Sound, Burrard Inlet with downtown Vancouver in the background, the lighthouse or a pocket beach.
READ NEXT: 6 Easy Hikes in Vancouver for Beginners and Tourists
So there's my list for the 10 worst hikes in Vancouver. Which ones do you agree with? Which Vancouver hikes would be on your worst list? Tell me in the comments.
More Vancouver Hikes (That DON'T Suck!)
Like this post? Pin it on Pinterest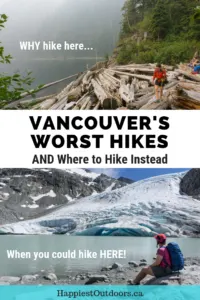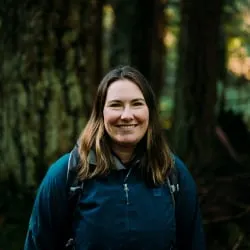 Latest posts by Taryn Eyton
(see all)