Have you seen those stocking stuffers for hikers posts online? Full of $300 gadgets or things that are clearly too large to physically fit in a stocking? Me too. They're ridiculous. A stocking should be full of small, fun, inexpensive stuff. And chocolate.
Some of my family is pretty outdoorsy (shocking right?) so I have some experience choosing gifts for hikers. I try to pick things that are high quality, fairly cheap and actually useful. Absolutely no gimmicks! No silly 6-in-1 gadgets! Because nothing is worse than getting stuff you don't need and will never use. (And it's so bad for the planet too.)
So here's my list of 25 stocking stuffers for hikers under $25. They're all totally useful and I think every hiker would be happy to find these things in their stocking on Christmas morning.
Hey there: Some of the links in this post are affiliate links, which means I earn a small commission at no cost to you. Thanks for your support. -Taryn
Mini Thermometer
Mountain weather is notoriously fickle. While you can't change it, you can at least measure it. I often bring along a mini thermometer to check the temperature so I can see if it is actually excruciatingly cold… or if I'm just being a wimp.
Signal Whistle
As soon as I get a new backpack, I pick up a Fox 40 Classic Whistle to attach the shoulder strap. They're super loud, come in lots of colors and cost only a few bucks. A signal whistle is a super simple safety device you can use to call for help in an emergency. (And it's actually part of the 10 Essentials – things you should bring on every hike.)
Wool-Blend Hiking socks
Quality hiking socks can be the difference between happy feet and horrible blister-covered feet. (Trust me. I've been there. It's not pretty.) Durable, wool-blend hiking socks are the answer, and every hiker will be happy to add another pair to their collection.
I love Smartwool socks. My favourites are the Performance Hike Light Cushion socks. They are thin merino wool so they don't make me overheat and they've never given me blisters.
Tenacious Tape
Old-school hikers carry duct tape. New-school hikers carry Tenacious Tape. It sticks to pretty much everything (including silnylon) and doesn't leave a sticky mess like duct tape does. I've used it to repair down jackets, sleeping bags and tent flies on hikes. I always carry a small roll of it on trips and I think it makes a unique stocking stuffer for hikers.
Mini-Size Travel Towel
I don't go anywhere without a mini-size quick-dry microfibre towel. There's great for wiping sweat off my brow, drying my feet after creek crossings, washing camp dishes and so much more. I like the PackTowl Personal Towel in the Face Cloth size.
Collapsible Water bottle
Sometimes you just need to carry extra water, but you don't want the weight of another bottle when it's empty. Enter the collapsible bottle.
I love these Platypus SoftBottles since they weigh almost nothing and roll up small when I'm not using them. Plus they come in fun colours so they are a great option for stocking stuffers for hikers.
Electrolyte Drinks
Sometimes water alone just isn't enough. I like to bring electrolyte mix on long hikes to help prevent dehydration. Plus they make your water taste better. My favourite electrolyte mix is Nuun. It comes in dissolvable tablets that are way less messy than powders.
Fun Hiking Snacks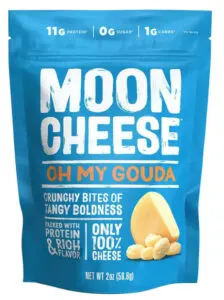 Trail mix is so 10 years ago (although it still tastes pretty good). These days there are tons of weird and wonderful hiking snacks on the market. Surprise the hiker on your list with a fun snack they've never tried before.
I love Moon Cheese – they're freeze dried cheese bits without the weight and grease of actual cheese. Other ideas: astronaut ice cream, freeze dried fruit, stroop waffles, or high end jerky. (And please skip the gas station jerky, it's terrible).
Buff
Fabric tube scarves, often known as buffs are pretty awesome. You can wear it as a scarf, a hat, an ear warmer, a headband, a balaclava and more. I take one on all my trips – in the winter I bring a wool one, in the summer a wicking lightweight polyester one.
They also come in all kinds of colours and patterns so it's easy to find one that your loved one with appreciate.
Pocket knife
Every hiker needs a good basic knife. It doesn't need to be expensive or complicated. Opinel's inexpensive single blade knives have had the same simple design for decades. They're great quality, compact and lightweight. Plus they their classic wood-handled design is pretty cool too.
Instant coffee
Just because you're backpacking doesn't mean you need to go without coffee. Grocery store instant coffee is gross. Thankfully a few companies have solved that problem. My favourite is Alpine Start Coffee. They also have an instant latte that includes coconut creamer.
Spork
You don't need to pack both a fork and a spoon when you can pack a spork instead. I like the fancy titanium ones from Snow Peak since they save weight in my pack. I have a blue one and my husband has a green one so we always know whose is whose.
If the hiker on your lists eats directly out of freeze-dried backpacking food bags all the time, get them a long spork. The extra length makes it easy to reach all the way down into the corners of the bag.
Rope Tightening Caribiners
Getting a taut pitch on a tarp can be hard – it requires lots of adjusting and knot-tying. I started using the Nite Ize Figure 9 caribiners with rope tighteners on the ends a few years ago. OMG. So. Much. Easier.
Sunscreen Stick
It's easy to get sunburned while hiking but it can be tough to remember to reapply on the go. I like the portable convenience of a tiny sunscreen stick. You can keep it in your pocket and quickly rub it on your nose and cheeks without getting your hands all sticky. Sun Bum makes a great SPF 30 stick that is water resistant and designed for the face.
GoToob Bottles
These little GoToob bottles are great at carrying pretty much anything and come in a bunch of sizes. And they don't leak! I've used mine to carry pesto sauce, sun screen, olive oil, shampoo, peanut butter and more. They're great for hiking, backpacking or travel.
Mini Condiment Packets
Every time I get take out or fast food, I save the mini packets of condiments. I bring them backpacking to add to my meals. Be a hero and order a whole bunch of packets to put in your hiker's stocking. Popular choices: hot sauce, mayonnaise, peanut butter, soy sauce.
Blister Bandages
Unfortunately, blisters happen (despite our best efforts to prevent them). Every hiker needs some blister bandages in their first aid kit, so add some to their Christmas stocking. My favorite are the Band-Aid ones.
Pot Scraper
Nobody loves doing camping dishes, especially on backpacking trips. I've owned this tiny GSI pot scraper for years and despite its small size, it make a big difference. One side is hard to scrape up stuck on food while the other is soft like a spatula to wipe surfaces clean.
Water Treatment Tablets
What happens if you run out of water on a hike? Is the water safe to drink? (Hint: probably not.) I keep some emergency water treatment tablets in my first aid kit just in case. These aren't most exciting of the options for stocking stuffers for hikers, but they are super practical.
Foam Earplugs
Backcountry camping isn't always quiet. Sometimes your tent-mate snores, the group across the way parties too late or those damn frogs croak all night. I always bring a pair of foam earplugs camping. They help me get a good night's sleep.
Rainwear Waterproofing Treatment
Every hiker owns a rain jacket, and every rain jacket needs re-waterproofing every year or two. I like Nikwax TX.Direct. It's an easy to use wash-in and one bottle is enough to treat a few jackets.
Energy Bars
Grocery store granola bars are packed with sugar and not much else. Quality energy bars make great stocking stuffers for hikers. There are tons out there to suit every palette. (One year I put 10 different peanut butter flavoured bars in my Dad's stocking so he could do a taste test. He LOVES peanut butter.)
My current favourites are the Chocolate Coconut ProBar, Clif Bar Chocolate Hazelnut Butter bar, and Honey Stinger Energy Chews.
Handwarmers
Are you stuffing the stocking of a hiker with cold hands? Tuck some handwarmers into their stocking. They can make a big difference on cold days.
Reusable Silicone Bags
I love these Stasher reusable silicone bags carrying snacks and keeping small items dry and organized. They're a bit beefier than Ziploc bags, but they're totally dishwasher safe so they're easy to re-use over and over and OVER. They come in a bunch of sizes too.
A Gift Card
If all else fails, get them a gift card to their favourite gear store. It's something you KNOW they'll use, and that way they'll get to pick out the gear themselves. I love REI, but Amazon has a pretty good selection of outdoor gear these days too. (And if you're in Canada, the hiker on your list definitely wants an MEC gift card.)
So there's my list of totally useful stocking stuffers for hikers. What other totally useful items would you put in a hiker's Christmas stocking? Tell me in the comments?
More Gift Ideas for Hikers:
More Gear Advice: