In 2022, I spent even more time than usual hiking, completing research for my upcoming backpacking guidebook for Vancouver Island. (Look for it in May 2024.) As a gear geek, I am hyper-critical of my gear and refuse to use things that don't meet my standards.
Here are my favourite pieces of gear from 2022. The gear on this list are things that impressed me, surprised me, and made me want to use them over and over.
Hey there: Some of the products in this post were gifts from brands. I also received lots of other gear that didn't make the cut so you can be sure that I only share info about products that I really use and love. As well, some of the links in this post are affiliate links, which means I earn a small commission at no cost to you. Thanks for your support. -Taryn
Mountain Hardwear Crater Lake Long Sleeve Hoody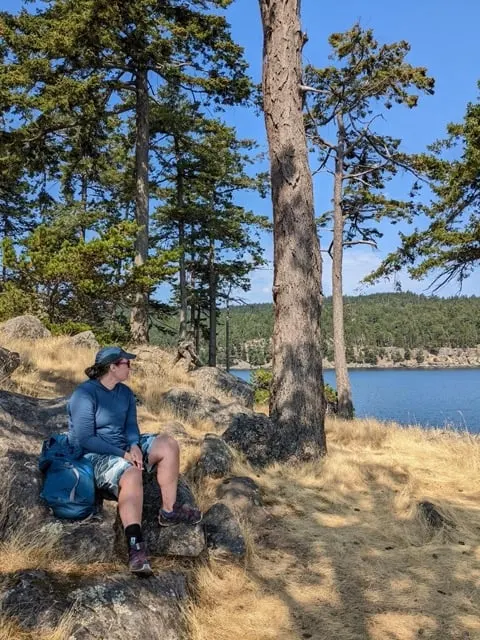 Before this summer, I usually hiked in a wicking t-shirt, sometimes layering on a button-up for extra sun protection. But this year I discovered the magic of long-sleeved sun hoodies. I had heard thru-hikers rave about them for years but hadn't tried them.
Once I got this Mountain Hardwear sun hoody, I didn't want to wear anything else. In fact, I often wore it dirty, even when I had other clean shirts to choose from.
It's made of really lightweight and breathable fabric that didn't make me feel like I was overheating. The fabric is super-soft and for the first time in my life, I didn't mind wearing long sleeves.
The fabric is pretty thin, but it has held up to a bit of light bushwhacking and a pretty epic end-over-end fall down a hill that left me with lots of scabs but didn't rip my shirt!
I also loved not having to worry as much about reapplying sunscreen since my arms were always covered. I often pulled the hood up over my baseball cap for added neck protection.
The only feature I don't love is the draw cord at the hem. I think the intention is to give it an adjustable fit or some style. But I just found that the ends of the cord kept getting caught in the fly of my shorts. And one time I even accidentally peed on it! It's sewn in, so I haven't gotten around to ripping it out yet, but I will.
Specs: Made of 88% polyester/12% elastane jersey knit. UPF 50 sun protection. Weight: 160g.
Check prices: Altitude Sports, Amazon, REI, Mountain Hardwear, Mountain Hardwear Canada
Sea to Summit Aeros Down Pillow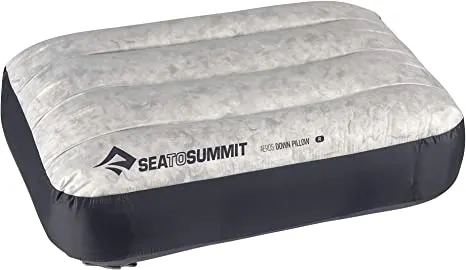 For a long time, I used a balled-up fleece or puffy jacket as a pillow. A few years ago, I transitioned to a lightweight inflatable pillow, which is much more comfortable.
This summer my husband upgraded his sleep system and purchased a Sea to Summit Aeros Down Pillow. I borrowed it for one trip, and now I'm hooked and want my own.
The Aeros pillow is inflatable so it folds down really small. But it also has a down-filled top layer that is super comfy to sleep on.
My old inflatable pillow was a bit slippery and I felt like I was chasing it around the tent all night as it slipped out from under my head. The Aeros has a slightly fuzzy base fabric that stays in place really well. (If you use it with a Sea to Summit pad, the fuzzy fabric actually sticks to a patch on the pad. But I don't have one so I can't speak to how well that works.)
Specs: Made of lightweight 10-denier and 20-denier nylon with a urethane bladder and a Responsible Down Standard topper. Weight: 71g. Dimensions: 16.5 x 11 x 4.7″ (size large).
Check prices: Altitude Sports, Amazon, Sea to Summit
Kuhl Prism Hoody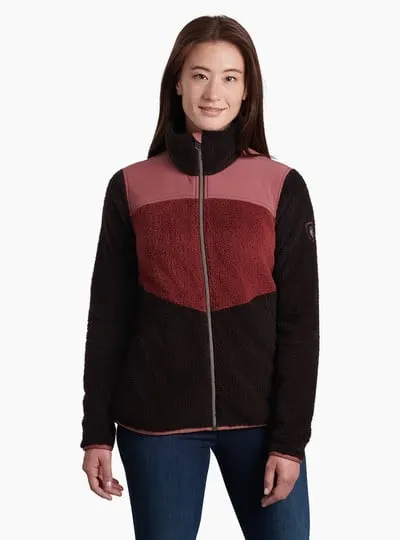 This definitely isn't the most technical fleece in my closet (I own about 10 fleeces!), but it is the one I reach for most often. I love it for casual hikes, wearing in camp, or around the house. I wear it a few days a week… at least. Actually, I'm wearing it right now as I type this post.
The Prism Hoody has a casual colour-blocked style with a water-resistant, reinforced overlay on the shoulders. I like the zippered hand pockets and the slightly dropped hem in the back.
But the real reason I can't take this hoody off is the fabric. It is made from the softest, coziest fleece that provides lots of warmth but also is breathable enough that I don't overheat. The fabric is so soft that I've had more than one friend feel it while hugging me, then stop to "pet" the fleece!
Specs: Made of 100% polyester premium Italian fleece (200gsm) with 89% polyester/11% spandex shoulder overlays.
Exped Ultra 5R Sleeping Pad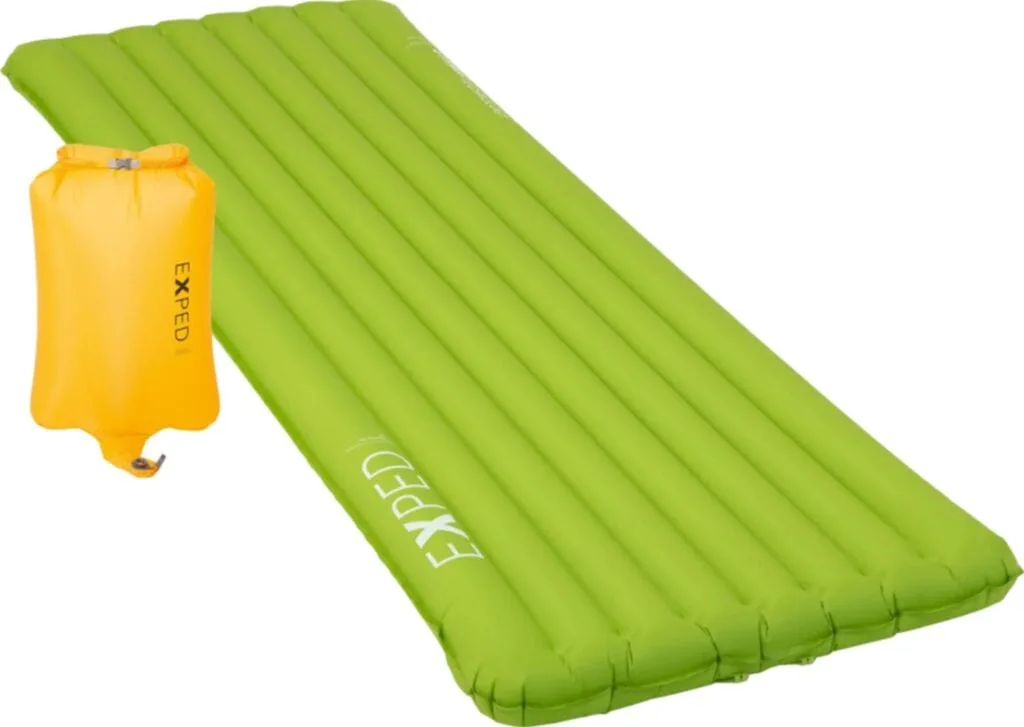 I recently upgraded to the Exped Ultra 5R sleeping pad. For many years, I used the Therm-a-rest NeoAir XTherm. While I loved how much insulation it provided, I didn't love how the horizontal baffles felt against my aging back. The metallic film inside was a bit noisy. And the mummy shape didn't let me sprawl.
While Exped Ultra isn't quite as insulating and is a tad heavier, I found myself packing it on every trip since it was sooo much more comfortable to sleep on thanks to the rectangular shape and vertical baffles.
It uses lightweight synthetic insulation welded to the top and bottom of the mat, so it doesn't crinkle like metallic films. The big, flat valve made it easy to inflate and deflate. I also like the Exped Schnozzle pump bag, which is huge and makes inflating the pad super fast.
Specs: Made of durable 20-denier polyester with 160gsm synthetic insulation. Weight: 584g. Dimensions: 72 x 20.5 x 3″ (size medium rectangular).
Check prices: Altitude Sports, REI, Exped
READ NEXT: How to Stay Warm in a Tent: Over 40 Tips
Eddie Bauer Guide Pro Shorts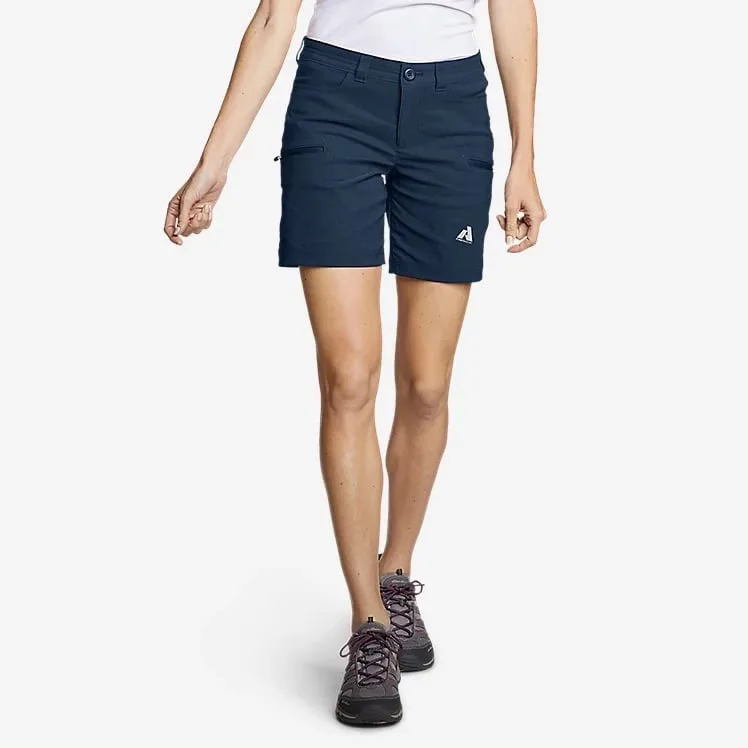 As a plus-sized person, I often have a hard time finding hiking shorts that work for my body. The Guide Pro shorts pleasantly surprised me. They have a traditional, non-elastic waist, but they are still cut to fit my curves. And they come in sizes 0-24 with both petite and tall options.
I often find that hiking shorts are cut too short for me, so they end up riding up into my crotch. These shorts have a 7″ inseam that hits me in the middle of my quad, but somehow don't ride up. Usually, I wear a much longer inseam, but these have been great.
The fabric is fairly durable without feeling heavy and has a bit of stretch. The DWR finish seems to be holding up well to wick sweat.
One of my favourite features is the big zippered side pockets. They are large enough to fit my phone, which somehow is still a rarity amongst most hiking short designs!
Specs: 94% nylon/6% spandex fabric with DWR finish. UPF 50+ sun protection.
Check prices: Eddie Bauer, Eddie Bauer Canada, Amazon
READ NEXT: Women's Plus Size Hiking Clothes: The Best Brands and Where to Find Them
3-in-1 USB Charging Cable
On backpacking trips, I typically have multiple devices I might need to charge: my iPhone (which functions as my camera and GPS), my Garmin inReach, my headlamp, my Garmin Instinct Solar watch, and my Kindle eReader. For years I was fighting with a rats' nest of cables.
This summer I bought a cheap 3-in-1 cable from Amazon, along with a Garmin smartwatch adapter. Now my charging cable set-up is super compact. It also weighs only 25g. I have no idea why I didn't do this sooner!
Specs: USB to 1) USB C, 2) Micro USB, and 3) Apple Lightning. Charges only – no data. I added a Garmin watch to USB C adapter.
Check prices: Amazon
Mountain Hardwear Kor AirShell Hoody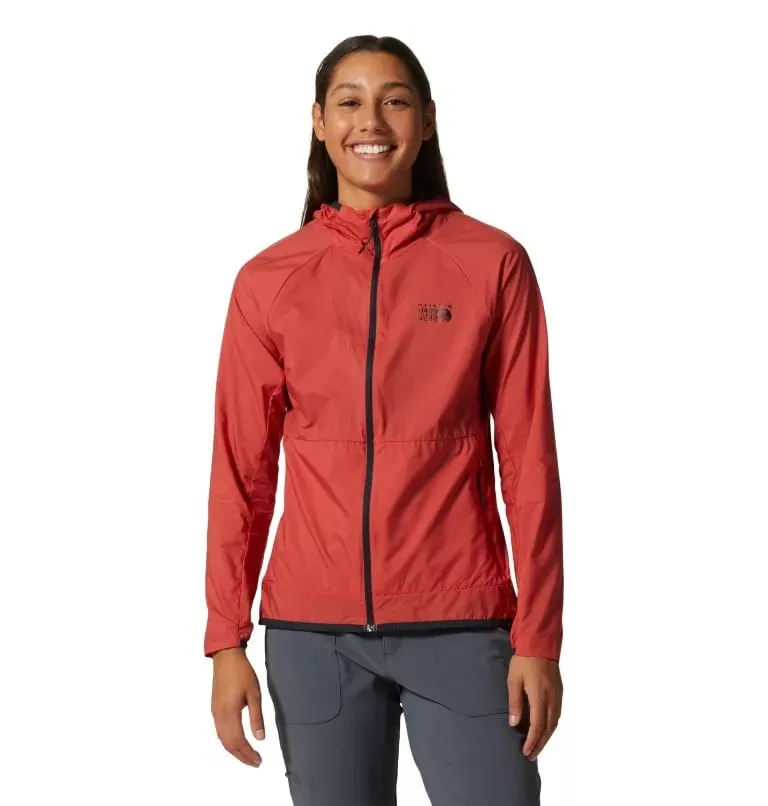 I've had a few breathable wind jackets over the years. I like to wear them over a t-shirt or tank top when the wind picks up but it's too warm for a fleece or full-on rain jacket. In general, they are breathable and super compact, stowing down to the size of my fist.
I recently got the Mountain Hardwear Kor AirShell Hoody and it's definitely the best wind shell I have used. Unlike some of the others, the fit really works well for my body – it's not too tight through the hips and shoulders.
As well, it has zippered hand pockets – the other wind shells that I have only have a zippered chest pocket, which is a strategy to reduce weight. I didn't realize how much I missed the hand pockets until I had them back – I love having a place to stash my phone, lip balm, and other small gear. I don't care that they add a few grams to the weight of the jacket.
Specs: Made of lightweight, breathable Pertex Quantum Air 20-denier stretch ripstop nylon. Weight: 132g.
Check prices: Altitude Sports, Amazon, Mountain Hardwear, Mountain Hardwear Canada
ThermoWorks ThermoDrop Zipper-Pull Thermometer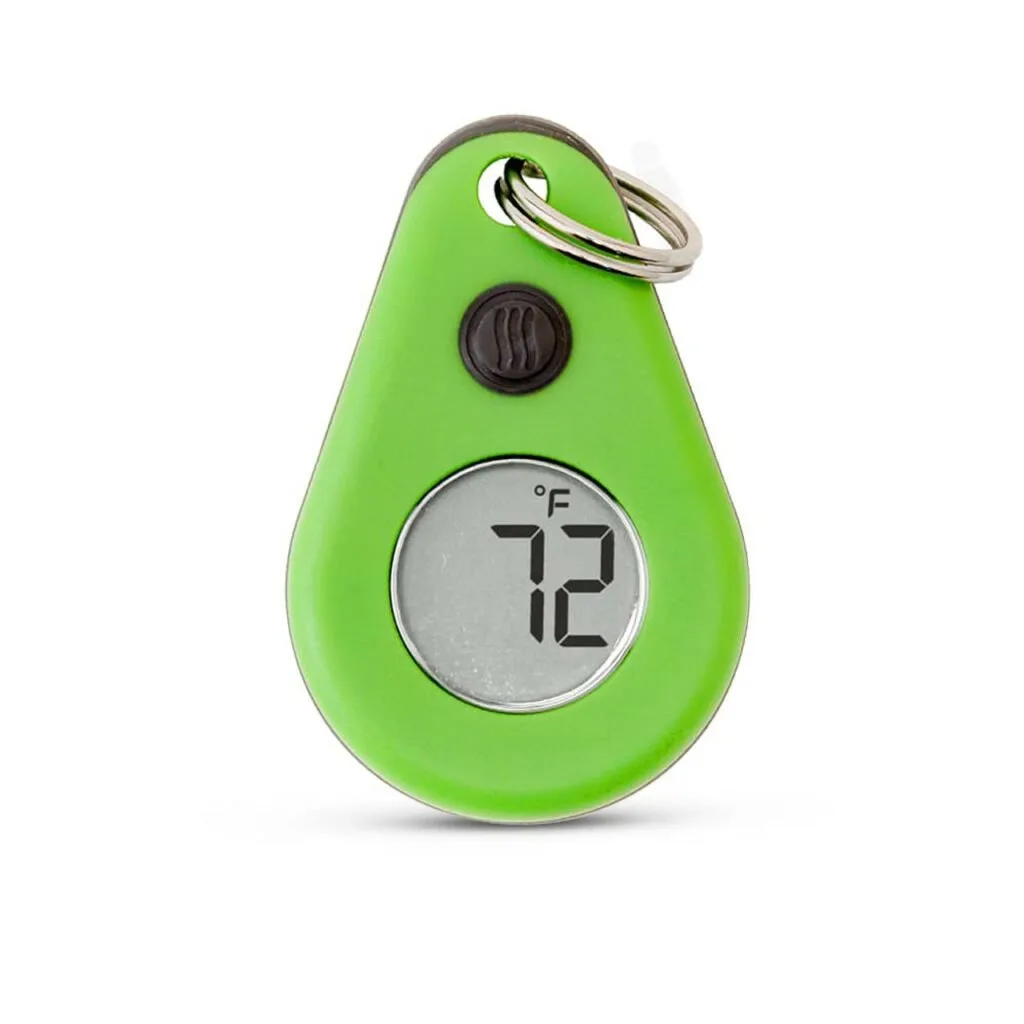 One of the keys to my backpacking gear systems is a thermometer. I like to know how cold it is so I can determine how well my gear worked at that temperature.
I used to use cheap traditional mercury thermometers, but with those, I had no way of knowing the coldest temperature at night unless I woke up and looked at it. They are also hard to read sometimes.
This summer I upgraded to the ThermoDrop. It's made by ThermoWorks, a company that specializes in instant-read digital thermometers for cooking. (They make the super popular Thermapen.) That means that it is super-accurate.
I also love that it has a memory feature – it can display the min and max temperature since the last time it was turned on. It's not as high-tech as some of the weather data logging devices you can get, but it's a fraction of the price!
Specs: ranges from -25 to 50C (-13 to 122F). Backlight. Water resistant (IP67). Weight: 14g. Dimensions: 49 x 33 x 12.5 mm.
Check prices: ThermoWorks
Ibex Lizzi Tights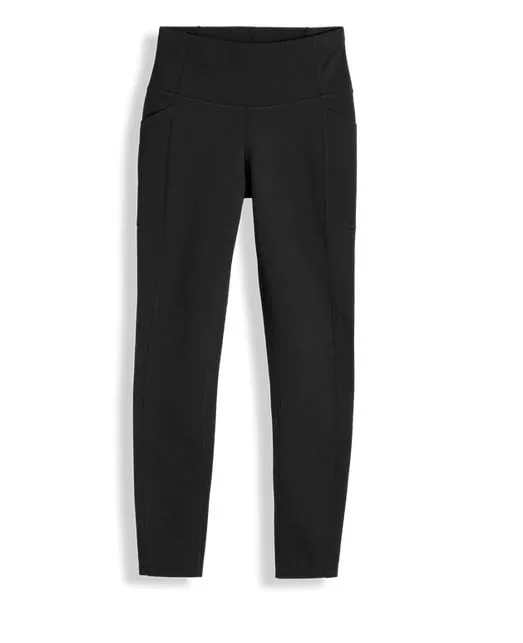 It's no secret that I'm a big fan of hiking leggings and tights. I got a pair of Ibex Lizzi Tights made with merino wool this year and I love them for colder weather.
I often find that merino wool gear isn't very durable or that I get sweaty in it, and then it takes a long time to dry compared to synthetics. The Lizzi tights defied my expectations.
They are made with a really durable wool, nylon, and elastane blend that has held up to lots of hikes. It also has held its shape quite well, instead of becoming saggy like some merino wool clothing tends to do.
The wide waistband and compression fit mean that they aren't constantly falling down. They also have big thigh pockets, which hold my phone.
And they have the advantage of merino wool, which means they are naturally antimicrobial and don't stink! They are a bit thicker than some of my other tights, so I save them for colder spring and fall weather.
Specs: Made of durable, compressive 71% wool, 24% nylon, 5% elastane
Check prices: Ibex
READ NEXT: 19 Best Hiking Leggings of 2022
Hillsound Trail Crampon Ultra
Living in Squamish, snow and ice are a fact of life between December and March. I head out for a walk on my neighbourhood trails most days after work and go further afield on weekends.
I've tried various traction aids over the years, and so far, the Hillsound Trail Crampons are the best. The spikes underfoot are durable and bite into the snow well. The rubber uppers are stretchy enough to put on easily.
The best part is the secure velcro strap across the top of the foot. With my old traction devices, I've had them slip off a few times. In deep snow, that meant having to dig them out. Thankfully I always noticed they had fallen off, but I have friends who have lost one.
With the straps on the Hillsounds, I know they will never fall off. And they keep them more securely in place, which means that it's easy to use them both on trail runners and my bulkier winter hiking boots.
They also come with a puncture-proof carrying bag, which is handy when I stow them inside my backpack.
Specs: Made of elastomer and stainless steel with 18 1/2″ spikes. Weight: 422g.
Check prices: Altitude Sports, REI, Amazon, Hillsound Canada
Eddie Bauer MicroTherm Down Hooded Jacket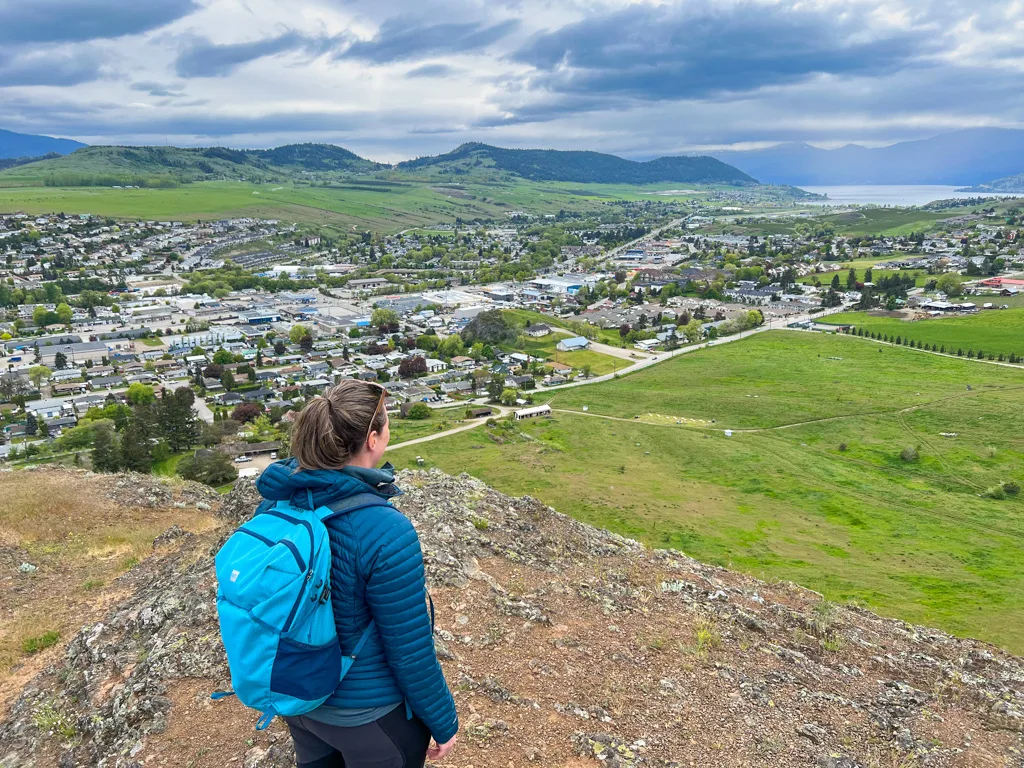 I own a LOT of insulated jackets, but I tend to wear my Eddie Bauer MicroTherm more than all the others combined. It's a lightweight down jacket that packs lots of warmth for its weight and compresses into its own pocket. I wear it in camp on summer backpacking trips and on winter snowshoeing trips too.
In a lot of ways, it's similar to lightweight down jackets from other brands: It uses Responsible Down certified 800 fill power down (which is super high quality and lightweight). It stows into its own pocket. And it has wind- and water-resistant outer fabric.
But the big game changer for me is the stretch side panels under the arms. I tend to sweat a lot, so having a panel of fleece in the armpit to allow me to vent without removing the jacket is key.
The fleece arm panels are also awesome because they add mobility. I often find that jackets are tight in the shoulders and chest, but since these panels have some stretch, the fit is perfect for me.
Specs: Made of windproof 20-denier ripstop polyester with a DWR finish and 800-fill power RDS down. Weight: 332g.
Check prices: Eddie Bauer, Eddie Bauer Canada, Amazon
So those are my favourite pieces of hiking gear in 2022. What were your favourites this year? Share them in the comments.
READ NEXT: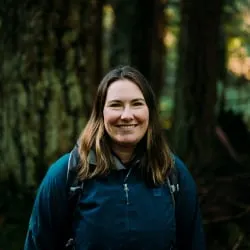 Latest posts by Taryn Eyton
(see all)