Dakota Ridge near Sechelt is the best place to cross-country ski or snowshoe on the Sunshine Coast. It's a community-run ski area with a network of fun trails through the forest.
I lived in Gibsons for one winter. My husband and I bought season's passes for Dakota Ridge and headed up there weekly to snowshoe. We also took cross-country ski lessons and explored the ski trails a little bit.
I've explored all the snowshoe trails in the park, skied the beginner-friendly ones, and driven the snowy road at least a dozen times. That means that I'm able to give you a local's insider info on everything you need to know to visit Dakota Ridge.
In this post you'll find:
This is a sensitive wilderness area. Learn how to Leave No Trace to keep the wilderness wild. Make sure you are prepared by bringing the 10 Essentials. Get ready for adventure with this checklist of things to do before every hike.
Dakota Ridge Basics
Dakota Ridge Winter Recreation Area is a small cross-country ski and snowshoe area near the town of Sechelt on the Sunshine Coast in British Columbia. It is run by the Sunshine Coast Regional District with the help of volunteers who sell tickets, groom the trails, and do ski patrol. There is also a small sledding hill for kids.
Dakota Ridge is on the traditional land of the Shíshálh and Skwxwú7mesh peoples. Each of the trails in the area has both an English and a Coast Salish name. Check them out on the Dakota Ridge Trail Map (below).
Rates and Passes
You might be wondering, how much does it cost to ski or snowshoe at Dakota Ridge? It's surprisingly affordable.
| Day Pass | Adult | Senior | Youth | Child | Family |
| --- | --- | --- | --- | --- | --- |
| Ski | $15 | $10 | $6 | Free | $30 |
| Snowshoe | $8 | $8 | $4 | Free | $16 |
Dakota Ridge is cash-only and you need exact change. You can pay the volunteers if they are on duty, or self-register at the cash box on the info board.
You can also pre-purchase passes at Alpha Adventures, an outdoor store on Field Road. You'll pass it on the way to Dakota Ridge. They are also cash-only, but they will give you change.
Seasons passes are also available if you buy before December 31. You need to visit at least nine times to make the pass worthwhile.
Rentals
There are no on-site rentals at Dakota Ridge. But you can rent skis or snowshoes from Alpha Adventures. Book in advance as they do sell out.
Lessons
You can book cross-country ski lessons at Dakota Ridge through Alpha Adventures. I took a half-day lesson with them and it was SO helpful. I definitely learned a lot to improve my technique.
Locals with kids may want to join the Dakota Ridge Nordics. They have kids' ski lessons every Sunday morning.
Facilities
Warming Hut: There is a small rustic warming hut near the parking lot. It has a wood stove and is volunteer maintained. It is open from dawn until dusk. There are also a couple of picnic tables and ski racks outside the hut.
Food & Drink: There is no food for purchase – you have to bring your own.
Toilet: There is an outhouse near the parking lot and warming hut, but no other facilities. It is usually well-stocked with toilet paper and hand sanitizer though.
Garbage: There are no garbage cans on site. Please bring everything home with you.
Sledding Hill: There is a small sledding hill next to the warming hut, near the parking lot. It's not very steep, so it will mostly appeal to younger children. Sledding is included with ski or snowshoe tickets. But you can also use the hill if you pay $6 per car.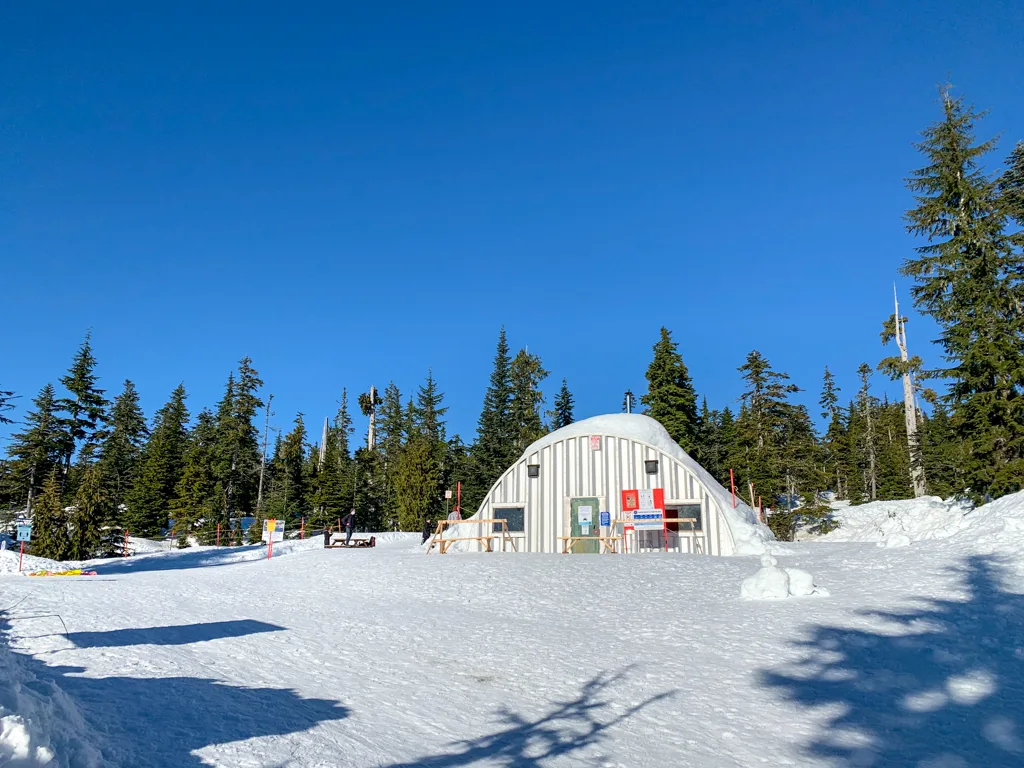 Dogs
Dogs are allowed on all snowshoe trails at Dakota Ridge as long as they are under control. They do not have to be on a leash. Dogs are also allowed on the 1.5 km-long Sechelt Main cross-country ski trail. Dogs are not allowed on any other cross-country ski trails.
Dakota Ridge Weather
The trails at Dakota Ridge are at elevations of 1000 to 1160m, which gives the area a mountain climate. It is much colder than sea level, and it is usually windier and snowier too.
There are no Dakota Ridge weather forecasts. However, Dakota Ridge usually has very similar weather to the Cypress Mountain ski resort near Vancouver. It's at the same elevation and is only 30km away. This mountain weather forecast for Cypress is the best forecast to use for Dakota Ridge. Use the mid-mountain elevation since it's the closest to Dakota Ridge.
Dakota Ridge Conditions
Volunteers regularly post conditions updates on the official Dakota Ridge Facebook page. These usually include new snowfall, current weather, grooming updates, and road conditions. They post on Fridays, Saturdays, and Sundays, and sometimes during the week too. Conditions updates are usually posted between 8 and 10 am.
You can also find user-submitted conditions information, photos, and questions on the Dakota Ridge Facebook group.
There is a conditions board near the warming hut that is updated with each day's grooming report.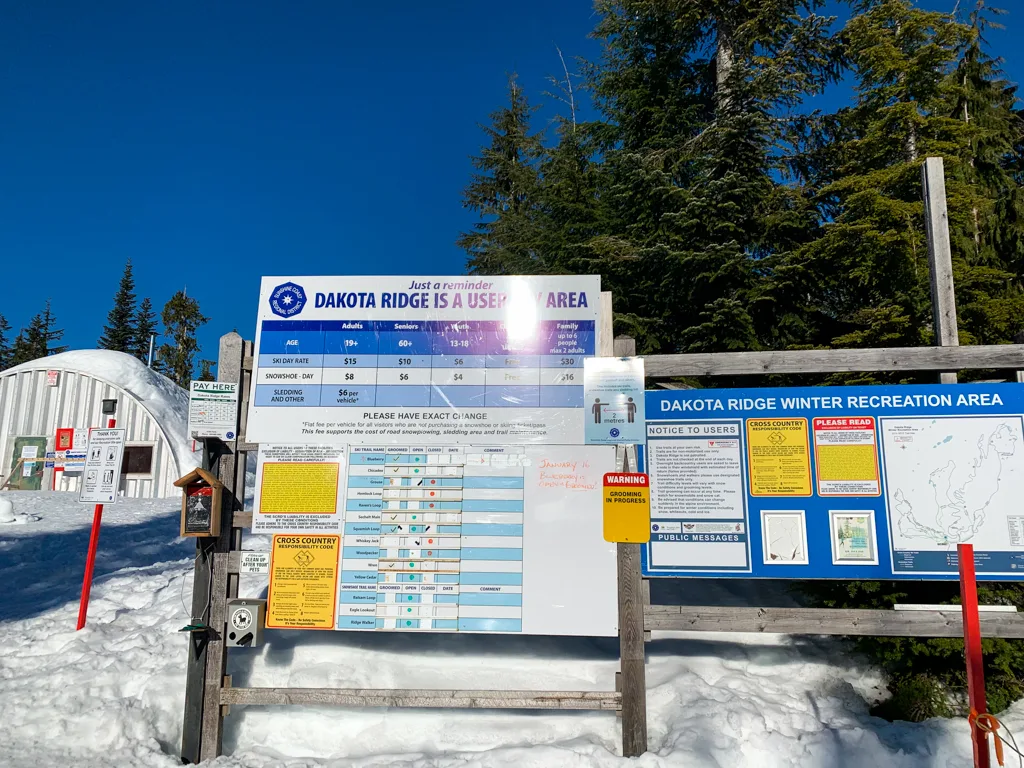 Dakota Ridge Trail Map
The snowshoe and ski trails are easy to navigate, with signs at all junctions. There is also a large trail map at the info board near the warming hut. Below is the official trail map.
How to Get to Dakota Ridge
Dakota Ridge is located 14 kilometres up a gravel forest service road. You can drive yourself (if you have an appropriate vehicle – details below) or book a shuttle through Alpha Adventures.
The road is a bit bumpy and steep in places and usually very snowy or icy. If you go slowly and have good winter tires or chains, it's a fairly easy drive in good conditions. Be sure to pull over to let others pass. Downhill traffic has the right of way.
The road is plowed regularly, but it can still be very slippery. There is a designated chain-up area on the right-hand side of the road just before a bridge about 12km in. But depending on conditions, you may need to find a pull-out lower down and chain up.
The road also passes through active logging areas, so expect to encounter big logging trucks or machinery on any day of the week.
Check conditions online ahead of time to get an idea of what to expect. Or pay attention to vehicles coming down as you're driving up. If they have chains on, it's probably time to pull over and put yours on!
What Kind of Car Do You Need?
Official information from the Sunshine Coast Regional District says that you need a 4-wheel drive vehicle with chains to get to Dakota Ridge. In some conditions, that is definitely true. I've been up there when it's been an absolute ice rink, with cars in the ditch.
However, if you have all-wheel drive and chains, you should be fine as long as you are comfortable with winter driving. In good conditions, you don't need chains at all – we have made it up there with just snow tires and have seen lots of small cars up there too.
Check conditions online before you go, and make conservative decisions. If you get stuck, you'll be blocking dozens of others trying to go up and down the road!
Driving Directions to Dakota Ridge
From Sechelt, head east on Highway 101 to Field Road. From Gibsons, head west on Highway 101 to Field Road.
Go north (uphill) on Field Road, past the Field Road Plaza (where Alpha Adventures is). Continue to the end of Field Road at a T-junction 1.5km later. Turn right onto the gravel Dakota Ridge Forest Service Road. Continue on the Forest Service Road for 14km. Ignore all side branches. When in doubt, look for signs or follow the road with the most wheel tracks.
The parking area can get busy on sunny weekends. Park close to other cars so there is enough room for everyone.
Click here for google maps driving directions to Dakota Ridge.
Snowshoeing at Dakota Ridge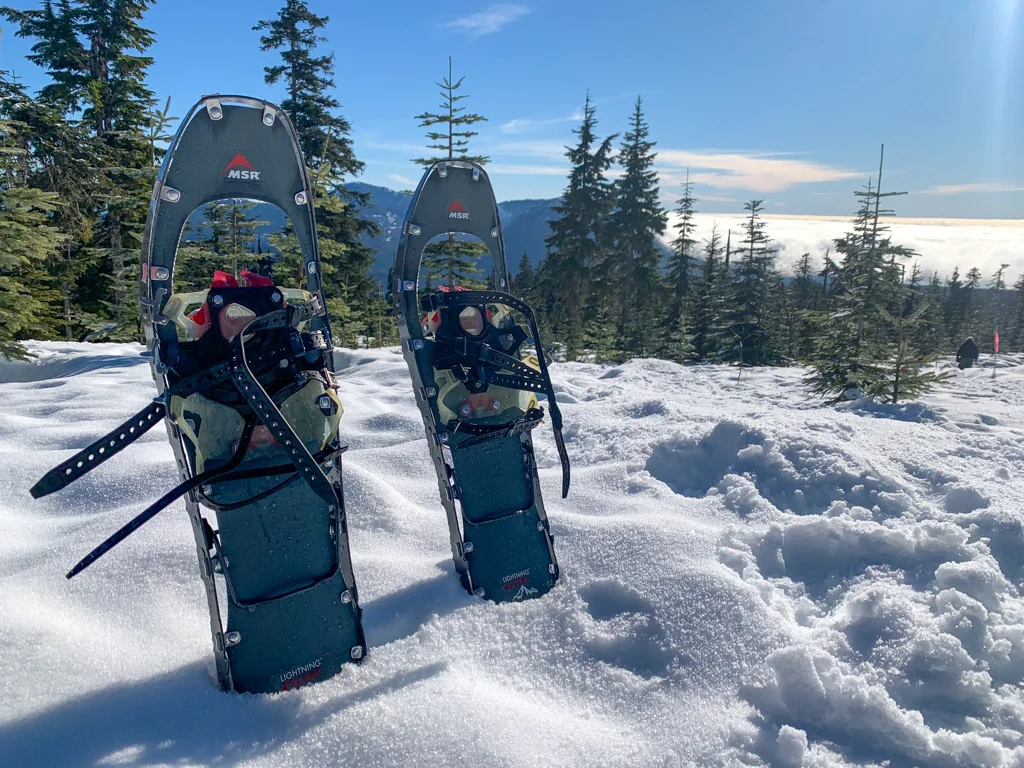 There are three main snowshoe trails at Dakota Ridge: Eagle Lookout, Balsam Loop, and Ridge Walker. You are not allowed to snowshoe on the cross-country ski trails.
Eagle Lookout: An easy 1.8km loop through the forest. There's supposed to be a lookout point at the apex of the loop… but I've never gotten much of a view from here.
Balsam Loop: An easy/moderate 2.3km loop that visits the best viewpoint at Dakota Ridge. You can look down to the ocean and across to the backside of Mount Elphinstone. You can even glimpse Mount Baker/Koma Kulshan on clear days. The west half heads gradually uphill through a section of beautiful old-growth forest. The east half parallels a cross-country ski trail, then heads up a short, but steep hill. I prefer to do this loop clockwise since the climb is less steep.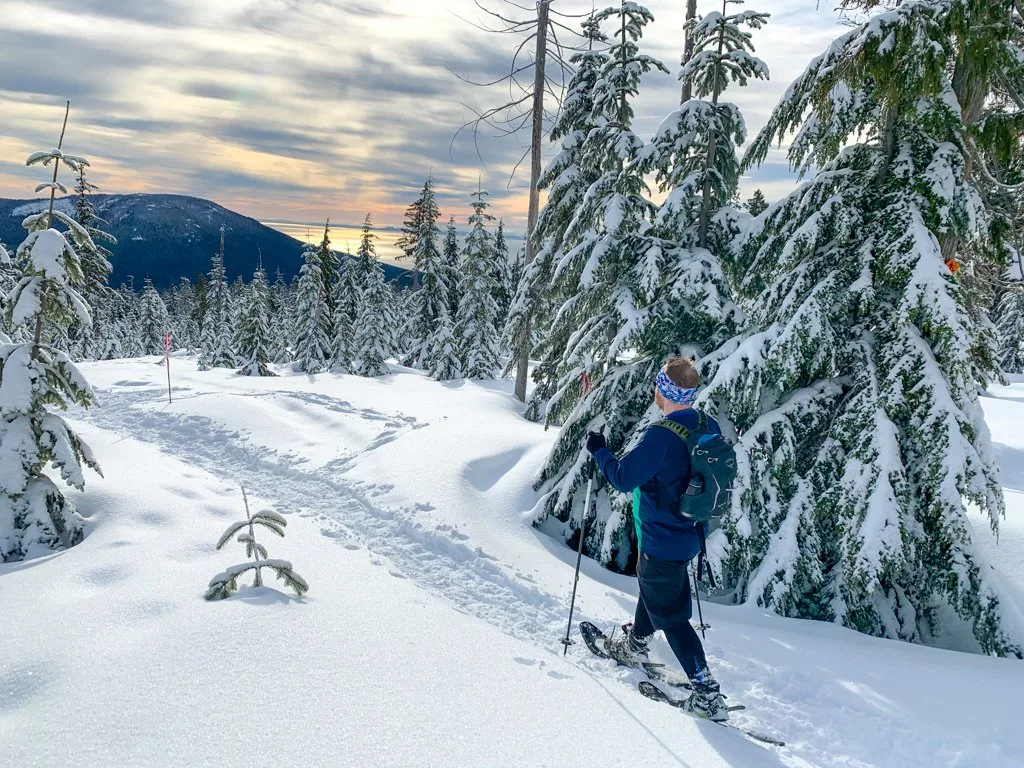 Ridge Walker: A moderate 2.8km loop that heads uphill through the forest, then meanders through some clearings that are actually frozen ponds and marshes. This trail branches off from the Balsam Ridge trail at two points, so I usually combine the two. Note: The official map lists this as an "advanced trail" but it's not difficult – it just heads further into the wilderness than the other snowshoe trails.
Cross-Country Skiing at Dakota Ridge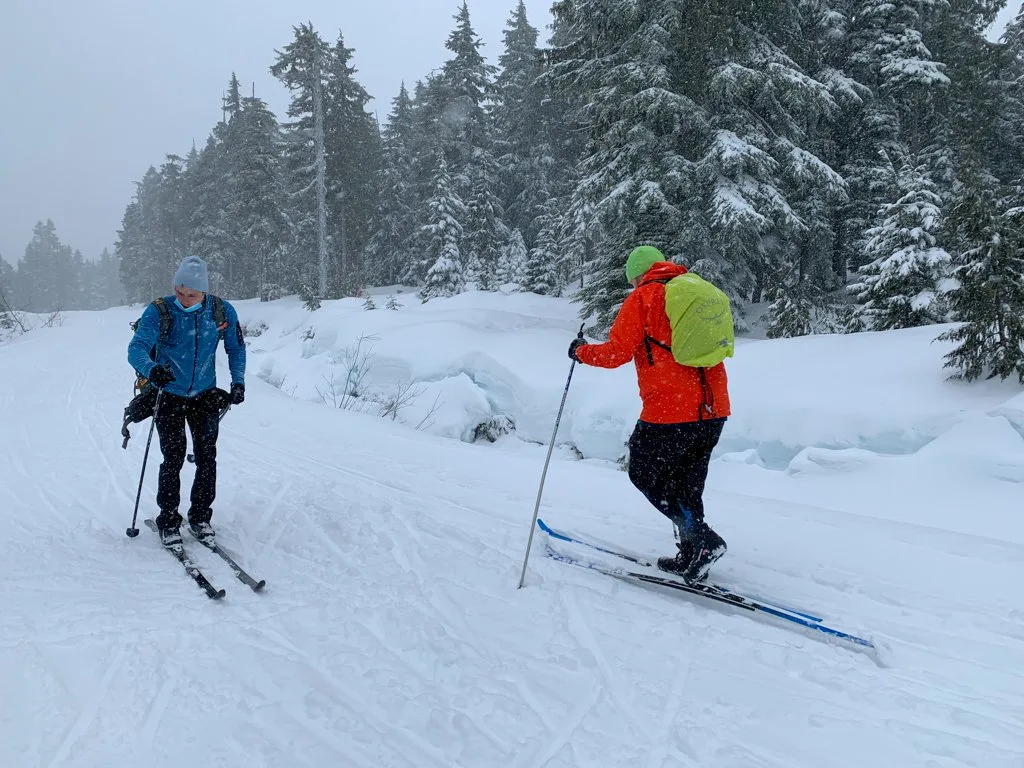 Dakota Ridge has over 25 kilometres of cross-country skiing spread across 12 trails. There is a good mix of green, blue, and black trails and lots of loop options. The trails are groomed on most days, including some groomed for skate skiing. Since I'm a beginner, I haven't skied very many of the trails.
The trails all have signs at each junction, but it can still be a good idea to bring a copy of the trail map (above) to plan your route.
Beginners (like me) should head left from the warming hut onto the Sechelt Main trail. The easy (green) Wren, Chickadee, and Grouse Trails branch off from here. The kids' learning area is located along this trail too.
More experienced skiers can turn right at the warming hut to explore the blue Squamish Loop and Yellow Cedar Trails. Many skiers also enjoy the backcountry challenge of a long loop route on the Blueberry and Hemlock Trails. There are also a couple of black trails located towards the end of the Sechelt Main trail.
So that's everything you need to know to cross-country ski, snowshoe, or sled at Dakota Ridge near Sechelt on BC's Sunshine Coast. Do you have questions? Let me know in the comments. I'm always happy to help.
READ NEXT: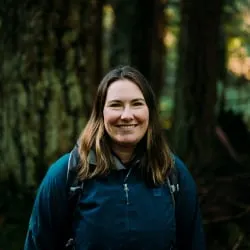 Latest posts by Taryn Eyton
(see all)