Living on Canada's wet West Coast, I'm not very familiar with dry desert landscapes. I've done quick trips to Utah and California's Joshua Tree National Park to go camping and hiking in the desert. But honestly, I feel a bit out of my element there (despite the beauty).
Thankfully Andy Lowry of Thousand Mile Boots is here to help. Andy is a California local and has spent time on the dry trails of California, Utah and Arizona, so she knows a LOT more than me about hiking in the desert. Andy has contributed her top tips for safe and happy desert hiking and backpacking. It includes everything from how to stay hydrated, when to go to avoid the heat, and what to do if you get heat stroke. (And believe me, heat stroke is no joke! I got it on my trek in Nepal and it was awful!) She's also got some picks for tried and tested desert clothing and gear. Thanks Andy! -Taryn
Hey there: Some of the links in this post are affiliate links, which means I earn a small commission at no extra cost to you if you make a purchase. Thanks for supporting my website! -Taryn
---
I'm extremely lucky in that I live in California – a state that has a wide array of environments ranging from cool, damp coastlines to snowy mountains and sprawling urban cities to a desolate desert. But with its wide range of ecosystems to traverse through, you really need to know how to handle yourself in each. For hiking in the desert, you'd have to learn how to handle the heat.
Unfortunately, I learned about heat the hard way when I began hiking and backpacking in southern California's desert. Particularly, in the Mojave where I fell victim to heat exhaustion and had to cut a backpacking trip short. Barely 30 minutes into our short 4 mile trip and I was nauseous, my hands were clammy and I thought my head was going to explode.
Definitely not a good feeling but thankfully my friends were able to assist in helping me cool off with water. We turned our backpacking trip in a camping trip as no one wanted to mess with heat exhaustion.
While the Mojave isn't the largest desert in the US – that honor does to the Great Basin Desert – it is the driest in the country. On average it receives 5 inches (13cm) of rain, annually, and has temps reaching upwards of 120°F (49°C) in the peak of summer. So, why would anyone hike in that kind of heat?
Well, honestly, most people avoid the peak months, usually June-August, and while temperatures can soar, humidity levels stay pretty low. Typically ranging around 10-20% which is why that 100°F (38°C) can feel more like 80°-90°F (27-32°C).
But heat aside, most people hike and backpack in the desert landscapes of places like the Mojave, Havasupai, the Grand Canyon and Zion for very similar reasons: to experience the isolated beauty of the the landscape and see diverse life that calls the desert home. There's something incredible about watching the sunset over the mesas while the heat rising off the ground – it creates a mirage effect that is truly dream-like. And don't even get me started on the night sky when there's no moon to disturb the stars. It always leaves me speechless.
So here are some tips you should know when backpacking or hiking in the desert!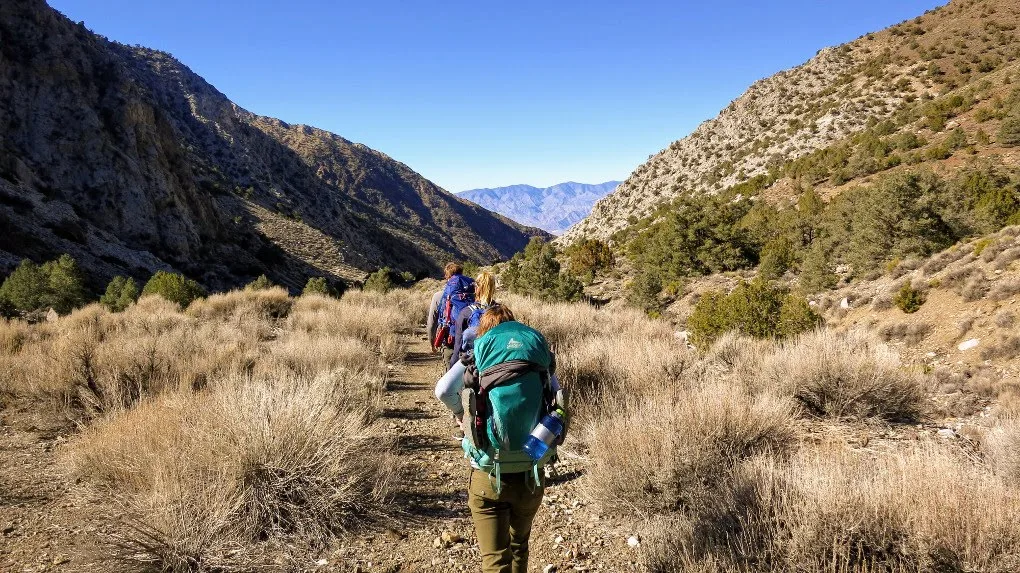 Avoid Going Hiking at Peak Heat
It's hot in the desert. This one is probably the first thing you think of when wanting to hike in the desert. What's the weather like? What's the days high/low temps?
So how do you avoid the heat?
Avoid the Desert in Summer – Try for Fall, Winter or Spring
In the summer time, which is June to September, the day time heat in the desert (depending on elevation) can range from 80°F (27°C) to close to 115°F (46°C). Not entirely the best time to hike.
Instead of going in summer, opt for fall or winter when daytime temps are in the 60-75°F (16-24°C). Low temperatures are usually 30 to 55°F (-1 to 13°C) depending on elevation and month but it's easier to add layers than to sit under a hot, harsh sun.
Hike or Backpack in the Desert at Night
Another option is to take a nighttime stroll! This can be rather fun as you'll see incredible stars, your sense will become heightened and you'll be able to observes creatures that typically avoid the sun like small rodents, beetles and bats.
The desert also looks completely different at night so make sure to always have a GPS, paper map, water/snacks and definitely a headlamp.
Find Shade During Peak Sun Hours
The hottest part of the day is usually 10am to 4pm when the sun is much higher in the sky and temps rise quickly. This is a great opportunity to take a break underneath shade and to rest, snack or hang out with friends.
Once the sun and temp has come down a bit, continue with your hike.
If you plan on hiking in the desert during these hours, you might want to try a shorter hike and certainly take lots of food & water breaks. Always drink and eat more than you think you need.
READ NEXT: Tips for Hiking in Hot Weather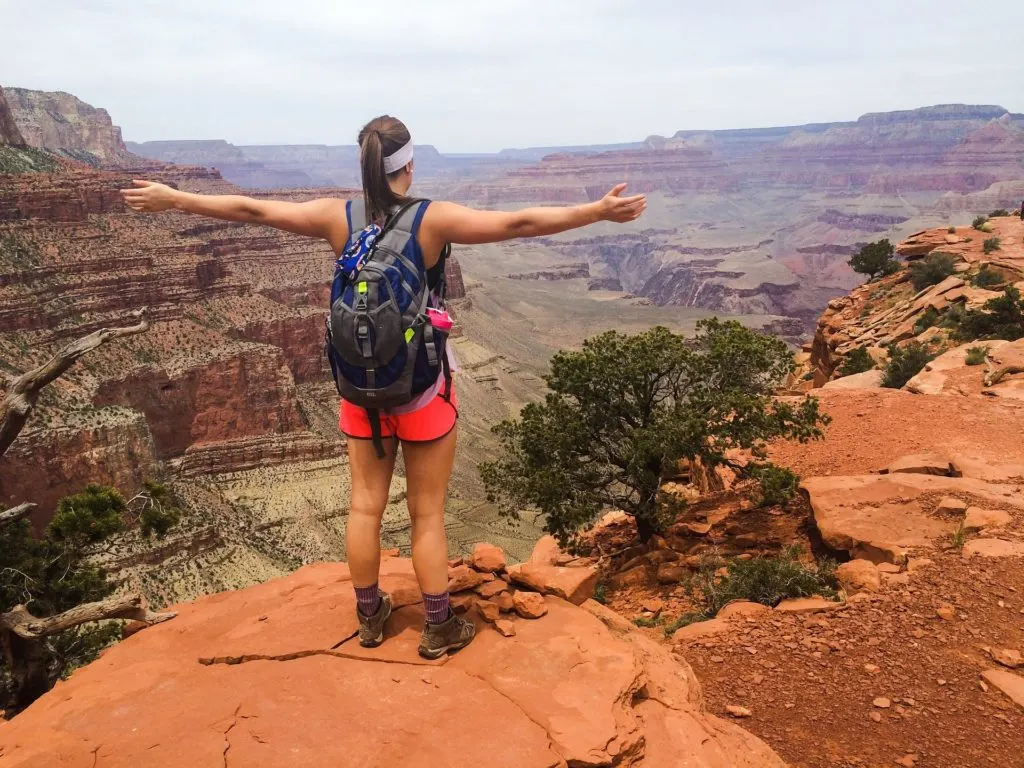 Wear the Correct Clothing
I'm not trying to give you fashion tips (that's completely up to you!) but there are certain kinds of clothing that more suitable for hiking in a hot, desert environment.
Wear Light, Breathable Clothing
There's a huge debate amount outdoor enthusiasts as to whether you should wear cotton in the heat or not. I personally don't as cotton isn't as moisture wicking as more synthetic blends.
I like tops like REI's Sahara long sleeve shirts for hiking in the desert- there are men's and women's versions – since it's lightweight, has roll-up sleeves and UPF 35 sun protection.
For hiking pants, I like wearing long, loose fitting bottoms since I want to avoid sunburn (even in wintertime!), keep cool and keep bugs and dirt off me. I personally use Prana's Halle Pants for women but you can also find durable pieces from REI Co-op, Kuhl and Columbia.
In the evenings, especially in the winter, I bring out a fleece for warmth as the desert doesn't hold the heat in the fall through spring time. Be aware that it can get really cold at night, especially in the winter time.
Opt for lightweight, breathable hiking boots over a Gortex pair as you'll want to release the heat from your shoes to avoid hot spots and blisters. Adding SmartWool socks or socks with merino wool will also help to wick away sweat and help keep your toes cool.
READ NEXT: How to Prevent Blisters When Hiking
Hat, Sunglasses, Sunscreen Are Necessary for Hiking in the Desert
If there's anything I tell you that's absolutely necessary for hiking in the desert, it's having a wide-brim hat, SPF 30+ sunscreen and sunglasses. No matter what time of year you go, these should always be with you.
When you're in direct sunlight, you'll want to avoid being burnt and having to squint. Squinting in the sun not only causes muscle tension and headaches, but you can also cause sun damage to your eyes.
Wet a Bandana or a Kool Tie
I cannot recommend Kool Tie enough – it's an incredible gift from the apparel gods. Kool Ties are thin scarf like items that contain small crystals inside which can be tossed into a ice cooler or into water and then tied around your neck for constant cooling.
They stay cool for hours and help reduce one's heart rate and blood pressure with can rise due to overexertion and heat. They also add extra coverage to the back of your neck to help prevent sunburns.
You can do the same with a bandana although it'll dry faster than the Kool Ties' crystals.
READ NEXT: 15 Awesome Things to Do in Joshua Tree National Park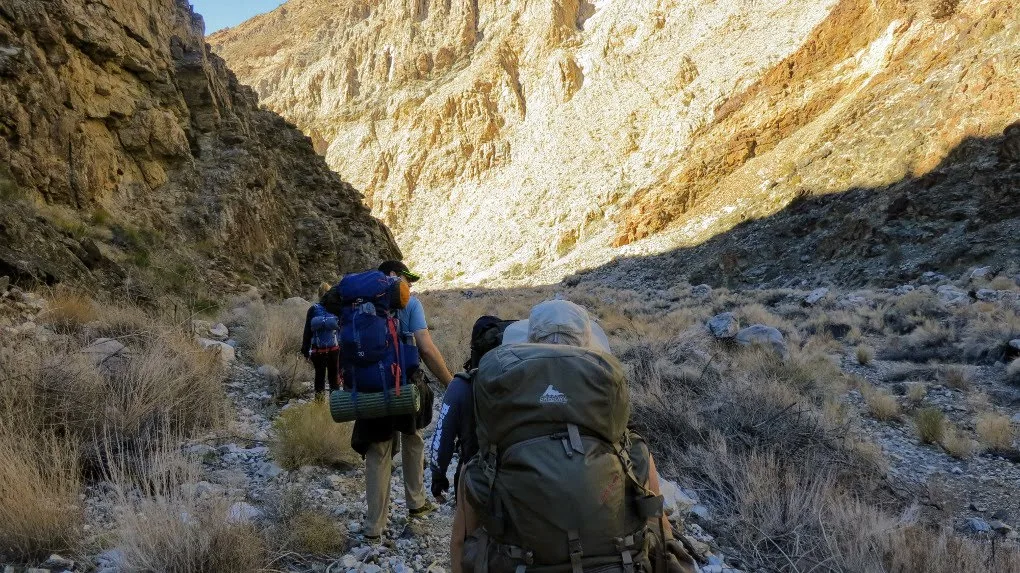 Stay Hydrated
Bring Enough Water
The human body typically requires 1 cup of water every hour or so to stay hydrated. This increases when you're outside in the heat or performing physical activities.
As a general rule of thumb, most hikers recommend at least 3 liters of water for a 3 hour hike in the desert. You may need to carry 6 liters if backpacking or heading to a dry campground.
Water is definitely not something to mess with so always carry more than you think you'll need. Your map may show a stream near your hiking trail but don't count on it having water. Water dries fast in the desert. If you see vegetation, generally that means there's water however, it might be deep underground with no means to get it.
Drink Water Before Your Hike
Before heading out on your desert hike, do your best to drink approximately 1 liter of water. This will help to keep you hydrated and allow your body time to absorb the water before you begin expelling it by sweating.
Make sure to drink your first liter slowly and with food so as to not have an upset stomach.
Drink Gatorade or Electrolyte Water
When you sweat your body is using internal liquids to help cool you off in the form of sweat. Sweat also contains minerals like electrolytes, a necessary substance that is key to proper hydration. Electrolytes also help your body to absorb water more quickly.
It's easy to add electrolytes to your water in the form of powders or concentrated liquids like MiO which comes in a variety of flavors and is small enough to fit into your pocket or daypack.
Regular Gatorade also helps during and after your hike. Gatorade contains the same minerals as MiO but I prefer MiO since it's lightweight and doesn't take up space in my bag.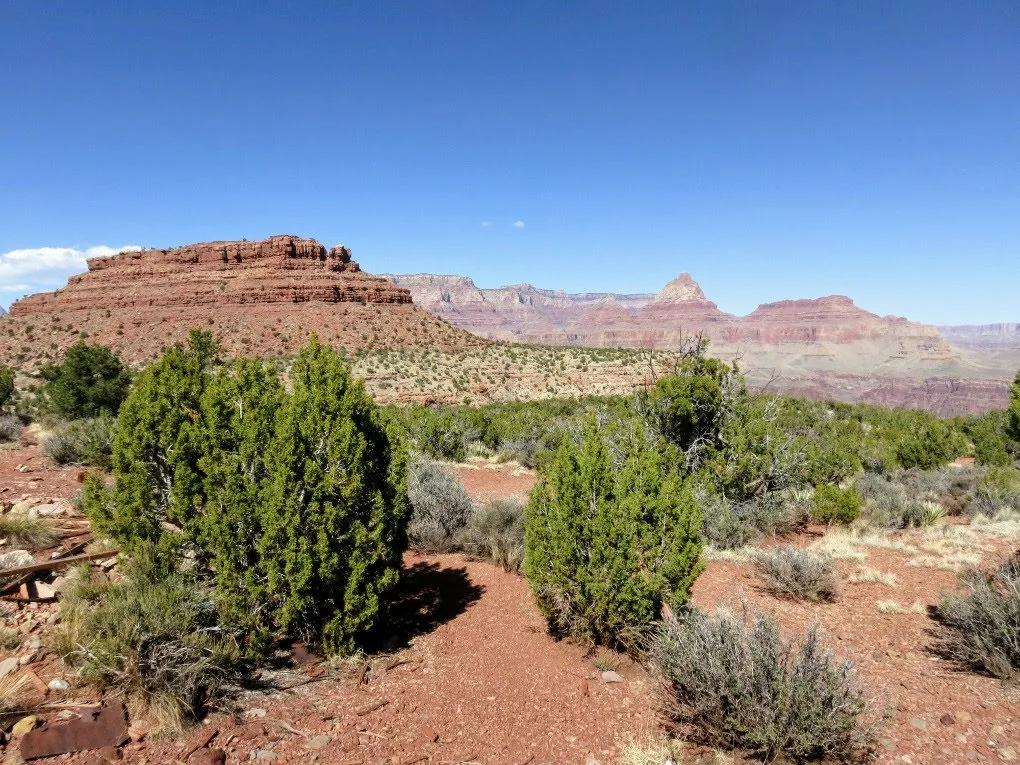 Bring Proper Gear
Bring a First Aid Kit
No matter how far I'm hiking, or what conditions, I always carry a medical kit which includes painkillers, moleskin, salt tablets and energy chews. You never know when you're doing to get hurt, dehydrated or need an additional boost of energy.
Out in the desert, you could trip, fall down a rocky slope, get bitten, and more. Having a medical kit with you, and always being prepared, is a smart move.
Bring a Water Filter
In the event you come across a water source in the desert you should always carry iodine tablets and/or a small water filter. Water sources in the desert are few and far between but definitely out there in the late winter and early spring after the rainy season.
Keep in mind that most water isn't 100% safe to drink straight from the source. You'll need to filter it before drinking. Cryptosporidium and giardia are commonly found parasites in untreated drinking water, both of which cause gastrointestinal discomfort.
You can use iodine tablets to help kill off bacteria in the water. It takes around 30 minutes and leaves a slightly metallic taste but is a light, inexpensive form of water treatment.
You can also treat water with a water filter. I use a Katadyn Hiker Pro water filter but there's a huge variety of filters ranging from $50-$200 dollars. Some will be more lightweight and easier to use than others, it's just personal preference.
Whichever method you chose, always look for the clearest water you can.
Carry a Cellular Phone and/or Emergency Device
Most people take a cell phone out hiking with them, usually to use as a camera. But did you know that you can call 9-1-1 for an emergency even if you're out of your coverage area? The call will ping off the closest cellular tower.
Keep in mind, if there is no signal whatsoever nearby, you'll be out of luck.
This is where an emergency notification device comes in handy. They use satellites to help transmit a message or distress call rather than cellular towers. Companies like Garmin's inReach Mini and the SPOT X are constantly updating the tech so that as soon you press the S.O.S. button, help is on the way.
These devices will typically run you $200-$350, as well as service plans, but can you really put a price on your life?
Most hikers go without, but these gadgets are a small price to pay for piece of mind while hiking in the desert.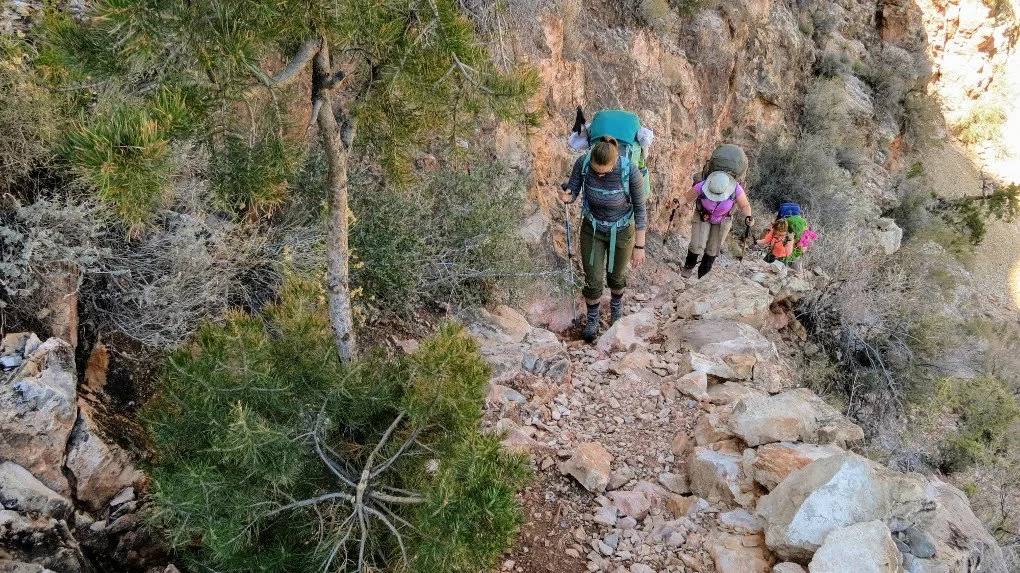 Tips for Staying Safe in the Desert
Learn About Heat Exhaustion and Heat Stroke
When heading out into the desert for a day of hiking, you'll really want to brush up on your heat stroke trivia. Heat stroke and heat exhaustion can happen in a matter of minutes and can be deadly.
Understanding the symptoms of heat exhaustion and heat stroke will help minimize the risk of it happening to you.
Heat Exhaustion:
Heavy sweating
Rapid pulse
Fainting
Dizziness
Cool, moist skin
Cramps
Headache
Heat Stroke:
Dizziness and nausea
Vomiting
Hot, red skin
No sweat
Confusion and disorientation
Severe headache
Cramps
Crippling seizures
The only way to mitigate these symptoms is to get out of the heat, drink water and eat a snack. In addition you will want to submerge yourself cool water or take a cool shower. If you or someone else becomes unresponsive, emergency medical attention is needed.
Check in with Rangers
Checking in with rangers before heading out is a smart way of letting someone local, with knowledge of the area, know where you'll be going. This way, if someone reports you missing, the rangers will already have an idea of where to look for you.
Providing even the trail name you're heading out on could be life-saving information.
Heading to the ranger station before your desert hike also allows you to check out their trail log to asses the trail conditions and make alternative arrangements, if necessary.
You can also get valuable information from the rangers as to local water sources or interesting sights to watch out for.
Go with a Group and Leave an Itinerary
I love hiking with a group of friends! I feel like it brings us closer together and helps to lift lulles and provide encouragement when it's needed. Hiking with friends also comes in handy if one of you becomes injured or experiences heat related issues.
That being said, there's definitely something amazing about taking a solo hike or backpacking trip. If that's your plan, leave your itinerary with friends and family and give them a date or time of when you'll check in with them.
Safety should always be your first priority.
I hope you will takes these tips with you when you head out into the desert. It's a beautiful, harsh land but with some preparations and knowledge, you'll have an incredible experience. –Andy
---
Thanks for the great post Andy! To see more of Andy's adventures, follow her on Instagram or head over to her website, Thousand Mile Boots. –Taryn
Latest posts by Andy Lowry
(see all)