Recently there's been lots of buzz online about how women's hiking clothing and gear is inadequate. It's something I've written about before. This great article from Hannah Weinberger explains that historically there hasn't been much gear designed to fit women's bodies. In recent years the outdoor industry has tried to fix that, with varying degrees of success. Some hiking gear is just men's gear that has had the "shrink it and pink it" philosophy applied to it. And some gear does genuinely seem to be designed with women's bodies in mind. That being said, there is still a long way to go and many women can find it hard to find hiking clothing and gear that fits their particular body type or adventure style.
I've teamed up with eleven other female hikers and adventure travelers to highlight our favourite women's hiking clothing and why it works for our particular body type. All types of women get outside: curvy women, petite women, tall women, slim women, plus size women, etc. And we should be able to find hiking clothing that works for us.
Hey there: Some of the links in this post are affiliate links, which means I earn a small commission at no extra cost to you. Thanks for supporting my website! -Taryn
Jackets and Tops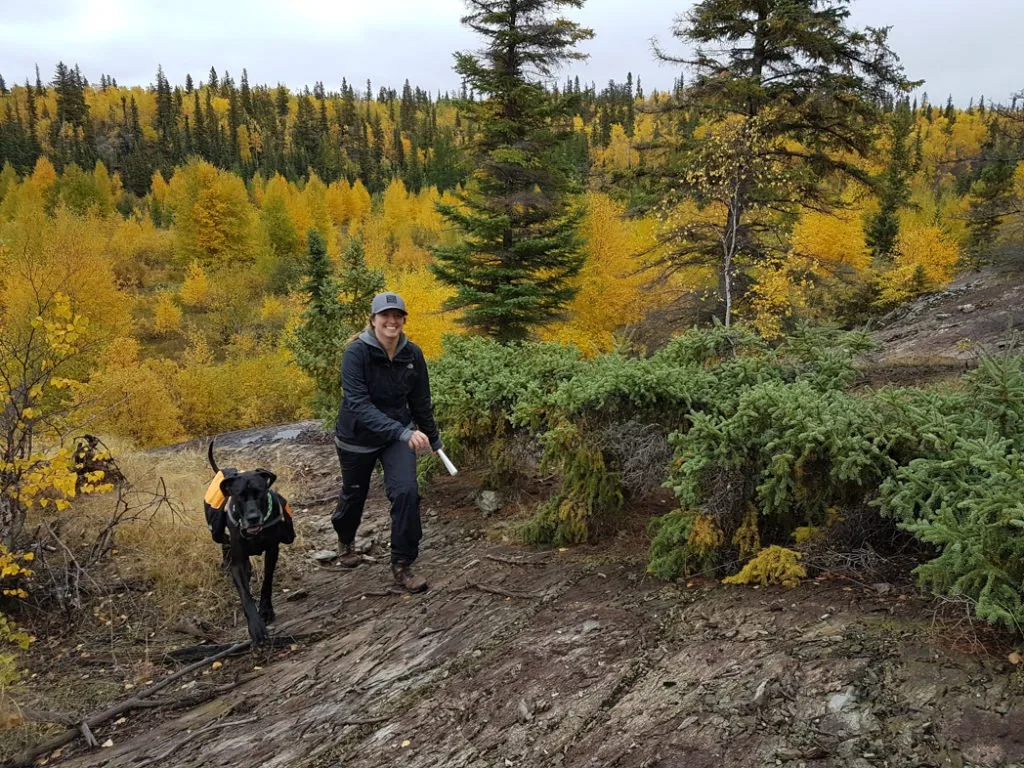 Laura from An Ordinary Existence loves her The North Face Resolve Jacket since it fits her straight figure and keeps out the rain. She says:
I have a hard time finding functional jackets that fit well. It seems that in an effort to make women's clothing more "flattering," many gear companies go overboard with cinching the waistline and that just doesn't work with my body type (think more ruler than hourglass). The North Face Resolve Jacket is one of the few I've found that fits comfortably, packs well, and actually keeps the rain off. The interior mesh lining helps with breathability and the high neckline keeps the elements out when the weather gets really nasty. I've gotten loads of use out of this jacket and it's proven to be very durable. Not only is it my go-to spring and fall coat, but I've also worn it while backpacking the Chilkoot Trail, hiking in the Canadian Rockies, working on the farm, and playing at the cabin. It's gotten me through everything from a light drizzle on a city street to driving rain and sleet while navigating a mountain pass.
Check prices for the The North Face Resolve Jacket: Amazon | REI | Backcountry.com
Follow along with Laura's adventures on Instagram.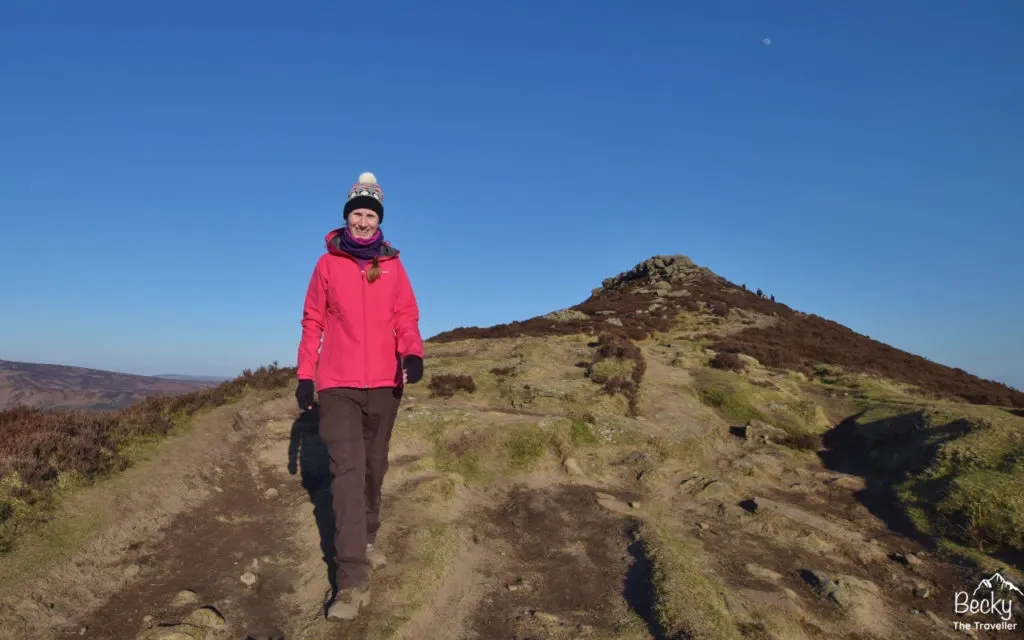 Becky of Becky the Traveller raves about her Berghaus Paclite Jacket. She loves that it packs down small and looks stylish on her petite frame. She says:
The Berghaus Paclite Jacket is perfect for my hiking trips. For starters, it's pink and I love pink haha. But it's also super lightweight so easy to pop into your bag on those hiking trips when you're not sure what the weather is doing, very common here in the UK! As a slim build, I love a jacket that fits me well so that I'm comfortable but also that it looks nice too. There's nothing wrong with looking stylish when you're hiking (or trying to!!) At the moment, I've worn the jacket mainly on my UK hiking trips to the lovely Peak District and Wales. But it was also very handy on my latest trip to Berlin, when you're taking cabin luggage only you need to pack light, this jacket easily fits in and saves you getting wet! I'd certainly recommend this jacket to any fellow hiker, it's good piece of clothing to have for most weather conditions.
Check prices for the Berghaus Paclite Jacket: Amazon | Backcountry.com
To read more of Becky's thoughts on this jacket, head on over to her blog to read the full review.
READ NEXT: Which Women's Specific Hiking Gear is Actually Worth Buying?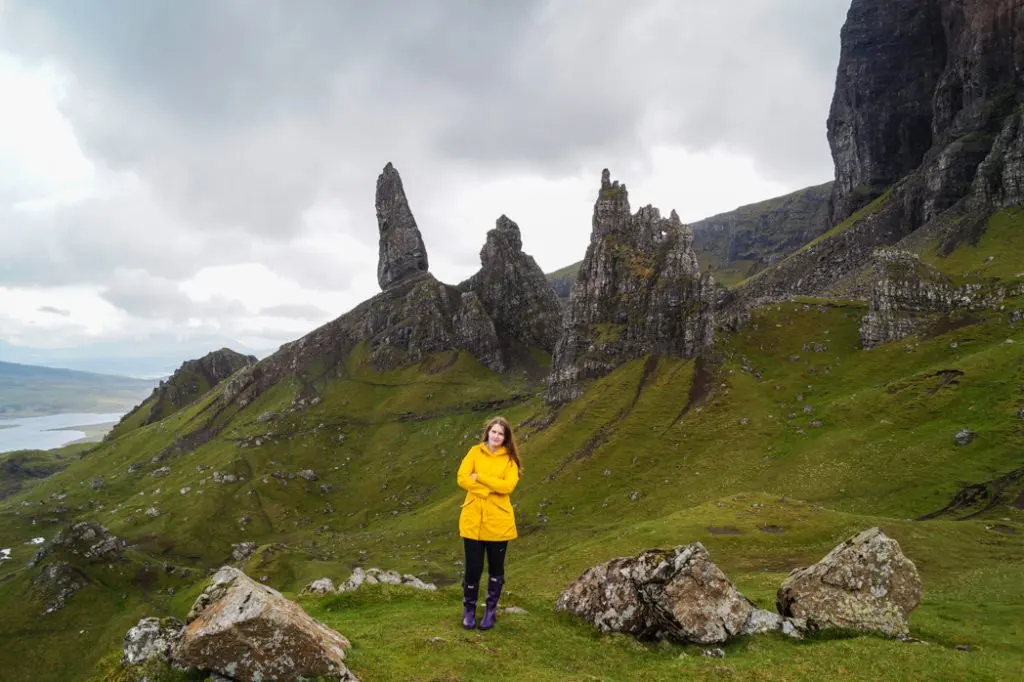 Liza from Tripsget recommends her yellow Helly Hansen Kirkwall Rain Coat for curvy women who go on less strenuous hikes. She says:
I really like my yellow rain coat from Helly Hansen. It suits any body type (hey, who looks bad in a really nice and bright rain coat?) and even though I'm quite curvy, I still look good in this coat. It's perfect for hiking in colder and rainier countries, like Ireland and Scotland – that's where I used the rain coat the most. It's absolutely waterproof and if you wear it together with some rubber boots, you will be dry even during a heavy rain (especially if you're hiking on the Isle of Skye). The only downside is that it gets really hot when you climb the hills or really tall mountains, so it's more suitable for hiking in rather flat territories.
Check prices for the Helly Hansen Kirkwall Rain Coat: Amazon | REI | Backcountry.com
See more of Liza's travels on Instagram.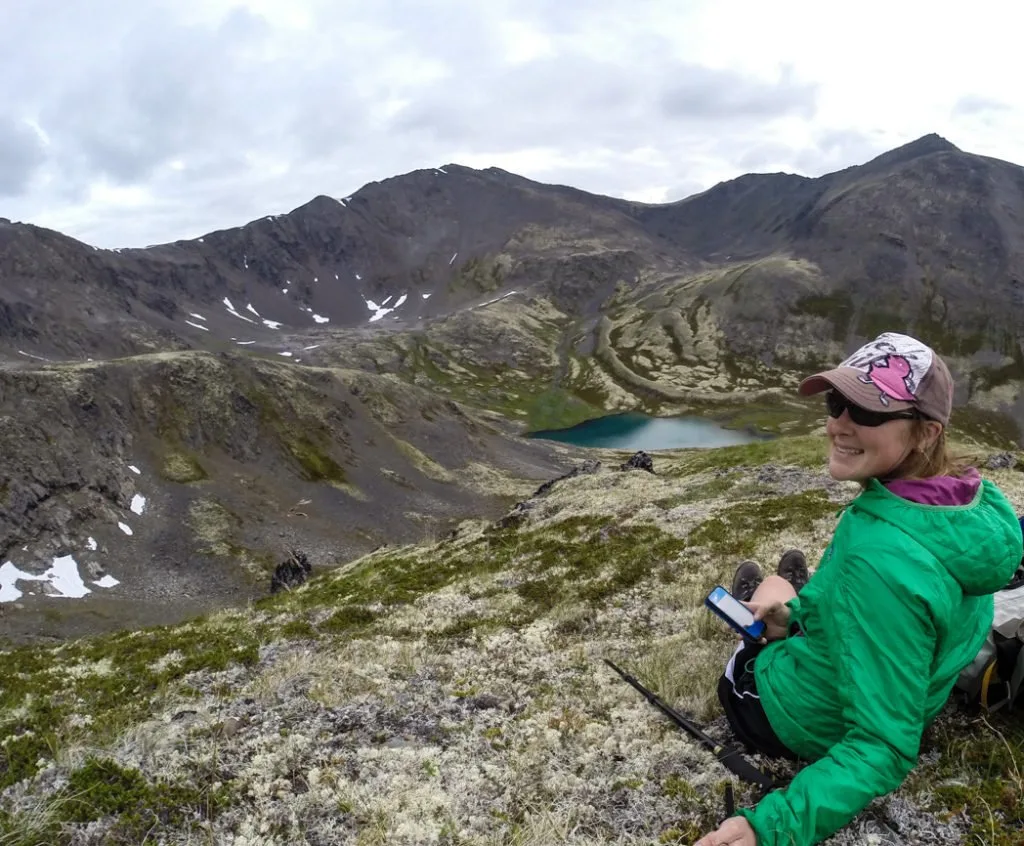 Lauren of Outside Vibe Photography finds that her Patagonia Nano Puff Hoody fits her long torso and keeps her warm on all her adventures.
The Patagonia Nano Puff Hoody has become one of my go to pieces of outdoor clothing. It's lightweight, packable, windproof, water resistant and warm. I carry it on day hikes and backpacking trips in Alaska for a "summit shell" and as my warm layer/camp coat. It goes in my paddling dry bag and my airline carry-on. I wear it as a mid-layer when downhill skiing. I pretty much take this jacket everywhere.
I'm 5'4", have an average build and a long torso – some tops are too short and leave part of my low back exposed when bending over. Not my Nano Puff. It's a roomy enough that I can fit extra layers underneath, but slim enough that I don't feel bulky wearing it as a layering piece.
Check prices for the Patagonia Nano Puffy Hoody: Amazon | REI | Backcountry.com | Patagonia.com
You can see more of Lauren's outdoor adventures on her Instagram.
READ NEXT: 17 Ways to Save Money on Hiking Gear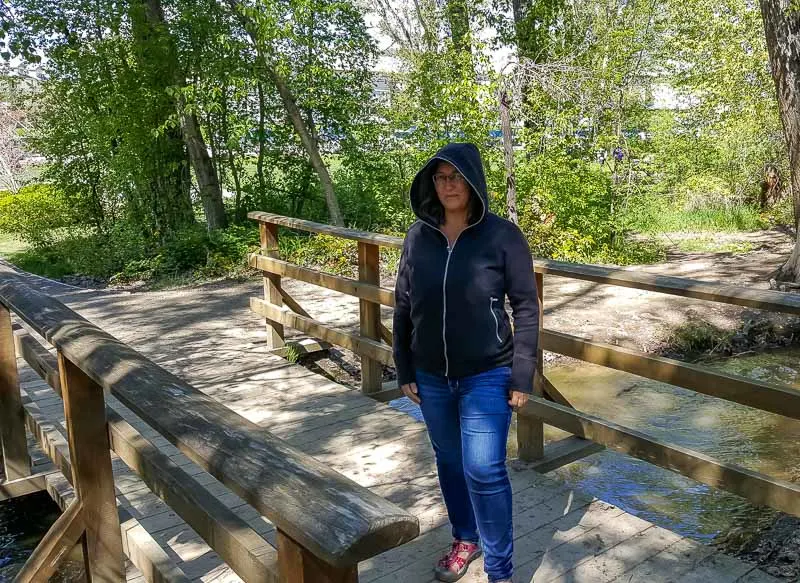 Micki of The Barefoot Nomad likes how her SCOTTeVest Chloe Glow hoodie transitions easily from trails to sidewalks and fits her curves. She says:
I do a lot of day hiking as I travel, so I'm always on the lookout for gear that can go effortlessly between the airport and the hiking trail. My favorite article of double duty hiking gear is my women's SCOTTeVest Chloe Glow hoodie. The best feature is all the pockets (15 of them!) that can easily hold my phone, passport, wallet, sunscreen and a few snacks for the trail. As a curvy woman, I love that it's tapered to fit women well, and that it looks just as good in the city as on the trail. My only negative is that it gets too hot for hiking anywhere the temperature is above around 50 degrees Fahrenheit, so I use it almost exclusively in cooler weather like we gave at home in the mountains of British Columbia, Canada.
Check prices on the SCOTTeVest Chloe Glow Hoodie: Amazon
To hear more about much Micki likes this hoodie (including why she wore it every day for a month), check out the full review on her website.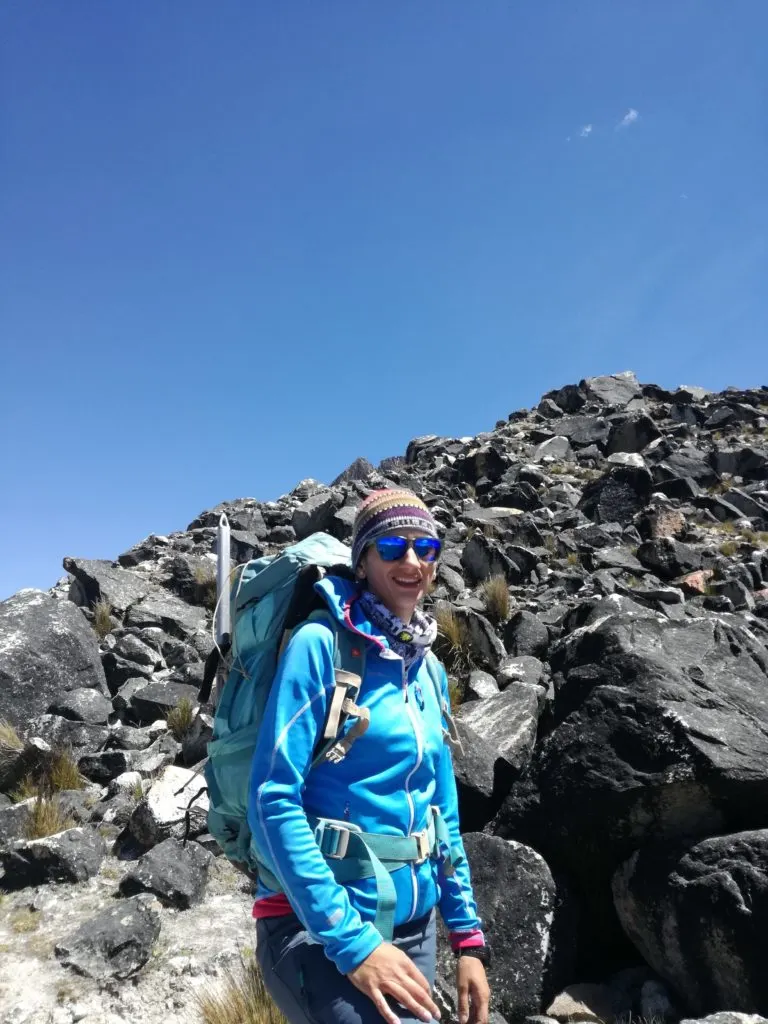 Tereza from Czickontheroad loves wearing her Icepeak Sesil midlayer for hiking since it fits her wide hips and narrow torso. She says:
I wear my Icepeak hoodie on every hike. Its defined as a midlayer but I mostly use it as an upper layer when it gets a bit colder. I have wider hips and narrower torso, and often, jackets are too tight around my hips and too loose around my chest, but this one fits perfectly. I also sweat a lot during hikes, no matter the temperature, this midlayer dries quickly so I don't have to carry another one with me.
Check prices for the Icepeak Sesil midlayer: Amazon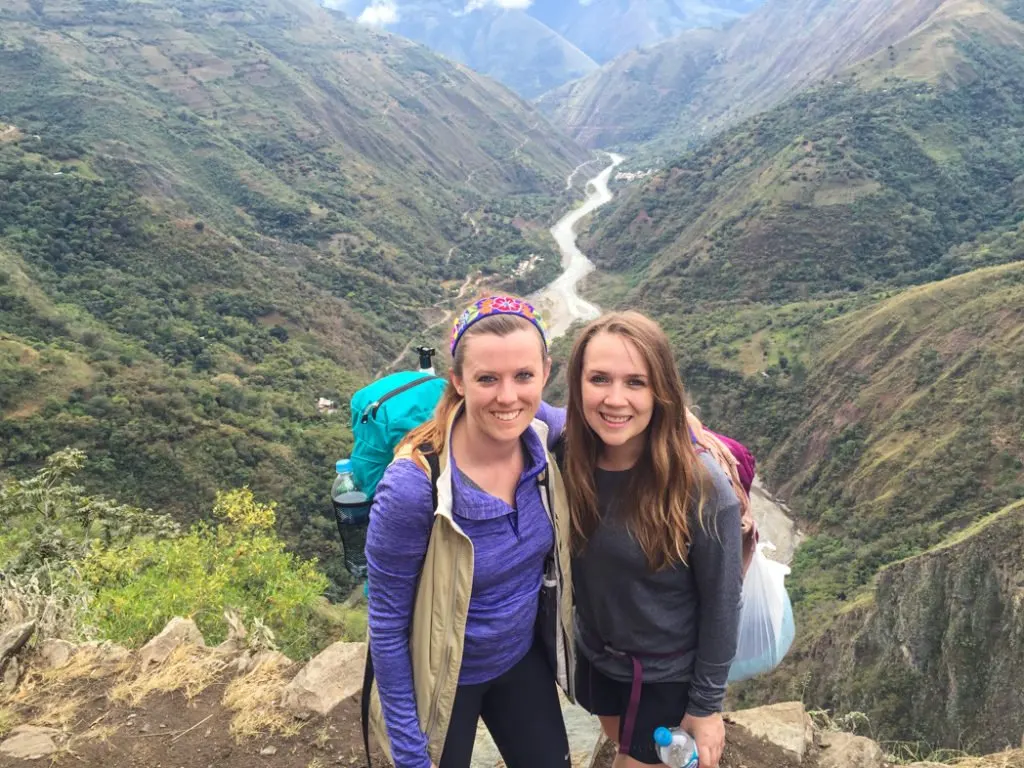 Meghan of Meghan the Traveling Teacher loves all the pockets her in ExOfficio Flyq Lite Vest and that it fits her petite frame.
As a petite girl who loves adventure, I've been lucky enough to try out a lot of different pieces of gear. My favorite by far has to be my ExOfficio Vest that I bought before my trek to Machu Picchu. I love this vest and have used it over and over on my big adventurous trips like a safari in Botswana and hikes through the Grand Canyon. The reason I love this vest is because it is so versatile and really saves you from having to carry a ton in your pack. The vest itself has a really nice lining and keeps you warm enough while hiking without over heating. It also includes 11 pockets which makes it easy to carry the gear you need on you without having to constantly go into your pack if you're on a longer trek like to Machu Picchu. I've used mine over and over – I'm so happy I have it!
Check prices on the ExOfficio Flyq Lite Vest: Amazon | Backcountry.com
See more of Meghan's adventures on Instagram.
Bottoms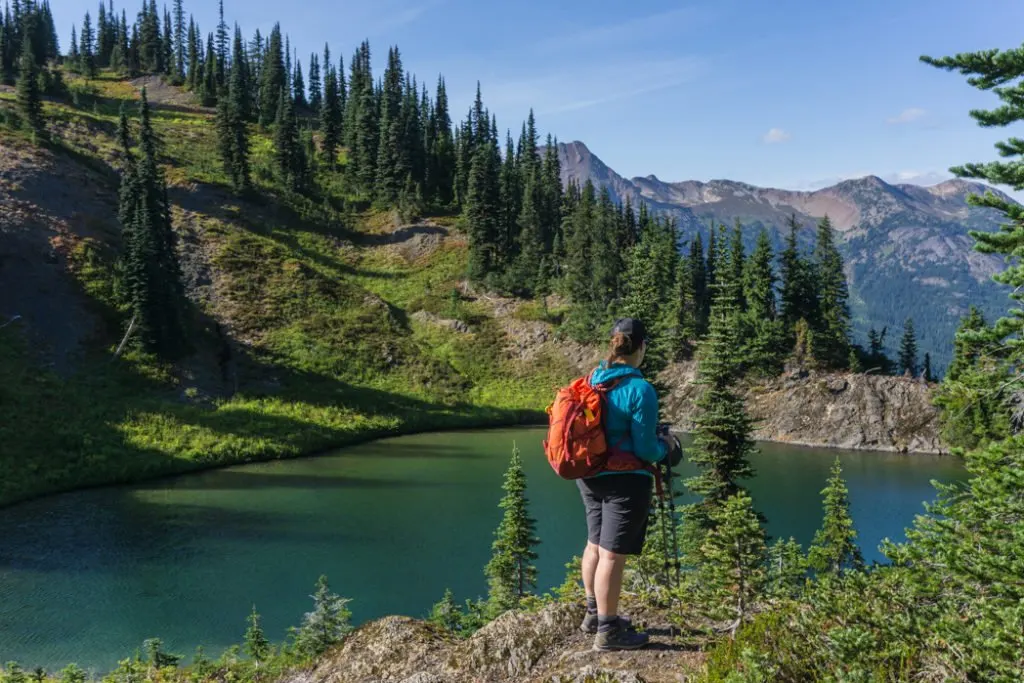 I've always had trouble finding quick-drying hiking shorts to fit my curvy body. I want shorts that aren't too tight, fit over my wide hips, don't leave a gap at my lower back and aren't too short. I've had my Black Diamond Valley Shorts for a few years now and they fit all my requirements: They are made of a lightweight material that stretches and breathes well. There's no gap at the waist since they have a built in waist adjustment strap. And they come in a longer length that gives me more coverage and protects my legs from scratches. These are my go-to shorts for day hiking and backpacking in British Columbia and they were essential on my trip to Annapurna Base Camp in Nepal.
Check prices for the Black Diamond Valley Shorts: Amazon | Backcountry.com | BlackDiamond.com
Find out more about what to pack for trekking in Nepal in my complete Annapurna Base Camp packing list.
Margie from DQ Family Travel loves the way her Columbia Silver Ridge Stretch Capris fit her petite body that she has then in three different colours! She says:
I have these capri pants in 3 different colors (light gray, tan and charcoal). They are my "go-to" bottoms. I love that they are lightweight, water repellent, barely wrinkle and have a side pocket for storage. They fit me perfectly. I am petite (5″3) and wear a size 2. Columbia Sportswear is very accurate with its sizing (meaning I can rest assured that I am a 2 in every bottom I buy from them). I use these capri pants all the time to travel, hike and just go about my daily life. I live in Miami (where it is hot year round), and they are a constant in my outfit rotation. In the picture above, I used them while day hiking in Acadia National Park.
Check prices for the Columbia Silver Ridge Stretch Capris: Amazon | Backcountry.com | Columbia.com
You can follow Margie's family travel adventures on her Instagram.
Best Hiking Pants for Petite and Curvy Women: Prana Halle Pants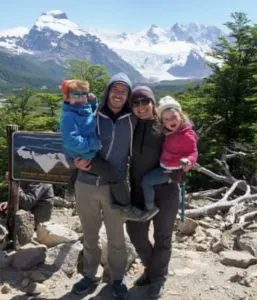 Melissa from The Family Voyage likes her Prana Halle pants for hiking and travel since they fit her petite, curvy body. She says:
I love my new(ish) Prana Halle pants! They fit much nicer than my old men's and boy's pants, but are still extremely comfortable for even the longest trails. The best part? They come in tons of sizes and three different lengths to fit lots of body shapes. The waist closes with a button AND a hidden drawstring inside to fit my petite, hourglass body. I wore them all over Patagonia and New Zealand and look forward to wearing them in America when we return from our family gap year!
Check prices for the Prana Halle pants: Amazon | REI | Backcountry.com
To hear more about her family trip to Patagonia, check out her 2 week itinerary for visiting Patagonia with kids.
Kristin of Be My Travel Muse loves her Lululemon Wunder Under Yoga Pants for trekking all over the world since they fit her tall and thin body type. She says:
These pants are amazing. They're thick, flattering, and they dry quickly. I love that the fabric is breathable, and while they're not waterproof, I still love them for trekking because they don't cause me to sweat like Gore-tex does. I have put them through all kinds of rough terrain and weather, and they've lasted me for years and dozens of treks, including several 8-day backpacking trips. They're yoga pants, so they fit nice and snugly and can flatter most body types. They're a snug, skin-hugging fit all the way down, with fabric that expands to fit rather than squeeze. I have a tall and thin frame and I find they're just long enough on me, bunching a little bit at the bottom.
Check prices on the Lululemon Wunder Under Yoga Pants: Amazon
Read more about Kristin's hiking adventures in her guide to the 20 Best Hiking Trails in the World.
Best Winter Hiking Pants for Curvy Women: Quechua Warm Snow Hiking Trousers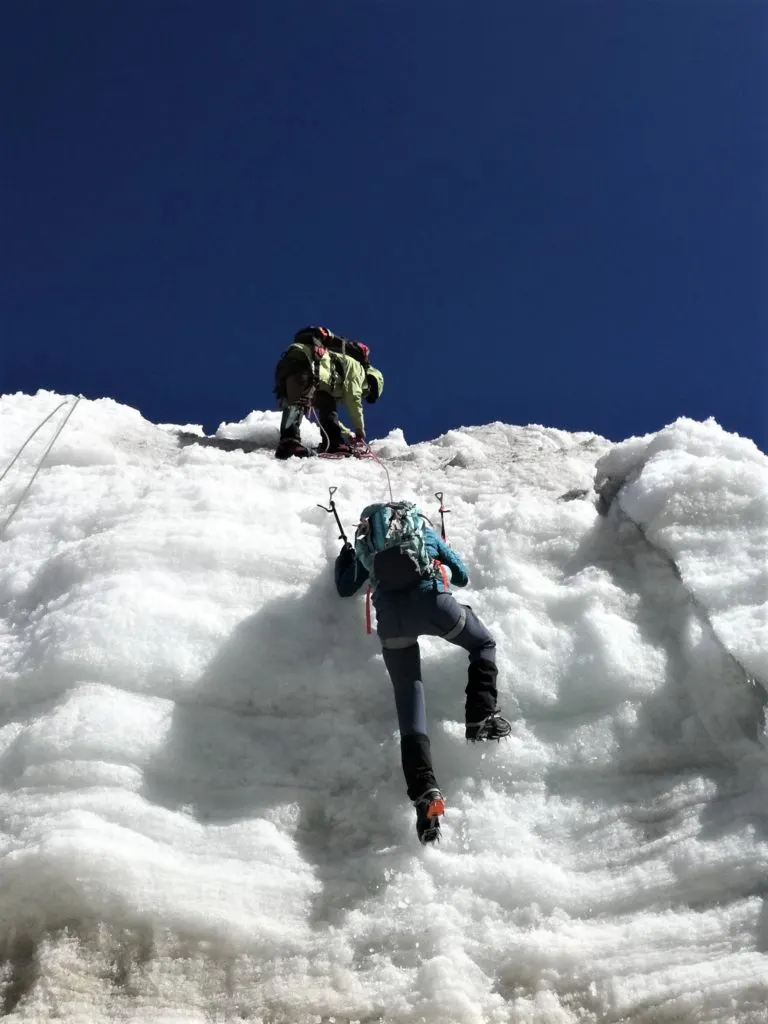 Tereza from Czickontheroad likes the way her Quechua Warm Snow Hiking Trousers fit her wide hips. She says:
Buying trousers is always a horror for me because I have wider hips compared to the rest of my body. Most of the trousers are therefore too big or too tight. Quechua winter pants fit perfectly, the trousers legs are not too wide, so it doesn't make that hippies look, but they are wide enough to pull them over big alpine shoes. The back part is slightly elevated, which is great to tuck in undershirts for better coverage of my lumber part. They are very comfortable to wear and flexible – even for an ice-climbing. If they weren't so warm, I would wear them every day, because they make me feel good and pretty 😀
Read more about Tereza's ice climbing adventure on Huayna Potosi, a 6000m peak in Bolivia.
READ NEXT: What to Wear Winter Hiking and Snowshoeing
Amanda of Every Two Pines likes to snowshoe with an insulated skirt to keep her butt warm. What an awesome idea! She likes the way the Marmot Pip Insulated Skirt fits her petite frame. She says:
I stood next to a frozen lake with wind whipping through my legs as I attempted to scarf down a sandwich. As I grabbed my down jacket and wrapped it around my freezing buttocks, I suddenly realized the genius of a down skirt. I am a petite woman who loves to snowshoe, often trying to ride the line between overheating while ascending a snowy mountain and freezing as soon as I stop moving. A zip-on down skirt allows me to quickly layer up and keep my core warm, while keeping hypothermia at bay. It insulates my legs when I sit on the snow, and provides the perfect extra layer when snow camping. When it is time to start moving again, the easy zipper system allows it to come right off. It packs small, is easy to carry, and I never leave home without it during Washington's winters.
Check prices on the Marmot Pip Insulated Skirt: REI
Follow along with Amanda's outdoor adventures on Instagram.
What is your favourite piece of hiking clothing and how does it work for your body type? Share your women's hiking clothing finds in the comments.
READ NEXT: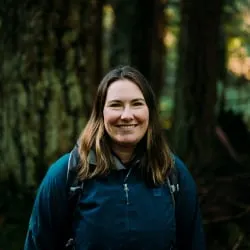 Latest posts by Taryn Eyton
(see all)