Traditionally most outdoor brands made women's hiking clothes up to size 10 or 12. In the last decade or so, sizes 14 or 16 have become more common. But unfortunately, it's still a bit of a challenge to find women's plus size hiking clothes.
As a plus size hiker myself, it's sometimes a struggle to find things that fit me. In this article, I'll give you the low down on where to find women's plus size hiking clothes in sizes up to size 22 and 3X. It includes a list of the best plus size hiking clothing brands and tips on where to buy them.
Hey there: Some of the brands mentioned in this article sent me clothing to try. You will find only my honest opinion below. As well, some of the links in this post are affiliate links, which means I earn a small commission at no cost to you. Thanks for your support. -Taryn
What Sizes are Plus Size?
In general, sizes larger than size 12 are considered plus size in the outdoor industry.
However, I want to be clear that I recognize that as a size 16, I still hold a lot of privilege in the plus size community. Many companies make hiking clothes in my size. The fit and style may sometimes suck, but at least my size is offered.
That isn't the case for women who wear a size 18 or larger. However, a few companies now recognize that plus sizes make up a huge part of the clothing market. From what I've read, nearly 70% of American women wear a size 14 or larger so it makes sense that outdoor brands are beginning to offer clothing in extended sizes.
Plus Size Outdoor Activists
I also acknowledge that part of the reason that plus sized apparel is becoming more common is due to the hard work of plus size activists in the outdoor space like Jenny Bruso of Unlikely Hikers, Summer Michaud-Skog of Fat Girls Hiking, climber Sam Ortiz, and ultrarunner Mirna Valerio.
These women have worked hard to show people that women of all shapes and sizes belong outdoors. They have convinced hiking clothing companies not only that they should make plus size clothing, but also that they should include plus size women in their ad campaigns and social media.
Active Wear Isn't Designed for Hiking
In this article, I'm going to focus mainly on brands and companies that make plus size women's clothing designed specifically for hiking. There are lots of places to source plus size activewear, from big box stores like Walmart and Old Navy to niche small businesses.
Thankfully, it's much less challenging (although still not easy) to find plus size leggings and quick dry tops, mostly designed for working out or yoga.
Active wear works fine for casual hikes, but on tougher trails and in bad weather, you're going to need some durable hiking pants and quality rainwear. And it's MUCH more difficult to find those in extended sizes.
So that's what I'm going to focus on here: a list of brands that make quality women's plus size hiking clothes and info on where to find them.
Just a quick note: I recognize that hiking clothing can be expensive. But it doesn't have to be! Check out my tips for saving money on hiking gear.
The Best Women's Plus Size Hiking Clothing Brands
REI
In 2017, REI committed to offering more sizes in an effort to fit more women. REI carries plus size women's hiking clothes from brands like Athleta, Columbia, Outdoor Research, Patagonia, PrAna, Smartwool, and The North Face.
They also offer nearly 100 plus size items in their own REI Co-op brand including everything from hiking pants to rain jackets to quick dry shirts to base layers in sizes up to 3XL.
The REI Co-op Flash Hybrid Tights come in plus sizes and are on my list of the best hiking leggings. And the REI Co-op Sahara Convertible Pants come in sizes 0-26. Find them on list of the best women's hiking pants.
For the full selection, you'll have to shop online, but some of their larger stores do have a good plus size selection. Every time I'm in Seattle, I go to the giant downtown REI store. I've found great plus size hiking shorts there, as well as long-sleeved trekking shirts.
MEC
If you're in Canada, MEC is probably your best bet for women's plus size hiking clothing. They have been quietly expanding their assortment.
They used to just carry up to a size 14 or XL in most things, but in the last few years they've added a LOT of styles in size 16, 18 and XXL and a few up to size 22 or 3XL. However, most things over size 16 are online only.
They carry extended sizes from Patagonia, prAna, Outdoor Research, Smartwool, and The North Face. They've also started to offer a bigger size range in their house MEC brand. I really like their Terrena stretch pants. They're lightweight, soft, and stretch a LOT.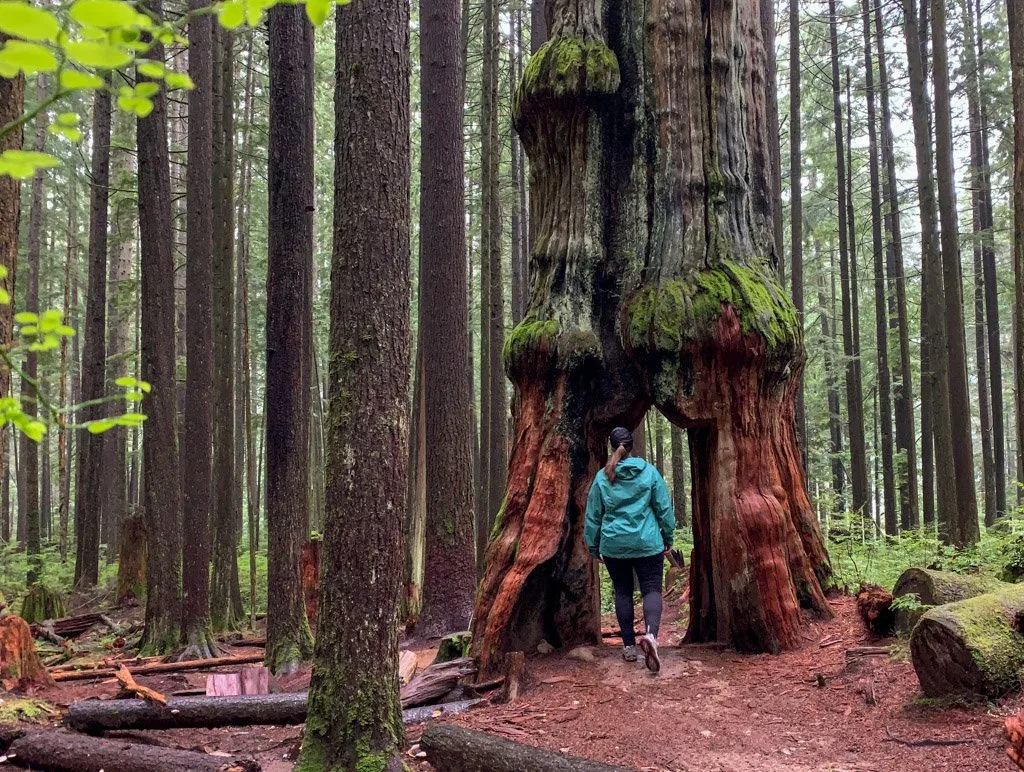 Outdoor Research
Outdoor Research launched a huge extended size collection in 2021 with input from plus size outdoor influencers including Sam Ortiz and Kaila Walton.
Their range is available up to size 3X and up to 24W. They are also committed to charging the same price for all sizes, which is great.
They make all kinds of technical clothing in plus sizes, including the popular Aspire II Gore-Tex rain jacket and merino wool base layers. The Outdoor Research Ferrosi Pants come in sizes 0-24 and are on my list of the best women's hiking pants.
prAna
prAna has really upped their game in the last few years. They now have an extended size collection that includes styles for yoga, casual wear, and hiking.
I've been a fan of their Halle pants for hiking for years. They used to stop at size 16 but now they are available up to size 22 as well! Find them on my list of the best women's hiking pants.
You can buy direct from prAna but they are also available at REI, MEC, Backcountry, Moosejaw, and Amazon. You can sometimes find amazing deals on prAna's plus size clothing on Steep and Cheap too. (I've seen over 70% off before!)
Patagonia
After years of offering a pretty small range of sizes, Patagonia has quietly launched an extended size collection with sizes up to 22 and 2XL. I've loved Patagonia's Capilene Cool Trail shirts for years (I have 3 of them!), but their pants didn't fit me. I'm excited to try their pants now.
I asked for recommendations for plus size clothing on my Instagram, and one woman said "The Quandary shorts from Patagonia are my absolute favourite shorts for hiking", so I might get a pair of those.
You can buy from Patagonia directly or Patagonia Canada, but they are also available at REI, Backcountry, and MEC.
Alpine Fit
Alpine Fit is a small women-owned company from Alaska. Right now their product assortment is pretty small, but what's really special is their fit. They offer two options for fit – a straighter up and down fit (called Wild Iris) and a curvier fit (called Azalea). They offer up to size XXL (20-22).
I have their signature Rendezvous Ridge long sleeve top and was really impressed by the fit. It's cut to fit my curvy hips and doesn't ride up. It's also incredibly soft – almost unbelievable so. Alpine Fit claims it's great a year-round layer thanks to a fabric that blocks sun, keeps you cool, and dries quickly. So far, I've only tried it on spring hikes, but I'll keep you updated.
Smartwool
If you're looking for cozy warm base layers, Smartwool makes awesome ones made of moisture-wicking and antimicrobial merino wool. They offer plus sizes in a few of their styles up to size 3XL.
Their patterns are really cute too! I love my snowflake-patterned long underwear! I also love their merino wool hiking tops. You can also find plus size Smartwool baselayers at REI, Backcountry, and MEC.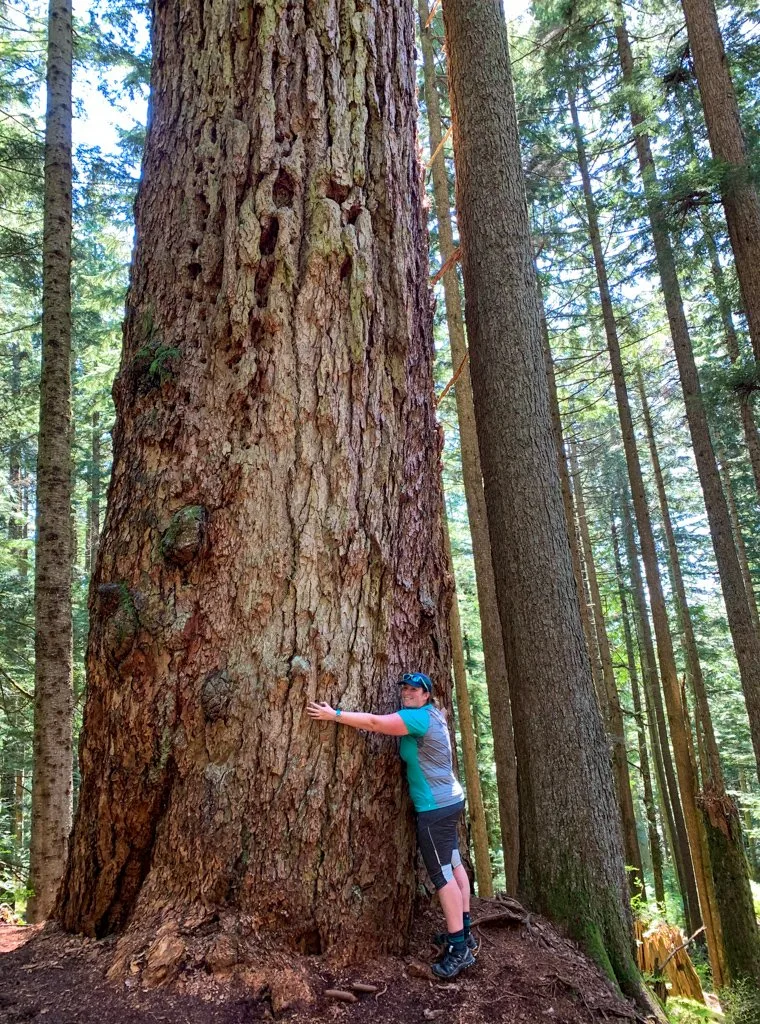 Brooks
Finding a supportive sports bra can be a pain… literally. My running bras are from Brooks. They carry up to size XXL and 44F. I have the Rebound Racer bra in a few different colours. I wear them for running and for some hikes as well. You can find Brooks bras at REI, Backcountry, Amazon, and MEC.
Knix
While I like the support that Brooks bras provide for running, my favourite bras for backpacking are by Knix. They are seamless so they don't chafe and they dry incredibly quickly.
I wear the Evolution bra which has convertible straps, so I can criss-cross them for more support. (They aren't supportive enough for running, but I love them for hiking, which is lower impact.) The Evolution bra doesn't have wires but can still fit sizes up to 42E thanks to molded cups.
Columbia
Columbia is a great source for women's plus size hiking clothes with over 200 items in their collection! Somehow I haven't tried their clothing yet, but lots of female hikers rave about it.
A couple women told me on Instagram that they love the Saturday Trail pants and shorts the most. They made it on to my list of the best women's hiking pants.
Columbia has everything from rain jackets to snow pants to hiking shirts in extended sizes. Compared to some other brands, their clothing is pretty reasonably priced too.
You can find women's plus sized hiking clothing from Columbia on their website, or at Columbia Canada, REI, Amazon, Moosejaw, and Backcountry. Steep and Cheap also usually has Columbia plus size gear on sale, often as much as 60% off.
The North Face
The North Face has recently started offering an extended size range that includes jackets, tops, and pants in sizes up to 3X.
I have their Aphrodite Motion 2.0 Capris. They are meant for hiking, but I love them for travel too since they look a bit more like casual pants. They are stretchy and they breathe really well. I wore them a LOT during my trip to Australia. They are on my list of the best women's hiking pants.
So far, you can find plus sized hiking clothes from The North Face on their website, or at REI, Backcountry, Amazon, Moosejaw, and MEC. Be sure to check Steep and Cheap too for up to 60% off last season's clothing.
Helly Hansen
Scandinavian sailing brand Helly Hansen also makes great hiking clothing. They make a few of their most popular jackets, pants, and tops in extended sizes up to 3XL. Their lightweight Loke Rain Jacket is super packable and gets great reviews. You can also find their gear on Amazon and Moosejaw.
Eddie Bauer
I only found recently that Eddie Bauer has a huge selection of plus sized clothing. So far I've tried their Trail Tight leggings, Guide Pro shorts, and the MicroTherm down jacket and love them all.
A few women on Instagram also recommended their First Ascent collection, especially the Guide Pro pants which come in sizes 0-24. It's great to see an outdoor brand making their most technical clothing in plus sizes! Find these pants on my list of the best women's hiking pants.
Eddie Bauer hiking clothing in extended sizes is also available from Eddie Bauer Canada and on Amazon.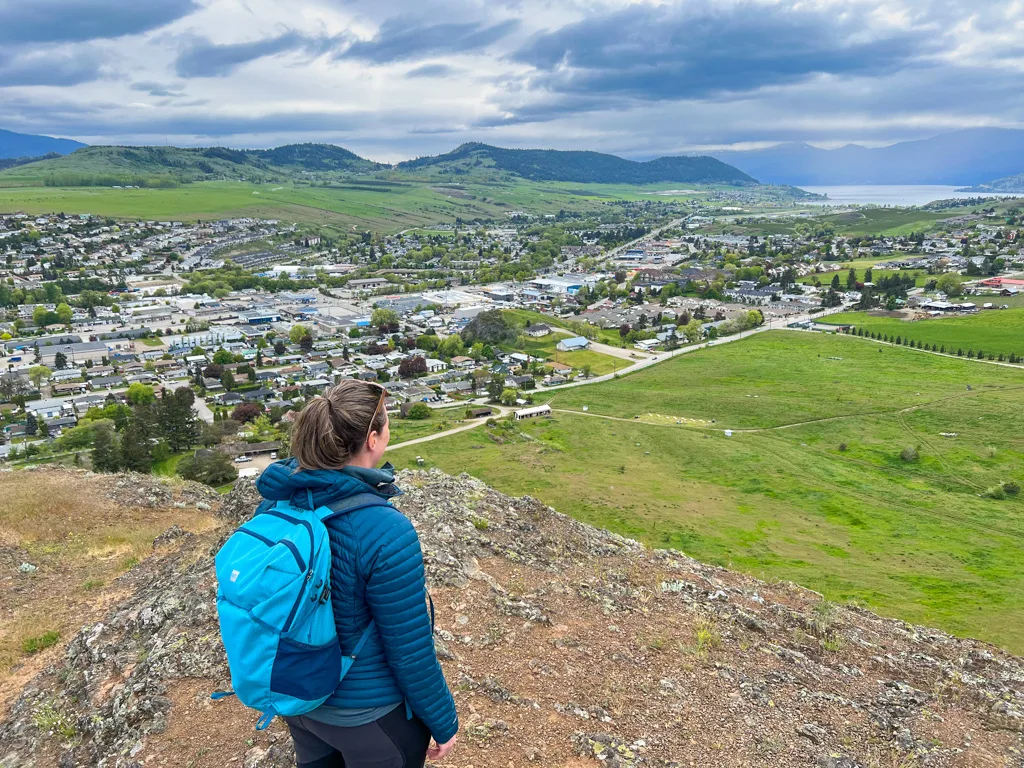 Marmot
Marmot's Precip rain jacket is a perennial favourite amongst hikers. It's super lightweight and compact, but still waterproof. And it's not very expensive. In researching this article, I discovered that it's also available up to size 3X.
Marmot also makes a handful of other jackets, pants, and tops in sizes up to 22 and 3X. Look for their plus sized offerings on Backcountry and Moosejaw too.
Athleta
Athleta is The Gap's athletic apparel brand. They have a huge selection of clothing available up to size 3X. They make lots of work out clothing, but they also make great hiking pants and fleeces.
My favourite winter hiking tights are their Altitude Stash Tights are my favourite. (They made my list of the best hiking leggings.)
Athleta clothing is also available at REI.
LL Bean
While LL Bean is known for their casual, outdoor-inspired clothing, they do have a few items of quick-drying clothing that would work great for hiking.
I've only ever tried their casual clothes (their flannels are soo cozy!), but some of their true outdoor pieces look great too. Their Vista Camp Pants get great reviews and so does their Trail Rain Jacket.
Ex Officio
Many hikers swear by Ex Officio's seamless underwear. They're quick-drying and don't chafe. I haven't tried them yet (I wear Patagonia hiking undies), but they do come in sizes up to 3XL. You can find them at REI, Backcountry, and Amazon too.
Read my guide to the best hiking underwear. It has tips on what fabrics and features to look for too.
So there's my list of the best places to find plus size hiking clothes for women. I hope you find it helpful. If you have a women's plus size hiking clothes brand to recommend, please tell me in the comments. I'd love to add more resources to this list!
READ NEXT: MORE ADVICE FOR FEMALE HIKERS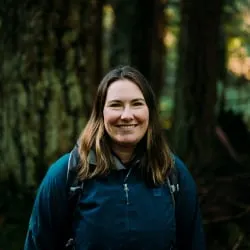 Latest posts by Taryn Eyton
(see all)