When I was planning Annapurna Base Camp Trek in Nepal, I wasn't sure exactly what to pack. I had done lots of overnight hiking and camping trips at home in Canada but I'd never trekked in the Himalayas and I wasn't sure what to expect. What would the weather be like? What kind of things did I need to bring for staying in teahouses? What could I buy in Nepal and what did I need to bring from home? Now that I've spent 10 days trekking, I know exactly what I'd pack next time (and what I reeeeeally wish I'd brought when I trekked). So here it is: a super extensive list of what to pack for the Annapurna Base Camp Trek.
Hey there: Some of the links in this post are affiliate links, which means I earn a small commission at no cost to you. Thanks for your support. -Taryn
Essentials to Pack for the Annapurna Base Camp Trek
Trekking Permits
You need a TIMS (Trekkers Information Management System) card and a ACAP (Annapurna Conservation Area Project) trekking permit to do the Annapurna Base Camp Trek. You will need to show these permits at a few checkpoints along the trail. Pack them inside a Ziploc bag to protect them.
Cash
If you are taking a package tour with a guide, you won't need to bring much cash since your accommodation and meals are covered. You might want to pack a few hundred rupees per day for snacks or hot showers. If you are trekking independently you will need enough rupees to pay for all your meals and accommodations for your whole trek – plan on about 3000-3500 Nepali rupees per person per day. There are no banks or ATMs anywhere on the trek.
Map and Guide Book
You'll want to plan out your route each day, especially since there are lots of options for getting to Annapurna Base Camp. Even if you hire a guide (and I think you should), pack a map and a guidebook to help you choose your route (and make sure you don't get lost). If the guidebook is too heavy, you can buy an electronic copy or just take photos of the relevant pages and look at the on your phone.
I recommend: Buy your maps in Kathmandu or Pokhara. The best guidebook I've found is Lonely Planet Trekking in the Nepal Himalaya 10th Ed.
(Looking for things to do in Pokhara before or after your trek? Here's a great guide to Pokhara.)
READ NEXT: Trekking to Annapurna Base Camp
Backpacks and Bags to Pack for the Annapurna Base Camp Trek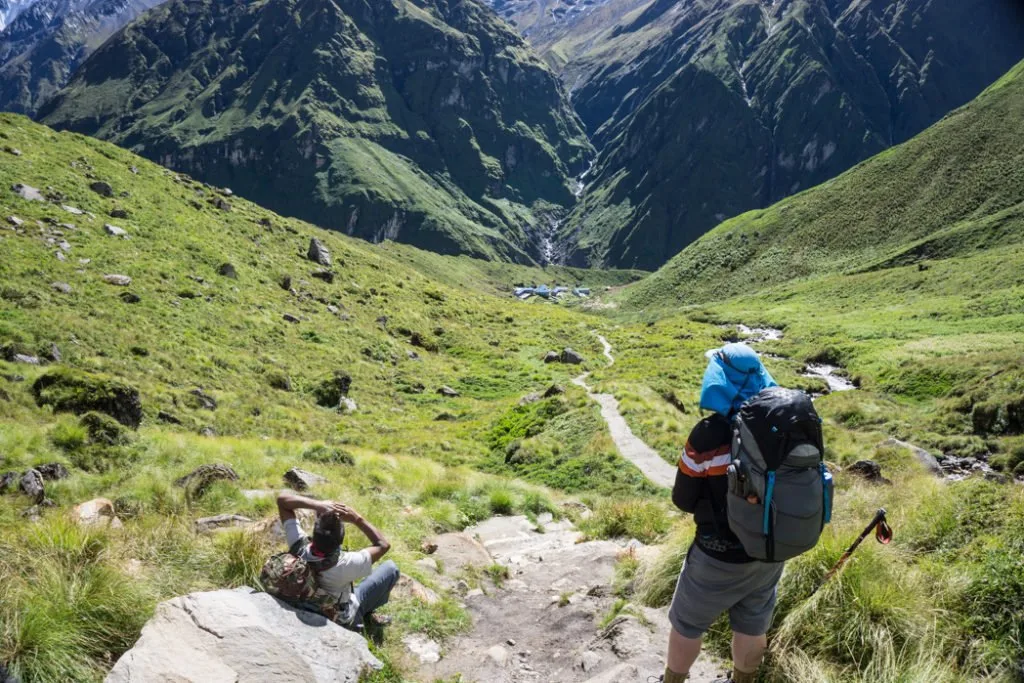 Backpack
You'll want to pack all your gear for the Annapurna Base Camp Trek inside a backpack. Something between 35 and 55L is probably a good size. Be sure to do a test pack at home to make sure all your gear fits. If you don't plan to hire a porter, make sure you choose a backpack that fits you well and is comfortable to carry.
I recommend: My husband and I both used Boreas Lost Coast 60 backpacks on the trek. We love this pack, but sadly it's discontinued. I also like my Gregory Jade 53 and it also comes in a smaller 38L size. The men's version is the Zulu.
Day Pack (Needed If You Hire a Porter)
If you are going to use a porter on your trek, the porter will carry your big backpack (or provide you with a duffle to pack your stuff inside) and you'll need to carry a smaller day pack on the trail every day. Choose one that's about 20L in size: big enough to carry water, a first aid kit, snacks and extra clothes in case it warms up or cools down.
I recommend: I use my Gregory Maya 22 day pack for most of my day hikes and I would have brought it to Annapurna Base Camp if we had hired a porter. It's a women's specific pack. The men's equivalent is the Miwok 24.
Duffle Bag with Lock
You probably brought a bunch of clothes and other stuff to Nepal that you don't want to bring on your trek. Bring a collapsible duffle bag with a lock so you can leave your extra stuff with your hotel in Pokhara.
I recommend: I used an airline tote that is designed to protect your backpack when you check it on the plane, but then can double as a duffle to store your stuff. Osprey makes good airline totes. Bring some simple travel locks to deter theft.
Stuff Sacks and Organizers
To stay organized I like to pack my gear in a combination of different sized stuff sacks. I also bring lots of Ziploc freezer bags to keep wet gear separated and keep electronics dry and protected.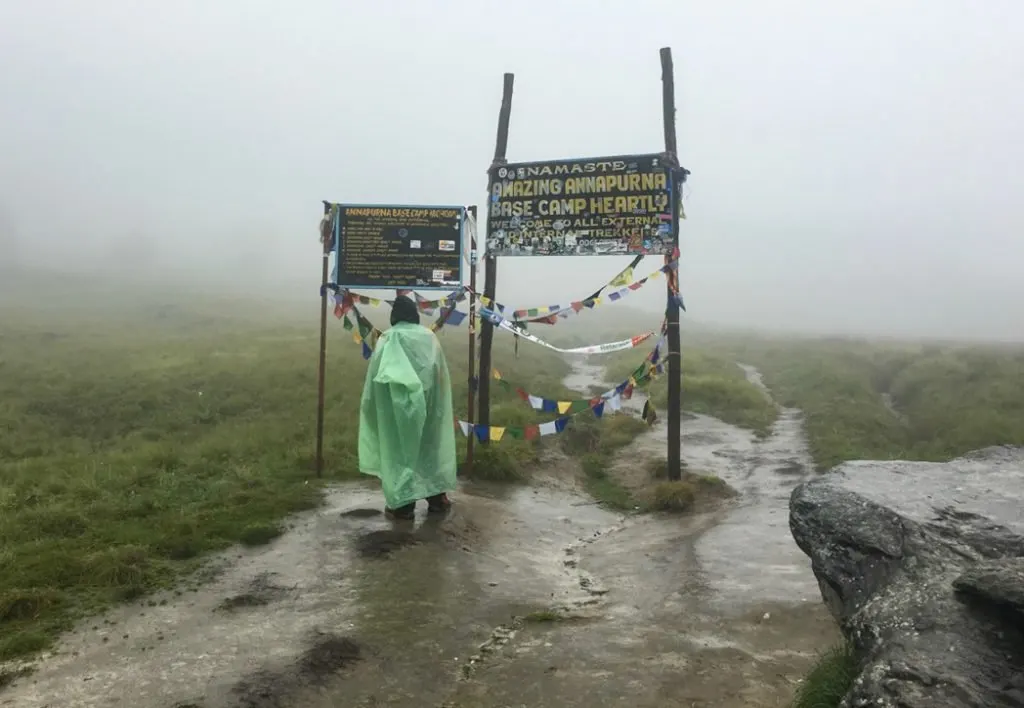 Rain Protection
If your gear gets wet, it can really ruin your trip. I trekked to Annapurna Base Camp at the end of monsoon season and it rained a lot. I brought a rain cover for my backpack and also brought a couple big black garbage bags to wrap up gear inside my pack. You can also protect your gear from rain the Nepali way: with plastic sheeting.
I recommend: Some packs come with a custom sized rain cover. If yours didn't, buy a lightweight silnylon rain cover that fits your pack well.
Clothing to Pack for the Annapurna Base Camp Trek
Hiking pants or tights (1 or 2)
Choose quick-drying hiking pants made of nylon or polyester (and maybe with a bit of spandex for stretch). My husband likes convertible pants that zip off into shorts, but I don't find them that comfortable. Like a lot of women, I sometimes hike in running tights. If you do choose to wear tights in Nepal, respect the local culture by wearing them with a longer top that covers your crotch and butt. You can get away with one pair of pants, but you'll be happier with two so you can air one pair out while wearing the other.
I recommend: I love my MEC Terrena Stretch pants. I also like the Prana Halle Pants. For guys, my husband recommends the MEC Mica Pants. If you like convertible pants, the Prana Stretch Zions are a great option.
Shorts (optional)
Most treks in Nepal start at a low elevation in the humid jungle. Unless you are trekking in the winter, you'll likely have a few very hot days. You may want a pair of quick drying hiking shorts for this type of weather. Bring shorts that hit just above the knee: short shorts are a no-no in Nepal.
I recommend: It's easy to find longer length hiking shorts for guys, but it can be a challenge for women. The Black Diamond Valley Shorts are my favourite hiking shorts. They're really lightweight, dry quickly and aren't too short. The Prana Halle Shorts are another great option for longer length women's shorts.
T-shirts (2)
I usually hike in quick-drying workout t-shirts and I brought 2 to Nepal. You could also bring a couple button up trekking shirts. I did bring a tank top to Nepal but mostly wore it as a layer under a long-sleeved shirt since tank tops are a bit too revealing in Nepali culture.
I recommend: Any old quick dry workout t-shirt will do. You can pick them up for cheap at big box stores or mall stores.
Long sleeved shirt (1)
A long sleeved shirt is a good layer for sun protection or for a bit more warmth on cold mornings. Ones with buttons or a zip neck are great so that you have venting options.
I recommend: Look for a long sleeved zip-neck or button up with UPF sun protection. I actually like to wear long sleeved zip-neck base layer tops like the MEC T1 Long Sleeved Zip T.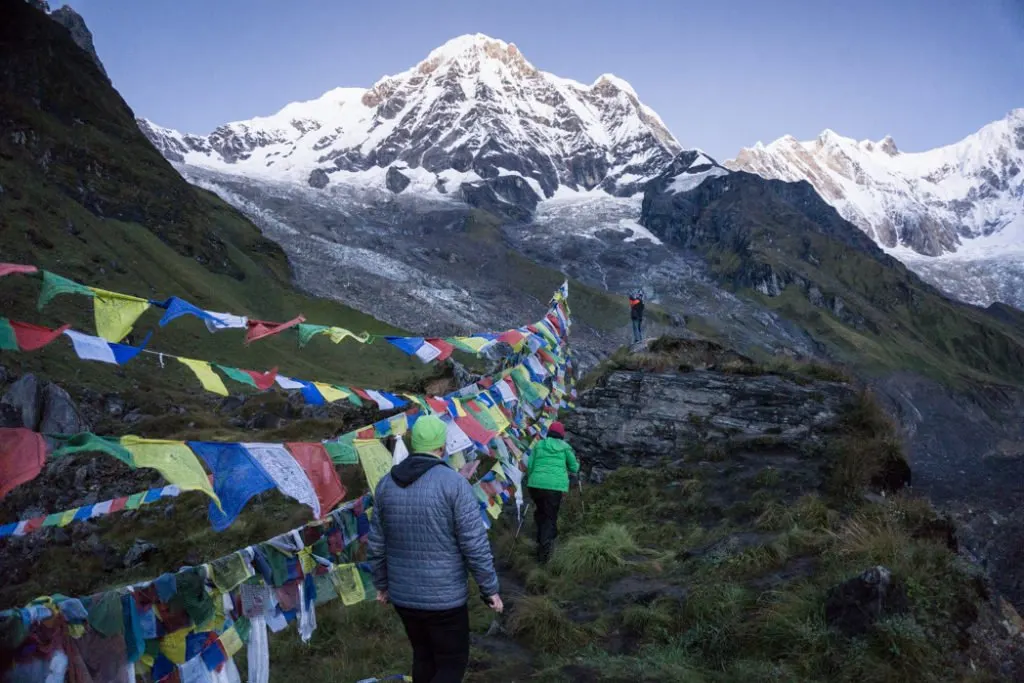 Fleece Jacket or Light Weight Puffy Jacket
At high elevations or on cold mornings you will need a warm layer to hike in. Pack a fleece jacket or a lightweight puffy jacket that you can layer on over a t-shirt and under your rain jacket.
I recommend: I love my down MEC Spicy Hoodie. It's super lightweight and compressible. My husband loves his Patagonia Nano Puff Jacket. For a synthetic puffy it's really light and warm. It comes in a women's version too. Buy: REI | Patagonia.
Warm Puffy Jacket (Optional)
If you get cold easily, or if you're trekking in the colder months you'll want a big warm, puffy jacket to wear at night in the teahouses or when taking breaks. This jacket should be extra warm, much warmer than the lighter weight puffy you pack. Pick a jacket that is compressible so it won't take up too much room in your pack. If you're hiring a trekking guide, they may have big puffy jackets available for rent.
I recommend: I didn't pack a huge puffy jacket for Annapurna Base Camp since I didn't trek during cold weather. Ask your trekking agency about renting a jacket or buy one in Kathmandu.
Rain jacket
You definitely should pack a rain jacket for the Annapurna Base Camp trek, even if you don't visit in the monsoon season. It can rain or snow at anytime in the mountains, and even if it doesn't a rain jacket is great for blocking the wind. Bring a waterproof breathable rain jacket designed for hiking – preferably one with pit zips for venting.
I recommend: We really love our 3 layer Gore Tex MEC Synergy Jackets. If you want something lighter and more compact, the Outdoor Research Helium II is a great option. Buy: Outdoor Research | REI.
Rain Pants
Pack a pair of waterproof breathable rain pants that you can easily layer over top of your hiking pants. I like ones with side zippers for venting that are easy to put on and take off without removing your shoes.
I recommend: I have the MEC Hydrofoil Rain Pants. They have full length side zips so they aren't as light as the popular Outdoor Research Helium Pants. Buy: Outdoor Research | REI.
Long Underwear
It gets cold up high in the mountains, especially at night so make sure you pack some warm long underwear, also known as a base layer. You can wear them as pyjamas at night or as a warm layer under your trekking clothes during the day. Choose mid-weight long underwear made of polyester or merino wool and be sure to pack both long underwear bottoms and a long sleeved top.
I recommend: I sleep cold so I wear a MEC T3 base layer top with a hood and matching bottoms. My husband likes Patagonia's Capilene Midweight long underwear. Buy: REI | Patagonia.
Sports bras (2)
Bring two sports bras so you can wear one and air out the other. You don't need a ton of support for trekking, so try to choose a bra without a lot of fabric layers that will take a long time to dry.
I recommend: I really like the Knixwear bras for trekking since they are super lightweight, don't absorb too much moisture and are seamless so they don't chafe. They offer enough support for my larger chest when I adjust the straps to cross back.
Underwear (3 or 4 pairs)
I like to bring two kinds of underwear on long trips: two or three pairs of quick drying synthetic underwear for trekking and one pair of comfortable cotton underwear for wearing at night. Seamless underwear will be way more comfortable for hiking in, since they prevent chafing. Many of the guys I hike with swear by boxer brief with a built in pouch to prevent their package from rubbing the inner thighs.
I recommend: I wear Patagonia's Active underwear because they're seamless and don't chafe when I'm sweaty. Buy: REI | Patagonia. The guys I hike with can't stop talking about how much they love Saxx boxer briefs. Buy: REI | Amazon
.
Warm Hat
Americans call it a beanie. Canadians call it a toque. No matter what you call it, don't forget to pack a warm hat on your Annapurna Base Camp trek. Bring one that covers your ears.
I recommend: Buy a hand knitted hat in Nepal. You'll be supporting the locals and get a great souvenir.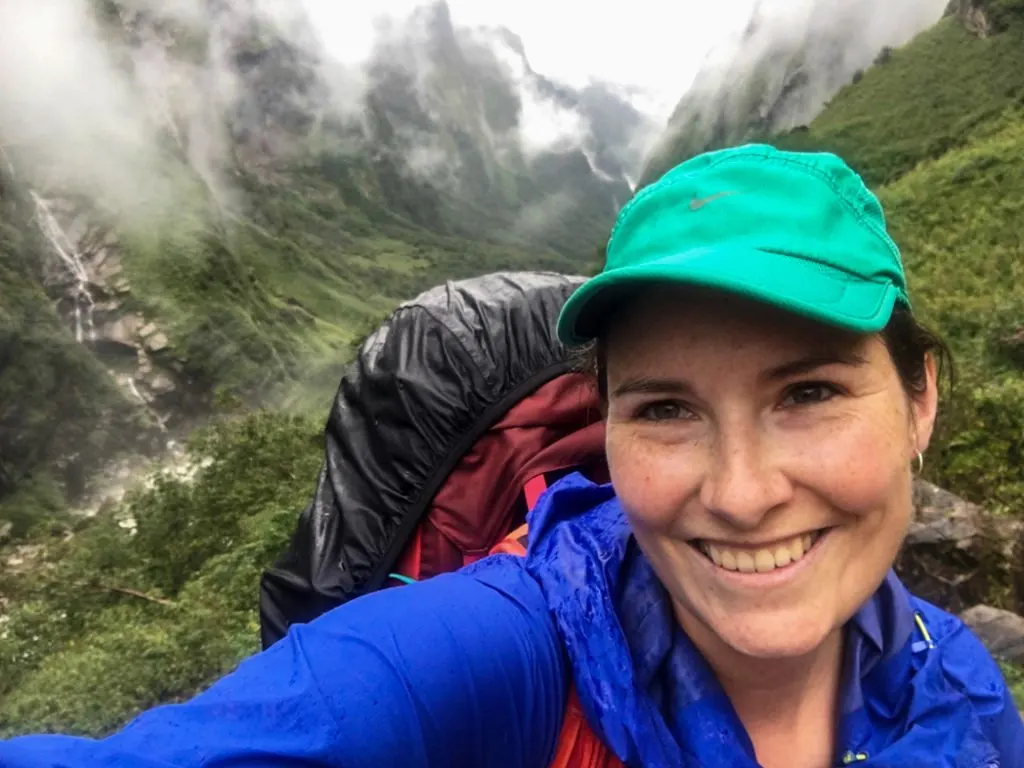 Sun Hat and Sunglasses
The sun can be harsh at high elevations, especially above the tree line so you may want to bring a wide brimmed hat or baseball cap and a pair of sunglasses to give you a bit of protection.
I recommend: I like to wear polarized sunglasses as they cut let you see colours that are truer to reality than what you get with regular sunglasses. I like Sunskis since they have fun frame options and they aren't too expensive for polarized glasses.
Gloves
Simple fleece or wool gloves will be enough to keep your hands warm at high elevations or on cold mornings. But if you are trekking in the winter or feel the cold easily, insulated ski gloves are a better bet.
I recommend: I like wind resistant gloves since they're a bit warmer when wet.
Neck Gaiter or Buff (Optional)
When I was trekking my guide Chandra swore that you stayed warmer if you kept your ears covered and he often used a buff as a headband to warm his ears. You can also wear a buff around your neck or even as a hat.
I recommend: I bring a merino wool buff on all my hikes and was happy I packed it for Annapurna Base Camp.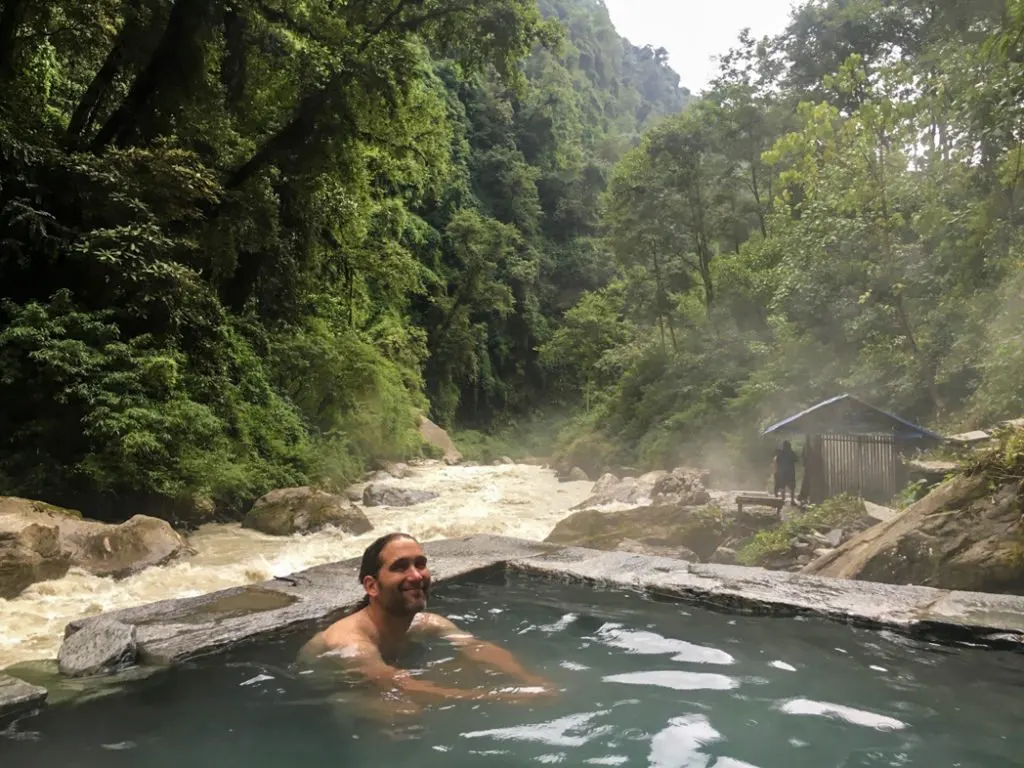 Bathing Suit (Optional)
There are lots of route options for reaching Annapurna Base Camp, but many of them include a visit to Jhinu Danda hot springs. Women should pack a bathing suit for the springs but men can just wear their trekking shorts (or bring board shorts instead of trekking shorts). Women should pack a bathing suit that's a bit more modest (a one piece or tankini without a plunging neckline) so you don't offend the locals.
Casual clothing for wearing at the Teahouses (Optional)
When you're relaxing at the teahouse each evening you might not feel like wearing your sweaty trekking clothes. Consider packing a lightweight change of clothes to wear at the tea house. (Or just do what I did and wear your long johns as pants).
READ NEXT: 6 Reasons You Should Hire a Trekking Guide in Nepal
Footwear to Pack for the Annapurna Base Camp Trek
Hiking Boots
The Annapurna Base Camp trek is mostly on well trodden paths and stone stairs so you don't need heavy duty mountaineering boots. Regular hiking boots are fine. If you prefer the ankle support of higher cut boots, bring them as they will be handy for all the descending you'll do on the trip back down. I wore mid-cut boots and was quite comfortable in them. The most important thing is to bring boots that you've already worn already and that are comfortable. You really want to take care of your feet.
I recommend: For mid-cut boots I love my Salmon X Ultra Mid GTX Boots. (I wore them in Nepal). Buy: REI | Backcountry.com | Amazon. When I want full ankle support, I wear my Scarpa Kailash boots. Buy: Backcountry.com |
Amazon.
Sandals
Pack a lightweight pair of slip on sandals, Crocs or flip flops for wearing in the shower and to visit the toilet in the middle of the night. You'll want a break from your boots each day so they are also great to wear inside the teahouses.
Socks (2 or 3 pairs)
Keeping your feet happy on a trek is super important. Pack 2 or 3 pairs of wool and synthetic blend socks that fit well. I also prefer to wear liner socks since they can help reduce the rubbing that can cause blisters. Try your socks and boots at home before your trek to make sure they don't cause any problems.
I recommend: I'm a recent convert to wearing Darn Tough socks. They're comfortable and seem to last forever. I wear the Light Hiker Micro Crew. Buy: REI |Darn Tough Socks.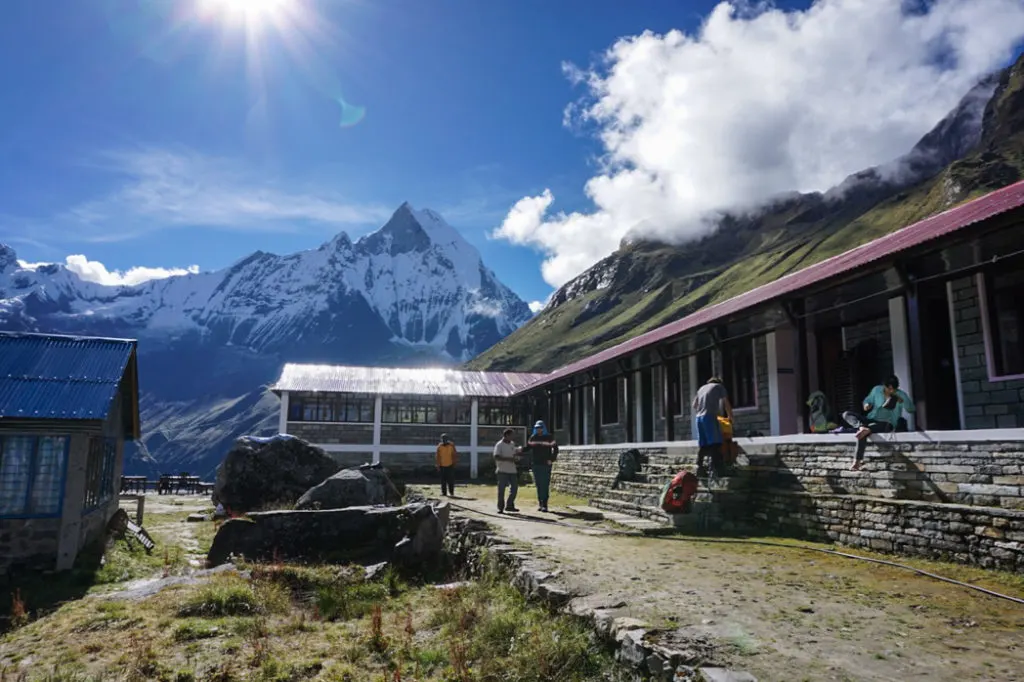 Sleeping Gear to Pack for the Annapurna Base Camp Trek
Sleeping Bag and Compression Sack (Optional)
You don't need to pack a sleeping bag on the Annapurna Base Camp trek, but you may want to bring one anyway. All of the teahouses provide thick synthetic comforters (which they call blankets), but they can run out in high season. The teahouses aren't heated so even if you do get there early enough to get a blanket, you might still be cold. Pack a lightweight and compressible sleeping bag rated at least 0C/32F but preferably more like -10C/14F. Choose one with a hood for extra warmth. Make sure you pack your sleeping bag inside a compression sack so it takes up less space in your pack. If you are using a guide, the trekking company may have sleeping bags available to rent.
Sleeping Bag Liner and Pillowcase (Optional)
I didn't pack a sleeping bag liner on my trek, and it's the number one thing I wish I had brought. The tea house beds come with a foam mattress, fitted sheet, a pillow, a pillowcase and a thick blanket, but they're aren't washed very often and sometimes didn't smell that clean. If you bring your own sleeping bag liner and pillowcase you won't have to put your skin into direct contact with the teahouse linens.
I recommend: I'll definitely be picking up a lightweight sleeping bag liner before my next trek.
Ear Plugs
The teahouses have VERY thin walls. If you're a light sleeper, ear plugs are a must. You never know when you'll be put in a room next to an epically loud snorer.
I recommend: Bring a few pairs of cheap foam earplugs. You're bound to lose some so it's good to have extras. I like the contoured ones since I find they fit in my ears better.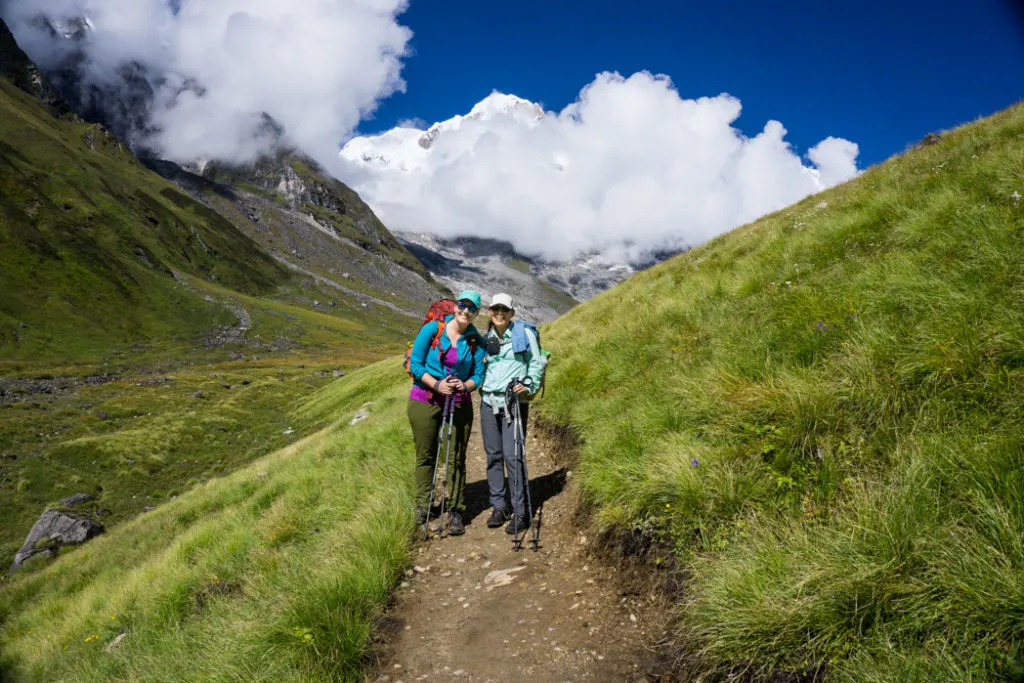 Toiletries and First Aid to Pack for the Annapurna Base Camp Trek
Soap, Shampoo and Conditioner
All of the teahouses have showers so you will want to bring travel sized bottles of soap, shampoo and conditioner so you can wash up. Cold showers are always available and are usually free. Hot showers are often available for a price.
Travel Towel
The teahouses don't supply towels so you'll need to pack your own. Choose a quick-drying super absorbent microfibre towel.
I recommend: I have the PackTowl Personal Towel in both face cloth and body towel sizes.
Toothpaste and Toothbrush
There's usually a communal sink outside the toilet where you can brush your teeth. But remember to use your own filtered or treated water.
Deodorant and Wet Wipes
You'll be spending up to 10 days on the trail getting sweaty every day. Bring a small travel sized deodorant and some wet wipes for having a quick sponge bath on days you don't shower.
Sunscreen, Lip Balm and Moisturizer
The harsh sun at high elevations can give you a sunburn in just a few minutes. (I forgot to put sunscreen on the backs of my hands and ended up with a wicked sunburn after only 45 minutes of exposure.) Pack sunscreen and SPF lip balm to protect yourself. The cold air and wind can also dry out your skin so you might also want to pack a small bottle of moisturizer.
I recommend: I like Neutrogena sport sunscreen since it is oil free. I use Blistex lip balms. They have an SPF rating of 15 (so you have to reapply often) but they don't feel too waxy like some others I've tried.
Hair Brush and Hair Ties
If you've got long hair, you know why you need these.
Contact Solution and Spare Lenses
If you wear contacts, be sure to pack contact solution and extra lens. On cold nights, sleep with your contact case inside your sleeping bag to keep them from freezing.
Tampons or Pads
If you menstruate, pack some tampons or pads just in case. They aren't available for sale anywhere along the trek (as one blogger unfortunately found out!)
Toilet Paper and Hand Sanitizer
There will be no toilet paper along the route since Nepalis don't use it: They use their left hand and some water.You'll need to pack some inside a Ziploc bag to keep it dry. You can buy toilet paper at teahouses and shops along the trek, or stock up ahead of time in Pokhara. Sometimes the communal wash sinks come with soap, but they often don't so it's a good idea to pack a small bottle of hand sanitizer to clean your hands after you use the toilet and before you eat.
First Aid Kit
You should pack a small first aid kit. Make sure it includes bandages, gauze, medical tape and a compression bandage for strains or sprains. You'll also want to have lots of foot care supplies such as Moleskin or Second Skin for blisters. It's also a good idea to pack some nail clippers. Your first aid kit should also contain stuff to help repair your gear in case you have any problems. We packed a small multi-tool and some duct tape.
I recommend: I like the Adventure Medical Ultralight first aid kits since they come in a water resistant pouch. I always add more stuff to them, like more blister care and bandaids.
A multi-tool with a knife, pliers and scissors is always handy. I like the Leatherman Wave.
Medication
Don't forget to pack any prescription medication. Medication of any kind is not generally available on the trek and may be hard to find in Pokhara. Make sure you pack a good supply of anti-inflammatory painkillers like Advil. Getting sick on the trail is surprisingly common so pack cough and cold medication just in case. If you end up with an upset stomach on the trail (like I did), you'll be happy to have anti-nausea meds like Gravol and anti-diarrhea pills like Immodium.
Visit a travel clinic before you leave home and talk to your doctor about whether you want to get a prescription for Diamox to help with altitude sickness symptoms. (Annapurna Base Camp isn't that high compared to many other treks in Nepal, but it's still at 4100m, MUCH higher than you are used to.) A travel clinic can also write you a prescription for antibiotics to help with traveller's diarrhea. I was really glad to have those pills on my trek!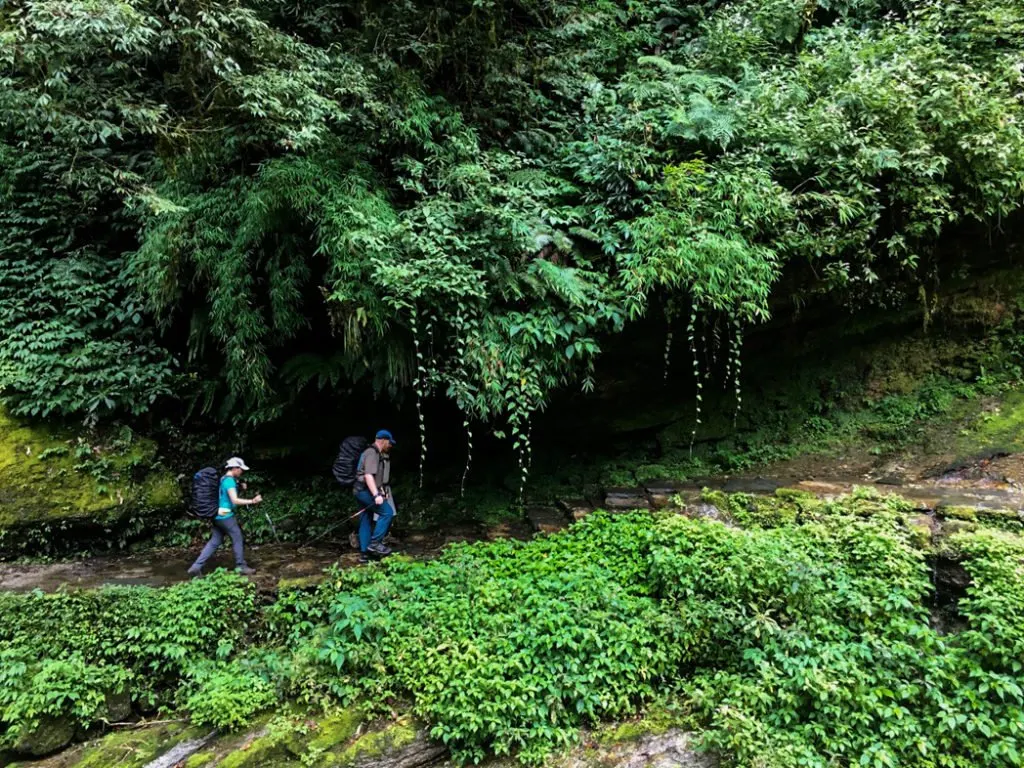 READ NEXT: 8 Things I Wish I Knew Before Going Trekking in Nepal
Electronics to Pack for the Annapurna Base Camp Trek
Mobile Phone and Charger
Most of us take our phones everywhere and Annapurna Base Camp is no exception. Most of the teahouses have wifi if you want to stay connected.
Nepali SIM Card (Optional)
There is excellent phone reception on almost the whole trek. If you trek during high season you may want to get a Nepali SIM card so you can call ahead to guest houses each day and reserve a bed.
Camera, Memory Cards and Charger or Batteries
The Himalayas are spectacular and you'll want to make sure you have a good way to take photos. Many mobile phones take great photos, but you may want to bring a stand alone camera or even a GoPro.
I recommend: I brought my Sony A6000. It's a mirrorless which is more compact than a full DSLR but still produces high quality images. I find it easy to use, plus it's not that expensive.
Headlamp and Extra Batteries
Electricity is unreliable in Nepal, especially in the mountains. There's often no lights at night so you'll want to bring a headlamp to navigate around the teahouse in the dark.
I recommend: I use a Petzl Actik. It's super bright and easy to use. Plus the batteries last a long time on low power. Buy: REI | Backcountry.com.
Power Bank
Sometimes you will get electrical outlets in your room, but more often there will be communal outlets in the teahouse dining room, and often you'll have to pay to use them. If you have a few different devices to charge, it can be easier to bring a power bank so you can charge that in the dining room, then use the power bank to charge your other devices later.
I recommend: Bring a power bank that has enough storage to charge your devices at least once, but isn't too big and heavy. The size you choose will depend on how many devices you bring, but at least 5,000mAh capacity or larger is probably a good idea.
Plug Adapter
The plugs in Nepal may not work with your plugs from home so it's a good idea to pack an adapter. Nepal primarily uses Type C plugs (Euro plugs) but you may also find Type D and Type M.
I recommend: I have the inexpensive Cactus Creek plug adapter kit. There's lots of other cheap yet functional adapter kits out there as well. Buy: REI.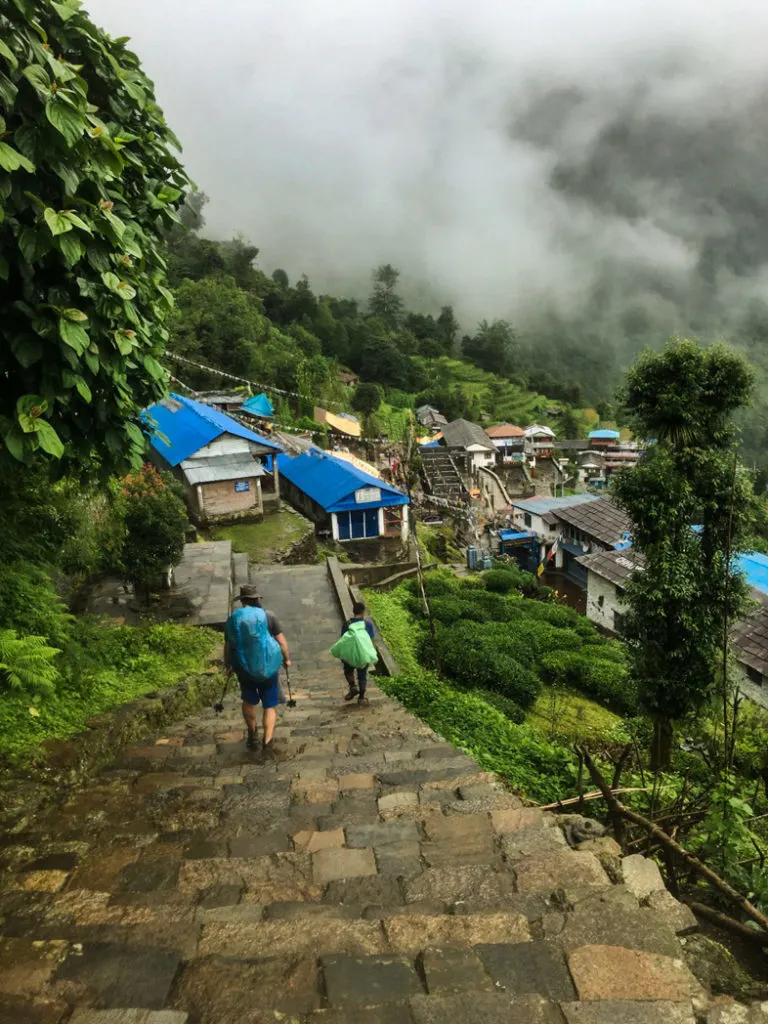 Food and Water to Pack for the Annapurna Base Camp Trek
Water Treatment
Drinking untreated water in Nepal is a sure-fire way to get sick. But it's important to stay hydrated at high elevations to prevent altitude sickness. (It's no joke! Read more about how to adjust to high altitudes.) You can buy treated water at a few designated safe drinking water stations. You can also pay a small fee for hot boiled water from teahouses (although there's no guarantee that it has actually been at a rolling boil for long enough to kill bacteria and parasites – it might just be hot). Lots of people use one of these two methods on the trail and don't get sick.
I have a sensitive stomach and really wanted to make sure I didn't get sick so I brought a Steripen which uses UV rays to treat the water. You could also bring a water filter, water treatment drops or tablets. Bringing your own method of water treatment or filtration gives you more flexibility so don't have to wait until you get to a teahouse to fill up your water.
I recommend: We packed the Steripen Classic on our Annapurna Base Camp Trek. It was quick and easy to use for our group of 4.
Water Bottles
Bring a couple of reusable water bottles or a hydration reservoir to avoid buying bottled water and contributing to the garbage problem that plagues Nepal. Choose ones with a wide opening so they are easier to fill and sanitize.
I recommend: For trekking in Nepal I brought classic 1L Nalgene bottles. The wide openings are easy to fill and they are fine to use with boiling water. Plus you can get them in tons of fun colours.
Drinks
Tea, Coke and beer are readily available at all teahouses (although the latter two can get quite expensive). But if you like to hike with electrolyte replenishment drinks or you like coffee in the morning, you'll have to bring your own as they aren't available on the trek.
I recommend: We brought a few tubes of Nuun electrolyte tablets from home. The tablets are easy to pack and way less messy than powders. I'm a coffee drinker at home, but in Nepal I just ordered a pot of Nepali chai tea every morning. It had plenty of caffeine to replace my coffee.
Food
You will be eating three hot meals a day at teahouses, so I found that I didn't want as many snacks as usual while on the Annapurna Base Camp Trek. But you can buy plenty of junk food from the tea houses including chocolate bars and cookies. If you prefer more traditional hiking snacks like energy bars or trail mix, you'll need to buy them outside Nepal.
I recommend: I brought a few of my favourite energy bars which were helpful for fighting off attacks of the hangries on the longer days. I like the Luna Bar S'mores Bar and the Pro Bar Chocolate Coconut Bar.
Optional Extra Gear to Pack for the Annapurna Base Camp Trek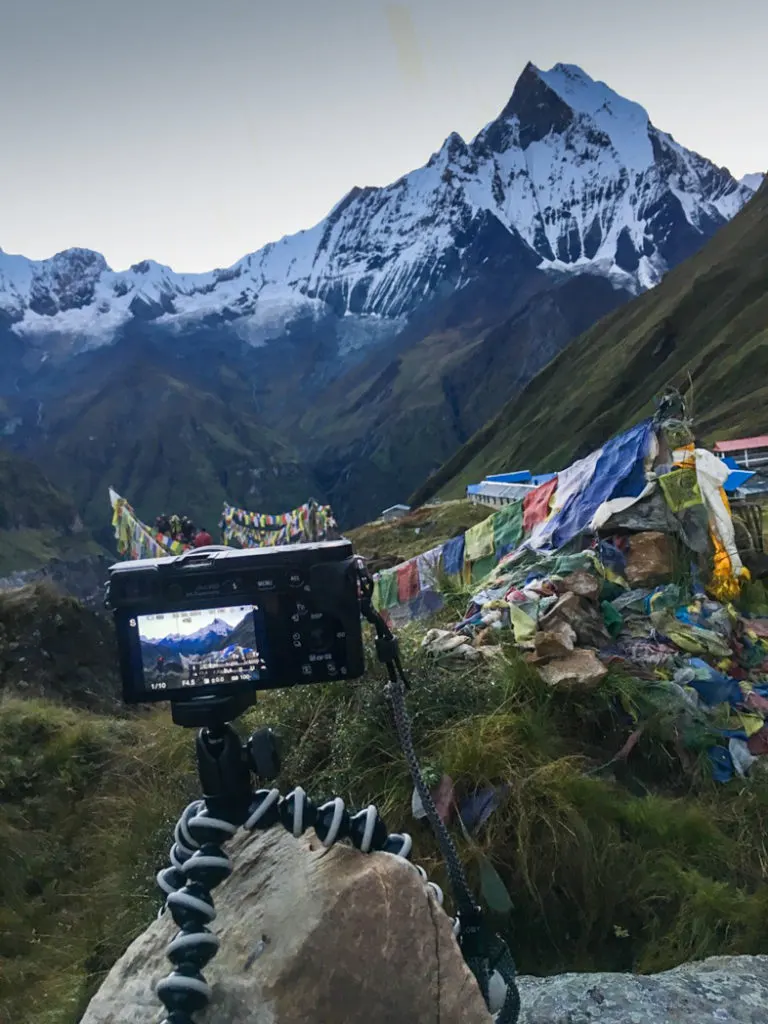 Trekking Poles
The Annapurna Base Camp Trek has a lot of steep ascents and descents. Trekking poles can be really helpful for saving your joints on the downhills. (Is hiking with poles really easier? My friend Becky says yes and I have to agree!)
I recommend: I brought my Black Diamond Trail trekking poles to Nepal and was really happy to have them.
Umbrella
If you expect rain on your trek, an umbrella can be really helpful. At lower elevations it's too hot to wear full on rain wear so the umbrella keeps your head and shoulders dry so you don't have to wear a rain jacket. We trekked in early September at the end of the monsoon season and were happy to have umbrellas.
I recommend: Buy a cheap umbrella in Kathmandu or Pokhara.
Tripod or Selfie Stick
I brought a mini tripod for my camera and maybe people bring selfie sticks or GoPro extension poles. They're helpful for getting group shots or providing a different perspective.
I recommend: I brought the Joby Gorillapod mini tripod. It's lightweight and compact, plus its easy to attach to just about anything. You can also get an adapter that lets you use it with your phone. Buy: REI | Amazon.
Paracord
A short length of paracord can come in handy. You can use it to create a clothesline to dry out sweaty gear or a wet towel in your room. Or you can use it to hang damp socks off the back of your pack during the day to dry them in the sun.
I recommend: You don't need much: 3 or 4 meters of cord should be enough.
Entertainment for the Teahouses
You'll have a few hours each night in the teahouses when you'll need to entertain yourself. Consider bringing a book, some headphones to listen to music or podcasts and a deck of cards.
I recommend: I always travel with my Amazon Kindle eReader so I have hundreds of books to choose from.
Stuff You Don't Need to Pack for the Annapurna Base Camp Trek
Here's my list of stuff you don't need and shouldn't pack for your Annapurna Base Camp Trek
Tent (stay in the teahouses – it's almost the same price as camping)
Sleeping pad (the teahouse bunks come with foam mattresses)
Stove, cooking gear and food (buy your meals at the teahouses)
Climbing gear (This is a non-technical trek and you won't need harnesses, ropes, crampons, etc.)
Extra clothing and gear you won't need on your trek (Leave them in a duffle bag or suitcase with your hotel in Pokhara.)
A laptop (There's wifi in the teahouses but it's slow and the electricity is spotty so it will be hard to keep it charged.)
Revealing clothing including short shorts, skimpy tank tops, etc. (Nepalis are modestly dressed people and will appreciate it if you do the same).
Tons of outfit changes. (You can do laundry in the sink or just air out your clothes and wear them again. Everyone else will be doing the same thing. And if you pack too much, you pack will be too heavy to comfortably carry.)
A Note on Buying Gear in Nepal
If you need to, you can buy everything you need in Nepal at trekkers shops in Kathmandu and Pokhara. However, lots of the gear for sale is counterfeit knock-offs. Some of the knock-offs work fine, but others will fall apart pretty quickly. Unfortunately, to the untrained eye it can be hard to tell the difference and you don't want to end up 6 days walk from a road with broken gear. As well, some pieces of gear are so key that you want to make sure you have quality gear that works for you. Below I've listed some gear that you can probably buy in Nepal without a problem, as well as some you really want to make sure you bring from home (and test out first).
Gear You Can Buy in Nepal
Maps
Duffle bags
Fleece jackets
Puffy jackets (although beware that they may not be as warm as advertised)
Warm hats and gloves (you can also buy handed knitted ones on the trek – they make great souviners)
Shower sandals
Toilet paper
Trekking poles
Umbrella
Gear You Definitely Want to Bring from Home
Backpack that fits you well
Rain jacket and pants (knock-off ones for sale in Nepal might not be very waterproof)
Hiking boots that fit you well
Have you been trekking in Nepal? Is there anything you'd add or remove from this list? Let me know in the comments.
READ NEXT:
Like this post? Pin it on Pinterest: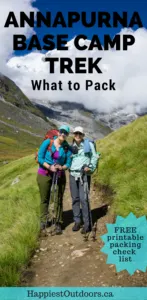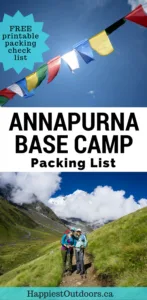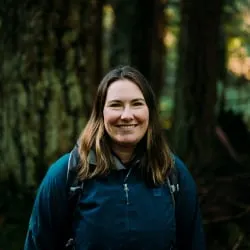 Latest posts by Taryn Eyton
(see all)