In July 2018, I FINALLY made it to Lake O'Hara in Yoho National Park. It's such a gorgeous area that I actually struggle to describe it. Of course, there's a brilliant blue-green alpine lake, with towering mountains reflected in its still waters. But there is also a truly fantastic trail system that leads away from the lake, up into the surrounding mountains. If you hike, you'll discover countless turquoise ponds, epic viewpoints, and airy ledge routes.
But all of this gorgeous-ness is ridiculously hard to access. Parks Canada has a tightly controlled reservation system that ensures only a few people per day can hike and camp at Lake O'Hara. I did a ton of research before my trip (and spent a ton of time securing reservations for my group) and now I'm passing that info along to you.
In this guide, I've got everything you need to plan a hiking or camping trip to Lake O'Hara including:
best time to go
how to book the bus and campground (including updated information for the 2022 season!)
what the campground is like
what the weather is like; AND
which hikes you should do
Hey there: Some of the links in this post are affiliate links, which means I earn a small commission at no cost to you. Thanks for your support. -Taryn
This is a sensitive wilderness area. Learn how to Leave No Trace to keep the wilderness wild. Make sure you are prepared by bringing the 10 Essentials. Get ready for adventure with this checklist of things to do before every hike.
Lake O'Hara Basics
Lake O'Hara Map: I've made a custom google map for you (below). It's got the locations of the campground, lodge, huts, parking lot, day-use shelter and each of the day hikes.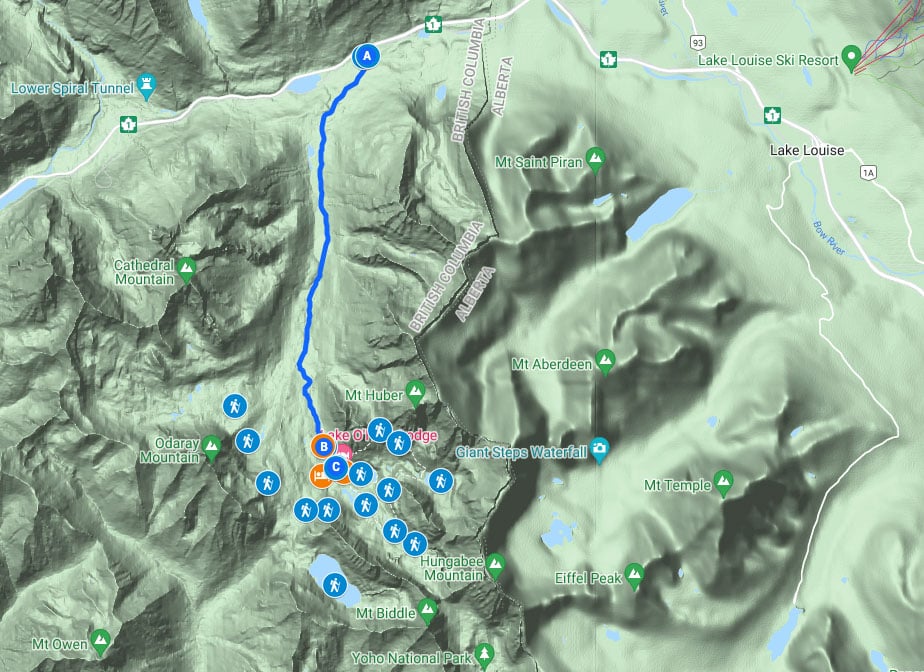 Location: Yoho National Park in British Columbia. The Lake O'Hara parking lot is 15 minutes west of Lake Louise in Banff National Park and 15 minutes east of the town of Field. Lake O'Hara is 11km up a gated road from the parking lot. You can walk the road or book a shuttle bus. See the How to Get to Lake O'Hara section below for more info. Yoho National Park is one of several Canadian National Parks you can visit in the area.
Permits and Reservations: You need a National Park pass to visit Lake O'Hara. As well, you need to make an advance reservation to take the shuttle bus or camp. See details below.
How Long to Spend at Lake O'Hara: 1-4 days.
Best Time to Go: July to early September.
What to Bring: Check out my Lake O'Hara packing list for hikers and campers.
Description: Lake O'Hara is a beautiful sub-alpine glacial lake surrounded by the towering peaks of the Canadian Rockies. There is an extensive network of trails that lead you around the lake, into nearby alpine basins, and up onto mountainside ledges with amazing views. Access to Lake O'Hara is strictly controlled with a reservation system, which means that it is never crowded.
Indigenous Land: Lake O'Hara is on the traditional territories of the Niitsítpiis-stahkoii (Blackfoot), Tsuu T'ina, and Ktunaxa First Nations, as well as the Kelly Lake Metis. Many of the names for peaks and lakes in the Lake O'Hara area come from the Stoney language. However, Samuel Allen, a white American mountaineer, named these features using the Stoney language. The Stoney First Nation has traditional territory in nearby Banff National Park but may not have actually had territory in the Lake O'Hara area.
Best Time to Go to Lake O'Hara
Most people go to Lake O'Hara between mid-June and early October since that is when the shuttle buses run. For the best weather and snow-free trails, I think you should aim for mid-July to early September.
If you go in June and early July, the Alpine Circuit and other higher elevation trails will still have snow patches, which can be dangerously slippery. Some of the lakes may still have a bit of ice on them. There are also more bugs at that time of year and the weather can be a bit cooler and rainier.
I went in mid-July. The mosquitos were out at the campsite and there were still a few snow patches on parts of the Alpine Circuit. Lake Oesa was still partially ice-covered.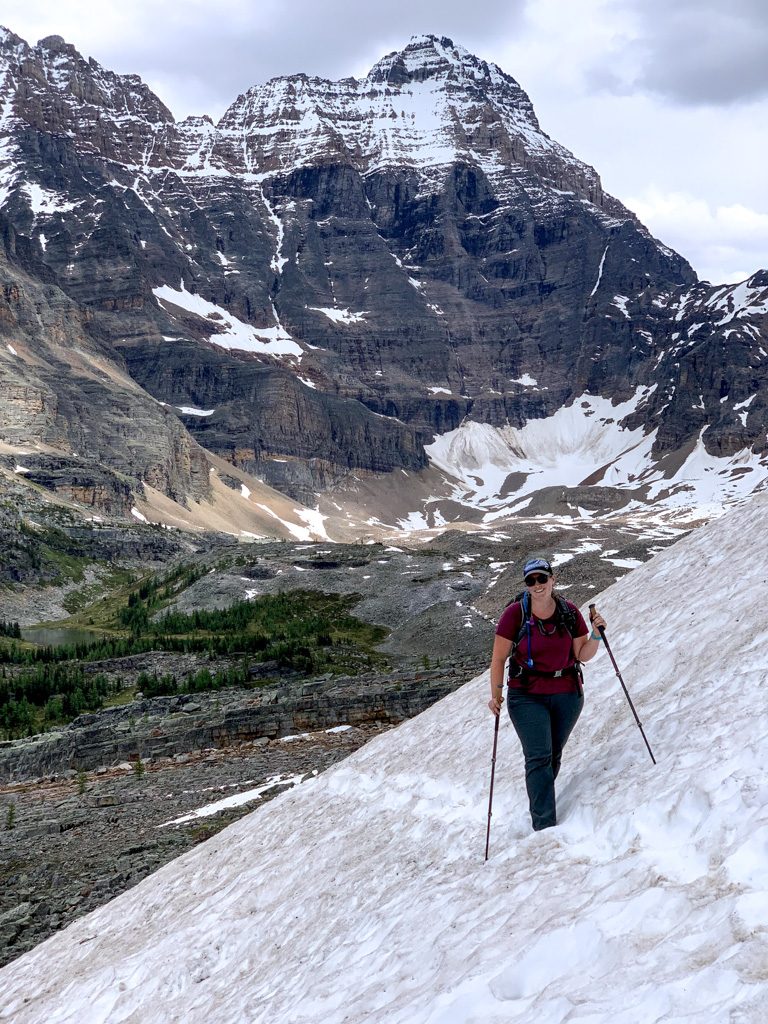 In late July and early August, the wildflowers peak and all the trails are snow-free. On average, the weather is also a bit warmer and there is less rain.
Starting in mid-September, the weather gets colder and wetter. By the end of the month, Lake O'Hara will likely see its first snow. However, in late September the larch trees turn golden, which is pretty spectacular.
You can visit Lake O'Hara in the winter months by skiing or snowshoeing up the road. The Lake O'Hara Lodge is open in the winter or you can stay at the ACC Huts. The campground is closed.
Lake O'Hara Weather and Climate
Lake O'Hara sits high in the Canadian Rockies at an elevation of 2,020m (6,627 feet). It's on the west side of the continental divide, which means it can be a bit wetter than nearby Banff. In general, it can be pretty chilly, even in the summer. It also rains a fair amount.
However, rainstorms often blow through quickly so don't get upset if the forecast is for rain on your visit. We had rain, hail and beautiful sunshine all in the same day during our July visit. The evenings were also quite cold and I was glad I brought a puffy jacket.
READ NEXT: The Best Weather Apps for Hiking
(Not sure what to bring to Lake O'Hara? Check out my Lake O'Hara packing list for hikers and campers.)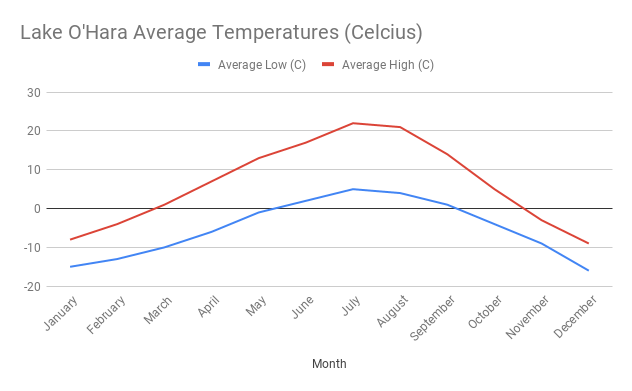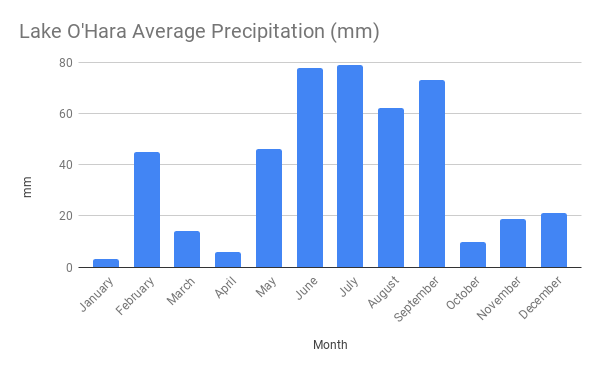 How Long to Spend at Lake O'Hara
The length of your visit to Lake O'Hara will probably depend on which reservations you can get. If you can only get a reservation for the shuttle bus and don't have overnight accommodation, obviously you'll only be staying for one day. However, you can still see lots of this beautiful area!
If you do get overnight accommodation, plan to spend at least two nights in the area. Try to book the first bus in and the last bus out so that you get the most hiking time possible.
I spent three nights camping at Lake O'Hara (the maximum allowed) and that seemed like the perfect amount. We hiked almost all the trails and still had a little bit of flexibility to plan our hikes to match the weather. Plus if you stay overnight, you get to see the sunset and alpenglow at the lake. Sublime!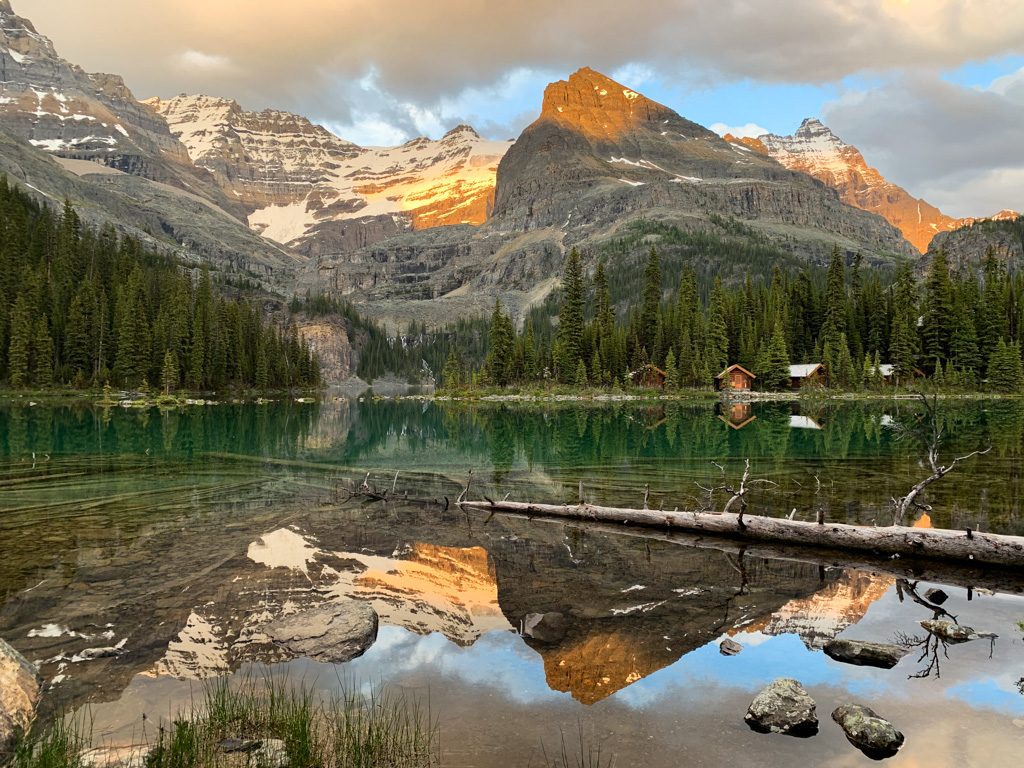 How to Get to Lake O'Hara
Although there is a road right to the shores of Lake O'Hara, you can't drive there. The gravel road is 11 km/7 miles long and is gated. To get to Lake O'Hara you have to walk the road or take the Parks Canada shuttle bus. (There's also a private bus for guests of the Lake O'Hara Lodge. See the accommodation section below for more info.)
The Lake O'Hara parking lot is 15 minutes west of Lake Louise in Banff National Park and 15 minutes east of the town of Field in Yoho National Park. Click here for Google maps directions. If you leave your car in the Lake O'Hara parking lot, you need to purchase a National Parks pass and leave it on your dash.
If you are booked on an early morning bus to Lake O'Hara, you should stay nearby the night before. Yoho National Park has several campgrounds. I stayed at the Takakkaw Falls walk-in campground the night before my Lake O'Hara trip. It has great views of the waterfall.
If you don't want to camp, the closest places to book a hotel or B&B are Field, BC or Lake Louise, Alberta. Here's a great guide to Lake Louise if you're planning to spend some time in the area. And don't miss these great Lake Louise restaurants.
Lake O'Hara Bus Booking
Parks Canada runs a shuttle bus service for day hikers, campers and people staying at the ACC huts. They use a school bus, so it's not that comfortable.
The bus leaves from the parking lot near highway 1 and stops both at the campground and the Le Relais day-use shelter at Lake O'Hara. (See the map at the top of the post for exact locations.)
The bus runs several times a day from mid-June until early October. You MUST have a reservation to take the bus and they are VERY hard to get.
If you are camping, your booking includes a shuttle bus reservation. (See the camping section below.)
Lake O'Hara Bus Reservation Lottery
Since Lake O'Hara is so popular, there is now a lottery for day trip bus reservations on the Parks Canada website. Phone booking is no longer available. (The reservation opening dates for campers are different. See the camping section below.)
You can submit a lottery application between March 1 and 30, 2022. Each application lets you select up to 6 different bus days and/or times. And each lottery application lets you reserve up to 6 seats. Each application costs $10 and you can submit as many applications as you want.
In April or May, Parks Canada will draw names for each day and time, then contact successful applicants. If you are successful, you'll need to pay the reservation fee and the round-trip bus fee to confirm your reservation within 2 weeks. Unclaimed reservations go released back to the public, so make sure you confirm yours if you win one.
If you don't get a shuttle bus reservation, don't give up. Keep checking the website to see if any spots become available as people cancel or don't confirm their lottery wins.
As well, sometimes there are a few no-shows at the bus. If you are in the area and want to take a chance, head to the Lake O'Hara parking lot in the morning. If people don't check in 10 minutes before the bus leaves, the park ranger will sell any open spots on the bus to walk-ups. Bring cash. They don't give change.
READ NEXT: BC Backpacking Reservation Dates You Need to Know
Lake O'Hara Bus Fees
Round Trip Bus: $14.70/adult; $7.30/youth (6-16); Free/Child (5 and under)
Out-going Bus Only: $9.75/adult; $4.75/youth (6-16); Free/Child (5 and under)
Lottery Application Fee: $10/application
Reservation Fee (non-refundable): $4.50/ticket for 1 or 1 persons; Flat rate of $11.50 for 3 or more people
Lake O'Hara Bus Schedule
| | |
| --- | --- |
| In-Going Bus (Leaves from Parking Lot) | Out-Going Bus (Leaves from Le Relais and Campground) |
| 8:30 am | 9:30 am |
| 10:30 am | 11:30 am |
| 3:30 pm (campers only) | 2:30 pm |
| 5:30 pm (campers only) | 4:30 pm |
| | 6:30 pm |
When you make your Lake O'Hara booking for the shuttle bus, you will need to choose a departure time. Be at the bus stop at least 20 minutes before departure. If you aren't there 10 minutes before departure, they give your seat away to walk-ups!
To get to the Lake O'Hara parking lot you will need to cross a set of train tracks. Sometimes trains can block the road for a few minutes. Plan to arrive extra early just in case you get held up by a train.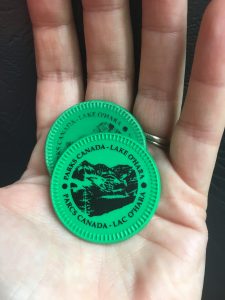 You don't need to reserve a bus on the way back out. But if you miss the last bus at 6:30 pm, you have to walk all the way back down the road! In order to get on out-going bus you need a token.
The bus driver will give you your token on the in-going bus. Don't lose it! If you do you will have to take the out-going bus on stand-by so there might not be room for you. You'll also have to pay the out-going bus fee.
Hiking to Lake O'Hara
If you can't get a reservation for the shuttle bus, you can hike into Lake O'Hara. You will need to walk up the 11km (7 mile) long road from the parking lot to the lake. The road gains about 400 meters of elevation (1300 feet), but it is never very steep.
Most hikers will be able to walk up in about 2.5 to 3 hours. In the winter you can also ski or snowshoe up the road. The Lake O'Hara Lodge sets ski tracks.
If you hiked the road up to Lake O'Hara, you may be able to take the bus back down if there is room. Bring cash for the bus fee. However, people who paid for a round-trip get priority so it may be full. Be prepared to hike all the way back down again.
Honestly, I wouldn't recommend hiking the road to Lake O'Hara. By the time you get up to the lake, you won't have enough time to do any of the wonderful day hikes. If you can't get a bus reservation, I would just save visiting Lake O'Hara for another trip when you can get reservations.
Accommodation at Lake O'Hara
There are three places to stay overnight at Lake O'Hara: the basic Parks Canada campground, shared accommodation at the Alpine Club of Canada huts, and the luxurious Lake O'Hara Lodge. You will need to book FAR in advance for all of them.
Alpine Club of Canada Elizabeth Parker Huts
The Elizabeth Parker huts are two small log cabins located in an alpine meadow about 500m from Le Relais day-use shelter. The Alpine Club of Canada (ACC) owns the huts and handles bookings. The huts can accommodate 24 people total on basic shared bunks.
The huts are VERY popular so the ACC actually runs a lottery to allocate spaces. The Elizabeth Parker Hut lottery runs each fall and costs $10 to enter. If you win a spot in the lottery, it's $35/night for ACC members and $45/night for non-members. When you book a spot in the hut you also get a seat on the Parks Canada shuttle bus.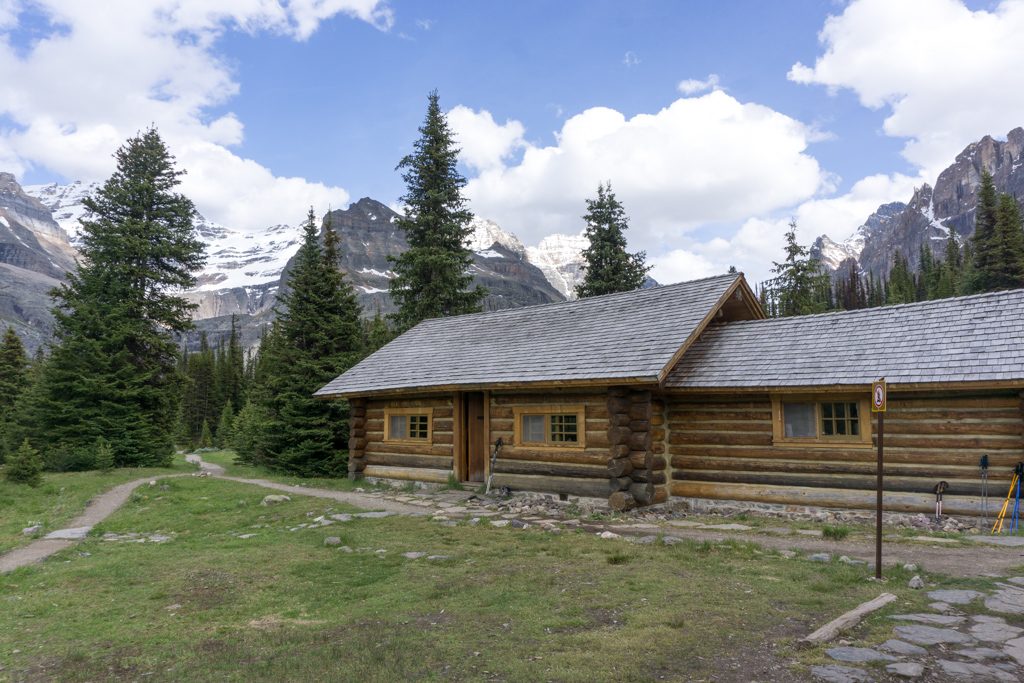 Lake O'Hara Lodge
If roughing it isn't your style, splurge on a stay at the luxurious Lake O'Hara Lodge. They have amazing looking lakeside cabins, plus lodge rooms. All meals are included, you get to use their canoes and they'll even shuttle you up there on their private bus. But you'll need to save your pennies if you want to stay here… rooms start at $500 a night!
If you're not staying at the lodge, you can still enjoy a bit of luxury. The lodge serves afternoon tea each day from 3-4pm and lunch at noon. Hikers are welcome if there is space but must pay cash and make reservations at the front desk that morning.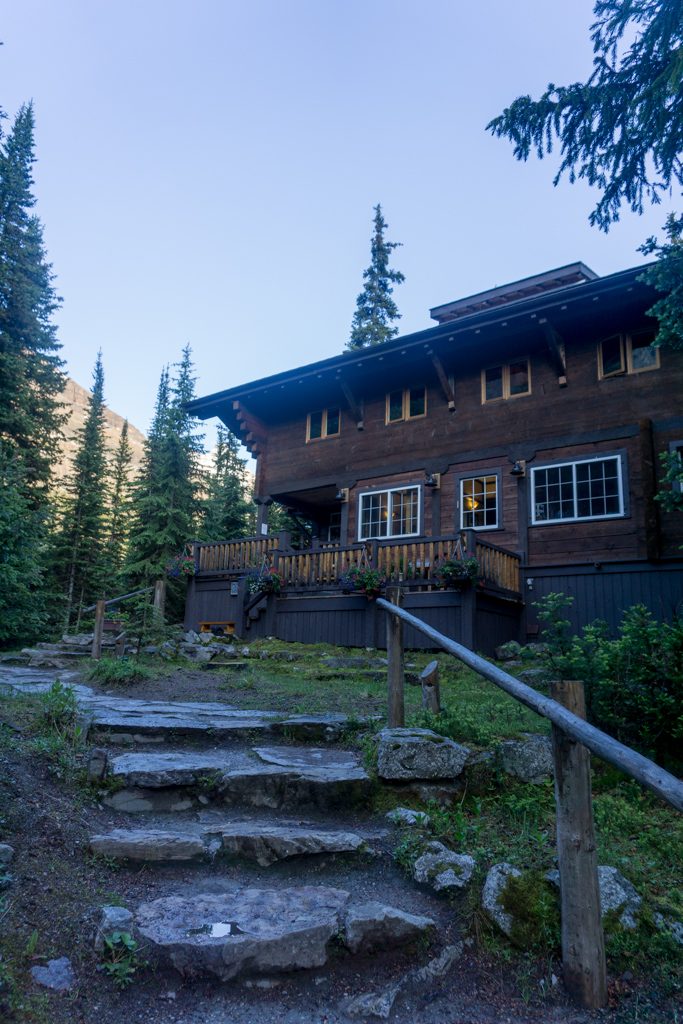 Lake O'Hara Campground
The campground at Lake O'Hara is pretty unique. I would describe it as a backcountry campground with front country amenities. It is located about 500 meters from Lake O'Hara, making it a great place to base yourself for day hikes. The campground has just 30 sites and is VERY popular.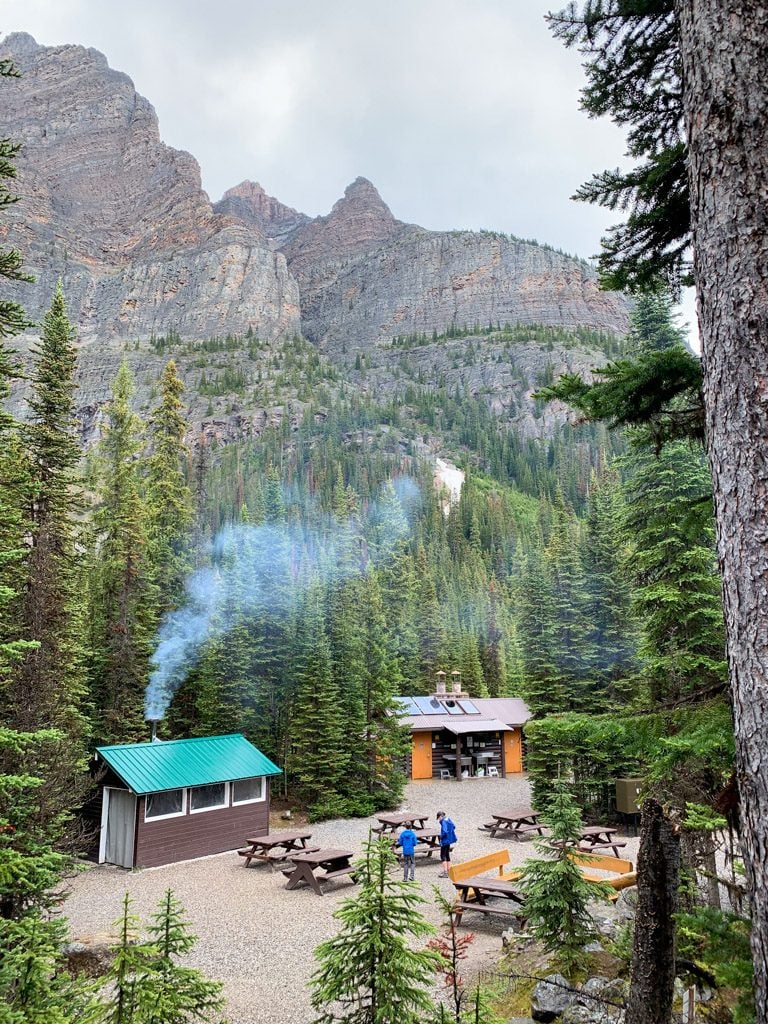 Lake O'Hara Campground Reservations
Campground bookings for Lake O'Hara are some of the most sought-after camping reservations you can make. In previous years, there was a tedious phone booking system in place. But starting in 2020, all reservations are online.
In 2022, Lake O'Hara camping reservations will open on February 3, 2022 at 8am MST. You need to book on the Parks Canada Reservation website.
When you make your reservation, you will need to choose your bus departure time. You don't need to reserve a bus on the way back out.
The system will make you pick a campsite when you make your reservation. But it doesn't matter which one you pick because when you check in on the first day, a park staffer will assign you a site.
My Tips for Getting a Reservation
If you don't have one already, set up an account on the Parks Canada reservation site ahead of time.
Have a few different sets of dates in mind and be prepared to pick a back-up date.
Get on the reservation website half an hour early and log in. Everyone who logs in before 8am will be placed in the booking queue at random and will be able to access the site when it's their turn. If you log in after 8am, you'll go to the back of the line.
Get everyone in your group to go try for reservations. You can add reservations to your cart, then check in with your friends to see who has the best dates secured before you check out and pay.
Lake O'Hara Campground Fees
Round Trip Bus: $14.70/adult; $7.30/youth (6-16); Free/Child (5 and under)
Out-going Bus Only: $9.75/adult; $4.75/youth (6-16); Free/Child (5 and under)
Camping fees: $10/night/person
Reservation fee: $11.50/booking
Adult
Youth (6-16)
Child (5 and under)

Round-trip Bus

$14.70

$7.30

FREE

Out-going Bus Only

$9.75

$4.75

FREE

Camping Fees per night per

person

$

10.00

Reservation Fee

$11.50 per booking
*Prices are accurate as of 2022.
Lake O'Hara Campground Rules
Maximum stay is 3 nights
You can book up to 2 campsites on the same reservation
Only 1 tent per site.
One large bag or two small bags per person (maximum weight 25 kg/55 lbs; maximum length 97 cm/38
inches). A soft-sided cooler counts as one of your bags.
No hockey bags, hard-sided coolers, or plastic bins allowed.
No musical instruments, electronics, chairs or hammocks allowed.
All food and scented items must be stored in lockers. (More details below.)
Bring a backpacking stove to cook on.
Lake O'Hara Campground Amenities
The Lake O'Hara campground is set up a bit like a backcountry campground. There is a central common area for eating, cooking, and food storage. The campsites are arranged along a loop pathway behind the common area. For a complete list of what you need to bring, see my Lake O'Hara packing list.
Choosing a campsite:
When you arrive, a Parks Canada staff member will greet your bus and help you check in. You may get assigned a campsite and have no choice. But if you do have a choice, here's what to keep in mind:
Campsites 1 to 13 are on the trail to the right. These campsites are closer together.
Campsites 14 to 29 are up the stairs behind the fire pit. They are spaced slightly further apart and have more privacy. We got spots 27 and 28. We liked how quiet they were, even though it was a slightly longer walk to the cooking area and bathrooms.
The campsites are not all the same size, but they are all fairly small and will fit a 4-person tent or smaller.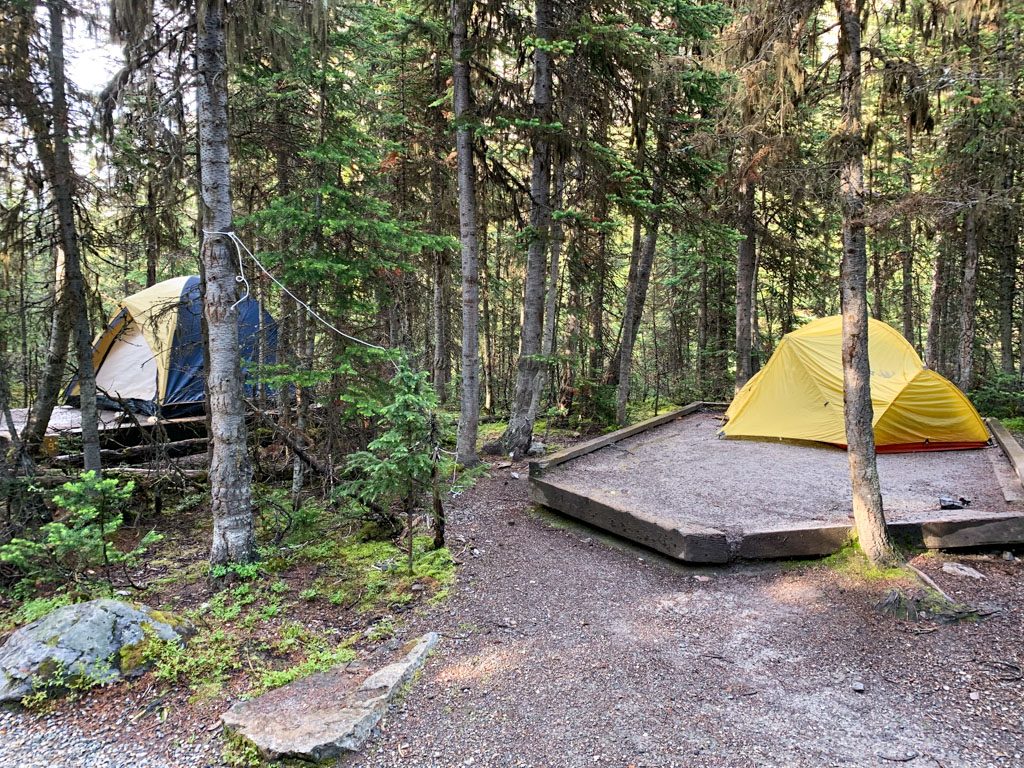 Cooking Area: For bear safety, you must do all your cooking and eating in the central common area. There are two small kitchen shelters. Each one has a few picnic tables and a wood stove. They get really crowded on rainy days. There are also lots of picnic tables outside the shelters.
Food Lockers: The common area also has large metal food lockers. They are numbered and your food locker number is the same as your campsite number. The lockers are about 24″ cubes. You need to store all your food, dishes and scented items in your locker.
Storage Hut: You need to be off your tent pad by 10:30 am on the last day of your stay. But if you want to go for a hike before heading home, you can store your gear inside the storage hut.
Water: Lake O'Hara campground has potable water that doesn't need to be treated or filtered. There are two large sinks next to the bathroom building for filling your water bottle or doing your dishes.
Bathrooms: The bathroom building has pit toilets. Parks Canada supplies toilet paper and hand sanitizer.
Campfires: There is a large shared fire ring outside, or you can light a fire in the wood stove in either kitchen shelter. There's lots of free firewood, but you have to split it yourself. Thankfully Parks Canada provides an axe.
Garbage and Recycling: There are bearproof garbage cans in the common area. There is also a bearproof bin for recycling. However, you can only recycle refundable beverage cans and bottles. You need to pack out other kinds of recycling.
Information Boards: There are notice boards in the campground with updated information on hiking trail conditions and weather forecasts. They also have info on the history and ecology of Lake O'Hara, plus a campground map.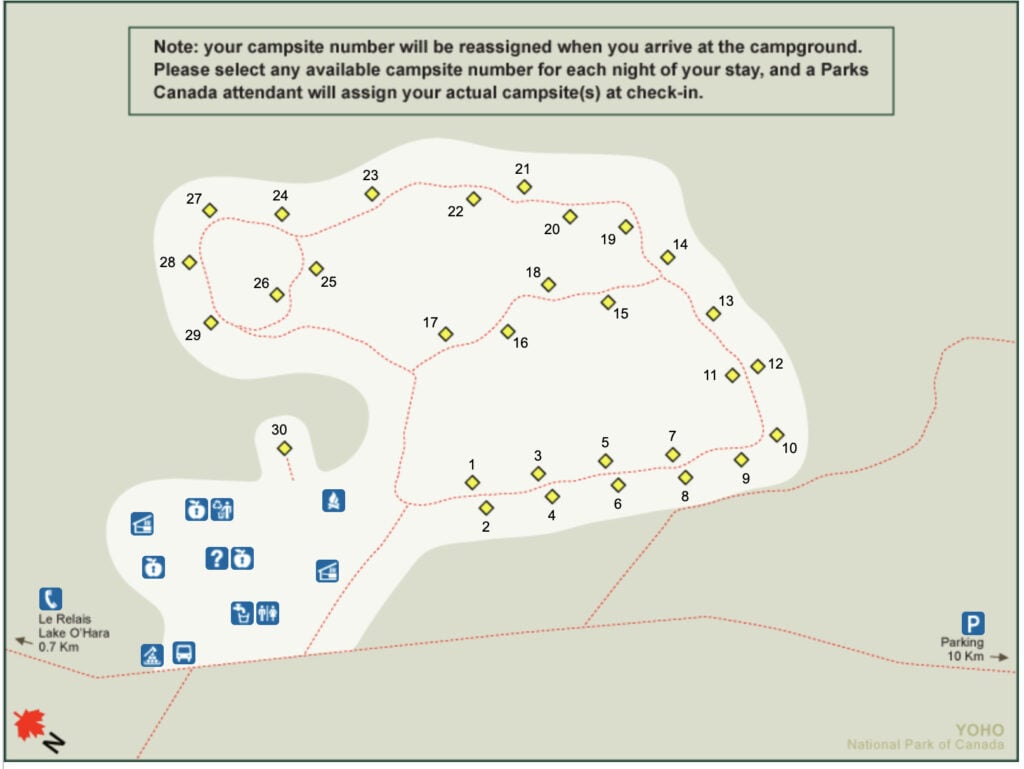 Le Relais Day Use Shelter
The Le Relais Day Use Shelter serves as Lake O'Hara's info centre, museum, event space, coffee shop, and gift shop. All proceeds go back to the park through the Lake O'Hara Trails Club.
You can find Le Relais at the end of the Lake O'Hara road across from the warden cabin, just before the Lake O'Hara Lodge. It's a 500m walk from the Lake O'Hara campground. It's open every day from 8:30 am to 6:30 pm. They only accept cash, so be sure to bring some.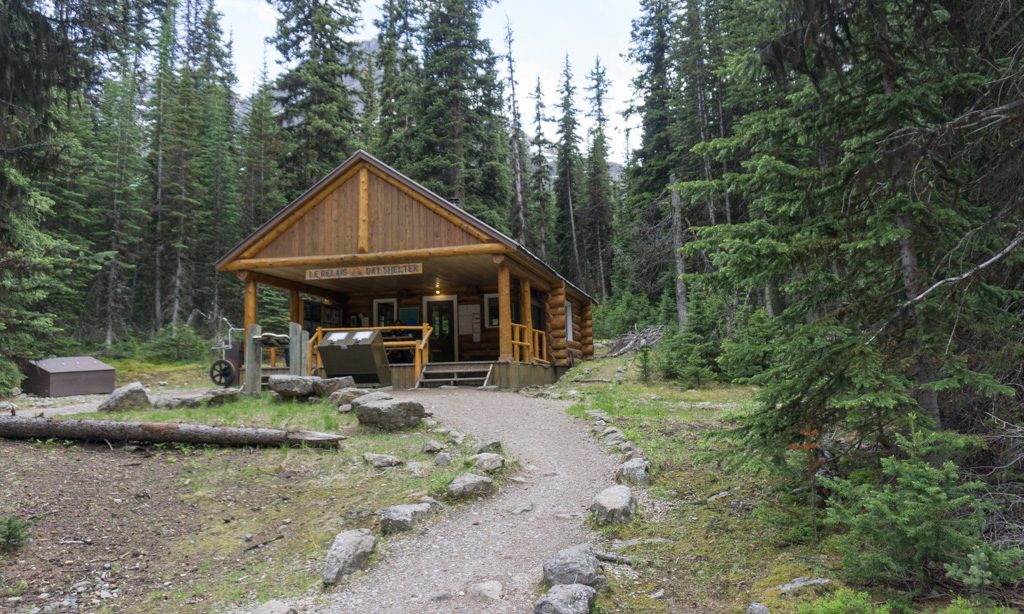 Le Relais has lots of food and drink for sale including pop, coffee, tea, hot chocolate, ice cream, sandwiches, and granola bars. They also serve their famous carrot cake that sells out every day by mid-afternoon.
They have benches inside and a covered porch outside to if you want to sit and sip your coffee. There's a wood stove inside too, so it's nice and toasty warm on chilly days.
If you want souvenirs, they also have postcards, t-shirts, books, and posters. They also have posted trail conditions, weather forecasts, and area info. If you need a map, you can buy one as well.
The walls have interpretive displays about plants and animals found in the Lake O'Hara. A few nights a week, Le Relais hosts an interpretive talk by a Park Ranger or ecology expert. On my visit, we went to a great talk about Lake O'Hara's birdlife. It included a really fun role-playing game where we pretended to be owls.
Hiking at Lake O'Hara
There are lots of trails to choose from at Lake O'Hara. They are all well marked and well maintained. In fact, some of them are so beautifully constructed that the trail is a destination in and of itself. Lawrence Grassi, an Italian immigrant to Canada, can take the credit for many of these beautiful trails.
The trails range from flat and easy, to steep and difficult. Some of the trails may also pose challenges for those uncomfortable with heights. But no matter which trail you hike at Lake O'Hara, it's bound to be spectacular.
As well, most of the trails connect easily to each other, so it's possible to create your own loops or variations. Here are my suggestions for the best day hikes in the Lake O'Hara area.
Lake O'Hara Lakeshore Trail
Distance: 3km loop; Time: 1-1.5 hours; Elevation Gain: Minimal; Difficulty: Easy
The flat walk around the shore of Lake O'Hara is one of the easiest hikes in the area. It also has a great reward-to-effort ratio since you get great views all the way around the lake. Start and finish your hike at the shoreline benches near the Warden Cabin across the road from Le Relais.
If you have the time and energy, make the short detour up the side trail to Seven Veils Falls at the far side of the lake. It's really steep but it is worth the trip to see the falls as they emerge from the gravel hillside. They don't have a stream feeding them – they just pop out of the hill!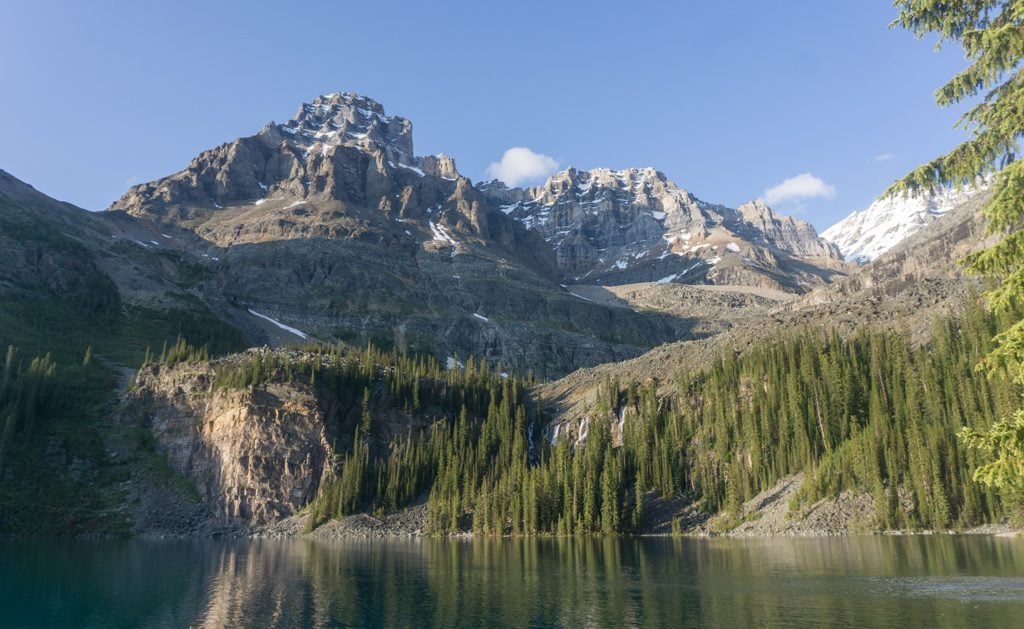 Lake Oesa Trail
Distance: 6.5km return, Time: 2-2.5 hours; Elevation Gain: 240m; Difficulty: Moderate
The trail to Lake Oesa is probably the most beautiful trail at Lake O'Hara. The trail rises next to a rushing waterfall and passes some small lakes before emerging at beautiful Lake Oesa. Along the way, the trail traverses beautiful hand-hewn rock steps. The jewel-blue lake is surrounded by towering mountains and glaciers. (FYI in the Stoney Language Oesa is pronounced "oh-EE-suh" and means "ice".)
To get there, start at the shore of Lake O'Hara across the road from Le Relais. Turn left and follow the Lakeshore trail clockwise around the lake. Ignore the first trail junction, which goes to Wiwaxy Gap and Huber ledges. Take the trail left at the next junction, with the sign for Lake Oesa.
The trail switchbacks up the hill, then passes Victoria Falls and tiny Victoria Lake. (My friend's 9-year-old insisted it should be called "Gatorade Lake" for its intense blue colour.) When you reach Lake Oesa, grab a spot on one of the rock slabs to take a break and soak up the views.
Return the way you came or take the Yukness Ledges portion of the Alpine Circuit over to the Opabin Plateau.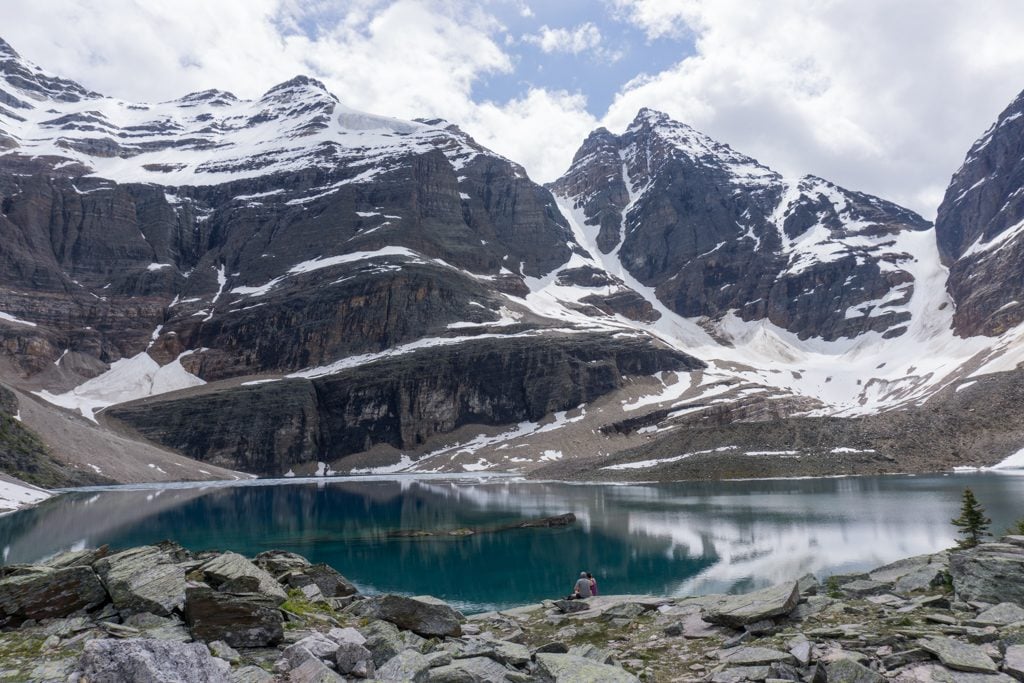 Opabin Plateau and Opabin Prospect
Distance: 8.5km loop; Time: 3.5-4 hours; Elevation Gain: 250m; Difficulty: Moderate
Some of the most Instagram-famous images from Lake O'Hara were taken at Obapin Prospect. It's definitely a picturesque place! On the Opabin Plateau hike, you'll climb steeply up to a grassy plateau dotted with alpine lakes and larch trees, then detour out to a rocky promontory with great views. (Opabin means "rocky" in the Stoney language and is pronounced "oh-PAY-ben".)
Start the hike on the shores of Lake O'Hara near Le Relais. Go left (clockwise) around the lake, ignoring the turn-offs to Wiwaxy Gap, Lake Oesa, and Seven Veil Falls. Turn left onto the East Opabin Trail and follow it as it climbs up through the trees to Opabin Plateau and passes by Moor Lakes, Hungabee Lake, and several trail junctions.
Take a break at Opabin Lake to marvel at the Opabin Glacier before following the West Obapin Trail down the other side of the valley.
At a four-way junction, follow the trail to Opabin Prospect, a spectacular viewpoint on a series of rocky ledges. After the viewpoint, the Opabin Prospect trails loops back to rejoin the West Obapin Trail as it descends steeply through a rockslide back down to the shores of Lake O'Hara. Follow the Lakeshore trail past the Lodge and back to Le Relais to finish your hike.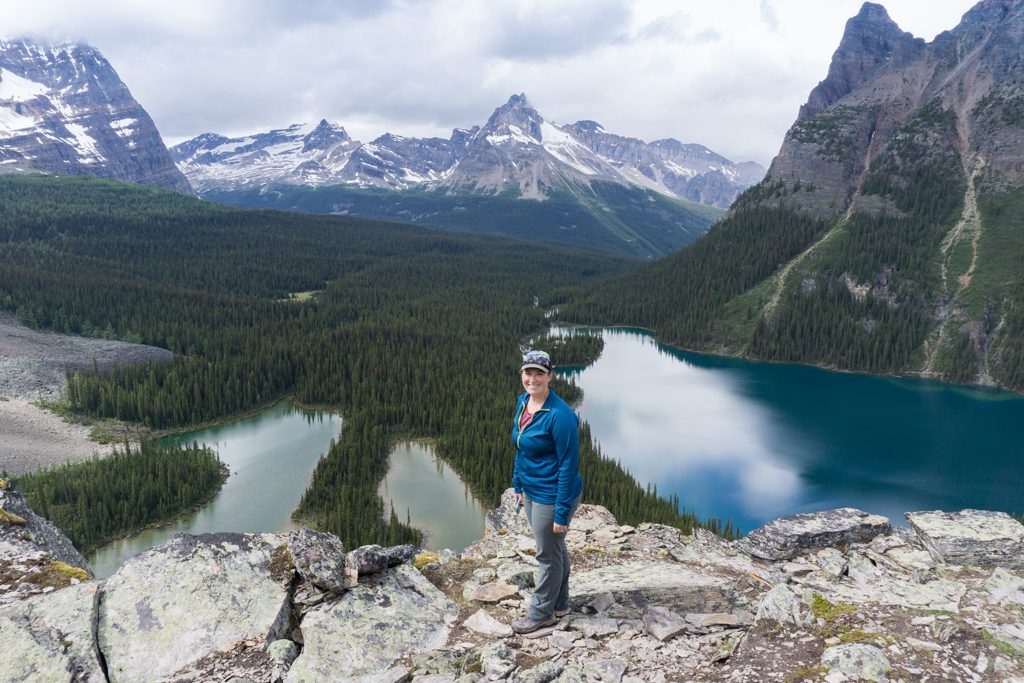 Lake McArthur
Distance: 7.5km loop; Time: 3.5-4 hours; Elevation Gain: 290m; Difficulty: Moderate
The trail to Lake McArthur takes you outside the core Lake O'Hara area. This means that it is a little bit less busy, but it's still very spectacular. Lake McArthur is bigger than Lake O'Hara, but what makes it really stand out is its intensely deep blue colour.
With a few different trail options, you can also make your hike to Lake McArthur into an enjoyable loop trip. The trail to Lake McArthur passes through McArthur pass, a grizzly bear travel corridor. Make noise in this area and travel in groups.
Start your hike at Le Relais by following the Alpine Meadows trail to the Elizabeth Parker Huts. Continue on the Alpine Meadows Trail as it climbs up to Schaffer Lake, a small subalpine tarn. From here you have a choice of routes: right through the trees to McArthur Pass or left up a rocky slope. They meet back up after 0.8km so choose one option on the way there, and the other on the way back.
Shortly after the trails reconnect, take a left onto the McArthur High Level Route. The trail climbs steeply through a rockslide with one short scrambly move before continuing into meadows above Lake McArthur. Descend the rock slabs to the lake for a lunch break.
On the way back take the Lake McArthur Low Level Route through more mellow terrain back to the junction. Watch for pikas in the rockslides. Back at Schaffer Lake follow the Big Larches trail downhill and through a rockslide. At a junction, turn left to follow the trail back towards Le Relais and the end of your hike.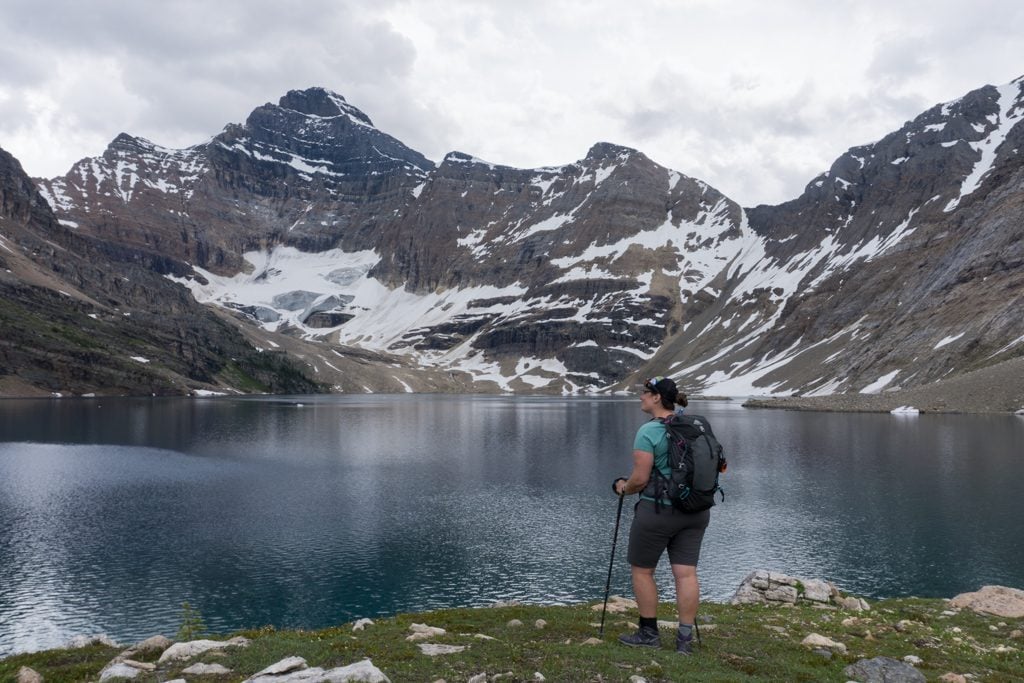 Lake O'Hara Alpine Circuit
Distance: 12.5km loop; Time: 6.5-7 hours; Elevation Gain: 990m; Difficulty: Challenging
If you've heard anything about hiking at Lake O'Hara, you've probably heard about the Alpine Circuit. This route links together three different sections of ledges to create an alpine traverse high above Lake O'Hara. The route gives you incredible views of Lake O'Hara in all directions.
Unlike the rest of the trails at Lake O'Hara, the Alpine Circuit is for experienced hikers only. It traverses along steep ledges that can be narrow in places and have huge drop-offs. Snow can linger along the route, making for treacherous conditions. However, if you're an experienced and fit hiker, and aren't afraid of heights, you should have no problem with this route.
If you don't have the time, energy, or mental fortitude for the entire route, it's possible to do parts of it on their own. The easiest section is the Yukness Ledges between Lake Oesa and Opabin Plateau. It doesn't have as much climbing or descending and is often fairly wide.
The Huber Ledges and All Soul's sections are more difficult. It's also worth noting that the All Soul's Route holds snow longer into the season than the other two, making it more challenging (and scary) earlier in the year.
The circuit starts at Lake O'Hara, across the road from Le Relais. Turn left and follow the lakeshore trail to the first junction where you go left. From here you have the steepest climb of the whole day. You'll gain 500m over just 1.9km up to Wiwaxy Gap at 2,530m.
From the gap, traverse and gradually descend across the Huber Ledges for 2km to Lake Oesa. Next, follow the more mellow Yukness ledges for 2.3km around the shoulder of Yukness Mountain to emerge on the Opabin Plateau. Follow the trail further into the valley to Opabin Lake, then start climbing again on the All Soul's Alpine Route.
Top out on All Soul's Prospect at 2,435m, then descend steeply on switchbacks to Schaffer Lake. Follow the Alpine Meadows trail downhill to the Elizabeth Parker Hut, then walk back through the trees to Le Relais.
And if you're curious about those Stoney place names, here's a quick translation: Wiwaxy means "windy" and is pronouced "whee-WAX-ee". Yukness ("YUCK-ness") means "sharpened".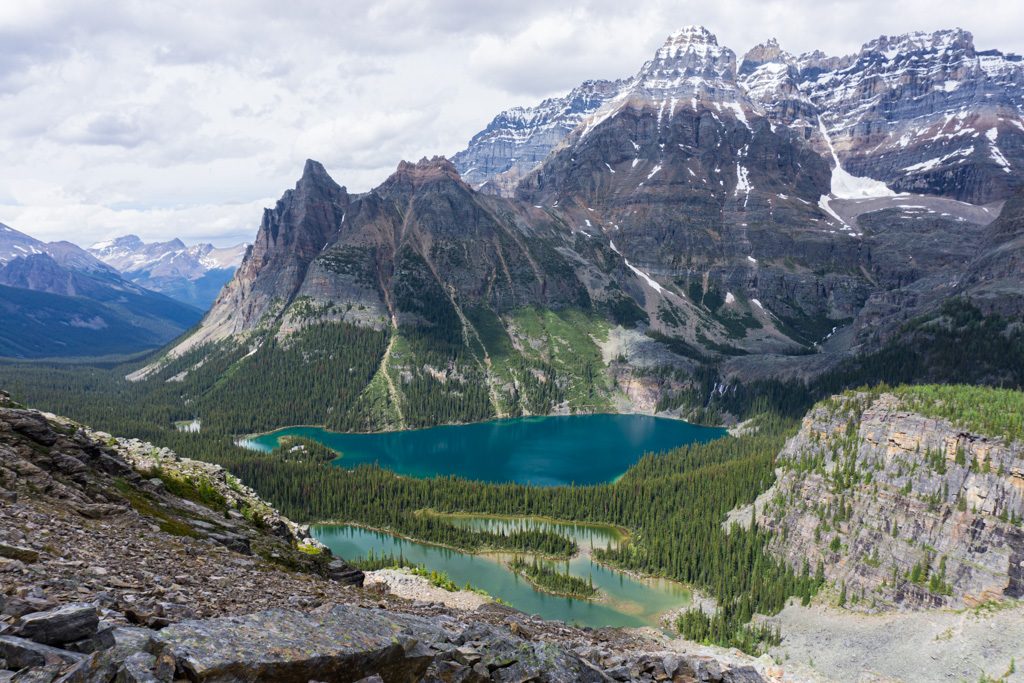 Additional Lake O'Hara Day Hikes
There are even more hike possibilities at Lake O'Hara. I haven't done any of these, and from my research, they seem either less awesome or waaaay more difficult than the hikes above. However, if you have lots of time in the area, I think they sound worthwhile. Plus, since they are less popular you are more likely to have them to yourself.
Odaray Grandview: A high alpine route to a spectacular viewpoint where you can see both Lake O'Hara and Lake McArthur at once. Since this is a grizzly bear travel corridor, there are travel restrictions for this area and only a few groups a day may hike it. More info on the Parks Canada website.
Linda Lake and Morning Glory Lake: A low elevation loop hike through the forest that visits several sub-alpine lakes. It's a good place to see early season wildflowers. It's also a good option for rainy weather. More info.
Cathedral Prospect: An extension of the Linda Lake trail that weaves through meadows, then climbs up to a viewpoint. From the top, you get great views of the lakes in the Duchesnay Basin, as well as Lake O'Hara in the distance. More info.
Abbot Pass Hut: An extension of the hike to Lake Oesa up to the Abbot Pass Hut. It sits on the continental divide and is the highest permanent structure in Canada. This isn't really a hike – it's an off-trail scramble requiring route finding, lots of elevation gain, and travel through unstable rocks and boulders. Bring a helmet for safety. More info.
More Resources
The Parks Canada website has tons of information about Lake O'Hara including camping, buses and trail descriptions.
If you're looking for a hiking guide book, I really like Don't Waste Your Time in the Canadian Rockies. It has detailed info about all the best day hikes in the Lake O'Hara area. Plus it has their signature super-opinionated style.
If you plan to hike at Lake O'Hara, a topographic map is essential. I used Gem Trek's Lake Louise and Yoho map (which includes a Lake O'Hara inset). It has trail distances on it, which was REALLY helpful for trip planning.
For a complete list of what to bring to Lake O'Hara, check out my Lake O'Hara packing lists.
Now you have all the info you need to plan your trip to Lake O'Hara. It's such a special place and I'm sure you'll love it as much as I did. If you have any questions about planning a trip to Lake O'Hara, please let me know in the comments. I'm always happy to help.
More Canadian Rockies Posts: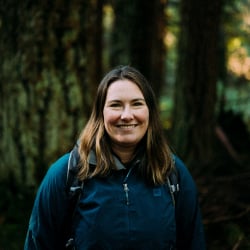 Latest posts by Taryn Eyton
(see all)