On my first backpacking trip ever I discovered that I hate oatmeal. I hate the colour, I hate the texture and no matter how much dried fruit or sugar or milk you put in it, I just can't stomach it. But it's probably the most common breakfast food for backpackers: it's light, quick to prepare with just hot water, and it fills you up. Over the years I've had to come up with some alternatives that fit the same criteria since I don't usually want a cold breakfast (although sometimes a bagel with nut butter does hit the spot). So here are my suggestions for 6 hot backpacking breakfasts for when you just can't eat oatmeal but still want a quick, hot meal.
Hey there: Some of the links in this post are affiliate links, which means I earn a small commission at no cost to you. Thanks for your support. -Taryn
Instant Noodles
Instant noodles, Cup-o-Noodles or ramen aren't a typical breakfast food, but who says you have to eat typical food! They are lightweight and tasty and you can add stuff to the typical grocery store mixes to make them more filling. I like to add jerky, bacon bits and dehydrated veggies. At the store look for mixes that you can just add water to instead of ones that require simmering on the stove – that way you'll save fuel too. You can also repackage the noodles and mix in a single ziplock bag at home. Try different flavours to mix it up. Or branch out into Thai rice noodles. Pro tip: They're super cheap if you buy them in bulk on Amazon.
Mashed Potatoes
Here's another savoury option for a hot breakfast on the trail. I buy powdered mashed potatoes at the supermarket and then package it in a ziplock with some add-ins like bacon bits or parmesan cheese. I usually buy the Idahoan brand as they have different flavours like garlic and parmesan or cheddar cheese and you can even get ones that come with an add on just-add-water gravy packet. I usually buy a big package, then portion it out into ziploc bags for the trial.
Warm Granola
If you don't like the texture of oatmeal, try warm crunchy granola. I used to make granola on the trail by mixing powdered milk with cold water, but it was so cold one morning in the Yukon that we warmed up the milk and I haven't looked back. I like Nature Path's almond granola. Buy: Amazon. I often premix the granola at home with diced dried fruit from the bulk section, nuts, powdered milk and sugar. At camp just add boiling water.
Cream of Wheat
If you don't like oatmeal, you might not like this either as they have a similar texture. It's basically a wheat porridge. Find it near the oatmeal in your grocery store or choose from a wide range of flavours on Amazon. (Some of the crazy flavors on offer: banana cream and Cinnabon. No, I haven't tried them.) You can add the same sort of things to your cream of wheat as you would to your granola: dried fruit, nuts, powdered milk, cinnamon, sugar, etc.
Grits
In same family as oatmeal and cream of wheat you'll find grits: it's basically corn porridge. In America it's easy to find instant grits in most grocery stores, but grits are far less common in Canada – you'll have better luck on Amazon. But unlike oatmeal and cream of wheat, grits are usually served as a savoury dish. Package your grits with bacon bits, butter powder and salt and pepper. And of course you can always add cheese.
Freeze-Dried Eggs
Lots of dehydrated and freeze-dried backpacking food companies make breakfast packages that you can buy at your local outdoor store. And most of them are TERRIBLE. I know. I've eaten them. But there are a few gems out there. In particular, I recommend the freeze-dried egg meals from Mountain House as they actually look, feel and taste like eggs. It's like magic. The breakfast skillet and bacon and eggs meals are the best ones. But they'll cost you up to $7 per person for breakfast!
So what's your favourite non-oatmeal backpacking breakfast? (My favourites are warm granola or noodles.) Give me your suggestions in the comments.
More Camping Food Ideas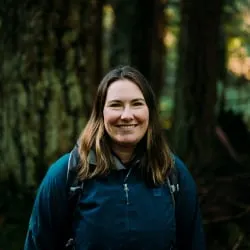 Latest posts by Taryn Eyton
(see all)