I recently got back from my second trip to Iceland, and my first trip in the winter. Having visited in both summer and winter, I am hard pressed to say which is more beautiful. But I can say that going to Iceland in the winter is definitely a great idea: it's a winter wonderland! Iceland has become very popular with tourists in the last few years, so it is easy to find info online about visiting. However, I couldn't find that much about winter in Iceland. So after going in winter, here's my list of 7 things you might not know about winter in Iceland.
Hey there: Some of the links in this post are affiliate links, which means I earn a small commission at no extra cost to you if you make a purchase. Thanks for supporting my website! -Taryn
Off Season Sightseeing
Tourism in Iceland has exploded, and winter is no longer the slow season it once was. It is still a bit quieter than the peak summer season though. You will find crowds at the more popular attractions, but once you get out of reach of the bus tours , you can have some places mostly to yourself. (My tip is to hit attractions at off-peak times for the bus tours, such as sunrise or sunset.)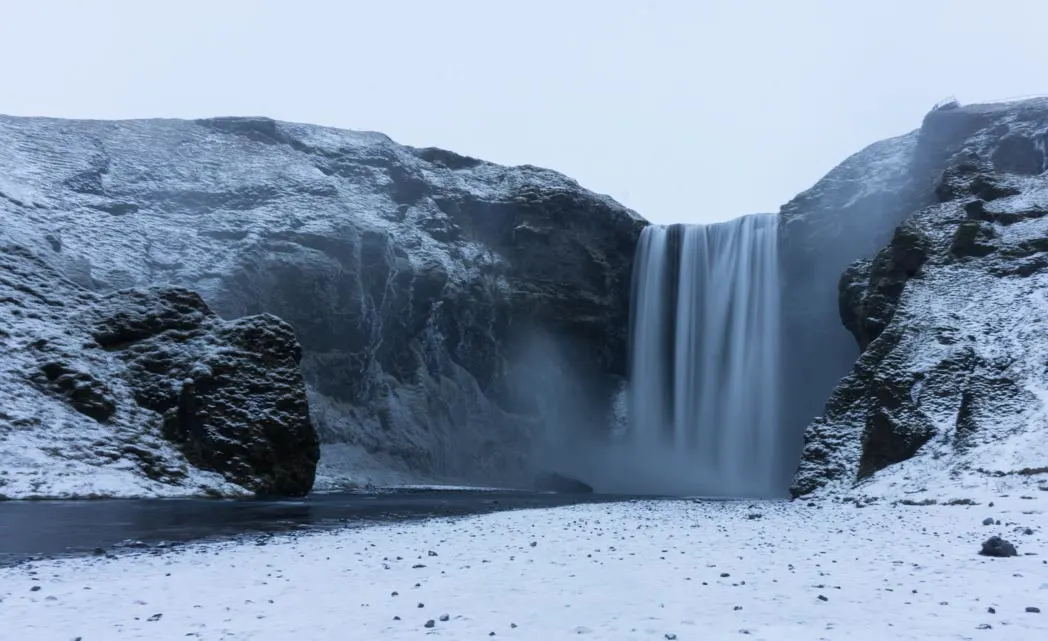 It's worth noting that some of the signature sights aren't available in the winter in Iceland: The puffins will be out in the Atlantic until the spring, snow covers the ubiquitous moss, and all the sheep are inside warm barns. As well, some areas are closed due to winter conditions. This includes the highlands and the popular hiking areas of Landmannalaugar and Thorsmork. Other areas might be partially closed due to slippery conditions, such as some of the viewpoints at Gullfoss and the hiking trails above Skogafoss.
But there are some experiences you can only have in the winter in Iceland: seeing the aurora borealis, icicle draped waterfalls, snow covered mountains and going on a glacier ice cave tour.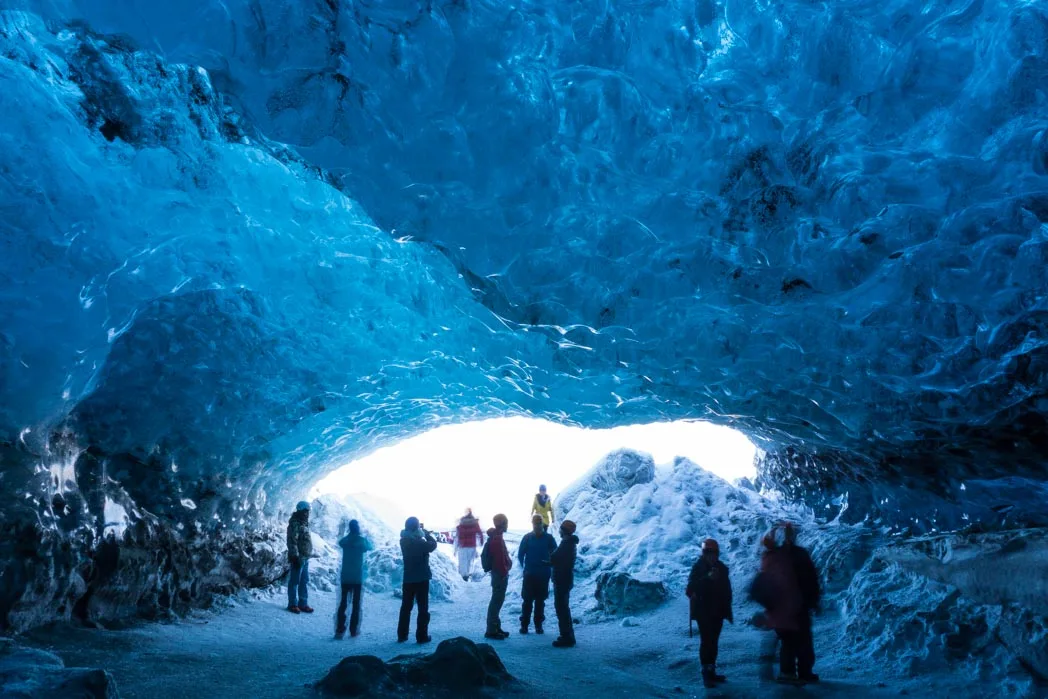 Short Days
In the summertime, Iceland is the land of the midnight sun and it never really gets dark. The opposite is true in the winter in Iceland. The days are short with sunrise around 10:30am and sunset around 4:30pm. That gives you about 6 hours of full daylight to get your sightseeing in. Yet, the blue hours around dawn and dusk last nearly an hour, which give you plenty of beautiful light for photos. On my recent trip, we noted the sunrise and sunset times for each day and planned to be at our first stop of the day in time for the sunrise.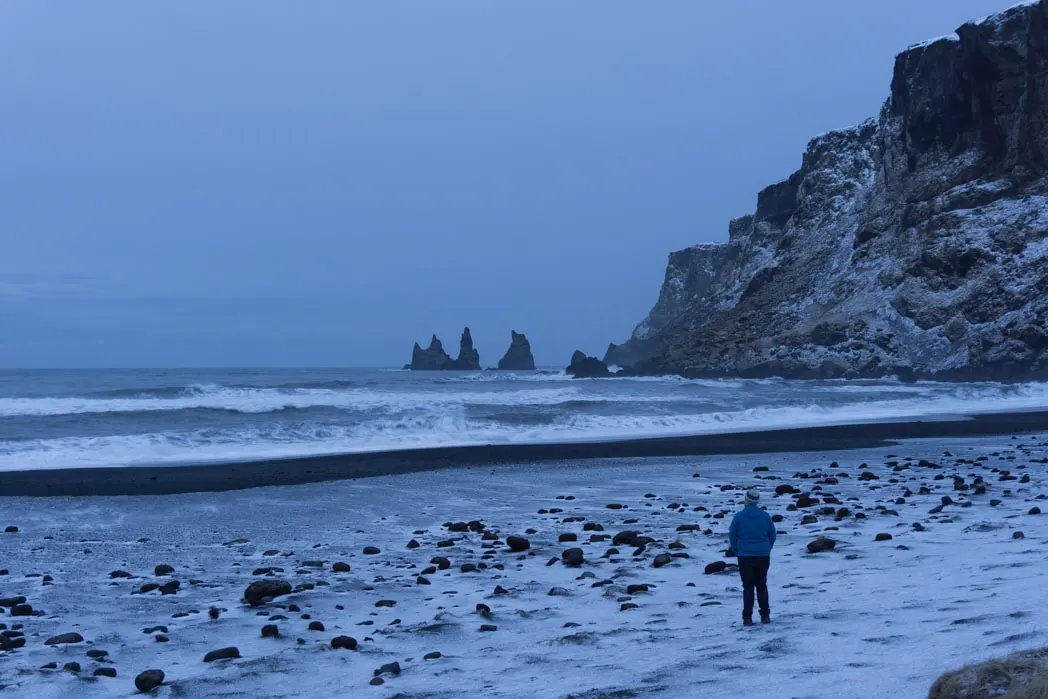 Winter Driving
Winter driving in Iceland is no joke since the roads can often be a sheet of ice or covered in wet snow. If you aren't used to driving in winter conditions, it can be a bit scary. If you rent a car make sure you get one with studded tires and 4 wheel drive. Even with the proper vehicle you should still drive slowly and cautiously. (We met two American women who spun out into a farmer's field in an all-wheel drive Subaru with studded tires!) Check the weather and road conditions before you set out each day. (Bookmark road.is and vedur.is for that.)
But don't let me scare you off renting a car if you are comfortable with winter driving. It's the best way to see Iceland! (And there's no shame in being too scared to self-drive. If that's you, there are tons of bus tours or smaller super jeep tours you can book).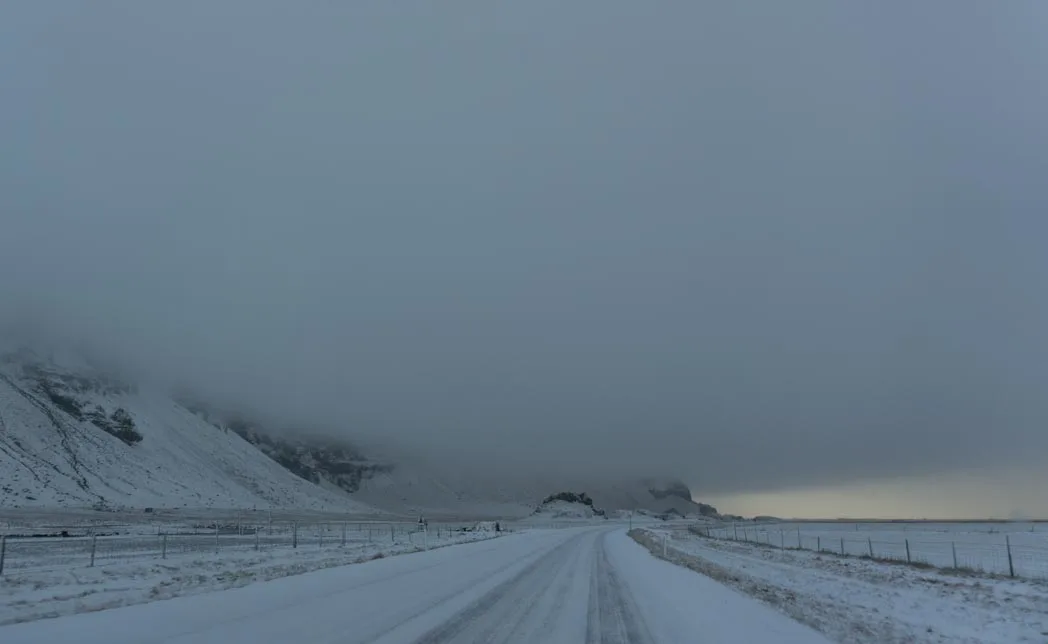 Winter Weather
While it is called "ice" land, it's actually not that cold in the winter in Iceland. Temperatures hover just above or below freezing so you will need winter clothes, but not full on polar explorer winter clothes. However, it seems like it is always windy in Iceland. The wind can make it feel much, MUCH colder than the thermometer says it is. Since the temperature can be just above freezing, it is often warm enough to rain in the winter in Iceland. Make sure your packing list includes rain gear, and warm layers to go underneath.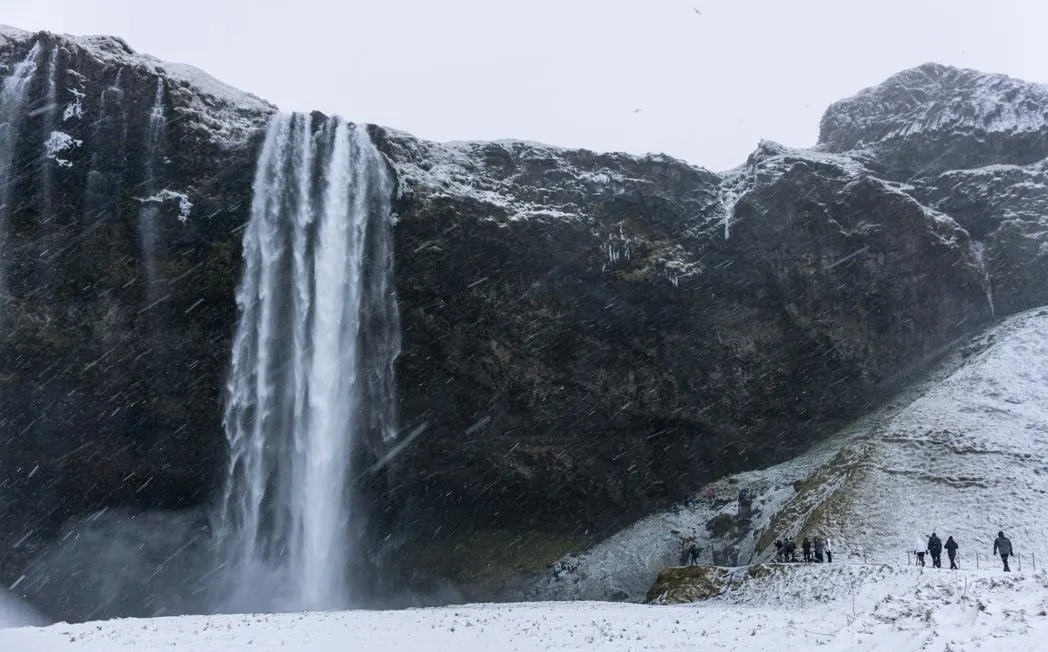 The weather in Iceland is always very changeable. I've experienced sun, rain, snow, hail, fog and harsh wind, all in the same day in Iceland. Even with all that changeability, the winter weather in Iceland is usually on the overcast and grey side. It doesn't make the landscape any less beautiful, and it makes those moments of sunshine even more special.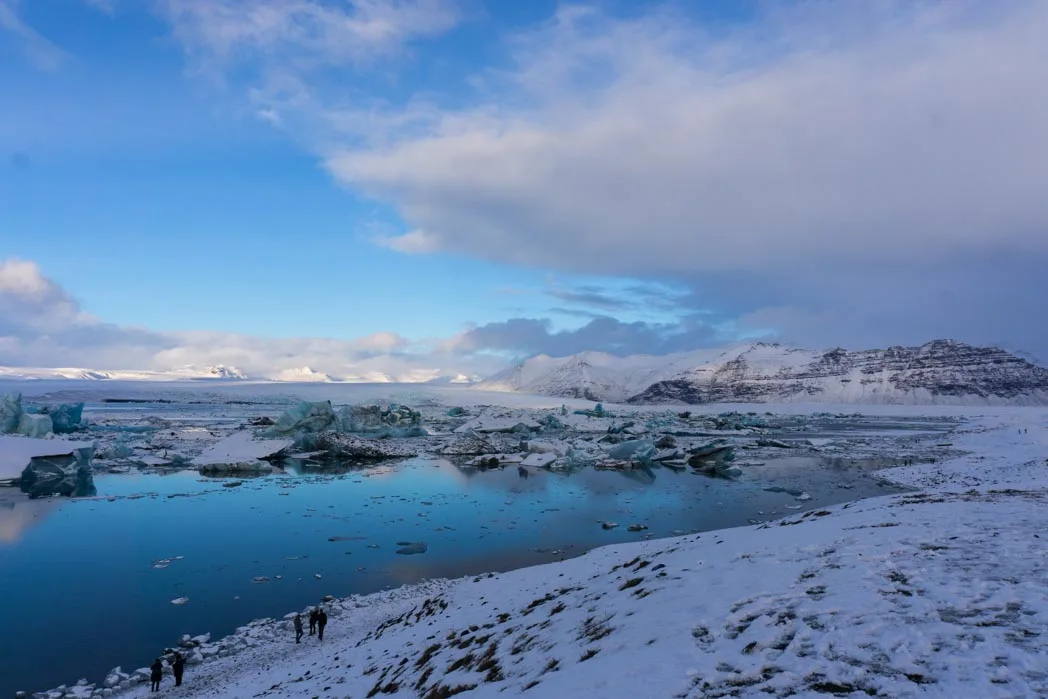 Seeing the Northern Lights
All that darkness, combined with its northern latitude, make Iceland a great location to see the Northern Lights. (Aurora-based tours are very popular. ) However, if you have your own rental car or are travelling outside of Reykjavik, you don't need to go on a tour. You just need to keep an eye on the aurora forecast, then drive somewhere dark. Keep in mind that Iceland's typically cloudy weather may make it impossible to spot the Northern Lights. I was in Iceland for 7 nights and unfortunately did not see the aurora borealis 🙁
You Will Still Want to go Swimming
Just because it's cold outside doesn't mean Icelanders stop going to swimming pools and hot pots. Everyone in Iceland loves swimming, every town has a swimming pool and Iceland's official road atlas has a map at the back that shows the location of every swimming pool in Iceland. It's a national pastime. The pools use naturally occurring geothermal heat from the volcanoes underneath the country and can be quite warm. So don't forget to pack your bathing suit. Sitting in the steaming water of a hot pool surrounded by snow is a quintessentially Icelandic winter experience. The Blue Lagoon is on many people's bucket list (and it is a unique experience) but on my recent winter trip I found the laid back old-school vibe of the newly opened Secret Lagoon to be more my style. We also visited Seljavallalaug, Iceland's oldest swimming pool, but with water temperatures at only 25C, it felt too cold outside to get in. (For comparison, most hot pools are around 35-40C).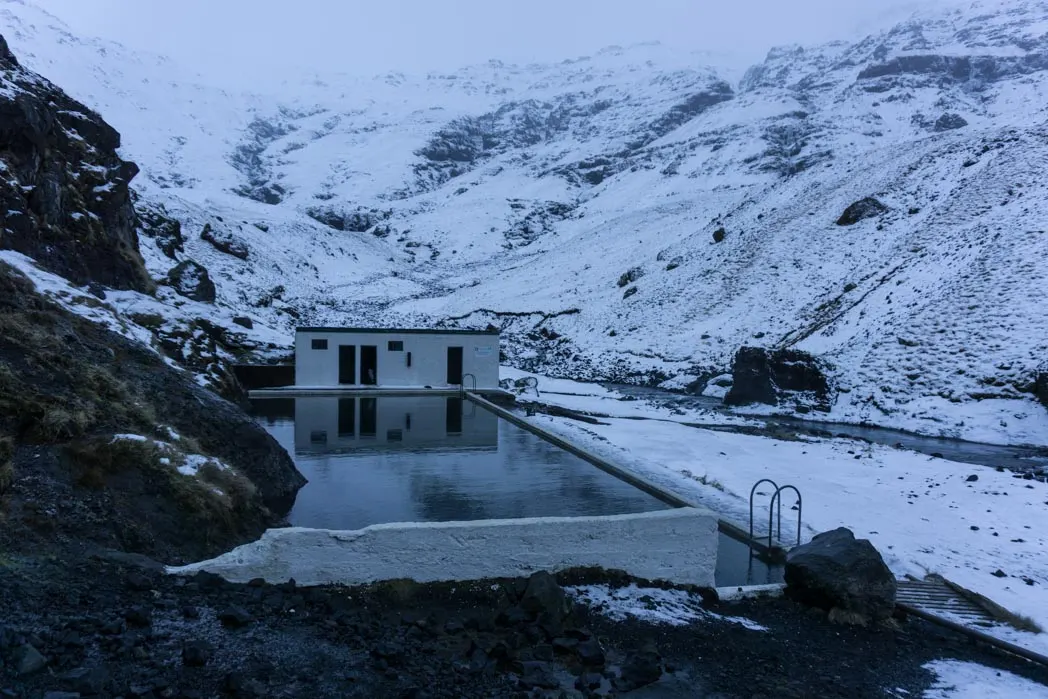 The Locals Wear Wool Sweaters (That Make the Best Souvenirs)
A handknit Icelandic wool sweater, called a lopapeysa is the best souvenir you can buy for winter in Iceland. They are knit from a thick wool that is a bit scratchy, but super warm. Locals wear them all winter in Iceland since they are far warmer than other sweaters.
I bought one during my first trip there in May of 2014 but it wasn't really cold enough to wear it. I brought my lopapeysa to Iceland with me on my recent winter trip and was so glad I did. It was warmer than my fleece jacket! Plan to buy a lopapeysa at the beginning of your trip. That way you'll have something super warm to wear, you'll have a unique handmade souvenir and you won't have to pack as many warm layers from home. Plus if you wear your lopapeysa in Iceland and have fair colouring like my husband, people might even mistake you for a local.
The best place to buy a genuine handknitted lopapeysa is at Alafoss in Mosfellsbaer (a suburb of Reykjavik) or at the Handknitting Association of Iceland Shop on Skólavörðustígur in central Reykjavik. (Avoid the made-in-China knock-offs sold at tons of shops on Laugavegur.) You might find the prices for these sweaters a little shocking compared to a chain store wool sweater you can buy at home, but keep in mind that these are hand knit in Iceland, from wool that was grown, harvested, spun and dyed in Iceland. And that almost nothing in Iceland is cheap. I think lopapeysa are well worth the price.
Check out my full day by day trip report post if you want to hear all about my winter trip to Iceland. Would you travel to Iceland in the winter? Or would you prefer seeing it in the summer time? Tell me in the comments. (For me, it's like asking me to choose which child I love more!)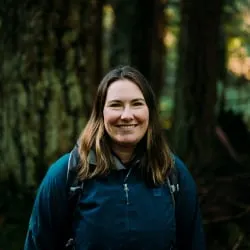 Latest posts by Taryn Eyton
(see all)