.Joshua Tree, California is a pretty unique place. Located in the desert between Los Angeles and Las Vegas, its famous for gorgeous scenery, hiking, camping and an eclectic arts scene. So it should be no surprise that you can find places to stay near Joshua Tree that incorporate each of those things (and sometimes a combo of all of them!) Although it isn't near a big city, there are still lots of great places to stay near Joshua Tree, from boutique hotels to Airbnb cabins to rustic campsites. I've teamed up with a bunch of other travel bloggers to recommend the best places to stay near Joshua Tree. I'm sure there will be something on this list for everyone.
Hey there: Some of the links in this post are affiliate links, which means I earn a small commission at no extra cost to you if you make a purchase. Thanks for your support! -Taryn
Which Area To Stay In?
There are three main areas to base yourself for visits to Joshua Tree: A campground inside the park, the villages of Joshua Tree and Twentynine Palms north of the national park, or south of the park in the Palm Springs/Coachella Valley area.
If you love nature and don't mind a bit of roughing it, I would recommend camping inside Joshua Tree National Park. That way you can experience the desert landscape 24 hours a day and go for hikes right from your tent door. Most of the campgrounds are less than a 30 minute drive to the village of Joshua Tree, so it's easy to go get groceries or go to a restaurant.
If you stay north of the park near the towns of Joshua Tree or Twentynine Palms, you'll be just a few minutes drive from the National Park entrance. This is the best area to base yourself for a few days since its close to groceries, shopping and restaurants too. Plus the town of Joshua Tree has a fun desert-hippy vibe so its a great place to stay awhile and chill out.
The third option is Palm Springs and the Coachella Valley. If you're already planning a trip to Palm Springs, it's easy to tack on a day trip to Joshua Tree National Park. It will take you 40-60 minutes to drive to the park, depending on where you stay.
Best Hotels and Rental Homes Near Joshua Tree
Best Luxury Rental Home Near Joshua Tree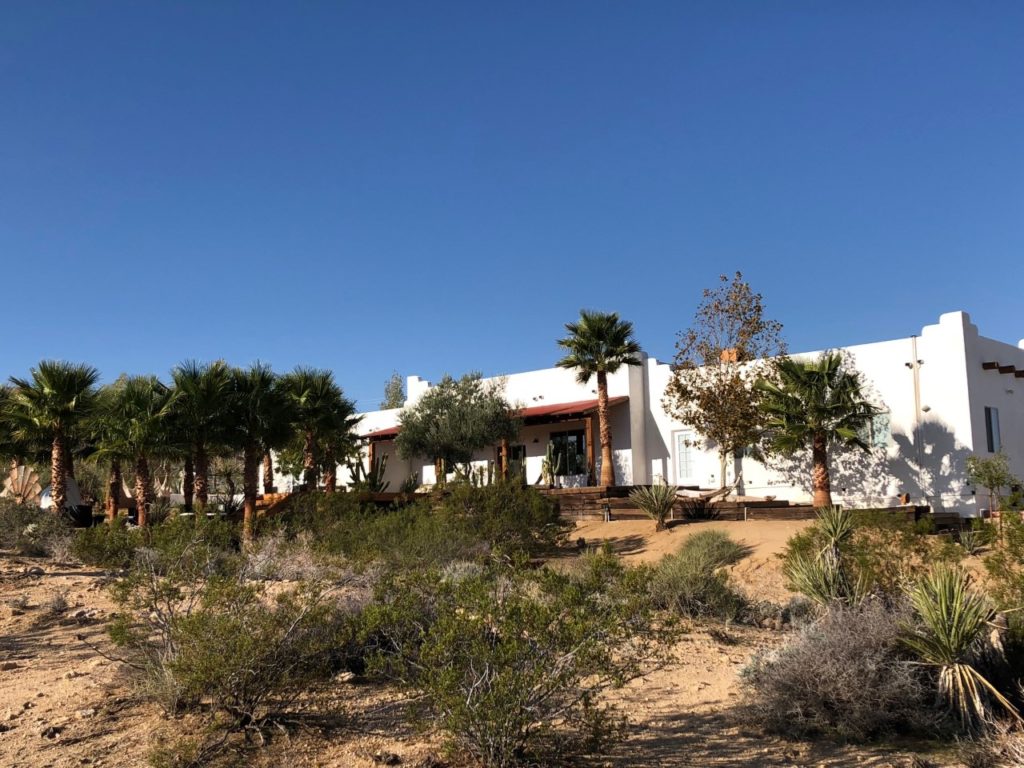 Courtney of Solo Traveler Diaries and her friends stayed in an amazing looking luxury home right near the entrance to Joshua Tree National Park. She says:
On my trip to Joshua Tree we stayed in an incredible Spanish-Pueblo style villa overlooking the beautiful landscape. The high-desert retreat features a breathtaking saltwater pool, jacuzzi, and star gazing deck. With the right conditions its possible to see the milky way. To relax there is a wooden deck that is perfect for yoga and soaking up the gorgeous desert view. I had gone with a group of 15 people and the 5 bedrooms and numerous couches accommodated everyone perfectly. The kitchen was fantastic and we enjoyed a beautiful family style dinner of tacos and margaritas. Complementing our dinner was the retro jukebox, where we listened 80s hits. There was also a top of the line telescope to use, but unfortunately did not get around to using it!
The entrance to Joshua Tree National Park was only a 15 minute drive from the property. One of my favorite parts about the place was coming back from a long day of hiking at the park and enjoying the jacuzzi while gazing at the stars.
Best Themed Hotel Near Joshua Tree
View this post on Instagram

If you've read anything about Joshua Tree, you've probably come across a reference to Pioneertown. It's out in the middle of nowhere, 15 minutes drive from the village of Joshua Tree. The Pioneertown Motel was originally built in the 1940s to house movie stars shooting western films out in the desert. Today it's been updated to have all the modern conveniences, but still look every bit like a vintage western movie set. Yeehaw! It's also next to a unique (and kind of famous) restaurant and music venue called Pappy and Harriet's. I didn't get to visit Pioneertown on my visit, but I keep hearing about it and know I'll make it part of my next trip to Joshua Tree.
Check prices for the Pioneertown Motel
Best Boutique Hotel Near Joshua Tree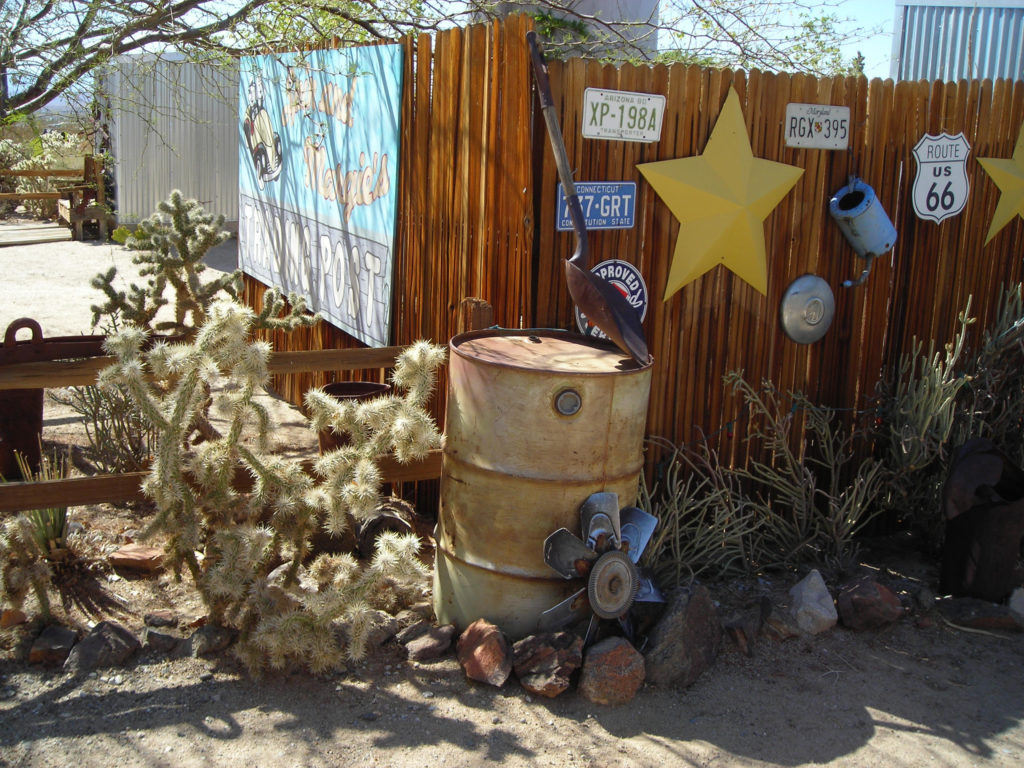 Miranda of Anchors + Proteas loved her stay at Spin and Margie's Desert Hideaway near Joshua Tree Village. She says:
If colourful and cute self-catered places are your jam, then Spin & Margie's Desert Hideaway is the vacation rental to check out. Located a couple of kilometres east of Joshua Tree Village and about 13 kilometres from the West Entrance of Joshua Tree National Park, Spin & Margie's offers five suites to high-desert wanderers.
A few years back I stayed in the Mojave Wanderer Suite with a friend. With a small kitchen and plenty of outdoor space to hang out in, Spin & Margie's was our base for three days of hiking-by-day, live-music-by-night.
There a several different places to hangout outdoors at Spin & Margie's. The backyard is part desert art-installation, part photography-friendly playground with an abundance of metal art, colourful outdoor furniture and mandatory, cacti-cool landscaping. The whole property is quirky but not cheesy if that makes sense. A short drive away is the venerable Joshua Tree Saloon and delicious restaurants like Natural Sisters and Crossroads Cafe.
Keep up with Miranda's travels on her Instagram.
Most Instagrammable Rental Home Near Joshua Tree
When I was planning my trip to Joshua Tree, I found all kinds of amazingly Instagrammable accommodation online in the area. It's an artsy area with a counter-culture vibe, so people have been pretty creative with their architecture.
One place that kept coming up in my searches was the Dome in the Desert. This cute little Airbnb house is actually a geodesic dome. It has a bright modern interior with tons of mid-century modern and south-west inspired furnishings. Outside, there's a big Joshua tree right next to the front door. The entire thing is set up to look great in photos (and be cozy to stay at). In fact its so photogenic that the house has its own instagram account… with 75k followers! Whoa. I would have loved to stay there on my trip since it looks super cute and gets great reviews, but sadly it was booked up.
Best Themed Glamping Experience
Did you know you can stay in a spaceship-shaped tiny house in the desert? Book the Area 55 Futuro House Airbnb if you want an out of the this world experience. (Sorry, I couldn't help myself 🙂 ) This off-the grid structure has sleek mid-century modern furnishings, tons of alien and space-themed books, movies, and games, and an outdoor eating area and barbeque. The tiny house sits on 5 uninhabited acres so you will have the starry sky all to yourself each night while you wait to be beamed up… or just chill out.
Best Palm Springs Rental Home with a Pool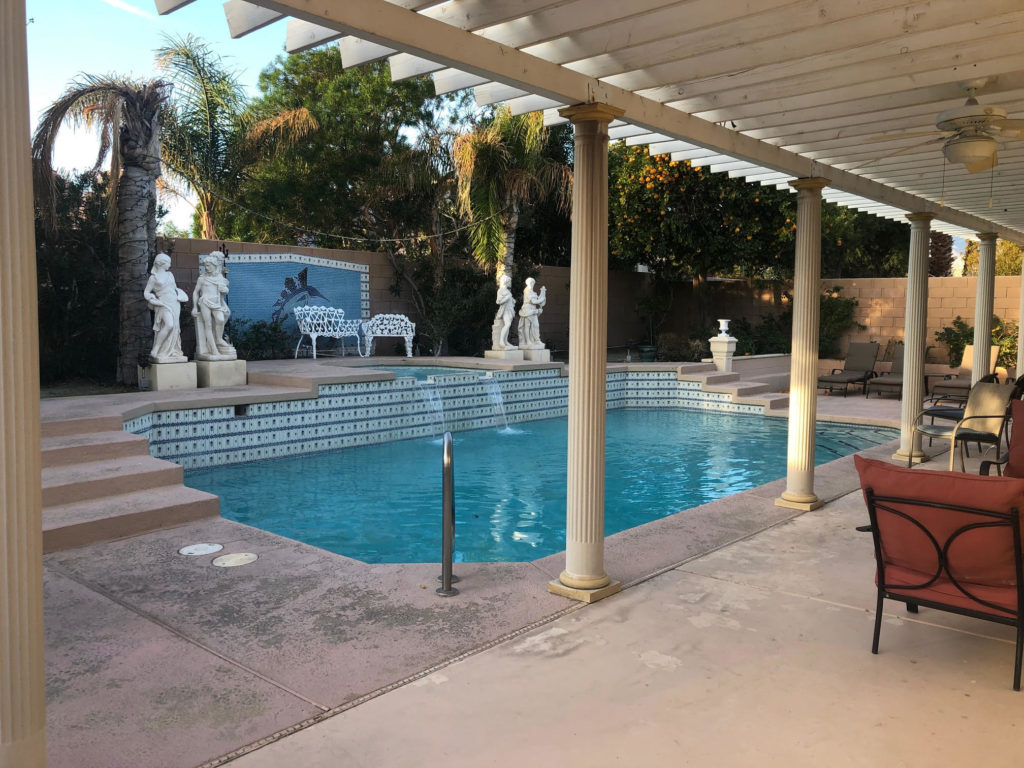 Jyoti and Nirmal of Story at Every Corner did day trips to Joshua Tree National Park from Palm Springs. Her family loved their stay at an Airbnb house with a pool. They say:
We visited Joshua Tree National Park as part of our Christmas holiday trip to Palm Springs in Southern California. We stayed in a house in Cathedral City that we rented on Airbnb. It was a comfortable house for two families including 4 adults and 3 teenagers in a quiet suburban neighborhood. The house had all the amenities needed for a fun vacation such as swimming pool, hot tub, kitchen utensils, appliances etc.
Our most favorite part about the house was the swimming pool. We swam every morning and evening. It was good exercise and a fun activity for both families. We enjoyed having the kitchen for family breakfasts and some dinners. The kitchen was especially helpful because of closures, limited hours and rush in restaurants during the holidays.
Some tips: Carry toiletries, pool towels and food since the house doesn't provide these. Heating the pool is additional cost. But, on the winter days it was heavenly to be in a 90 degree Fahrenheit pool.
The drive to Joshua Tree National Park's Cottonwood visitor center was about 1 hour. The drive to the Joshua Tree visitor center was about 1.5 hour. We visited the park on 2 out of 4 days in Palm Springs. We loved the hikes.
You can follow along with Jyoti and Nirmal's adventures on their Facebook page.
Best Places to Camp Near Joshua Tree
Best National Park Campgrounds for RVs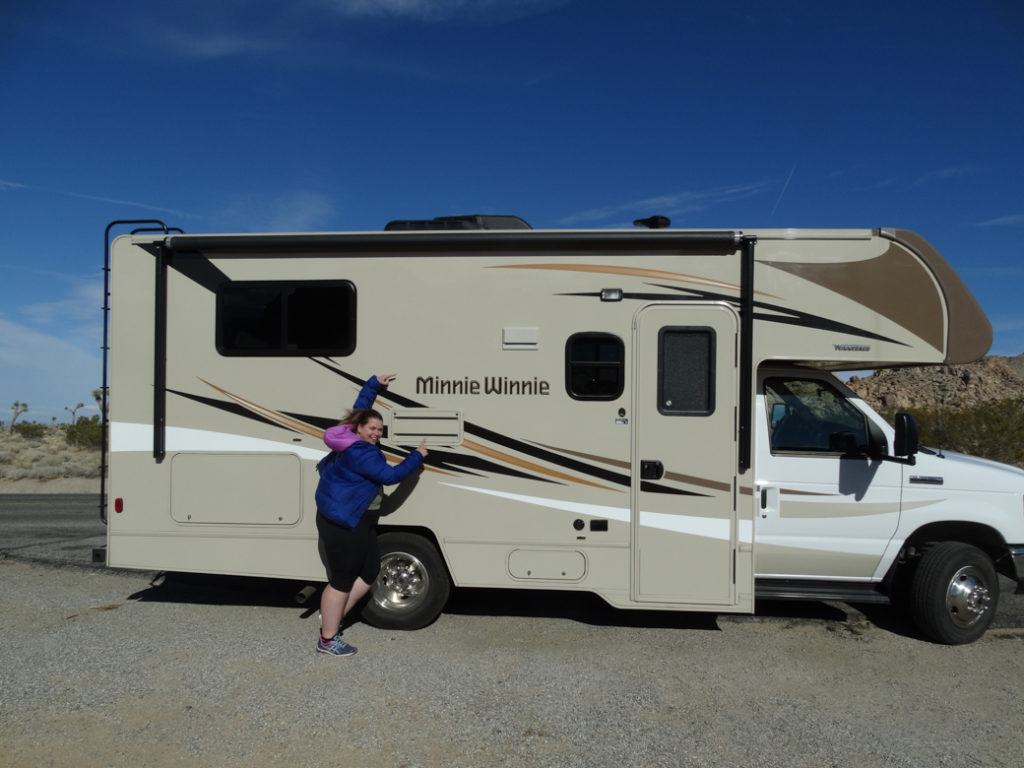 Helena of Through an Aussie's Eyes used a rented RV to explore Joshua Tree. She found that staying in an RV at Black Rock Campground and Jumbo Rocks Campground inside the National Park gave her the perfect mix of roughing it and convenience. She says:
Hiring an RV to explore Joshua Tree was one of the best decisions we made on our recent trip to the US. It gave us the freedom to go wherever we wanted and meant that we were able to stay inside the Park with some comfort. It made all of the difference that we could just wake up and step outside to explore. While there were periods of time that we couldn't run the generators, it meant we could enjoy the unique nature around us while we had our own beds, cooking equipment and shower!
We stayed at two different campsites, Jumbo Rocks and Black Rock. I didn't realize how popular this Park would be so we actually missed out getting a spot on the first night (it was a Saturday night). We were more prepared the next day and made sure we found a spot early. There are RV specific spots which mean you can connect to the power. RVing through Joshua Tree was a highlight of my recent trip and I would go back and do it in heartbeat!
Follow Helena's journey on her Facebook page.
Best Reservable Campground in Joshua Tree National Park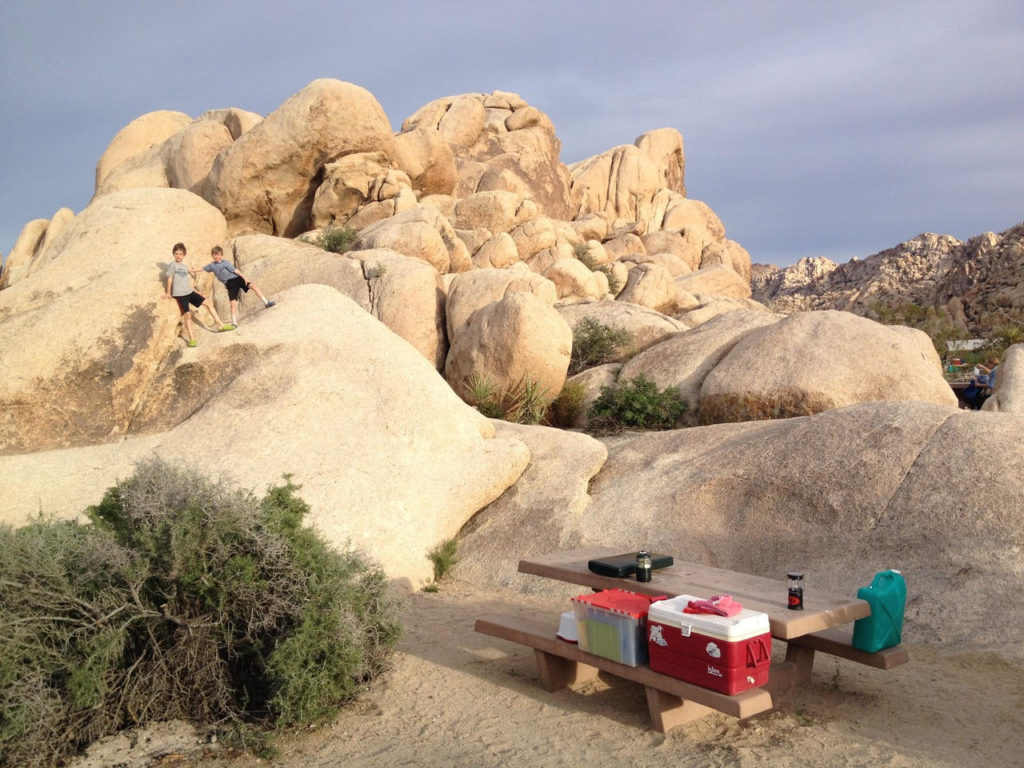 Mel of Traveling Mel camped at Indian Cove campground in Joshua Tree National Park with her family. She liked the certainty of being able to make a reservation. She says:
When we camped in Joshua Tree National Park, I wanted to be sure we had a reservation. I was driving with two little kids and didn't want to be searching for a site. That narrowed down my options.
I chose Indian Cove Campground, which is inside the park, but can only be accessed from outside the park. I thought it would be a hassle driving out of the campground and into the park every day, but it turned out to not be a big deal. Our site was fairly private and my boys loved scrambling over the huge boulders that Joshua Tree is famous for. And since there is a trail that leaves from the campground, we didn't even have to drive one of the days.
Indian Cove is popular with rock climbers since there are several routes near by. Indian Cove has 91 individual campsites, as well as 13 tent-only group sites. There are no hookups or drinking water in the campground.
Follow along with Mel and her family as they travel on her Facebook page.
Best Rustic Campground Inside Joshua Tree National Park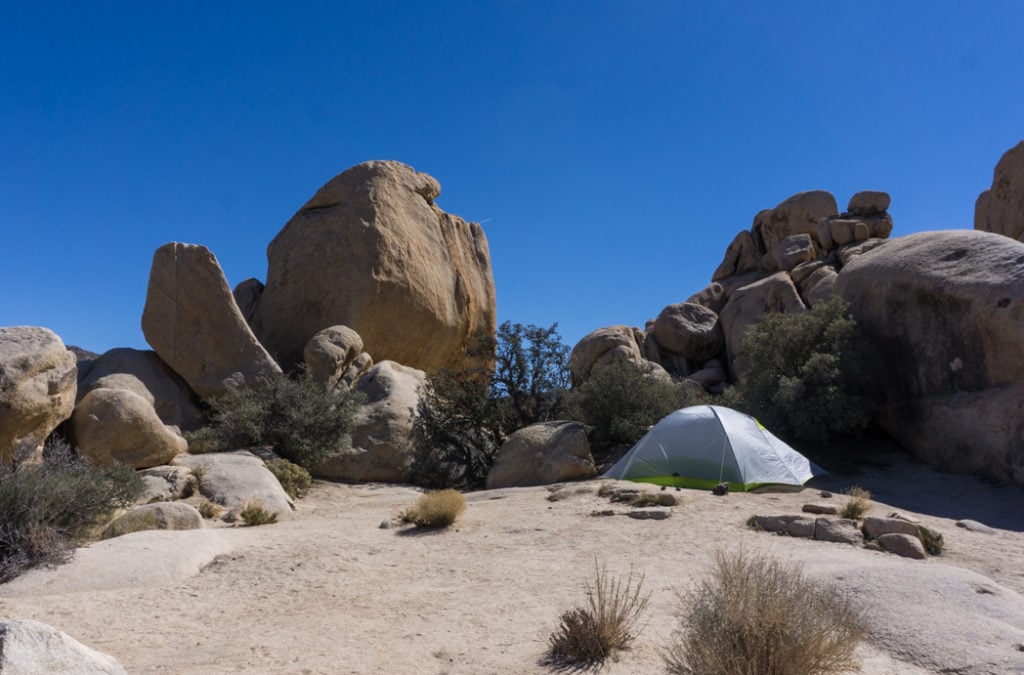 On my trip to Joshua Tree I spent a few nights at Hidden Valley Campground in the heart of Joshua Tree National Park. Camping there was one of the highlights of my trip since I loved watching the rock climbers nearby. It was also really centrally located, so it was easy to get to nearby hiking trails. As well, it was only a 30 minute drive to the village of Joshua Tree so we could easily go out to a restaurant for dinner.
Hidden Valley is one of the most popular campgrounds in the park since it is so close to everything. There are lots of rock climbers camping there, often for weeks at a time, so it can be tough to get a spot. The entire campground is first-come, first served (there are no reservations available), so be prepared to check in the morning for open spots. Have a backup plan in case its totally full.
Like many of the campgrounds in the national park, Hidden Valley campground is a rustic campground. That means it has pit toilets instead of flush toilets and it doesn't have any running water. You have to bring in your own water. (But if you have your own containers, you can fill up at the Twentynine Palms visitor centre. No need to buy bottled water.) Each campsite also has its own fire ring, so if you buy firewood in town, you can have a campfire. We had some chilly nights on our trip. so the campfire was really nice to have.
Best Campground in Joshua Tree National Park for Escaping the Crowds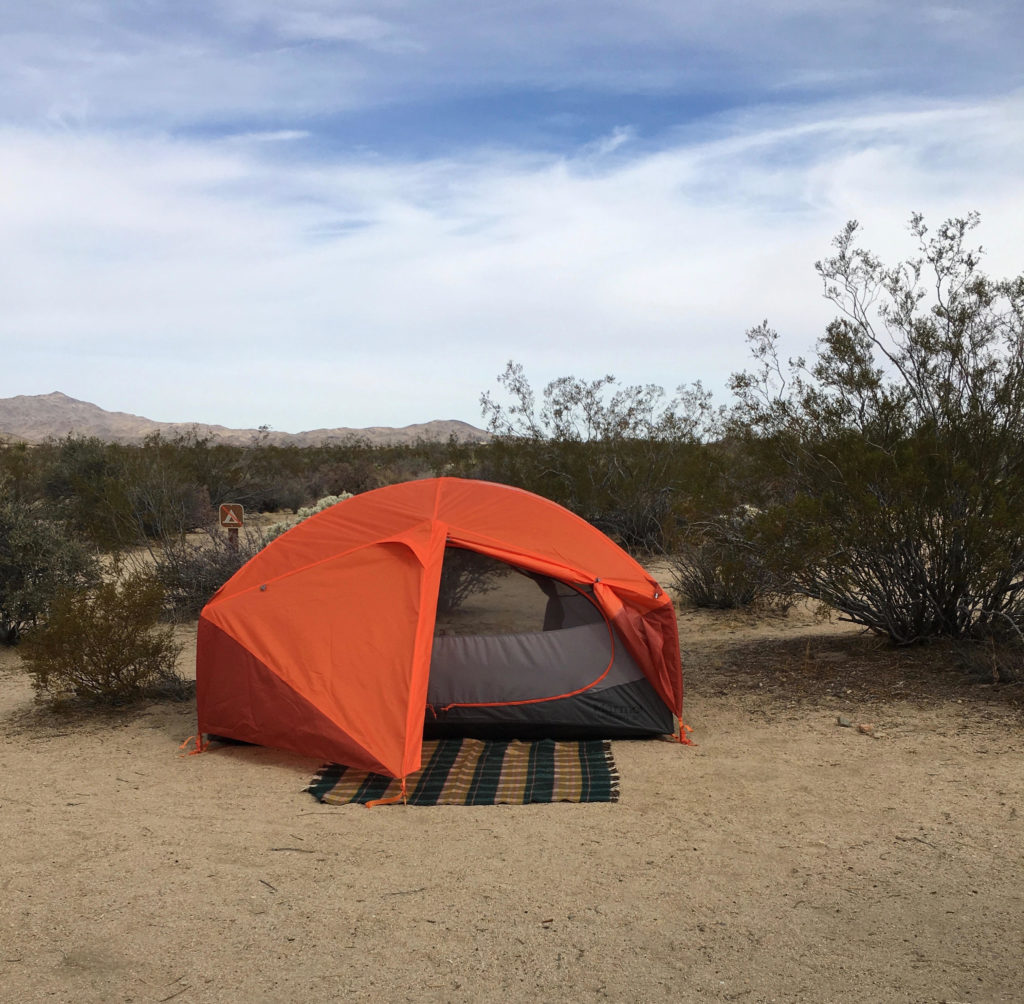 Kristi of Indoorsy Camper enjoyed her stay at quiet Cottonwood campground in the southern part of Joshua Tree National Park. She says:
Located in the south east of the park, Cottonwood campground has 62 campsites. It's one of the few campgrounds in Joshua Tree that allows you to make reservations.
If you enter the park from the north you can look forward to seeing many of the park's rock formations and can stop to check out some of the hiking trails on your way. Once you arrive you will find paved sites for RVs and lots of nooks and crannies to pitch your tent on each campsite. Each site comes with a fire pit as well as a picnic table. Additional amenities include flush toilets, water, a dump station, and funnily enough an amphitheater.
The campground's location at the southern end of the park means it is often less crowded and quieter than sites near the north entrance. One of my favorite parts of the site is the fact that it encourages you to drive all the way through the park to get there. As well, you get to enjoy the nearby Lost Palm Oasis or you can do some very beginner bouldering at Mastadon Peak.
Keep up with Kristi on her Facebook page.
Best Private Campground Near the Entrance to Joshua Tree National Park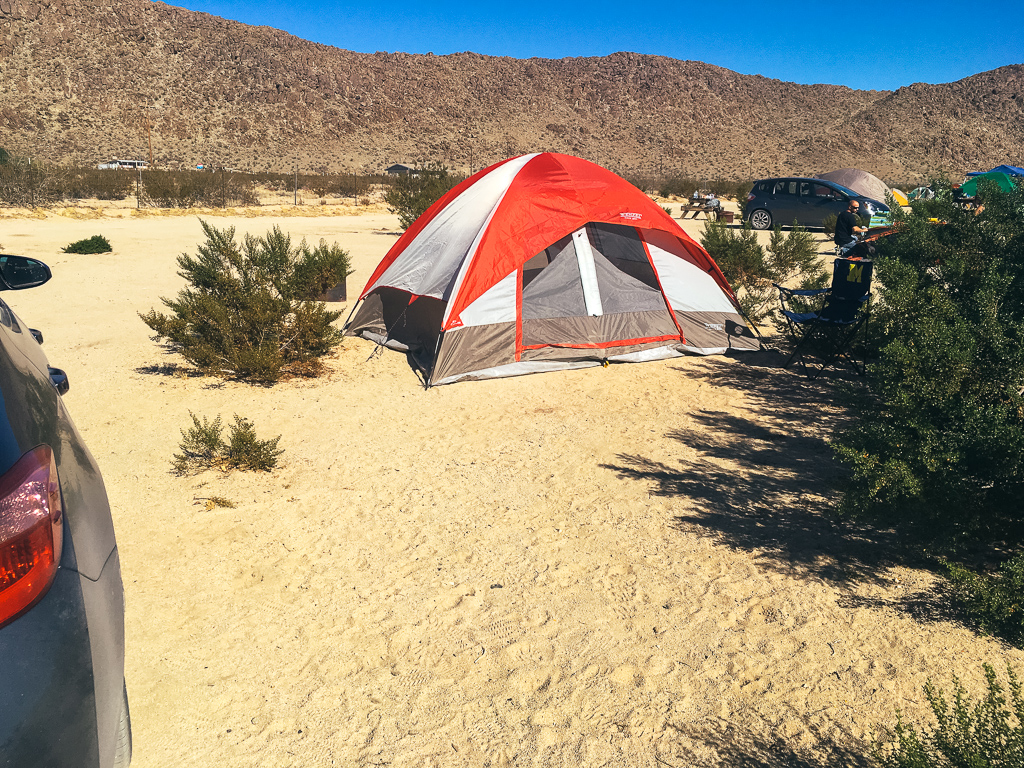 Kaisa of Glam Granola Travel loved her stay at Joshua Tree Lake RV & Campground. I can't believe how cheap it was to pitch a tent! She says:
I simply can't recommend Joshua Tree Lake RV & Campground enough. From the convenient location, to the affordable price, to the kind and welcoming staff, staying at Joshua Tree Lake Campground was a fun experience that truly enhanced my time at Joshua Tree National Park.
The campground is a charming compound of 44 RV sites and "unlimited" tent sites (just pick a patch of sand that looks good to you) 9 miles from JoshuaTree's West Entrance Visitor Center. Pro-tip: they don't recommend using GPS directions to get here; instead, use those from their website.
You're camping in the desert, so there's not a ton of privacy, but there are bushes here and there for some shade. The campground seemed to have a social atmosphere. Joshua Tree Lake is also pet friendly for $2.50 extra per night—my dog and I slept in our tent for a total of $12.50/night. Not bad! Amenities include barrels for campfires, a camp store, fishing poles to rent for fishing at Joshua Tree Lake, and Wi-Fi throughout the campground (for a fee). I got excellent cell service, though, which you will not find within the National Park.
All in all, Joshua Tree Lake Campground is an affordable, family-friendly, and convenient option for those interested in tent or RV camping near JoshuaTree National Park.
Keep up with Kasia's adventures on her Facebook page.
Best Private Campground in the Desert
On the first night of my trip to Joshua Tree we knew we would be arriving too late to get a first-come, first-served campsite inside the national park. We wanted to reserve a private campground to guarantee we would have a place to stay. A friend told me about an app called Hipcamp that's a little bit like the Airbnb of camping. There are tons of options on the site from rustic cabins, to glamping to cheap campsites on private land.
For our trip, we booked a small and basic private campground called Shangri-La Skies through Hipcamp. It was located high in the desert a few minutes from the town of Joshua Tree. The campsite was really basic, but it did have a small amenity building with a flush toilet and a sink. Since the property was way out of town, it was really quiet at night at the stars were incredible.
If you're looking for even more options for places to stay near Joshua Tree, have a look on Booking.com, Airbnb or Hipcamp as there is so much out there, with new and adorable places popping up regularly. Have you stayed somewhere amazing that you'd recommend? Tell us in the comments.
Like this post? Pin it on Pinterest: