Iceland is known as the land of fire and ice thanks to its many glaciers and volcanoes. You can actually go INSIDE the glaciers by taking an ice cave tour in Iceland! How cool is that? Before my winter trip to Iceland I had zillions of questions about the ice caves and how to visit them. So I did a bucketload of research before I went to the ice caves in Iceland. And now I'm passing all that info along to you. (Was that a thank-you I heard? You're welcome!) So if you've seen those gorgeous photos of ice caves in Iceland online and are thinking about visiting one, I present to you everything you ever needed to know about visiting ice caves. (Well hopefully everything. If I missed something, hit me up in the comments.)
Hey there: Some of the links in this post are affiliate links, which means I earn a small commission at no extra cost to you if you make a purchase. Thanks for supporting my website! -Taryn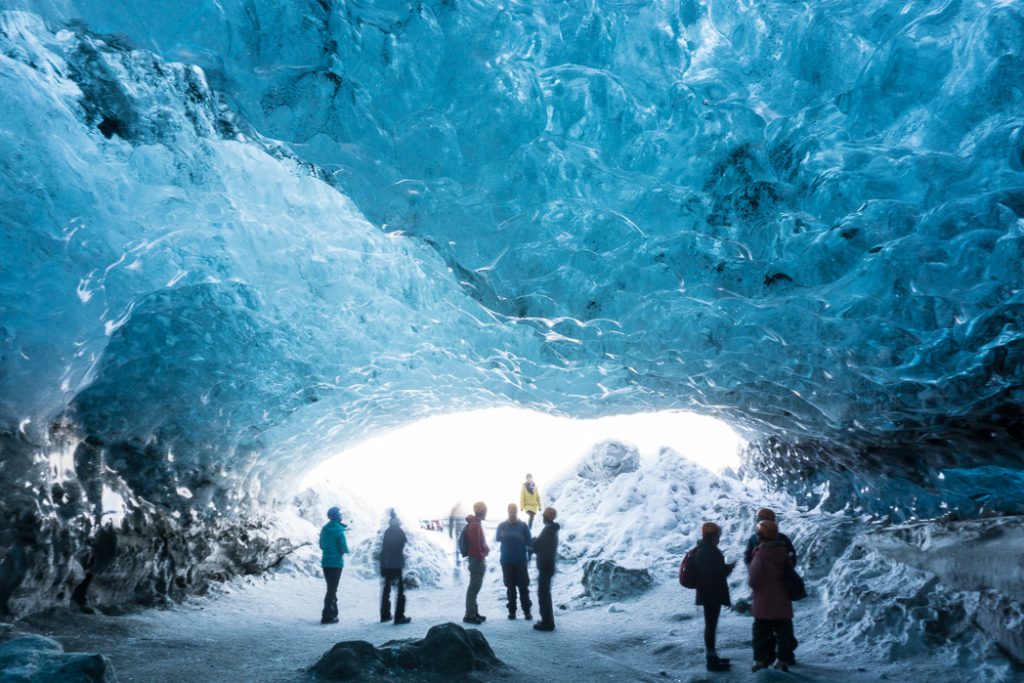 What are ice caves? How are ice caves formed?
The ice caves in Iceland are also known as the Crystal Caves since the light shining through the blue ice makes them look like crystals. There are actually several ice caves in Iceland whose form and location change each year as the glacier advances in the winter and melts in the summer.
In the summertime the warmer weather causes the glacier to melt. The meltwater carves channels in the glacier ice and eventually drains down into the interior of the glacier where it forms rushing rivers of freezing cold water. These freezing cold rivers form tunnels through the glacier.
In the winter, the glacier stops melting so the meltwater rivers stop flowing. The river tunnels from the summer are left behind as brilliantly blue crystalline ice caves… and tourists can visit them. (Side note: I studied a bit of glaciology in university because I'm a huge geography nerd. This stuff is fascinating to me and that's why I was so pumped to visit the ice caves in Iceland.)
When is the best time to visit the glacier ice caves in Iceland? Can I visit the glacier ice caves in summer?
Sorry, no you can't visit the glacier ice caves in the summer. The only time you can visit the ice caves in Iceland is in the winter from approximately mid-November until about mid-March. The rest of the year the temperature is warmer and the glacier is slowly melting. The melting glacier sends rivers of icy cold water through the caves. As well, part of the caves can crack and collapse when it is warmer. It is impossible to safely go inside the caves until the cold winter temperatures return.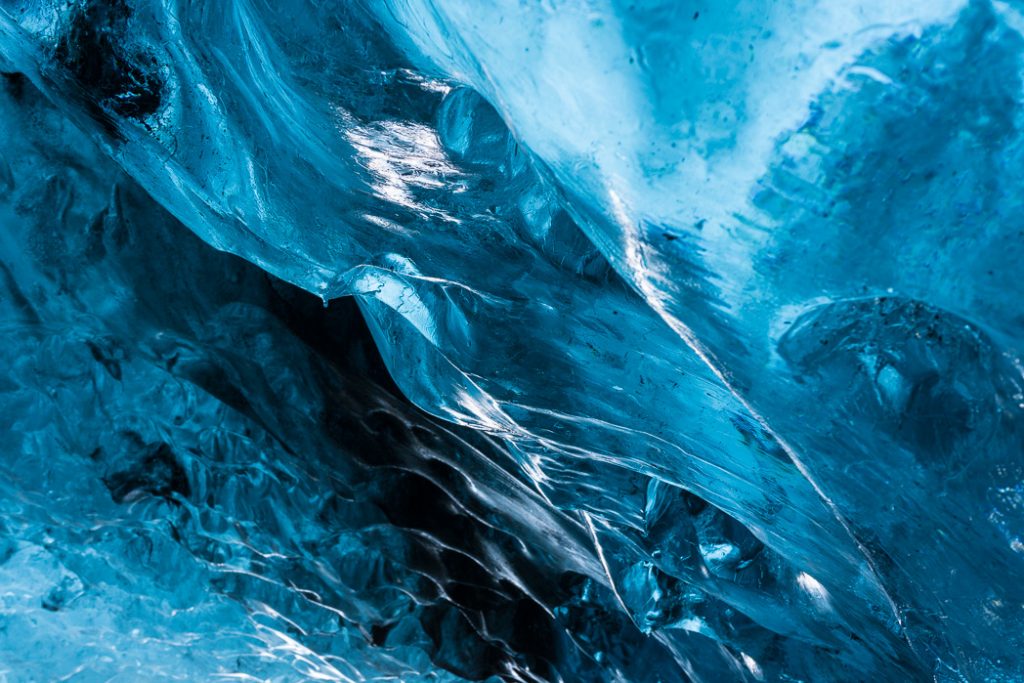 Where in Iceland are the ice caves?
The main ice caves are in Vatnajokull National Park in Southeast Iceland about a 5 hour drive from Reykjavik. They are really close to Jokulsarlon, the glacier lagoon. More recently, a few companies have started offering ice cave tours in the Mýrdalsjökull glacier near Vik and at the Svínafellsjökull in Skaftafell National Park
There is also a man-made ice cave at Langjokull closer to Reykjavik that you can visit, but I haven't been there. From photos online it's more of a rectangular ice hallway than a naturally sculpted ice cave.
How can I get to the ice caves in Iceland?
There are essentially two ways to get to the ice caves in the winter: rent a car and drive yourself or take a bus or mini-bus tour. There are lots of bus tour and mini-bus tour companies running multi-day south coast tours of Iceland and some of these companies offer ice cave tours as part of their package. You can also book a Mýrdalsjökull glacier ice cave tour as a day trip from Reykjavik.
If you don't want to take a tour you can rent a car and drive yourself. If you choose this option, make sure you rent a 4 wheel drive car with studded tires and have some winter driving experience. (Check out this post for more Iceland winter driving tips.) It's also worth giving yourself tons of time to drive to your tour meeting point. If you are late for your tour due to weather, they will leave without you and you won't be eligible for a refund.
Can I do a day trip to the ice caves from Reykjavik?
It depends on which ice caves you want to visit. If you want to visit the man-made Langjokull, or the Katla caves at Mýrdalsjökull you can do a day trip from Reykjavik.
But if you want to go to the famous ice caves at Vatnajokull on the south coast, you can't really do it in a day trip because it is too far. (And you won't want to anyway since there is so much to see along the way.) The Vatnajokull ice caves are a 5 hour drive from Reykjavik.
In perfect conditions you'd spend 5 hours driving to the ice cave tour meeting point, 3 hours taking the tour and then 5 hours driving back. That's 13 hours on the go and that doesn't even give you time to stop at Jokulsarlon glacier lagoon, the black sand beach at Vik or any of the numerous waterfalls on the way. In the winter, driving conditions in Iceland can be horrendous and there isn't very much daylight so it will take longer. Play it safe and plan to spend a night or two in the area. (See my recommendations for where to book a hotel at the bottom of this post.)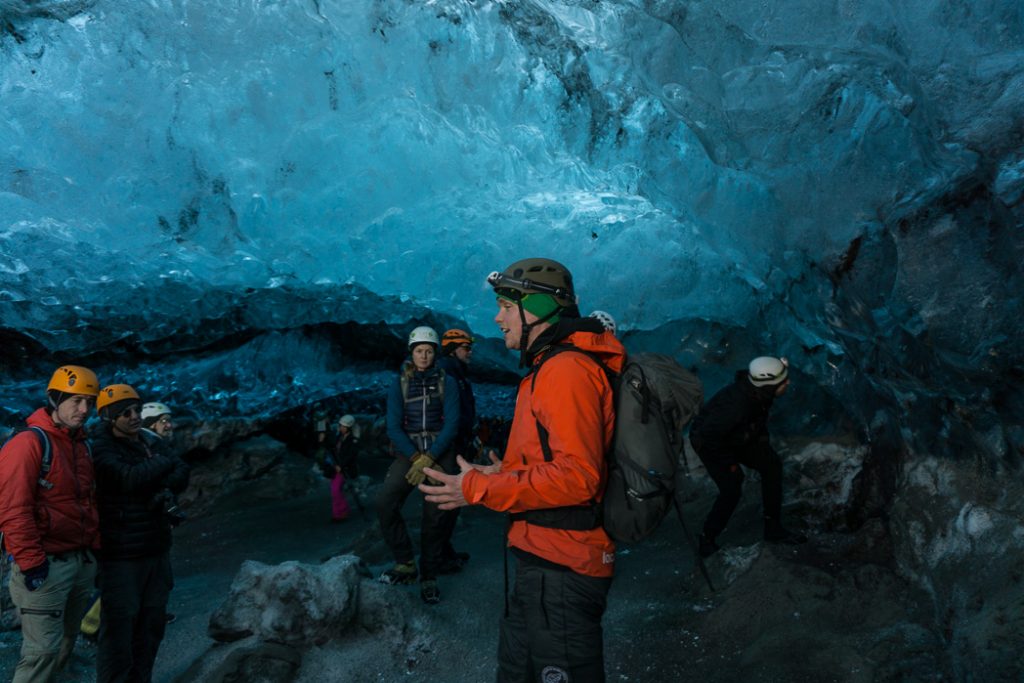 Do I have to go on a tour to see the ice caves in Iceland?
Yup, you have to be on an ice cave tour. The man-made glacier cave at Langjokull, is privately owned. Both sets of natural ice caves in Iceland are inside Vatnajokull National Park. On the way to the caves your tour group will pass through a National Park checkpoint. The National Park requires everyone going into the caves to be on a tour since glaciers are beautiful but deadly: if you aren't careful you could fall into a crevasse and never be found or wander off into the wilderness and freeze to death! Check Ice Cave tour prices here.
Which ice cave tour should I choose?
From reviews I've read online, most of the ice cave tours offer a pretty similar experience for a basic ice cave tour.
The most basic type of tour is one that just visits a small, easily accessible ice cave. These tours are the shortest and least expensive. They often have larger group sizes (up to about 30). This is the type of tour that most people take. When I visited the ice caves in January 2017, I took a basic ice cave tour at Vatnajokull. You can also book a basic ice cave tour of the Katla caves near Vik or the man-made glacier tunnel at Langjokull.
There are also photography focused tours that visit other, more remote ice caves. Photography tours usually last longer, have smaller group sizes and may include a longer walk to get to the cave. If you've seen stunning ice cave photos online, you've probably seen photos taken by professional photographers on photography focused tours – sometimes with professional lighting as well.
Some tour companies will also combine an ice cave tour with a glacier hiking excursion. This can be a great way to see both the exterior and the interior of the glacier. You may also get to visit some more remote and less crowded ice caves since you have to walk farther to get there. Ice cave/glacier hike combo tours are longer duration, more expensive and require much more walking (it is a hiking tour after all!).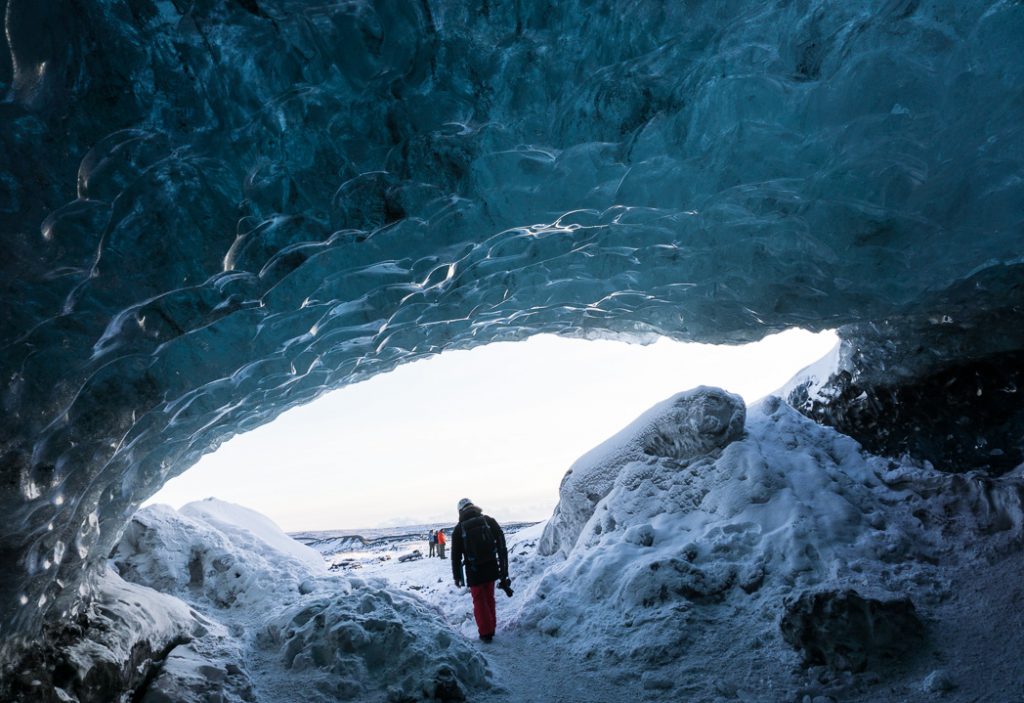 How much does it cost to see the ice caves in Iceland?
These tours are not cheap. A basic tour is usually at least 19,900ISK per person (winter 2019/2020 pricing). That converts to about 142 Euro or 160 USD. Longer tours typically cost about twice as much. Prices vary depending on which area of Iceland you take the tour in. Check the latest prices here.
How far in advance should I book an ice cave tour?
As far in advance as possible. The ice cave tours sell out every year. For my January 2017 trip, I booked my tour 2 months in advance and got some of the last spots available for my chosen date. Click here to check available dates.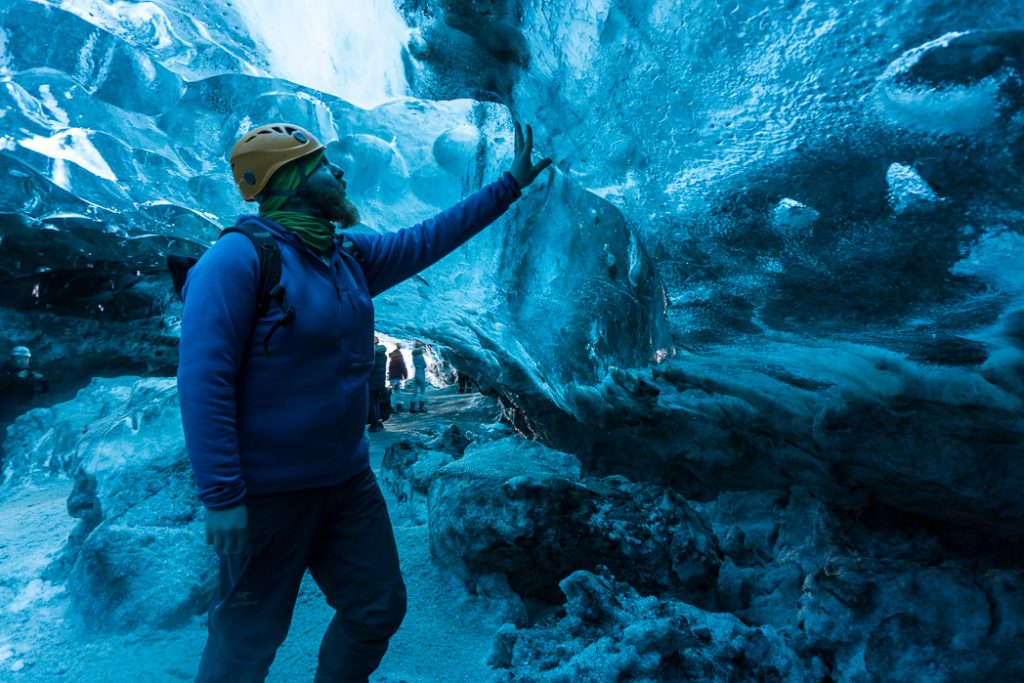 Do I have to be a hardcore ice climber or an experienced hiker to take an ice cave tour?
No! Most of the ice cave tours are super easy and usually require only a few minutes of walking on ice to get to the entrance to the cave. (Sometimes the caves end up being further from the parking lot, but it is usually no more than a 30 min walk.) Once you are inside the cave the floor is uneven but you don't have to climb anything or crawl around. As long as you have basic fitness to walk on uneven ground, you should be fine. Some tour operators do offer more adventurous (and more expensive) cave tours that may require more physical fitness but no special climbing skills. (Read more about types of tours above).
What should I expect on an ice cave tour? What do I get to see on an ice cave tour?
How your ice cave tour is laid out depends on what type of tour you book. For all tours you will start at the tour meeting point. Each company has its own tour meeting point. If you are with a tour company, your bus will drop you off at the tour meeting point. If you are doing a self-drive tour in a rental car, you'll have to drive yourself to the meeting point. There should be lots of info on the tour company website and in your email confirmation for your tour booking about how to find your meeting point. Give yourself extra time to find it so you aren't late for your tour.
After you arrive at your tour meeting point and check in with your tour company, make sure you use the bathroom. There are no bathrooms near the ice caves so you really want to make sure you head out with an empty bladder. When your tour starts you board super jeep mini buses that seat 12-20 people. Super jeeps are basically Icelandic monster trucks: off road vehicles with giant tires and rugged suspensions.
Depending on where you are taking your tour, you mini-bus may drive up to an hour to the glacier. Some part of the drive may be on dirt roads that are VERY bumpy. (Tip: If you are prone to car sickness ask to sit in the front.) On the way down the road you will pass through the National Park checkpoint. If you booked a photography or glacier hike combo tour you may drive to a different location to start your tour.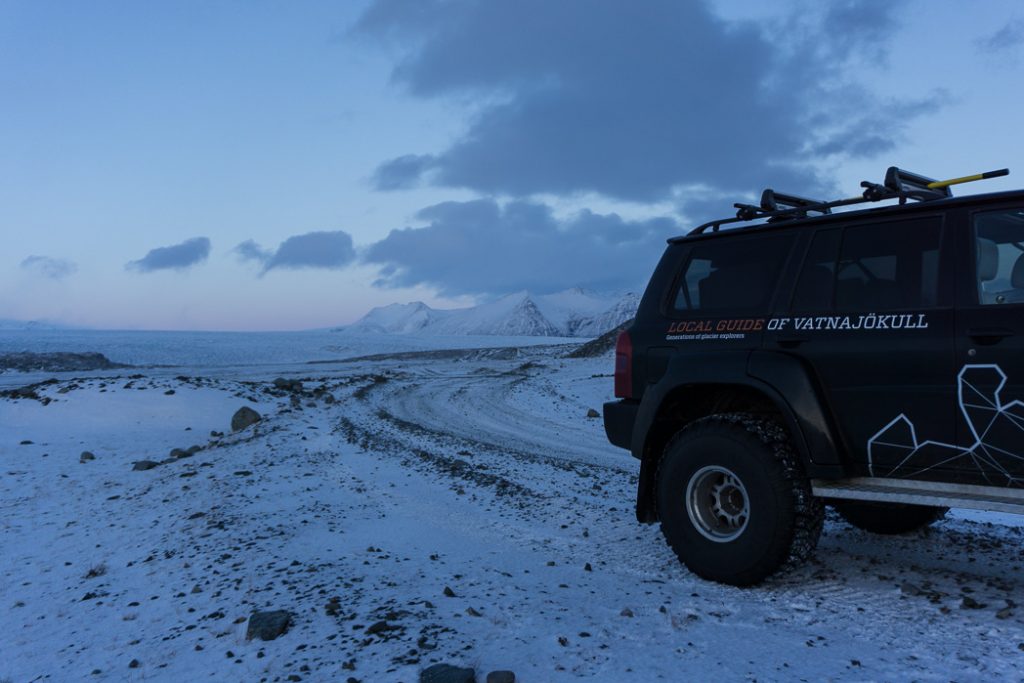 Once you get to the parking lot, the guide will outfit you with a helmet and some mini-crampons for your shoes. The helmets are adjustable and will fit over your winter hat. The mini-crampons are spikes for your shoes so you don't wipe out on the ice. They come in small, medium and large sizes and are stretchy to fit over your boots. Your guide can help you find the right size. If you have booked a more adventurous tour you may also get a climbing harness.
Before you leave the parking area your guide will give you a safety briefing. Mostly they just say to walk where you are told to walk otherwise you could fall into a crevasse . No one wants that! Then you'll start the walk to the ice cave. Depending on how the caves form each season, the walk will be between 5 and 30 minutes long for the basic ice cave tour and much longer than that for more adventurous tours.
Once you get to the ice cave your guide will give you free time inside to explore and take pictures. The caves that you can visit on a basic ice cave tour are fairly small – about 50m deep and maybe 20m wide at the widest. On a basic tour you will have about 30-45 minutes inside the cave. There will also be people from other tour groups inside the cave so expect it to be a bit crowded at times. (Again, those gorgeous ice cave photo you've seen online were probably taken in more remote ice caves during private photography sessions. The photos I've shared in this post were all taken during a basic ice cave tour with many other tourists from several groups all in the cave at once.)
The caves that you can visit on other types of tours can vary a lot per season but will likely be much less crowded. Ask your tour company for more details about what to expect inside the cave on other types of tours.
After the tour, your guide will drive you back to your tour meeting point. In total a basic tour will last 2-4 hours. Other tours will last 5-8 hours depending on what type of tour you book.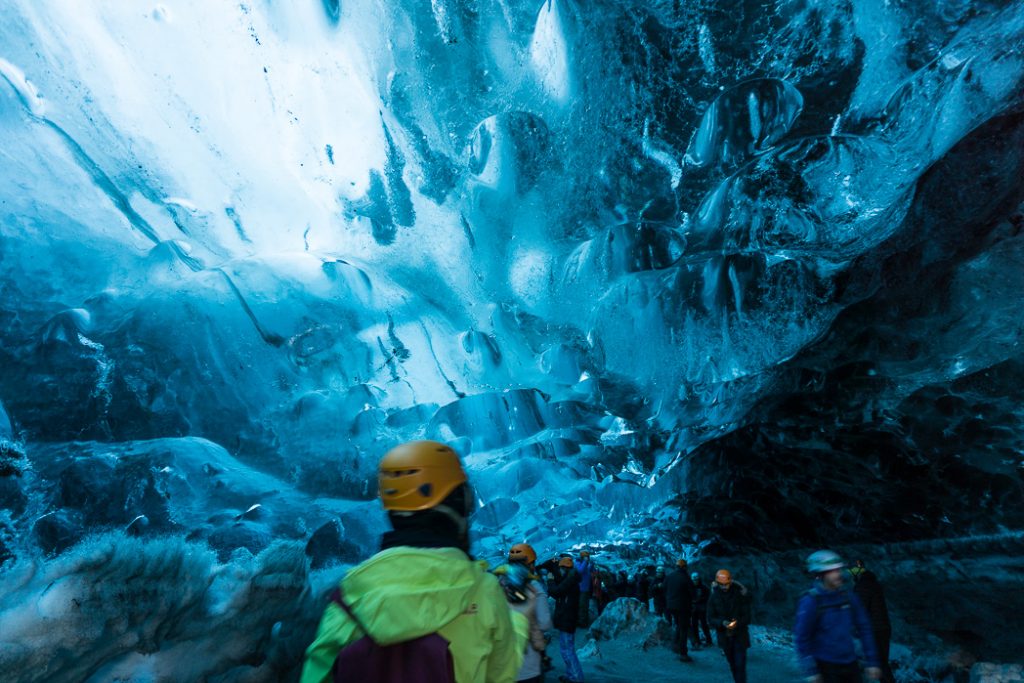 What should I wear to visit the ice caves in Iceland?
Your tour organizer will provide all required safety gear: a helmet and mini-crampons (spikes for your shoes). If you take a late afternoon or early morning tour they will also give you a headlamp since it will be almost dark outside. Most tour operators also rent hiking boots for a nominal fee (usually 1000ISK). You will bring your own winter clothing (although some tour providers do rent some clothing).
In general you'll want to wear the same thing you'd wear winter hiking or skiing. Start with thermal long underwear made of wool or synthetic materials. (Here's a great guide to the best thermals for Iceland.) Add in a fleece jacket or puffy jacket. On the bottom wear insulated ski pants or rain pants. Wear a waterproof ski jacket on top. Bring a warm wooly hat, warm gloves and warm wooly socks. Wear hiking boots or sturdy winter boots. Avoid running shoes or any shoes that are low cut. (You want boots that cover the ankle that work better with the shoe spikes the guide will give you.) Most tour operators also rent hiking boots for an extra fee if you don't have your own.
Be sure to bring a camera and a small tripod if you have one. The best way to take good photos of the cave is to hold the camera very still. It's easier to do this if you have a tripod. If you have a camera with manual functions, experiment with long exposures.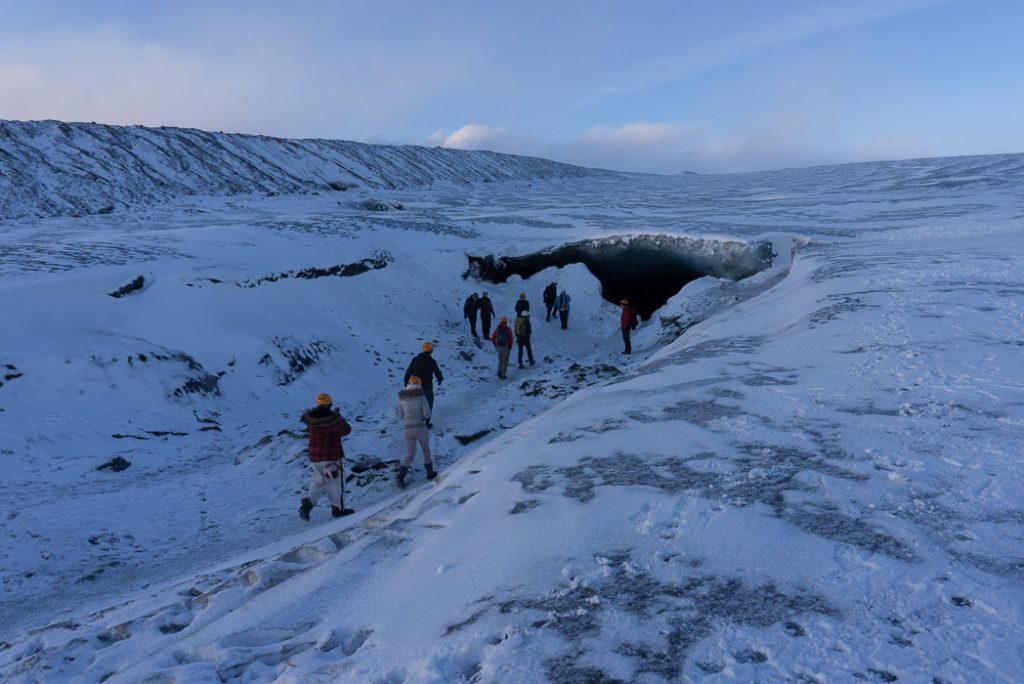 What else is there to do in the area near the ice caves in Iceland?
A visit to the ice caves makes a great highlight to a winter tour of South Iceland. There are numerous must-see attractions along the drive from Reykjavik to the glacier ice caves. These include the famous waterfalls at Seljalandfoss, Skogafoss and Svartifoss, the black sand beach at Vik, Fjaðrárgljúfur canyon, the glaciers at Skaftafell and the glacier lagoon Jokulsarlon. I recommend spending a few nights on the south coast in the winter. (You should plan to stay within easy driving distance of the ice caves the night before your tour.) For itinerary suggestions, check out my post about my winter week in Iceland.
Where should I book a hotel near the ice caves in Iceland?
If you are part of a tour, they will arrange your lodging. But if you choose to drive yourself, you'll need to book a hotel within easy driving distance of the ice caves. As mentioned above, different tour operators have different tour meeting locations. However, most of them are with a 40 minute drive of Jokulsarlon glacier lagoon. When searching your favourite online accommodation booking engine look for hotels and guesthouses near Jokulsarlon, Skaftafell, Hof or Hofn. That way you'll be no more than an hour's drive or so from your tour meeting point. I stayed at the brand new Fosshotel Glacier Lagoon which was in a great location in between Jokulsarlon and my tour's meeting point. It's pretty fancy, so for me it was a splurge. There are other cheaper hotels and guesthouses in the area as well.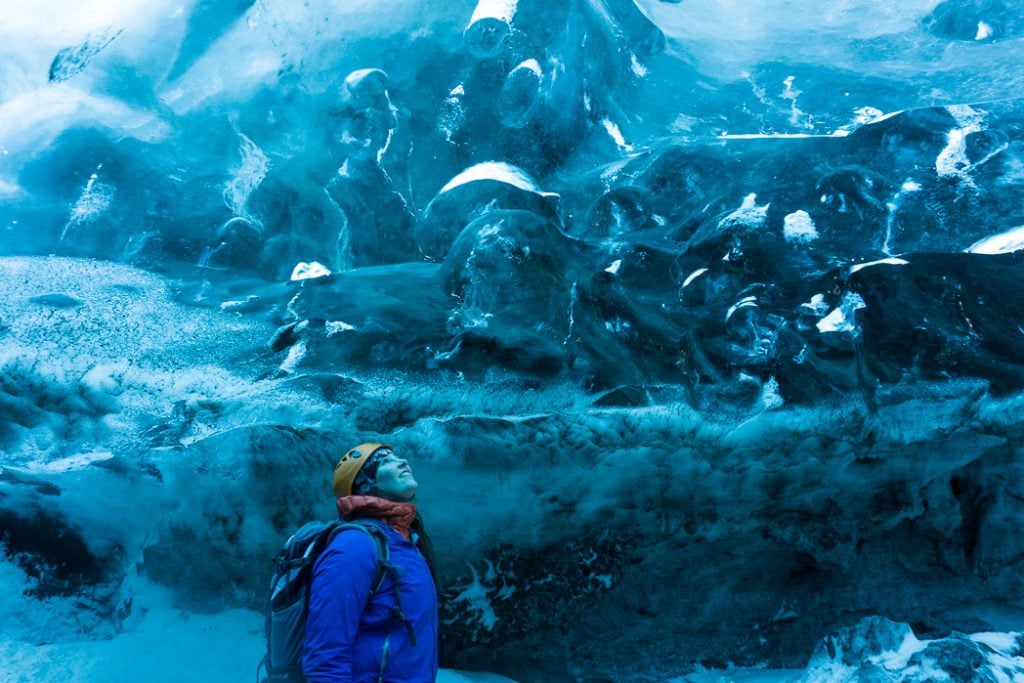 A visit to the ice caves in Iceland takes a bit of money and time to visit them. But for me it was a bucketlist item and totally worth doing. I hope I answered all your questions about the ice caves. If there is anything else you'd like to know, please ask in the comments and I'd be happy to answer.
Disclaimer: This is not a sponsored post. I paid full price for my ice cave tour and have no affiliation with the tour company. I just had a good experience on their tour and wanted to share it with you.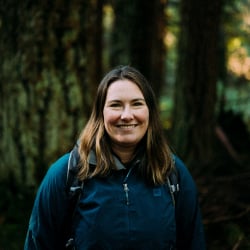 Latest posts by Taryn Eyton
(see all)