For the last few months I've been trying out the new MEC Warm Obsession Hoodie. In order to understand the way I feel about this jacket, you need to know a few things about me: I am a sweaty hiker. I get really cold easily. And I love geeking out about technology in outdoor gear.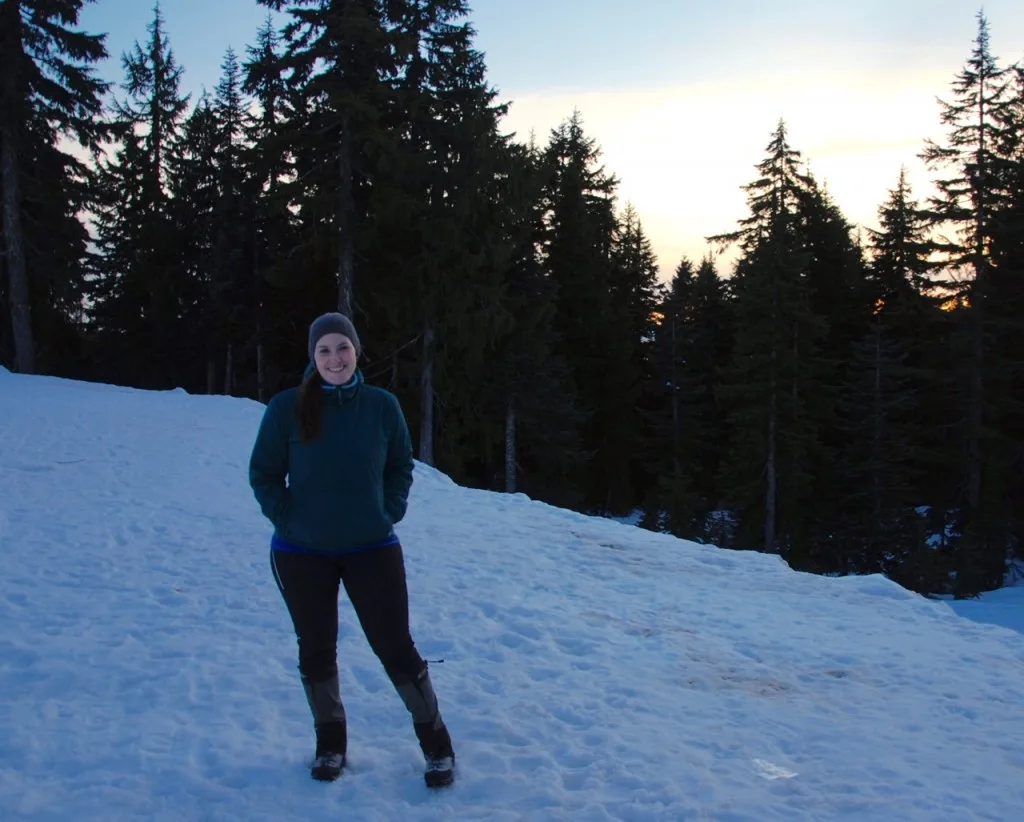 Technology
The Warm Obsession Hoodie is a synthetic insulated jacket with a difference: it's designed to be super breathable. It uses 120 grams of Polartec's new much buzzed about Alpha insulation which is lightweight, packable, and breathable! Using 120g weight insulation is a fair amount so it's designed to be quite warm but isn't really that heavy at only 370g (size small). The insulation sewn in with elasticated thread, which holds it close to your body for even more warmth (a similar construction method to MEC's super popular Uplink Jacket which I own and love.)
The face fabric is a super lightweight 20-denier softshell fabric that is wind and water resistant but is still quite breathable. The idea behind combining the breathable yet warm insulation with the wind resistant and breathable softshell face fabric is to create a jacket that keeps you warm when you're taking breaks but also breathes well so you don't sweat too much and overheat while you are working. That means you can keep the jacket on longer instead of having to stop to add or remove layers. I can't believe that all this cutting edge technology and fabric retails for only $199!
I've worn this jacket a LOT over the last few months. I've worn it snowshoeing, hiking, and while I'm outside teaching Leave No Trace Awareness Workshops (which involves a lot of standing around outside talking/teaching and some hiking). I've worn it in Squamish, on Galiano Island and while hiking the Big Tree Trail near Tofino. I've worn it on it's own and under a shell. I've worn it in snow, sleet, light rain, cold winds and bright sunshine in temperatures from about -10 to +10C. Every time I'm getting ready for a trip and trying to decide which insulating mid-layer to bring, I've chosen this jacket over a fleece, a down jacket and even my beloved MEC Uplink Jacket.
So does it work? I think so. When it's cold (at or below freezing) I've worn the Warm Obsession Hoodie for hiking or snowshoeing uphill, sweating a bit and found that it does breathe fairly well. The armpits of the jacket get a bit damp, but as long as I vent with the chest zipper I don't seem to get damp anywhere else. This is a big difference from my other synthetic and down jackets that feel like I'm wearing a wet garbage bag when I sweat in them. Of course if I'm working hard enough I'll have to take it off, but I find that I can keep it on longer than a down jacket or even my Uplink (which is not nearly as warm).
I've also found that if I put it on at the peak, I can usually keep it on for the whole descent without overheating. When I'm taking breaks I zip it up all the way, put on the hood and stay pretty warm without having to add another layer like a shell to cut the wind. Overall, I'm pretty impressed by the breathability, warmth and wind resistance.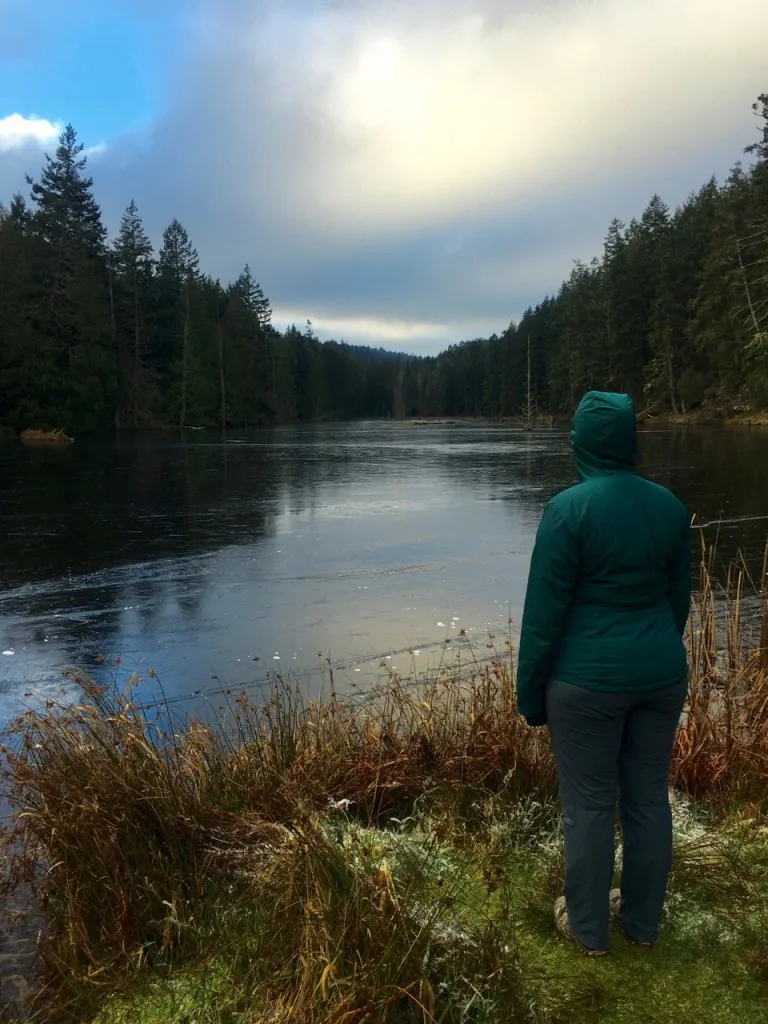 Fit, Features and Style
The really like the hood on the Warm Obsession Hoodie. It's not huge and floppy like some technical hoods that are designed to go over a helmet, but not totally scuba diver dorky either (which means I can fit my bun into it!) It has elastic edge binding to keep it snug without needing shock corded toggles.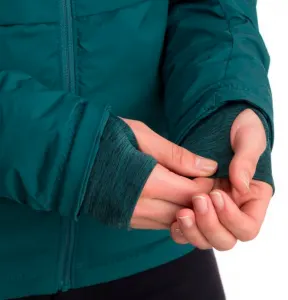 The other feature I really like are the stretchy inner cuffs with thumb loops. They really seal out the wind and provide a bit more warmth when I need it. I'm also glad that the jacket has the warm inner cuffs since the pockets on the jacket are set in front of the insulation so they aren't useful as handwarmer pockets. I also wish the jacket stuffed into one of the pockets – I just stuff it into its own hood to pack it up but it could be compressed much smaller with a stuff sack pocket.
The bottom hem is dropped a bit in the back and has some elastic on the sides to keep it in the place. For most users this would mean a bit more butt coverage and warmth, but I have a bigger butt and find that the jacket is not quite big enough in this area so it tends to ride up. I think this could be solved by using a two way zipper so I could undo the jacket at the bottom a little bit. (A two-way zipper would also be a great feature for climbers looking to have access to their belay device.) Besides being a bit tight in the hips, the jacket fits well elsewhere and accommodates my broad shoulders.
The jacket has a pleat in the back and a seamed detail across the torso but otherwise is not very visually interesting. Most of my friends didn't even realize I was wearing an insulated jacket since it doesn't look like one. The Warm Obsession Hoodie does have a fun floral printed lining but otherwise it's kind of plain. I wish it had fun quilted pattern like other puffies.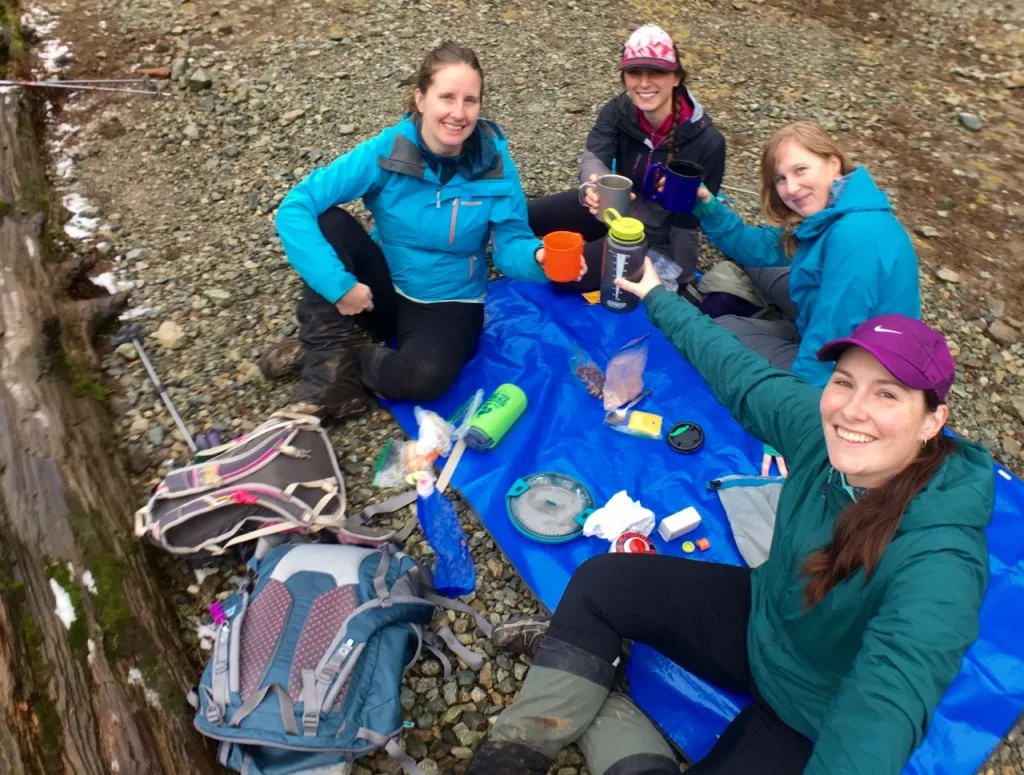 The TL;DR
Best For: Wearing as a warm mid-layer when you're working hard in cold weather and don't want to layer up or down repeatedly.
Likes: Hood fit, inner cuffs, breathability!! (so I can keep it on longer)
Dislikes: Looks a bit plain, fit in the hips is a bit tight, no stuff sack pocket
Disclaimer: I am a MEC gear tester and was given this jacket to wear so I could suggest future improvements and write a review. However, there was no expectation that I would provide a positive review and all opinions in this post are my own.
Have you tried a jacket with breathable insulation? What did you think? Tell me in the comments.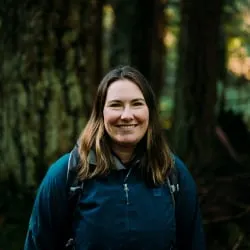 Latest posts by Taryn Eyton
(see all)