As part of my "Ask Taryn" series D. from the Rockies messaged me on my Facebook page to ask about backpacking hygiene. She writes:
My partner and I are planning to do the full 180km Sunshine Coast Trail in September and were hoping you had some tips in regards to hygiene…How can we cleanse without harming the water with our products/chemicals?…This is my first backpacking a trip! We hike often here in the Rockies however but have the mountains in our backyard to prepare. Thanks a million.
Making the switch from day hiking to backpacking can be a bit intimidating as there are all kinds of new skills to learn from camp cooking to setting up a tent to staying clean. I'm glad that D. is interested in incorporating Leave No Trace practices into her new backpacking routine. Thankfully backpacking hygiene the LNT way is pretty easy to master. The first step is to lower your cleanliness standards and be prepared to be a bit dirtier and smellier than usual. Read on for the rest.
Sanitizing Your Hands
Keeping your hands clean while backpacking is super important! People get sick while camping and think it's from contaminated or improperly treated water but sometimes its just from having fecal matter on their hands. (Sorry, gross but true!) I carry a tiny bottle of hand sanitizer gel and use it after going to the bathroom and before cooking.
Treating Water
Speaking of contaminated water, you'll need to make sure that doesn't happen! Unless you are drinking straight from a glacier, there is a good chance that the lake or stream has been contaminated by animals (both the ones that live there and the human variety). Always, always, always treat your water! There are lots different options from chemical drops to UV lights to filters and purifiers. You can also just boil your water. No matter what method you choose, make sure you are filtering water into clean containers that haven't been tainted with untreated water and sanitize your hands before you handle water bottles or containers.
Cleaning Your Face and Body
After a day or two on the trail, every backpacker feels a little grimy, a little too covered in sweat, dust, sunscreen, bugspray, etc. We all deal with it in different ways. Some people (especially guys!) just tough it out until they get home, but the rest of do have options to clean up a bit. Of course prevention is the best idea: I pack a tiny travel sized tube of deodorant and apply it each morning. If I do want to wash up I pack along a small washcloth sized microfibre towel. It's great for wiping sweat off my face on hot days or I dip it in water and give myself a sponge bath with it. You can also carry a small packet of wet wipes and pack out the used ones with your garbage.
On longer trips you might feel that you want a full bath or to wash your hair. You can bring along some biodegradable soap (such as camp suds or Dr. Bronner's castille soap) if you really feel like you need a wash, but even biodegradable soap isn't safe for plants or fish so you shouldn't wash directly in a lake or river. Instead carry water 200 feet away from the water source and give yourself a sponge bath or shower there. Be sure to scatter your wastewater widely or dig a cat hole to pour it into. I find that kind of bath too much work so usually I just jump in the water, give myself a quick scrub with my washcloth and forgo the soap entirely. If I know I'll be swimming/bathing I also bring a larger microfibre camp towel to dry off with.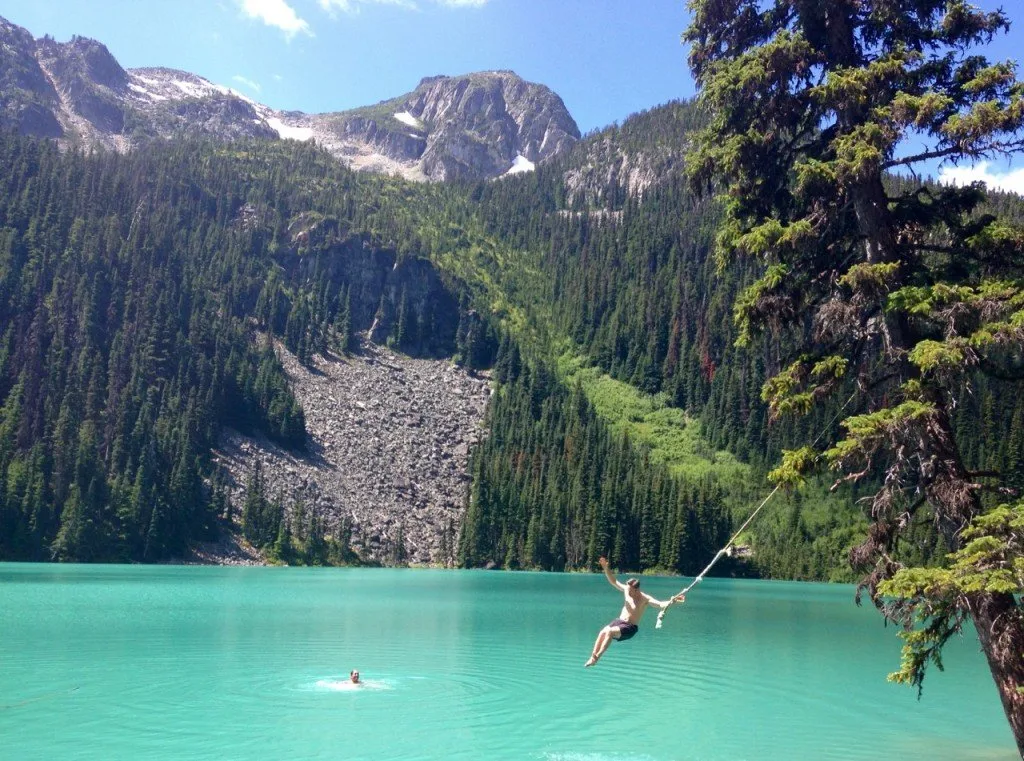 You'll probably also want to keep your teeth clean. I carry a travel sized toothbrush and tube of toothpaste but have friends who choose just to floss and rinse instead of bringing toothpaste. If you use toothpaste, use as little as possible, then either dig a cat hole to spit into or fill your mouth with water, then spray the mouthful of water over a wide area to disperse your waste water widely.
Make sure you store all of your toiletries (soap, toothpaste, deodorant, sunscreen, etc.) properly at night, not in your tent or your pack. Bears and other animals are attracted to scented products so your toiletries should be stored with your food in a bear canister, bear locker or hung from a tree.
Doing the Dishes
Unless you are only eating prepackaged meals, you will need to wash dishes. Greasy meals will require biodegradable soap to clean up, but you don't need much of it. For less greasy dishes, just skip the soap. Use your largest pot as a sink. You can carry a small spatula like pot scraper, a dish brush or a lightweight dishcloth to make doing dishes easier, but using your fork and your hands to scrape and wipe your dishes works too. If you use uncoated stainless steel cookware you can use sand or gravel to scour out your pots and dishes (but don't try this on anything with a non-stick coating as you'll wreck it!). Just let your dishes air dry overnight – no need to bring a tea towel!
What other tips and tricks do you use for keeping clean while backpacking?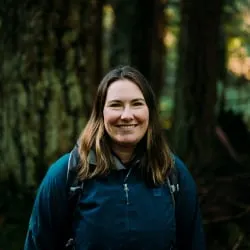 Latest posts by Taryn Eyton
(see all)