I have eaten a LOT of pre-packaged backpacking meals in my days (and nights) on the trail. Unfortunately most of them are full of ingredients I can't pronounce and don't recognize. I have also tried my hand at dehydrating my own backpacking food at home, but that can be time consuming. (And despite my best efforts, I've definitely made a few dishes that were not that awesome when rehydrated).
Hey there: Nomad Nutrition provided me with three meals to review. I was not compensated for the review. There was no expectation of a positive review, and like always, all opinions (and dislike of lentils) are my own. Some of the links in this post are affiliate links, which means I earn a small commission at no extra cost to you if you make a purchase. Thanks for your support! -Taryn
Recently I heard about a Vancouver-based company called Nomad Nutrition. They make dehydrated backpacking meals that use high quality and healthy ingredients that are organic and non-GMO where possible. In fact, I'm sure you'll recognize every single item in the ingredients list. Nomad Nutrition designs their meals to include optimized ratios of healthy fats, lean protein and complex carbs. Their meals are also vegan and 100% gluten free, which is something I hadn't seen before from a backpacking food company.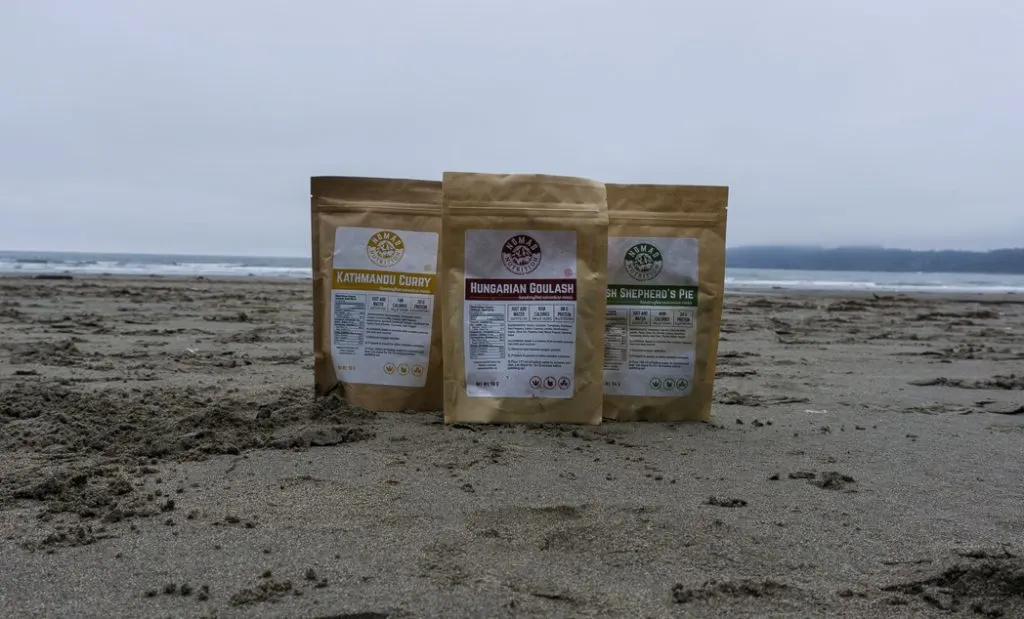 I took a few just-add-boiling-water Nomad Nutrition meals along on a recent backpacking trip to Shi Shi Beach in Washington's Olympic National Park. Greg and I shared them for dinner each night. Read on to find out what we thought.
The Meals:
Hungarian Goulash
If you've been to Hungary, you might have tried goulash, the national dish. It's somewhere in between a soup and stew and flavoured heavily with paprika. The traditional version also contains big chunks of beef. Being vegetarian, the Nomad Nutrition version of goulash ends up being a pretty hearty vegetable stew. It has potatoes, onions, peppers, lentils, zucchini, carrots, tomatoes, mushrooms and garlic, along with the required Hungarian paprika. Vegetables are rare in the backcountry so I really liked how the flavour of the vegetables really came through in this dish. Greg and I also appreciated the tasty paprika seasoning.
Irish Shepherd's Pie
To me, shepherd's pie is a pretty meaty dish, so I was curious to see how Nomad Nutrition would execute a vegan version. The potatoes are still in there, but the meat has been subbed out for lentils. I have to confess that lentils and I are not best friends, so I didn't love this one. If lentils are hiding away in a dish (like the Hungarian Goulash), we get along fine. But when lentils are the star attraction in a meal, I'm usually not into it. Since you can't achieve the classic potatoes layered on filling effect in a backpacking meal, the Nomad Nutrition Irish Shepherd's Pie ends up being a potato and lentil stew. Just like in their other dishes, the flavours of the vegetables come through, and it is like eating real food. Greg doesn't mind lentils, so he enjoyed it a bit more, but felt that the seasoning was a bit too mild.
Kathmandu Curry
Greg and I spent a few days in Kathmandu last year on our way back from trekking to Annapurna Base Camp. We ate a lot of Nepali food, Indian food and Nepali interpretations of Western food, but we never had anything quite like Nomad Nutrition's Kathmandu Curry. And that's a shame since the Kathmandu Curry was our favourite flavour of the Nomad Nutrition meals! Like the other meals, the Kathmandu Curry is a vegetable stew dish that features potatoes, but this one also throws in chickpeas and some small bits of rice noodle. It's not a noodle dish – it's a vegetable stew with bits of noodle in it. It also has a great curry flavour that's not overwhelmingly spicy or flaming hot. Of all the meals we ate, this is the one that I would recommend the most.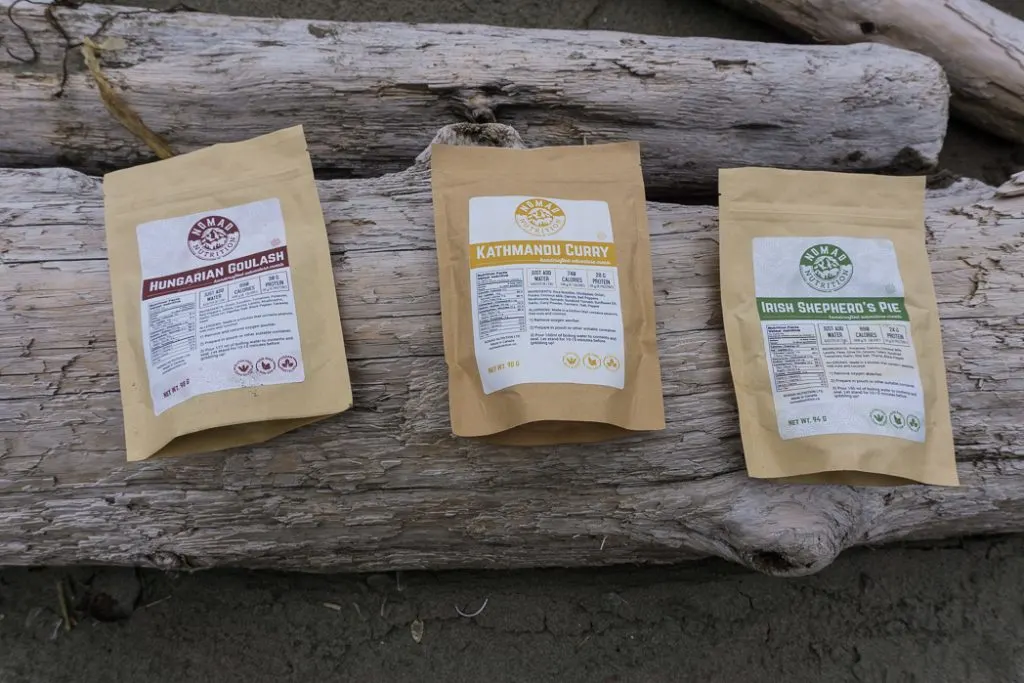 READ NEXT: How to Choose the Best Backpacking Meals
Overall Impressions
I really appreciated how much the Nomad Nutrition Meals taste like real food, especially the vegetables. Like I said, many commercially available backpacking meals don't have many vegetables and they aren't the main flavour, so I really enjoyed the veggie taste in these dishes.
As well, most other backpacking food is really salty. When I've been sweating all day, I do need to replenish my body with salt, but not in the enormous quantities the other companies seem to think I want. (Plus ingesting that much salt often makes me drink lots of water right before bed, which means waaay too many trips to the outhouse.) I really appreciated that the Nomad Nutrition meals are nicely seasoned but not too salty.
Sometimes backpackers tend to eat junk food on the trail. It's quick, easy and cheap, and you think you can rationalize it since you are burning so many calories. I've definitely been guilty of living off Mars Bars and pepperoni sticks a few times. But it usually makes my gut feel like crap. If you're craving something that tastes healthy instead, the Nomad Nutrition meals will fulfill that wish. (And if you still want junk food, some nice dark chocolate for dessert should satisfy that craving.)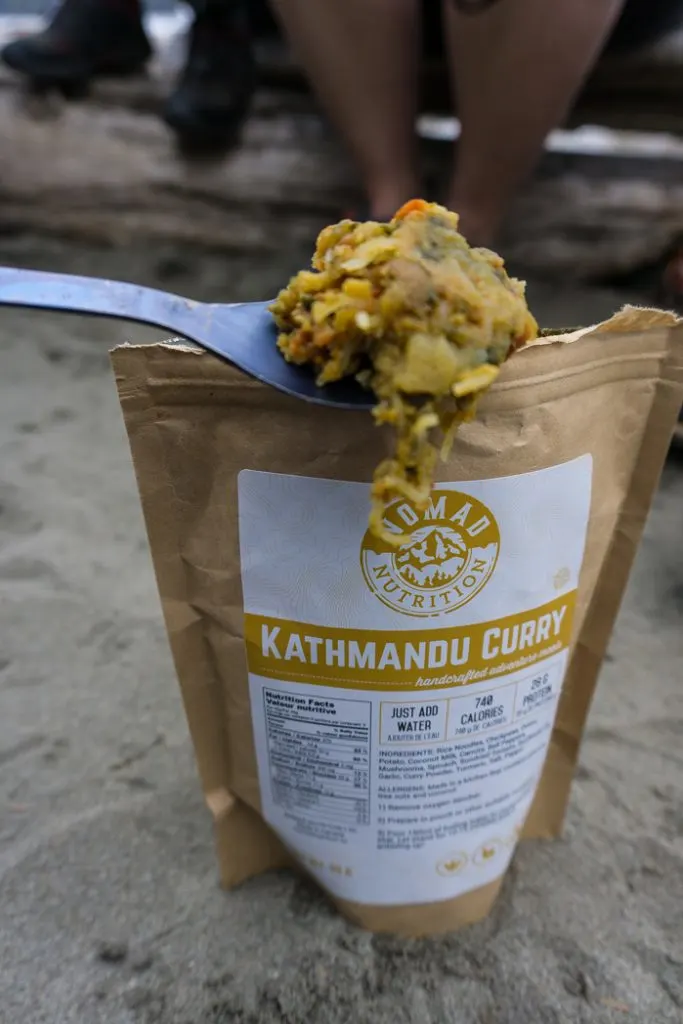 Generally, I'm an omnivore, so I was surprised that I didn't really miss the meat in these vegan meals. When I eat a meatless backpacking dinner it is often a pasta dish that is packed with gluten so I feel full right away, but get hungry later after the carbs wear off. With the Nomad Nutrition meals I expected to feel a bit hungry later without the meat, but that didn't really happen. Maybe it was all those stick-to-your-ribs potatoes, or maybe, just maybe, the chickpeas and lentils filled me up the way meat does. (I know, I know… vegetarians figured this stuff out ages ago. I'm slow.)
Like most backpacking food, the Nomad Nutrition meals come in packages that purport to serve two people. And like most backpacking meals, the Nomad Nutrition meals are better at serving one hungry backpacker, not two. Greg and I shared two packages between us for each meal as we typically would with other brands.
Nomad Nutrition uses quality, high-end ingredients, environmentally friendly packaging and prepares their meals in Vancouver, BC (not in an overseas plant). Unfortunately this means that their prices are a tiny bit higher than the average prepared backpacking meal.
The meals come in environmentally friendly packaging, which is great and makes the meals less heavy and bulky to pack. But the packaging doesn't contain the foil liner found in many brands so I found that the food wasn't piping hot when the rehydration time was over. If this bothers you, you could wrap the meal inside a puffy jacket while it rehydrates. You could also buy or make a meal cozy like this one from SectionHiker.com.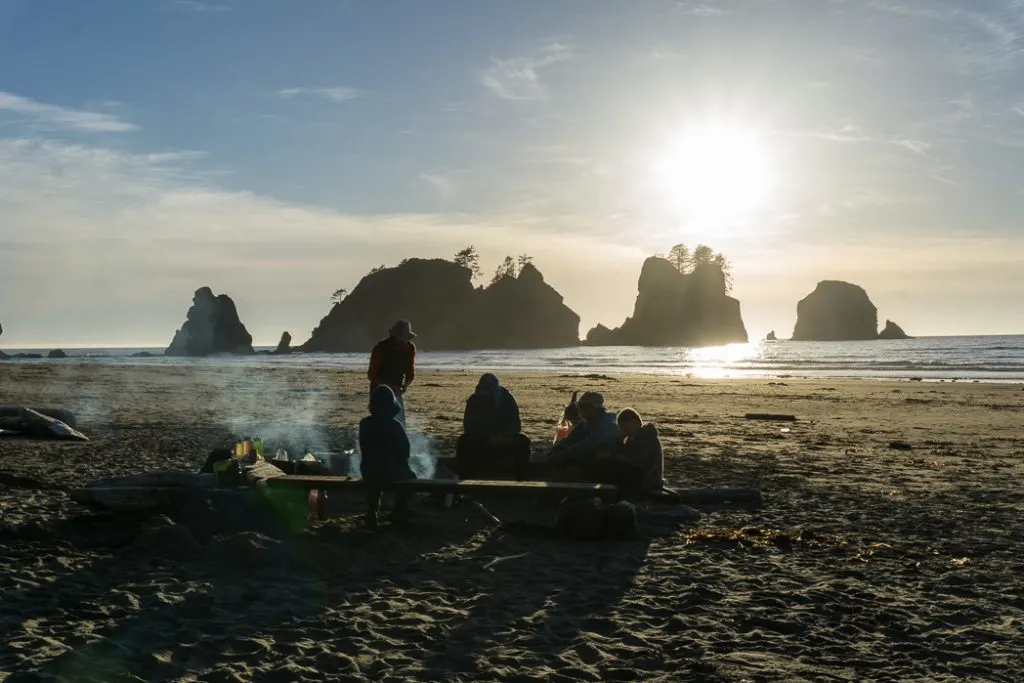 READ NEXT: Beyond Oatmeal: 6 Hot Backpacking Breakfasts
Where to Buy
Nomad Nutrition meals are available on Amazon.ca. They are even eligible for Prime shipping!
You can also buy instore or online from MEC.
You can also buy Nomad Nutrition backpacking meals through their website NomadNutrition.co.
The TL;DR
Nomad Nutrition makes dehydrated backpacking meals that taste like real food, because they contain real food. They are a great option for vegans, people on a gluten-free diet or anyone who wants to eat a healthy and tasty backpacking meal with ingredients they can recognize.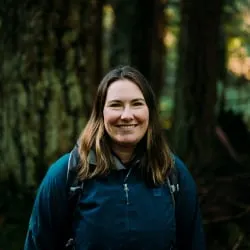 Latest posts by Taryn Eyton
(see all)