One of the highlights of spending time outdoors is spotting wild animals. I've seen black bears, whales, mountain goats, lots of birds, deer, moose, elk, marmots and once even a wolverine. However, seeing wildlife while hiking is a game of chance that you often don't win. But what if I told you the easiest way to watch wildlife was from your couch or your desk? When you think of web cams you might think of remote business meetings, talking to relatives on the other side of the world or perhaps something a bit more saucy, but I think of eagles and herons and bears (oh my!) Here are my favourite BC based wildlife cams.
Stanley Park Heron Cam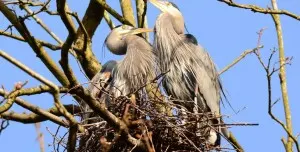 Did you know there are 100 heron nests in a giant colony in Stanley Park? (So basically hundreds of giant birds living right next to downtown Vancouver.) The colony is one of the largest ones in North America. The Parks board just installed a new high resolution camera that lets you toggle between several different nests.
Web Cam Link: Live Heron Cam
What to watch for: Nest building, egg laying, scraggly birds growing up and maybe even some battles for eggs or chicks with raccoons or eagles.
More info: The Stanley Park Ecology Society has a great page with info on the herons including history and some FAQs.
Grouse Mountain Grizzly Bear Cam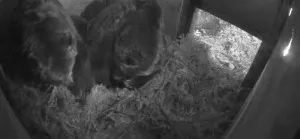 Grouse Mountain Resort has an electrified grizzly bear enclosure as part of their tourist attraction. It houses two bears that were orphaned as cubs so they are still kind of wildlife even though they live a somewhat domesticated life complete with a custom hibernation den. Since they hibernate all winter and start to wake up around mid-April, springtime is a great time to watch. The camera uses infrared light so we can see the bears while maintaining darkness in their den.
Web Cam Link: Bear cam
What to watch for: Bears cuddling each other (sometimes they spoon!), breathing deeply, repositioning and sometimes even getting up to see if it's spring yet.
More Info: There's a bit of info about these two bear's on Grouse's website.
Vancouver Port Eagle Cam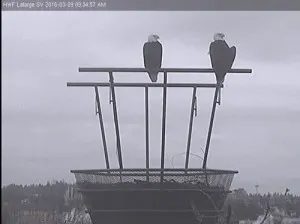 There are lots of eagle nest cameras around BC, but this one is right next to Lafarge Concrete in the Vancouver Port. It was installed by Hancock Wildlife Foundation, a local wildlife education and conservation group that has several eagle cams around the Lower Mainland. Their website has links to their other cams in Delta, White Rock and the Harrison Hot Springs area as well as extensive forums where avid cam watchers discuss the latest happenings with the eagles from nest building to egg laying to leaving the nest.
Web Cam Link: Lafarge cam
What to watch for: Dad Lafarge (as the male eagle is referred to) has been around since 2011 and has had a few families with Mom Lafarge, but this season Mom Lafarge didn't show up and instead Dad Lafarge has a new lady in town. Stay tuned to see if they can make a go of it in the big city!
More info: Tons more info on the Hancock Wildlife Foundation in the Lafarge forums and also on the nest info page.
When I get stressed at work, I like to take a 5 minute break to see what my animal friends are up to. I find the herons the most entertaining since there is always something going on. Which cam is your favourite? Any other ones I should check out?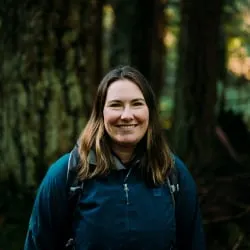 Latest posts by Taryn Eyton
(see all)