After a long winter, I'm usually in a rush for summer to start so I can go backpacking. Since I typically start my backpacking season with the Easter long weekend, I often go backpack in April or late March. At that time of year I usually look for destinations that stay below about 500m elevation if I want to avoid snow. Coastal trips and river or lake valley trips are a sure bet! There are lot of options out there for spring backpacking near Vancouver, but in this post I will concentrate on trips that are at least 2 nights long or longer.
It's worth keeping in mind that any backpacking trip you take in spring will likely involve using a trail that has blow-downs, washed out trail sections and perhaps creeks that are running high. The West Coast Trail is closed in spring for this reason. But if you are prepared to deal with potentially challenging trail conditions, there are lots of other beautiful hikes that are open.
Heads up:
These trails are located in sensitive wilderness areas. Learn how to
Leave No Trace
before you go to keep the wilderness wild. Make sure you are prepared for an emergency by bringing the
10 Essentials
on every hike.
Hey there: Some of the links in this post are affiliate links, which means I earn a small commission at no extra cost to you if you make a purchase. Thanks for supporting my website! -Taryn
Coastal Hikes
Planning a coastal hike? Get my tips for beach backpacking.
Juan de Fuca Trail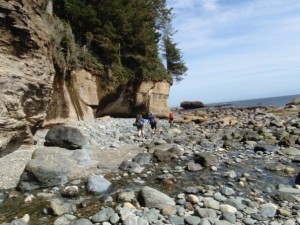 The 47 kilometre long Juan de Fuca Trail is the West Coast Trail's neighbour to the south and is open all year. It's a popular alternative to the WCT since it is an easy 1 hour drive from Victoria, has minimal costs ($10/person/night) and can be hiked end to end or just in select sections since there are four official trailheads. Most people hike it in 3 or 4 nights.
The nicest section is the southern part from China Beach to Sombrio Beach (the northern section spends a bit too much time in the forest for me). The only disadvantage of this trail is that while you mostly camp on the beach, the trail is mostly inland in the forest and has a fair amount of elevation gain and loss with little reward. As well, since there are road access points in the middle of the trail, it may not feel as remote when you encounter day trippers. You'll need to arrange a shuttle from one trailhead or another, either with the local taxi company in Sooke or by hitchhiking.
Cape Scott Trail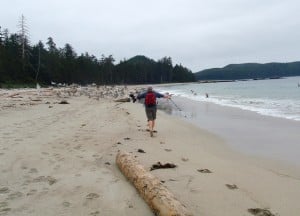 The trail to Cape Scott at the north end of Vancouver Island is also a popular coastal destination although it is not as popular outside of summer months since it rains so much up there (and that explains why there is no charge to camp between Oct. 1 and Apr. 30). If you go, its a 47km out and back trip to the Cape with several camping spots on huge sandy beaches along the way and lots of history from the deserted Danish farm settlement.
Be warned though that the first 15km from the trailhead are entirely in a forested coastal marsh that can be exceptionally muddy. Most people typically do this trip as a 3-day weekend hiking in and out of Nel's Bight on the 1st and 3rd days with the 2nd day devoted to a day hike out to the lighthouse. There is lots to explore in the area if you wanted to stay longer – I recommend the side trip to camp at San Josef Bay. It does take quite a while to get there from Vancouver: about 8 or 9 hours of driving and ferry time.
Read my guide to the Cape Scott Trail
North Coast Trail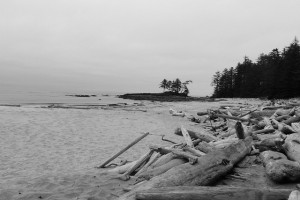 The North Coast Trail uses part of the Cape Scott Trail to Nissen Bight and then heads east to go around the top end of Vancouver Island for a total distance of about 60km. It's a rugged trail with lots of beach walking, rugged headlands to cross over and some inland forest and marsh walking. It's a BC Parks trail so it does have campsites, food caches and toilets but trail maintenance is sporadic and some sections are very rough. Like the rest of Cape Scott Provincial Park, there is no charge to camp between October and April.
I hiked in it August of 2008 and had torrential rain the entire time so it is not an experience I look back on with fondness but others have told me it's beautiful in nice weather. The trail is open year round but arranging transportation in the off season can be difficult. You will need to drive to Port Hardy (7 hours from Vancouver) then take a water taxi to the drop off on the eastern end of the trail. At the end of your hike you'll need a car shuttle back to Port Hardy from the Cape Scott trailhead.
Nootka Trail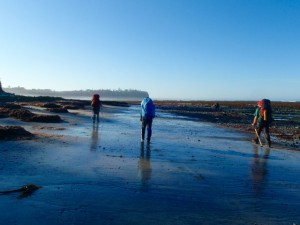 The Nootka Trail is located on Nootka Island, just off the west coast of Vancouver Island from Gold River (about 6 hours travel time from Vancouver). It's a largely uninhabited island so it's definitely a true wilderness experience. It's the traditional territory of the Mowachaht/Muchalaht First Nation and they charge a trail fee of $45 but besides providing camping facilities at the end of the trail in Yuquot/Friendly Cove there are no designated campsites, food caches, toilets or trail maintenance.
It's only about 40km long and can easily be hiked in 4 days but spending more time to do some exploring is recommended. It is my favourite coastal hike to date. The only challenge with hiking it in spring will be that the regularly scheduled freight boat service to the end point at Friendly Cove won't start running until late May so you'll have to charter a float plane or water taxi for both pick up and drop off from Gold River.
Read my Nootka Trail Trip Report
Wildside Trail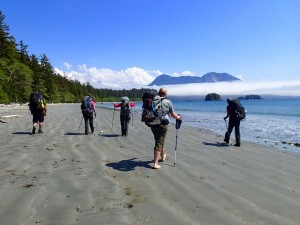 The Wildside Trail is fairly short at only 22km long (as an out and back trip) but it does provide an easily accessible coastal hike to a beautiful beach at Cow Bay. It makes a nice 3 day trip where you spend the middle day exploring from your Cow Bay campsite. This is definitely not a challenging hike for experienced backpackers but it is beautiful with gorgeous rainforest sections and numerous sandy beaches.
You'll need to travel the 6 hours from Vancouver to Tofino and then take a water taxi from there to the First Nations Village of Ahousaht on Flores Island, which is easy to arrange year round. However the trail may officially be closed in early spring. You can read my trail guide for more information. It's worth spending a few days in Tofino before or after your Wildside hike to the Big Tree Trail on Meares Island.
Read my Wild Side Trail Hiking Guide
Olympic Coast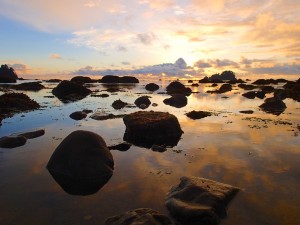 I've done several backpacking trips along the coast in Olympic National Park. There are lots of options to choose from all down the coast. I've done a few trips on the coast in the north from Sand Banks north to Shi Shi Beach and further south at Toleak Point. I recommend this area as it's gorgeous: sandy beaches, lots of coastal hiking, a few tough headlands and some beautiful sea stacks and offshore islands.
The 15 miles (24 km) from Sand Banks to Shi Shi can easily be covered in 2 or 3 days and you can extend your trip by starting from Rialto Beach further south, which adds another 20 miles (32km). The only challenge will be arranging a shuttle between trailheads but if you call the ranger station they may be able to suggest a local shuttle company. If you're looking for a mellow trip, check out my guides for the Ozette Loop Trail, Toleak Point and Shi Shi Beach. You could do either of these trails as a day trip, but they make great laid-back overnight trips or 3 day weekends with lots of coastal exploring from your campsite. You do need a permit to hike in this area but they are easy to get in spring. The hiking and scenery are amazing but the travel time from Vancouver is a bit long: 6 to 7.5 hours plus border crossing from Vancouver depending which trailhead you use.
Read my Shi Shi Beach Trail Guide
Read my Ozette Loop Trail Guide
Read my Toleak Point Trail Guide
Inland Hikes
Lower Stein Valley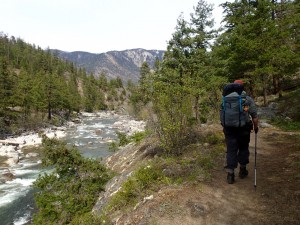 The lower Stein Valley in Stein Valley Nlaka'pamus Heritage Provincial Park is my go-to shoulder season destination since it is located in the interior rain shadow and often has good weather. It's relatively low elevation with the start of the trail at about 250m above sea level. In the spring you are likely to encounter patches of snow in the shade in the middle section of the valley but usually most of the snow has melted by mid-March. While the full valley can be hiked as a traverse in the summer, in spring you'll need to do an out-and-back trip from the Lytton end, probably heading up river for 20 or 30km and then retrace your steps.
There are lots of campsites along the way but the trail sees much less maintenance after the first 12km. The hike is through a beautiful unlogged ponderosa pine forest and is usually near the river. There are many First Nations cultural sites to visit as well, including some amazing pictographs. Campfires are permitted in before May 1 which is a nice way to warm up. The trailhead is an easy 3 hour drive from Vancouver but it does require taking a ferry across the Fraser River that doesn't run in times of high water flow (typically May/June).
Read my guide to this trail in my book Backpacking in Southwestern British Columbia
Chelan Lakeshore Trail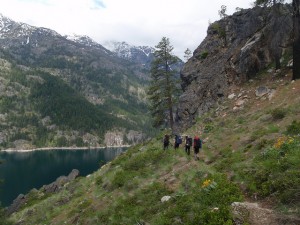 The Chelan Lakeshore Trail is on Lake Chelan adjacent to North Cascades National Park in Washington about six hours by car from Vancouver. It's a 17 mile (27.5km) thru hike from part way down the lake to the tiny National Park town of Stehekin at the head of the lake. You'll need to arrange to be dropped off by the Lady of the Lake water taxi at Prince Creek to start your hike and then get picked up at the end at Stehekin to be taken back to your car. The Lady of the Lake doesn't provide regular service to Moore Point – it is a request stop so you'll need to inquire when you book.
The hike is along the lakeshore and sometimes high above in it an open forest or on grassy slopes and the whole region is definitely drier than the coast. The hike is easily completed in 2 nights and there are options to extend it in the Stehekin Valley.
East Bank Trail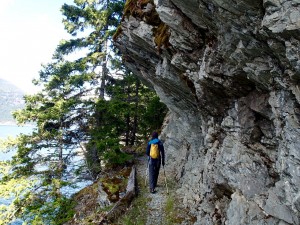 The East Bank Trail is located on the, you guessed it, east bank of Ross Lake in North Cascades National Park in Washington. The southern trailhead is about 3 hours from Vancouver on Washington state highway 20 and the northern trailhead is just south of Hope, BC in Skagit Valley Provincial Park. While it is possible to thru-hike the trail from the Canadian border to the south end of the lake (or vice versa) the logistics of setting up a car shuttle, and the fact that the trail uses an unauthorized border crossing means that doing an out and back trip from either trailhead (and carrying your passport!) is required.
In the summer season there are water taxis on the lake so you can arrange pickups and drops offs at various points but they don't start operation until June. The trail is 31 miles (50km) long and can be started at either end. The most southern and northern ends have long stretches of travel away from the lake but the section in the middle is at, or near, lake level and is beautiful. I hiked the southern section of the trail as an out-and-back trip on Easter Weekend in 2015.
Read my East Bank Trail Trip Report
Sunshine Coast Trail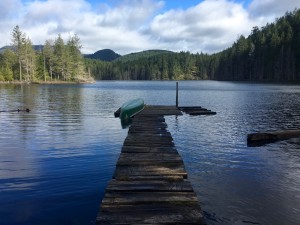 Even though this trail has coast in its name, most of the Sunshine Coast Trail is inland climbing bluffs, passing lakes, following rivers and climbing mountains. The whole trail is 180 kilometers long but there are dozens of road access points so it is possible to design your own backpacking trip of whatever duration works for you.
Much of the trail stays fairly low in elevation, keeping it snow-free year round but there are some sections up above 800m that will be snowy in the spring. The SCT also boasts a collection of huts and shelters so you can avoid carrying a tent but be sure to read descriptions on the SCT website before you go as not all of them are insulated or have a woodstove.
For a spring trip I recommend the low elevation section at the north end of the trail between Sarah Point and Powell River or the northern-most section to Fairview Bay. It takes about 6 hours to get to the trail from Vancouver and involves two ferries so plan your travel carefully so you don't literally miss the boat.
Read about the Sunshine Coast Trail in my book, Backpacking in Southwestern British Columbia
So that gives you 10 different multi-day spring backpacking trips near Vancouver to choose from! Which one would you choose? I've hiked all of these trails (some of them several times) so feel free to ask me more about them in the comments.
More Beautiful Backpacking Trips Near Vancouver
Was this post helpful? Pin it on Pinterest!