Did you know trail mix is over 100 years old? According to Wikipedia, hikers have been eating a mix of nuts and dried fruit on the trail since at least 1913! Like most hikers, I also pack trail mix when I go hiking. Until recently, I had been picking up boring trail mix and salted mix nuts from the bulk section of my grocery store. Sometimes I bought expensive specialty trail mix, but it was never that good. I was never excited to eat it and it was often the only thing left in my food bag at the end of a trip.
But recently that changed after I discovered an interesting alternative: Naked Snacks, a subscription box company that sells trail mix and dried fruit. I have tried a couple boxes from Naked Snacks so here's my review.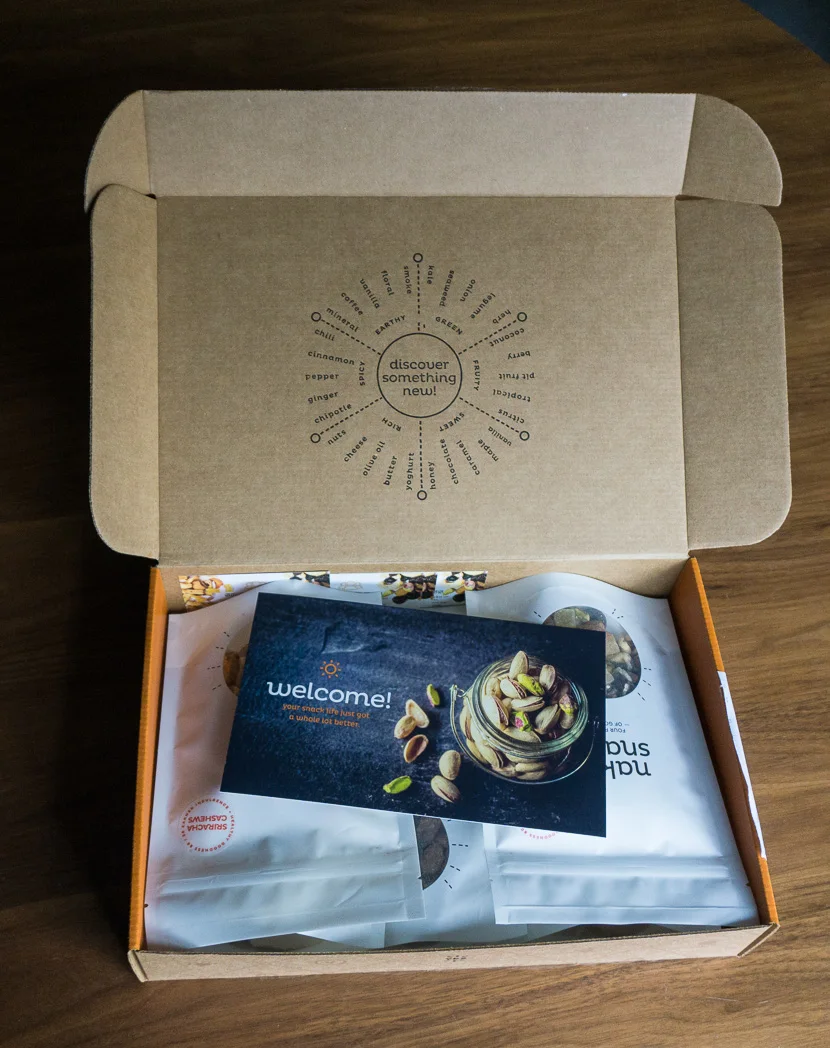 What is Naked Snacks?
Naked Snacks is a small, Vancouver-based company that sells healthy and tasty snacks in a customizable subscription box service. They say that they follow the 80/20 rule of snacking: 80% healthy goodness, 20% earned indulgence. The snacks are organic where possible and as natural as possible. There are no artificial colours, flavours, or sweeteners, preservatives, trans fats, or high fructose corn syrup. That last bit is my favourite part. Most of the trail mixes you can buy at the grocery store are full of things I can't pronounce or just loaded with salt. With Naked Snacks, the ingredients lists are short and contain things I recognize as food!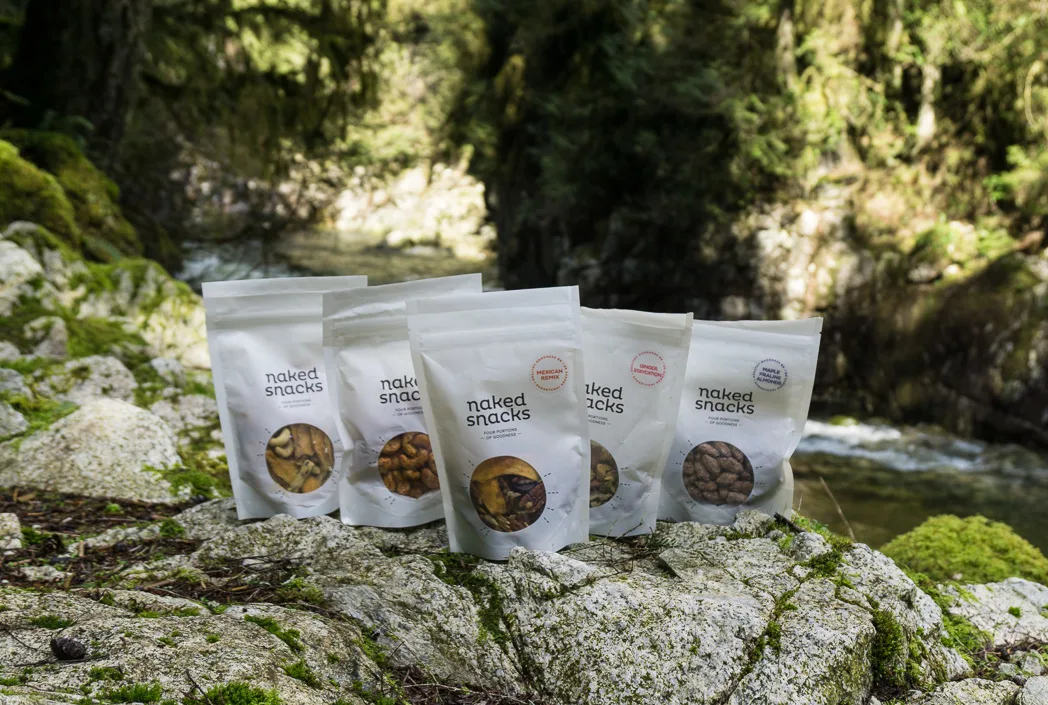 How Does Naked Snacks Work?
You sign up on their website and customize a box of snacks. You can order 5, 10 or 20 resealable mini bags of snacks. Each bag contains four portions. You can choose from over 25 different snacks including trail mixes, dried fruit and nuts, or you can let them surprise you. The snack options include vegan snacks, high protein snacks, and sweet or savoury options. You can have them delivered every two weeks, once a month or once every two months. They ship to pretty much anywhere in Canada. You can change, pause or cancel your subscription at any time. So far I've been ordering the 5 snack box monthly, but I recently changed to the 10 snack box every other month since it's a little bit cheaper. I'll have to see if I can make the snacks last for 2 months though, because I usually eat them pretty quickly.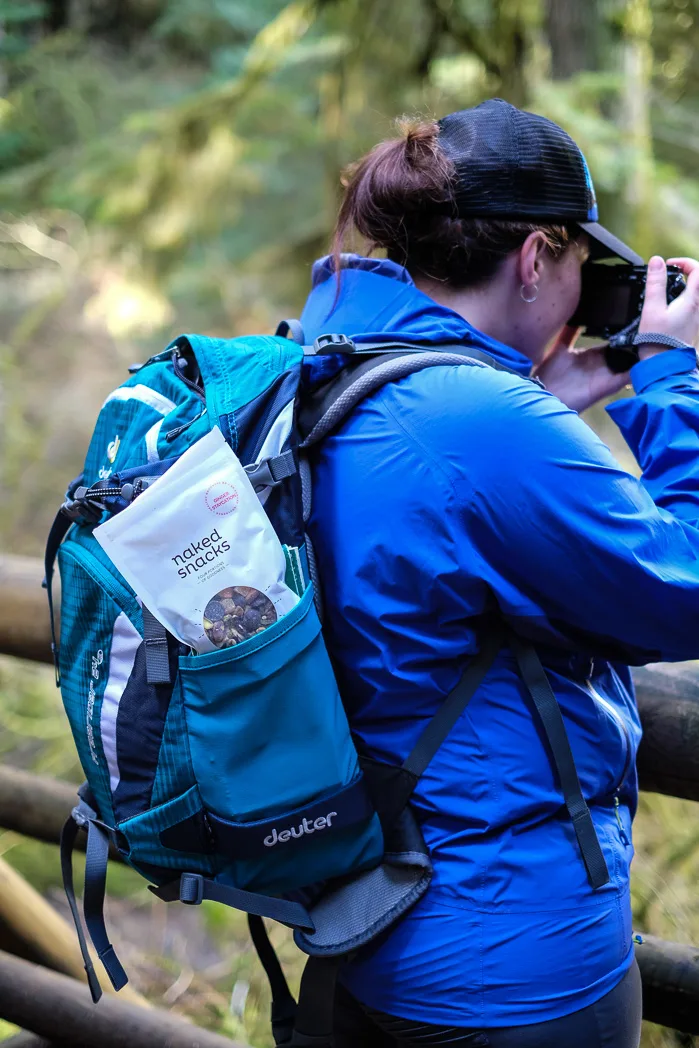 How Much Does Naked Snacks Cost?
The basic box of 5 snacks costs $29.95. You save $3 if you buy the box of 10 snacks and $20 if you buy the 20 snack box. (And you get $10 off your first box with my coupon code. Scroll down to the bottom of the post to get it.) The price includes shipping to anywhere that Canada Post delivers. The amount of snacks in each bag varies since they are nutritionally balanced to give you 4 portions, but it is generally between 100 and 130 grams. The price is definitely more expensive than generic mixed nuts in the bulk section of your grocery store, but it is comparable to that of packaged trail mix. However, the quality of what you get is sooo much better and the flavours are too.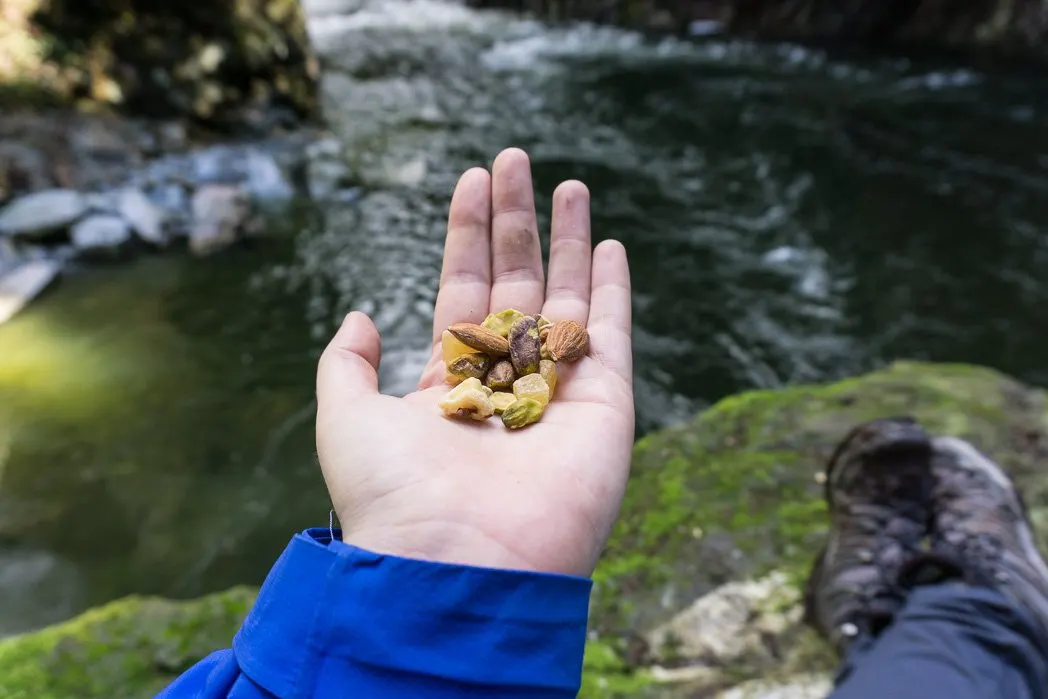 My favourite Naked Snacks
I have only tried about 8 of the 25+ snacks so far, but I already have some clear favourites. If you are a sriracha fan, the Naked Snacks Sriracha Cashews delicious enough to justify getting a subscription. I can't say enough good things about these nuts! They are spicy without hurting my tongue and provide a great flavour boost compared to boring old salted nuts. This particular flavour is something I haven't found elsewhere and is the number one thing keeping me addicted to Naked Snacks.
But… if you aren't a sriracha fan, that's ok. I do have other naked snacks I can recommend. My favourite trail mix type snack is the Ginger Staycation. This one has almonds and walnuts, like a lot of grocery store trail mixes. But then it adds in pistachios, dark chocolate pieces and zesty crystallized ginger.
My favourite sweet snack is the maple praline almonds. These things are like candy and I was happy to discover that one of the sweeteners they use is maple syrup. So Canadian!
On backpacking trips dried fruit is my thing as it is so much lighter weight than fresh fruit. The Naked Snacks mango slices are amazing and they are my pick in the dried fruit category. Unlike most commercial dried mangos, they contain no sulphites or added sugar so they taste just like mangos, not like mango candy.
Although I've loved most of the snacks I've had so far, it wouldn't be fair to you if I didn't tell you that there was one I didn't love: the Cracked Pepper Pistachios. The cracked pepper flavour was a bit too strong and I don't like having to shell my own nuts – it just means more waste to pack out on the trail.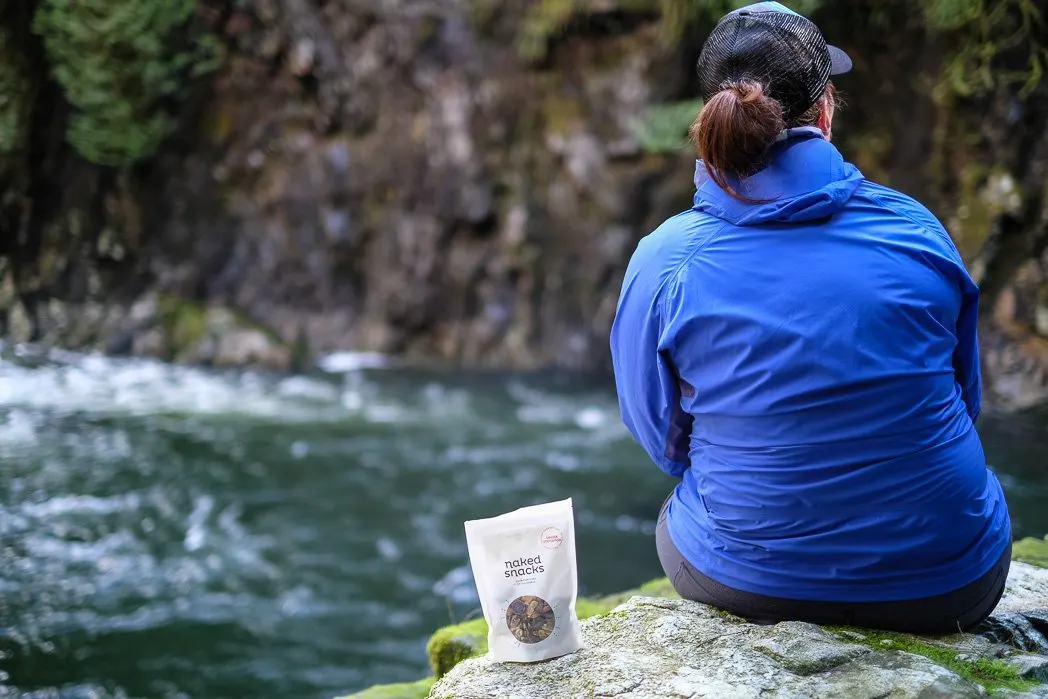 Why Naked Snacks are Great for Hikers
As I've already said, Naked Snacks come in lots of great flavour combos that beat the ones at the grocery store every time. I can get pretty ravenous when I'm hiking. I want food that I know tastes great, but I also want food that actually provides nutrition. Since Naked Snacks contain real ingredients, I know exactly what I'm eating. You can also choose from their high protein list to get snacks that fill you up more (such as my beloved Sriracha Cashews). Remember, no one likes a hangry hiker!
If I buy bulk bin nuts at the grocery store I have to repackage them into a sturdier ziploc before I hit the trail. Naked Snacks come in a durable resealable bag so I don't have to repackage them. And the bag is great to use to carry out the rest of my trash once I finish the snacks.
I also love the convenience of having the snacks delivered to my door. Finding food for backpacking trips can often involve trips to an outdoor store or specialty food store to get lightweight, dehydrated or freeze dried food. Having Naked Snacks delivered is just one less trip to make. (My only problem is that Naked Snacks are too tasty so it's hard to to save the snacks for trips instead of just eating them in front of the TV.)
As I hiker, I care about the world I live in. I want to support a local company that uses organic products and uses the least amount of unhealthy additives and chemicals.
While my old trail mix often got carried along on the whole hike, then brought home again barely touched, Naked Snacks are now the first things to get eaten out of my food bag.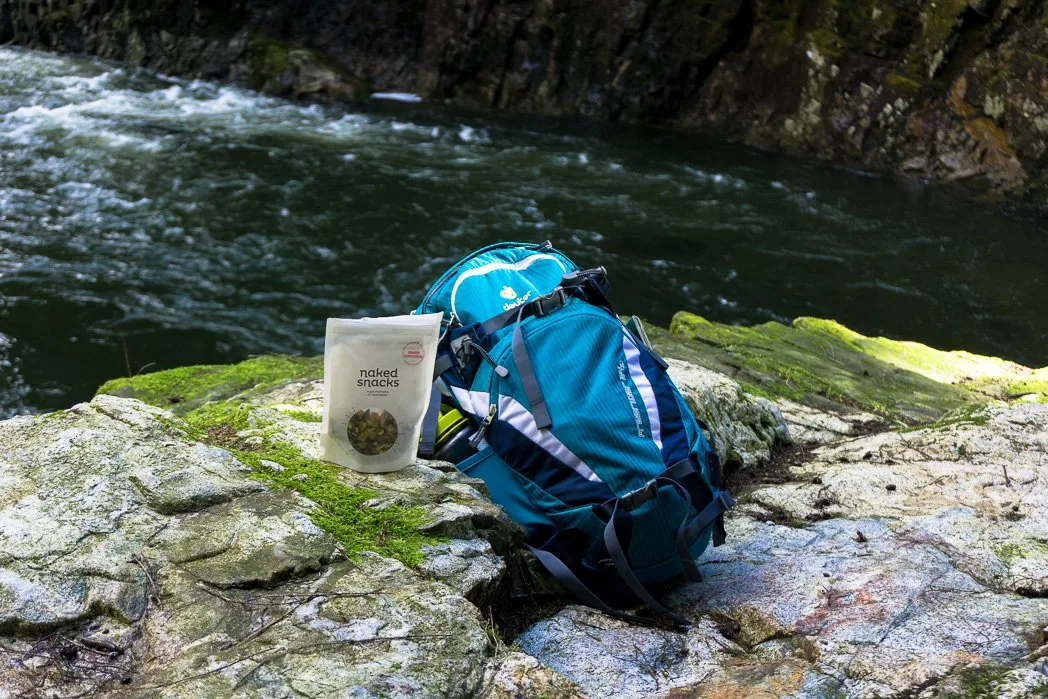 Naked Snacks Coupon Code!
If you want to try out Naked Snacks for yourself, I can help you score a deal. Use my code "happiestoutdoors" at checkout to save $10 on your first order. That means first your snack box is only $19.95! Happy snacking!
Read Next:
Beyond Oatmeal: 6 Hot Backpacking Breakfasts
Backcountry Chocolate Fondue Recipe
Disclaimer: Naked Snacks provided me with a free snack box to try. I have since signed up for my own subscription which I pay for. But like always, all opinions (and stoke for snacks) are my own.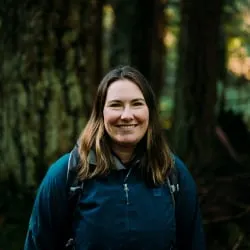 Latest posts by Taryn Eyton
(see all)